My Ninja Foodi Grill Steak is a super easy and satisfying way to make your favorite steak on your Ninja Foodi 5 in 1 indoor grill! The seasoning I used was a Texas Roadhouse Steak Seasoning Copycat recipe!
Whip up this Ninja Foodi Grill Steak recipe and skip the outdoor grill. Rain, snow, your Ninja Foodi Grill will simplify your dinners.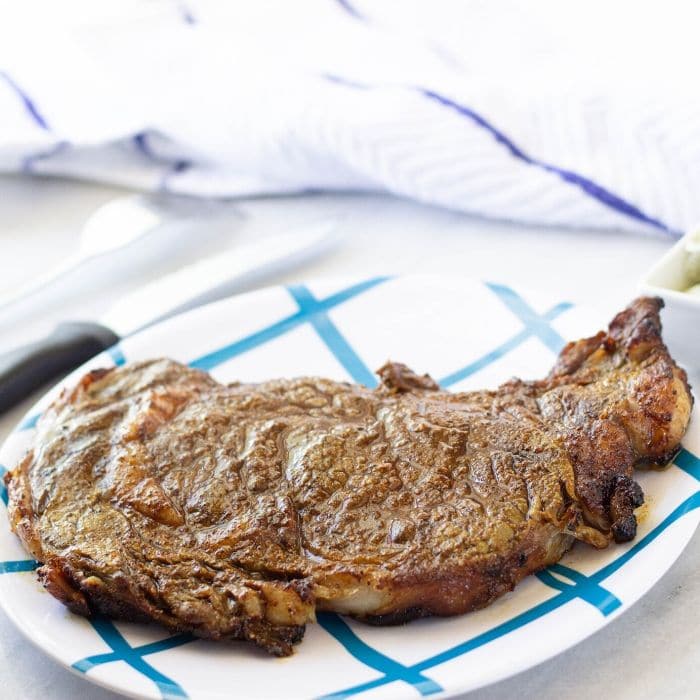 I used the grill feature in my Foodi grill. This recipe will work with any indoor grill, you don't have to own the Ninja Grill.
I used the 10×10 grill grate to make these 2 juicy ribeye steaks. You can cook any of your favorite cut of steaks, this is just what we wanted.
Pair these juicy steaks with the Texas Roadhouse Rolls! I have a recipe as well that will win you over.
Ingredients
Steak
Salt & Pepper
Cornstarch
Chili Powder
Brown Sugar
Onion Powder
Tumeric
Smoked Paprika
How To Make
Step 1: Start by creating your marinade or dry rub. I used a Texas Roadhouse steak seasoning for these ribeye steaks.
Step 2: Rub down your steaks on all sides, and wrap and store in the fridge for at least 30 minutes to 2 hours.
Step 3: Preheat your grill to the 500-degree mark. You want your grill to be nice and hot.
Step 4: Toss your seasoned steaks onto the grill grates and let cook to your doneness.
Again, this is a rough guide, the full directions for this Ninja Foodi Grill steak recipe is in the printable recipe card below.
Pair with some cucumber onion salad for the ultimate side.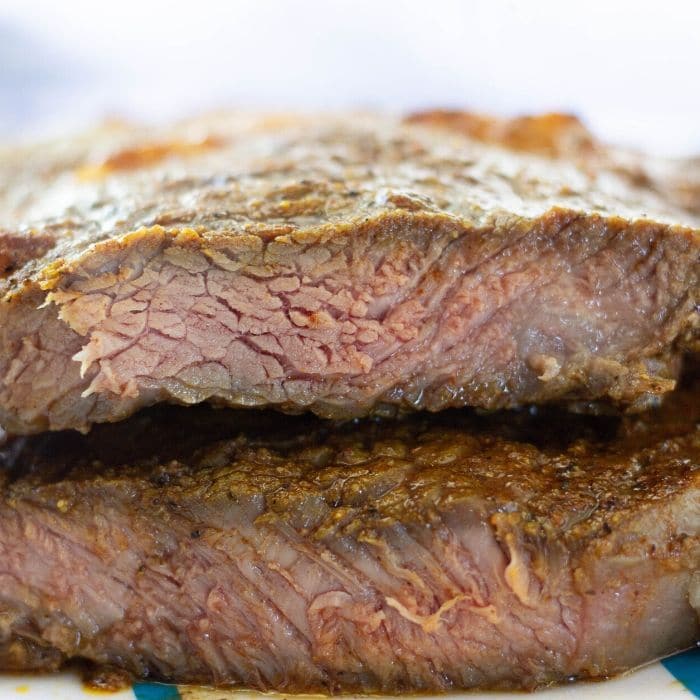 Steak Doneness Guide
A guide to cooking steak to the doneness you prefer. The best way to ensure you get an accurate reading is using the smart probe that comes with some of the Ninja Foodi Grill models or buying a meat thermometer to check.
Rare – 120 degrees Fahrenheit. This just takes a couple of minutes. The steak will have a red center, be soft, and tender.
Medium Rare – 130 degrees Fahrenheit. It offers a warm red center with a slight brown crust on the outside. This takes about 5 minutes on Foodi Grill.
Medium – 140 degrees Fahrenheit. It offers a slightly pink center with a firmer texture. It will juice a bit of blood when sliced hot. 7 minutes on the Foodi Grill, flipping once.
Medium Well – 150 degrees Fahrenheit. This is similar to a medium steak but you will find it is less pink and offers a more crispy outside. It takes around 8 minutes on Foodi Grill.
Well Done – 160 degrees Fahrenheit. This steak will have a fully cooked center, a nice crispy coated outside, and will be firmer texture. This takes about 10 minutes on the Foodi Grill.
We have a pellet grill, wood grill, and I never thought I would need an indoor grill. But this has been a game-changer for quick and easy dinners at our house!
How Does Ninja Foodi Steaks Compare To Grilled On Pellet Grill
I was pretty impressed with the turnout of the steaks. I found they offered a nice grilled look, and texture.
The flavor was delicious, and I didn't notice much difference then cooking them on an outside grill. The one thing you lack is that smoked flavor. But, you could always buy some liquid smoke to add to your steak mixture as it marinades.
Overall, I am glad I bought this kitchen accessory. It has been fun to play with. It was a little pricey but I am happy with the investment.
Recipe FAQs
Common questions about the 5-in-1 indoor grill!
How do you cook a steak on a ninja Foodi grill?
Place the grill insert in the Ninja Foodi, and then turn the Ninja Foodi Grill on preheat, and select 500 degrees.

Place the seasoned steaks on the grill and place the lid on and let the steaks cook. You will then flip half way through cooking.

You will cook your steaks to your preferred doneness.
Is the Ninja Foodi grill worth the money?
I personally like the Ninja Foodi Grill a ton, it offers a nice indoor grill aspect, air fryer, and more. If you enjoy cooking you might really enjoy cooking on it.

Very user friendly, quick cook times, minimal time for preheating, etc.
Can you use olive oil Ninja Foodi grill?
It is recommended not to use olive oil in the Foodi Grill as it will smoke when you reach a higher heat in the grill.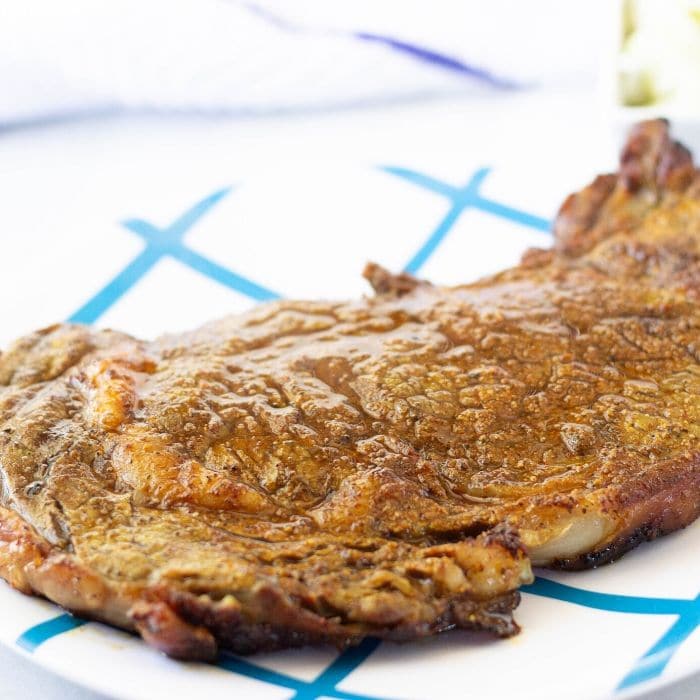 More Ninja Foodi Grill Recipes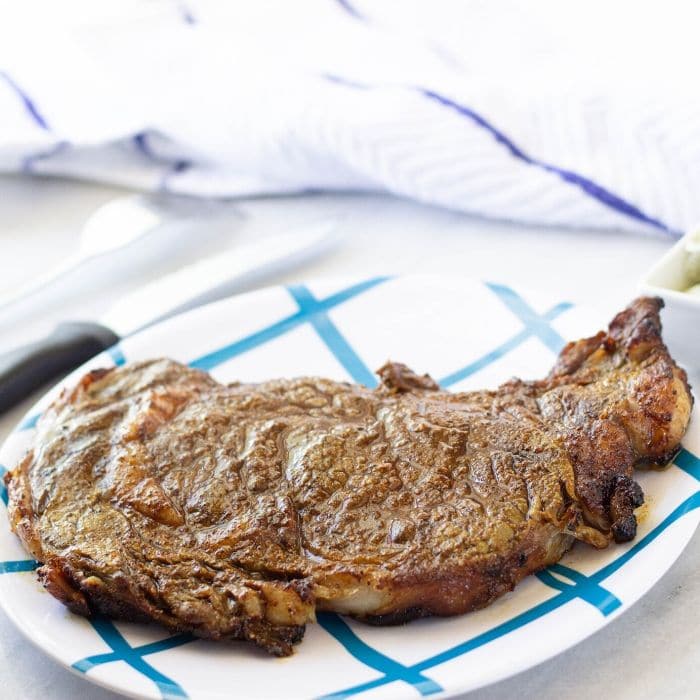 Ninja Foodi Grill Steak
Servings 2 steaks
Ninja Foodi Grill steak is the ultimate way to cook a steak on an indoor grill. I used a Texas Roadhouse Steak Seasoning to season my ribeye steaks. You can use any of your favorite steak seasoning on this Ninja Foodi Grill steak recipe.
Ingredients
2 steaks I used Ribeye, but you can use any of your favorite steaks
1 tablespoon Kosher salt
1/4 teaspoon corn starch
1/2 teaspoon chili powder
2 teaspoons brown sugar
1/4 teaspoon onion powder
1 teaspoon black pepper
1/4 teaspoon Tumeric
1/2 teaspoon smoked paprika
Instructions
Start by mixing up all your steak seasonings in a bowl. This is a Texas Roadhouse steak seasoning copycat recipe. If you want to use a different steak seasoning go ahead.

Once steaks are rubbed down with the spices on all sides, you will wrap or cover and store in the fridge. Store for 30 minutes to 2 hours. The longer you store the more flavor.

Preheat your Ninja Foodi Grill to the highest grill setting and allow it to fully preheat. This takes about 8-12 minutes.

Once the preheat is done take your steaks and place them on the grill.

You will cook your steaks to the doneness you desire.

Once your steaks are done, allow resting on a plate for 5 minutes that is tented in aluminum foil. This will help lock in juices from the steak. Once you have waited serve up your Ninja Foodi grill steaks!

You can also use any other indoor grill and cook with the same directions if you don't have a Ninja Foodi 5 in 1 grill.
Notes
Here is a rough guide on timing on cooking steaks in Ninja Foodi Grill. It will vary depending on heat on your grill of course.
5 minutes – medium rare
7 minutes – medium
10 minutes – medium well
You can use any cut of beef you would like. The quality of the steaks is key in the tenderness of your steaks. You will also find the flavor of the steaks vary a bit as well, on what type of cut you use. We tend to like NY strip, KC strips, Ribeye, T-Bone, etc.
Nutrition
Serving: 1gSodium: 1654mgSugar: 2gCholesterol: 107mgCalories: 319kcalPolyunsaturated Fat: 9gSaturated Fat: 8gFat: 21gProtein: 29gCarbohydrates: 3g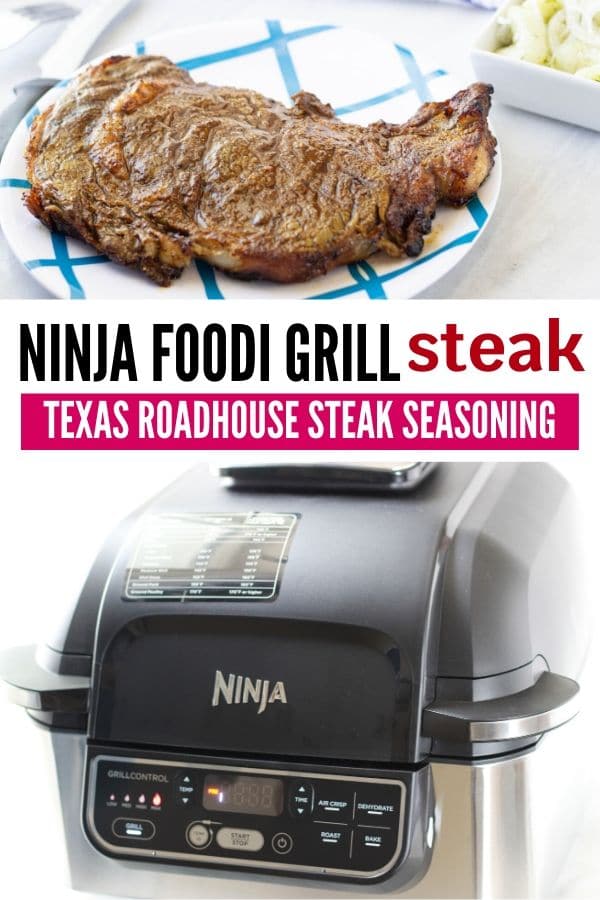 Have you made Ninja Foodi Steaks yet? I hope you enjoy this Texas Roadhouse steak rub and steak recipe!
Reader Interactions