The best part of hot sticky weather is cooling down with one of these mouthwatering summer cocktails! I have made of list of the very best summer cocktails.
Whether you are hosting a party or just want something cold to sip on after a long day, these are the ideal mixed drinks for you.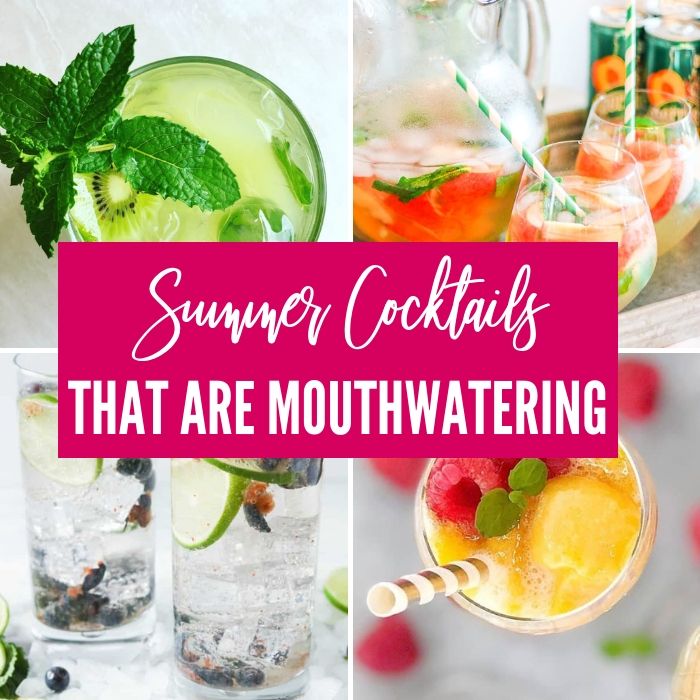 After you look over this roundup, you will find delicious, easy, flavorful, and refreshing mixed drinks that you will drool over. So whip out the cocktail and wine glasses, because you are in for a real treat!
Vodka, whiskey, rum and more. You will find a variety of alcoholic drinks that are great for any and every occasion. Check out these whiskey mixed drink recipes too!
How To Make These Summer Cocktails Kid Friendly
Most all of these cocktails can be made into kid-friendly drinks! Whether it be using a lemon-lime soda, ginger ale or even a sparkling water.
You can replace the alcohol portion with one of those three beverages. Or maybe even a juice like orange juice or apple.
If you want bubbles do soda or sparkling juice. 
Mouthwatering Summer Cocktails
What is the most popular beverage in the world?
Tea | Sweet or unsweet or even flavored teas. 
Coffee | Doesn't surprise me this is the top of the list! 
Orange juice | One of the most popular juices, and for good reason. Yum. 
Beer | This is one of the most popular alcoholic beverages purchased. 
Soft drinks | Coke, Pepsi, Dr. Pepper, Diet Pepsi, and the list goes on. 
Wine | I am not a fan but many people love wine with their meals or as a treat for the end of a long week. 
Vodka | This liqueur is a great base to so many incredible cocktails and mixed drinks. 
Common Questions