Explore the world of whiskey with one of these whiskey mixed drinks. These whiskey drinks will elevate the level of your drink, and try something new. Here are some of the best whiskey drinks to consider whipping up for a party, summer BBQ, or just a night you want to kick back with a mixed drink.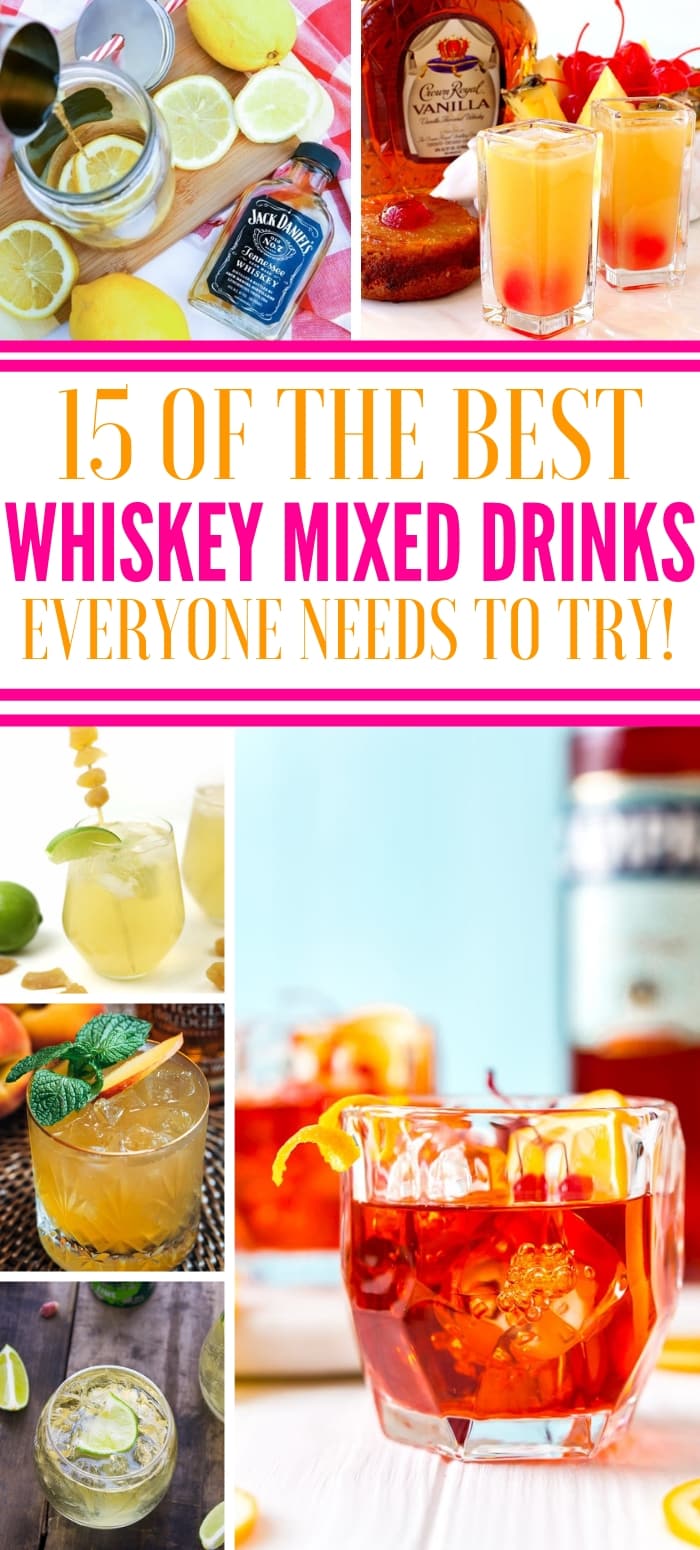 Whiskey cocktails are forever growing with new and creative ways to pair your favorite whiskey. Here are some tried and true whiskey cocktails to please your taste buds.
One of the most popular whiskeys in America is bourbon. People love that rich caramel sweetness you get with each sip. This also makes for a great base to a mixed drink. Whether you like Jack Daniels, Crown Royal, Bourbon, I got you covered!
Frozen Alcoholic Ice Pops To Cool You Down
Delicious Thirst Quenching Whiskey Mixed Drinks
Whiskey Mixed Drinks
A nice list of whiskey mixed drinks to serve up at your next party or a treat to celebrate the end of a hard work day. These whiskey drinks are refreshing and delicious.
Grab that Whiskey and mix with some iced tea and lemon for one refreshing summer cocktail.
Photo Credit: www.garnishwithlemon.com
Three ingredients is all that is needed for this delightful whiskey that is a hint of ginger.
Photo Credit: www.mantitlement.com
This layered drink is pretty, but also one to serve up at your next party! This drink originated in Alaska.
Photo Credit: www.mantitlement.com
Serve up this super simple cocktail that has a refreshing lemon flavor to it. Gorgeous for the dinner table or light entertaining.
Photo Credit: www.trialandeater.com
A great way to clear up your nasal cavaties from a cold, but also to warm you up from the inside out.
Photo Credit: www.mantitlement.com
Love pineapple upside down cake? Give this whiskey drink a try. The flavors of pineapple upside down cake, but in drink form.
Photo Credit: www.sugarandsoul.co
Grab an Irish whiskey and whip up this mule cocktail that is so refreshing.
Photo Credit: www.sugarandsoul.co
Look at how stunning this whiskey cocktail is. Orange peel, cherry and more come together for this sweet whiskey cocktail.
Photo Credit: www.liveeatlearn.com
This bourbon slush will totally cool you down on a hot summer day. This recipe is just too good not to include.
Photo Credit: cookinglsl.com
Grab your lemon lime soda and whip up a bubbly cocktail with your favorite whiskey.
Photo Credit: www.cakenknife.com
Step out of the box and give this bourbon mule a try. It is a genius combo that will leave you coming back for more after each sip.
Photo Credit: stripedspatula.com
Sweet, spicy and the perfect drink to sip on at a summer barbeque. I love peach and this drink wins on flavor each time.
Photo Credit: feastandwest.com
Sweet, tangy, with a citrus twist. Not only is this drink gorgeous it will wow your guest each and everytime!
Photo Credit: www.supergoldenbakes.com
Simple to make and extra sweet to sip on. This is a go-to summer drink for entertaining.
Photo Credit: www.creative-culinary.com
Grab a bottle of Makers Mark and whip up this red drink. Light, refreshing and the hint of pomegranate is so refreshing.

What Drinks Go Well With Whiskey
You will find a lot of times people reach for say a lemon-lime soda, Ginger Ale, that is light to pair with the whiskey. It is a great way to mix drinks so the flavors pair nicely.
Is Whiskey And Coke A Drink
Jack and Coke is indeed a drink, also called JD and Coke, or a Lemmy. You normally serve this drink over ice, in a Collins Glass
or even old fashioned Glass
.
How to Make a Jack and Coke
Mix one part jack to three parts Coke and pour over ice. You can even garnish with a lime wedge, that is great for squeezing into the drink for a refreshing citrus twist.
Is Whiskey Good For Health
Surprisingly whisky has antioxidants which can help reduce coronary heart disease. Of course this is all in moderation, so you need to be aware of the amount of alcohol you consume.
Give one or more of these whiskey cocktails a try and let me know what you think!!
What is your favorite whiskey mixed drink to sip on?