Pineapple Vodka Drink, Cave Of Wonders is a drink that comes straight from the scenes of Aladdin! Pineapple infused vodka, cherry liqueur, grenadine, and a splash of lemon-lime soda. Sweet, mysterious, oh and I forgot, dry ice for that smoke effect that will win over any crowd!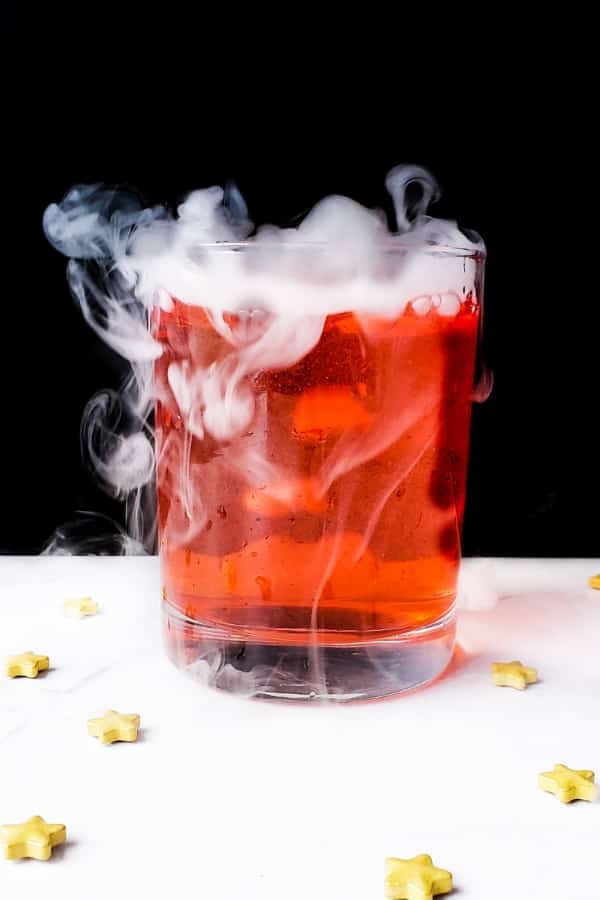 Aladdin hands down was a top movie for me as a child! I loved the magic carpet rides, wishing I was Jasmine, and boy did I love her hair and outfits! When I heard they were making a new Aladdin, it got me inspired! Here is a Cave of Wonders Cocktail that will amaze you! If you want a non-alcoholic drink try this Starbuck's Pink Drink!
Check out these Incredible Alcohol Drinks and Ice Pops
Pineapple Vodka Drink
Have you dried Pineapple Vodka? It has such a tropical flavor and is the perfect base for mixed drinks and cocktails. I am all about taking a fruity vodka and transforming it into one incredible and thirst quenching cocktail!
Plus who doesn't love a cocktail with dry ice for that smokey effect that will up the wow factor?
Best Soda To Mix With the Pineapple Vodka
For this Cave of Wonders Cocktail, I reached for Sprite or 7Up. But, I am a HUGE fan of Ginger Ale so you could even swap it with that if you would prefer. I love the hint of ginger, and I think it could work well with the cherry and pineapple flavors.
How Long Will The Dry Ice Smoke
Once you drop in the dry ice it will only smoke in the cocktail for a few minutes. Since you are only putting a little bit into the cocktail it will melt down pretty fast.
It is a great presentation value, and then it dissipates, so you can drink it easier!
Is It Safe To Drink A Cocktail with Dry Ice In It
It is safe, but you need to be cautious when you make your cocktails. NEVER touch dry ice with your hands as it can burn your skin. You need to allow your drink to stop smoking before you go sipping on it. If you swallow dry ice, it can actually cause damage to your mouth, GI tract, etc.
So make sure that when you serve these up, let it smoke for a few minutes and then sip away.
How to Make Cave of Wonders Cocktail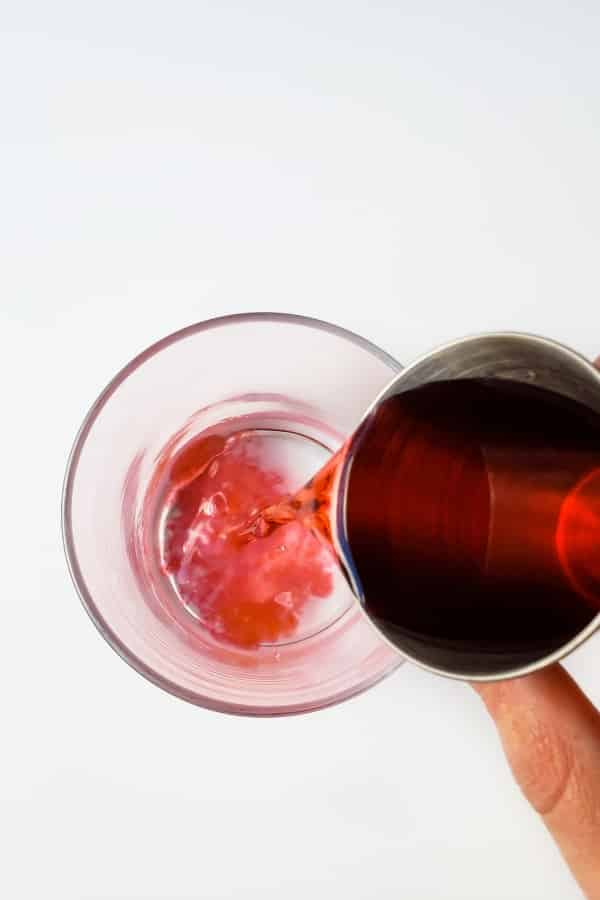 This recipe makes 2 cocktails. Feel free to make as many of these as you would like. You just want to aim for 1.5 ounces of vodka and cherry liqueur for each glass along with a splash of grenadine.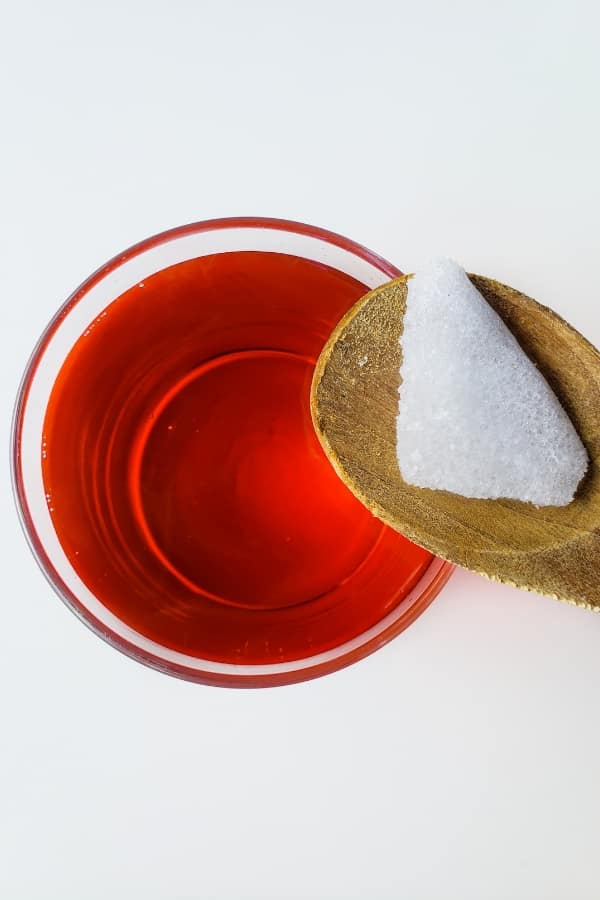 Remember when you go to place the dry ice, use a spoon. Don't touch it as it can severely burn your skin!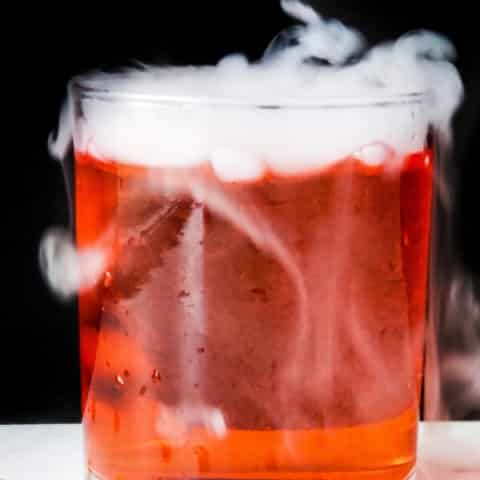 Pineapple Vodka Drink - Cave of Wonders (Aladdin Themed)
Yield: 1 drink

Prep Time: 5 minutes

Total Time: 5 minutes

Pineapple vodka drink that is full of sweetness and smokey effect. This pineapple infused cocktail is going to wow your guests.
Ingredients
3oz Pineapple Vodka
3oz Cherry Liqueur
2 Small Splashes Grenadine
Sprite or Lemon-Lime Soda
Dry Ice
Instructions
You want to start by pouring 1.5 oz of the pineapple vodka, cherry liqueur, and a splash of grenadine into a glass. Repeat for a second cocktail if you wish.
Grab a lemon lime soda and top it off, until it is about an inch from the top of the glass.
Then with a wooden or plastic spoon, scoop a small amount of dry ice into the cup. DO NOT USE YOUR HANDS TO TOUCH DRY ICE.
Serve the drink and watch it smoke and give that wonders of cave look. After a few minutes the dry ice will stop.
Nutrition Information:
Yield: 2 Serving Size: 1 cup
Amount Per Serving: Calories: 388Total Fat: 0gSaturated Fat: 0gTrans Fat: 0gUnsaturated Fat: 0gCholesterol: 0mgSodium: 57mgCarbohydrates: 64gFiber: 1gSugar: 58gProtein: 1g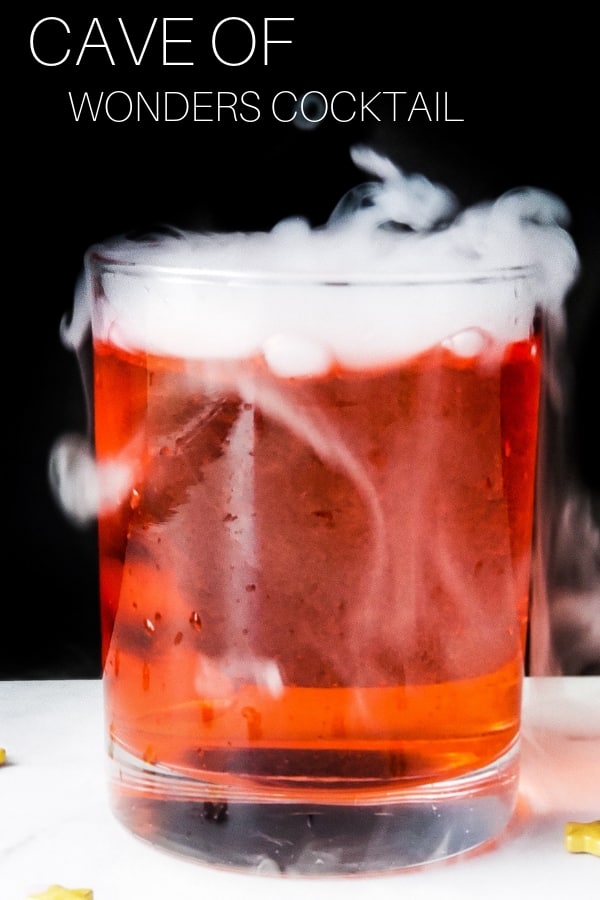 Pineapple Infused Vodka Drink
I really think you all are going to enjoy this cocktail. Serve it for summer bbq's, Valentine's Day, Halloween, or for a fun party on a weekend. You can make it look spooky, romantic, or just plain fun! Such a versatile drink!
Rose's Grenadine, 1 Liter
Cocktail Glasses
Aladdin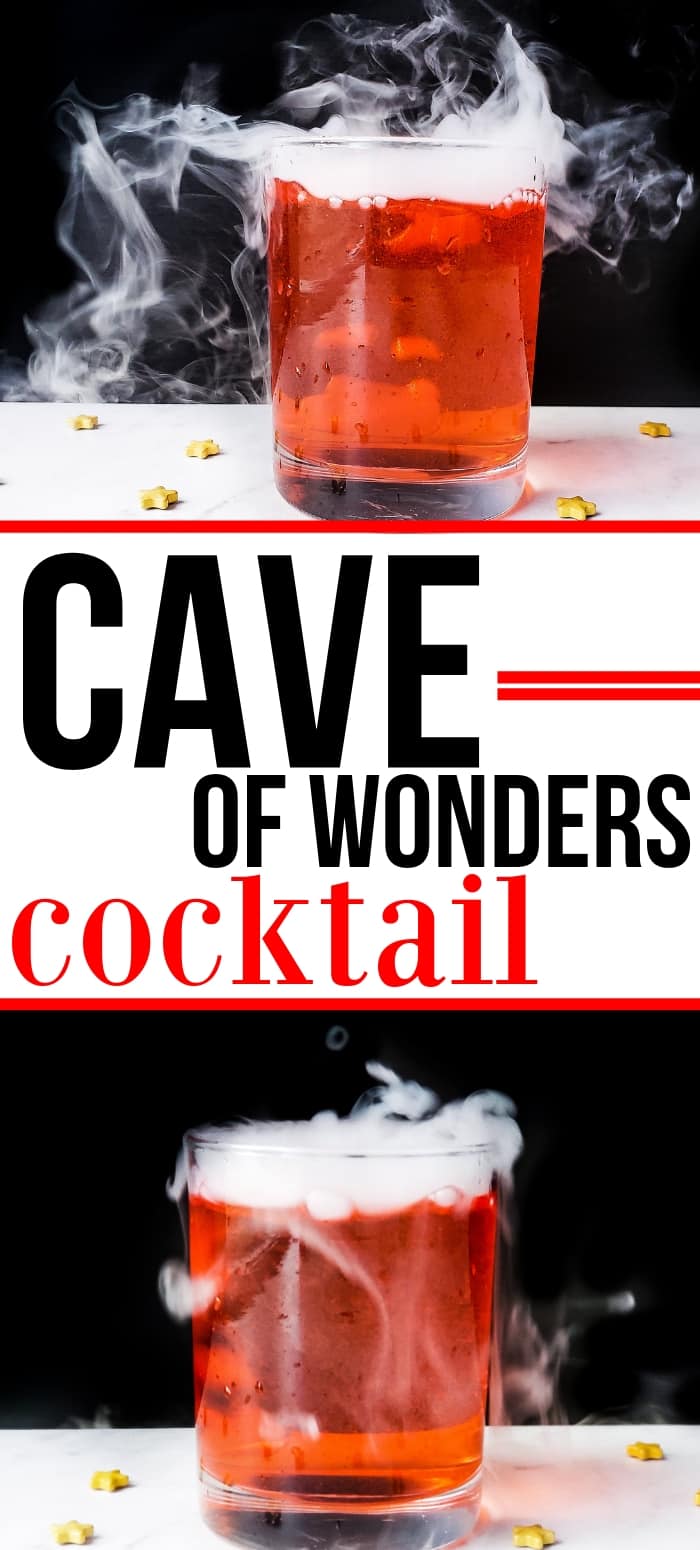 Does this cave of wonders drink sound tasty?