Cold and flu season is approaching fast, and you might be interested in making homemade elderberry syrup. 6 ingredients are all you need to make this elderberry syrup for colds and flu.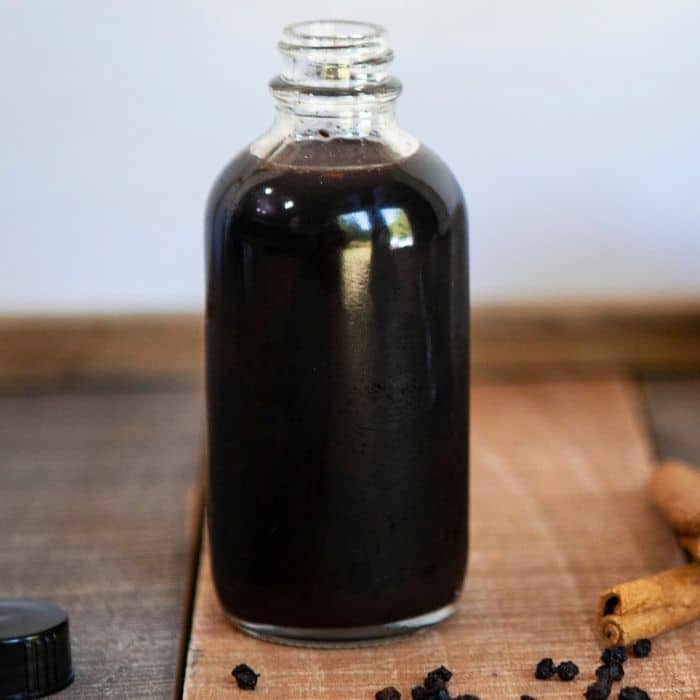 Dried elderberries can be used to create a natural way to boost your immunity to help prevent yourself from getting sick. Or if you are sick double up on your elderberry to help speed up the healing process.
There are many healthful benefits to aiding your immune system and working to be an immune booster.
🥄 Why This Recipe Works
Cheaper than buying premade
Minimal ingredients required
Can store syrup in fridge to use through the week
Affordable to make
Can Help Bring Relief Of Cold and Flu
Can Help to boost immunity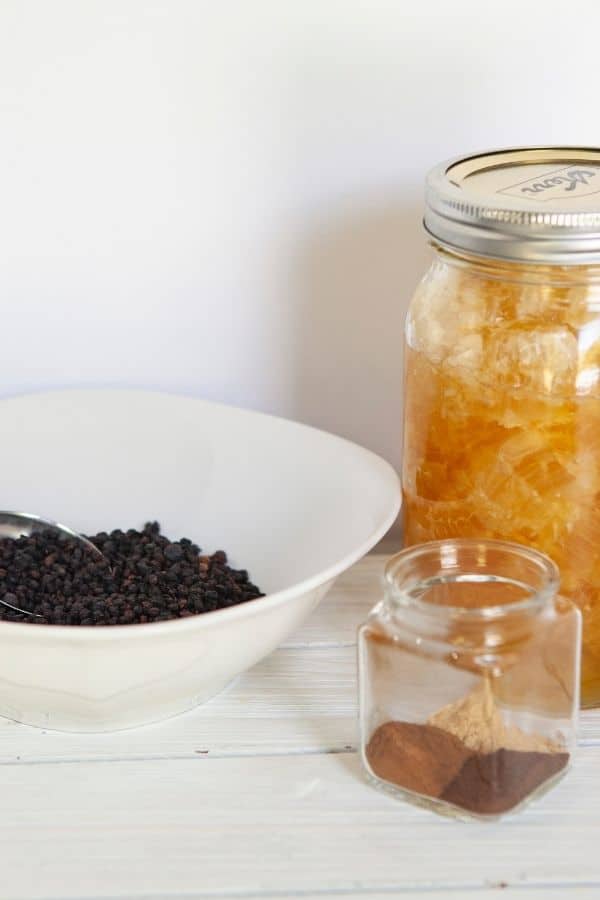 🍯 Ingredients
Dried elderberries | Health food stores can. A try dried elderberries. I personally just order from amazon as we live rural.
Honey | Buying local honey is a good option. But any honey will work as well.
Spices | I used cloves, cinnamon, and ginger. It gives a ton of warm spice flavor and helps bring this recipe a ton of flavor.
👩‍🍳 How To Make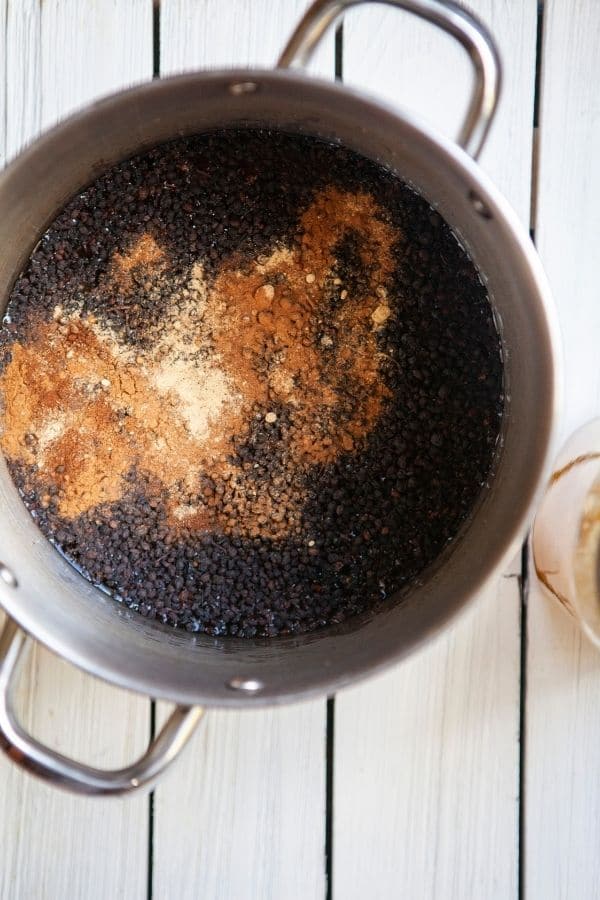 In a pot on the stove add your elderberries, water, cloves, cinnamon, and ginger. You will bring to a boil, and then reduce to low.
Simmer for 45 minutes or until it reduces by half. Once it is reduced, use a strainer or cheesecloth to strain your berries. Use a spatula or spoon to press out any excess liquid.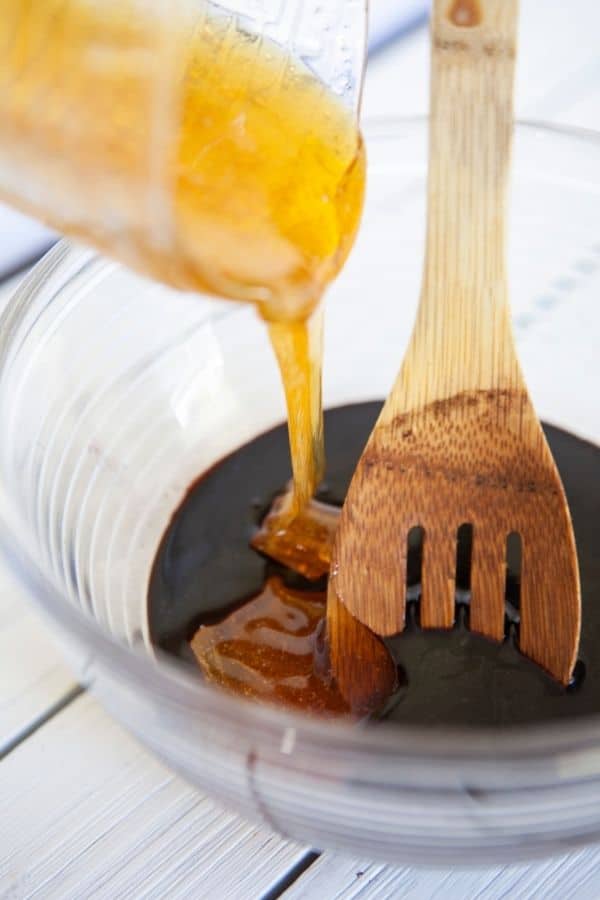 Once you have all the juice removed, add in your cup of honey and stir until combined.
Refrigerate in the fridge.
📌 Expert Tips
Your elderberry syrup needs to be refrigerated in an airtight container.
You can double the recipe if you would like to make more at a time.
The honey is best if purchased locally but feel free to use any style, honey.
Elderberries are high in antioxidants and vitamins.
How to Take Elderberry Syrup
Preventative:
Children: take 1 tsp per day.
Adults: Take one tablespoon per day
When ill:
Take recommended dose 2-3x per day.
Recipe FAQs And Tips
What are the benefits of elderberry syrup?
Elderberry syrup is great for reducing inflammation, boosting your immune system, lessening cold and flu symptoms and more. This is a natural at home remedy that can be used.
Should I Use Dried or Fresh Elderberries?
Dried elderberries are best to use when making the syrup. Dried berries store well and you can make it as much or as little as you would like.
Can you take elderberry syrup daily?
Most commercial elderberry syrups can be made to take a tablespoon of elderberry syrup a day. Or if you are sick you can take a double dose of the syrup.
Who should not take elderberry?
When taking any supplement or medicine it is always important to talk with your doctor first to ensure it is a safe option for you. Especially any mother who is breastfeeding or pregnant.
Here are more recipes to try out! Stuffed pepper skillet dish, Lentil soup, no soak hummus, or butter chicken.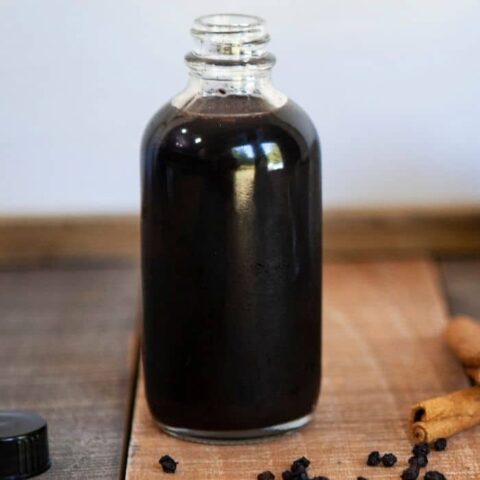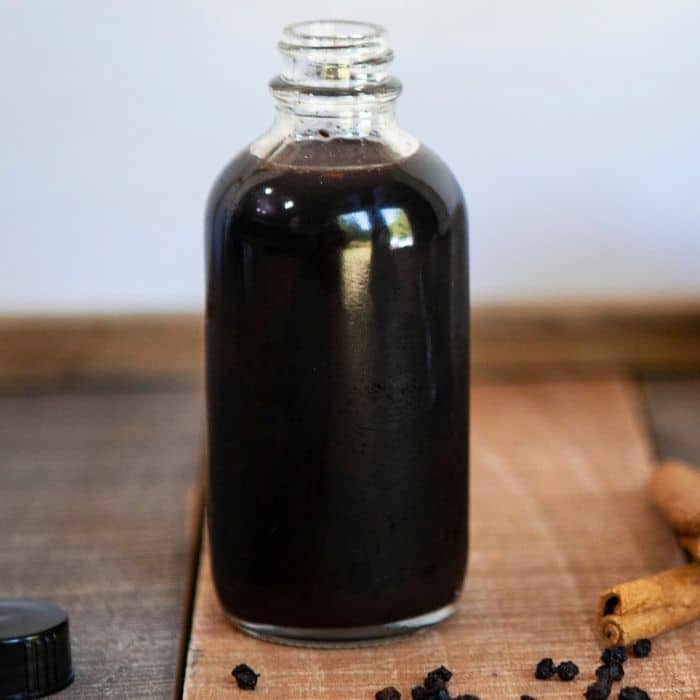 Homemade Elderberry Syrup
Homemade Elderberry Syrup is a great way to boost your immunity or fight a cold or flu. This is an easy elderberry syrup made from dried elderberries.
Ingredients
2/3 cup of dried elderberries
3 Cups of water
1 Cup of raw local honey
1 tsp ground cinnamon
1 tsp ground ginger
1 tsp ground cloves
Instructions
Place your dried elderberries, water, cinnamon, cloves in ginger in a pot. Turn to medium-high heat.
Stir occasionally until your mixture begins to boil. Then turn the heat to low and simmer for 45 minutes or until the mixture reduces by half.
Then remove from heat and use a fine-mesh strainer or cheesecloth to drain the mixture. Use a spoon to press all liquid out of the elderberries.
Pour into a container and add your honey and stir well.
Then place the lid on your container and store the elderberry syrup in the refrigerator.
Notes
Preventative: Children: take 1 tsp per day. Adults: Take one tablespoon per day.
When ill: take the recommended dose of 2-3x per day.
I used dried elderberries from Amazon, but you can find elderberries at health food stores as well.
Raw local honey is best, but if you can't find any buy quality honey at your local store.
Feel free to double the elderberry syrup recipe if you want to make extra.
You can use fresh elderberries if that is what you have on hand.
Store in the fridge. If you find it is separating just mix before you pour your mixture.
Nutrition Information:
Yield:

64
Serving Size:

1 tablespoon
Amount Per Serving:
Calories:

16
Total Fat:

0g
Saturated Fat:

0g
Trans Fat:

0g
Unsaturated Fat:

0g
Cholesterol:

0mg
Sodium:

1mg
Carbohydrates:

4g
Fiber:

0g
Sugar:

4g
Protein:

0g
This information is automatically calculated by third-party software, including but not limited to the Create or Bake Me Some Sugar. For accurate nutrition, I suggest running the ingredients in your own system to get a more accurate reading. Nutritional information is approximate and automatically calculated, and should only be viewed as an indication.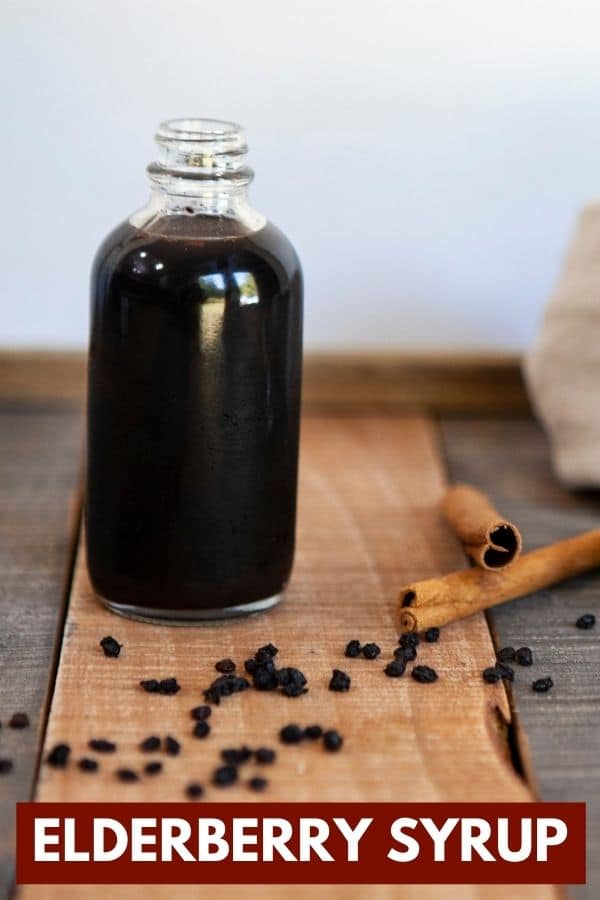 Are you a fan of elderberry syrup?