Instant Pot butter chicken is such a delicious recipe. This is a low carb recipe so you don't have to feel guilty for diving into this dish. Pressure cooker butter chicken is a breeze to make!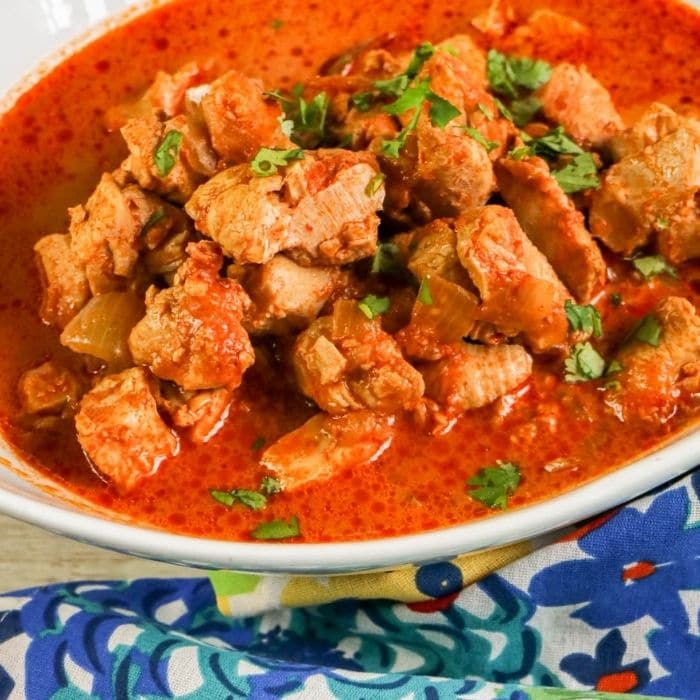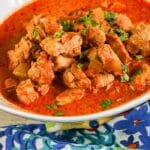 Dish up this Instant Pot Butter chicken for dinner tonight. A low carb butter chicken recipe, that is bursting with flavor. An Indian spiced dish that tastes better than takeout. 35 minutes is all this recipe takes to make.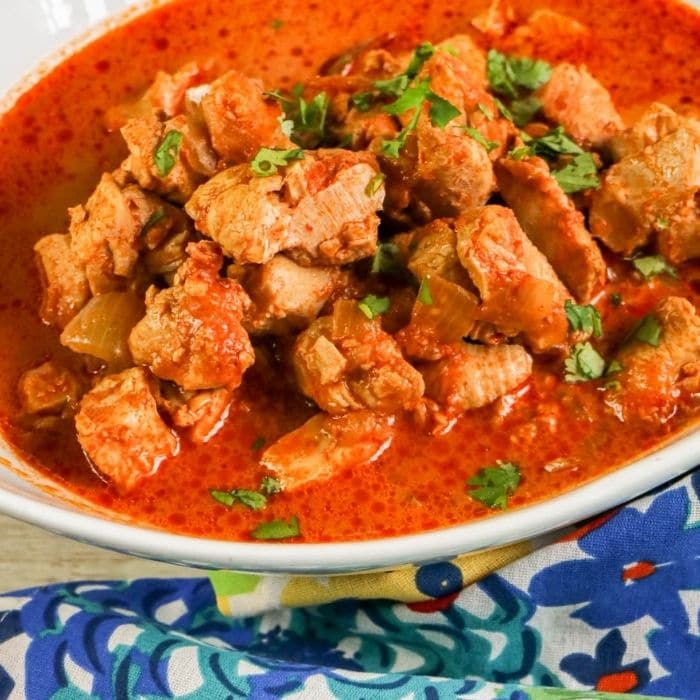 You will love this tender chicken, rich and creamy sauce. This dish can be served alone or over a bed of cauliflower rice.
Or if you are not low carb, many will serve this chicken dish with rice or even naan bread.
Why This Recipe Works
Quick cook time
Slow simmered taste in a fraction of the time
You will have leftovers to enjoy the next day
Simple directions for making a favorite takeout dinner
Money Saver – instead of dining out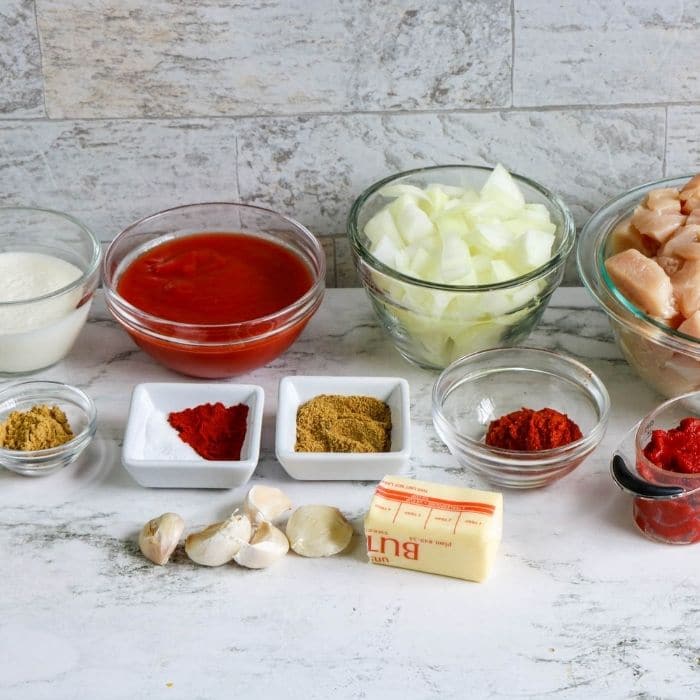 🍛 Ingredients
Here are a few of the essential ingredients you need to make this pressure cooker recipe!
Spices | Garam Masala, Cumin, Cinnamon, Cayenne, Ginger, and more come together to help give this Indian Instant Pot recipe all the flavors you would expect in a restaurant-quality butter chicken.
Chicken | You can use any style of boneless chicken. Dice it up into cubes. I always try to make sure the chicken is similar in size so you get an even cook on the dish.
Coconut Milk | Full fat coconut milk is needed for this recipe. You are going to get that rich flavor and it will help when you go to thicken with the tapioca starch.
🌶️ Instructions
Step 1: Start by adding your spices into a bowl and mix well. Set it aside. Then you will dice your boneless chicken into cubes. Try to make the chicken similar in size for an even cook.
Step 2: In the Instant Pot select the saute feature. Add in your butter, and diced onions. You want to cook your onions for 2-3 minutes to allow them to sweat a bit and become soft. Then toss in your garlic, and turn off the saute feature.
Step 3: Add in your raw chicken, tomato sauce, coconut milk, and yogurt along with your spice blend.
Step 4: Put the lid on the pressure cooker and move the valve to sealing position. Cook high pressure for 10 minutes, followed by a quick release of pressure.
Step 5: Now you will remove the lid and turn the saute mode on, and boil allowing the sauce to thicken. You can stir in a little tapioca starch to help it thicken if you would like.
Or by allowing it to cook down, stirring occasionally will get it to thicken. Just don't leave it too long or it will burn the bottom.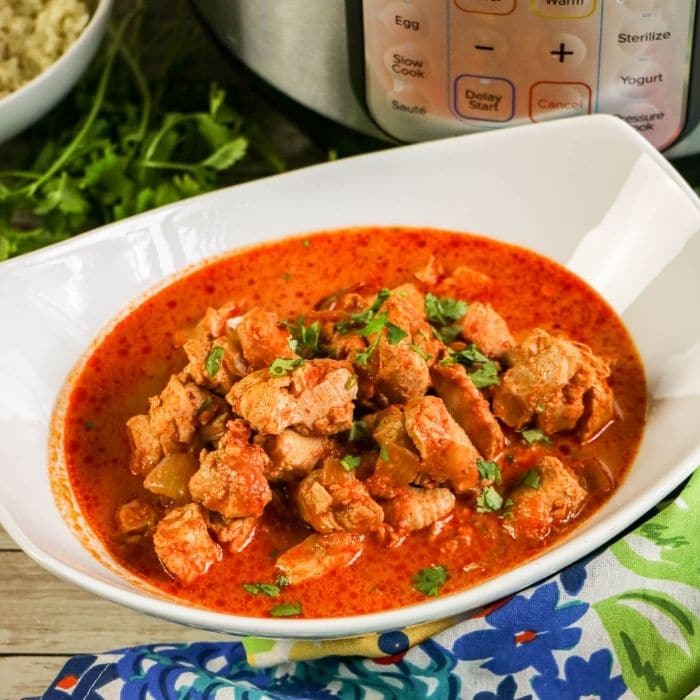 Step 6: Stir in 2 tablespoons of butter and cilantro and mix until melted. The spoon your butter chicken into bowls, garnish and serve!
Expert Tips
Make sure to only add 1 tablespoon butter to saute onions. You need the rest to mix in later after the dish cooks.
Make sure to use a wooden spoon to scrape the bottom of your instant pot to remove any stuck-on food. This will help prevent the burn notice as it cooks.
Speed up the thickening of the sauce by adding in cornstarch or tapioca powder. Both work when mixed with cold water, I would do a tablespoon starch to a tablespoon water.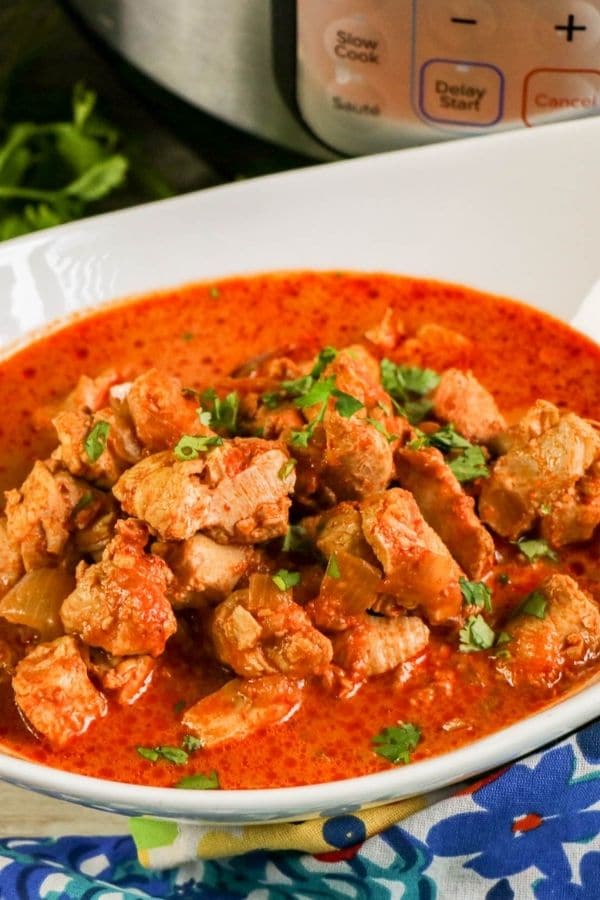 Meal Prep and Freezer Friendly
Butter Chicken stores well in the refrigerator for 3-5 days. This is great to make and then meal prep for lunches, easy weeknight dinners, etc.
Or you can opt to freeze any leftovers you may have. I tend to put them in single serve containers, and then freeze for up to three months. Thaw in the fridge the night before you plan to eat.
Then just reheat in the microwave or on the stove top when you want to eat it.
Recipe FAQs
What Does Butter Chicken Taste Like?
Butter chicken is a milder flavored chicken dish. Some say it is similar to chicken tikka masala, just not as bold in flavor. A well seasoned dish with a buttery sauce.
Is Butter Chicken Healthy?
This Instant Pot version of butter chicken is healthier as I created it to be low carb. So in terms yes it is healthier than a classic butter chicken recipe you might find to make.
Can You Freeze Butter Chicken Sauce
Butter chicken sauce can be frozen. Simply allow the sauce to cool, then transfer to an airtight container and freeze for up to three months.
Interested In More Instant Pot Recipes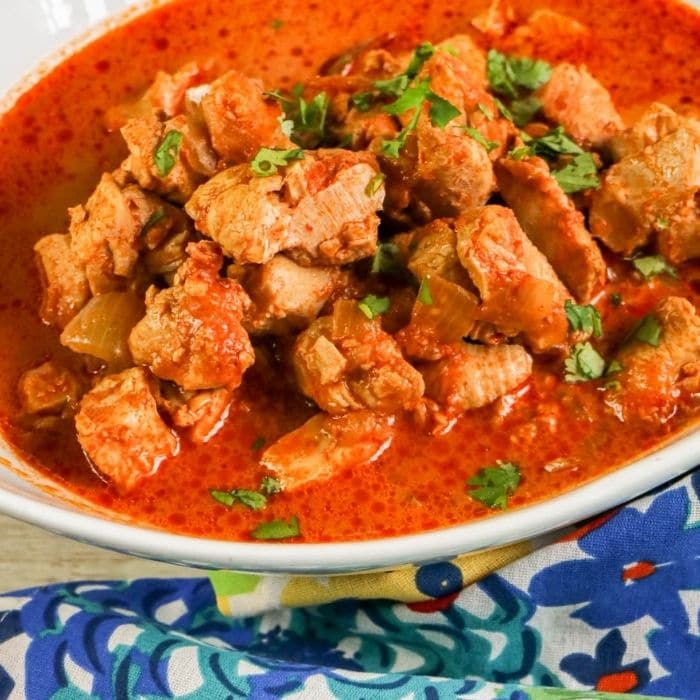 Low Carb Instant Pot Butter Chicken
Instant Pot butter chicken is such a delicious recipe. This is a low carb recipe so you don't have to feel guilty for diving into this dish. Pressure cooker butter chicken is a breeze to make!
Ingredients
1.5 pounds boneless skinless chicken thighs diced into cubes
1 small yellow onion finely chopped
3 cloves garlic minced
1 15-ounce can tomato sauce
1 13.5-ounce can coconut milk
1/3 cup plain greek yogurt
3 tablespoons salted butter divided
chopped fresh cilantro
Seasonings:
1 tablespoon garam masala
1/2 teaspoon salt
1/4 teaspoon ground ginger
1 teaspoon ground coriander seed
1/2 teaspoon ground cumin
1/8 teaspoon ground cayenne optional
Thickening Agent
1 tablespoon cornstarch
1 tablespoon cold water
Instructions
Start by adding all your spices into a bowl and stir and set aside. Garam Masala, coriander seed, cumin, salt, ginger and cayenne.

Turn your Instant Pot to saute feature and add in 1 tablespoon butter, along with your diced onion. Saute for 3-4 minutes or until onions become soft.

Turn the saute feature off and add in your garlic and stir a minute, allowing it to become fragrant.

Now you will add in your diced chicken, tomato sauce, coconut milk, yogurt, and your seasonings.

Place the pressure cooker lid on and make sure the valve is set to the sealing position. Do a high pressure cook for 10 minutes followed by a quick release.

Take the lid off your pressure cooker and and turn the pot to saute again. Add in your butter, and a bit of cilantro.

Then for me I mix up the cornstarch and cold water and stir it in. This will help thicken the sauce up.

Once your butter chicken reaches the desired thickeness you want, ladle it up, top with more cilantro and enjoy.
Notes
Make sure to cut your chicken into even pieces so you can even cook on your meat. Scrape the bottom of the pot once you add in tomato sauce and other ingredients to ensure no stuck-on food is on the bottom, or that can give you a burn notice. Use tapioca starch or cornstarch and cold water as a thickening agent once the butter chicken is fully cooked. If your find your liquid comes out when you release pressure do a slow release where you have a towel by the spout and you carefully and slowly release pressure off the Instant Pot. You can store leftovers in the fridge for a few days or opt to freeze any leftover chicken. Add more cayenne pepper to add more heat to the butter chicken if you want more spice.
Nutrition
Serving: 1gCalories: 256kcalCarbohydrates: 5gProtein: 23gFat: 17gSaturated Fat: 10gPolyunsaturated Fat: 6gCholesterol: 116mgSodium: 399mgFiber: 1gSugar: 1g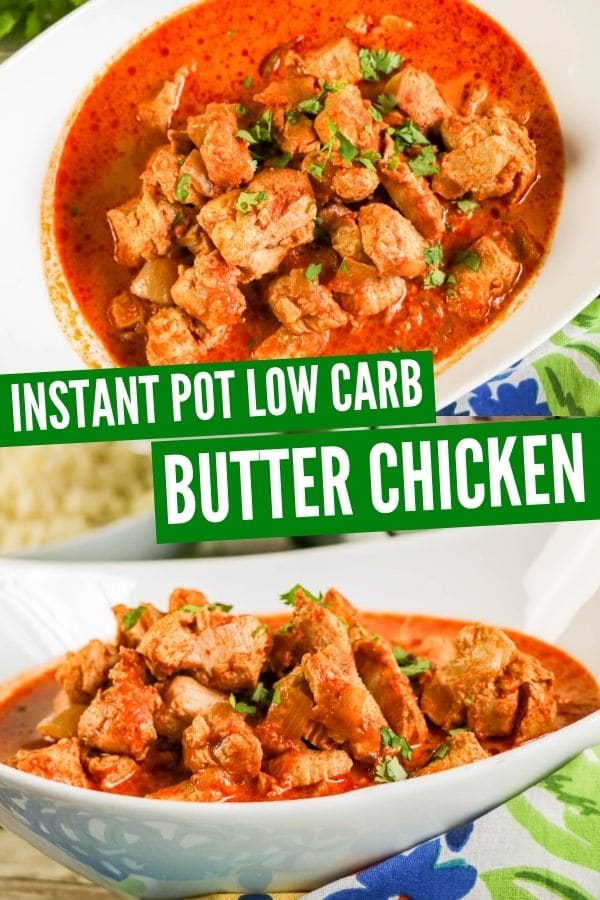 Reader Interactions