Instant Pot Green beans are freshly picked green beans that are loaded with flavor and cooked in your Instant Pot. A classic weeknight side dish, or holiday side dish fit for a crowd.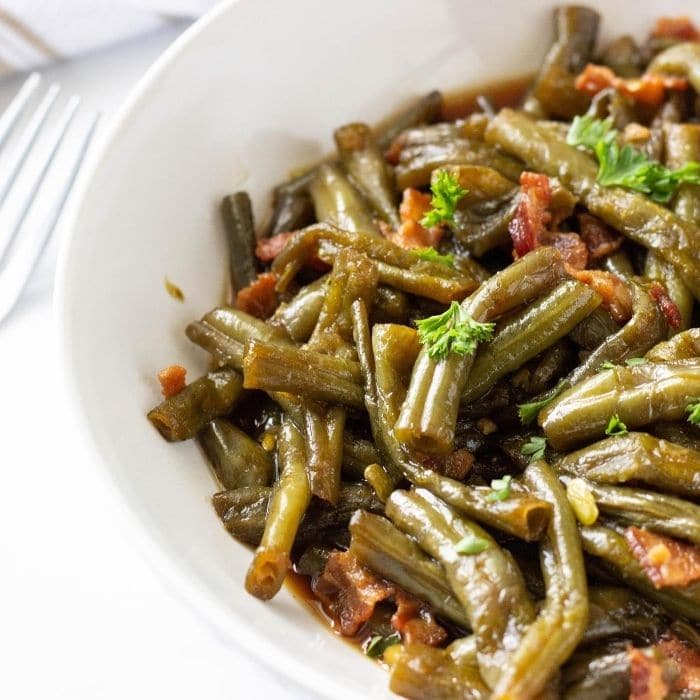 I have even more great Instant Pot recipes to try out. Instant Pot mashed sweet potatoes, potato salad, or corn on the cob!
Green beans are one of my favorite vegetables! I am always looking for the best way to cook really flavorful green beans! This green bean Instant Pot version is so tasty.
How To Make Instant Pot Green Beans
Step 1: Start by dicing up your bacon. You want smaller pieces.
Step 2: Turn the pressure cooker on saute, and allow it to get warm. Toss in your diced bacon and cook until done.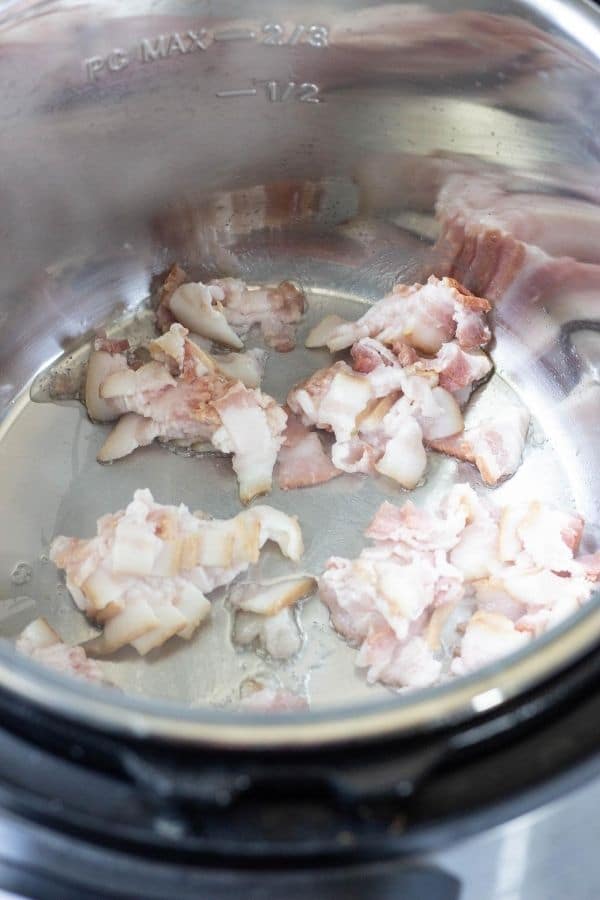 Step 3: Once your bacon is fully cooked, remove all the pieces of the bacon on a paper towel. Then you will remove all but a tablespoon of the bacon grease.
Step 4: Add in your onion and saute for a minute, then turn off the saute feature and add the bacon back in.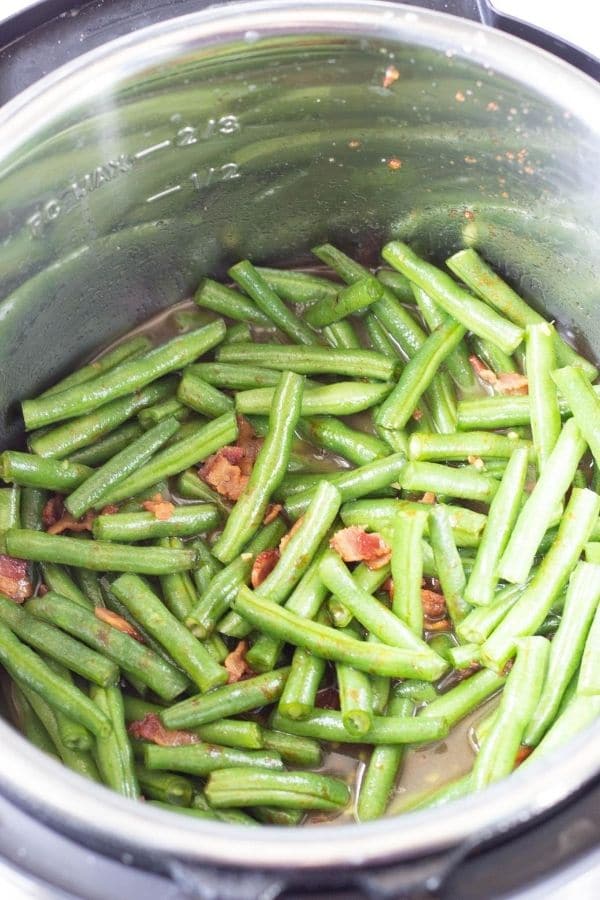 Step 5: Pour in the rest of the ingredients, place lid on, seal, and cook for 5 minutes with a quick release. If you natural release it will make the green beans even more tender.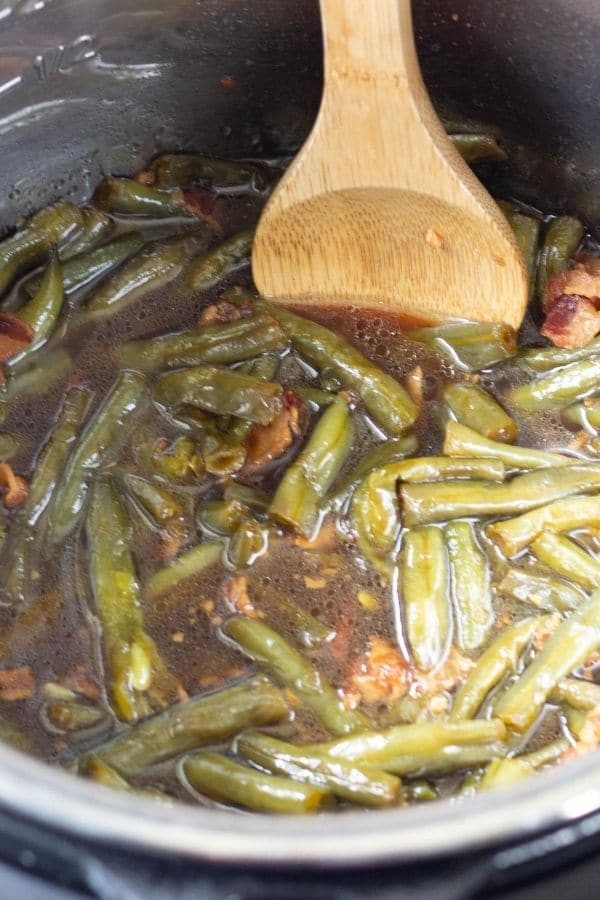 Step 6: Once your time is up, do the quick release, stir, and then serve with your favorite dinner!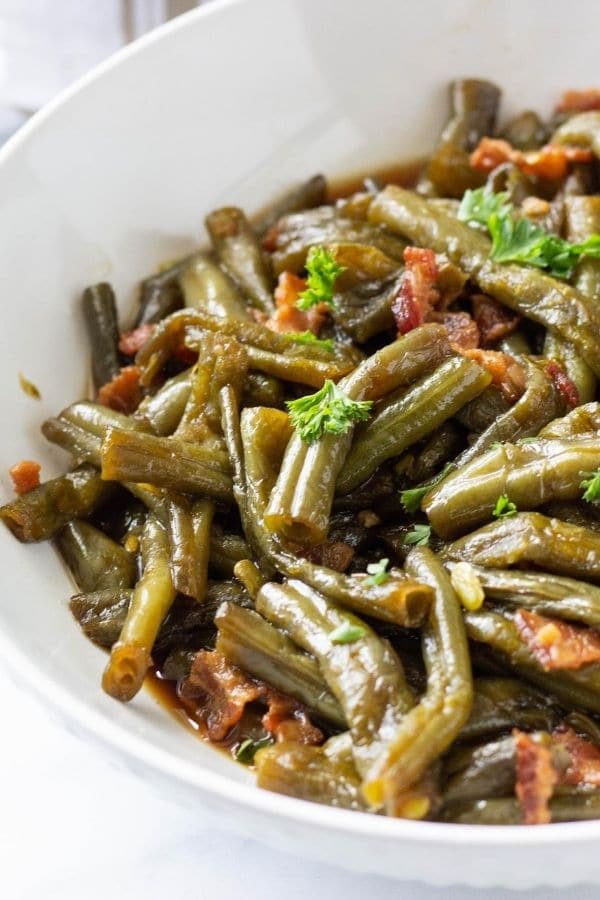 Main Ingredients In Pressure Cooker Green Beans
Fresh green beans | You will buy or pick fresh green beans from your garden. Cut off the ends if you would get rid of the string portion.
Then you can leave them whole or slice in half to make smaller green beans. I cut mine in half.
Bacon | Bacon is going to add a lot of savory to this green bean recipe. I just used a sharp knife and sliced up the bacon before I tossed it into the Instant Pot. That way it cooks fast and is the perfect size.
Make sure you drain off excess grease or you will have a lot of grease in your beans.
Chicken Stock | Chicken stock is going to help add a lot of flavor to these fresh green beans. Instead of water, it will help infuse more flavor into your beans.
You can also use a vegetable stock. It will alter the flavor just slightly.
Want More Instant Pot Side Dish Recipes
Side dishes are awesome to cook in your instapot. If you are looking for more ideas let me share a handful of recipes for you to try out.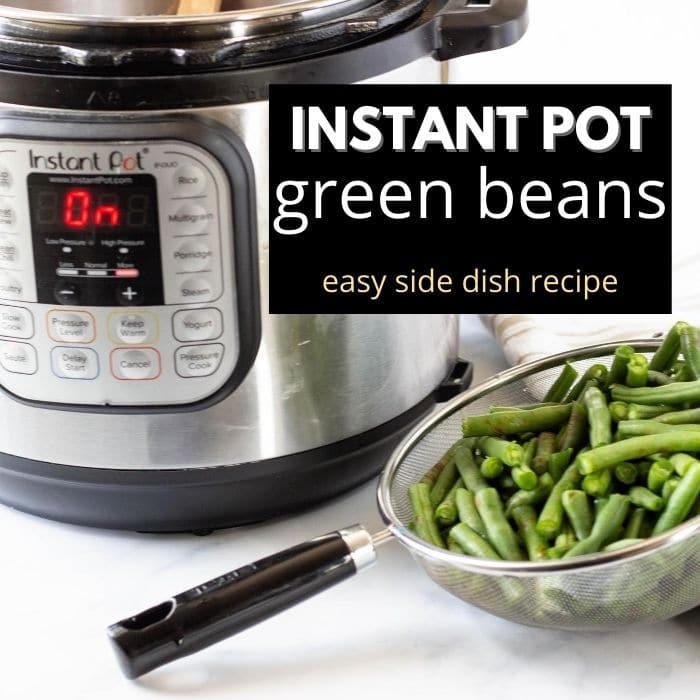 Can I Make This With Frozen Green Beans
You are more than welcome to do this recipe with frozen green beans. If you do so, just cook the bacon, remove, drain oil, add in onion, deglaze pan, and then cook for 0 minutes with a quick release.
You can cook for 0 minutes. It will cook as the Instant Pot comes to pressure. The recipe will be the same except for the cooking time.
Steamed green beans are one of my favorites. I think I could eat them literally every night if I could.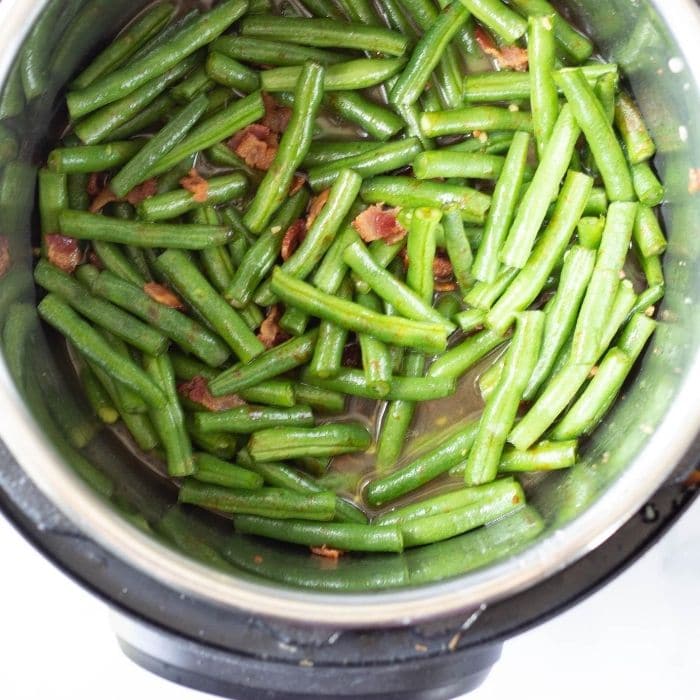 How to Prepare Green Beans
Wash your green beans under cold water. I wash them in a strainer.
Then you will shake off excess water and then trim the ends of the green beans down. They are woody so you can either break off with your hand, or use a knife.
Green Bean Seasonings
You can season your green beans in so many ways. I will share some of my favorites with you below.
Bacon, onion, and salt and pepper
Fresh lemon juice, salt, pepper, parsley
Onion, garlic, crushed red pepper flakes, and salt and pepper
Butter, salt, pepper, creole, and a sprinkle of parmesan cheese at the end
Brown sugar, salt, pepper, bacon
To make any of these different recipes, just cook the same way. If there are veggies saute it first then pressure cooker.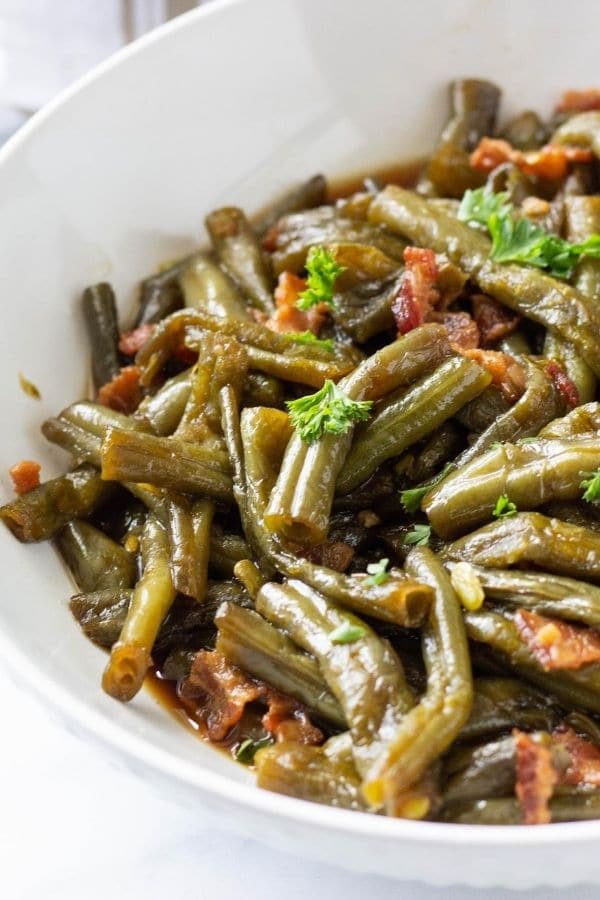 Instant Pot Green Beans with Bacon
Servings 8 servings
Instant Pot Green Beans is a quick and easy Instant Pot side dish recipe. Give this fresh green bean and bacon recipe a try! A fresh green bean recipe that is easy prep, quick cook time, and delicious.
Ingredients
1 1/2 pounds green beans washed, trimmed, and I cut in half
6 slices bacon diced
1 small sweet onion diced
1 cup chicken broth or vegetable broth
1/2 teaspoon season salt
1/4 teaspoon garlic powder
1 teaspoon soy sauce
1/4 teaspoon pepper
1 tablespoon butter unsalted
Instructions
Start by turning your Instant pot to saute. Then when the liner is hot, add in your bacon and cook your diced bacon. Once it is fully cooked, remove bacon and place on a paper towel. 

Remove all but around a tablespoon of the bacon grease. Then add in your onion, and return the bacon to the Instant pot. Cook for 1 minute. 

Turn the saute feature off, and then pour in the chicken broth. 

Now with a wooden spoon scrape the whole bottom of the pot. You need to remove any bacon pieces on the pot, or it will cause a burn notice when you pressure cook. 

Now you will add in your green beans, garlic powder, season salt, pepper, butter, and soy sauce. Place the lid on the pressure cooker and make sure the valve is set to seal. 

Cook for 5 minutes high pressure, and followed by a quick release. 

Give your Instant Pot green beans a stir and serve! 
Notes
For a firmer green bean cook for 3-4 minutes on cook time. For a more well done green bean do 5-7 minutes on the cook time.
Nutrition
Serving: 1gCalories: 100kcalCarbohydrates: 11gProtein: 5gFat: 5gSaturated Fat: 2gPolyunsaturated Fat: 2gCholesterol: 13mgSodium: 517mgFiber: 3gSugar: 5g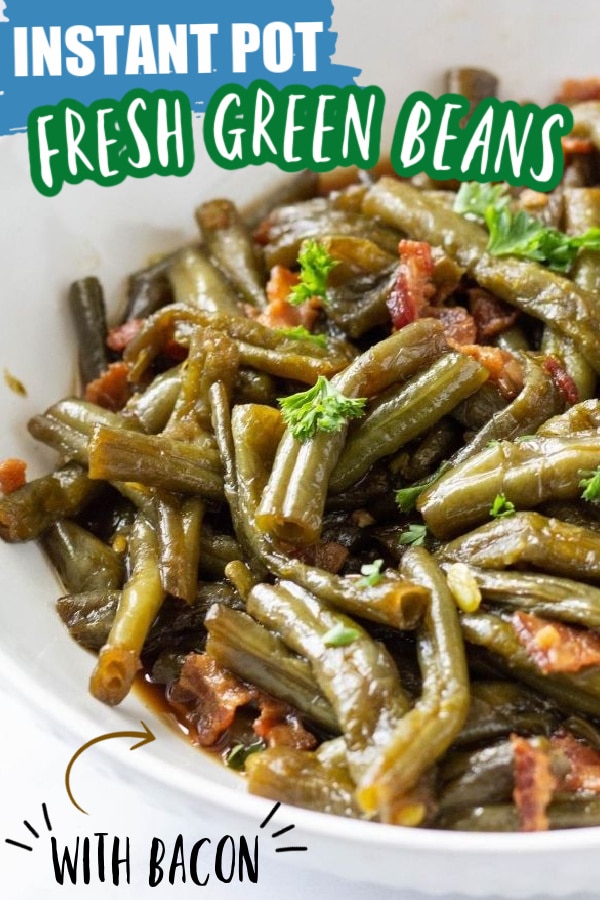 Reader Interactions