Instant Pot Rice Pilaf is an easy side dish that is perfect to pair with anything. 5 ingredients is all you need for this rice pilaf recipe.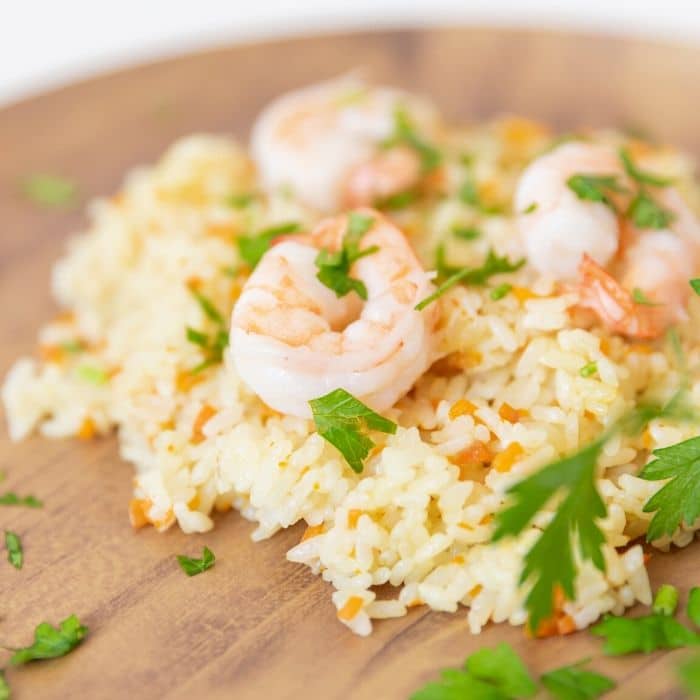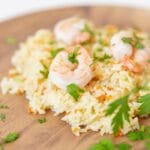 Instant Pot Rice Pilaf is one of my go-to recipes. This pressure cooker rice pilaf is so easy to make, and just requires 5 ingredients! Tender, fluffy, and packed full of flavor.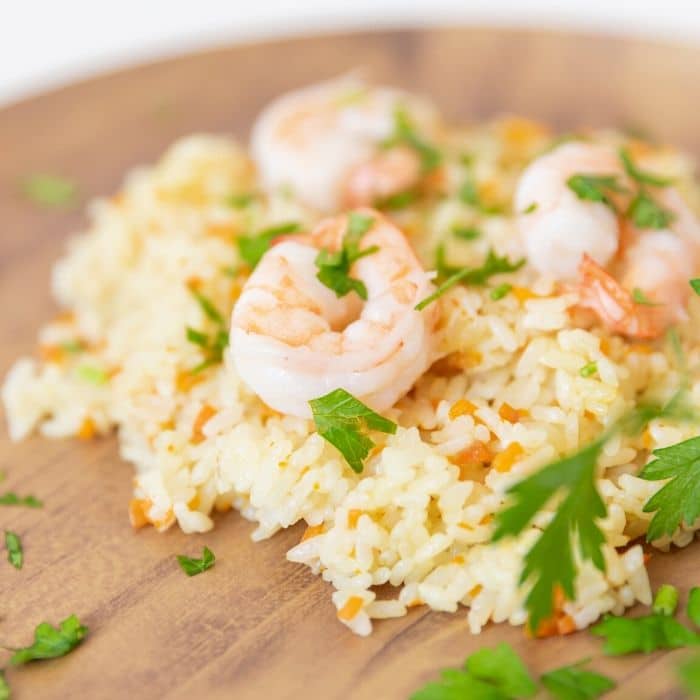 Want more easy Instant Pot side dish recipes? Try my Instant Pot potato salad with bacon and cheese, spicy black-eyed peas, or my no soak Cuban beans.
Instant Pot Rice Pilaf
I paired my Instant Pot pilaf with shrimp the night I made it. That way it was a crazy simple night of cooking for me.
Why Use An Instant Pot To Cook Rice?
Rice cooked that is pressure-cooked has the best texture and flavor. As it pressure cooks it infuses all the flavors into the Calrose rice. Giving this pilaf insane flavor.
What to Serve with Rice Pilaf Instant Pot Recipe
Which Rice is Best for Pilaf?
So I used Calrose rice for my pilaf. But you are welcome to reach for long and slender rice. You can use long-grain white rice, Basmati, or even a Jasmine rice if you want.
Just know that with the change of any rice it will alter the flavor of your overall rice recipe.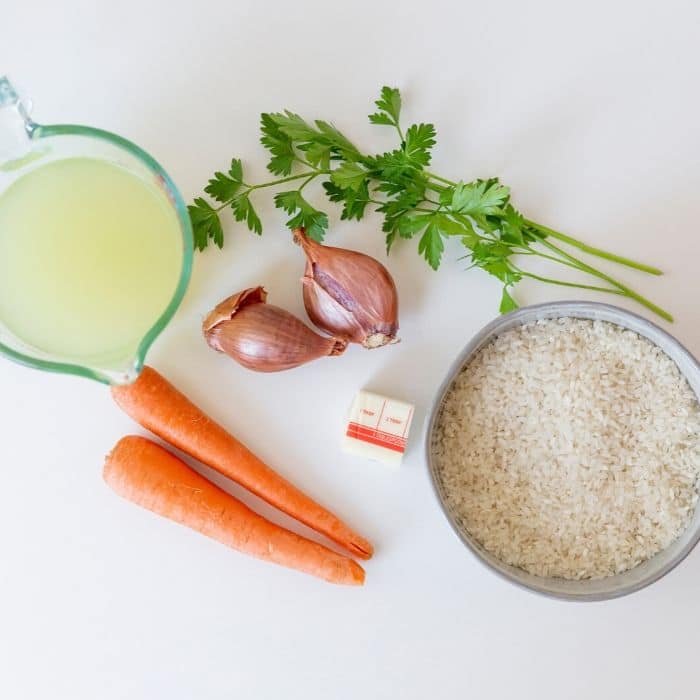 Ingredients for Rice Pilaf
Unsalted Butter
Calrose Rice (or swap for what you have)
Carrots
Shallots
Chicken Stock
I cooked my shrimp separate and then topped my rice pilaf with it. I cooked my shrimp on the saute feature once my rice was all cooked.
How to Make Instant Pot Rice Pilaf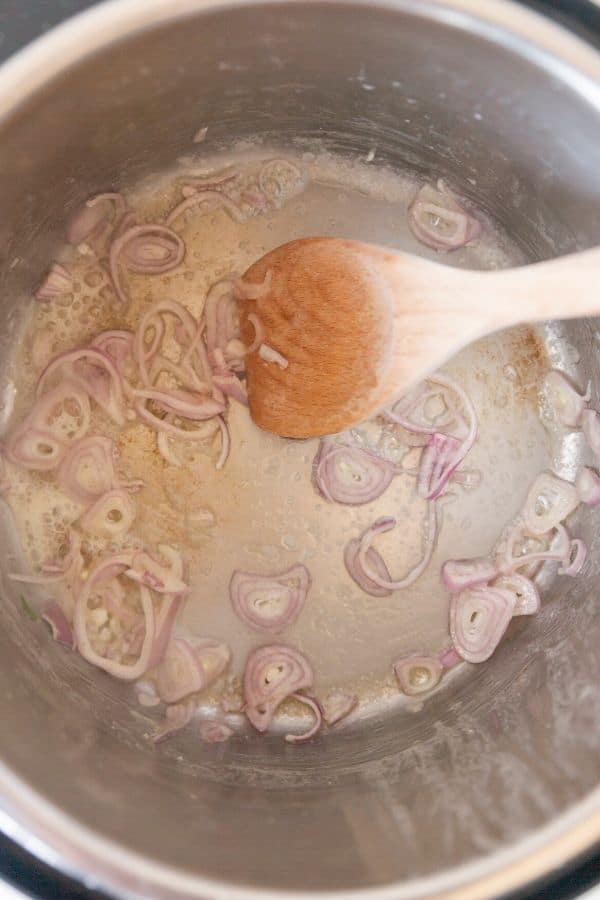 Step 1: Add your butter into the Instant Pot on the saute mode. Add in your shallots once the butter has melted.
Stir continuously and cook for 2-3 minutes or until they become fragrant.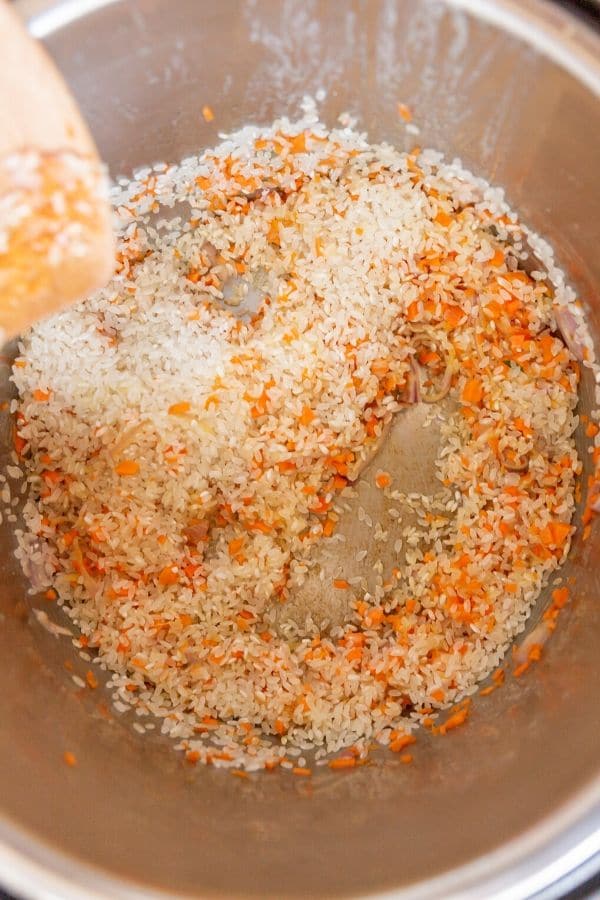 Step 2: Now add in your diced carrots, rice, broth, and give a good stir. Place Instant Pot lid on and do high pressure for 5 minutes.
Followed by a natural release of 5 minutes, and then quick release any excess pressure off your rice pilaf pressure cooker dish.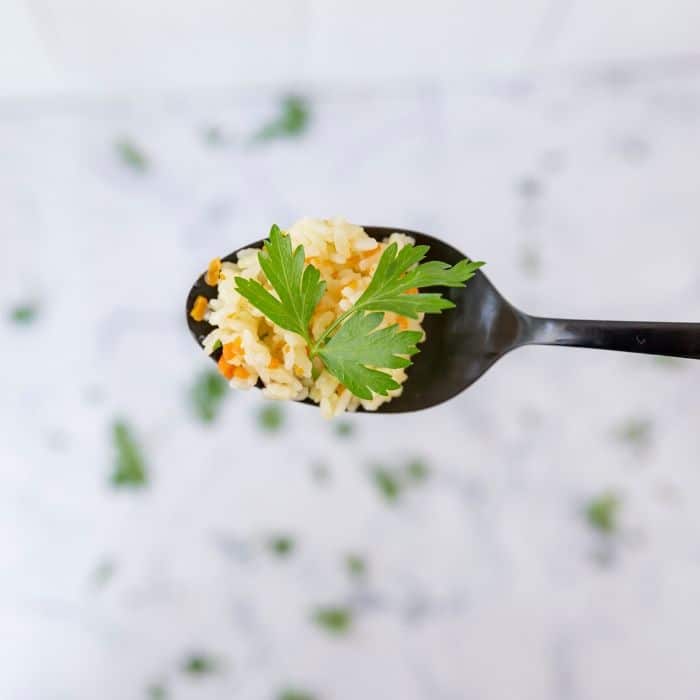 Step 3: Toss your pilaf well and then garnish with parsley if you would like!
How To Cook Shrimp With Rice Pilaf
If you want to cook the shrimp after you remove all your rice pilaf, you can turn the saute feature back on, with a little butter, and toss in your shrimp and saute.
Boost Flavor With Spices And Vegetables
Consider this recipe a base. Feel free to add in different spices, finely diced vegetables to add different elements of flavor to the pilaf.
I cleaned out my produce drawer when I made this version. You can add tons of different flavors to totally transform the recipe.
Add in minced garlic
Coriander, Cumin or even a Curry Powder
Chopped peppers
Onion Powder, Garlic Powder, etc
Cajun Spice
Etc
You want to perfume the rice, not overpower it with flavor. But if you want to add a lot of flavors you sure can. Those are some ideas on how to transform the flavor a bit.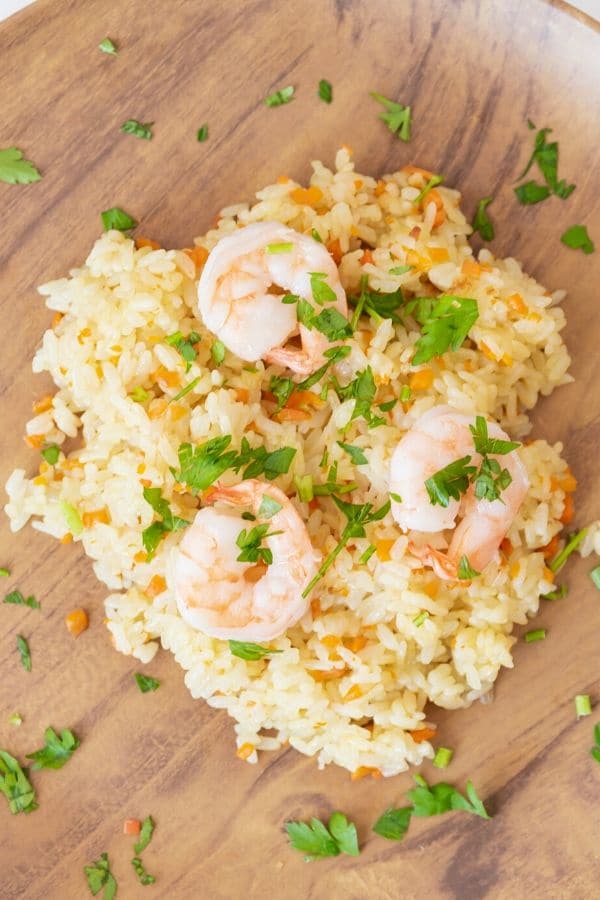 Topping Ideas
Slivered Almonds
Diced Pistachios
Smoked Paprika
Parsley
Pecans
Etc
I did parsley and that was it, but if you want some crunch add in some nuts or paprika for a nice bright color.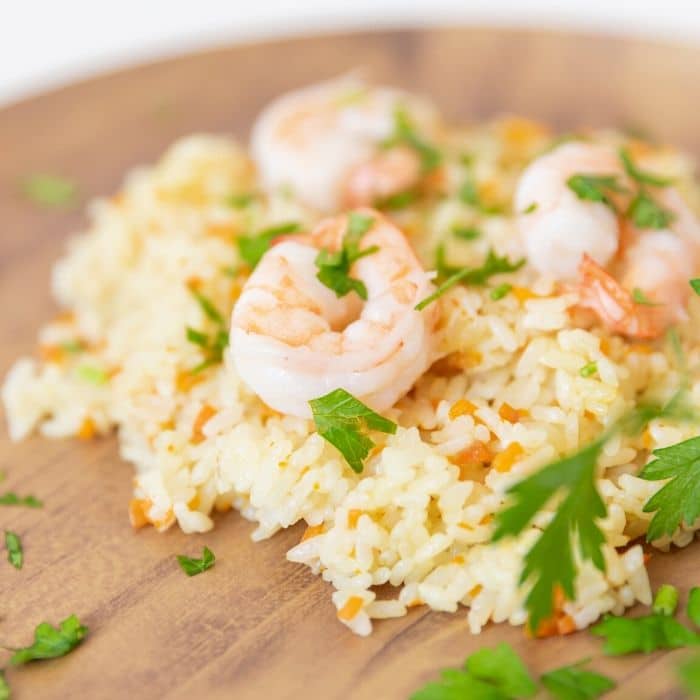 Instant Pot Rice Pilaf
Servings 6 servings
Instant Pot Rice Pilaf is an easy side dish that is perfect to pair with anything. 5 ingredients is all you need for this rice pilaf recipe.
Ingredients
1 tablespoon unsalted butter
2 shallots roughly chopped
2 small carrots minced
2 cups of medium Calrose rice or substitute other rice
2 ½ cups of chicken broth
Instructions
Turn your Instant Pot to saute and add in your butter and let it melt. Then stir in your thinly sliced shallots. Make sure to stir continously or it will burn.

Once your shallots are fragrant you will add in your rice, carrots, and chicken broth. Turn off the saute feature.

Place your lid on your Instant Pot and select high pressure for 5 minutes. Make sure your Instant Pot is set to sealing.

Then once your timer goes off allow it to natural release for 5 minutes. Then follow a quick release to push off the rest of the pressure.

Stir well and then garnish with parsley.

Serve up your rice pilaf and enjoy.
Notes
If you want to cook shrimp like I do, just remove the pilaf and then add in 1-2 tablespoons butter, and toss raw shrimp and cook it on saute. Cook until your shrimp is fully cooked.
Nutrition
Serving: 1gCalories: 107kcalCarbohydrates: 19gProtein: 3gFat: 2gSaturated Fat: 1gPolyunsaturated Fat: 1gCholesterol: 7mgSodium: 396mgFiber: 1gSugar: 2g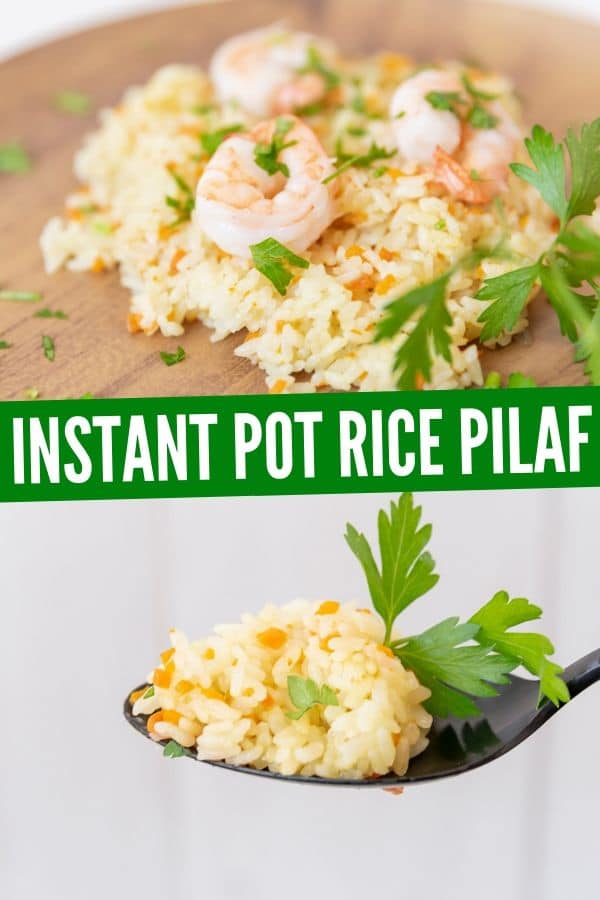 Have you tried making Instant Pot rice pilaf before?
Reader Interactions