Instant Pot Gumbo is a must make. Loads of shrimp, sausage, in a savory Cajun base that is loaded with flavor. This shrimp and sausage gumbo is one recipe you will make over and over again.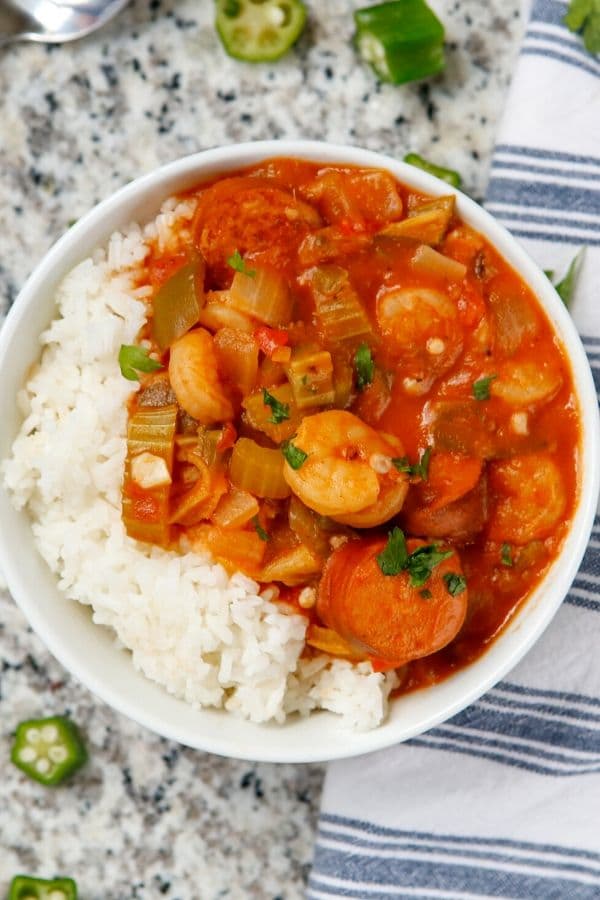 If you love seafood and sausage recipes, I have a few more to try. Try my Instant Pot Shrimp Boil, creamy shrimp pasta, or my Instant Pot sausage and potatoes.
Instant Pot Gumbo
Perfect for a Mardi Gras celebration or a weeknight dinner. This pressure cooker gumbo is fantastic. While I love my Instant Pot Jambalaya, this gumbo reins supreme.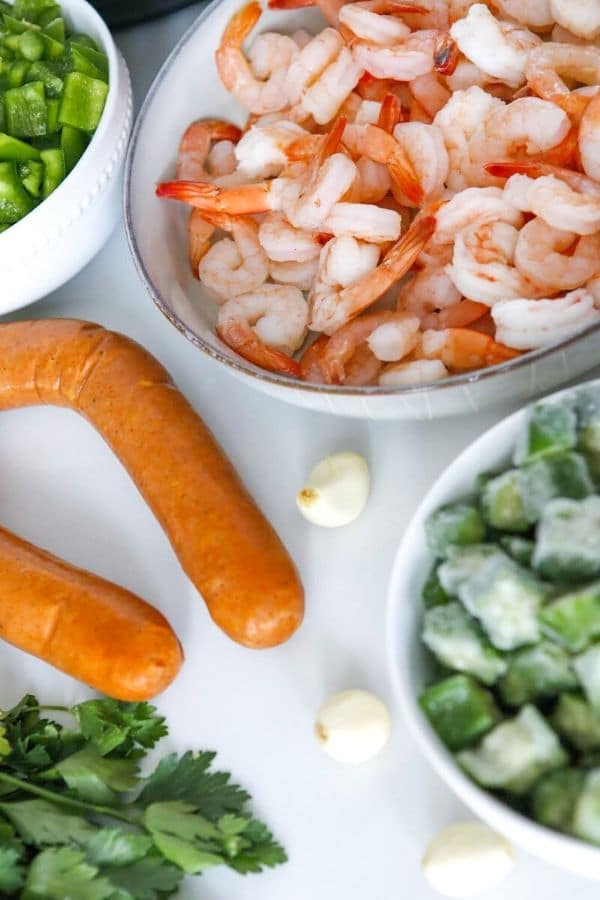 What Is Gumbo
Gumbo is a nice thick and savory stew based dish. Most of the time you will find it is made with a mix of seafood, andouille sausage, and even chicken.
I left the chicken out for this version, but you can add it in.
You will get tons of flavor from the vegetables that are cooked with the meat and broth.
Depending on where you live you will find gumbo is made differently. All are great recipes just cooked differently.
How To Make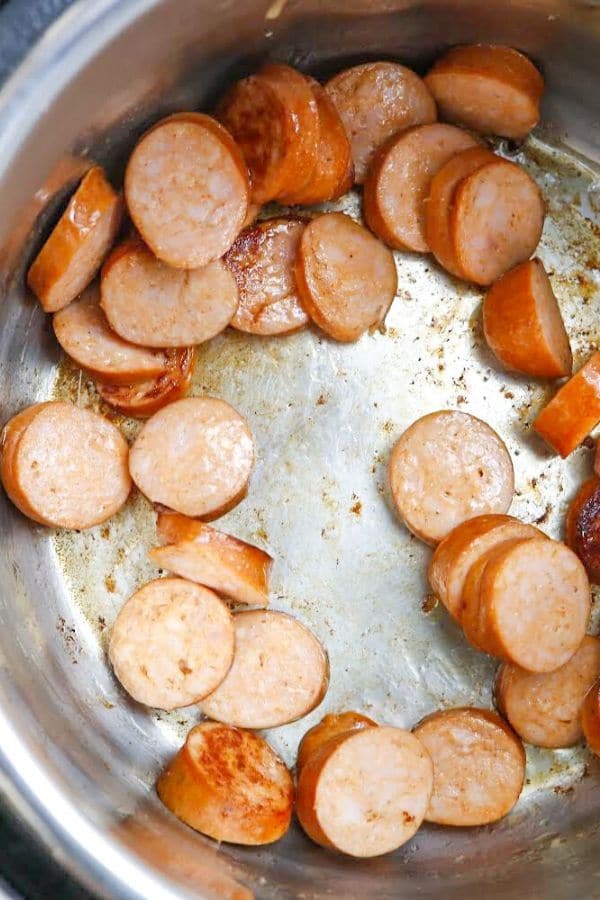 Step 1: Pour your avocado or olive oil into the Instant Pot and turn on the Saute function. Once the oil is hot toss in your andouille sausage.
Cook the sausage until browned, make sure to stir often to prevent burning. Once done remove the sausage from the Instant Pot.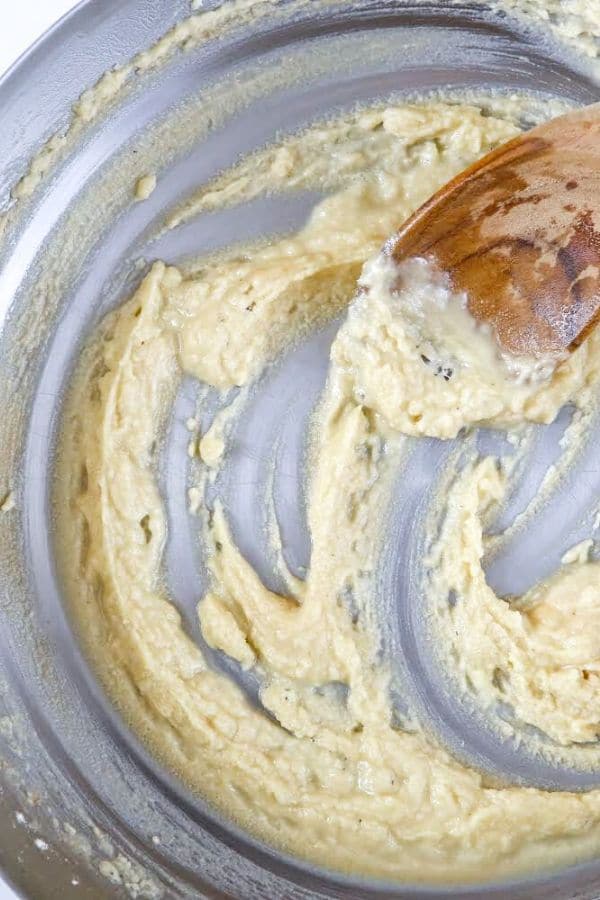 Step 2: Now toss in your butter in the Instant Pot, on low saute. Melt your butter. You will slowly whisk in the flour stirring continuously, or you will burn your roux.
Cook for 10-15 minutes. The mix will get a darker color and you want it to be a similar consistency to like a creamy peanut butter. The darker the flavor the richer the gumbo.
Don't let it get too dark though. If you find it gets done before 10 minutes, that is fine, just move to the next step. Turn off saute feature when done.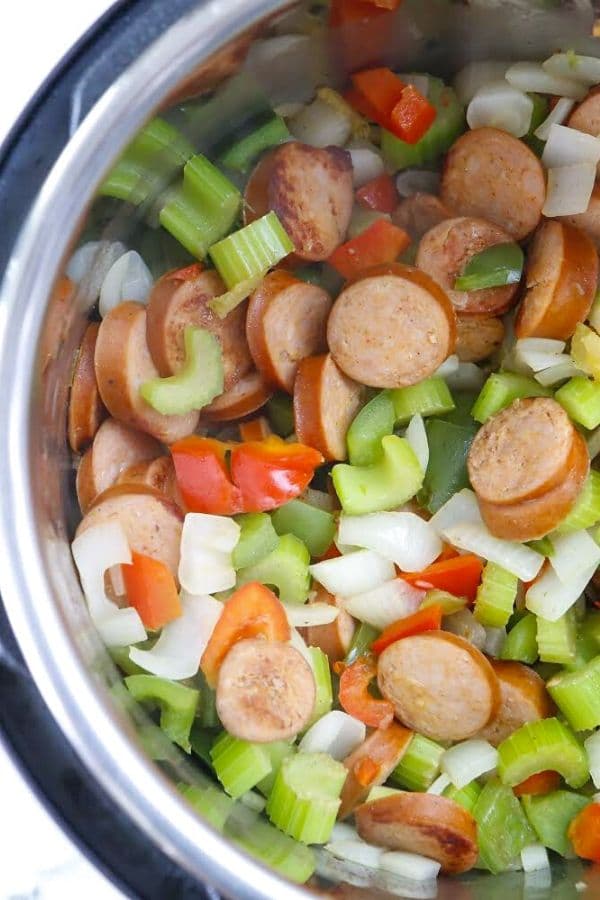 Step 3: Now you will add in all your sausage and diced veggies- celery, peppers, onions, garlic, followed by your chicken broth.
Give it a really good stir using your wooden spoon to ensure nothing is stuck on the bottom of the Instant Pot. This is important or you will get a burn notice.
Once your bottom of the pressure cooker is clean, add in your hot sauce, cajun seasoning, Worcestershire sauce, okra, and stir.
Toss in crushed tomatoes last and let them sit on top of the mixture. Place lid on Instant Pot and make sure the valve is sealed, cook 10 minutes high pressure.
Step 4: Once the timer goes off, do a quick release. You might need to carefully let pressure off, in case it bubbles up. If so, do a controlled quick release.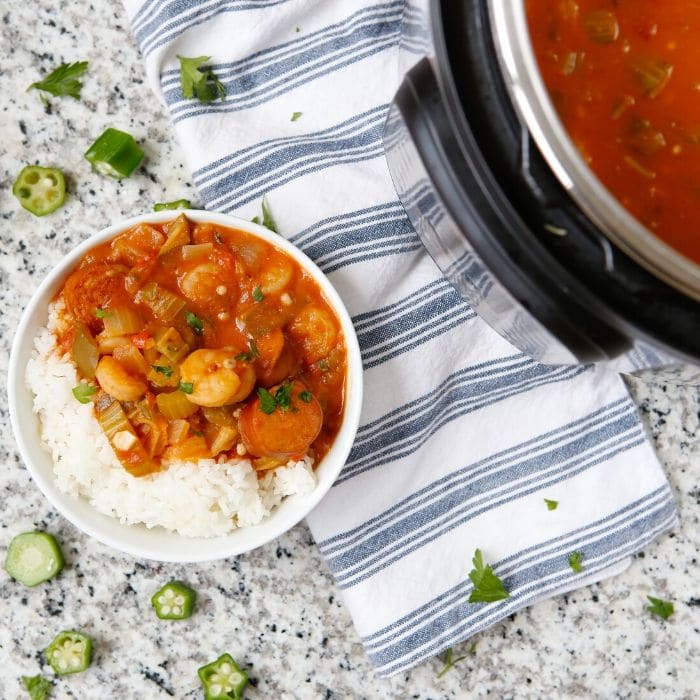 Step 5: Turn the saute feature on, and toss in your raw shrimp and cook for 4-5 minutes or until your shrimp is fully cooked.
Turn the pressure cooker off and serve up your gumbo!
Can I Add Chicken To Gumbo
You sure can! Just dice up your chicken into small cubes, and then season with salt and pepper. Then toss in when you do the saute feature with the sausage.
Get your chicken browned up a bit, not cooked through and set aside with sausage. Then stir in and cook so the chicken can finish cooking when you pressure cook.
This gumbo instant pot recipe is easy to adjust to your liking on what you want in it!
Can I Use Creole Seasoning
You can use creole seasoning or cajun seasoning mix. They both are similar in flavor and will give your gumbo a nice flavor.
I have used both and they seem to be pretty interchangeable on the flavor.
Do I Use Shrimp In Shells for Gumbo
You will want to remove the shell from the shrimp, and tails before tossing in gumbo. That way when you spoon up your dish, you can eat the shrimp without having to get messy in taking the tails off.
So prep your shrimp before you cook.
What To Serve With Gumbo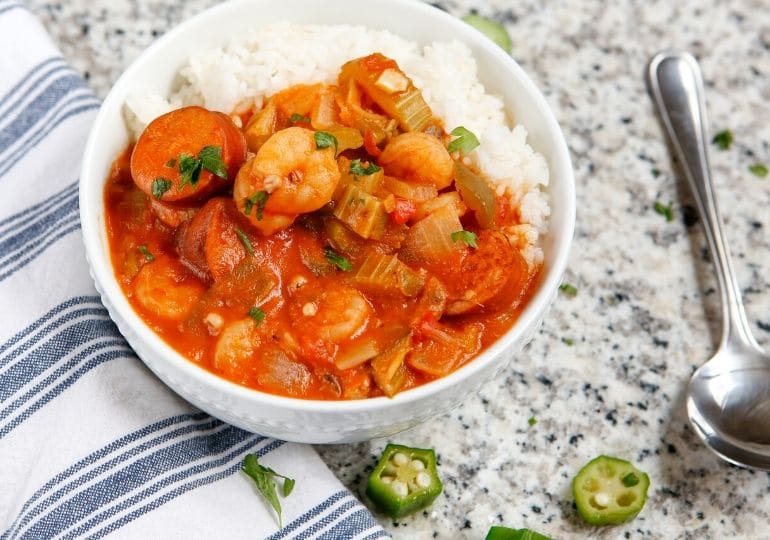 Instant Pot Gumbo
Servings 8 -10 servings
Instant Pot gumbo in a fraction of the time. Packed full of rich cajun flavor in every bite. Instant Pot shrimp and sausage gumbo is a must make!
Ingredients
1 pound andouille sausage
1 pound shrimp peeled and deveined
2 tablespoons olive oil or avocado oil
½ stick butter
1/2 cup all-purpose flour
1 bell pepper diced
3 celery stalks diced
1 onion diced
4 garlic cloves minced
2 tablespoons creole seasoning
2 tablespoons Worcestershire sauce
2 tablespoons hot sauce franks works well
10 oz okra frozen and sliced
14 oz canned crushed tomatoes
4 cups chicken broth
Instructions
Turn your saute feature on the Instant Pot. Add your oil in followed by your andouille sausage. You will cook your sausage until it is browned, stir frequently.

Once done remove your sausage from the Instant Pot. Then you will start to work on your roux.

Add in your butter and once melted, whisk in your flour. Make sure to stir constantly or it will burn. Mix for around 10 minutes. You want your roux to be a peanut butter texture, and the color will darken as it cooks. The darker the color the richer the flavor.

Once done, turn your saute feature off. Pour in your sausage and onions, peppers, celery, okra, creole, Worcestershire sauce, and hot sauce along with the chicken broth. Use your wooden spoon to stir and scrape bottom to make sure nothing is stuck on, or it will give you a burn notice.

Once bottom of pot is clean, add your crushed tomatoes on top of the mixture. Place lid on your Instant Pot making sure your valve is sealed.

Do high pressure for 10 minutes, followed by a quick release. If liquid squirts out, do a controlled release where you let presure off slowly.

Take the lid off and toss in your shrimp, and turn saute on, and cook until the shrimp is fully cooked.

Spoon up your Instant Pot gumbo and devour. I served mine with white rice as the side.
Notes
You can add chicken as well, just dice up into cubes, and saute with the sausage to brown it up. Then remove and finish cooking when you pressure cook. It will add more flavor to this pressure cooker gumbo!
Nutrition
Serving: 1gSodium: 2570mgSugar: 6gFiber: 3gCholesterol: 172mgCalories: 419kcalPolyunsaturated Fat: 15gSaturated Fat: 10gFat: 29gProtein: 24gCarbohydrates: 18g
Are You New To The Instant Pot
Those are a few post that can help you get started! The Instant Pot can be intimidating but once you start you will never look back.
The Instant Pot has transformed meal time for me and my family!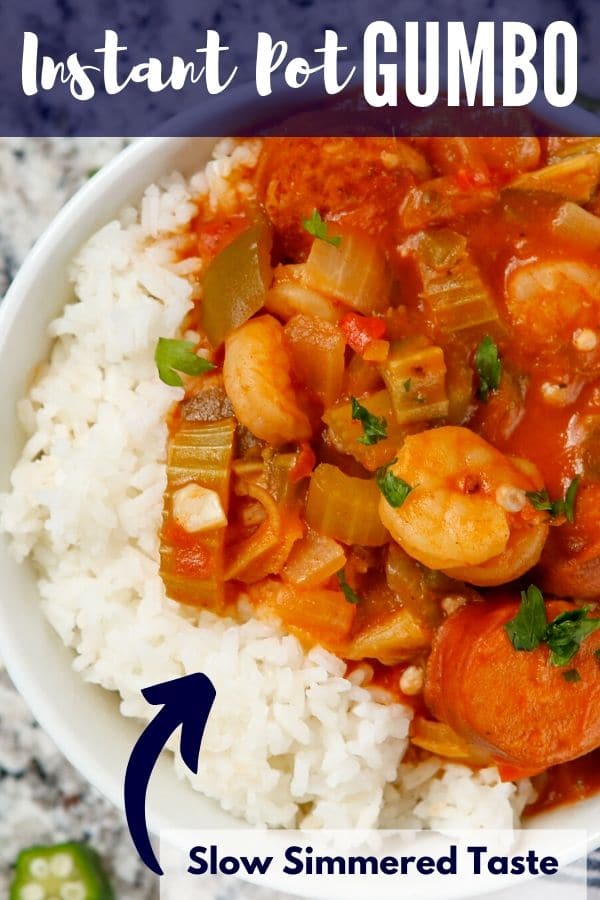 Reader Interactions