Peach BBQ Chicken Thighs offer that sweet and savory in every single juicy grilled chicken piece you bite into. Peach preserves, barbeque sauce, and more help bring this grilled chicken thigh recipe to a whole new level!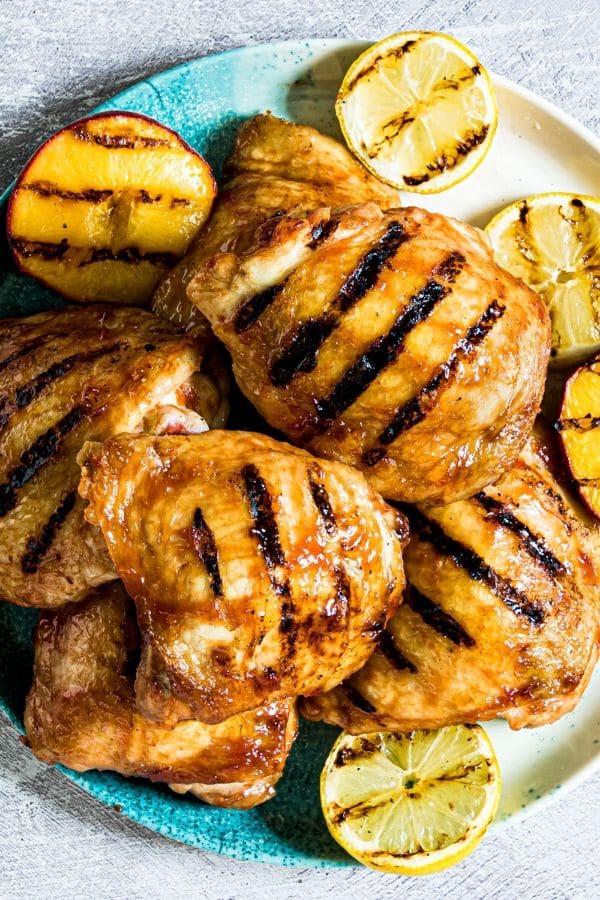 I am a sucker for our Ninja Foodi Grill! Check out my Bacon Wrapped Jalapenos or my grilled Bruschetta Chicken! This dry rub steak is incredible and is a Texas Roadhouse Steak seasoning copycat recipe.
BBQ Chicken Thighs
Chicken thighs is a pretty affordable cut of chicken. When you buy chicken that is on the bone you will find it tends to offer a moister flavor as the bone helps to keep your meat nice and juicy.
So reaching for chicken thighs is always a good choice.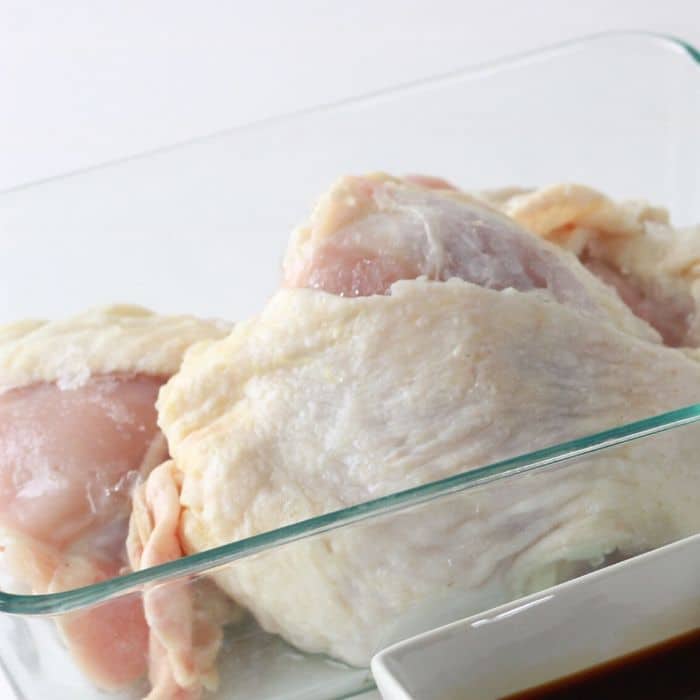 Can I Use Other Cuts Of Chicken
Sure! You are more than welcome to use any cut of chicken. The biggest thing is adjusting the cooking time to meat your needs.
Say you do a tenderloin it will be done in minutes, where a bone-in chicken breast can take a lot longer.
How To Make BBQ Chicken Thighs In Ninja Foodi Grill
Step 1: Start by mixing your peach preserves, lemon juice, bbq sauce, and salt and pepper together in a bowl. Once well combined set aside.
Step 2: Trim the fat from your chicken thighs, and then once all prepped place raw chicken in the bowl with the peach marinade you made.
Step 3: Make sure all the chicken is coated and place in the fridge for 30 minutes to 24 hours.
Step 4: Once your chicken is ready, preheat your Ninja Foodi Grill to medium-high heat. Then place the skin side down and cook 4-5 minutes per side.
You will cook until the internal temperature of your chicken reaches 165 degrees. Make sure to use a meat thermometer to ensure your chicken is fully cooked.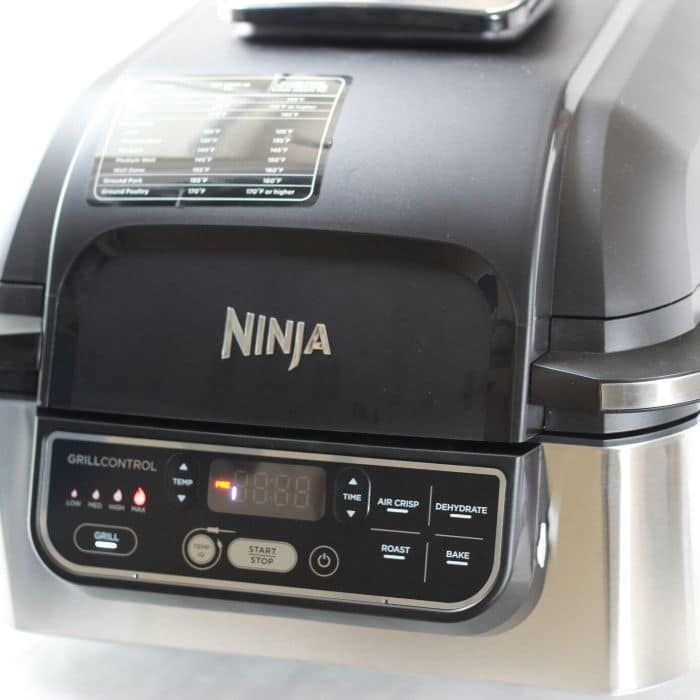 Do I Have To Use A Ninja Foodi Grill
You are more than welcome to use any indoor grill or even an outdoor grill. I have cooked this chicken on our pellet grill and wood grill.
Feel free to use whatever grill you have!
What To Serve With Grilled Chicken Thighs
Can I Double This Recipe
Yes you can! If you do double you just need to batch cook your chicken! This is a great recipe and perfect for serving a crowd.
I have made this for cookouts and everyone has enjoyed the sweet and savory flavor of this dish. Barbecue chicken thighs never tasted so good!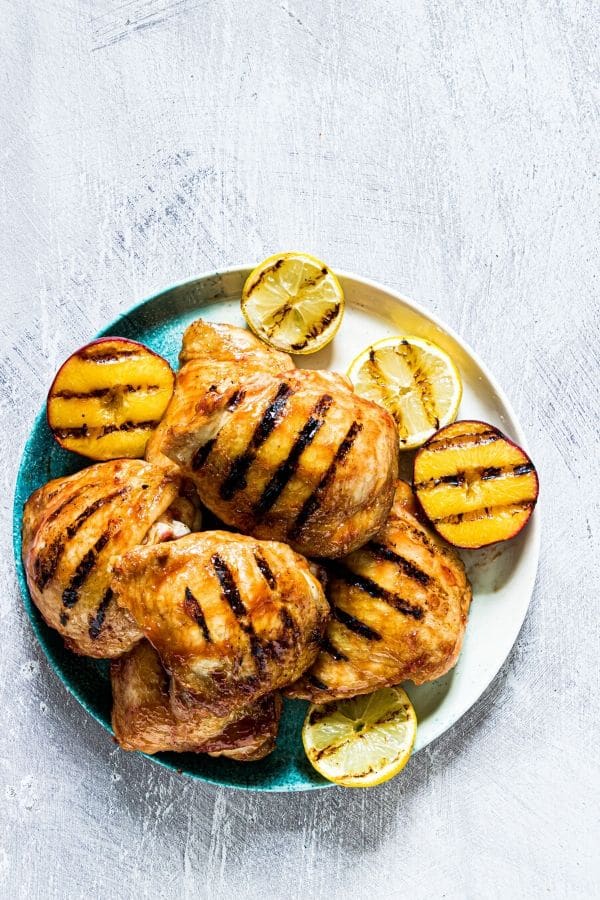 Could I Use Boneless Chicken
Sure, you are more than welcome to reach for boneless. Just note the cooking time is based for the chicken thighs so you will need to cook for less time.
Preheat grill, and cook until your breasts or tenderloins are cooked through and reach proper internal temperature.
I love this Ninja Foodi Grill Chicken Thighs recipe cause it is truly versatile with any cut of chicken!!
Tips When Making Peach BBQ Chicken
In the recipe you see we use peach preserve, it really has the perfect consistency and really sticks to the chicken. In a pinch you are more than welcome to use peach jelly.
The longer you marinade this chicken the better the flavor gets. So I recommend letting it marinade overnight for best flavor.
Take sliced peaches and toss on the grill to pair next to your chicken for added flavor! It is incredible!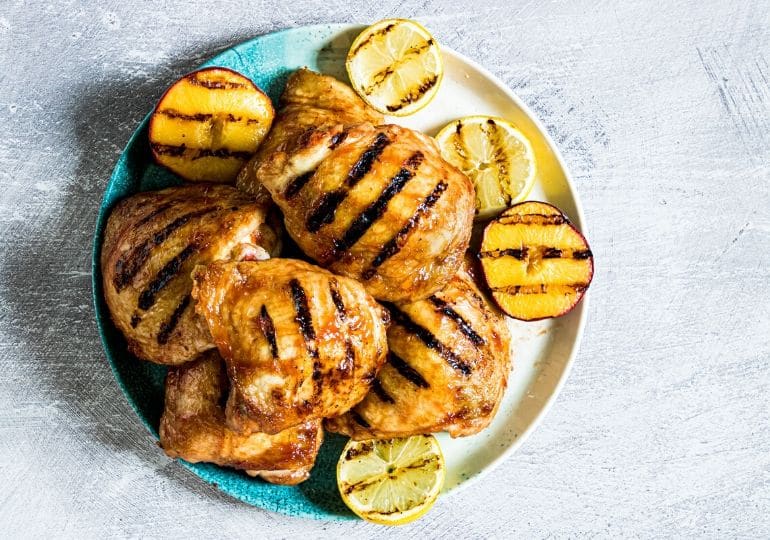 Peach BBQ Chicken Thighs on Ninja Foodi Grill
Servings 6 chicken thighs
Whip up these Peach BBQ Chicken Thighs for an easy and quick chicken recipe for dinner tonight. A peach preserve marinade that is a homerun on flavor. I made these thighs on my Ninja Foodi Grill, but you can use any grill to cook this chicken.
Ingredients
4- 6 chicken thighs bone-in
3/4 cup barbecue sauce
4 Tablespoons peach preserve
1 1/2 Tablespoon Lemon Juice
Salt and Pepper to taste
Instructions
Start by mixing your peach preserves, barbecue sauce, lemon juice, and salt and pepper in a bowl. Whisk until well incorporated.

Now with your raw chicken thighs work at trimming any excess fat.

Place your chicken thighs in the marinade for 4 hours at a minimum. You can marinade this peach chicken for up to 24 hours. The longer it marinades the more flavor.

Once your chicken is done marinating, preheat your Ninja Foodi Grill. I did high heat. Toss your chicken thighs on the grill, skin down.

Cook 4-5 minutes per side or until the chicken is nice and brown. Once you get a nice grill mark on them you can drop the heat down to medium.

THen finish cooking until the chicken reaches an internal temperature of 165 degrees.

Remove chicken and place on a plate, and lightly cover with aluminum foil. Let chicken rest 5 minutes before serving. n serve.
Notes
You can use vinegar instead of lemon juice.
You can add red pepper flakes or some cayenne pepper if you like your spicier.
Nutrition
Serving: 1thighCalories: 342kcalCarbohydrates: 15gProtein: 31gFat: 18gSaturated Fat: 5gPolyunsaturated Fat: 13gCholesterol: 166mgSodium: 639mgSugar: 12g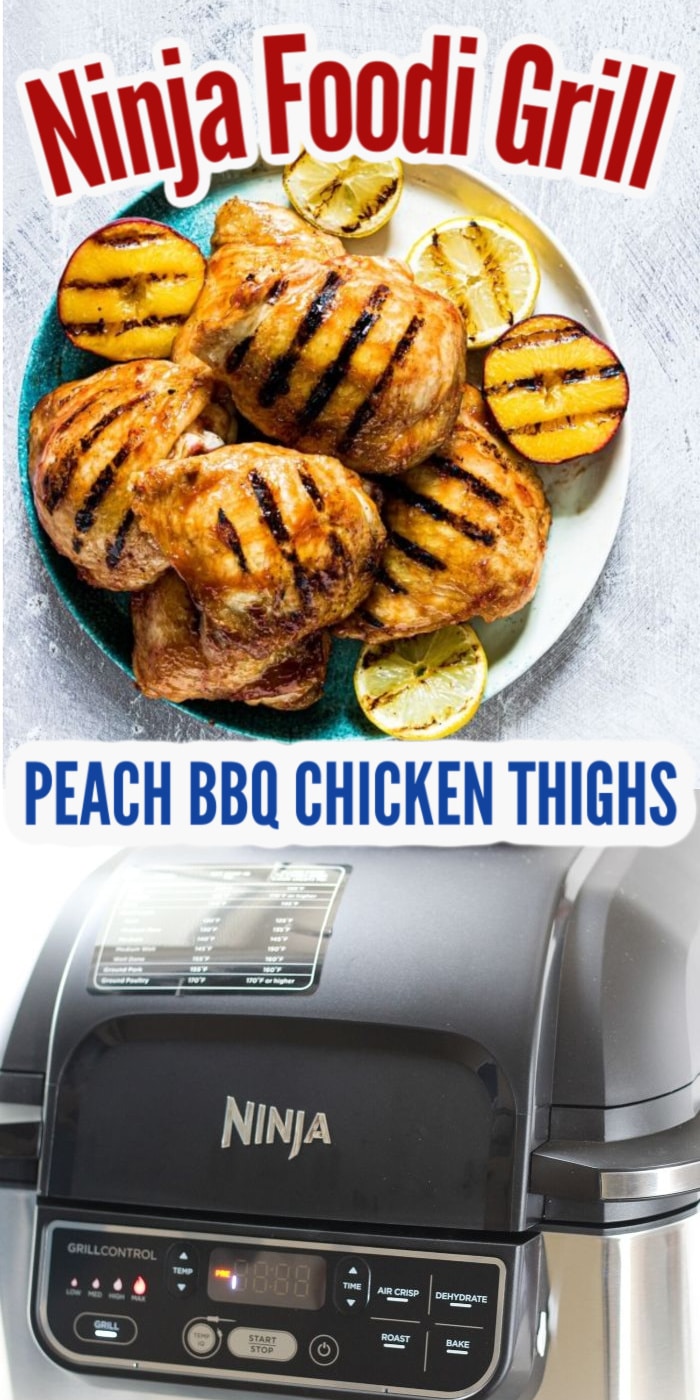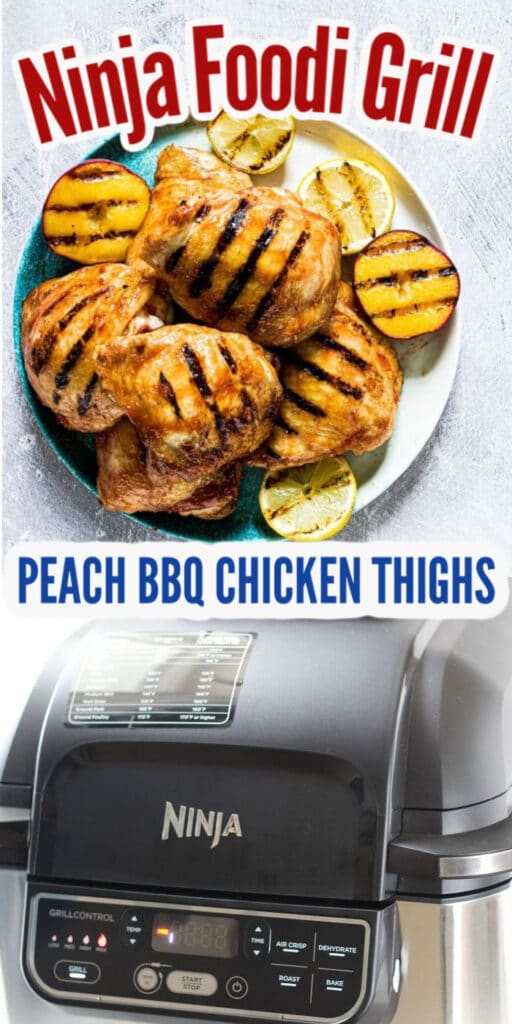 Have you ever made BBQ Peach Chicken Thighs?
Reader Interactions