Baked Hawaiian Chicken is an easy Hawaiian chicken recipe you bake right in the oven. Serve your sweet Hawaiian chicken with a side of rice for a complete dinner.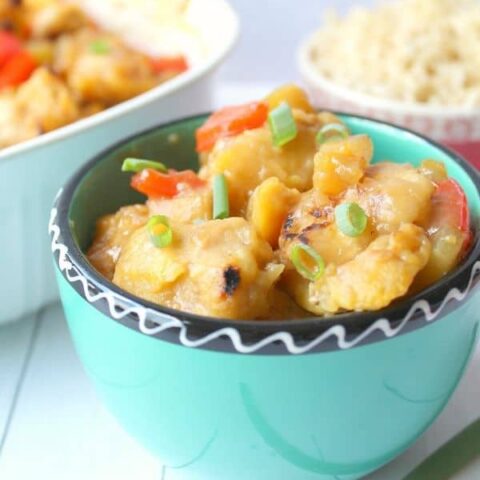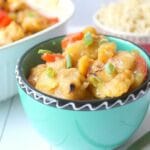 Baked Hawaiian Chicken is a breaded chicken that is smothered in a sweet Hawaiian chicken. Serve this Hawaiian chicken with a side of rice or even rice noodles.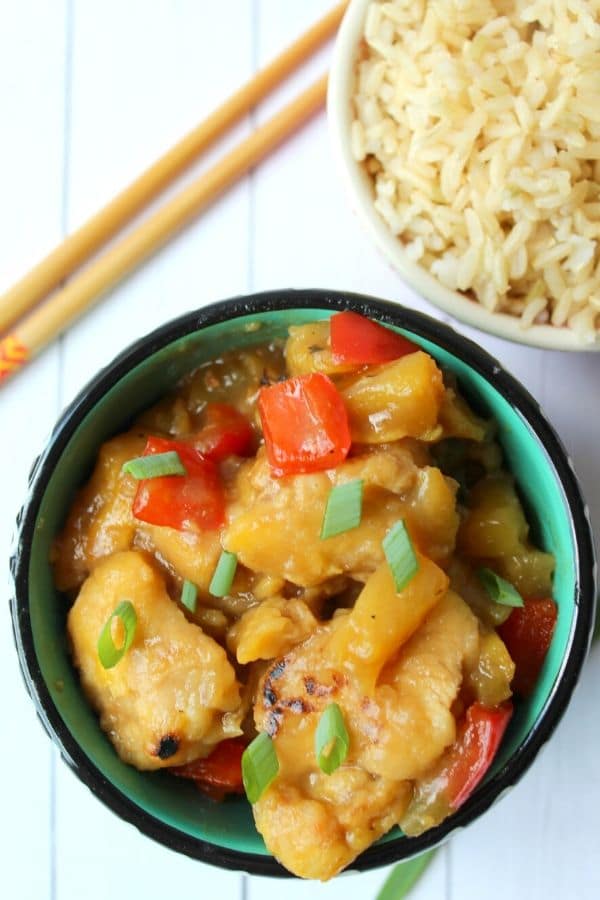 If you are looking for some more satisfying chicken recipes, I have a few to try. Serve up this Teriyaki shredded chicken, honey garlic chicken, or even my grilled bruschetta chicken, Panda Express black pepper chicken.
Baked Hawaiian Chicken
I am a sucker for this breaded chicken recipe. It soaks up the sweet pineapple sauce and just melts in your mouth. You might even agree this is better than ordering takeout!
If you are looking for an easy baked chicken recipe, try out this sweet and savory dish. Use boneless chicken breast, chicken thighs or even chicken tenderloins.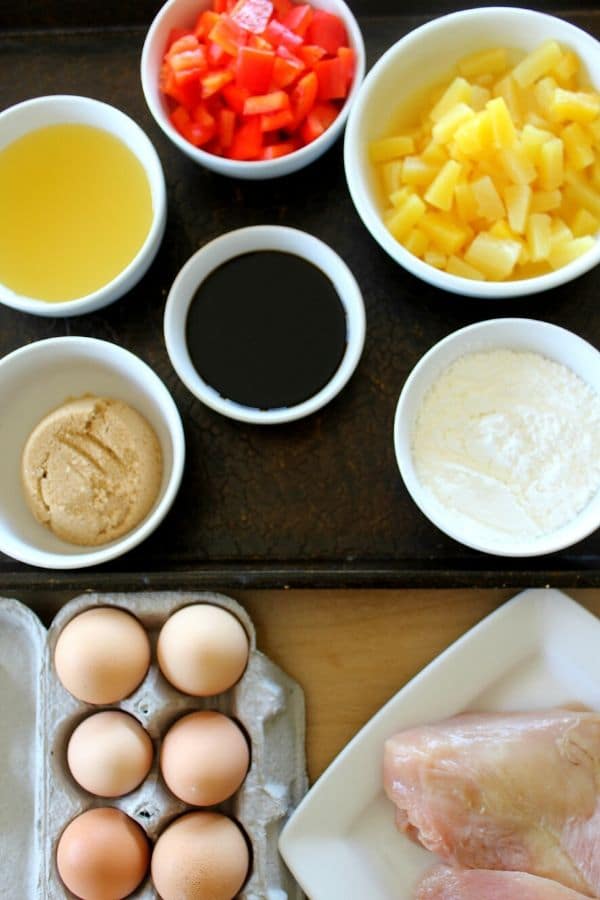 How to Make
Step 1: The first thing I always like to do is make sure to prep my ingredients.
Get your red bell peppers cut, reserve 1 cup of pineapple juice from the pineapple chunks, and so on. I also make sure to cut up my chicken into smaller pieces.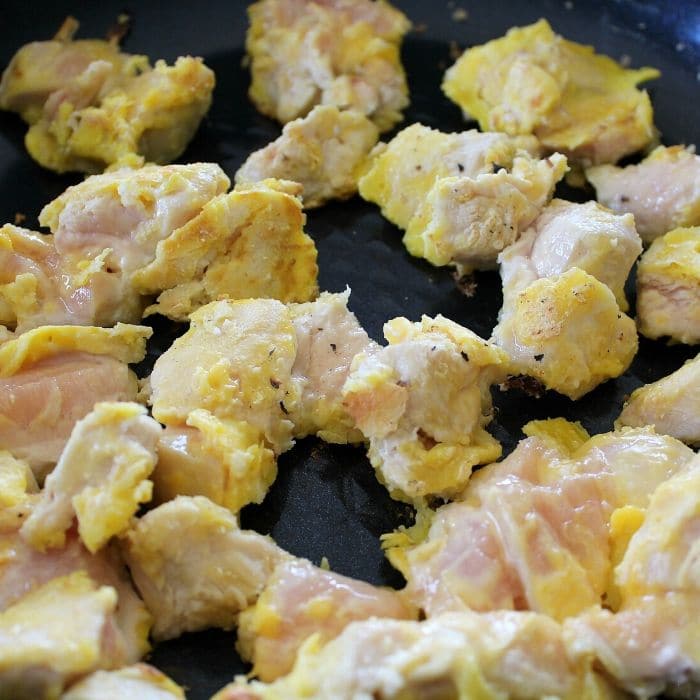 Step 2: Dice up your chicken and toss the cornstarch in a sealable bag. Then whip up your egg wash and make sure to have that ready. Drop your chicken pieces in bag with the cornstarch and shake it up.
Remove excess and dip in egg mixture, then place in a hot pan on the stove that has oil. Fry up until the coating is golden brown. The chicken does not need to be cooked through.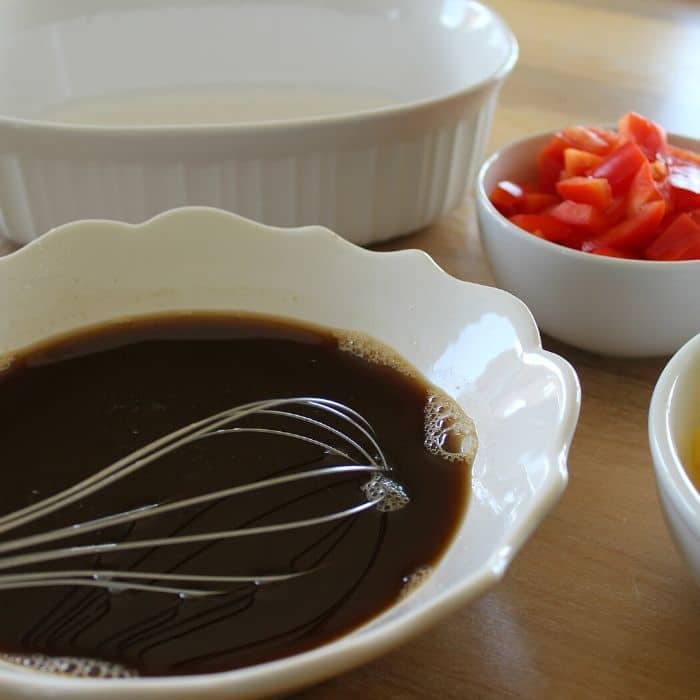 Step 3: Once cooked chicken breast bites are golden brown remove and place in your baking dish.
Now you will mix up your Hawaiian Sauce. Pour your pineapple juice, soy sauce, brown sugar, garlic and cornstarch in a bowl. Whisk it up.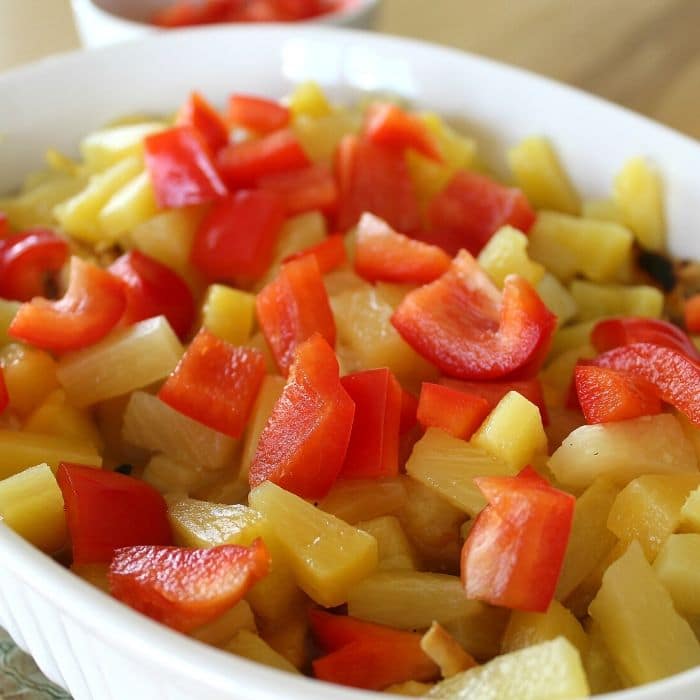 Step 4: Pour the mixture over the top of your chicken, and then top with pineapple and chopped red peppers.
Step 5: Bake your sweet chicken uncovered for 1 hour. Make sure to remove the pan and stir every 15 minutes so that it doesn't burn, and allow the sauce to evenly coat the chicken and vegetables.
Once your dish is done remove from the oven and check the thickest part of the chicken to ensure the internal temperature of 165 degrees. I used a meat thermometer for this.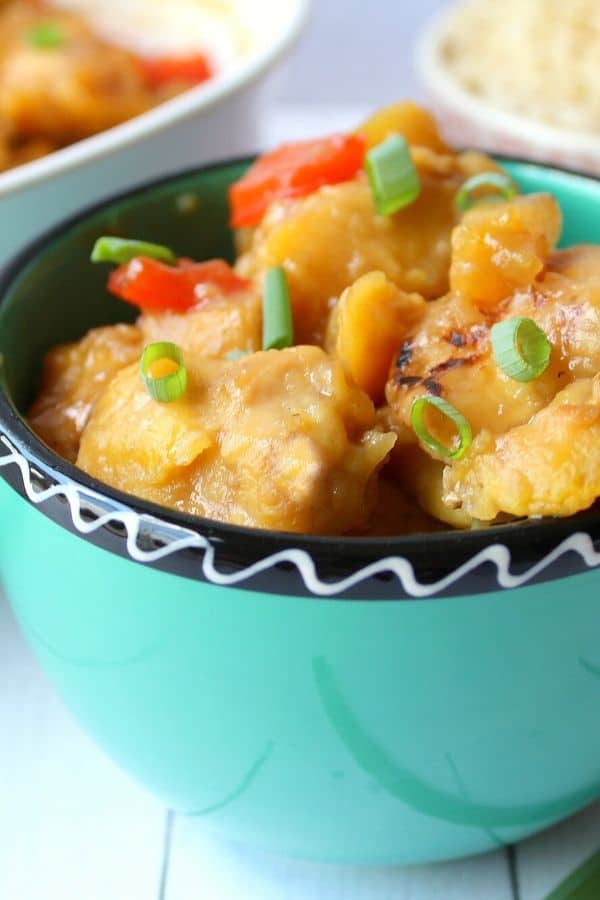 What to Serve With Chinese Hawaiian Chicken
Rice – white, brown, cauliflower rice, etc.
Stir-Fried Rice
Steamed or Roasted Vegetables
Crisp Green Salad
Etc
Looking for More Pineapple Recipes
Fresh or Frozen Pineapple For Sweet Hawaiian Chicken
Either will work! If you have fresh pineapple reach for that, otherwise you can buy chunk pineapple in a can.
Then drain off the juice and measure out what you need. Then work over the pineapple if you want it cut into smaller pieces.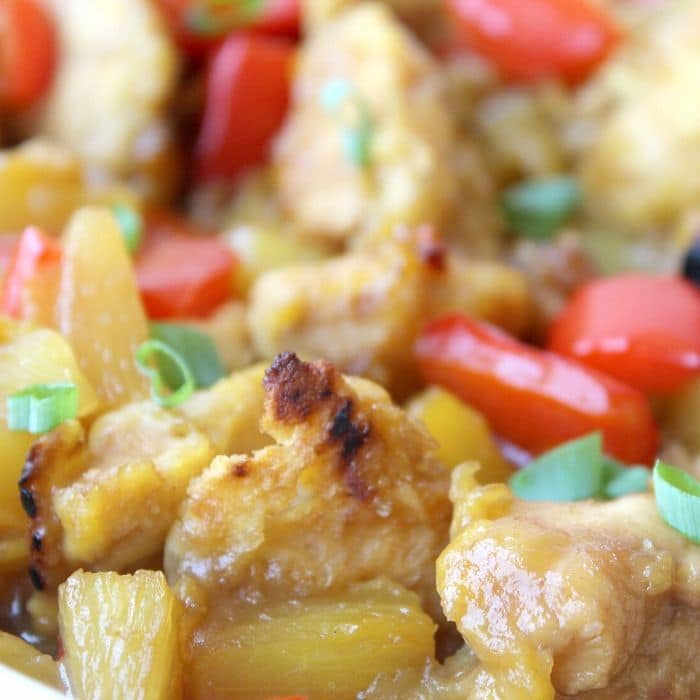 Meal Prepping With Hawaiian Chicken
This Hawaiian chicken actually is a really good leftover. I use these containers to meal prep with. I put my rice in and top with the chicken.
Then on the side toss in some vegetables, and it is a great grab and go lunch or dinner. Toss it in the microwave and you have an easy meal.
In terms of freezing your Hawaiian chicken I have not tried to. I am not sure it would thaw that good, just for the fact the breading might soften up a bit and become soggy.
Is Pineapple Good For Marinades
Pineapple not only adds a nice sweet flavor to your meat, but the pineapple juice actually tenderizes your meat.
With this recipe in particular, the juice will add a lot of sweetness to the chicken coating, in the thick soy sauce and pineapple juice mixture.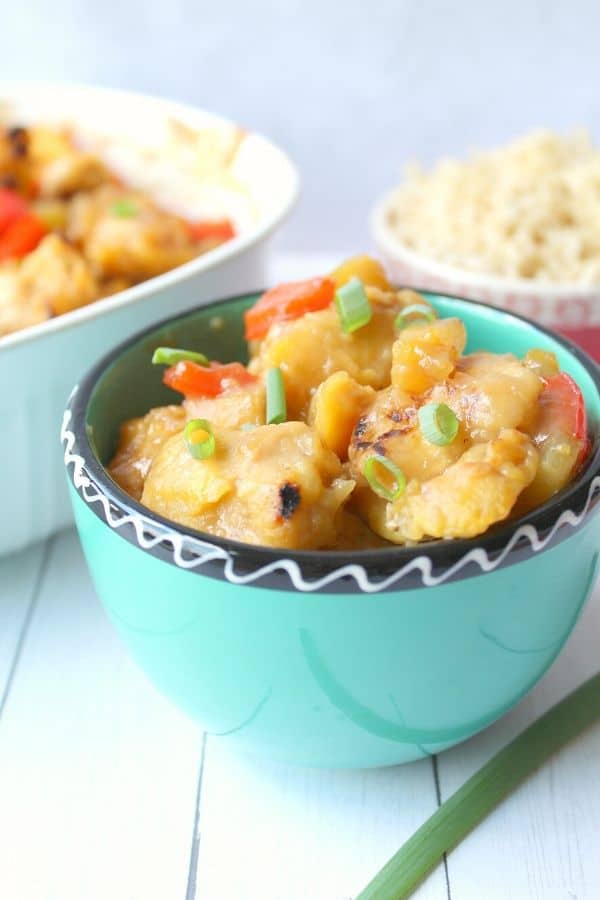 How to Make Slow Cooker Hawaiian Chicken
You can make this as a slow cooker Hawaiian chicken. Here are the instructions for it below.
Step 1: In a bowl you will mix up your sauce, and set aside.
Step 2: In a sealable bag add your cornstarch, and then toss in your diced chicken. You will toss your chicken in the cornstarch mixture to coat.
Place the chicken in a greased slow cooker. Then add the pineapple chunks over the chicken and the red peppers.
Step 3: Pour the sauce over the mixture. Cover and cook on low for 4 hours or until the chicken is fully cooked. Or if you want to do high on the slow cooker do 2- 2 1/2 hours.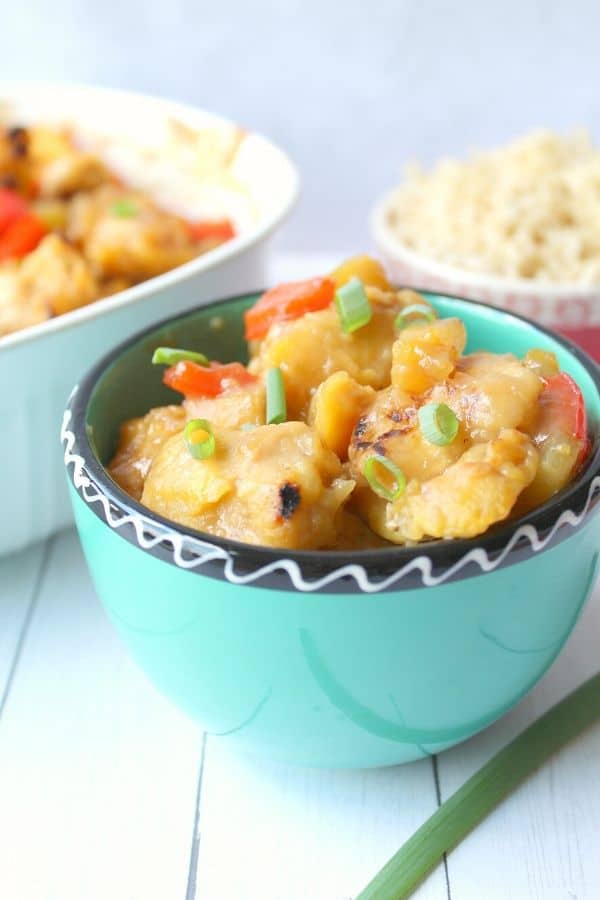 Baked Hawaiian Chicken
Servings 10
Baked Hawaiian Chicken is an easy Hawaiian chicken recipe you bake right in the oven. Serve your sweet Hawaiian chicken with a side of rice for a complete dinner.
Ingredients
Ingredients
2 pounds boneless skinless chicken breasts cut into cubes
salt and pepper to taste
1 cup cornstarch
3 eggs – beaten
1/4 cup vegetable oil
1 red bell pepper chopped and seeds removed
1 20 oz. can pineapple tidbits drained
Hawaiian Sauce Ingredients
1 cup pineapple juice – this is normally about the amount of juice left in the tidbits can
1/2 cup brown sugar
1/3 cup soy sauce low sodium
1 tsp garlic minced
1/2 Tablespoon cornstarch
Instructions
Start by preheating your oven to 325 degrees faranheit. Then spray a 9×13 pan with cooking spray.

Now you will take your cubed up boneless chicken and season with salt and pepper.

Then in a sealable bag you will add your cup of cornstarch. Then toss in chicken and shake to make sure all the chicken is fully coated.

Then in a bowl whisk your eggs and dip your cornstarched chicken into egg batter.

Shake off excess and place in a pre-heated non-stick skilet and cook over medium heat until it is all the chicken is golden brown on all sides. You do not need to fully cook the chicken.

In a bowl mix your Hawaiian sauce ingreidents. Pineapple juice, brown sugar, soy sauce, garlic, 1/2 tablespoon cornstarch and mix well.

Place your chicken in the bottom of baking dish. Pour your red bell peppers and pineapple over the chicken. Now pour the sauce on and give a quick toss.

Cook uncovered for 1 hour, making sure to stir the mxiture every 15 minutes. Cook your baked Hawaiian chicken until the chicken is fully cooked and reaches a proper internal temperature of 165 degrees.
Nutrition
Serving: 1gCalories: 577kcalCarbohydrates: 91gProtein: 34gFat: 11gSaturated Fat: 2gPolyunsaturated Fat: 8gCholesterol: 133mgSodium: 604mgFiber: 7gSugar: 62g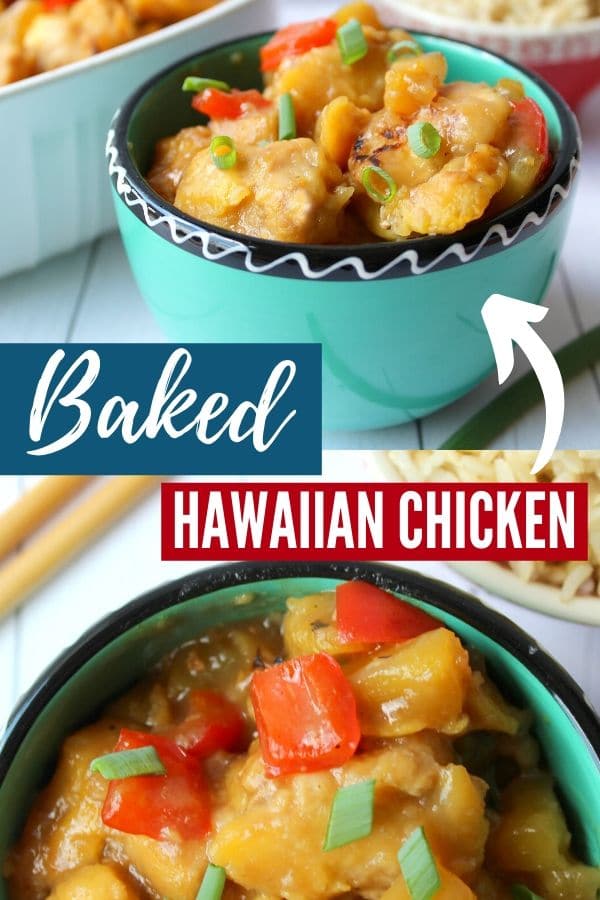 Hope you enjoy this Hawaiian Chicken!
Reader Interactions