Pineapple pie is a tropical twist to a pie. A light and airy pie crust paired with a crushed pineapple filling, that is extra creamy. Some even call this an angel pie, however you call it, this pie is a treat.
If you want to make this crushed pineapple pie, you will love this recipe.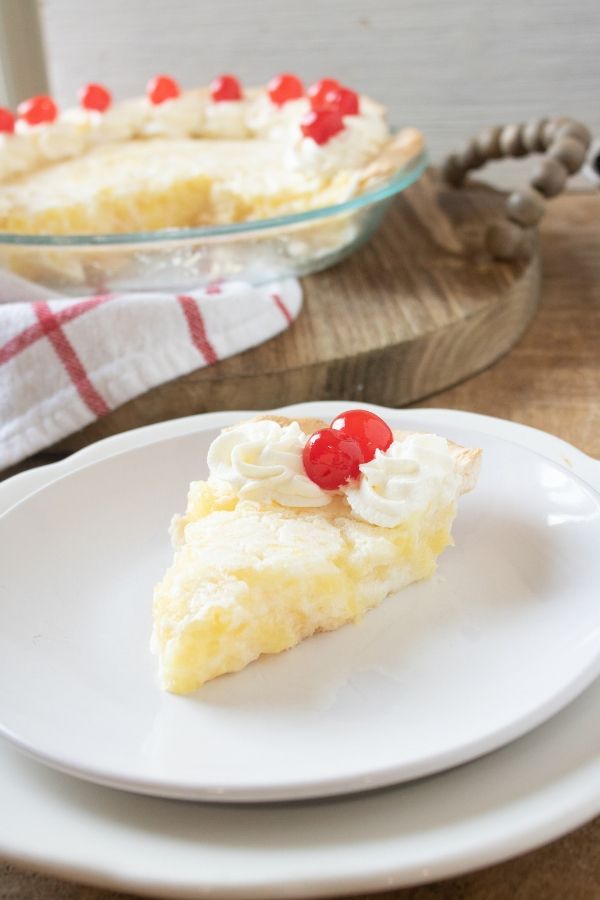 Have you ever tried a pineapple pie? If you haven't, you got to give this a whirl. Just a handful of ingredients, and a little time chilling before you can slice and serve.
Let me share some tips and tricks along with answering common questions about making this pineapple recipe. This will help set you up for success when it comes to making your homemade crushed pineapple pie.
What Type of Pie Crust Do You Use
I used a regular flour-based pie crust. You can buy pre-made crust that you layout in a pan, or make homemade pie crust.
The choice is totally up to you. You will pre-bake the pie crust before pouring in the filling.
Can I Use Fresh Pineapple for This Pineapple Pie Recipe
Of course. If you use fresh make sure to chop it up like crushed pineapple in a can. If you find your pineapple creates juice while chopping saves it back to add into the pie as well.
Because canned pineapple has juice, it will affect the texture of the pie to use fresh. You might find you need to add about 1/4 cup pineapple juice to the mixture if it isn't wet enough. Use your best judgment.
Do You Cook The Pie Filling
You will heat the pie filling in a pan over the stove. Then fold in the whipped cream once the pie mixture has fully cooled.
If you pour it in while the pineapple mixture is still hot, it will melt the cool whip and turn it to a milk mixture. So make sure to give yourself time to allow the cooked pineapple mixture to cool down.


Tips For Not Overcooking Pie Crust
I buy a pie shield that I place around the pie crust as it bakes. Then the last five minutes of cook time, you remove the shield and let it brown up the crust to give it that golden brown color.
How Do You Thicken The Pineapple Pie Filling
You will use cornstarch as the thickener for this pie. As it warms up on the stove it will slowly begin to thicken. I love using cornstarch as it won't affect the flavor of your pie filling.
Can You Add Coconut To Pineapple Pie Filling
Sure, it would give it that pina colada flavor. I do recommend if you do reach for unsweetened coconut
or it will become overly sweet. I would also add 1/3 cup to 1/2 cup of coconut into the pie filling.
How To Make Pineapple Pie From Scratch
You want to start by prepping your crust. Whether you make homemade or buy store-bought dough. Roll it out and bake the pie
crust until it is golden brown and cooked through. Then in a pan
, you want to combine all your ingredients except the whipped cream. Cook until the mixture begins to thicken up. Then remove from heat and allow it to cool.
Now once the mixture is nice and cooled you want to fold in the whipped cream, and then pour into the pie dish. Cover and refrigerate until it is chilled. Slice and Serve.
Does Pineapple Pie Need To Be Refrigerated
Yes, you need to keep your pie in the refrigerator. If you don't it will spoil rather fast. You can store your pie in the fridge for 4-5 days. Slice and serve and enjoy.
How To Decorate Pineapple Pie
I piped whipped cream around the edge of the pie, and place maraschino cherries for each slice of pie. you could also add a little coconut or leave it plain.
Want More Dessert Recipes
Tried this recipe? Make sure to rate ⭐️⭐️⭐️⭐️⭐️ and leave a comment to let me know how you like it! Plus get more Instant Pot Recipes or Home Cooked Recipes Facebook Page on my Facebook. Stay up to date and Follow Me On Pinterest!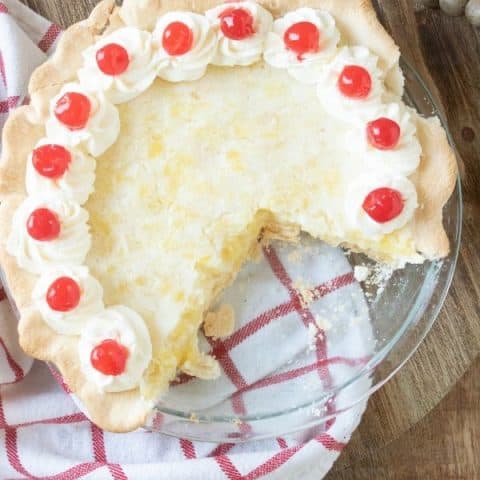 Pineapple Pie
Total Time:
4 hours
25 minutes
Pineapple pie is such a sweet and tropical pie. Serve up this pineapple pie recipe for dessert this week. Give this crushed pineapple pie a try.
Ingredients
Crust
1 9-inch pie crust, pre-baked according to package instructions
Filling
20 ounce can crushed pineapples, completely drained
1 cup cold water
¾ cup granulated sugar
3 tablespoons cornstarch
1 cups whipped cream (more for topping)
Instructions
Roll our your pie crust and bake your pie crust until it is golden brown. Sit it on a baking rack and allow to cool.
In a pan you want to add your crushed pineapple, water, cornstarch, and sugar, and cool on medium-low heat and cook until it begins to thicken.
Once it begins to thicken, turn off heat and allow it to cool down.
Then once the filling is cooled down, fold in the whipped cream, and pour into pie pan.
Cover and refrigerate for up to 4 hours or overnight.
Notes
OPTIONAL: Top with whipped cream on the edge and top with cherries.
You can use fresh pineapple as well, just crush it up.
Your pie needs to be refrigerated, in an airtight container.
Add in 1/4th of cup of coconut for a coconut twist.
Recommended Products
As an Amazon Associate and member of other affiliate programs, I earn from qualifying purchases.
Nutrition Information:
Yield:

8
Serving Size:

1
Amount Per Serving:
Calories:

256
Total Fat:

9g
Saturated Fat:

4g
Trans Fat:

0g
Unsaturated Fat:

4g
Cholesterol:

11mg
Sodium:

93mg
Carbohydrates:

43g
Fiber:

2g
Sugar:

28g
Protein:

2g

Check Out These Other Pineapple Recipes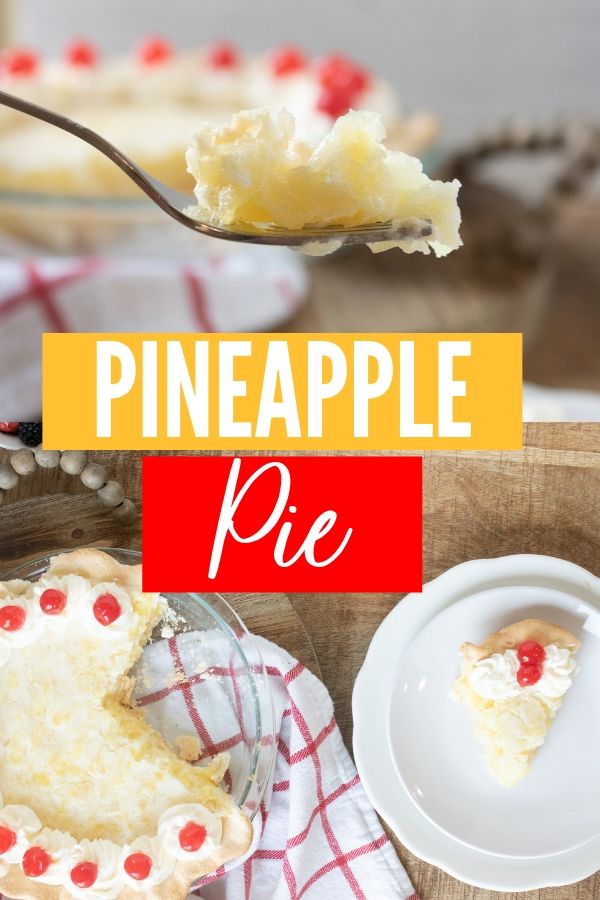 Have you ever tried a pineapple pie?