Give this homemade flatbread recipe a try. This flatbread is full of herbs and spices for tons of flavor. A must make for all you bread lovers.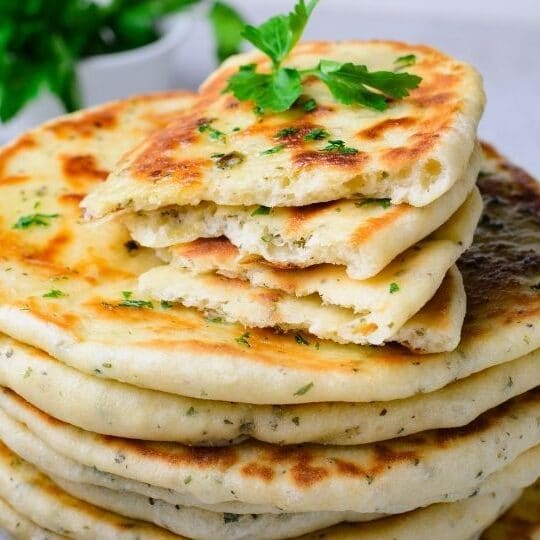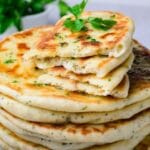 Did you know you can make flatbread at home? Light, fluffy, delicious flatbread recipe that is crazy simple to make and serve. This homemade flatbread can be served on the side, made into a pita flatbread and more.
This flatbread dough is so easy to make, and you will love the end result. I used a handful of herbs to help give this American flatbread tons of flavor.
Table of contents
Now you can take this bread and make a flatbread pizza, use for making a gyro, and more. This bread is incredibly versatile.
While there are different types of flatbread, from Italian flatbread, Greek, Mediterranean, etc. You are in control of the seasonings and spices you use to flavor this bread recipe.
Why You Will Enjoy This Flatbread…
Simple pantry ingredients
Seasoned with herbs and spices for flavor
Fluffy tender bread
Versatile in ingredients you top the bread with
Made with Yeast
Stores well
Freezes nicely
Ingredients Needed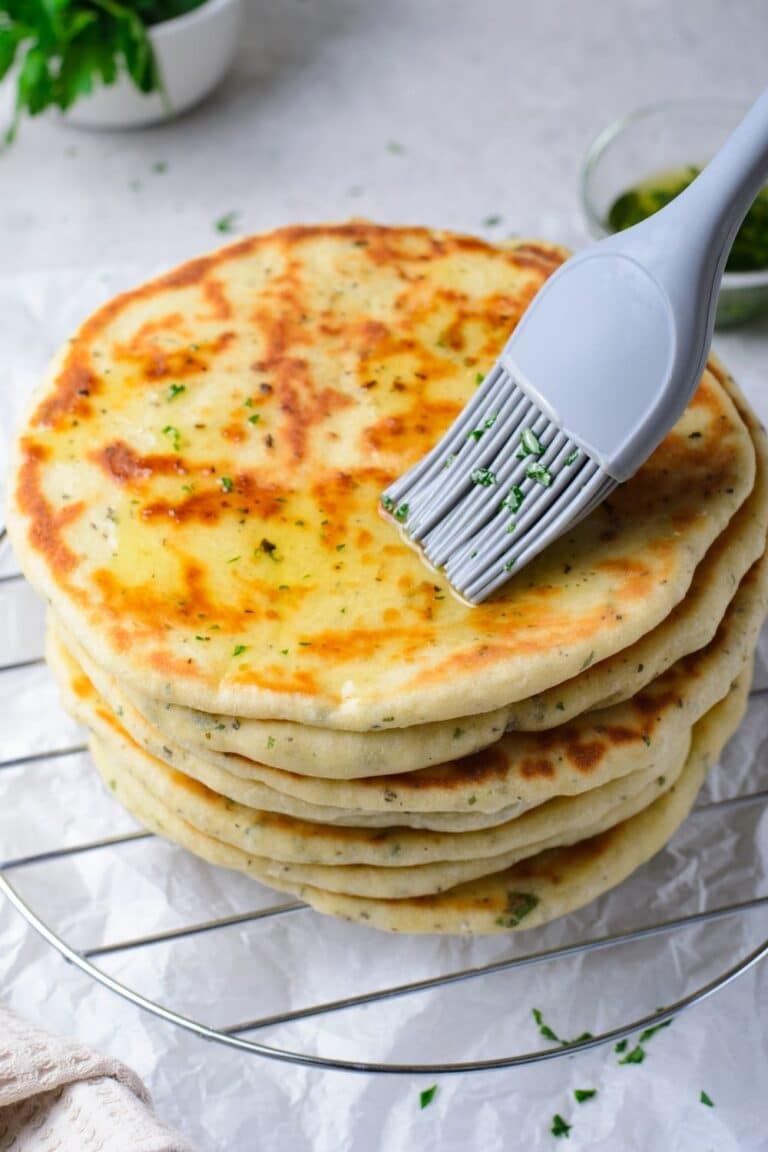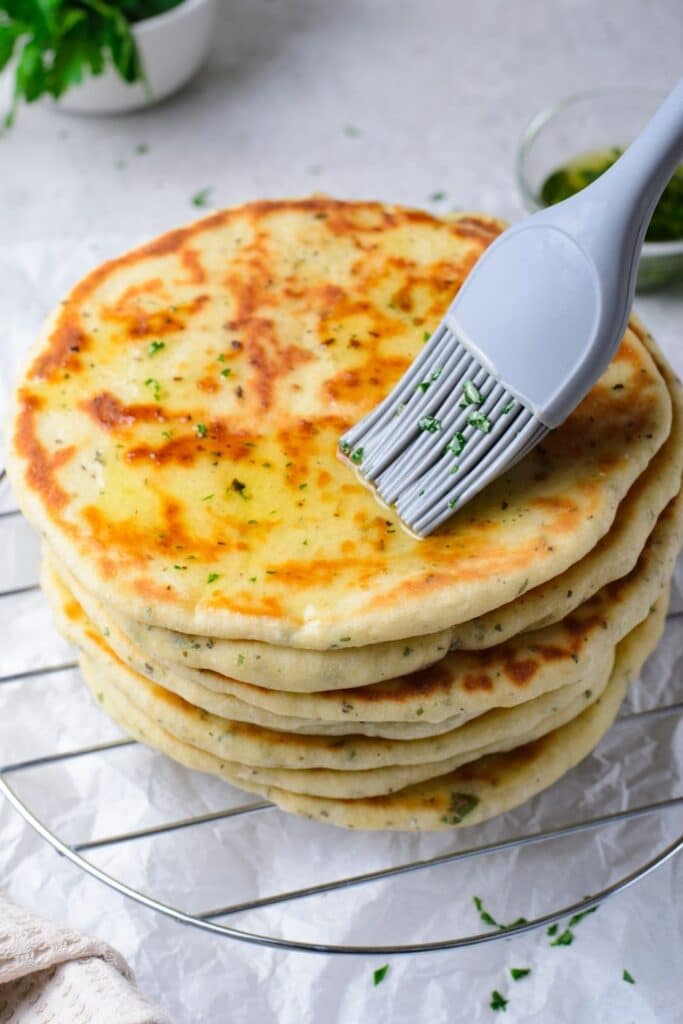 Flour
Water
Olive Oil
Plain Yogurt
Granulated Sugar
Salt
Garlic Powder
Basil
Oregano
Parsley
How To Make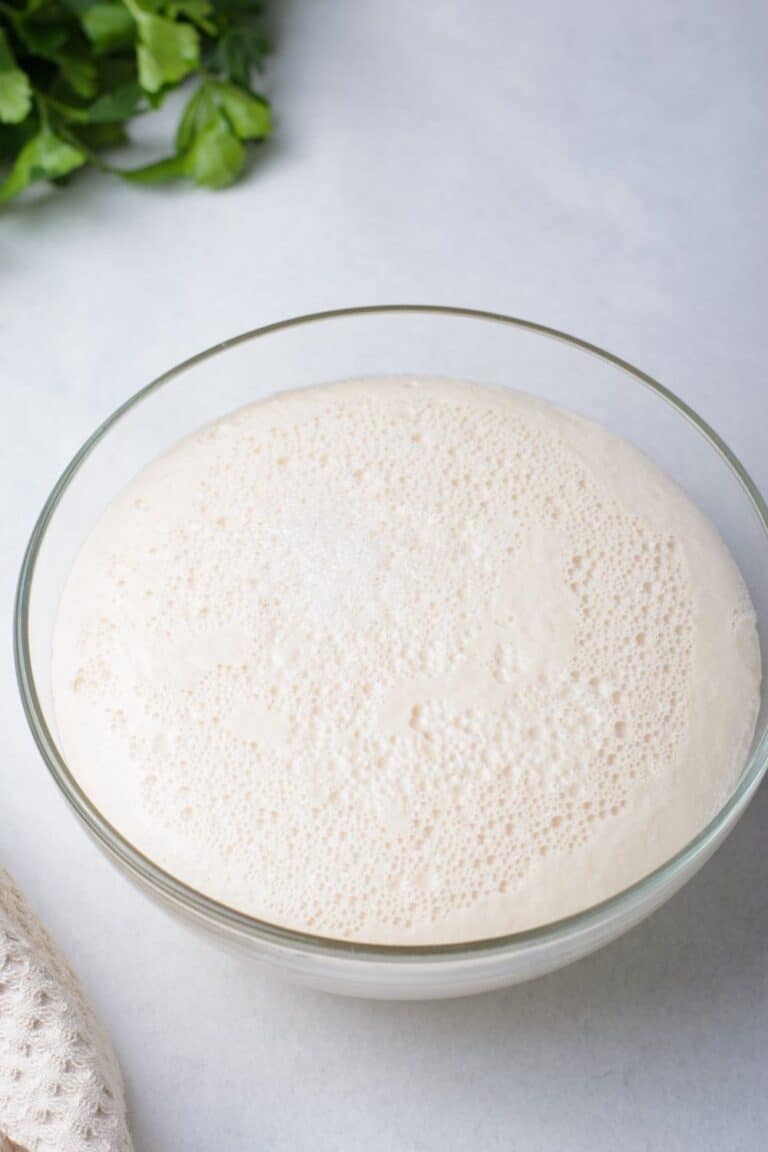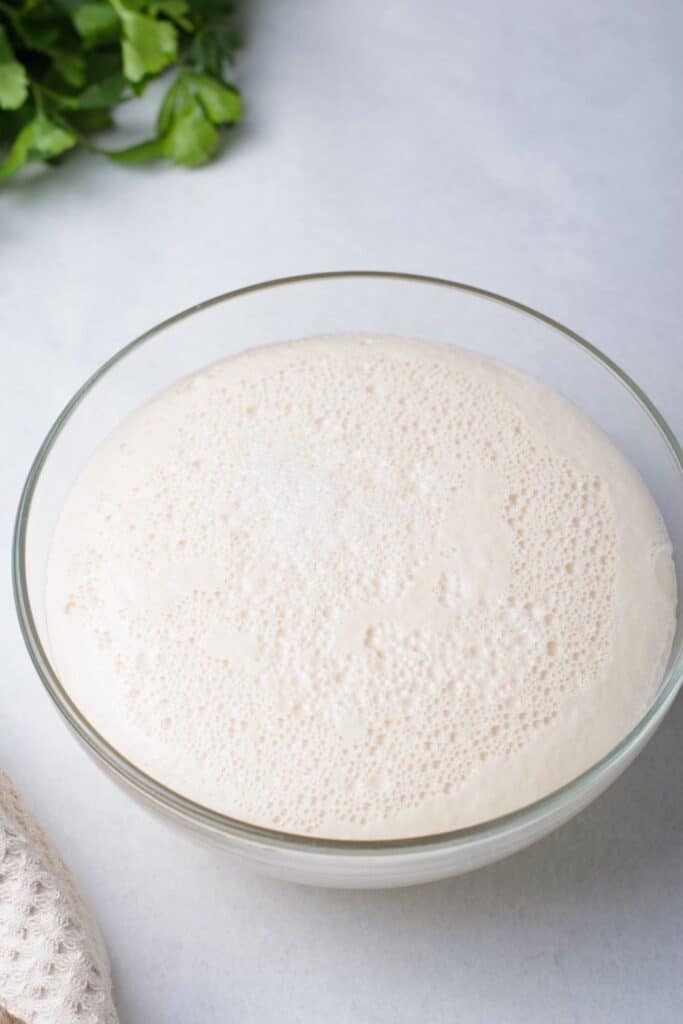 Step 1: The first thing you will do is take your warm water (100-105 degrees) and mix with 1 tablespoon sugar, and the active dry yeast. Stir and let sit 5-10 minutes until the yeast is bloomed.
Step 2: Now in a bowl or stand mixer you will grab your yeast mixture, yogurt, oil, and mix with a paddle. Then stir in the salt, basil, oregano, and garlic powder.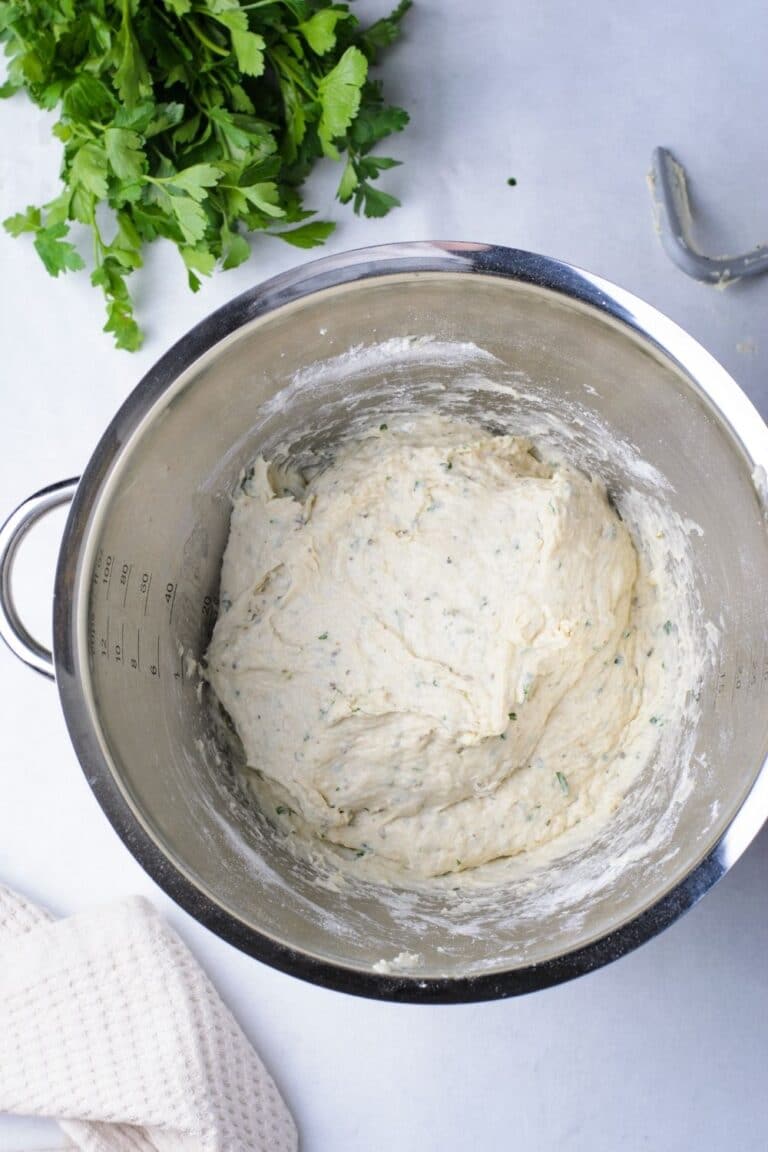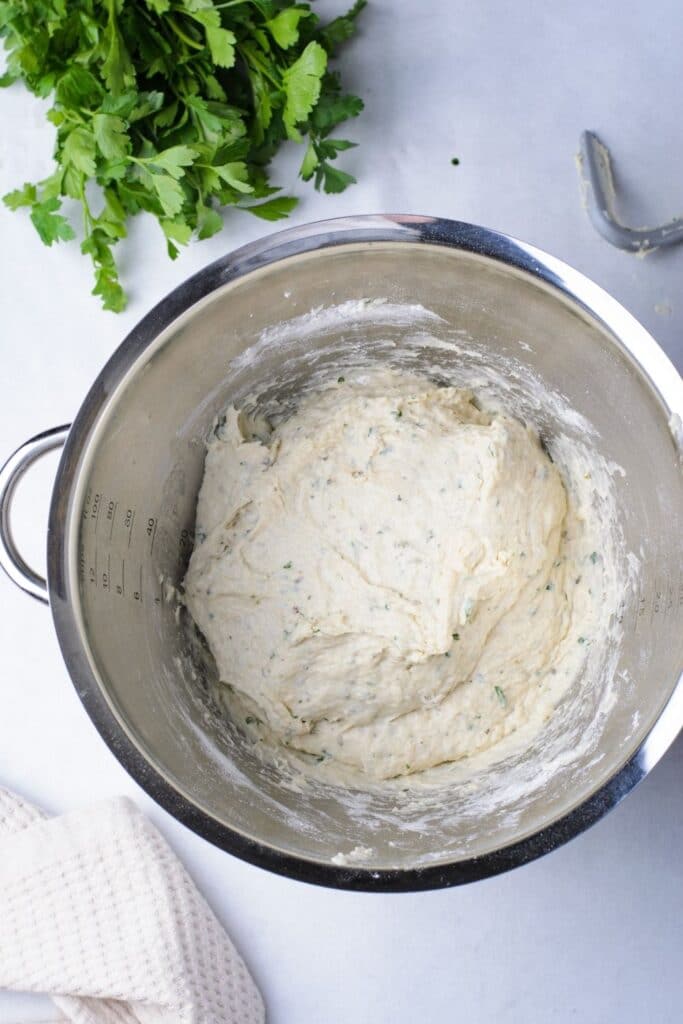 Step 3: Incorporate the flour and parsley, stirring till combined. Knead the dough with a hook on you stand mixer for around 4-8 minutes. If you don't own a stand mixer knead by hand.
Step 4: Sprinkle more flour if needed to make the dough not sticky to the touch. Cover the dough and allow it to rise for 15 minutes.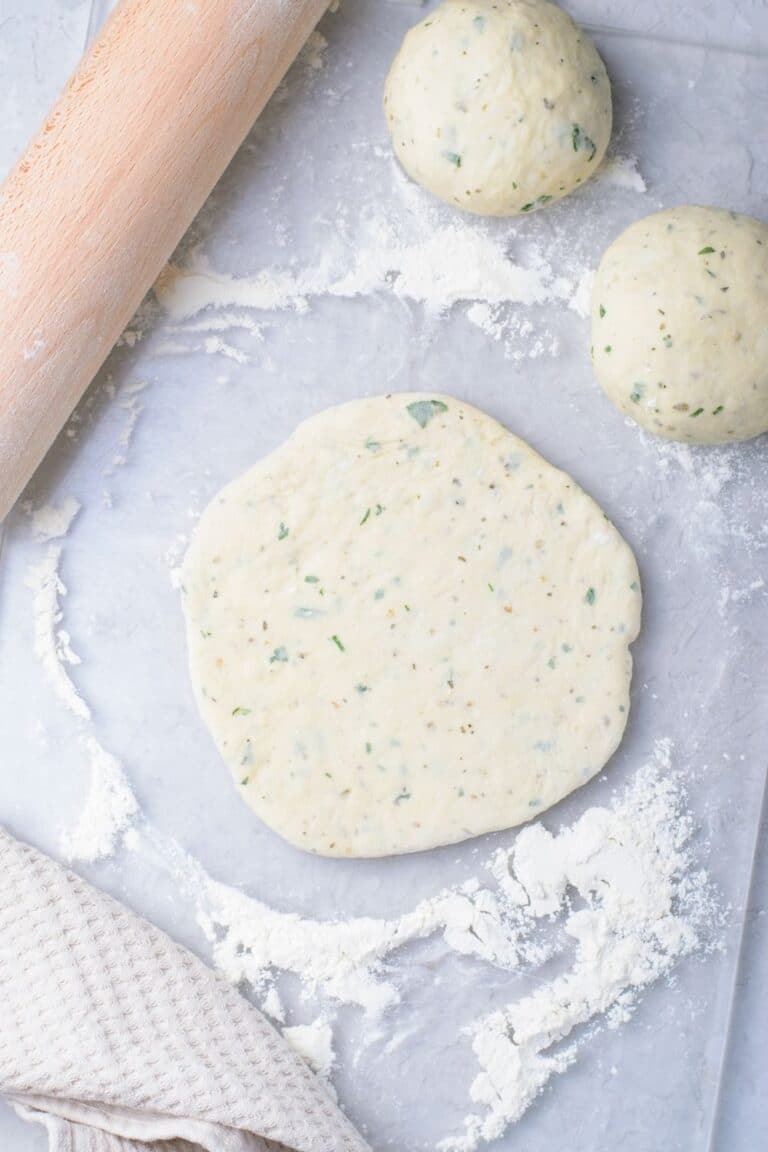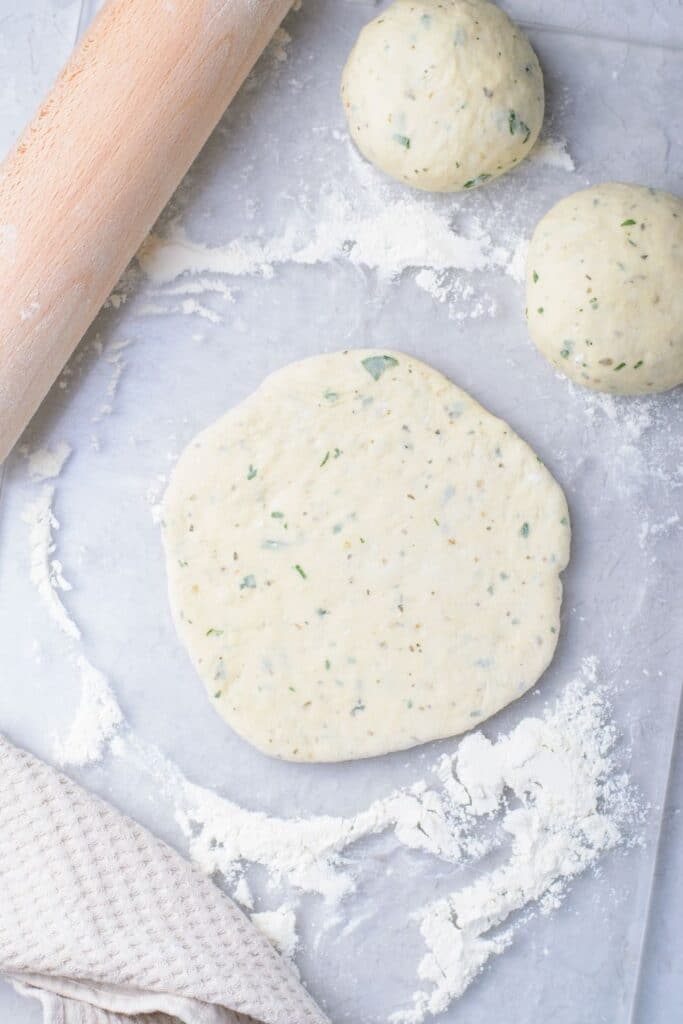 Step 5: Now you will drop dough out on a floured surface. Cut pieces into 10 even pieces. Roll each piece into a 6 inch circle.
Step 6: Brush each dough with olive oil. Then take a pan and heat on medium to high heat on the stove. Once the pan is hot place the oil side down on the bread into the pan.
Step 7: Cook for 2 minutes or until the top is bubbly, and the bottom is a light brown. Brush the top side with oil, then flip over and repeat until the other side is golden brown as well.
Step 8: Remove from the pan and allow to cool. Then serve up slightly warm, or cool completely.
Storage
Once your homemade flatbread has fully cooled you can then transfer into an airtight container or sealable bag.
I personally refrigerate my bread as it helps to extend the shelf life. Then warm up in the microwave or wrap in aluminum foil and heat up in the oven.
In terms of freezing you can freeze any leftovers you may have. Simply freeze for 3 months, and then thaw the refrigerator.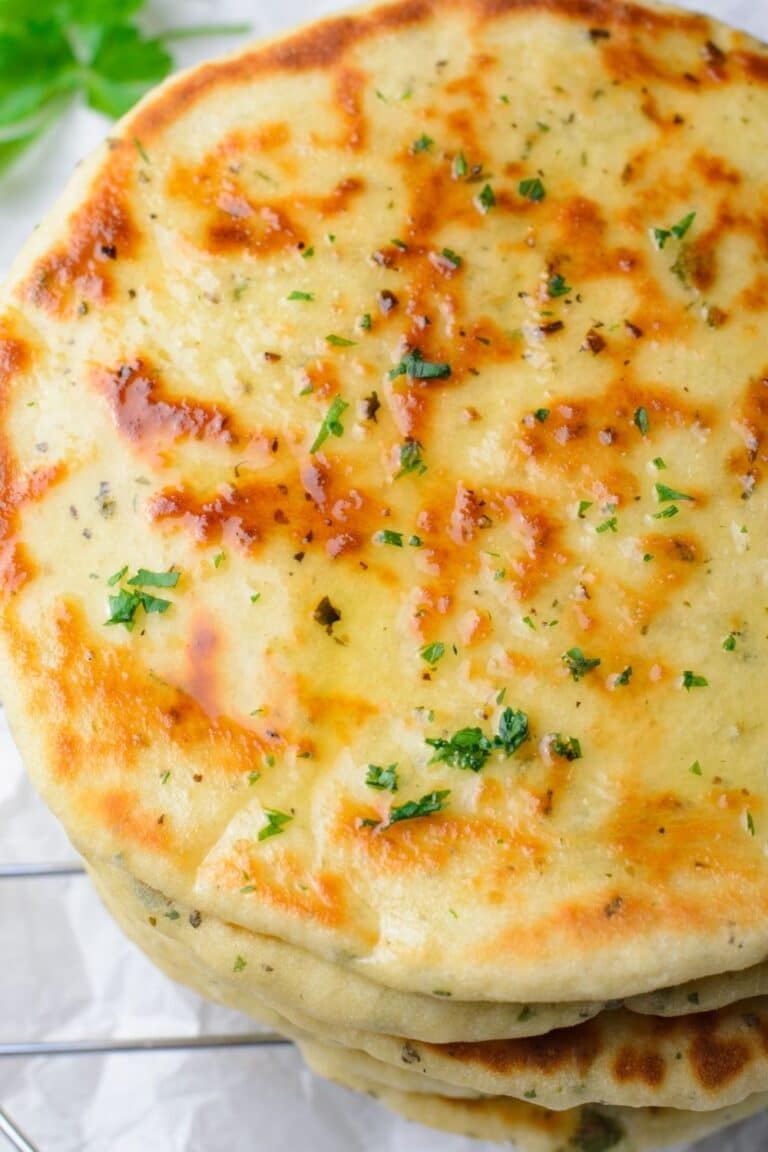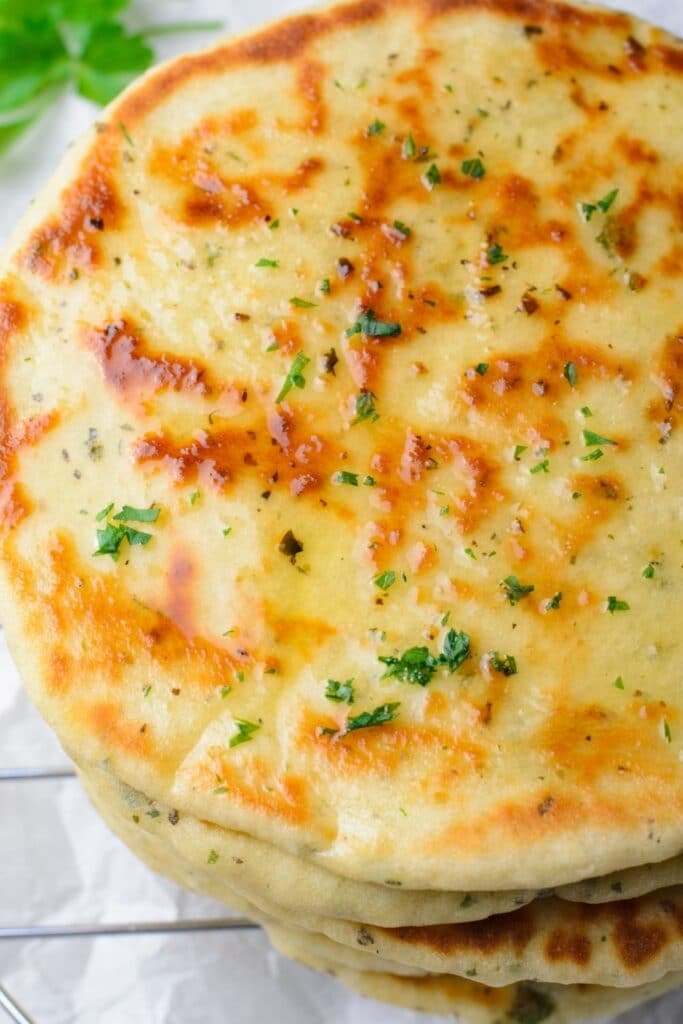 Variations
Change up the herbs and spices you use to mix in the dough. Go plain or dress it up with Mediterranean flavor, Italian spices, etc.
You can double the recipe if you want to make a larger batch of flatbread. This recipe makes 10 servings.
Greek Plain Yogurt or just a classic plain yogurt works well with this recipe.
Expert Tips
Make sure you allow your yeast to activate, or you will not end up with light and fluffy naan flatbread.
Cook the bread until it offers that golden color you know. If your heat seems to high lower the temperature.
You can also grill the flatbread instead of using a pan on the stove.
Recipe FAQs
More Bread Recipes
Have you tried the recipe? If so, please leave a star ⭐️⭐️⭐️⭐️⭐️ rating in the recipe card below or drop a comment. Also stay in touch with me through social media by following me on Facebook, Pinterest, or My Facebook Group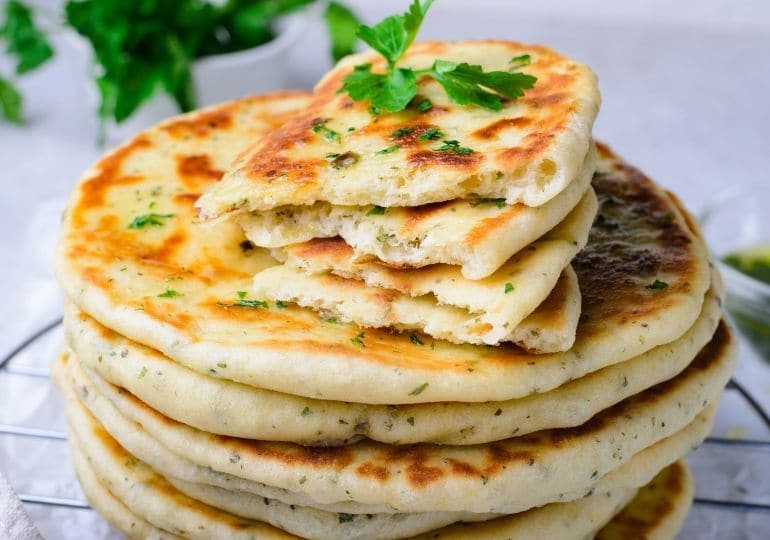 Homemade Flatbread Recipe
Servings 10
Give this homemade flatbread recipe a try. This flatbread is full of herbs and spices for tons of flavor. A must make for all you bread lovers.
Ingredients
4 cups all-purpose flour
1 cup water lukewarm
2 tablespoons olive oil
3/4 cups yogurt
2 1/2 teaspoons active dry yeast
1 tablespoon granulated sugar
1 tablespoon salt
1 tablespoon dried basil
1 tablespoon dried oregano
1 teaspoon garlic powder
2 tablespoons fresh parsley finely chopped
olive oil for brushing
fresh chopped parsley
Instructions
Start by adding your warm water (105-110 degrees F) in a bowl. Add in your tablespoon of granulated sugar an yeast. Whisk until dissolved and set aside. Let it foam up for 5-10 minutes.

Now in a stand mixer whisk together the yeast mixture, add in the yogurt, olive oil, basil, salt, oregano, and garlic powder.

Now add in the flour and parsley. Mix until combined. Use the dough hook to knead the dough for around 5-8 minutes. If you don't own a stan mixer knead by hand.

Place your circle ball of dough and place in a greased boil and let it sit for 15 minutes covered with a towel or plastic wrap.

Once done take the dough ball out on a floured surface. Cut the dough into 10 balls.

Roll out the balls to around 6 inch circles. Brush the top lightly with olive oil.

Now heat a pan over medium-high heat. Then place greased side down on the pan and allow the flatbread to become golden brown.

Brush the top sides oil, and then flip over and brown that side as well. It normally takes just a few minutes.

Remove the flatbread and brush with oil again and top with fresh parsley if you want. Allow the flatbread to cool a bit then serve.
Notes
This is an herb flatbread, but you can easily change up the spices used. You need to allow the yeast to activate and bloom or your running the risk of the texture being off. You can grill flatbread if you want instead of cooking on a pan on the stove. Make your flatbread into pizza, serve as a gyro, pair with hummus, and more.
Nutrition
Serving: 1gCalories: 240kcalCarbohydrates: 42gProtein: 7gFat: 5gSaturated Fat: 1gPolyunsaturated Fat: 4gCholesterol: 1mgSodium: 650mgFiber: 2gSugar: 3g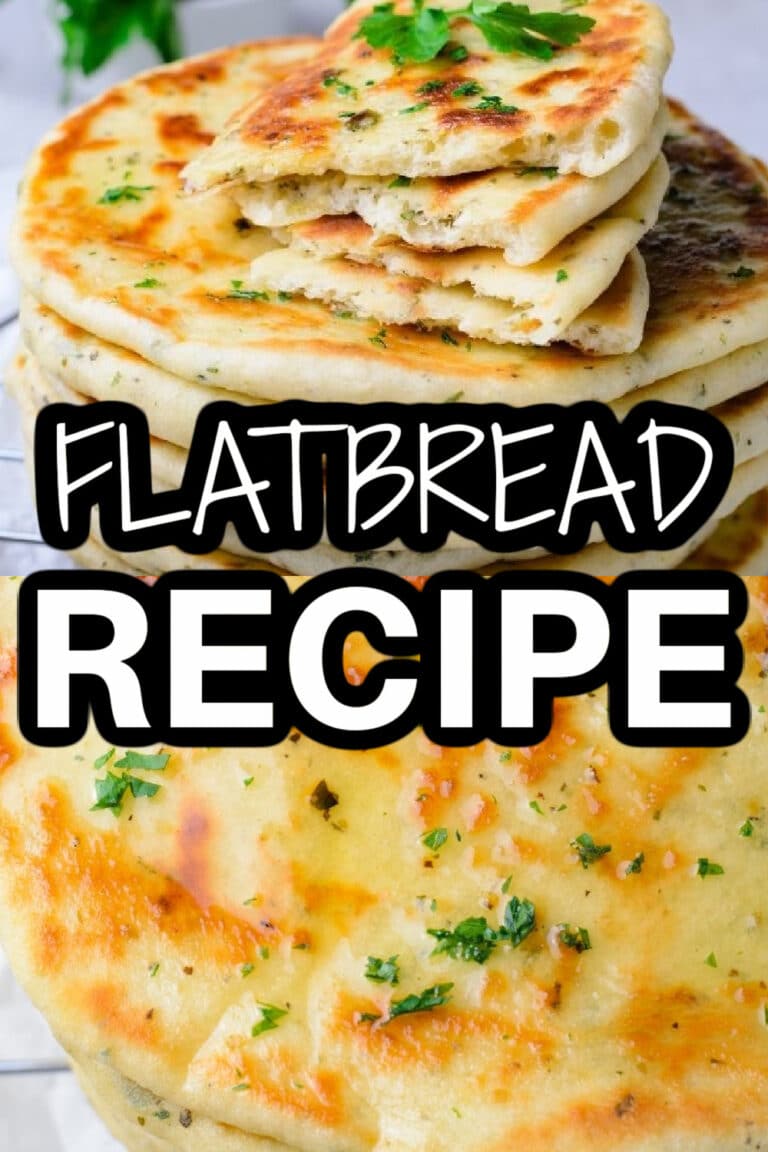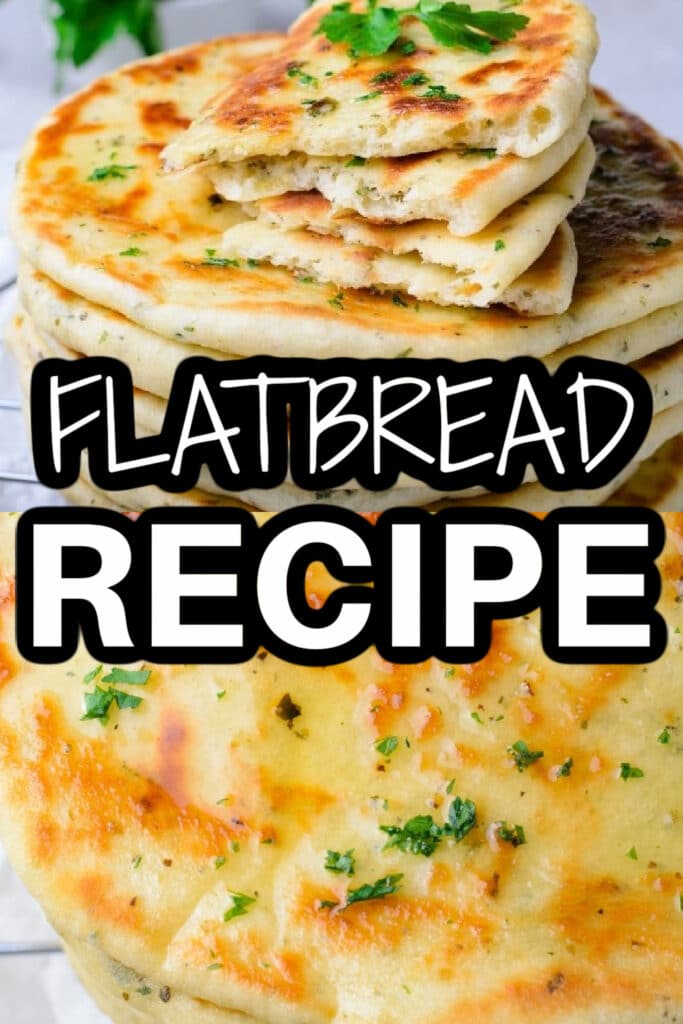 Let me know how you enjoy this flatbread recipe!
Reader Interactions