Air Fryer Fish Sticks are so easy to make yourself. This keto fish stick recipe is quick to whip up and crunchy and savory. These homemade fish sticks are so easy, and are a gluten-free fish stick recipe.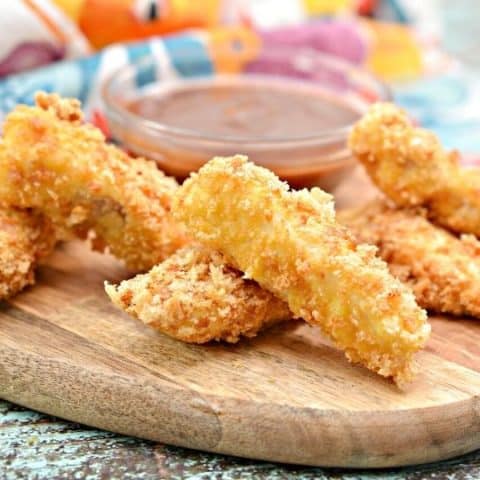 Air Fryer Fish Sticks is a recipe that you want to make if you are a fan of seafood. A keto fish sticks recipe that is heart-healthy and keto-friendly. Homemade air fryer tilapia fish sticks are calling your name.
Whether you are looking for a keto fried fish, cod in air fryer recipe, or pork rind fish sticks, this recipe fits it. Even if you are not keto, these fish sticks are heavenly.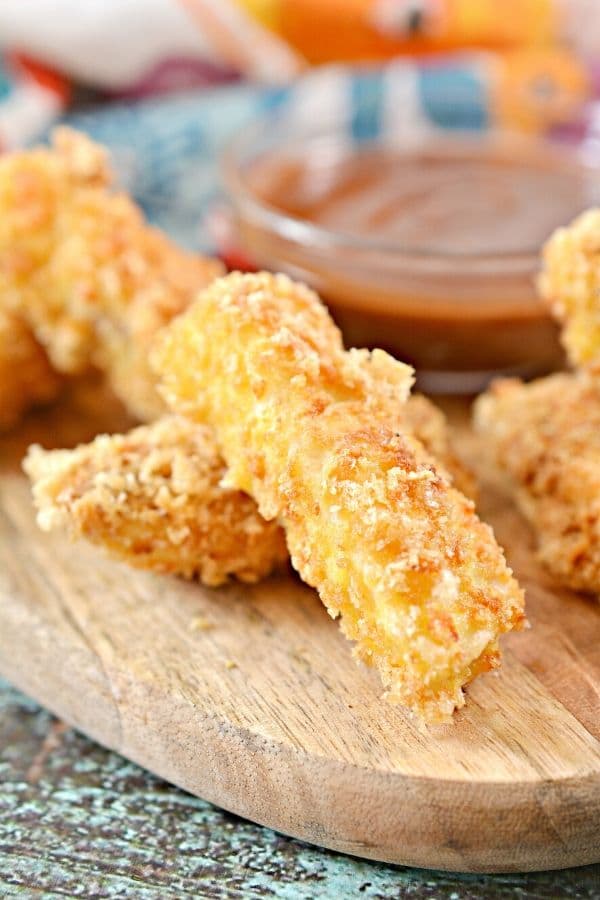 Cod or any other white fish is perfect for this homemade fish stick recipe. Fish sticks in air fryer give you that deep-fried flavor and texture but without all the excess oil.
Why you will enjoy this air fryer fish sticks…
A keto diet friendly recipe
Crispy coating
Flavorful tender fish
Gluten Free
Made with almond flour
Easy ingredients
Freezer Friendly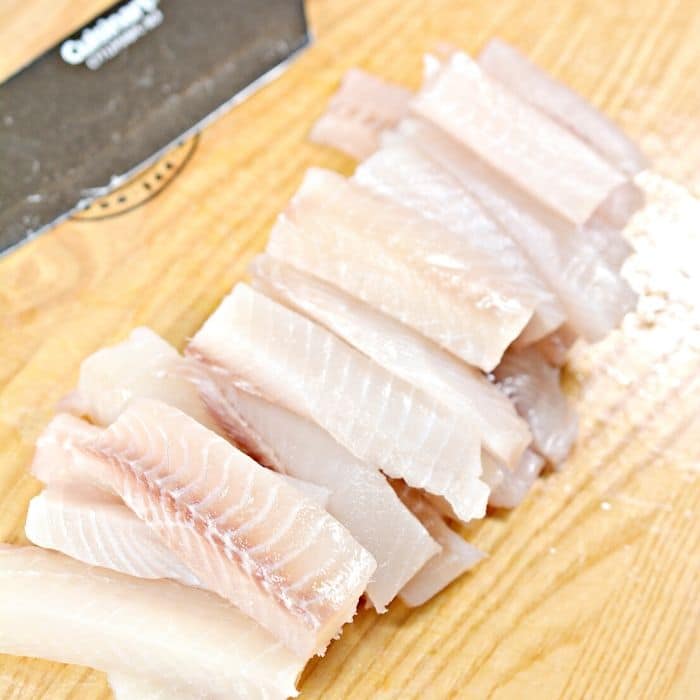 Ingredients For Healthy Fish Sticks
Cod, Tilapia or other white fish
Egg
Salt and Pepper
How to Make
Step 1: Start by adding your almond four to one bowl. Then add pork rinds crumbs to another bowl, then lastly beaten eggs.
Step 2: Season your fish sticks with salt, pepper, and Creole seasoning. Next dredge in almond flour.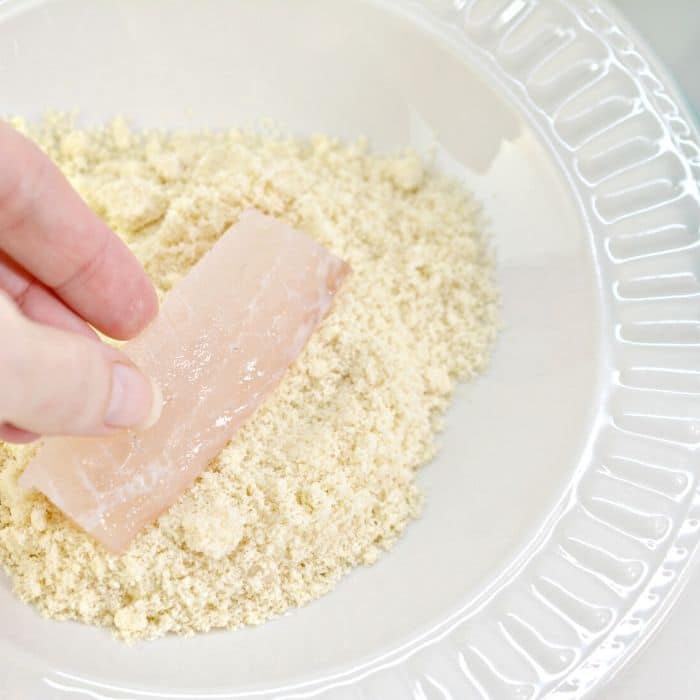 Step 3: Dip in the egg wash, allow the excess to drip off. Then roll in pork rinds and place in a greased air fryer.
Step 4: Air Fry the fish sticks as directed, remove carefully then serve!
Storage
You can store your air fryer fried fish leftovers in the fridge, for 1-2 days. Or if you want to meal prep you can allow the fish sticks to cool. Then freeze for up to 3 months.
To reheat warm back up in the air fryer, oven, or even microwave. I don't recommend the microwave as it will make the breading soggier in texture.
Expert Tips
Leave space in between each fish stick, so that the air can circulate around the fish and you get an even cook.
If you are not keto, you can use all purpose flour and bread crumbs in replace of almond flour and pork rinds.
Tilapia in the air fryer and cod are so easy. All air fryers heat differently so pull fish when it is done.
Season your fish as you would like.
You can even use fresh caught fish. Just take your fish fillets and prep them and cut into even strips.
The fish needs to be cut into even slices for even cooking.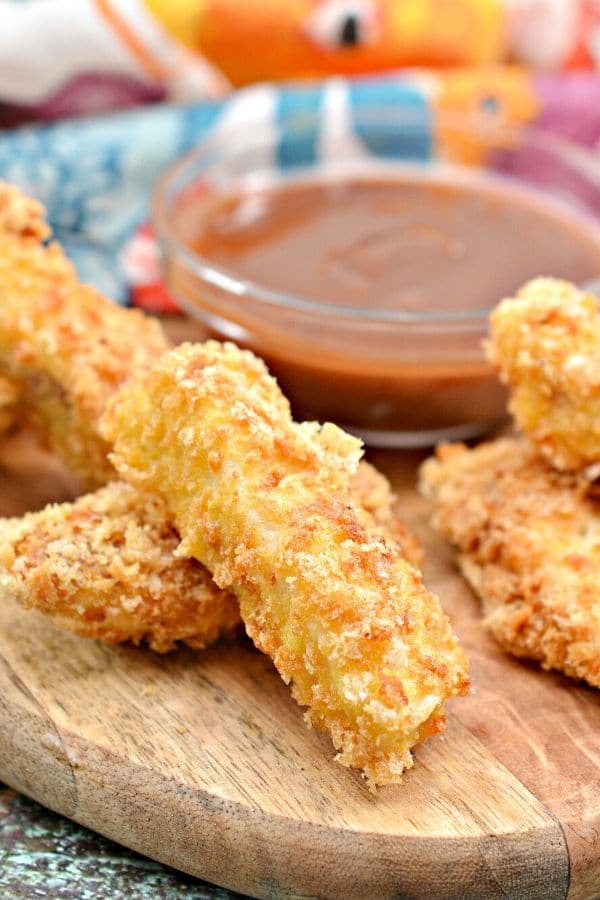 Recipe FAQs
What To Serve With Keto Fish Sticks
You are more than welcome to get creative here. Do a keto approve bbq sauce, mayo and dijon mustard mix, find a keto-approved dip you want and pair with your fish.
Or eat it plain if you are not a fan of dipping. I also love to drizzle with a little fresh lemon juice! This is one of my favorite keto fish recipes to make in a hurry.
Here are more Keto Recipes To Try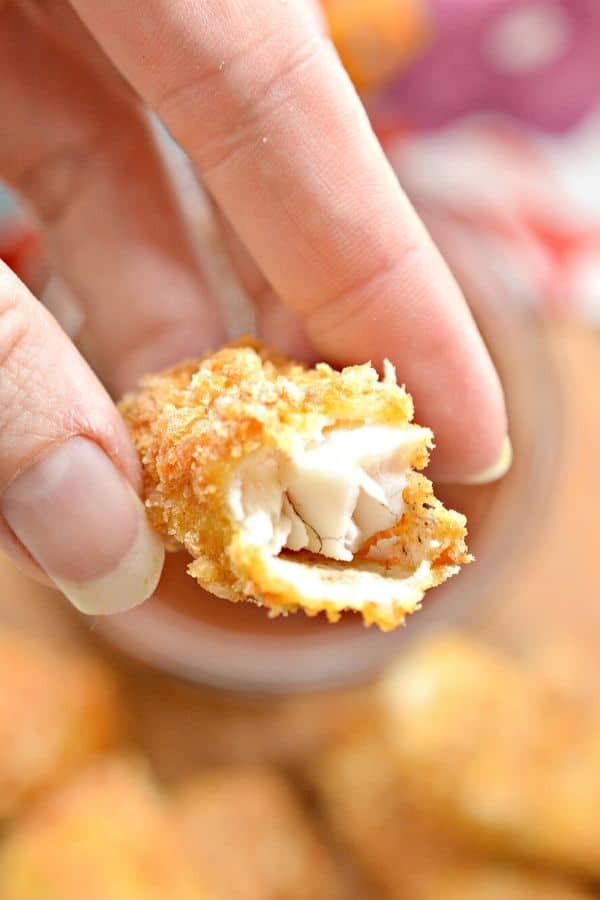 Looking for more easy air fryer recipes
Beet Chips | Beet chips are so easy to make in your air fryer. Crunchy, savory, and a healthy snack option.
Air Fryer Roasted Pesto Potatoes | Pesto potatoes are loaded with tons of flavor. These are also an easy side dish.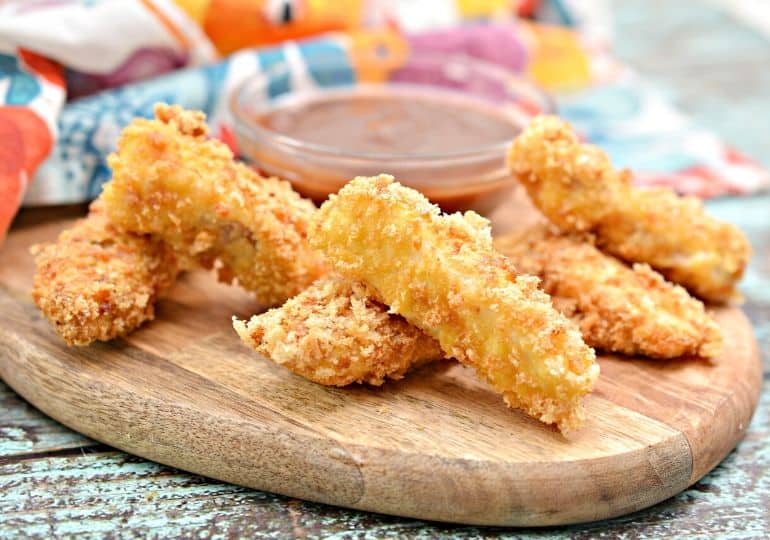 Air Fryer Fish Sticks
Servings 1 lb fish sticks
Air Fryer Fish Sticks are so easy to make yourself. This keto fish stick recipe is quick to whip up and crunchy and savory. These homemade fish sticks are so easy, and are a gluten-free fish stick recipe.
Ingredients
1 lb Tilapia or Other White Fish
1/2 cup almond flour
2 oz Pork Rinds crushed and crumbled
1 egg beaten
1/2 teaspoon Creole or Old Bay Seasoning
Salt and Pepper to Taste
Lemon juice optional
Instructions
Start by preheating your air fryer to 350 degrees.

Place your almond flour in a shallow bowl. Then crush pork rinds on another shallow bowl. And whisk eggs in a bowl for dipping.

Now cut white fish into a fish stick. Just make sure they are uniform in size.

Then season the fish with Creole and salt and pepper.

Dip the fish in the almond flour, coating it well. Then dip in egg mixture, allow excess to drip off.

Now roll fish sticks in pork rinds and place them on the heated air fryer tray. You can spritz your air fryer tray with oil to prevent the fish from sticking.

Air fry 12-15 minutes or until browned and fish is cooked through.

Drizzle the air fryer fish sticks with fresh lemon juice and serve.
Notes
You can use any white fish for this recipe. Spritz your fish sticks with oil to help the pork rind coating crisp up. If you are not keto you can swap almond flour with all-purpose flour, and bread crumbs for pork rinds if you want. These fish sticks are freezer-friendly. Once cooked allow to the air fried fish sticks to cool. Then place in a freezer container for 3 months. Reheat in the oven or air fryer till warm.
Nutrition
Serving: 1gCalories: 194kcalCarbohydrates: 2gProtein: 26gFat: 9gSaturated Fat: 2gPolyunsaturated Fat: 7gCholesterol: 77mgSodium: 258mgFiber: 1g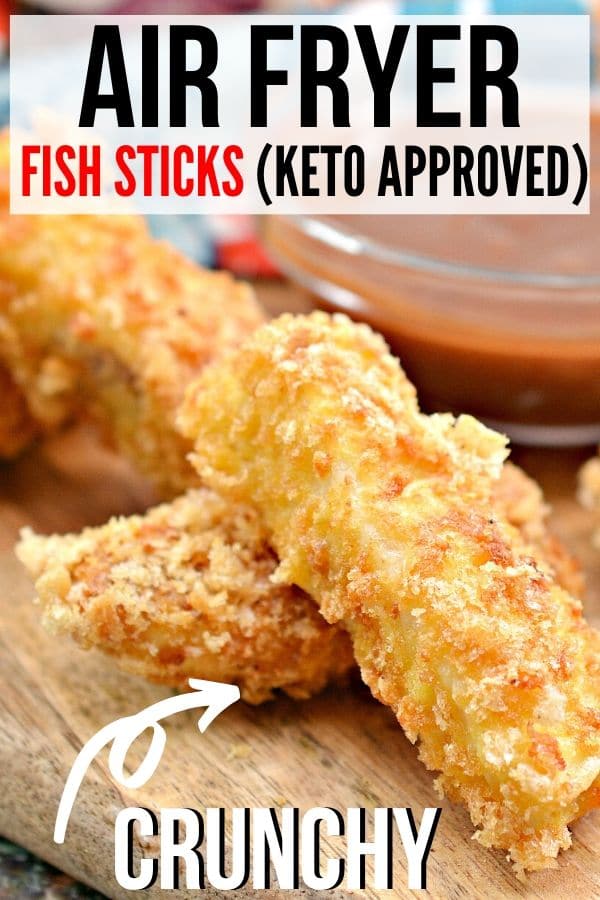 What is your go-to lunch or dinner recipe? Have you ever tried air fryer fish sticks?
Reader Interactions