Craving some sweet potato fries? If so give this air fryer sweet potato fries recipe a try. Tons of flavor and I share my tangy and spicy dipping sauce that I have made for years! These sweet potato fries are crazy simple, crispy, and savory!
Air fryer French fries are delicious, but air fried sweet potatoes always take reign in our home. We are a sucker for any sweet potato recipe out there. Learn how to make fries in the air fryer. Try my Blackstone frozen fries as well for another idea of fries.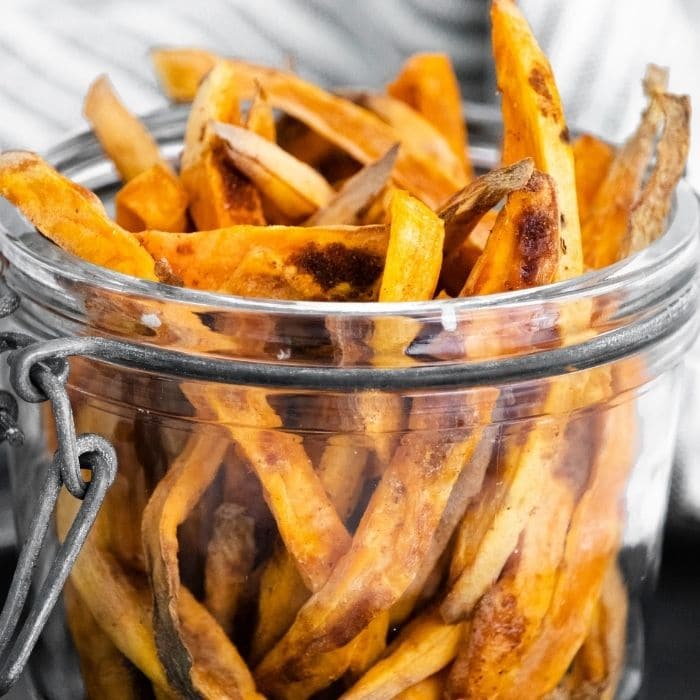 These homemade sweet potato fries can be served up as a side dish or appetizer as you root for your favorite teams playing. Learn how to air fry sweet potato fries – they are a game-changer!
🍟 Why You Will Love This Recipe
Perfect air fryer side dish to serve with dinner
Makes a great appetizer
Crispy sweet potato fries texture
You season how you like
I share how to cut sweet potatoes for making fries
Quick-cooking time
Golden brown outside soft fry center
Simple
Affordable
Versatile in seasonings you can use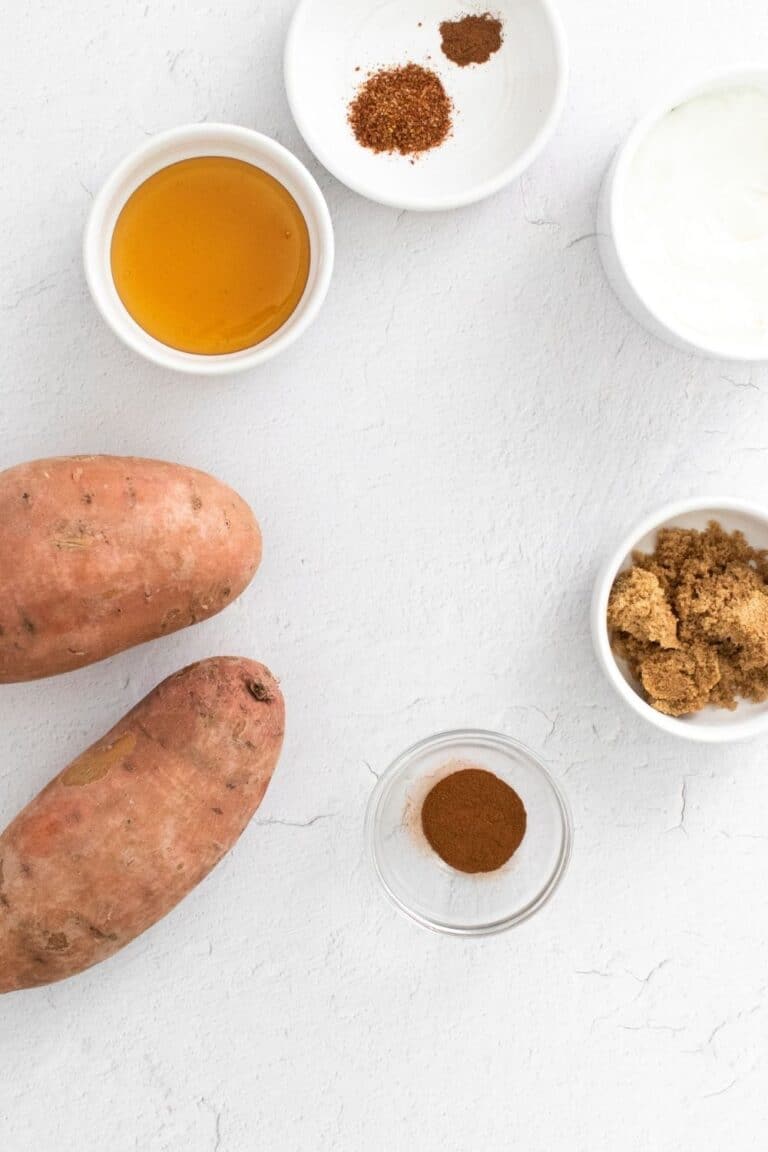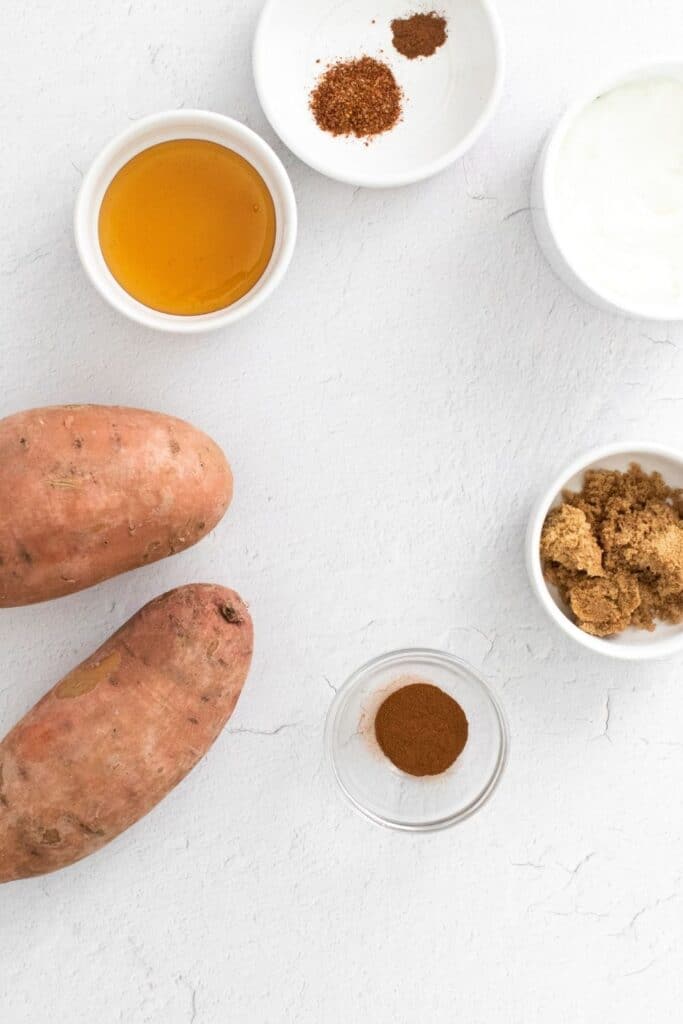 🧂 Ingredients Needed For Sweet Potato Air Fryer Recipe
Sweet Potatoes
Oil
Salt & Pepper
Season Salt
Spicy Sauce (optional)
Mayonnaise
Ketchup
Cayenne
Apple Cider Vinegar
Paprika
Honey Chipotle Dip (optional)
Greek Yogurt
Honey
Chipotle Powder
Cinnamon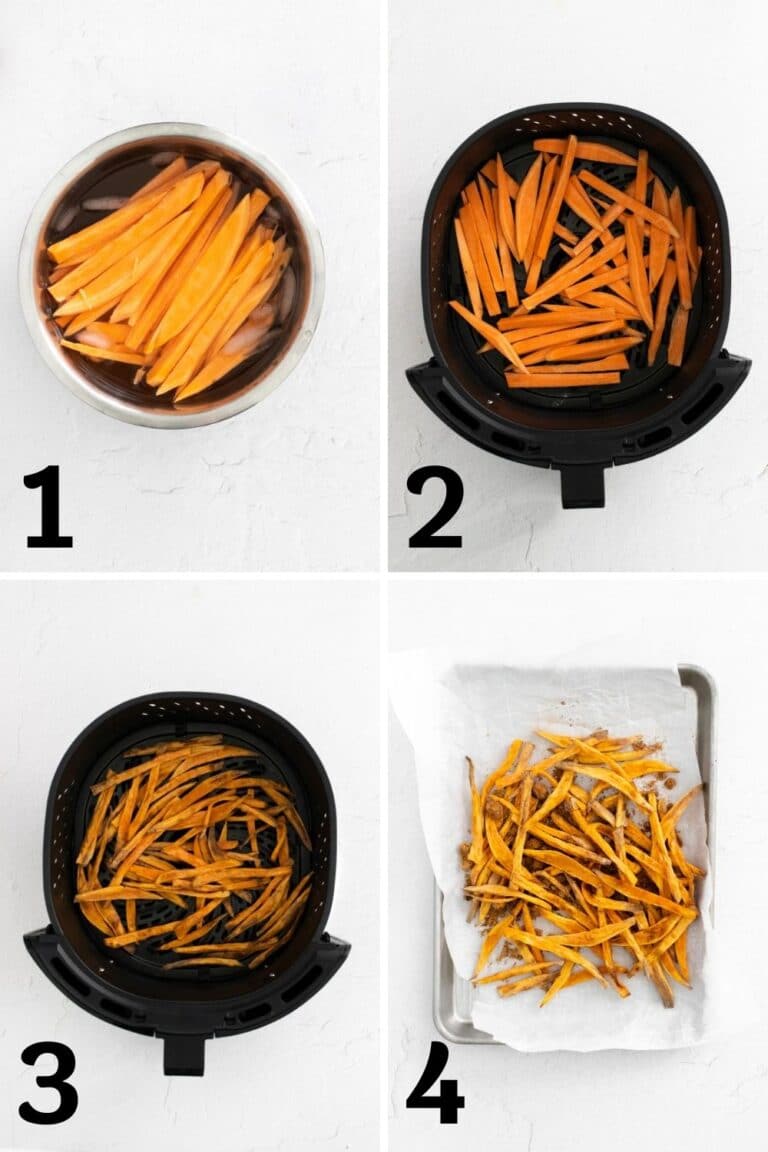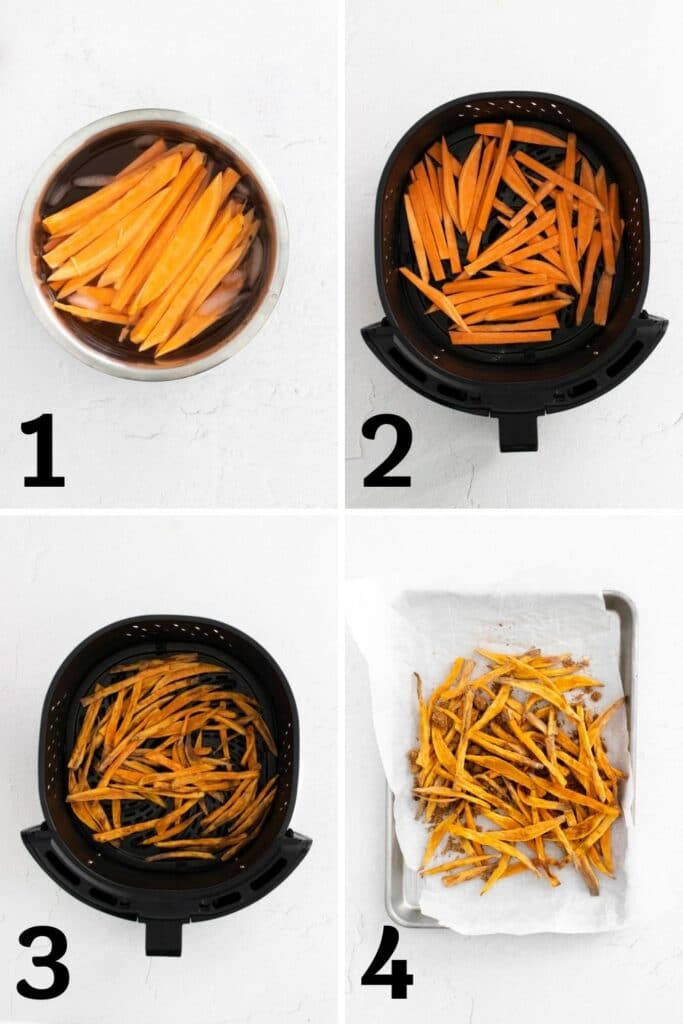 🍴 How to Make Air Fried Sweet Potato Fries
Step 1: Wash and prep your sweet potatoes. Cut the potato into matchstick fries. I cut around 1/4 inch thick.
Soak the cut up fries in ice water as you continue to cut the rest of the French fries.
Step 2: Remove potatoes from ice water and pat dry with paper towel. Spritz with oil spray and season with the salt and pepper and place in air fryer.
Step 3: Air fry stirring half way through. Once done remove and placeon baking sheet and then add in the remaining sweet potato fries and continue to cook.
Keep your cooked fries warm in the oven as you finish up air frying the remaining sweet potato fries.
Step 4: Once all the sweet tater fries are done, remove from air fryer, and serve up with your favorite dipping sauces.
Full measurements and directions on how to make sweet potato fries in air fryer are in the printable recipe card below.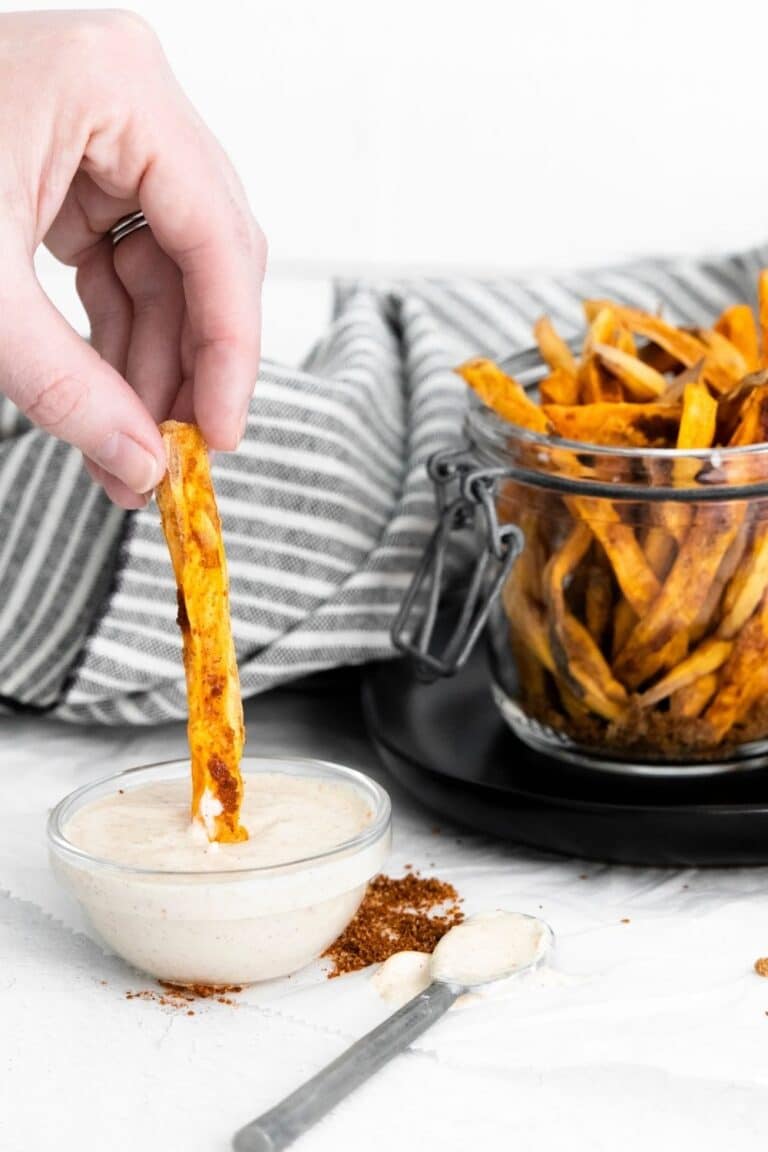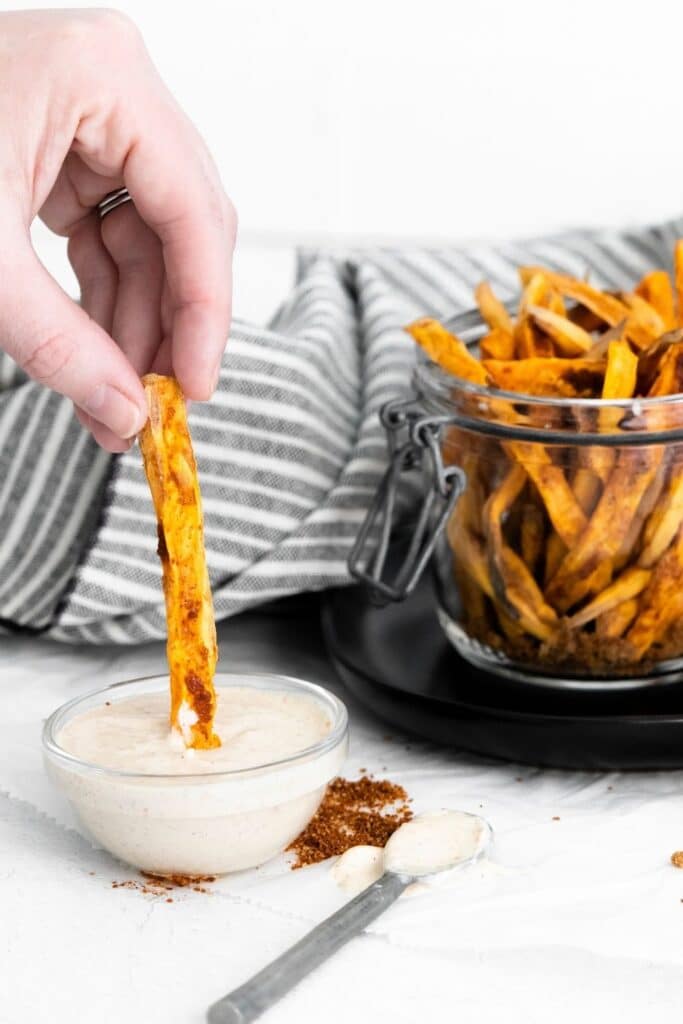 🍅 What To Dip Sweet Potato Fries In
You can do straight ketchup, mayo and bbq sauce, or create one or more of these sauces. I share a spicy and sweet version for you to pick from.
I share both sauces I made in the recipe card below. We tend to reach for savory, but on occasions, we will do the sweet.
Or if I make a fry board, I include both forms of dip so people can pick and choose what fits them best.
🧄 Expert Tips and Variations To Recipe
Change up the thickness of your sweet potatoes. You can make sweet potato wedges if you want a thicker potato.
Feel free to swap out the seasoning – cinnamon gives it a sweet aspect. Add in some cayenne or chili powder for a spicier take. Garlic and parsley are more savory. Even garlic powder, black pepper are great options.
Make sure to leave space between fries for an even cook. If they are overlapping too much you will not get an even cook.
You can swap and do a baked sweet potato fries version in the oven if you don't own an air fryer.
I used olive oil for the oil, but canola works well too.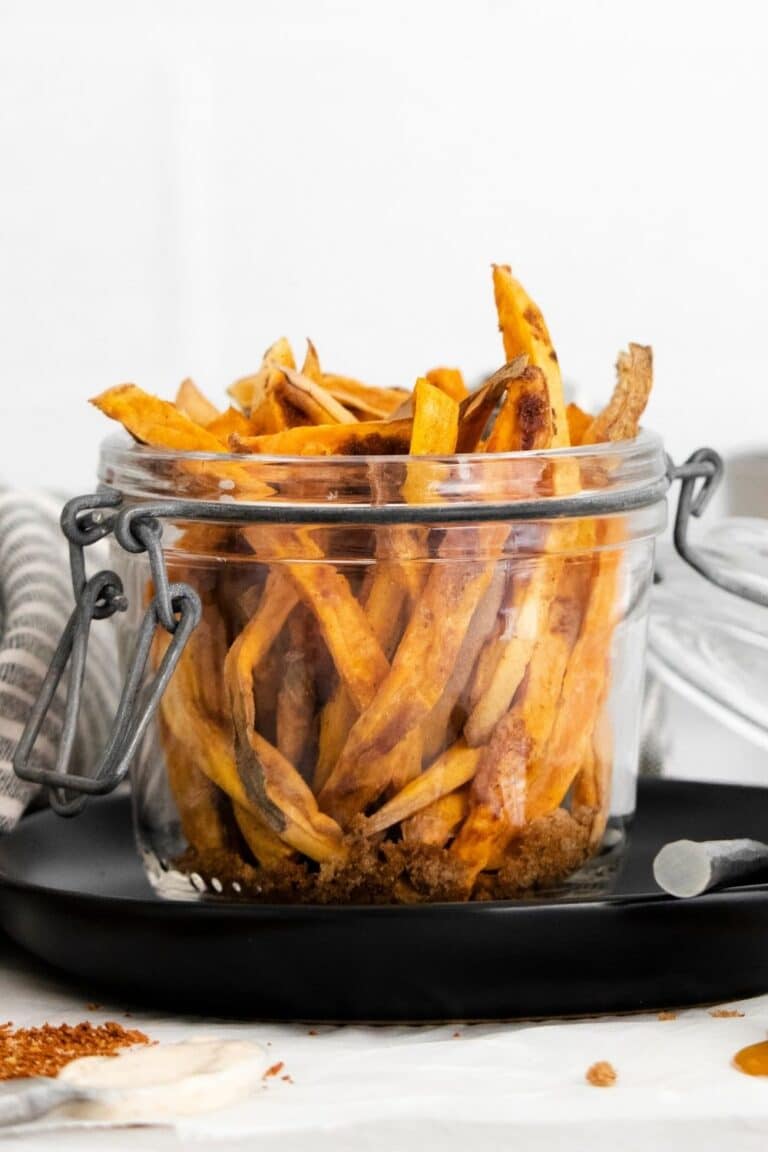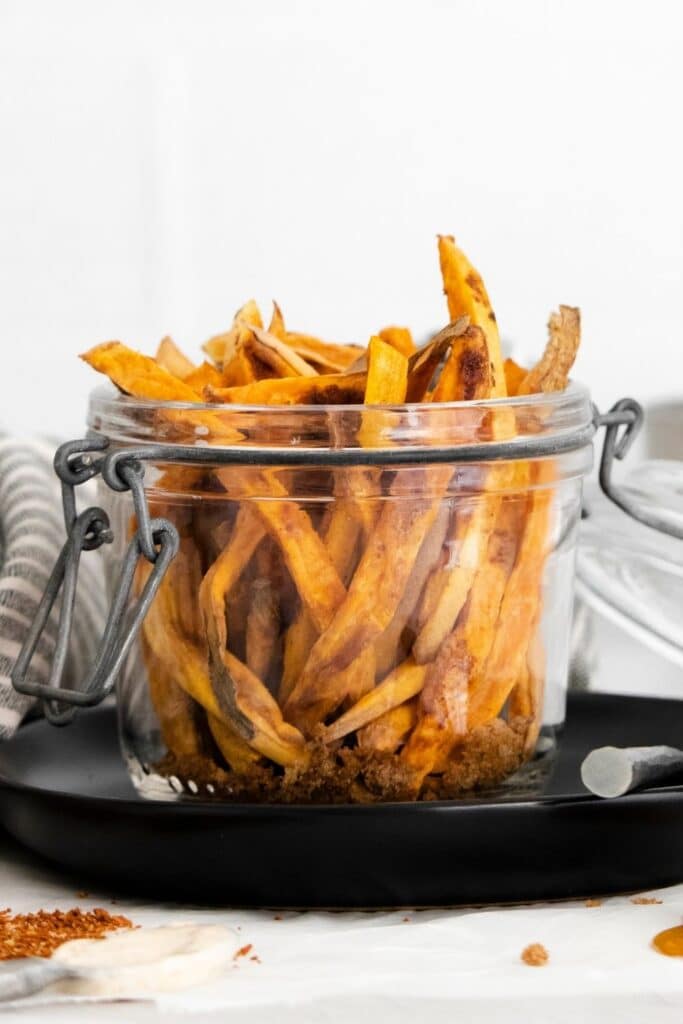 👩‍🍳 Recipe FAQs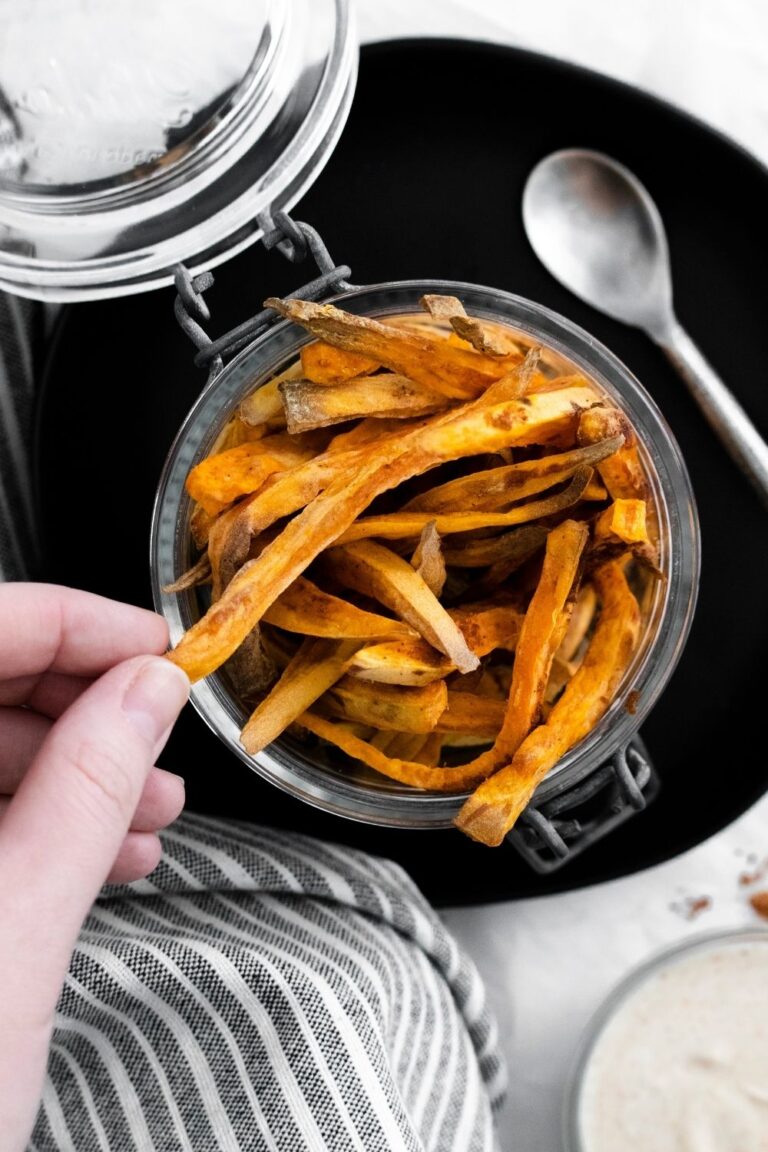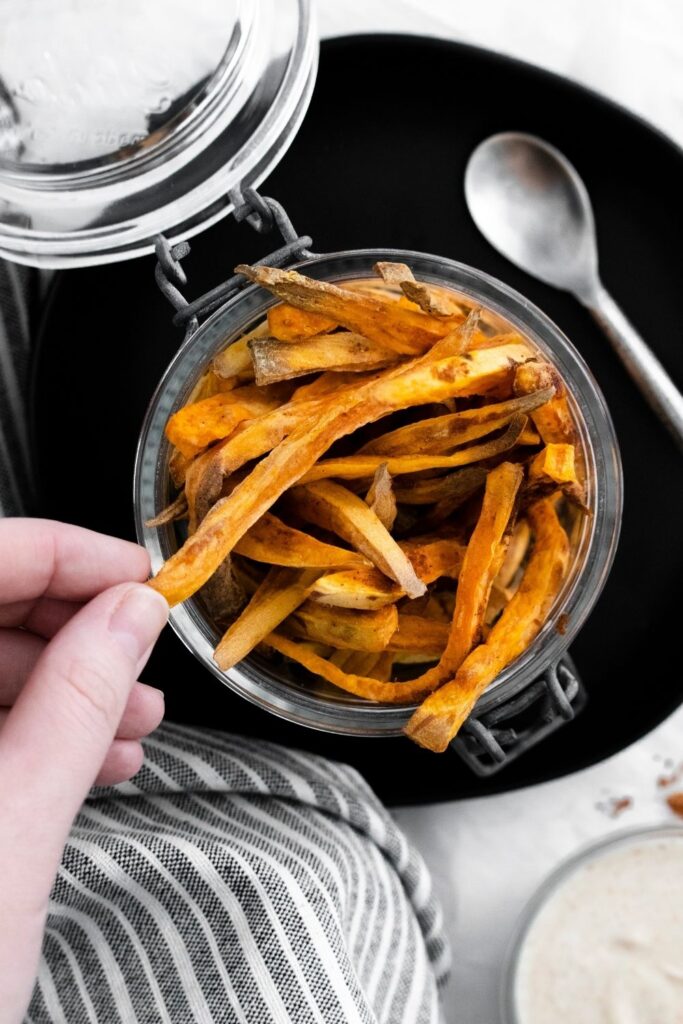 More Potato Recipes To Try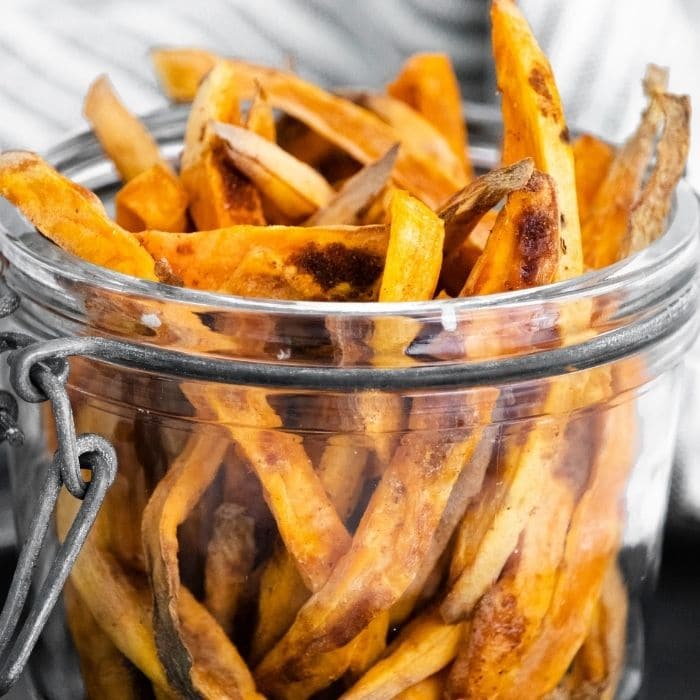 Air Fryer Sweet Potato Fries
Servings 4
Air Fryer Sweet Potato Fries are the ultimate side dish or appetizer to serve up. Make homemade crispy sweet potato fries that are dippable fries loaded with flavor.
Ingredients
For the Sweet Potatoes
2 large sweet potatoes
Olive oil
¼ season salt
¼ teaspoon black pepper
Instructions
Wash and prep your sweet potatoes. You can peel them or leave the skins on, that is up to you. Slice the potatoes to 1/4 inch matchsticks size.

Toss your cut french fries in cold water with ice, to let them soak as you finish cutting up the remaining fries. Remove from ice water and pat dry with a paper towel.

Spray the sweet potato slices with your oil mister, and then season with the salt and pepper.

Cook at 365 degrees in the air fryer, for 12-15 minutes. Make sure to stir half way through. I batch cooked, as you want the fries to be a single layer. Otherwise, the fries won't crisp up.

Remove the cooked fries, and do another batch of the sweet potato fries in air fryer. You can place cooked fries on a baking sheet and keep warm in the oven at 225 degrees F.

Once all the air fried fries are done, serve warm. I share two different dips you can make for your fries if you would like.

This air fryer sweet potato fries recipe is so easy, and makes a great side dish or appetizer for your family or friends.
Notes
Spicy Dip
½ cup mayonnaise
2 tablespoons ketchup
½ teaspoon cayenne
¼ teaspoon paprika
Honey-Chipotle Dip
½ cup plain greek yogurt 
2 tablespoons honey 
½ teaspoon chipotle powder 
¼ teaspoon cinnamon
Air Fryer Sweet Potato Fry Tips
Make sure to not overlap the fries too much in the air fryer, or you will find the potatoes won't evenly cook.
Depending on the thickness of potatoes the cooking time can vary.
All air fryers heat different, so always keep an eye on your food, and check often to ensure you don't' overcook your crispy fries.
Cooking Sweet Potato Fries In The Oven
Follow the same directions, just place on a baking sheet in a single layer. Cook in a preheated oven at 400 degrees.
Flip the fries halfway through cooking. They will cook anywhere from 15-20 minutes.
Ninja Foodi and Instant Pot Duo Crisp Directions
To make these sweet potato fries in the Ninja Foodi reach for the crisping lid and keep all the directions the same.
Same for making sweet potato fries in Instant pot Duo Crisp. Use the crisping lid, and just batch cook the fries.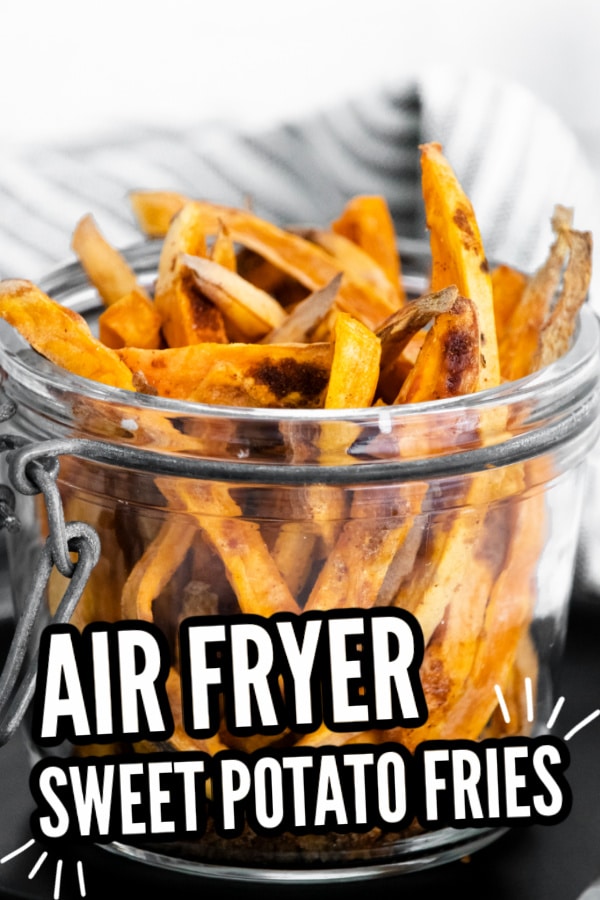 Reader Interactions