Twice Baked Sweet Potato Casserole with a bacon topping is the ultimate sweet potato recipe. A savory sweet potato recipe that is loaded with bacon, Panko bread toppings, and creamy mashed sweet potato mounds underneath.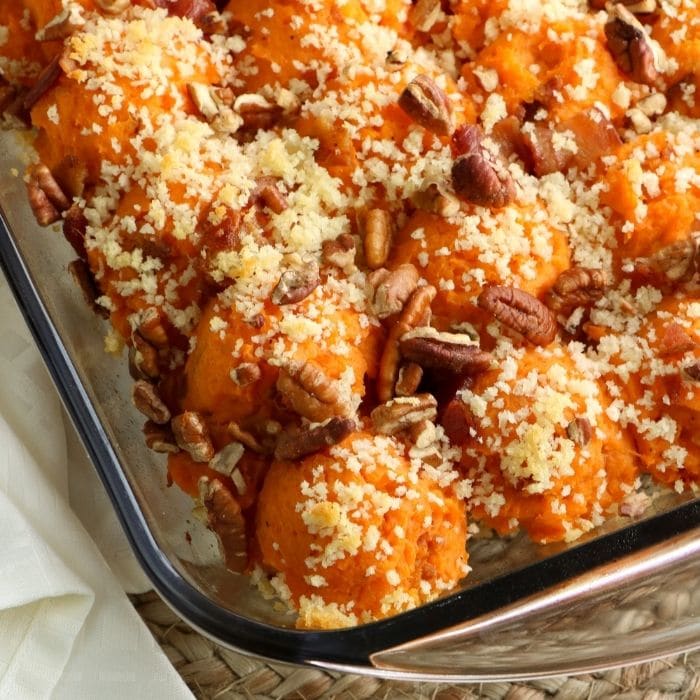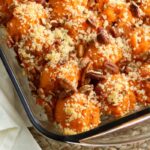 If you are a fan of sweet potatoes dive into this twice baked sweet potato casserole! It has a bacon topping so it offers that savory sweet potato component we love. This is a fun twist to a classic sweet potato casserole for the holiday season! Give this savory twice baked sweet potato casserole recipe a try for you sweet potato side dish.
Try my Instant Pot mashed sweet potatoes, air fryer Hasselback sweet potatoes, or even my Instant Pot classic sweet potato casserole.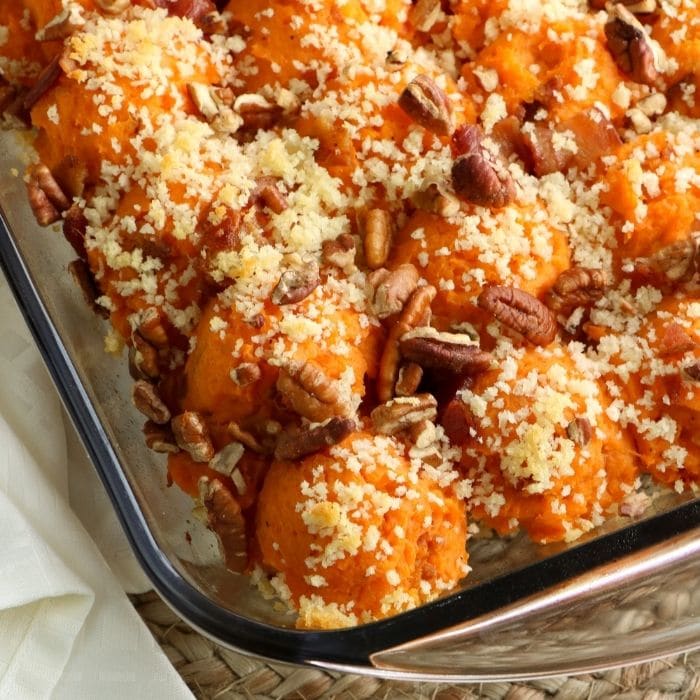 You will cook sweet potatoes, mash and then use a cookie scoop to create mounds, that you top with pecans and bacon, and bake for a second time.
A casserole dish that is the perfect side dish for a weeknight dinner or the ultimate holiday side dish recipe. Give this sweet potato casserole with bacon a try tonight. Pair with my onion gravy to go with your main dish.
🍠 Why This Recipe Works
Simple Ingredients
Savory Sweet Potato Casserole instead of a sweet
A Sweet Potato Casserole Recipe that stands out from the recipe
Can be switched over to add a brown sugar topping for a sweet take
Can pre-make the dish and bake right before serving
Perfect for a Thanksgiving Side Dish
A Christmas side dish recipe everyone will love.
🧈 Ingredients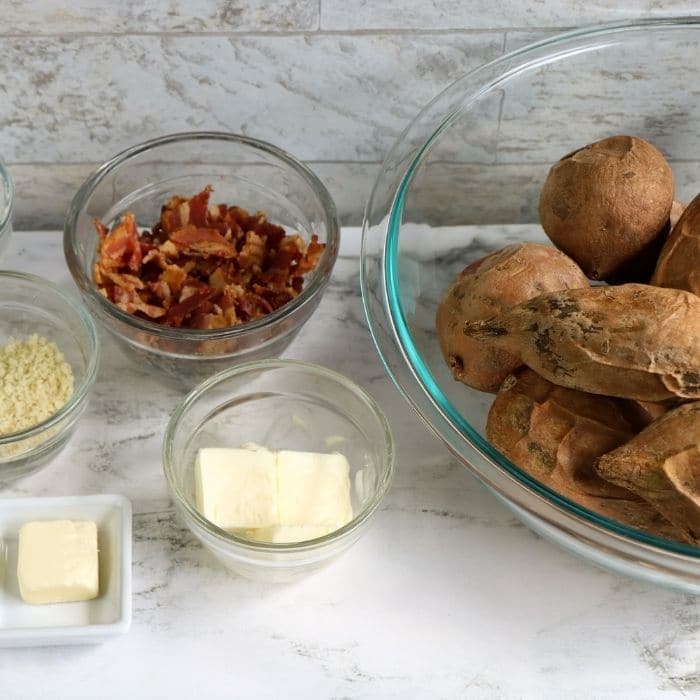 Sweet Potatoes | Twice Baked sweet potatoes need sweet potatoes to be the star of the show!
Bacon | Cook up quality bacon and use that to add even more savory flavor to this sweet potato casserole dish.
Butter, Sour Cream | Here is where you get a lot of savory in this sweet potato recipe. I love a sweet potato casserole with marshmallows and such, but savory is always my first pick!
Panko Bread Crumbs | This is the feature on the top of the casserole as well as pecans for a nice crunch in texture.
Salt and Pepper | I used salt and pepper to help elevate the flavor of this loaded sweet potato casserole. You could even use garlic or onion powder for even more flavor.
Pecans | So the topping I used pecans for a nice crunch. If you want you can leave them off.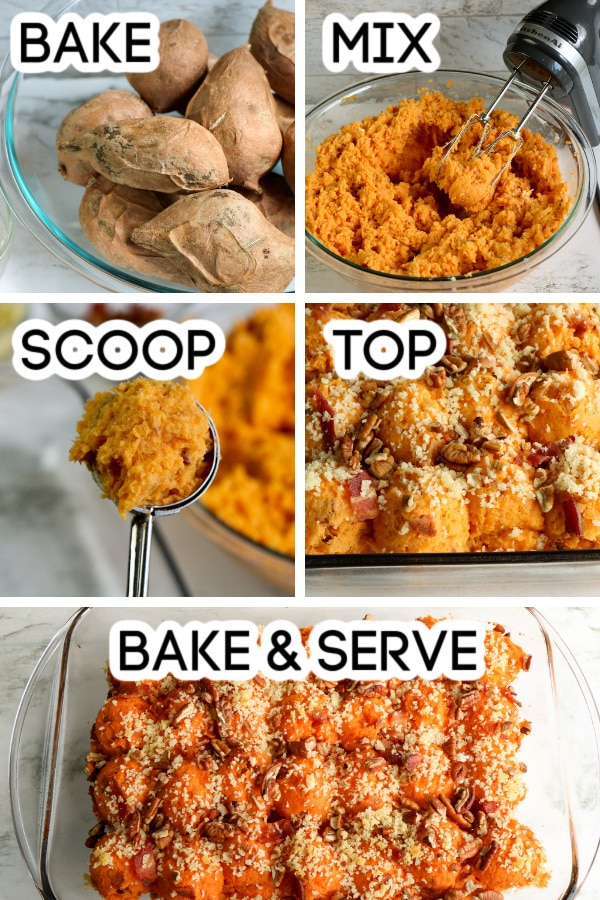 🍽️ How To Make
Full directions on how to make this double baked sweet potatoes recipe is in the printable recipe card at the bottom of the post.
Step One: Start by preheating your oven and baking your sweet potatoes on a baking sheet for 1 1/2 hours or until they are tender and cooked through.
Step Two: Once done, allow potatoes to cool and then peel off the skins. Place the sweet potatoes in a bowl.
Step Three: Mash your sweet potatoes and then add in bacon (save some for topping) sour cream, butter, salt, pepper, and blend. Mix until nice and creamy.
Step Four: Use a large ice cream scoop and make mounds of sweet potatoes that you place in your baking dish.
Step Five: Top with breadcrumbs that were mixed with butter, and sprinkle bacon and pecans if desired.
Step Six: Bake in the oven for 20-30 more minutes or until the breadcrumbs have become golden in color.
When the dish is done, spoon up this twice baked sweet potato recipe and pair with all your favorite holiday recipes.
More Holiday Recipes – Arkansas Green Beans, or pair with this pineapple ham, or even go with this cranberry sauce.
📍 Expert Tips
Sweet Version | Not looking for a savory potato recipe? Go ahead and whip up the potatoes and add butter and a teaspoon of cinnamon into the potatoes as you blend. Spoon up and then top with brown sugar, and then pecans and bake.
Canned Sweet Potatoes | If you wanted to use canned potatoes you probably could. I have never attempted canned sweet potatoes in replace of fresh baked. But you could mash and try.
Toppings | Skip the pecans if you want. It just adds extra crunch along with the breadcrumbs.
Make-Ahead | You can prep the casserole and then once it is ready to go in the oven to bake, instead you can cover and place in the fridge overnight. Then in the morning when you are ready toss in oven to bake up.
It will take longer since the dish is chilled instead of warm. This is a wonderful make-ahead holiday side dish to make for your big feast.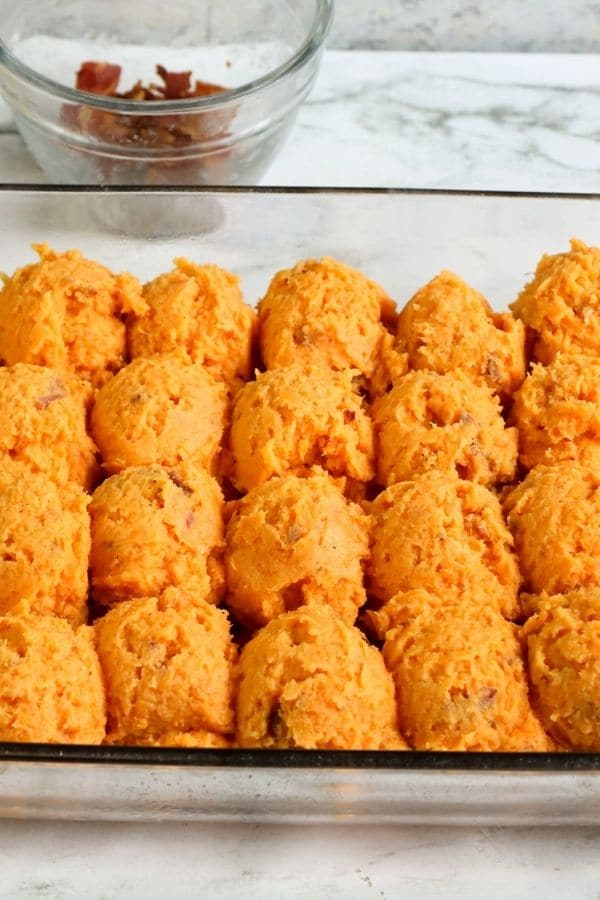 Recipe FAQs
Do you cook sweet potatoes the same as regular?
For this sweet potato recipe you will bake the potatoes just like a baked potato. Make sure to puncture with a knife before cooking in the oven, so the potato doesn't blow up as it bakes.
Are yams and sweet potatoes the same thing?
Yams and sweet potatoes get confused to be the same thing often. Yams are a different type of flavor and the skins are a lot more tree bark like. While they may look similar the flavor is undeniable they are different.
Should you wash sweet potatoes before baking?
Washing all produce before using in baking or peeling and slicing is always a good idea. Wash off any debris and such that are on the outside of the sweet potato.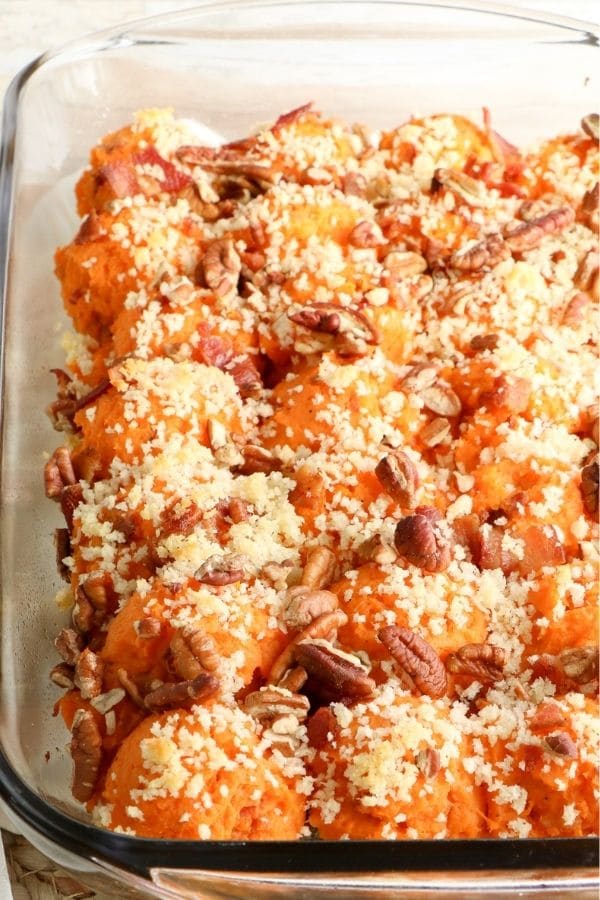 More Delicious Side Dishes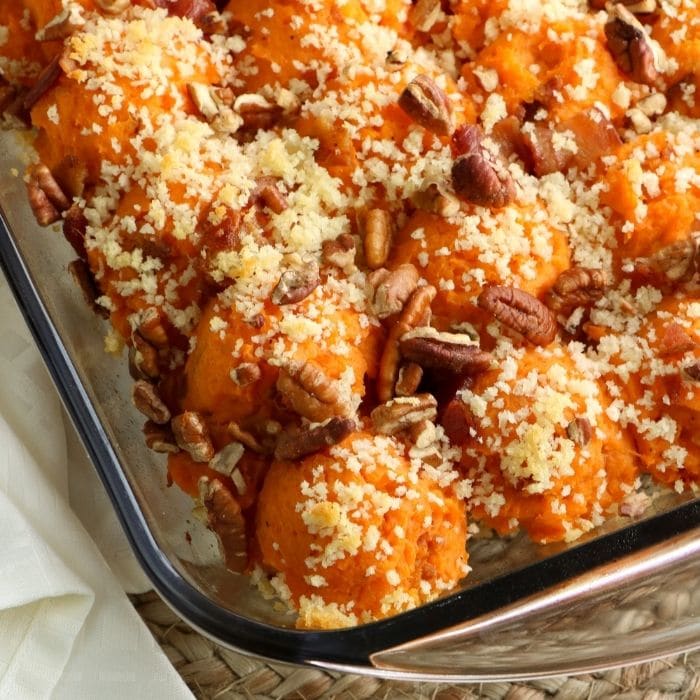 Twice Baked Sweet Potato Casserole
Servings 12 servings
Twice Baked Sweet Potato Casserole with a bacon topping is the ultimate sweet potato recipe. A savory sweet potato recipe that is loaded with bacon, Panko bread toppings, and creamy mashed sweet potato mounds underneath.
Ingredients
6 pounds sweet potatoes scrubbed and pierced
10 slices bacon cooked and crumbled
¼ cup panko breadcrumbs or regular breadcrumbs
1 tablespoon butter melted
½ cup sour cream
¼ cup butter softened
¼ cup chopped pecans for topping (Optional)
½ teaspoon salt
¼ teaspoon pepper
Instructions
Start by preheating your oven to 350 degrees.

Wash and prep your sweet potatoes, leaving a knife cut in the center of each potato Place on a baking sheet that is lined with aluminum foil or parchment paper.

Bake for 1 – 1 1/2 hours or until your sweet potatoes are tender and fully cooked. Remove from oven and allow to cool a bit.

When you are able to touch with your hands, peel the skins off the sweet potatoes and place the flesh of potatoes in a bowl.

Add in all but 2 tablespoons of the cooked chopped bacon, sour cream, 1/4 cup butter, and salt and pepper. Mash up the sweet potatoes until creamy.

Then with an ice cream scoop, drop mounds of the sweet potatoes into a greased 9×13 casserole dish.

Repeat till all the sweet potatoes are used. Then in a bowl mix 1 tablespoon melted butter and panko breadbrumbs together. Sprinkle over casserole.

Then add remaining bacon, and pecans if you want

Pop in the oven at 350 degrees and bake 20-30 minutes or until the breadcrumbs are golden brown.
Notes
You can double the recipe if you plan to serve a crowd. I have not tried but you could try to use canned sweet potatoes. Just mash up and then form balls and bake. This is a savory sweet potato recipe. You could make it sweet by adding butter and cinnamon when you mash. Then the topping with a brown sugar mixture instead of bacon and breadcrumbs. You can make this casserole a day in advance and store it in the fridge. Then place in oven and heat until warmed through. It will take a bit longer since you are heating it from fully being cold. Feel free to freeze leftover sweet potato baked casserole for up to three months.
Nutrition
Serving: 1gCalories: 344kcalCarbohydrates: 51gProtein: 9gFat: 12gSaturated Fat: 5gPolyunsaturated Fat: 6gCholesterol: 28mgSodium: 406mgFiber: 8gSugar: 15g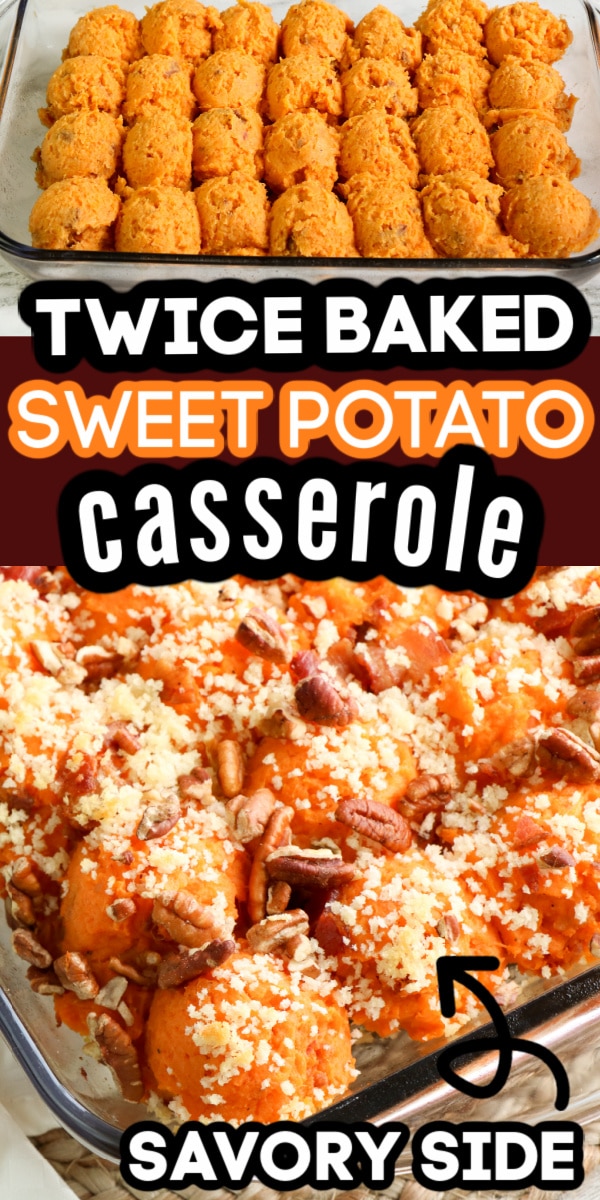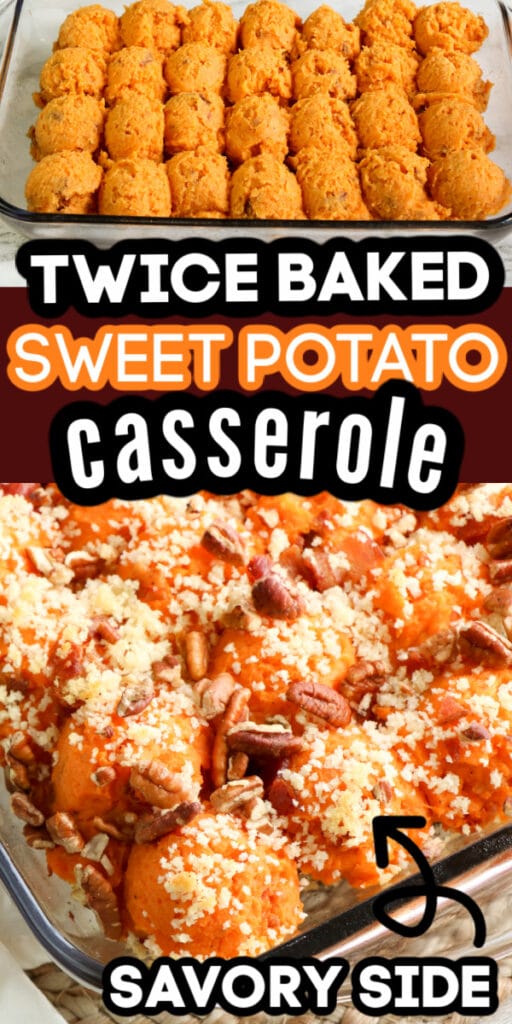 Would you like this twice baked sweet potato casserole?
Reader Interactions