Make this green bean casserole without condensed soup. Fully homemade and featuring fresh green beans! The ultimate green bean side dish! Serve this up for a weeknight side or holiday side dish to serve a crowd.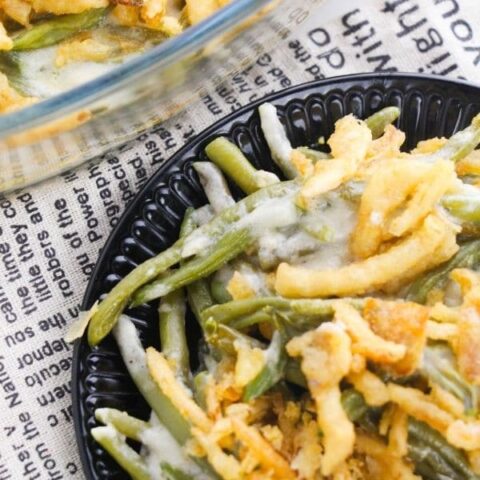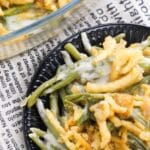 Whip up this green bean casserole this holiday season. A homemade green bean casserole that is made without condensed soup. Fresh green beans, mushrooms, onions, garlic, and more for the ultimate green bean side dish.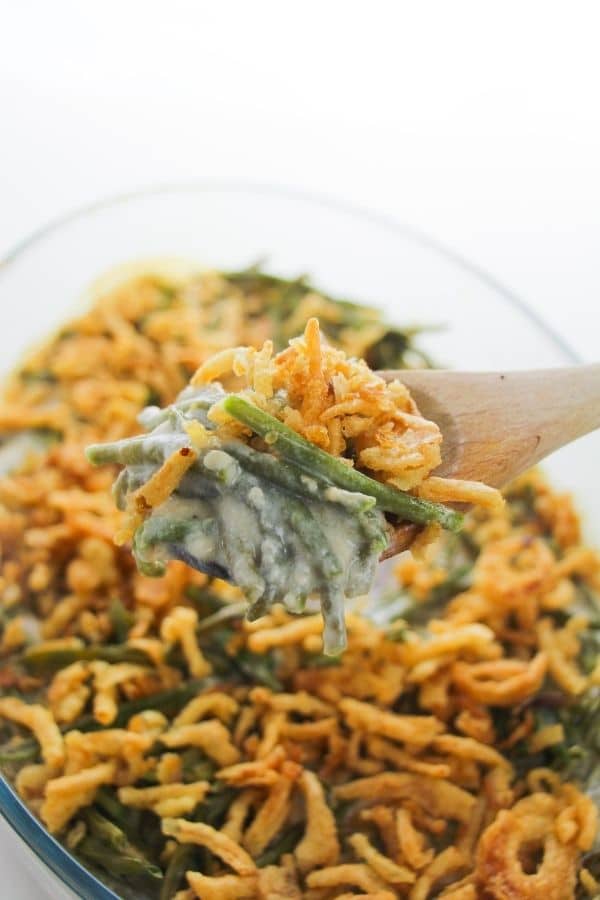 Here are a few more holiday recipes to consider adding to your menu. Instant Pot scalloped potatoes, holiday ham, sweet potato casserole, or make a peppermint cheesecake for dessert.
Green Bean Casserole
I wanted to create a green bean casserole without canned cream of mushroom soup.
While I love the classic, there is something that makes this side dish become a star of the meal in my eyes. I love green beans!
How To Prep Fresh Green Beans
To prep fresh green beans you need to wash them. Then snap off the ends, or cut them with a knife. You want to remove the woody part of the stems.
How to Make
The ingredient list and full recipe is featured below in the printable recipe card.
Step 1: Start by boiling water in a pan, and cook your prepped green beans for 5 minutes.
Step 2: Drain your mushrooms and place them in a bowl and set aside. In a pan on the stove, you will begin making the sauce.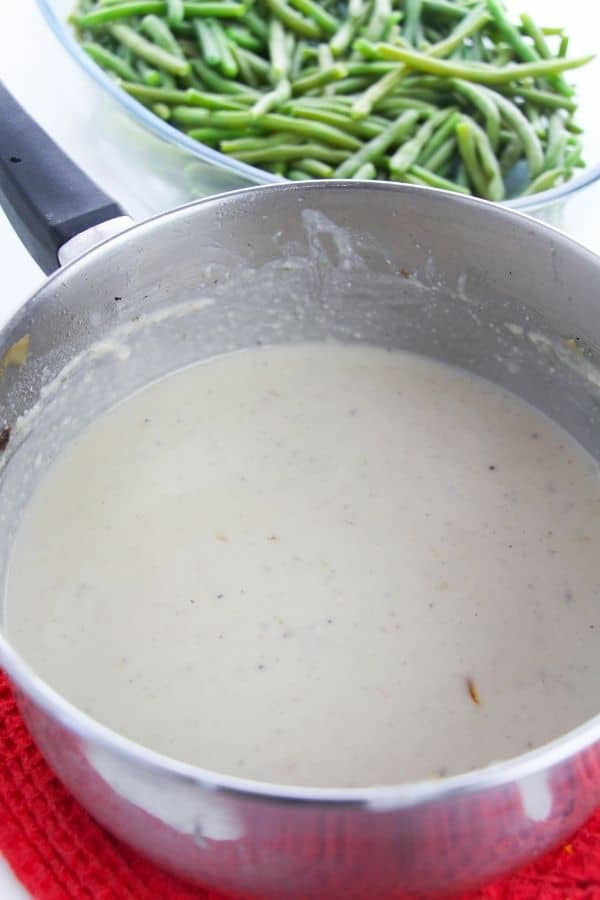 Add your diced onions, small diced mushrooms, and butter in a skillet. Cook until it has cooked down a bit. Now finish working on the creamy sauce for the casserole.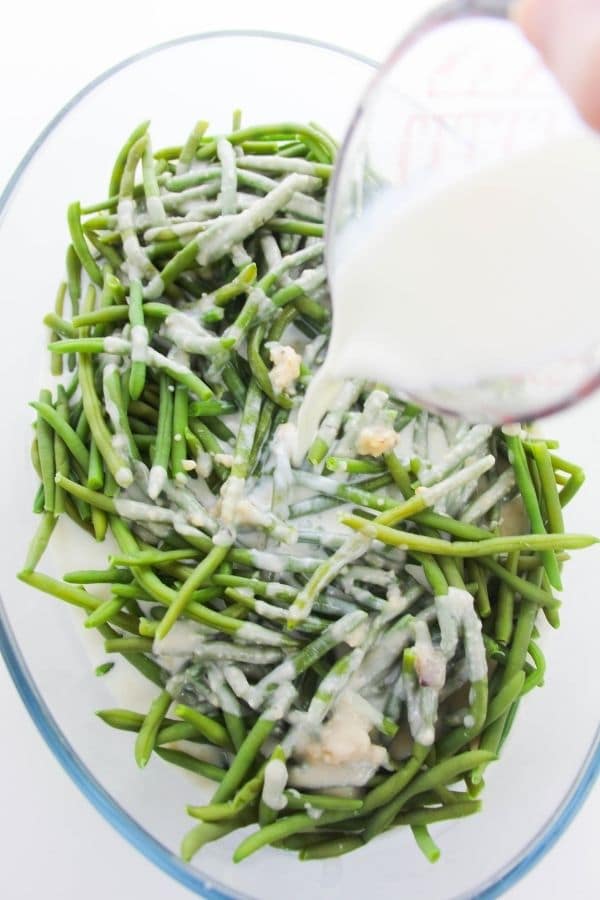 Step 3: In a baking dish pour your green beans, the cream of mushroom soup you made, and milk. Stir well until well mixed.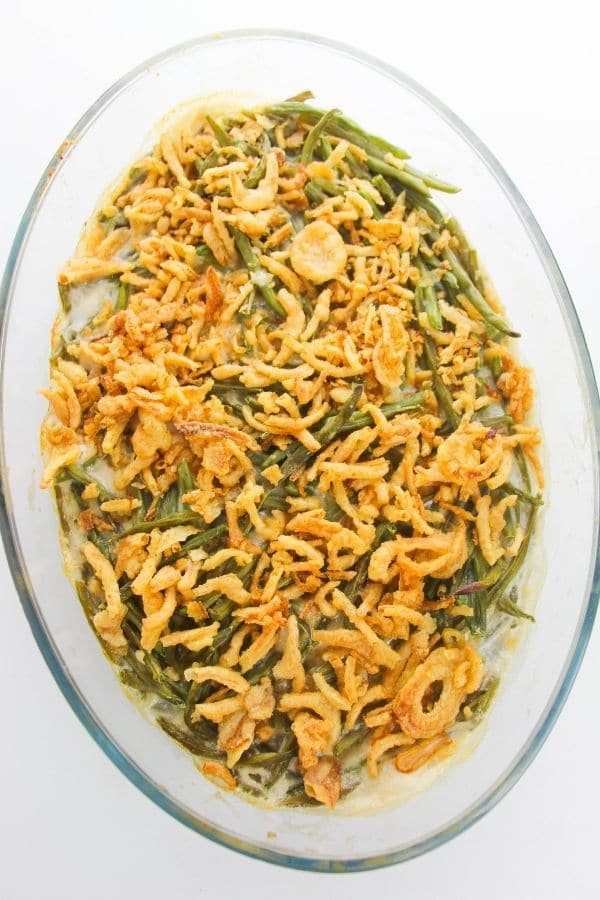 Step 4: Cover and bake for 10 minutes. Remove and sprinkle with fried onions, and bake for another 10-15 minutes or until golden brown and warmed.
Remove and serve up this holiday casserole!
Can I Use Frozen Green Beans To Replace Fresh In Recipe?
Yes, frozen green beans will work. You can mix them in and cook the same. You can also reach for canned green beans if you prefer that method.
Just no need to boil them in water, skip that step of the recipe.
Can You Freeze Green Bean Casserole?
I do not recommend freezing green bean casserole. This is one recipe that you need to cook as fresh as possible.
If you do try to freeze it, the ingredients will separate and not create a good outcome. Luckily it's simple to whip up quickly so you don't have to worry about meal prepping or freezing it that far in advance.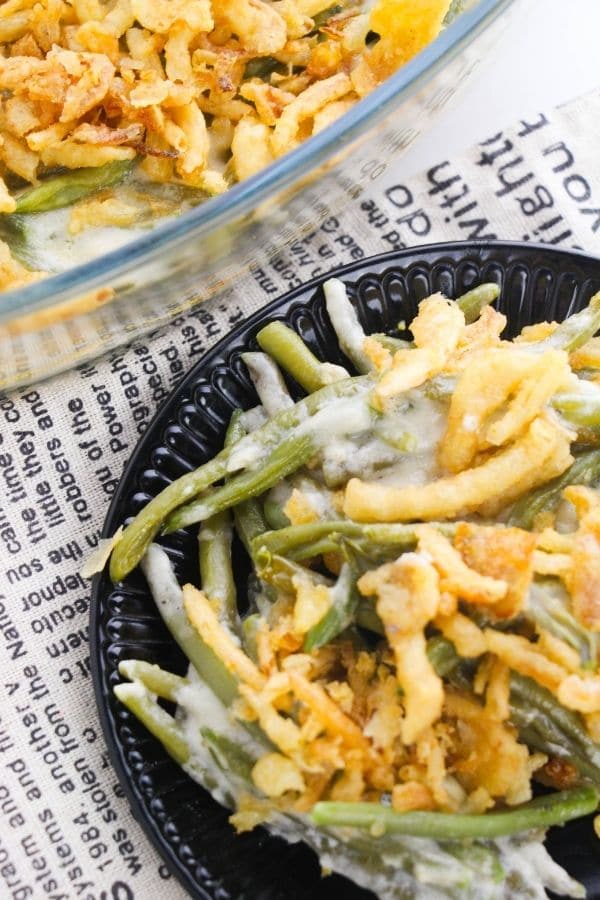 What Are The Best Variety of Mushrooms To Use For This Casserole?
I'm a big fan or baby portabella or button mushrooms because they have such a hearty and "meaty" taste.
Plus, when they cook up, they hold their shape and texture really, really well. You can experiment and try out other types of mushrooms and see what you think but I've always had great luck with portabellas. 
Can I Make This In Advance
Looking to make this casserole a day in advance? Go right ahead and get it all baked up, feel free to leave off the onions. Then store in the fridge in the proper covered container.
Then the day you plan to serve, cover with aluminum foil and cook in the oven until it is warmed through. Sprinkle on the onions and heat again till crunchy (5 minutes). Then serve!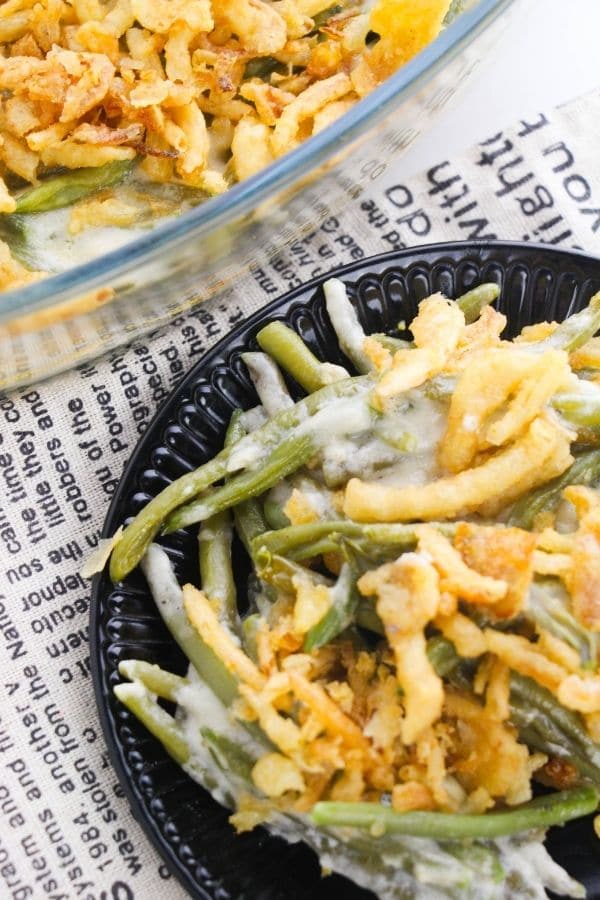 Green Bean Casserole
Servings 6 -8 servings
Make this green bean casserole without condensed soup. Fully homemade and featuring fresh green beans! The ultimate green bean side dish! Serve this up for a weeknight side or holiday side dish to serve a crowd.
Ingredients
3 Tablespoons butter
8 oz. button mushrooms
2 cloves garlic minced
1/2 teaspoon thyme
Salt and pepper to taste
3 Tablespoon all-purpose flour
1 cup vegetable broth
1 1/2 cups whole milk
2 pounds fresh green beans prepped
1 1/2 cups fried onions
Instructions
Start by prepping your green beans. Rinse them good, cut off the stemmy ends, and then cut beans in half to cut down to size. Same thing for washing and prep your mushrooms. Cut into small pieces.

In a skillet add 1 tablespoon of the butter and add your diced onions. You will want to cook them down until translucent. This takes 3 minutes.

Now add in your garlic and mix until fragrant.

Remove your vegetables from the pan and place them into a bowl. Now add your remaining 2 tablespoons of butter into the saucepan.

Use a spatula to scrape down any browned bits in the pan. Once the butter is melted you will add in your flour to create your homemade roux for the green bean casserole.

Whisk in 1 cup of milk into the roux to make a thick paste. Slowly whisk in the broth as well.

Preheat your oven to 350 degrees.

Boil your green beans in a pot of water for 5 minutes. You will then strain and run under cold water to shock the green beans and stop the cooking process.

Pour the beans into the baking dish. Add in your homemade cream of mushroom soup, and then pour in 1/2 cup of milk.

Stir well, and sprinkle with salt and pepper. Cover with aluminum foil.

Cook for 15 minutes until bubbly and heated through.

Remove from the oven, sprinkle the french fried onions on top, and return to the oven uncovered.

Bake another 5 minutes till the fried onions are browned.

Once the green bean casserole is done, remove from the oven, and serve up this homemade side dish!
Nutrition
Serving: 1gCalories: 190kcalCarbohydrates: 22gProtein: 6gFat: 10gSaturated Fat: 4gPolyunsaturated Fat: 5gCholesterol: 16mgSodium: 313mgFiber: 4gSugar: 8g
A Few More Recipes to Consider Making
Give this easy green bean casserole a try and let me know! It is a family favorite casserole recipe.
I love the fresh green bean casserole that is topped with crunchy fried onions on top.
If you want go ahead and double the recipe for serving a crowd!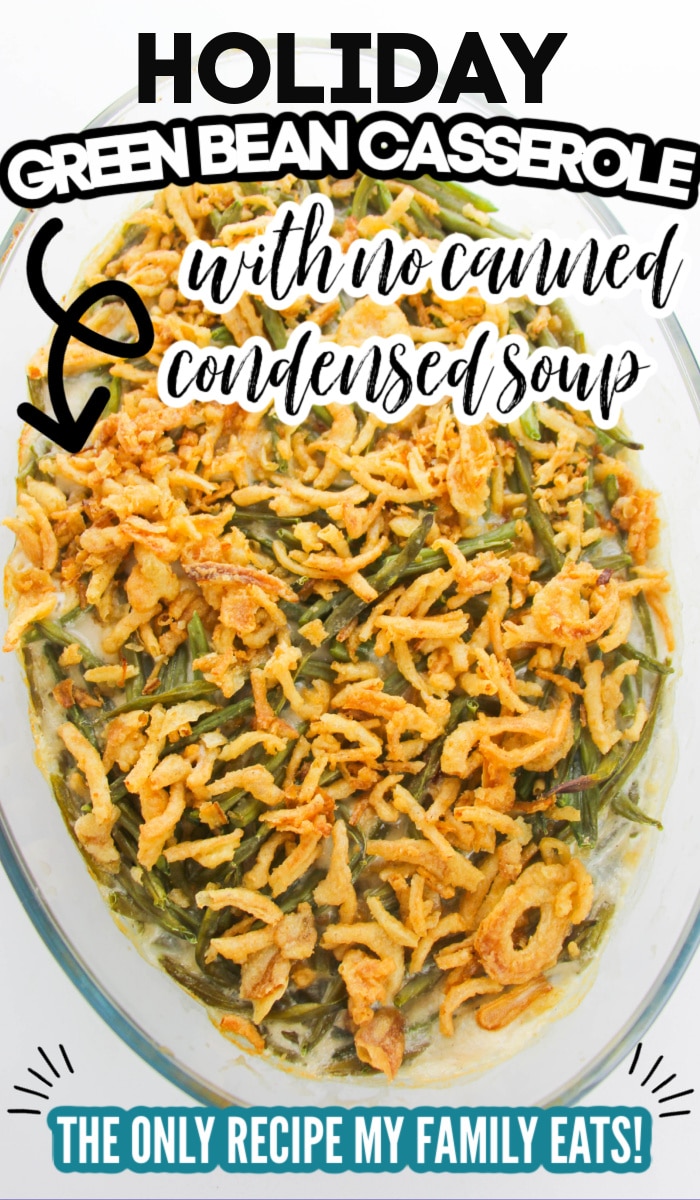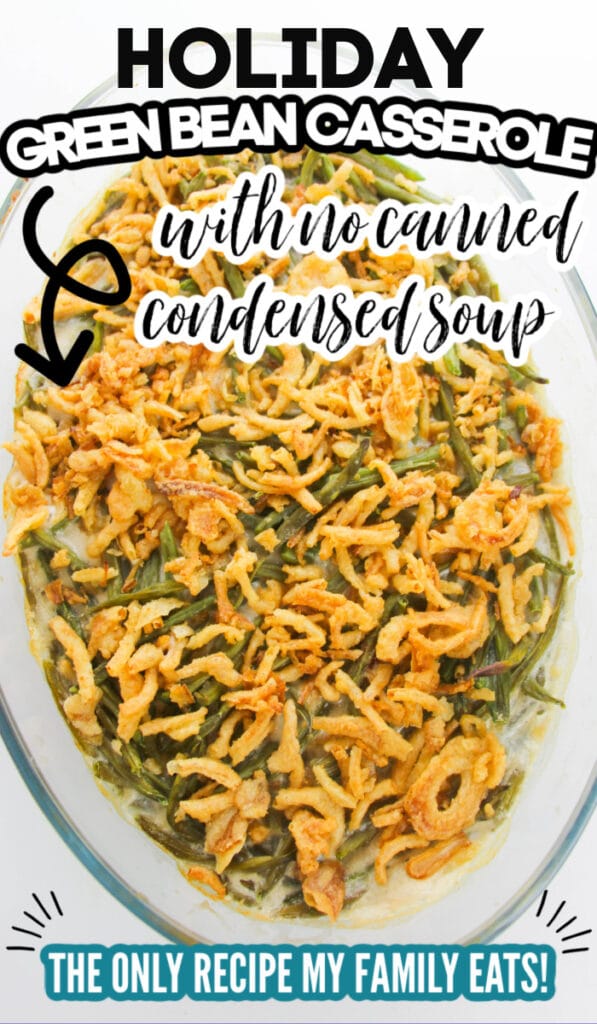 Reader Interactions