Instant Pot Mashed Sweet Potatoes is the ultimate sweet potato side dish. This is a savory sweet potato mash recipe, but you can easily make it sweet by adding in different ingredients.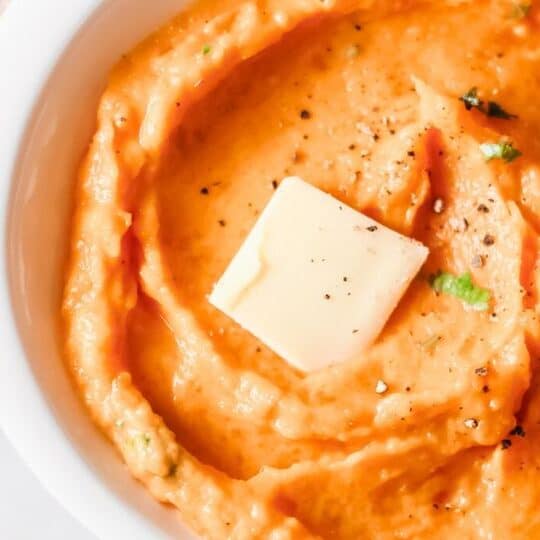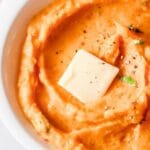 Instant Pot Mashed Sweet Potatoes is a bright and flavorful side dish that will steal the spotlight at dinner. Creamy and savory mashed sweet potatoes, pairs with almost any meal. 
If you enjoy delicious side dish recipes like we do you might enjoy these recipes as well! Try my Instant Pot Rice Pilaf, seasoned potato wedges of my classic cucumbers and onions.  
Some think sweet potatoes are only served during the holidays. While a sweet potato casserole is good, there are many more ways to enjoy these bright orange veggies.
One method is a sweet potato Hasselback! Sliced and seasoned and air fried to perfection. Try my au gratin potatoes soon too.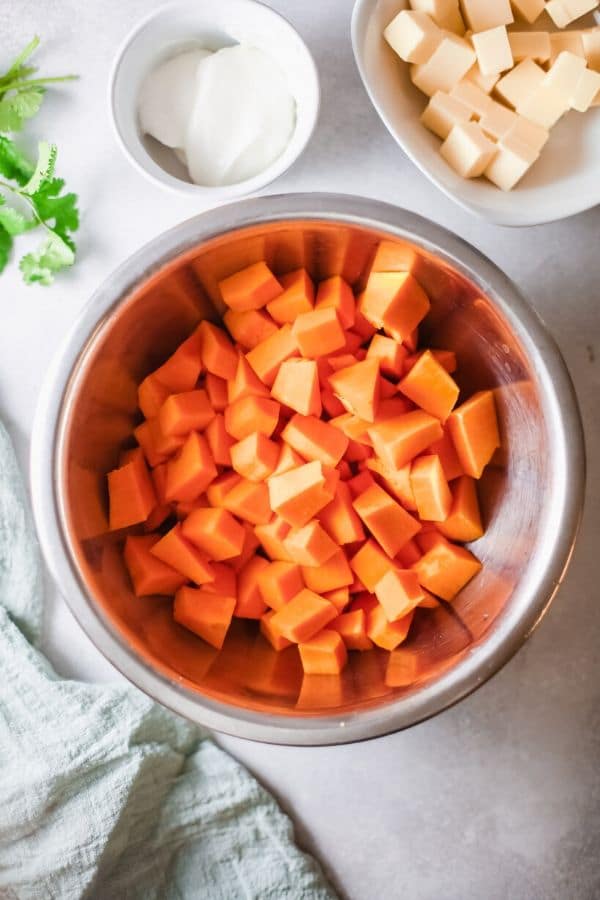 How To Make
Step 1: Wash, peel, and slice your sweet potatoes into cubes. I did around 2 inch cubes. Try to get all the potatoes evenly cut.
Step 2: Place the trivet in the Instant Pot, and then place your trivet. Add 1 1/2 cups of water and place the lid on and lock the lid in place. Make sure the valve is set to sealed.
Step 3: Do high pressure for 9 minutes on cooking time. Once the timer goes off you will do a quick pressure release and then carefully remove all the liquid off your potatoes.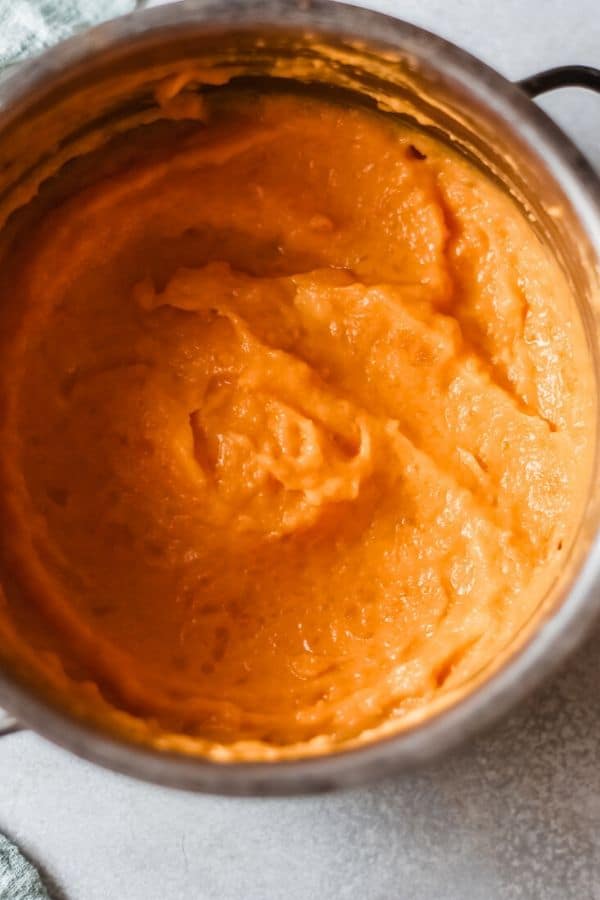 Step 4: Now add you sweet potatoes, spices, butter, sour cream, all in one bowl and mash the potatoes. You can use a hand masher or a hand mixer.
I never use a hand mixer while my pot is in the Instant Pot. The reason being is the vibrations can affect the heating elements and other parts to your electric pressure cooker.

I generally transfer to a different pan or bowl for mashing up the sweet potatoes in.
Tips For Success
Want some tips for Instant Pot sweet potatoes? Here are my tips and tricks to mashed sweet potatoes in Instant Pot!
Serve these savory sweet potatoes for dinner or a holiday side dish. We eat sweet potatoes all year round!
Even Cuts | When cooking sweet potatoes in the electric pressure cooker, your potatoes need to be evenly sliced. Even potatoes means an even cook. No overdone parts and undercooked areas.
Peeling Skin | Some like sweet potato skin, but when it comes to a mashed recipe it is best to peel you potato. Otherwise, you get a chewy texture in spots.
Liquid | Once potatoes are done, make sure to drain your potatoes. You will add liquid in so don't worry they will be extra creamy! If you skip draining, they will become too watery.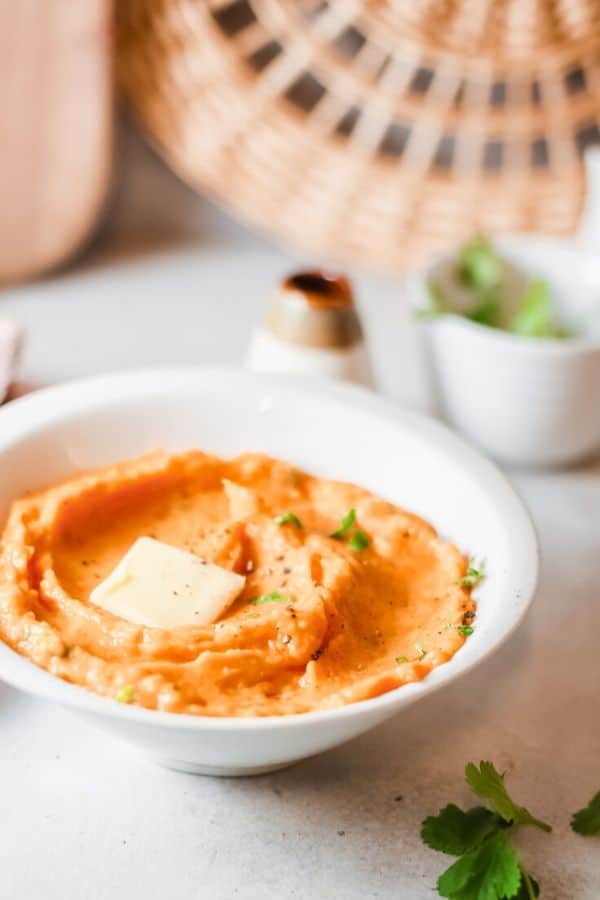 Creamy Sweet Potatoes
Getting creamy sweet potatoes in Instant Pot is all about the ingredients you use right along with your sweet potatoes.
Making sure to reach for real butter is important. It will help pair with the starch particles in the potatoes.
Can I Make This A Sweet Version
Looking to make a sweet flavored mashed sweet potato recipe? You can swap out the sour cream and seasoning with nutmeg, cinnamon, and even drizzle with honey.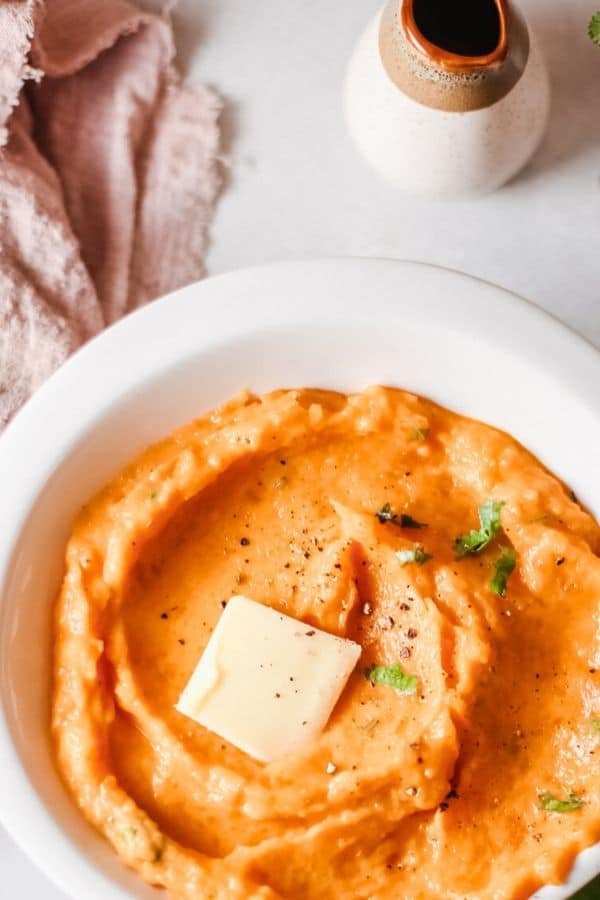 What To Serve With Sweet Potato Mash
Sweet potatoes to me are very versatile. I have even paired with holiday ham or turkey!
I hope you enjoy this savory sweet potato recipe! Grab that potato masher or hand mixer and get extra velvety creamy sweet potatoes!
Cooking Time Might Vary
One other note I want to put out is the cooking time on these sweet potatoes can vary. Depending on how big or small you dice your sweet potatoes will vary.
You just want to make sure your potatoes are fork tender. If they are not, cook them a little bit longer until they are fork tender.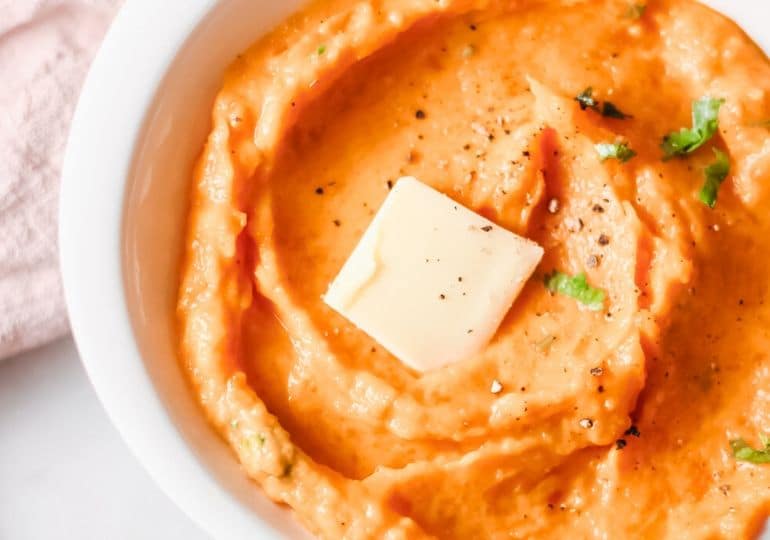 Instant Pot Mashed Sweet Potatoes
Servings 8
Instant Pot Mashed Sweet Potatoes is the ultimate sweet potato side dish. This is a savory sweet potato mash recipe, but you can easily make it sweet by adding in different ingredients.
Ingredients
3 lbs sweet potatoes
1 teaspoon salt
1/4 teaspoon black pepper
1 teaspoon onion powder
1 teaspoon garlic powder
1/2 teaspoon paprika
1/3 cup sour cream
1/4 cup butter
1/2 cup fresh grated parmesan optional
Instructions
Start by washing and prepping your sweet potatoes. I peeled and then diced my sweet potatoes into 2-inch cubes.

In your Instant Pot you will add in your trivet, and then 1 1/2 cup water.

Pour your diced sweet potatoes on top, and close the lid and make sure the valve is set to seal and cook for 9 minutes. Once the timer goes off do a quick release.

Carefully drain off all the liquid on sweet potatoes and place them in a bowl or pan.

With a potato masher or hand mixer mash up your potatoes. Add in your butter, garlic powder, onion powder, paprika, sour cream, and mix until nice and creamy. Do salt and pepper to taste.

Then when ready to the sweet potato mash, serve top with parmesan cheese sprinkled on top if you would like or serve plain. I prefer a cube of butter and salt and pepper.

Serve up your savory sweet potato mash for any and every occasion.
Notes
Optional Changes
You can sub the sour cream with Greek yogurt if you are looking for a
protein boost and you can also swap the butter for vegan butter or ghee.
For a sweet version add in 1/2 teaspoon vanilla, 1/2 teaspoon cinnamon, nutmeg, etc. Drizzle with honey if you want more sweetness.
You can play with the spices. It's also delicious with chili if you like your mashed potatoes to be a bit more spicy.
Nutrition
Serving: 1gCalories: 252kcalCarbohydrates: 37gProtein: 6gFat: 10gSaturated Fat: 6gPolyunsaturated Fat: 3gCholesterol: 26mgSodium: 487mgFiber: 6gSugar: 11g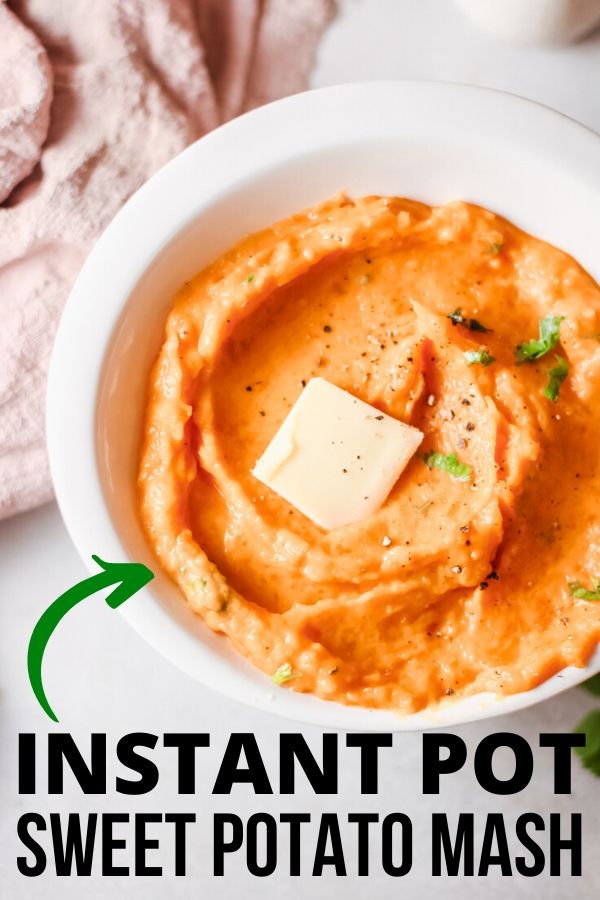 Reader Interactions