This Jalapeno Popper Crescent Rolls is a twist to transform into Halloween Mummy's! A fun and kid-friendly Halloween snack or appetizer to serve up at your Halloween bash.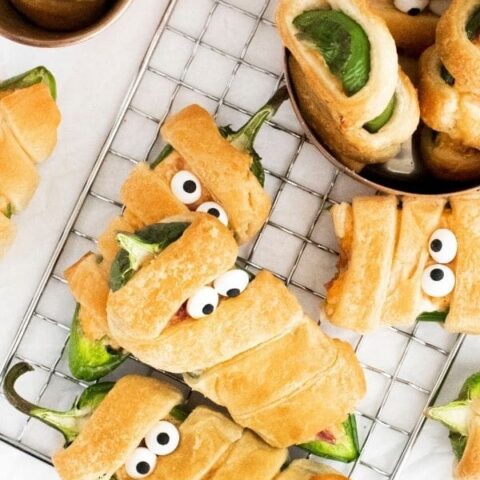 Back again with a fun Halloween appetizer! This Jalapeno Popper Crescent Rolls is a twist to transform into Halloween Mummy's! A fun and kid-friendly Halloween snack or appetizer to serve up at your Halloween bash.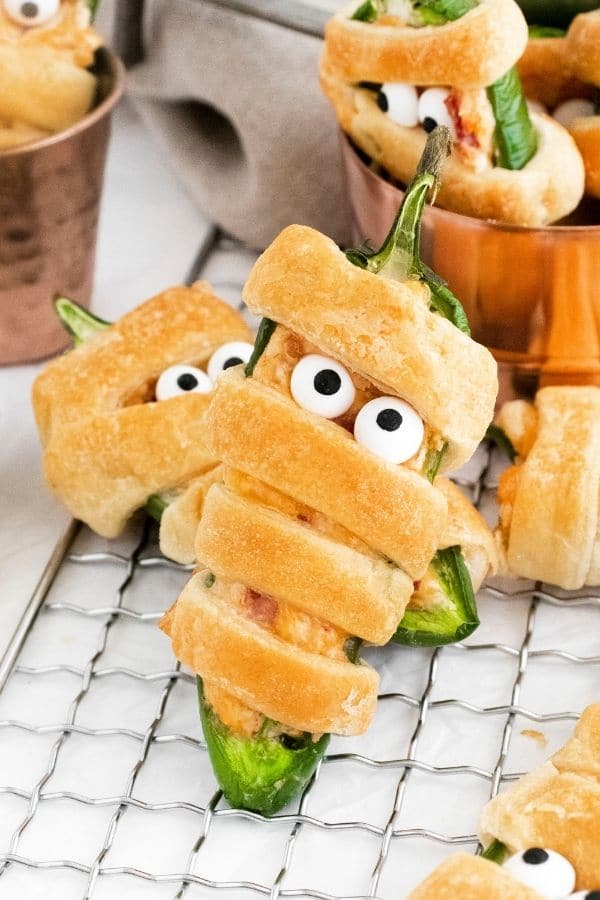 Want more fun Halloween Ideas? Halloween pies, Rice Krispies Halloween Mummy Bears, Halloween puppy chow, or even Halloween Sugar Cookies.
Jalapeno Popper Crescent Rolls
You can even make this crescent roll appetizer any time of the year, just don't make them look like mummies!
An easy and delicious jalapeno pepper recipe that will win anyone over with one bite.
📌 Main Ingredients
Jalapenos | I used Jalapenos, and scraped out the seeds and membrane to tame down the heat.
Cream Cheese | Cream cheese is the filling to this recipe. Make sure that you use softened cream cheese. Then I add a cheese blend for added flavor.
Bacon | Added flavor with the bacon. Feel free to leave it out if you end up wanting a meat free appetizer.
🍴 How to Make
The full instructions and list of ingredients are in the printable recipe card below.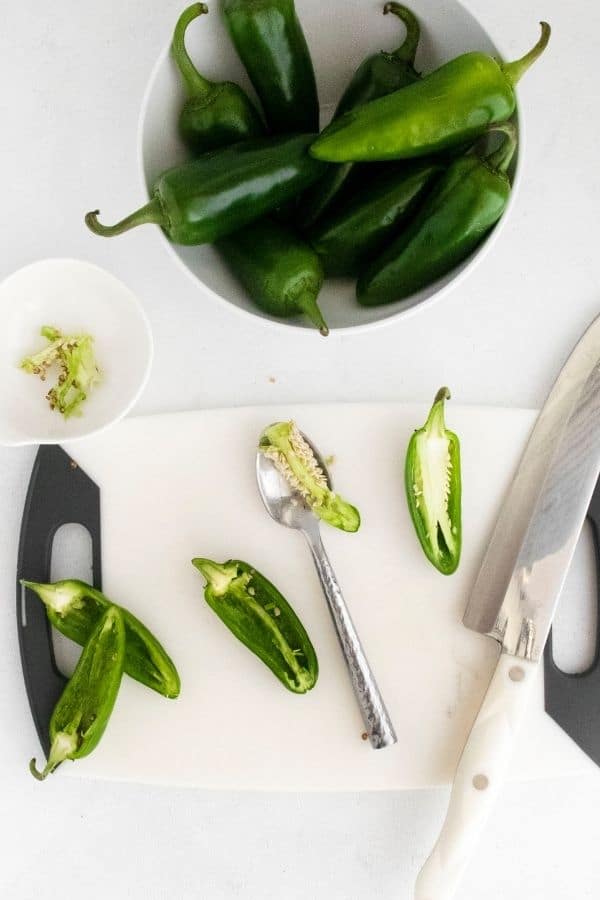 Step 1: Start by preheating your oven as directed below. Then you will want to start prepping your jalapenos.
Slice in half, and then use a spoon to scrape out the seeds and membrane. Then rinse well in water. If you skip this step your crescent rolls will be very spicy.
Step 2: In a bowl, you will add in your softened cream cheese, bacon, mixed cheddar cheese and Monterey jack, garlic powder, and paprika.
Mix until it is all creamy and well mixed.
Step 3: Now you will begin filling your jalapenos with the cream cheese mixture.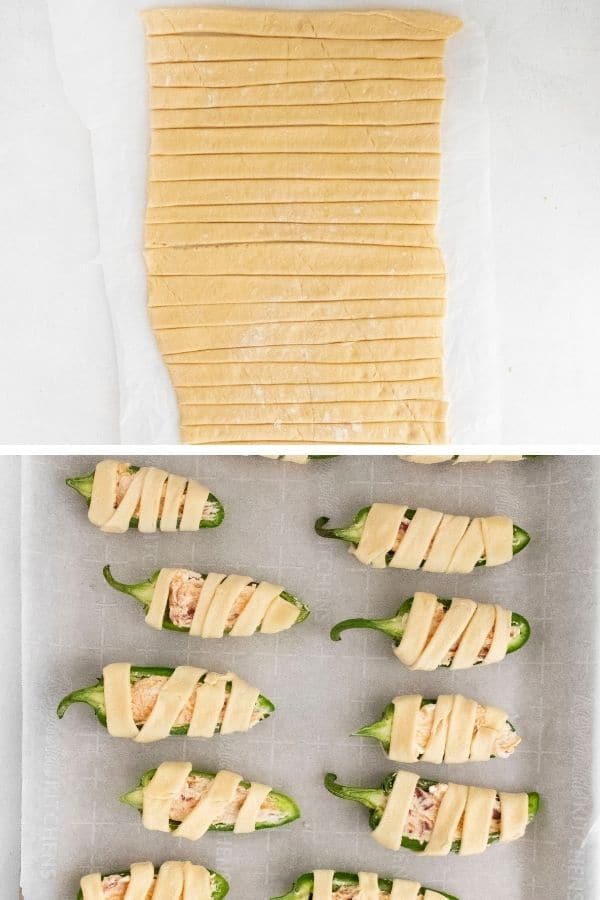 Step 4: Now you will layout your store-bought crescent rolls. Then slice them thin like pictured.
And then carefully wrap around the crescent rolls to create mummy-tape style look.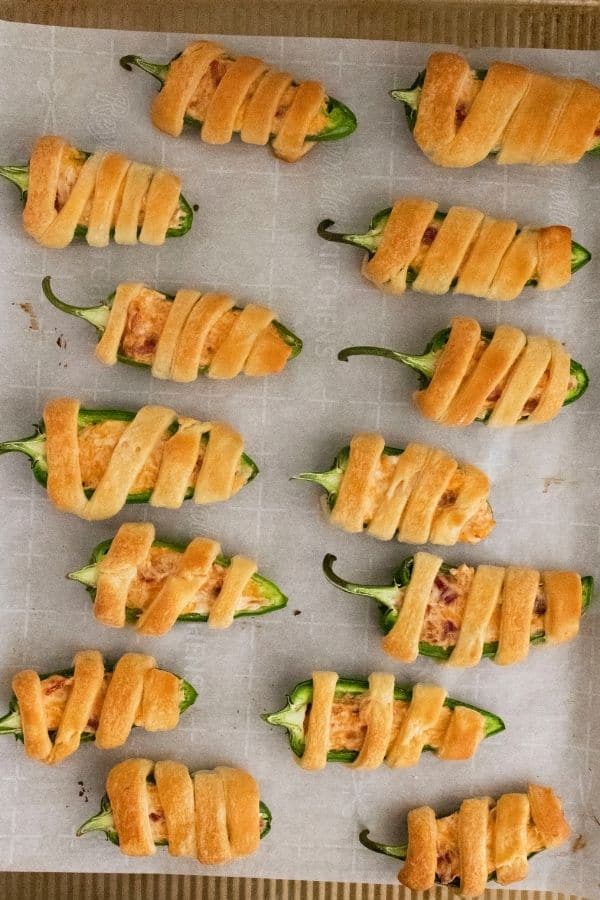 Step 5: Bake as directed. Once done, remove and then allow to cool a bit. Make sure you place the candy eyes on to give it a mummy Halloween look!
🧀 Tips For Making
Feel free to leave the stems on so people can hold them, and it gives a fun look to them.
Feel free to use any mini peppers, I love the sweet mini peppers, they are delicious as well.
Use up any type of cheese you want. Pepper jack cheese for added heat, sharp for a tangy flavor, and more.
Don't forget to clean peppers well. Or if you want added heat then make sure to leave the seeds in the peppers for added spice and heat.
Can I Make These In Advance
Feel free to prep the cream cheese filling ahead of time. As well as prepping the peppers. Keep items in the fridge until ready.
Then when you are ready, fill peppers, wrap in crescent rolls and bake.
You can't bake these and save as they will sog up a bit. If you do you will find the flavor isn't as good. Just make sure that you serve these warm and fresh from the oven.
Looking for More Jalapeno Recipes
I love jalapenos. One of my favorites is the crescent roll recipes with cream cheese, bacon, all wrapped up. But I have a handful more for you to try out!
Can I Use Homemade Crescent Roll Dough
If you are not a fan of store bought dough, go right ahead and use a homemade dough. You could even use a dinner roll style dough to wrap up the peppers.
These are perfect for a Halloween Party, weekday snack after school for the kids, to pair with dinner, and more. I would even pair these with pigs in a blanket for dinner.
Jalapeno Popper Crescent Rolls
Servings 20
This Jalapeno Popper Crescent Rolls is a twist to transform into Halloween Mummy's! A fun and kid-friendly Halloween snack or appetizer to serve up at your Halloween bash.
Ingredients
10 large jalapeños
1 cup cream cheese softened
1 cup blended cheese cheddar and Monterey Jack
1/2 cup chopped bacon about 5 strips
1/2 teaspoon garlic powder
1/2 teaspoon paprika
20 candy eyes
Instructions
Start by preheating your oven to 400 degrees. Then line your baking sheet with parchement paper to prevent sticking.

Now grab your jalapenos, and slice them lenghtwise in half. You will use a spoon to remove the membrane and seeds. Then rinse under cold water really well. This will help tame down and make the peppers not spicy.

Now in a bowl add your cream cheese that is softened, shredded cheese, chopped bacon, paprika, and garlic powder. Stir well until fully combined.

Spoon the mixture into the pepper halves and set on the baking sheet.

Now roll out your crescent roll dough, and use a rolling pin to remove all the cuts that are in it. Then take a pizza roller and cut thin strips.

Use the strips to wrap around the peppers to mimic the look of a mummy.

Place the seems on the bottom of the peppers and place on baking sheet.

Bake for 8-12 minutes or until the crescent rolls are cooked.

Remove from oven and press the candy eyes on each of the mummy jalapeno pepers.

Then serve these jalapeno popper crescent rolls with your favorite dipping sauce like ranch and enjoy!
Notes
These jalapeono poppers are best served fresh from the oven but they can
also be served at room temperature. They will become a bit softer in texture if they sit.
The crescent roll wrapped peppers can be kept overnight in the refrigerator in an airtight container and reheated for 10 minutes in a 375F oven.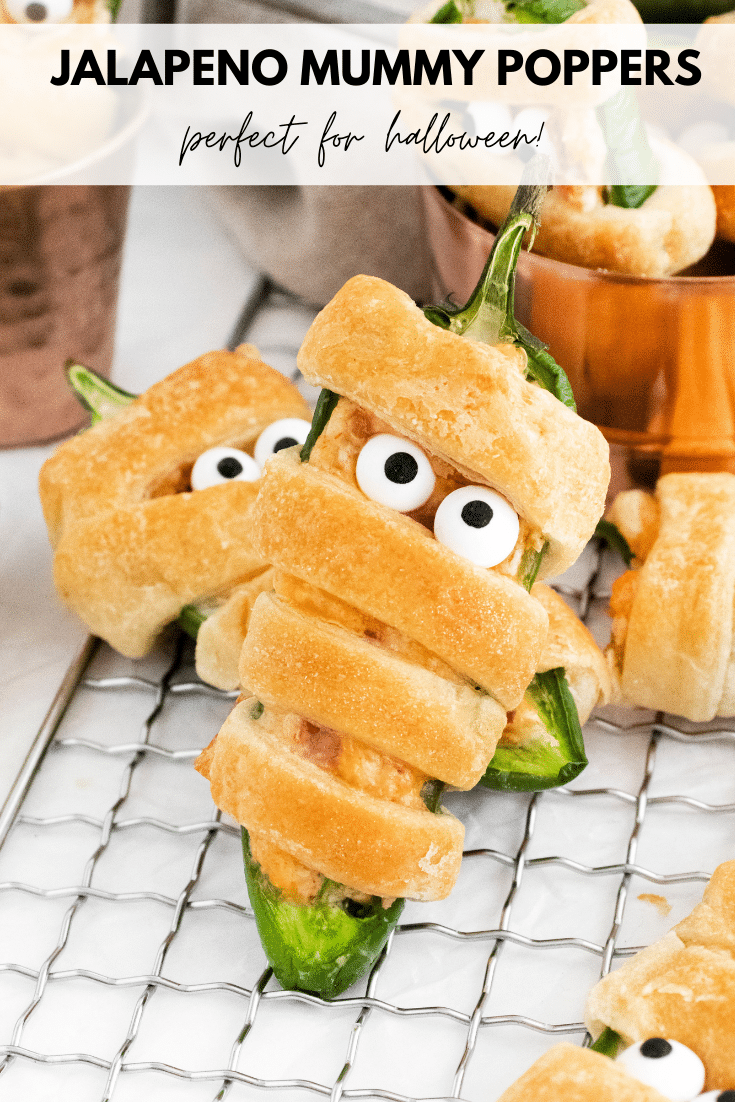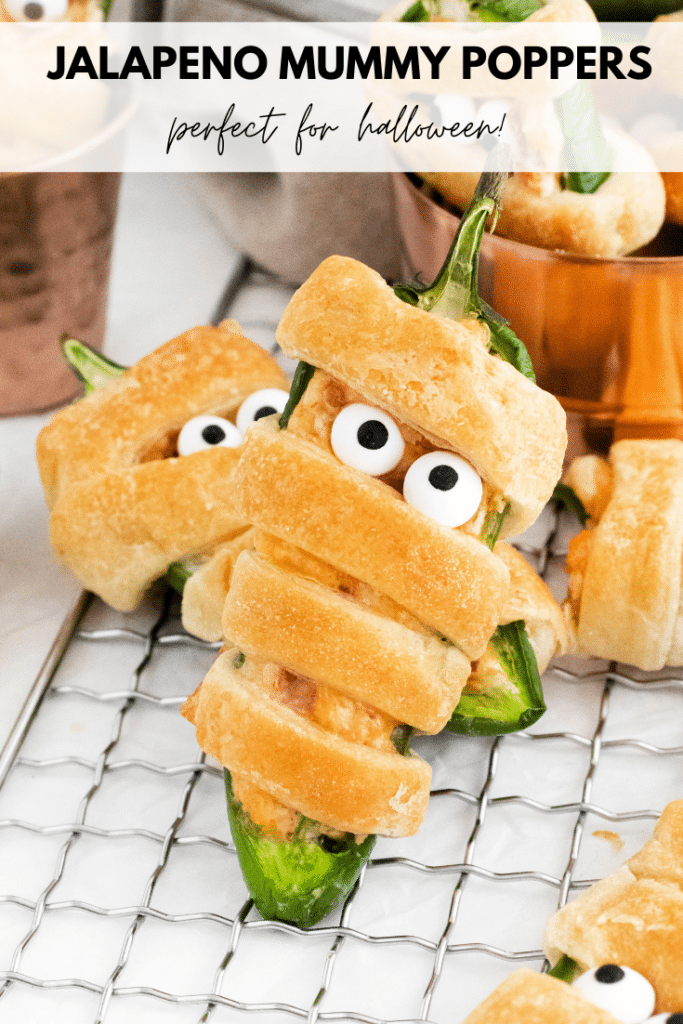 Let me know what you think!
Reader Interactions