Sharing is caring!
Mummy Halloween Pies are a 4 ingredient kid-friendly dessert that is perfect for Halloween. Pie crust that is filled with sweet pie filling and dressed to look like a friendly mummy. These hand pies are a must make.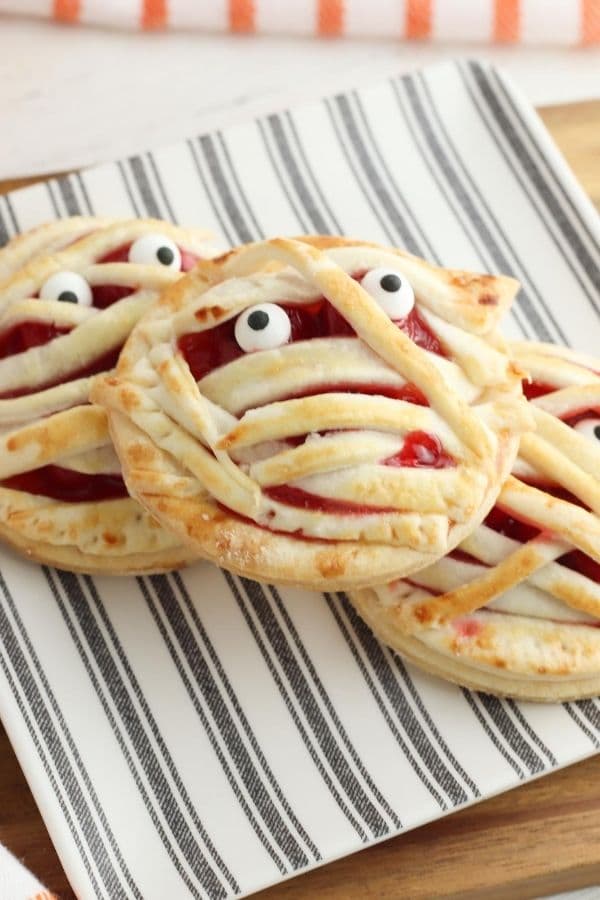 I have more easy Halloween desserts for you as well. Just out my mummy Rice Krispies Bears, Halloween puppy chow, or Mickey Halloween cookies.
Mummy Halloween Pies
Who is ready for some adorable, spooky, and tasty Halloween recipes? If you're a prepper and a planner like me, you know that it's important to have Halloween food ideas lined up and ready to go.
When it comes to finding fun Halloween pastries, this one needs to be at the top of your list!
How to Make Halloween Pies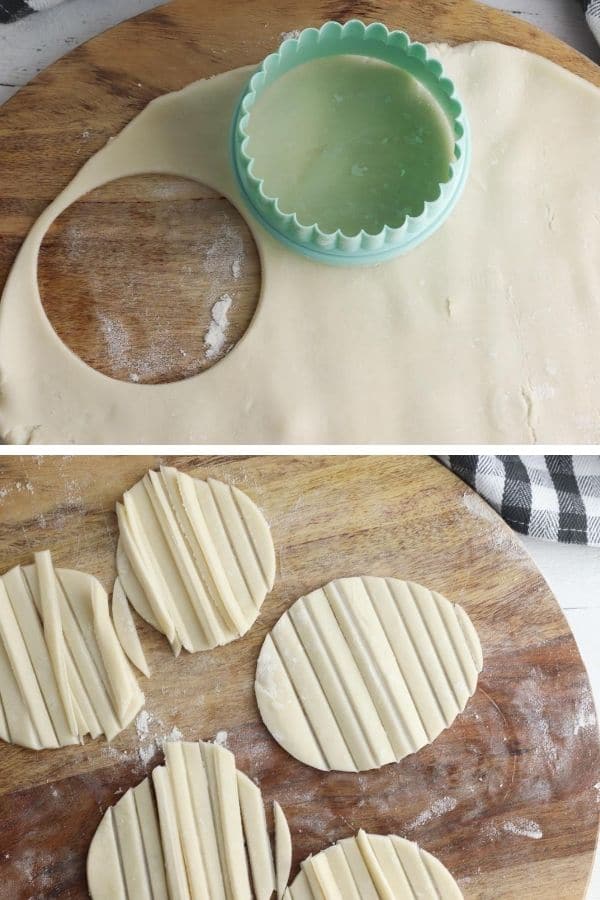 Step 1: Start by using a cookie cutter or glass to cut out your circles for the shape of the pies. Then with a pizza cutter or knife, cut strips on part of the circles.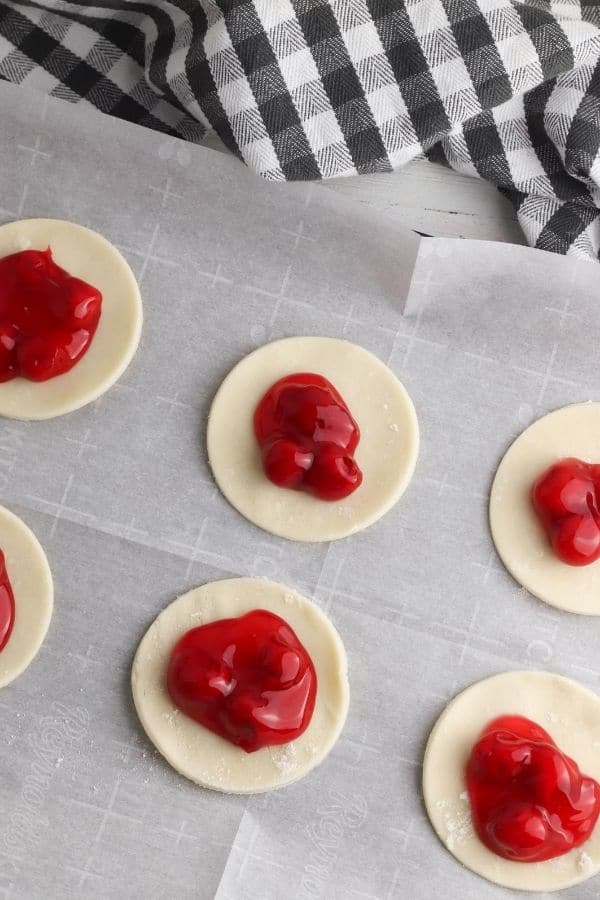 Step 2: Preheat your oven, and start to assemble your hand pies. Place one of the circle cut out dough on a parchment paper-lined baking sheet. Then spoon some cherry pie filling in the center.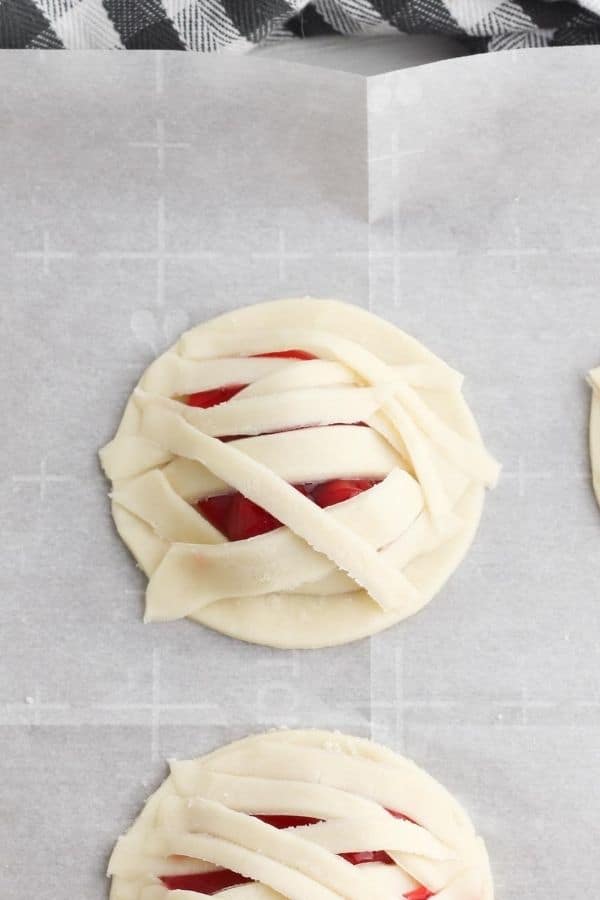 Step 3: Top with the pie crust strips to create the bandage look of the mummy. Just have fun and get creative here.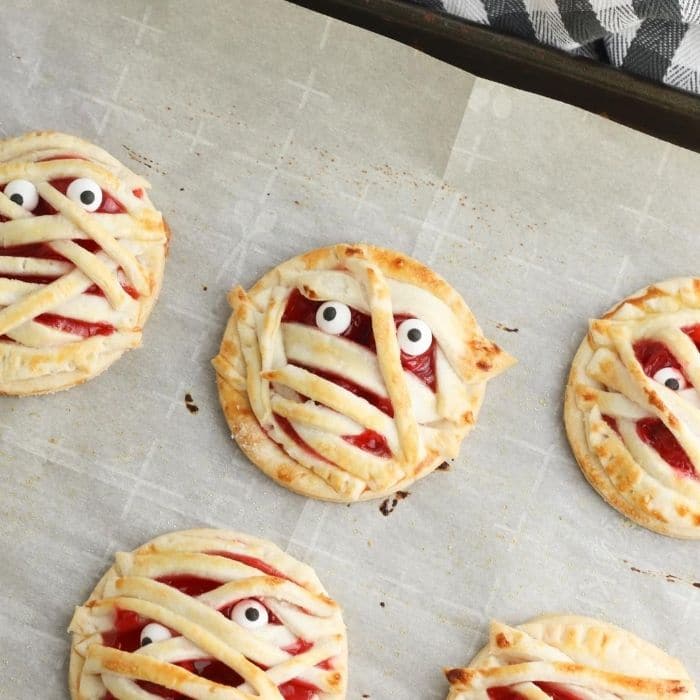 Step 4: Brush with the egg wash, and bake in the oven for 8-10 minutes or until the tops are golden brown and the crust is fully cooked.
Once done, remove from oven, put two candy eyes on each mummy, and place on a cooling rack.
Can I use a homemade crust for these Halloween Pies?
Absolutely. If you have the time and the gusto to make your own homemade crust, go for it! I use a premade one to save on prepping and time but there isn't any reason why a homemade crust can't happen. Just use your favorite crust recipe and you'll love the extra flavor it adds.
Can I use other pie filling instead of cherry?
Yep! This is another reason why I love this mummy dessert. You can literally swap out the cherry filling and use whatever fruit filling that you want. Strawberry, blueberry, peach…literally anything. But if you're wanting to make certain that these Halloween hand pies look "red and spooky" on the inside, stick to fruits that are red in color.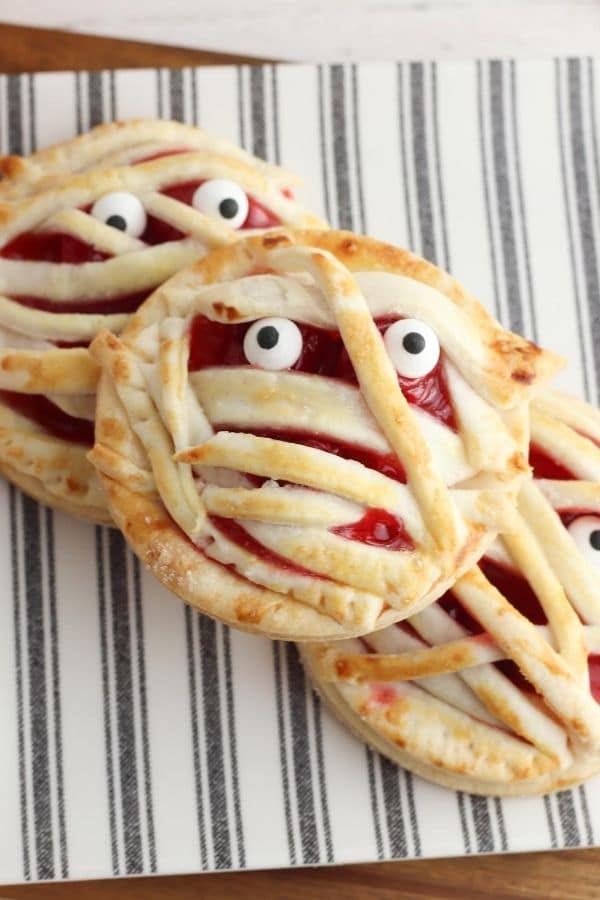 Tips on Making the Mummy Look out of the pie crust
This is where the placement of the googly eyes is important! Put the eyes in between the strips of the crust so that it looks like the eyes are peeking out from the inside.
Remember that the crust is probably going to grow and expand so take that into consideration with your placement.
Can I make these hand pies in advance?
You can. You can literally follow all the steps right up to the point that you're going to bake them, and just have them done and ready to put into the oven.
Even doing this recipe the day before you're going to bake it should be fine. That way, if you're making these up for a fun Halloween party, you can pop them in the oven right before the guests are going to arrive.
So that they're fresh and warm to the taste.
Do I need to Refrigerate these Halloween Pastries?
Keep them in the fridge up until the point that you're going to bake them so that the crust doesn't get too soft or get to room temp too fast.
Once you bake them and have leftovers, you'll want to keep them in the fridge as well to keep them as fresh as possible.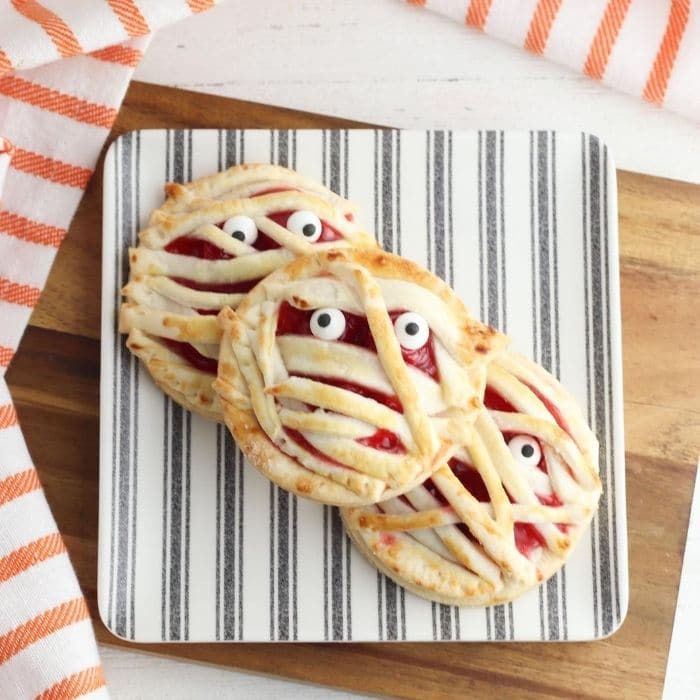 Does this recipe double?
You can totally double this recipe! Since there are very few ingredients, just literally double everything and make do it all twice.
This will give you more mummy pie fun to share with others!
Could I use a gluten-free pie crust?
You bet! If you're going to buy a premade crust for this recipe, just buy a gluten-free pie crust at the store.
Make certain that everything else that you're using is gluten-free as well and this recipe should be fun and not scary for those who can't consume gluten!
Are you ready to make your own mummy pies? This recipe is tasty and fun to make!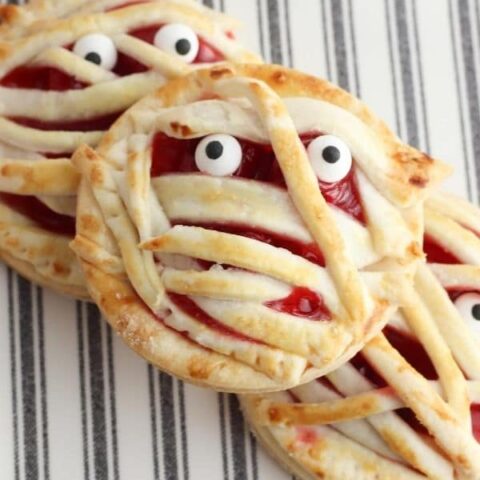 Mummy Halloween Pies
Mummy Halloween Pies are a quick and easy kid-friendly Halloween dessert. A non-spooky dessert that is pie crust and pie filling.
Ingredients
1 package pre-made pie dough
1 cup cherry pie filling
1 egg, beaten
1 teaspoon water
16 candy eyes
Instructions
Start by preheating your oven to 375 degress. Then line your baking sheet with parchment paper.
Now roll out your pie crust and use a 3-inch cookie cutter to make 16 circles with your pie crust.
Now place 8 of the circles on your baking sheet. With the rest you will use a pizza cutter or knife to slice strips in the pie crust to use to make the mummy bandages.
Place a spoonful of the pie filling in the center of each circle pie crust on the baking sheet.
Now top each hand pie with the lines of pie crust. Kind of spread them all over to give it a mummy look.
Then mix your egg and water in a bowl and whisk. Brush the top of the pie crust with the egg wash.
Bake the hand pies in the preheated oven for 8-10 minutes or until your pie crust is done and golden brown.
Remove Halloween pies from oven and allow to cool a bit. Then place two candy eyes at the top of each pie for eyes.
Nutrition Information:
Yield:

8
Serving Size:

1
Amount Per Serving:
Calories:

216
Total Fat:

8g
Saturated Fat:

3g
Trans Fat:

0g
Unsaturated Fat:

4g
Cholesterol:

23mg
Sodium:

136mg
Carbohydrates:

34g
Fiber:

1g
Sugar:

8g
Protein:

2g
This information is automatically calculated by third-party software, including but not limited to the Create or Bake Me Some Sugar. For accurate nutrition, I suggest running the ingredients in your own system to get a more accurate reading. Nutritional information is approximate and automatically calculated, and should only be viewed as an indication.