Honey Lime Chicken is a simple and easy weeknight dinner idea. Seasoned chicken thighs get seared in a skillet, then covered in a honey lime sauce, and finished off baking in the oven. An easy lime chicken thighs recipe.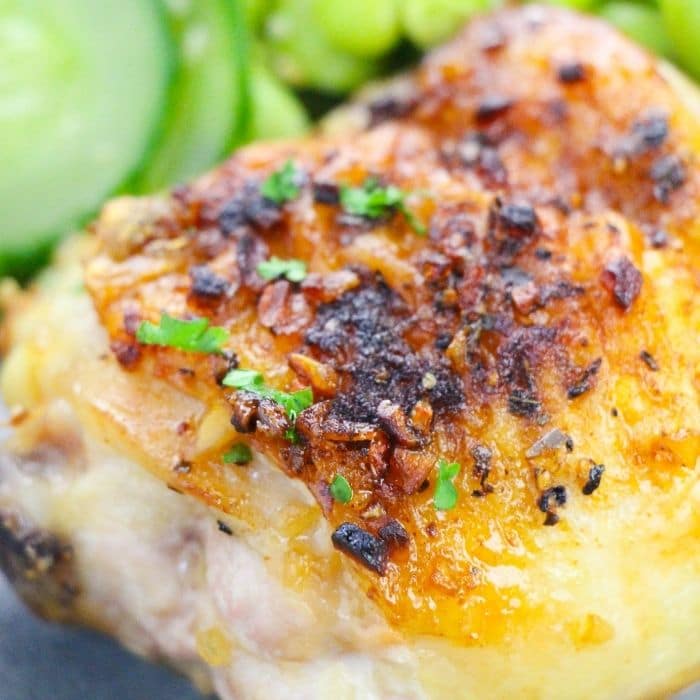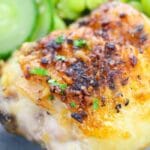 Honey lime chicken is going to transform your chicken to one incredible juicy and flavorful dish. A spice rubbed chicken thigh that is pan fried and finished off in the oven. An easy weeknight meal for those nights you need simple.
This lime chicken is such a stellar flavor combo that tastes incredible. A simple chicken recipe, or fancy enough to serve guests. Don't wait and give this honey lime chicken recipe a try. Recipe is in the bottom of post in a printable recipe card.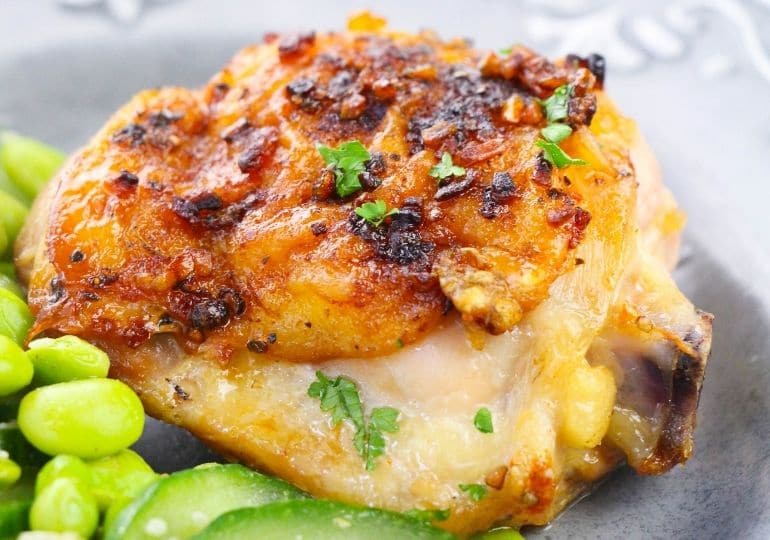 If you are needing a change in your meal plan, try my skillet chicken. Even my husband enjoyed this recipe. Also, if you want more try this oven baked salsa chicken.
Why This Chicken Recipe Is A Hit
Quick Prep – This chicken doesn't take much time or effort to make. Which is great for when you need a busy weeknight dinner idea.
7 Ingredients – Not counting salt and pepper this recipe has 7 ingredients. All of which you might already have on hand!
Sweet and Savory – The chicken is sweet from the honey and tangy from the lime and a kick of spice from Creole seasoning.
Any cut of Chicken Works – With this recipe you can use any cut of chicken. Boneless, bone-in, or even a mix. You just have to adjust the cooking time.
Skillet and Oven – You will start as a skillet dinner that then transfers to the oven to bake, so it gets fully cooked while staying juicy. Searing chicken helps to crisp up the skin and then oven cooks it perfectly so it ends up flavorful and moist.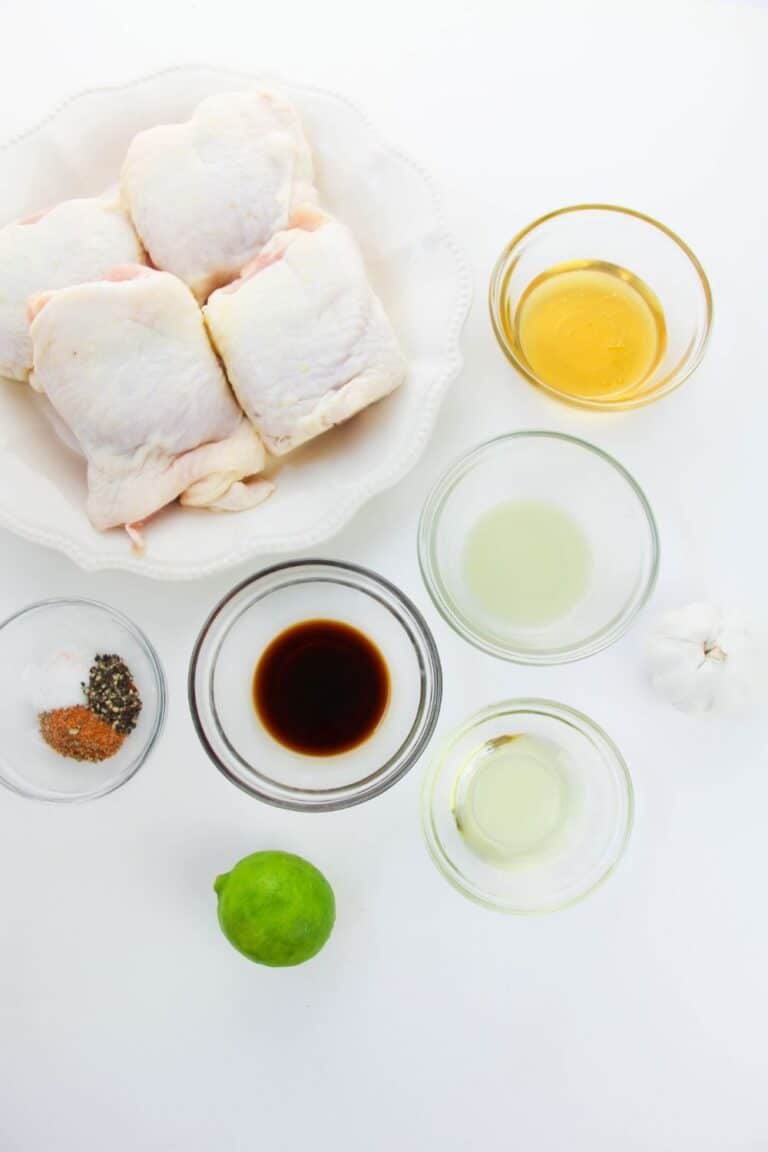 Ingredients You Will Need
Chicken – I use bone in, and skin on chicken thighs. I pan sear for a nice crust then bake for juicy and tender chicken.
Creole Seasoning – Reach for a creole seasoning. You can pick mild or spicy. We tend to do mild so my son can eat the chicken without it being too spicy.
Oil – oil will be needing when you sear you chicken.
Soy Sauce – If you are concerned about sodium use a lower sodium soy sauce. Or swap for coconut aminos if preferred.
Lime – Fresh squeezed lime juice is best for this recipe. It will bring out incredible flavor and offers a tangy and tart bite to the chicken.
Honey – The honey adds the perfect sweetness without overpowering the chicken.
Garlic – The garlic does a fantastic job of balancing all the flavors together. Garlic also brings in a savory component.
How to Make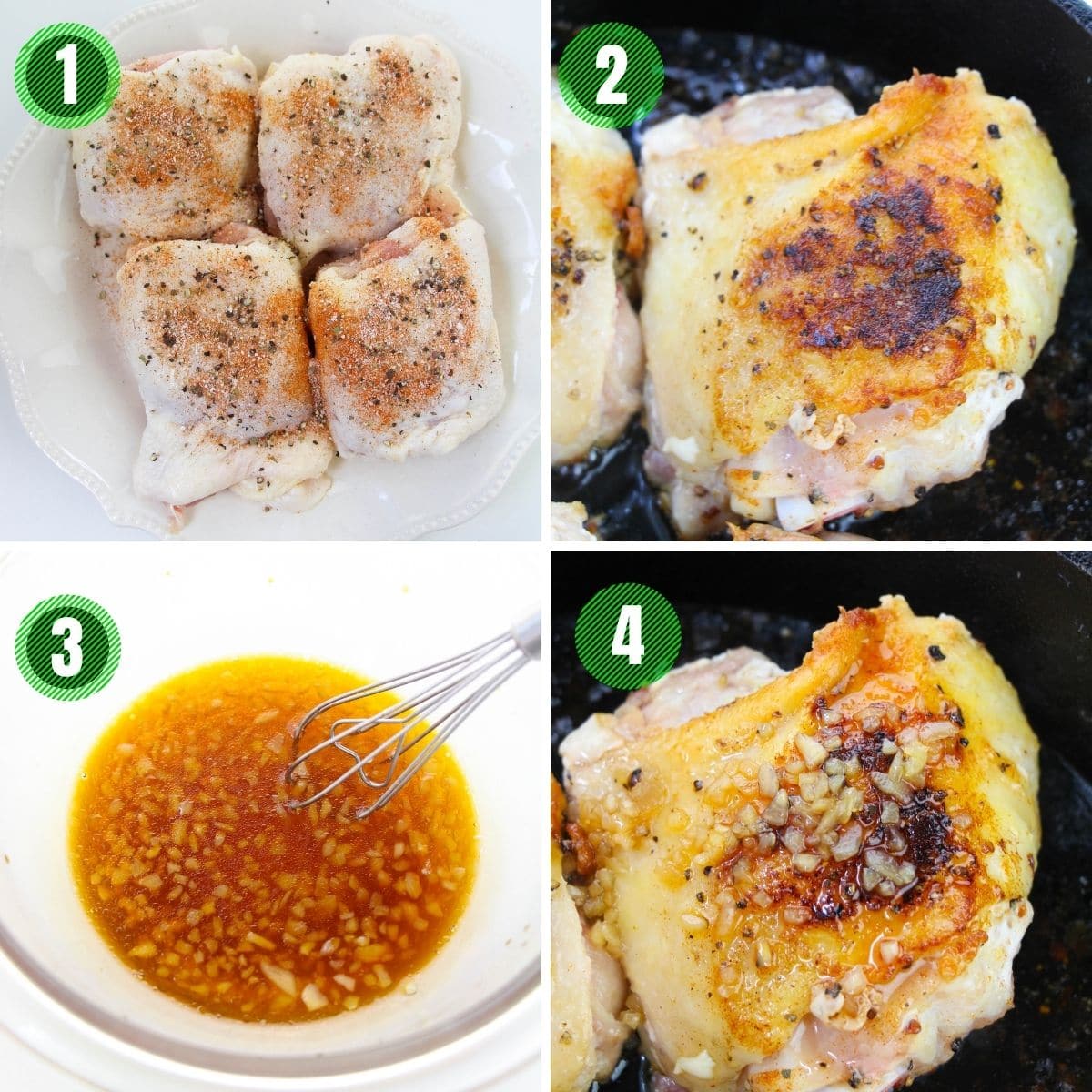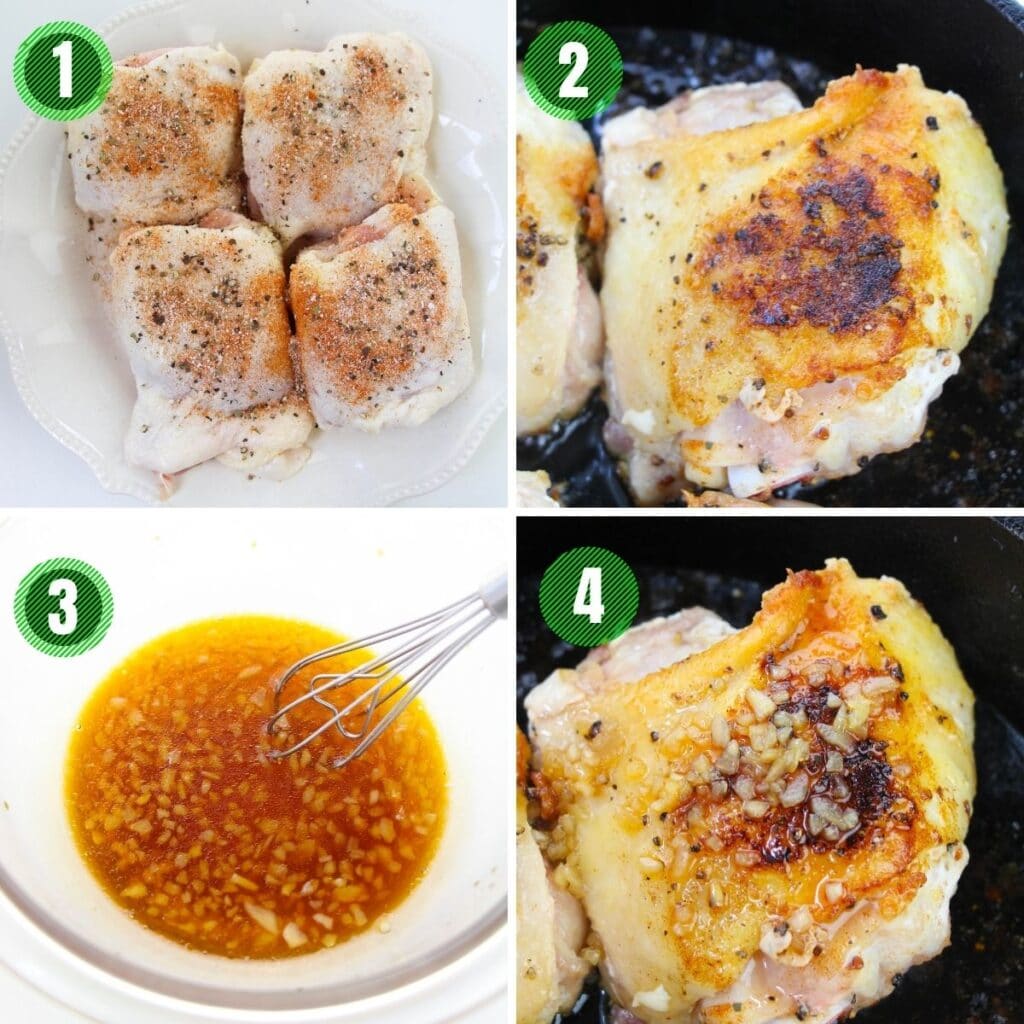 Step 1: Preheat oven as directed. Dry your chicken thighs by parting with a paper towel. Then season the chicken.
Step 2: Heat oil in a skillet on the stove. Pan sear all the chicken on both sides.
Step 3: Next, you will get a bowl and make your sauce. Combine honey, soy sauce, lime, and garlic.
Step 4: Divide sauce between chicken thighs by pouring over. Then place skillet in oven to finish cooking.
Once done serve your honey chicken with all your favorite sides.
Storage
Fridge: If you don't eat all the chicken right away, it will store for 2-3 days in the fridge. Make sure to store in an airtight container to prevent the chicken from spoiling.
Freezing leftovers: You can freeze any leftovers you want, for up to 3 months. Store in a freezer container or vacuum sealed bag. Then reheat and enjoy.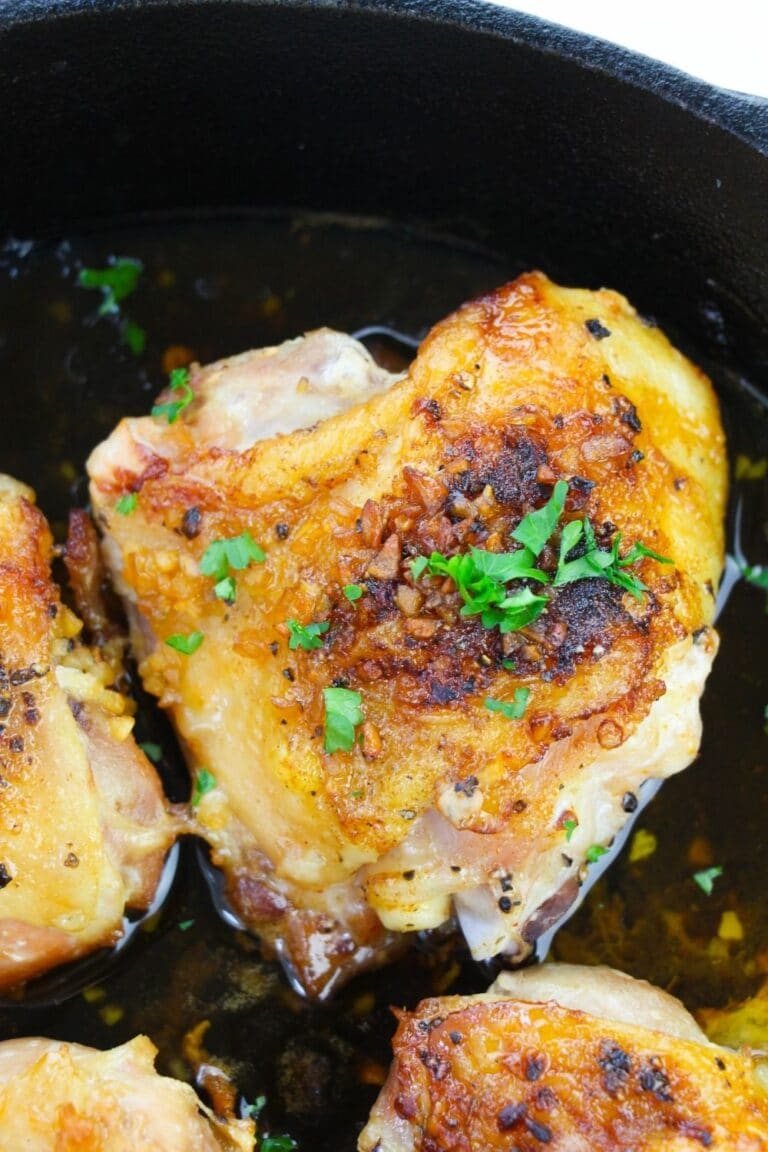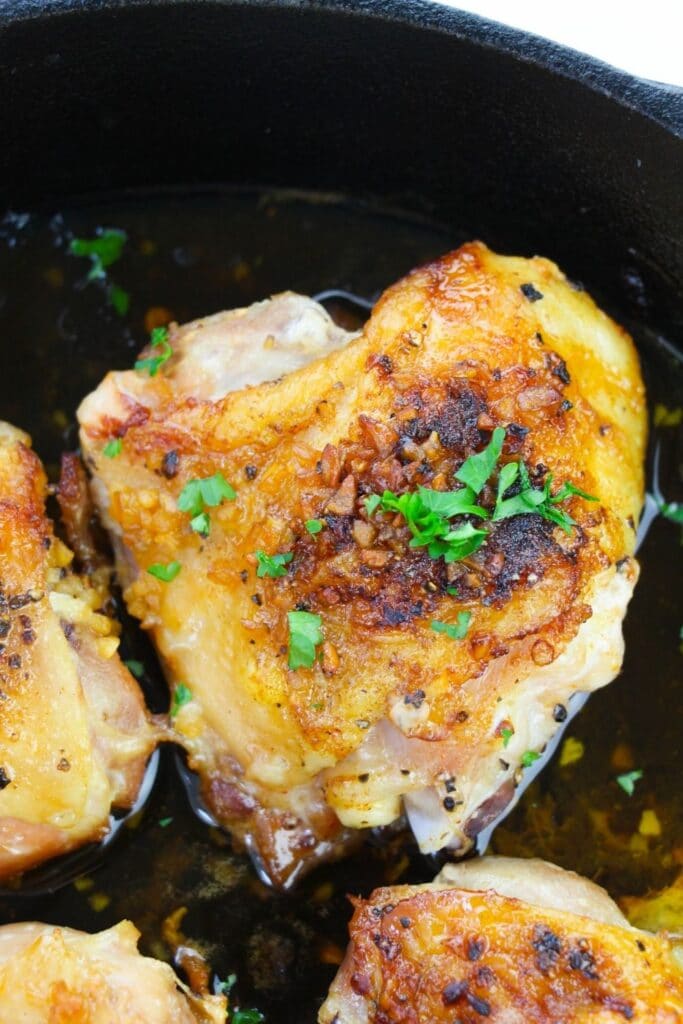 Expert Tips
Here are a few ways to change up this honey lime garlic chicken!
Chicken needs to reach 165 degrees Fahrenheit for the chicken to be done. Make sure to use a meat thermometer to ensure chicken is fully cooked.
Depending on the size of your chicken, the cook time will vary.
You want to sear the skin on the chicken fully, and then bake it in the oven. Make sure to not fully cook the chicken in the skillet.
You need a cast iron or oven safe skillet to move from the stovetop to the oven.
Variations to Recipe
Swap the creole seasoning with a season salt or other style if you don't want a Cajun spice to the chicken.
You could also swap creole with a Mrs. Dash for a salt free option.
Any cut of chicken works, bone in or boneless. Just make sure to cook chicken fully.
FAQs
Here Are Must Make Sides For This Chicken Recipe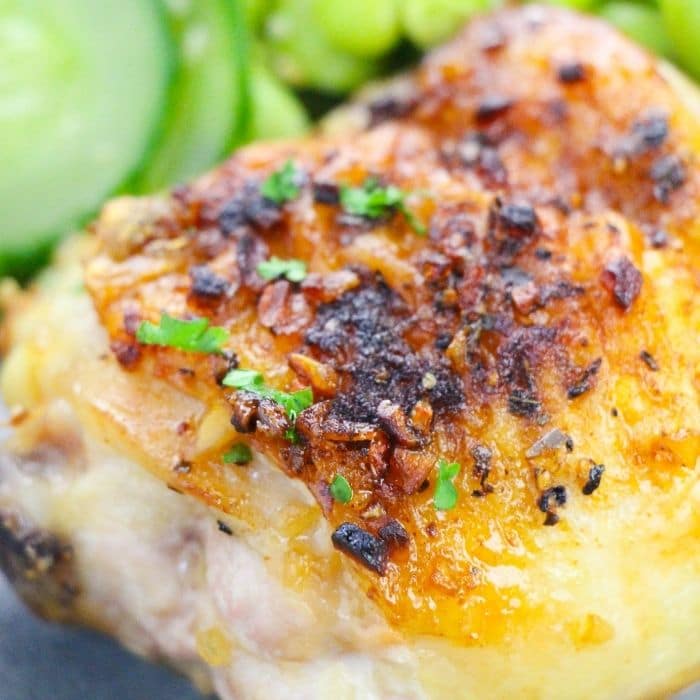 Honey Lime Chicken Thighs
Servings 6
Honey Lime Chicken is a simple and easy weeknight dinner idea. Seasoned chicken thighs get seared in a skillet, then covered in a honey lime sauce, and finished off baking in the oven. An easy lime chicken thighs recipe.
Ingredients
4-6 Chicken Thighs bone-in and skin-on
1 Tablespoon Creole Seasoning
Salt and Pepper to taste
1 Tablespoon Oil
1 Tablespoon Soy Sauce or Coconut Aminos
1 Tablespoon Lime Juice
3 Tablespoons Honey
1 1/2 Tablespoons Minced Garlic or less to taste
Instructions
Preheat oven to 350 degrees. Start by patting dry your chicken thighs. Then season with the creole seasoning and salt and pepper.

Heat oil in a skillet on medium-high heat. Once the pan is hot place chicken skin side down in the skillet. Sear until golden brown, then flip. This takes around 4-5 minutes.

While the chicken is cooking in a bowl mix your soy sauce, honey, and lime, and garlic together in a bowl. Set aside.

Once the chicken is fully seared and browned on both sides, remove from heat and pour the sauce all over the chicken.

Place the oven safe skillet with chicken and sauce in the oven and bake for 15-20 minutes or until the chicken reaches 165 degrees Fahrenheit.

When the honey lime chicken is done, remove and allow it to rest for 5 minutes. Then serve with your favorite sides.
Notes
Chicken – You can use any cut of chicken you would like. Depending on thickness and bone-in or boneless adjust the cook time. Soy Sauce – You can use low sodium or swap with coconut aminos if you need. Seasoning – I used a Cajun seasoning but you can swap with a season salt. Any spice seasoning should work. It will just alter the flavor a bit. Searing Chicken – Make sure the pan is hot with the oil before you place the chicken in. Otherwise, you will struggle to get the sear you want of the golden brown color. Searing the chicken before baking allows the skin to become crispier but also you create a layer of flavor that truly elevates the flavor of this chicken recipe tremendously.
Nutrition
Serving: 1gCalories: 339kcalCarbohydrates: 10gProtein: 31gFat: 20gSaturated Fat: 6gPolyunsaturated Fat: 15gCholesterol: 166mgSodium: 979mgSugar: 9g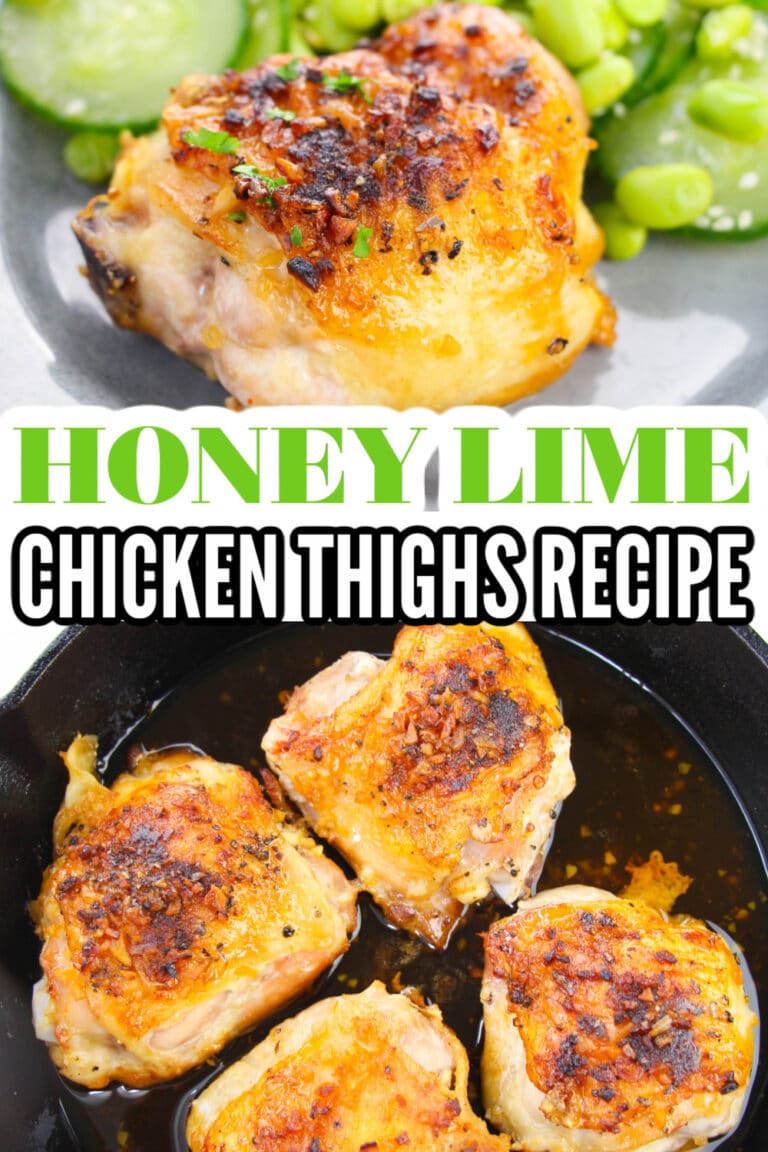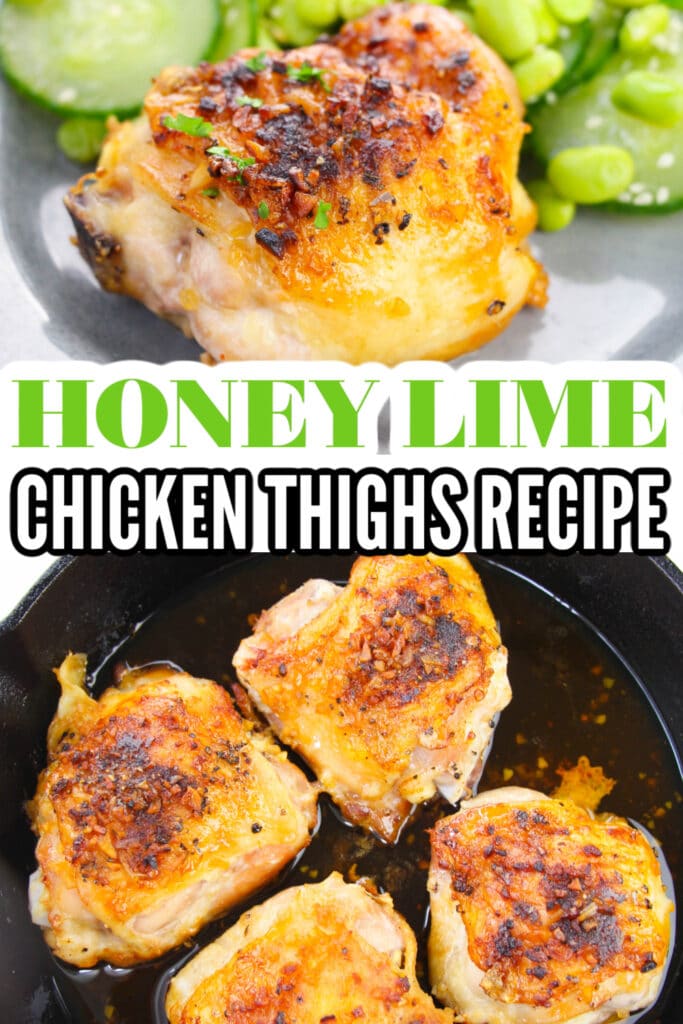 Reader Interactions