Crockpot Peanut Clusters is an easy sweet and salty crockpot candy recipe. Nut clusters are so popular around Christmas and Thanksgiving. But, you can make these easy slow cooker peanut clusters all year round.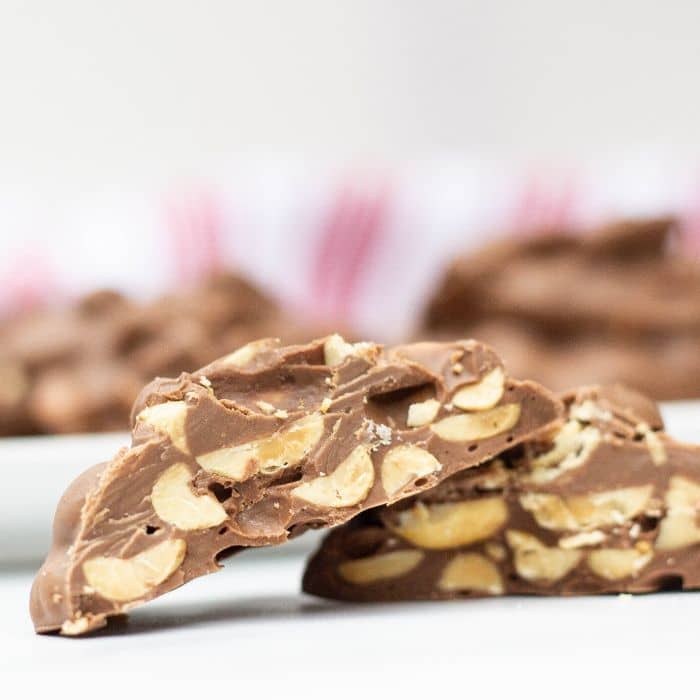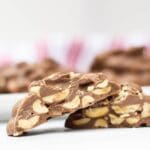 Crockpot Peanut Clusters is an easy sweet and salty crockpot candy recipe. Nut clusters are so popular around Christmas and Thanksgiving. But, you can make these easy slow cooker peanut clusters all year round.
If you are looking for more easy desserts, check out these. Chocolate peanut butter balls, German chocolate cake balls, or cornflake cookies. No matter if you make this for a weeknight dessert or for a holiday party, these will be a hit. A fun Christmas candy to pack in trays to give to loved ones. Also, hit up these caramel stuffed pretzels.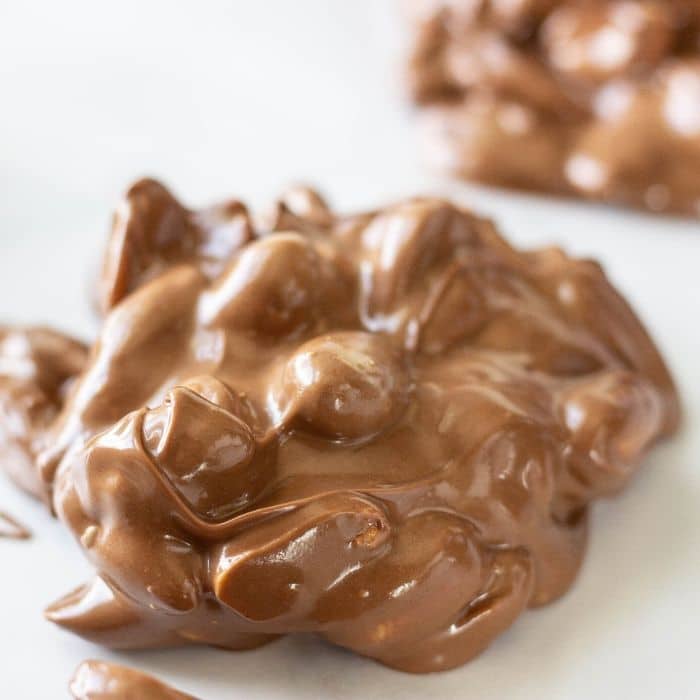 I use three types of chocolate and peanut butter chips to bring the ultimate flavor to the peanut cluster recipe. If you are a fan of chocolate-covered peanuts, then make this peanut cluster recipe today.
Why This Recipe Is So Popular
Easy Peanut Clusters Recipe – Since this is a crockpot version it makes it super easy. Dump ingredients, turn on, and then mix once melted!
Simple Ingredients – These peanut clusters with peanut butter, a variety of chocolate use basic ingredients. You should have no issue finding the ingredients.
Stores Well – This candy recipes stores well, and you can freeze if you don't eat right away! So this is a great treat to make and save some for later.
Ingredients Needed
Semisweet Chocolate
Milk Chocolate
White Chocolate Candy Melts
Peanut Butter Chips
Peanuts – I do half salted half plain.
How To Make Peanut Clusters In Crockpot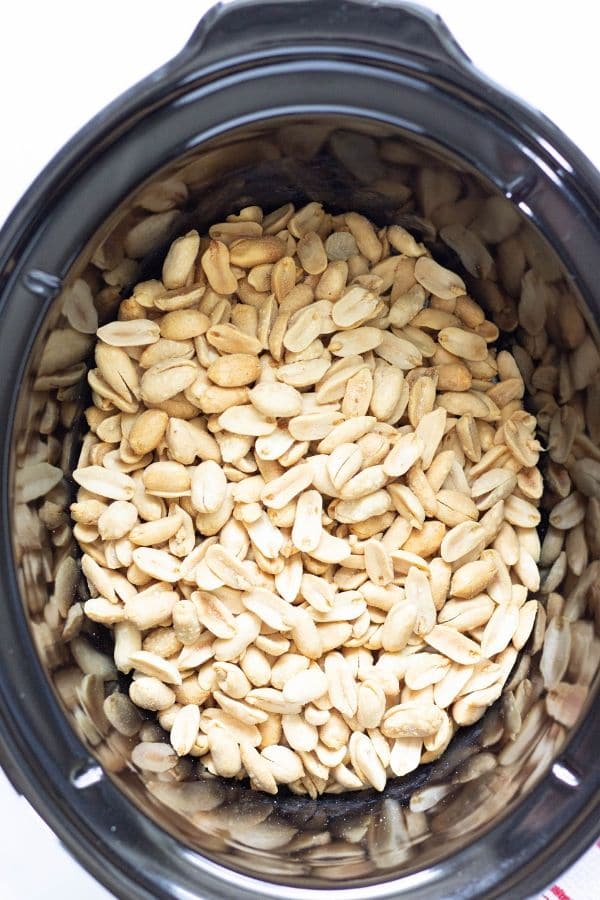 Step 1: Start by placing your salted peanuts in the crock pot. Now I used salted, but you can do a mix of half salted and half plain.
Since I made a smaller batch I felt like the salt was not overpowering at all.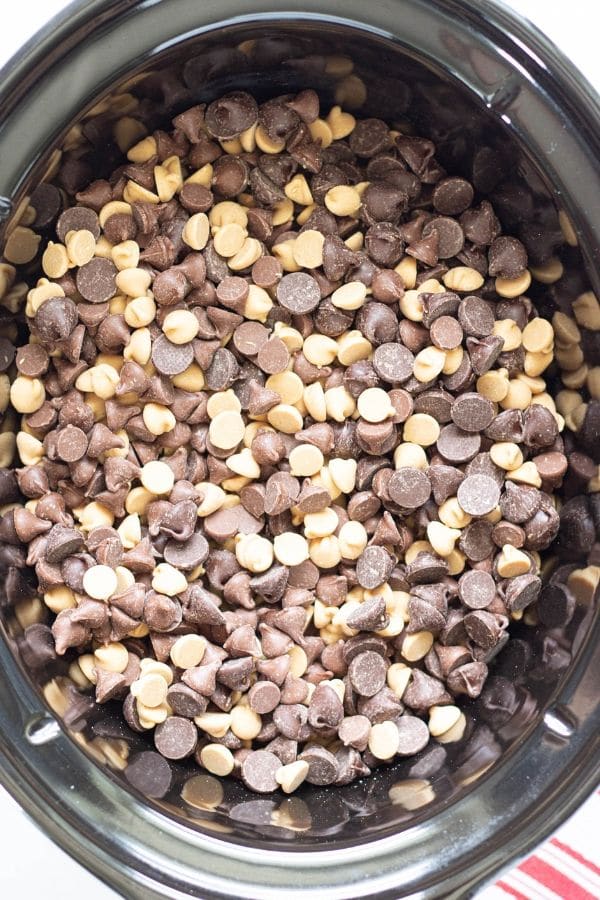 Step 2: Add your milk chocolate, semi-sweet chocolate, and peanut butter chips on top of the peanuts.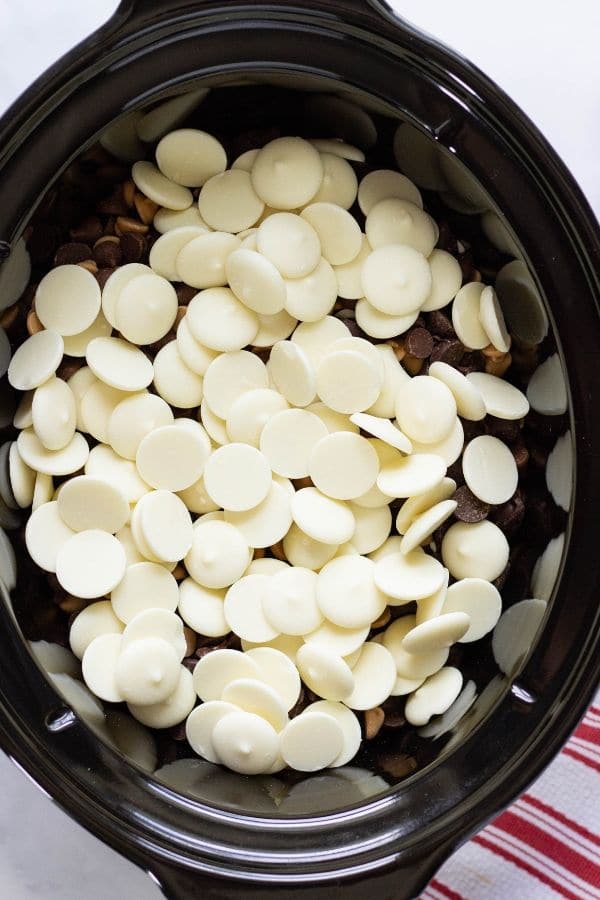 Step 3: Top with your white melting chocolate. I used Ghirardelli melting chocolate. You can use white melting chips or even almond bark if that is what you have on hand.
The melting chocolate is needed to help the nut clusters to set up.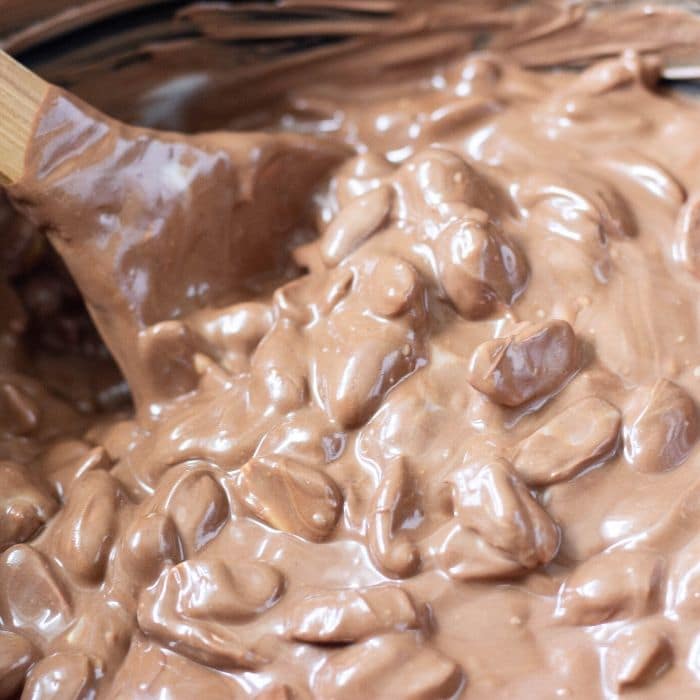 Step 4: Cook on low for an hour or two. Make sure to stir every 10-15 minutes to help incorporate the mixture.
Once it cooks down a bit I put in the rest of the white melting chocolate.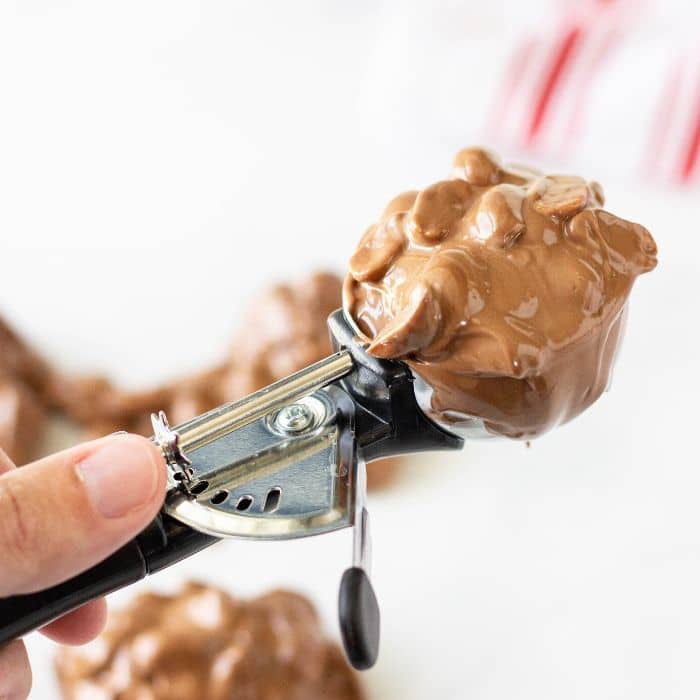 Step 5: Once all the chocolate is melted, you can then use a scoop or spoon mixture onto wax paper. Let the nut cluster set until the chocolate has hardened.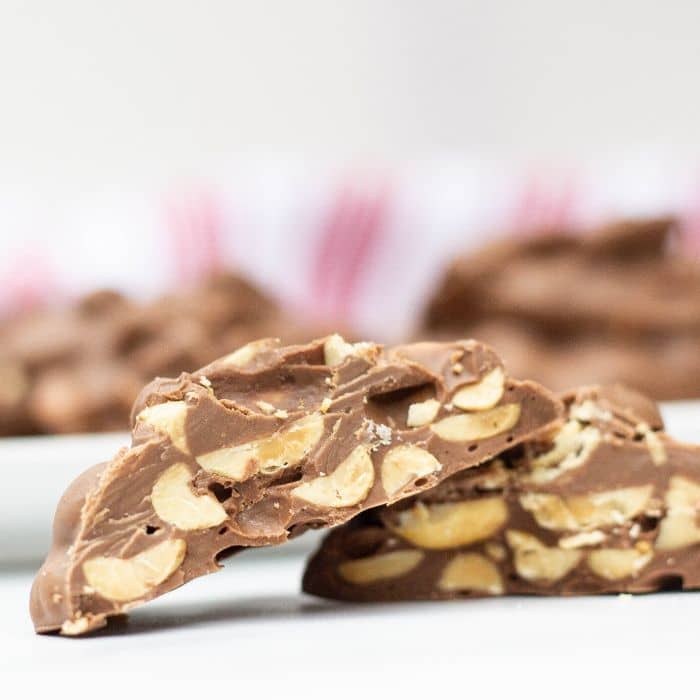 Helpful Tips
You can make this on the stove my heating in a double boiler to melt down all the chocolate. Then mix with the peanuts and scoop.
I used an coookie scoop, it worked great at scooping up the wet mixture to dump on the wax paper.
I did half salted and half unsalted peanuts. We love the hint of salty to the candy. You can do all plain if you prefer.
Make sure to not overheat the chocolate or it will burn.
All crockpots heat differently so cook time can vary in terms of how long it takes to melt chocolate.
Use a crockpot liner to make for an easy cleanup, with no mess.
Storing Clusters
To store peanut nut clusters you need to place in an airtight container or storage bag. Store at room temperature if your home is not too hot. If it is too hot you will find it melts the chocolate.
If need be you can store these clusters in the fridge. I like to leave them on counter as they are the right texture when you bite into these sweet and savory nut clusters.
Can You Freeze Peanut Clusters
This peanut dessert does freeze really well. Simply place in a freezer bag or airtight container once the chocolates have fully set up.
Then store in the freezer for 2-3 months. When you want one remove from the freezer and thaw on the counter before eating.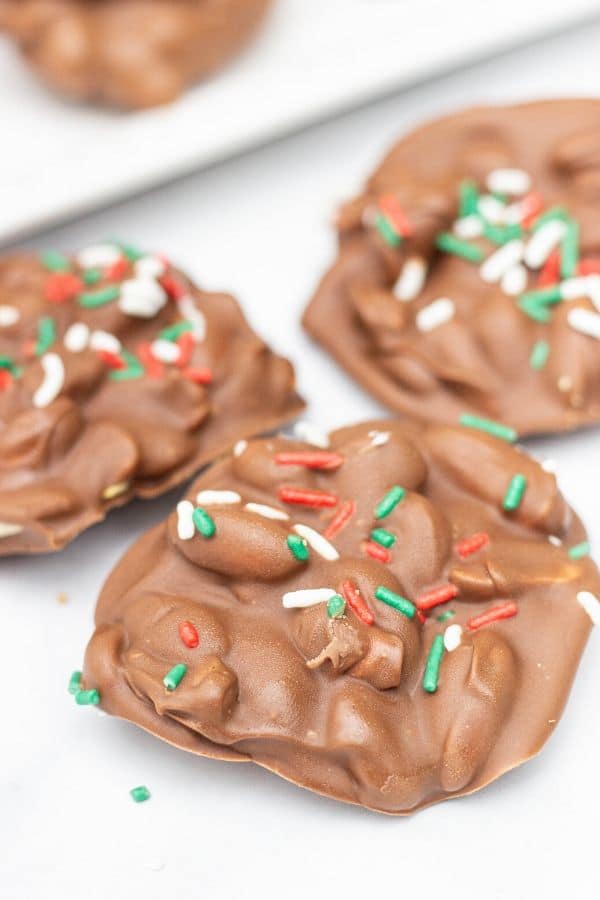 Decorate For An Easy Holiday Candy
If you end up wanting to make this for say Christmas or even Easter, just add a sprinkle of colored sprinkles on top. It instantly will give you a festive feel!
As you can see I did red, green, white sprinkles, and it instantly gives this a Christmas candy feel!
FAQs
Why use a mix of chocolates for this crockpot chocolate peanut clusters recipe?
Using a mix of chocolate will provide you with the best flavor! I used white chocolate melting chocolate, milk chocolate chips, semi-sweet chocolate, and then peanut butter chips.
While combining the flavors, it creates the perfect candy coating for your easy nut clusters.
Why use white candy melts instead of chocolate chips?
If you use regular white chocolate chips, you will find your clusters do not set up. The white melting chips will help to allow the candy nut clusters to set up the way they should.
If you don't want to use melting chocolate add around 1 tablespoon or 2 of shortening to your chocolate mixture. This will then allow the chocolate to harden like you want.
Can I use other nuts in this recipe?
If you want to make a chocolate covered nut cluster, you could absolutely use this recipe. Just swap peanuts out with any other nut or nut blend you would like.
All nuts will work well in being coated in the chocolate and then scoop onto wax paper to harden up.
Related Recipes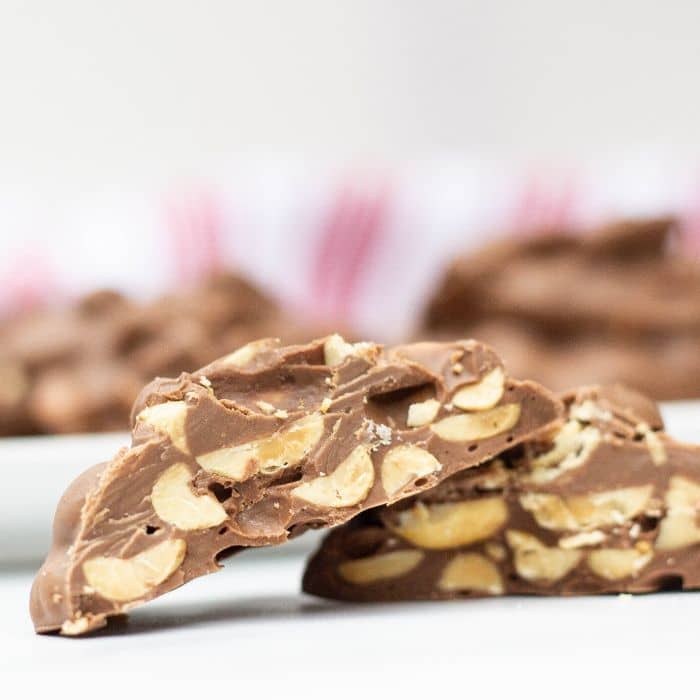 Crockpot Peanut Clusters
Servings 20
Crockpot Peanut Clusters is an easy sweet and salty crockpot candy recipe. Nut clusters are so popular around Christmas and Thanksgiving. But, you can make these easy slow cooker peanut clusters all year round.
Ingredients
1 cup semi sweet chocolate chips
1 cup milk chocolate chips
2 cups peanut butter chips
20 ounces white melting chocolate wafers or almond bark
4 cups salted peanuts or do half plain and half salted
Instructions
Start by placing your peanuts in the bottom of the crockpot.

Now sprinkle your milk chocolate chips, semi-sweet chocolate chips and peanut butter chips on top of the nuts.

Now add part of the white melting wafers on top. You will add the rest later.

Place lid on your crockpot and turn to low and let it cook for 1-2 hours. Every 15 minutes you will stir.

After the first 15 minutes give the nut clusters a good stir, and then add the remaining white wafter chocolate on top. Return lid and continue to cook.

You will cook the peanut clusters until all the chocolate is fully melted. Once it is fully melted you will spoon out your nut clusters onto wax paper.

Let your peanut nut clusters harden up and then serve for any occasion. These crockpot chocolate nut clusters are so easy to make.
Notes
If you want to make for the holidays, add colored sprinkles onto the wet chocolate once you scoop them out onto wax paper.
I also found crockpots will heat differently so it might take you 2 hours to get all the chocolate melted and others only need 30 minutes to an hour. Either way is find, you just want the chocolate fully melted before you scoop out clusters on wax paper.
Store in an airtight container on the counter or in the fridge. You can also freeze the peanut clusters for 3-4 months. Or vacuum seal in the freezer for extended shelf life.
Nutrition
Serving: 1gCalories: 470kcalCarbohydrates: 45gProtein: 13gFat: 29gSaturated Fat: 9gPolyunsaturated Fat: 17gCholesterol: 3mgSodium: 334mgFiber: 5gSugar: 28g
Reader Interactions