Sugar Plum Fairy Cupcakes are a delicious vanilla almond cupcake that is filled with a plum preserve filling. Top with a plum frosting, and add festive sprinkles. This Christmas cupcake is a delicious and gorgeous cupcake to serve your guests.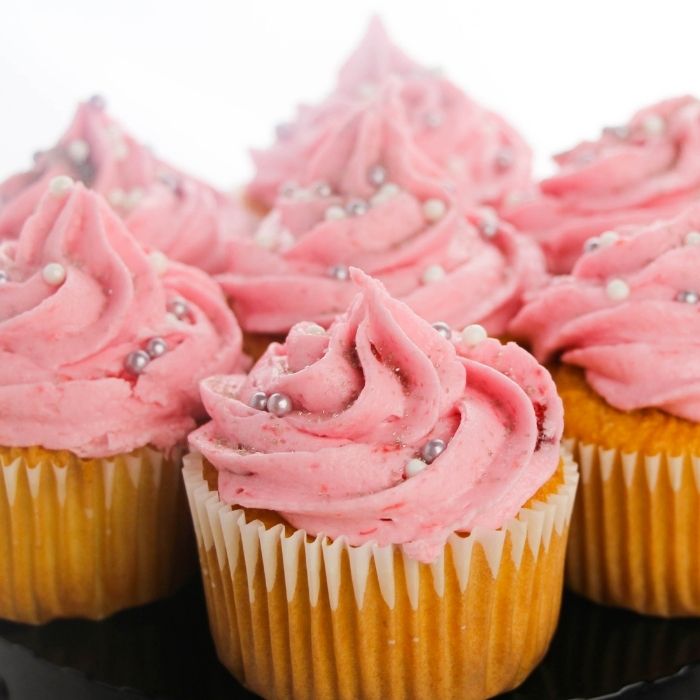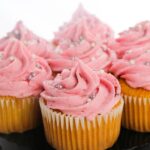 Sugar plum fairy cupcakes are bursting with flavor, and the pink frosting will leave you wanting to taste it. A homemade cupcake filled with a fruit filling and then topped with a plum and vanilla frosting. These are the perfect Christmas cupcake to serve.
What is a sugar plum flavor? Well sugar plums are a small hard candy that got its name as it looked similar to a plum. So technically sugar plums are not plums at all.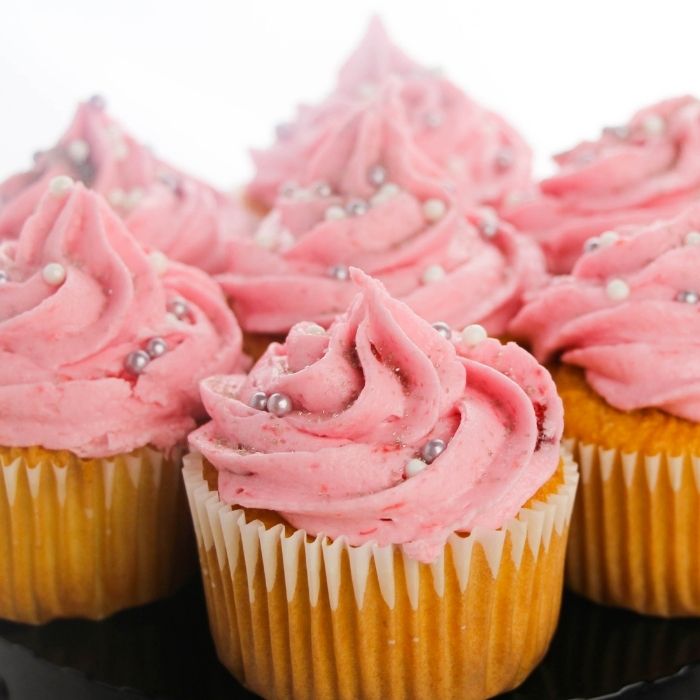 The cupcakes are a vanilla and almond flavored cupcake that is then filled with a plum filling, and piped with a pink plum/vanilla frosting. A fun sugar plum recipe that makes a gorgeous holiday cupcake.
Sugar Plum Fairy Cupcakes Taste Like…
Sweet almond and vanilla flavor
Plum fruit filling in the center
Topped with a plum and vanilla flavored frosting
Why These Cupcakes Are So Popular
Fruit Filled Cupcakes – I love a cupcake that when you bite into it, has a delicious filling. These cupcakes are filled with a plum filling that is sweet, and bursting with flavor.
Nutcracker Inspired – If you love the Nutcracker you will imagine sugar plum fairies and all things winter. These are a fun themed cupcake.
Top with candy – Go simple and top with some pretty sprinkles or add spice drops, a peppermint, sprinkles galore, or other candies. These are so fun to decorate.
Grab my Free Kitchen Conversions Printable! This shows you how many cups are in a quart, pint, etc. A great printable to keep handy for when you need to convert a recipe.
Ingredients Needed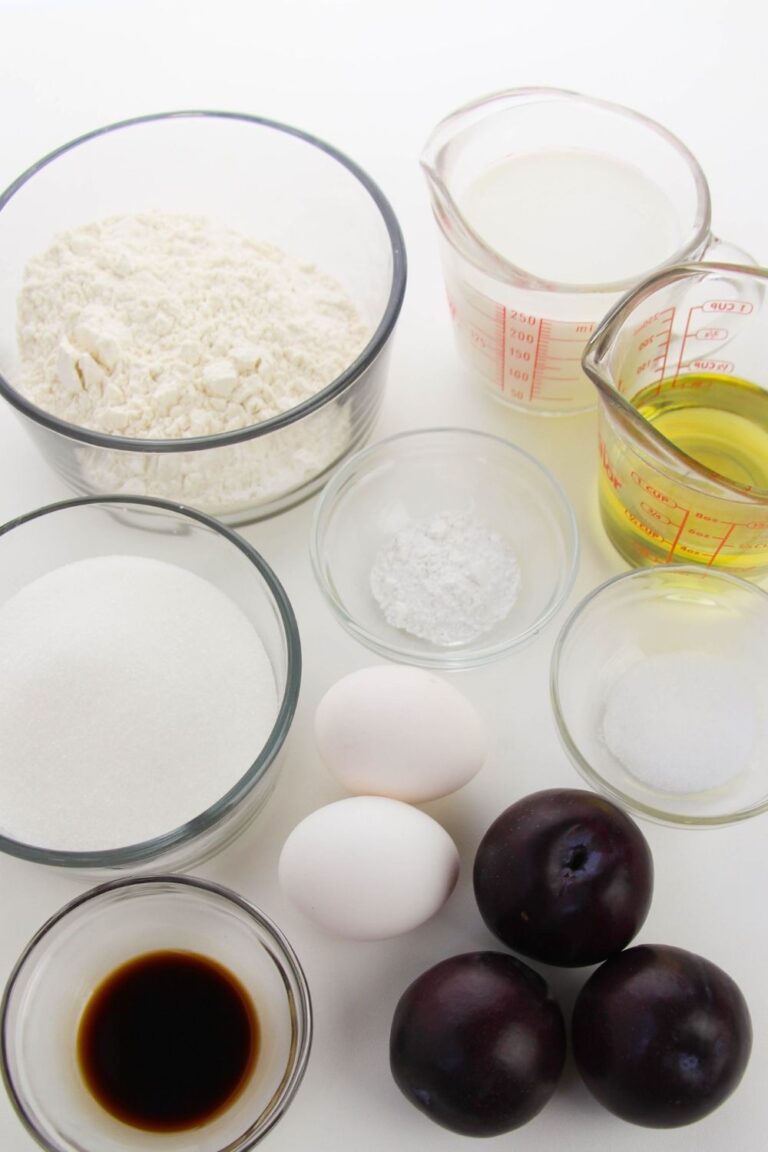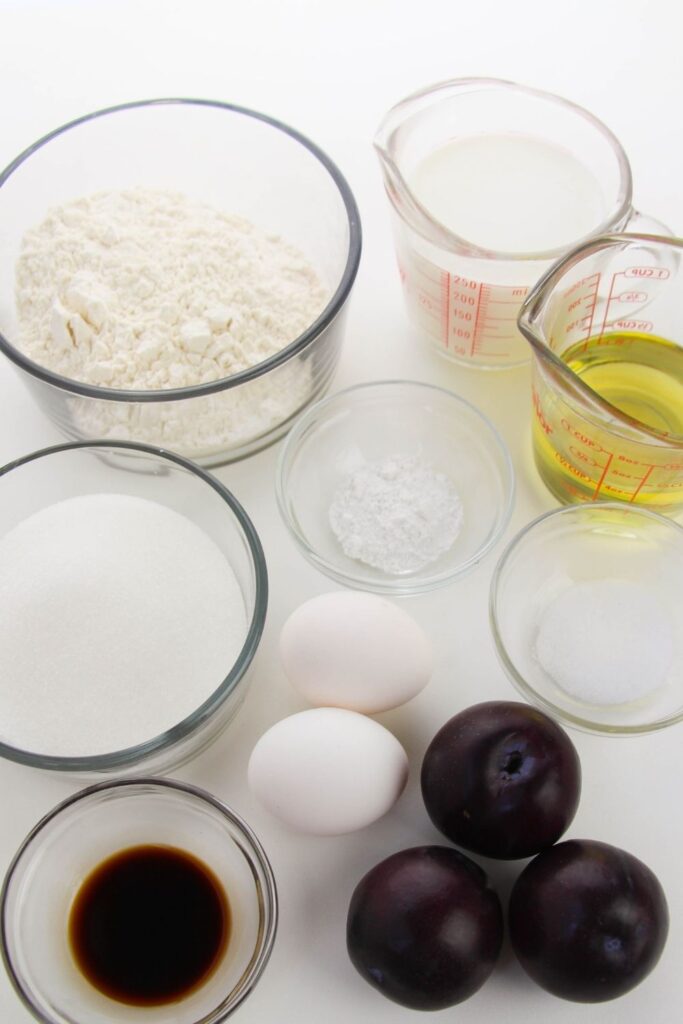 Flour
Baking Powder
Eggs
Sugar
Oil
Vanilla Extract
Almond Extract
Milk
Plums
Butter
Powdered Sugar
How to Make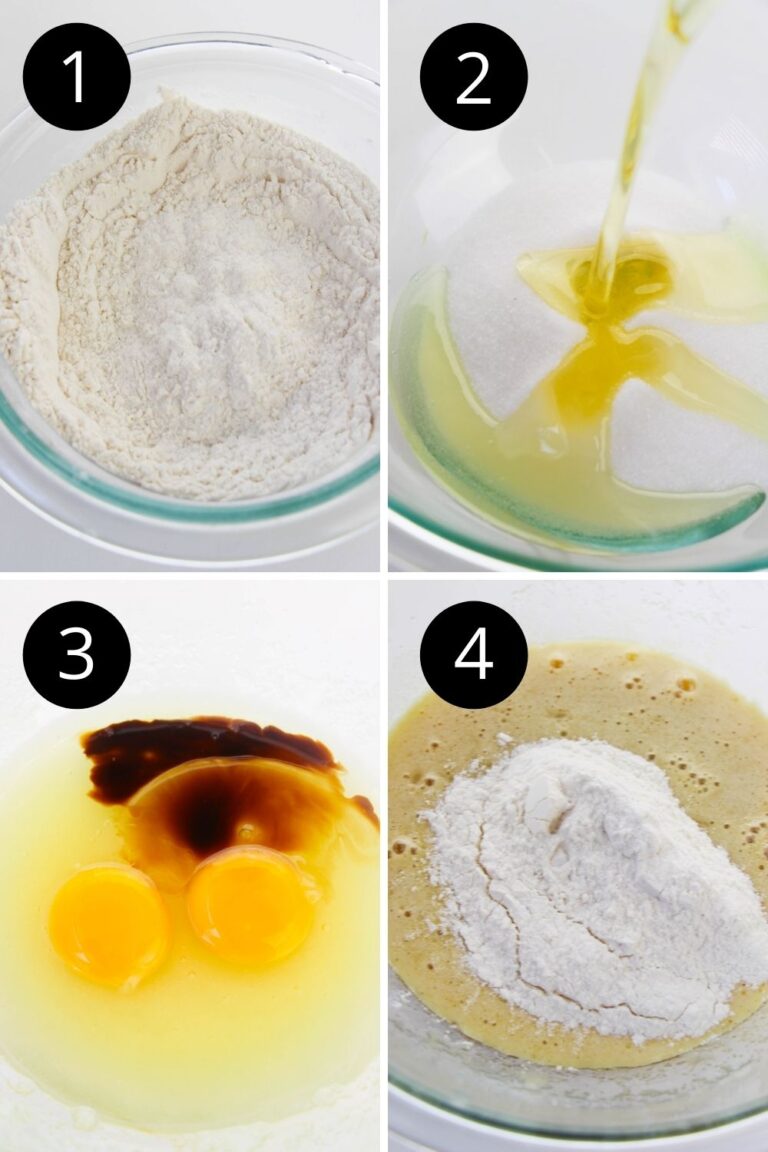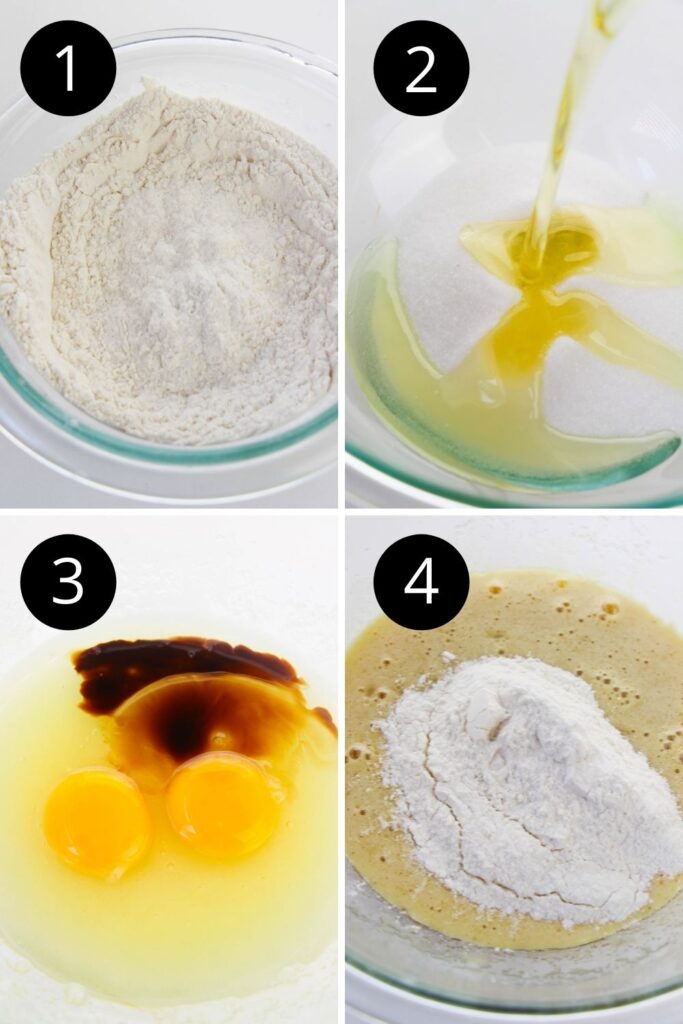 Step 1: Preheat oven and prep cupcake pans. Then add all the dry ingredients in a bowl, mix and set aside.
Step 2: Add oil and a cup of granulated sugar in a mixer, and whip up for 2 minutes till light and creamy. You can use a hand mixer or stand mixer.
Step 3: Mix in the eggs and extracts. Make sure the eggs get mixed in.
Step 4: Now you will add in the dry ingredients and milk, a little at a time. Alternate adding in a bit of the milk, mix, then more flour. Repeat until all the flour and milk is combined.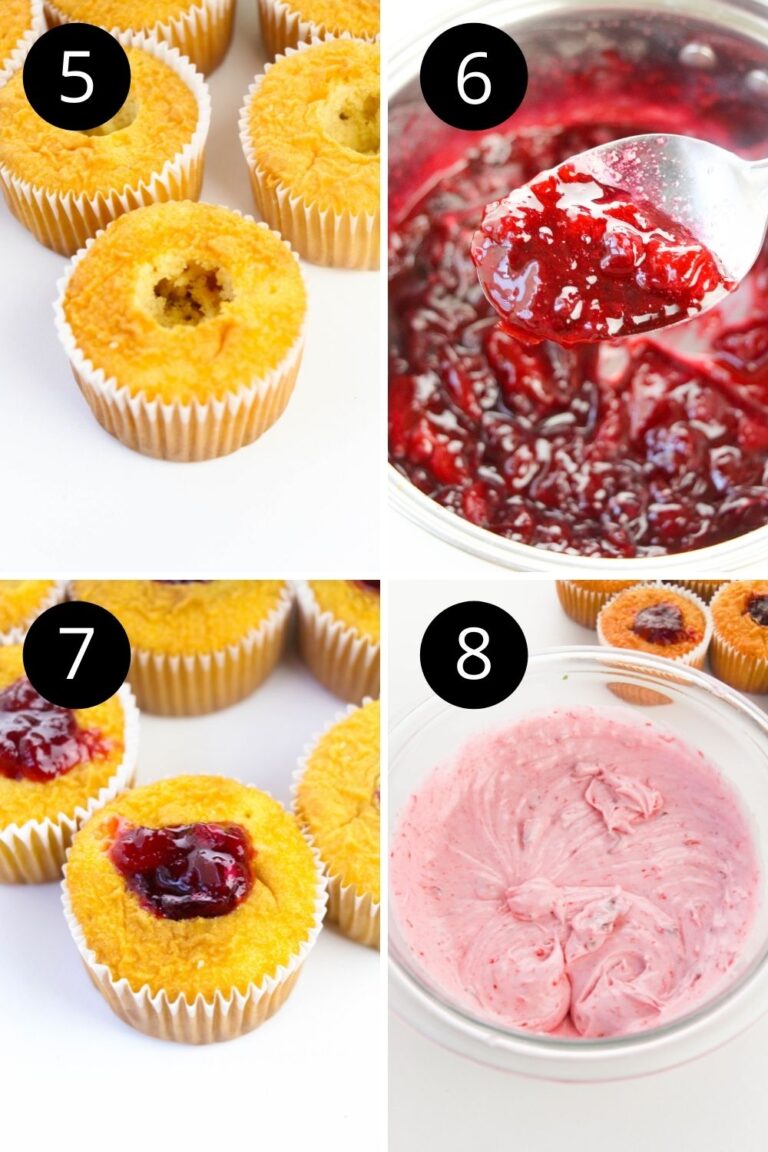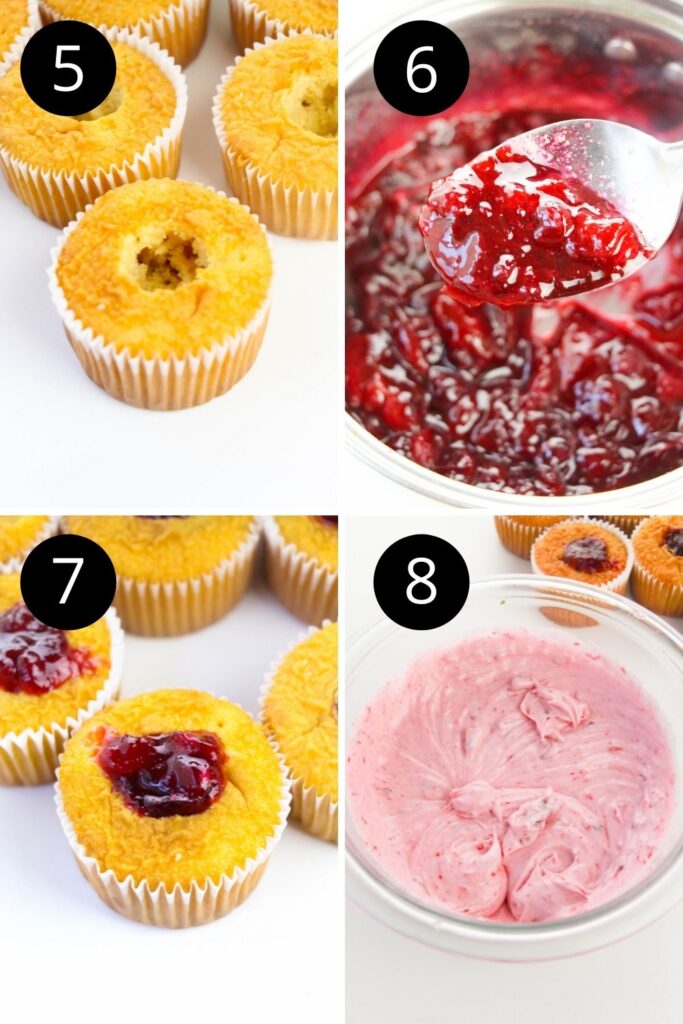 Step 5: Add the cupcake filling into lined cupcake pan, doing 2/3rds the way full. Bake as directed in the printable recipe card below. Let cool, then remove the center out of each cupcake.
Step 6: In a saucepan you will dice up the plums and add water and 1/2 cup granulated sugar. Cook to create the fruit filling for cupcakes.
Step 7: Let the plum compote cool and then fill the cupcakes with the fruit filling.
Step 8: Then you will work on mixing up the fruit frosting. You will add the remaining plum mixture with the frosting ingredients. Pour into a piping bag.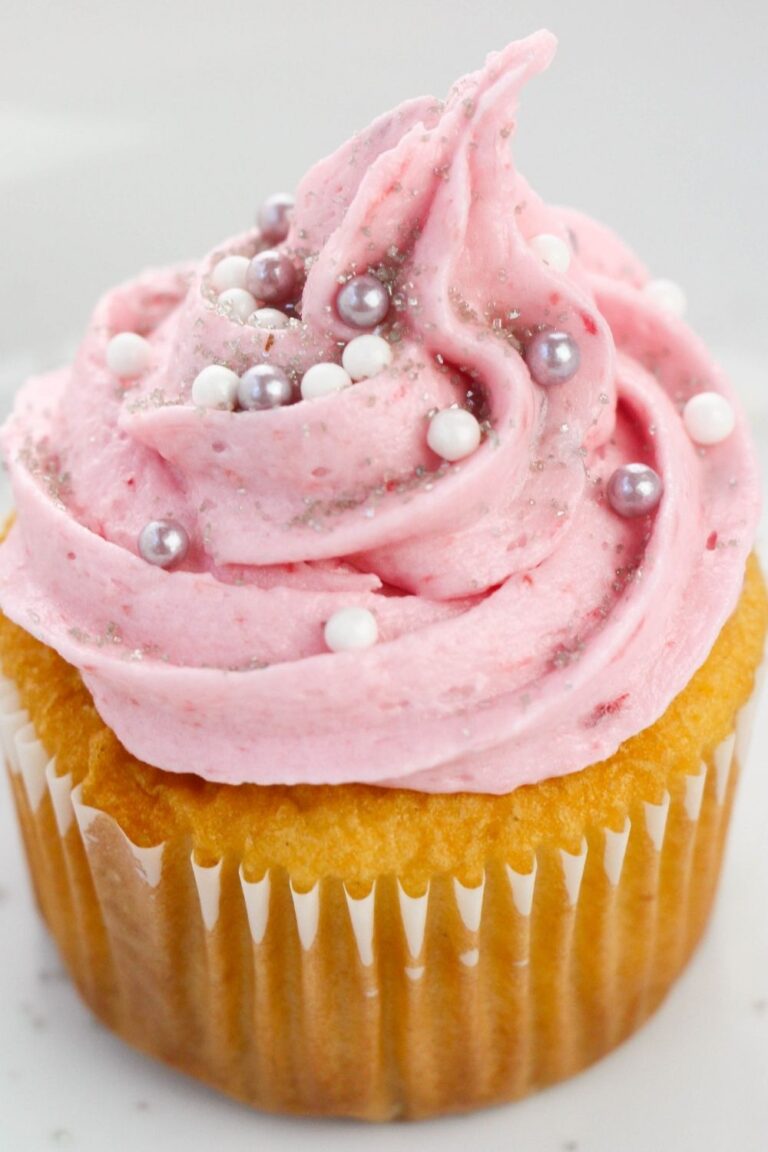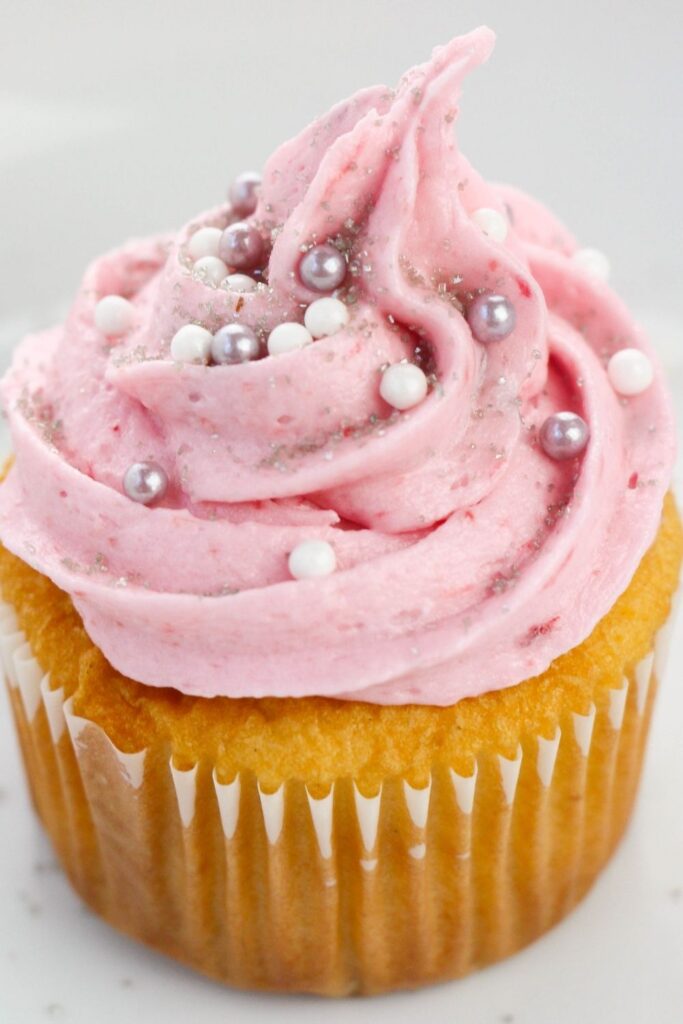 Step 9: Pipe the frosting on each cupcake and then top with sprinkles or decorations of your choice.
Storage
Fridge – You will want to store your cupcakes in the fridge, the frosting and the fruit will spoil if left on the counter at room temperature.
Freezer – You can freeze your cupcakes for up to 3-4 months in the freezer. Then thaw in the fridge overnight or thaw for around 1 hour on counter for quick thaw.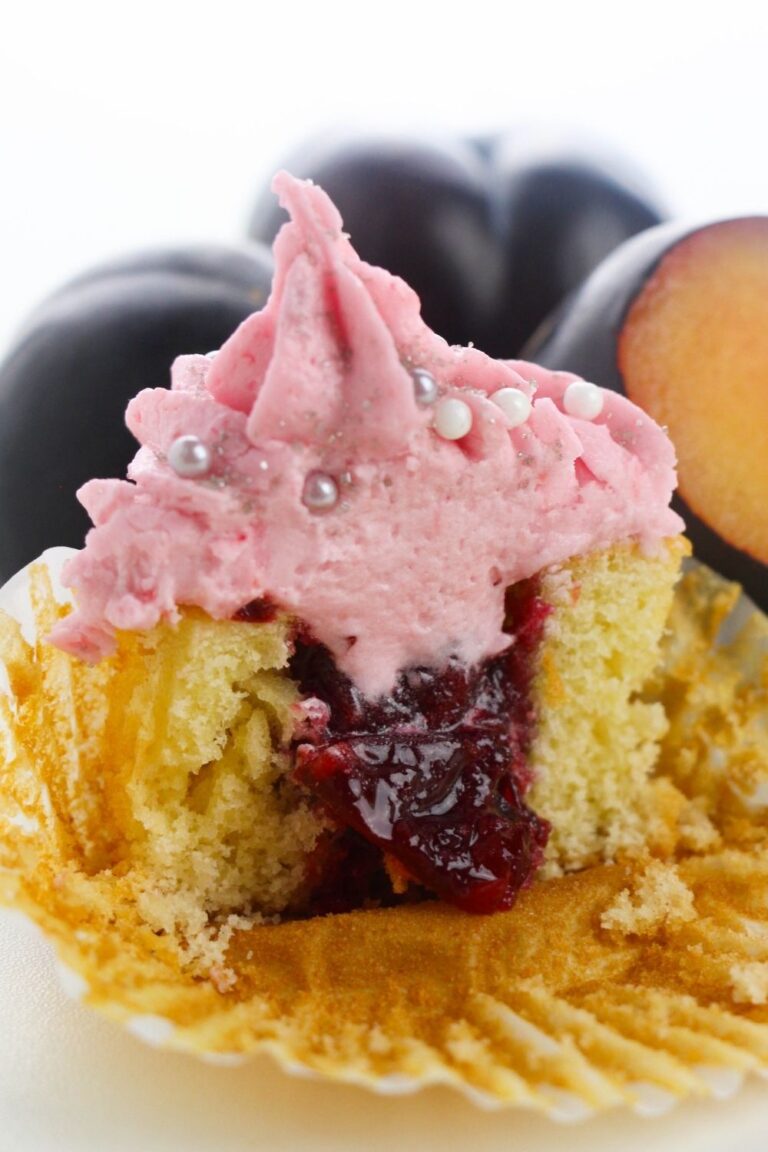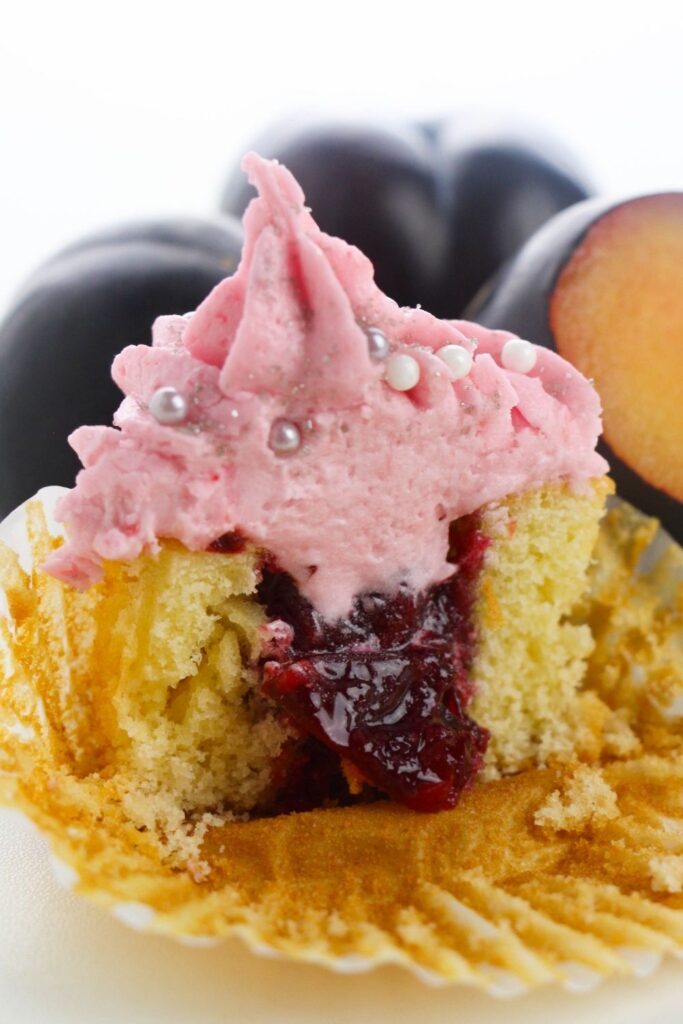 Expert Tips and Variations
Top with gum drops, candies, and more. You could also top with a ballerina topper.
Make sure to use room temperature ingredients, when mixing up the batter.
The plums need to be ripe, otherwise, it can lack a bit of flavor.
The frosting can be changed, feel free to use any flavor you would like. Even a vanilla frosting would be delicious.
FAQs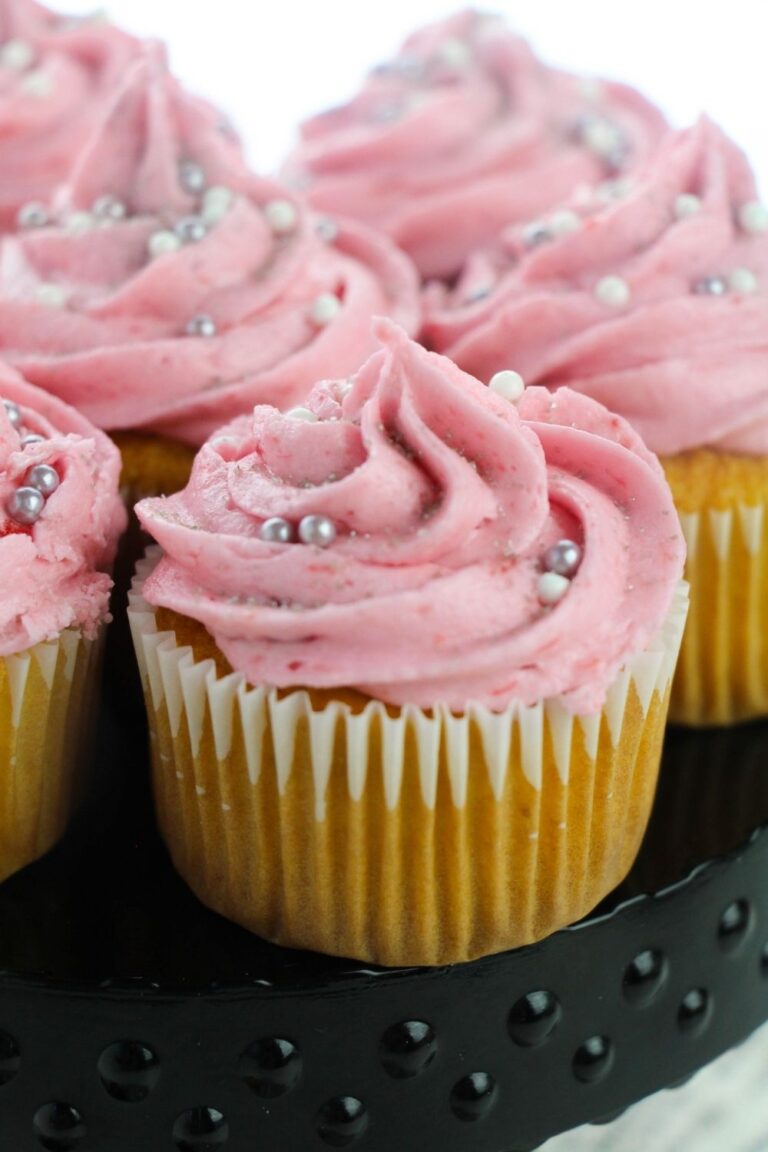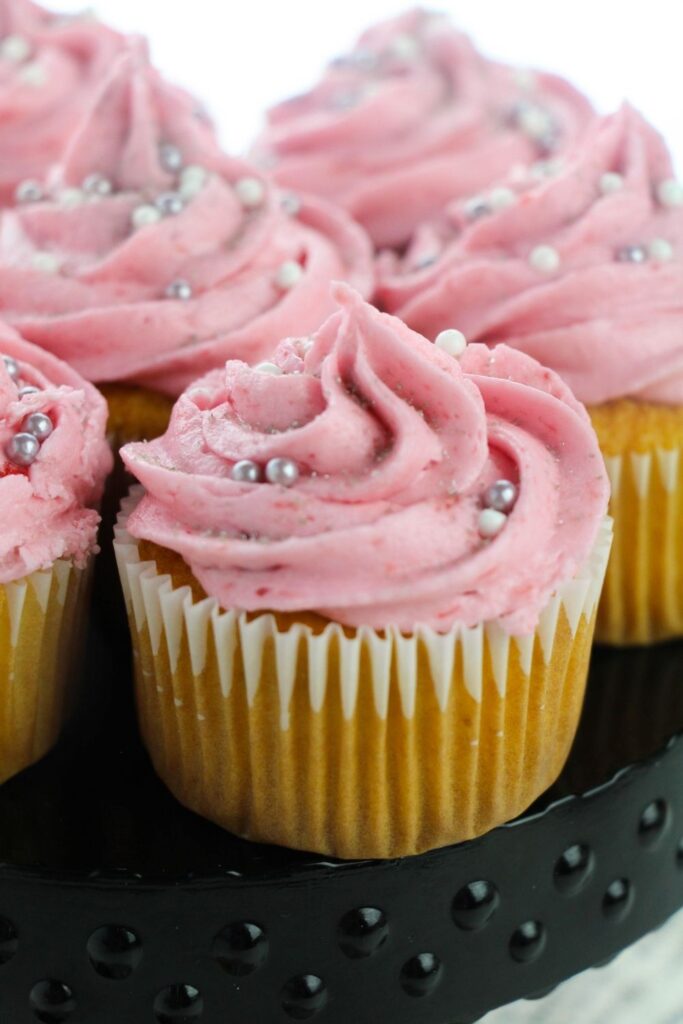 More Christmas Recipes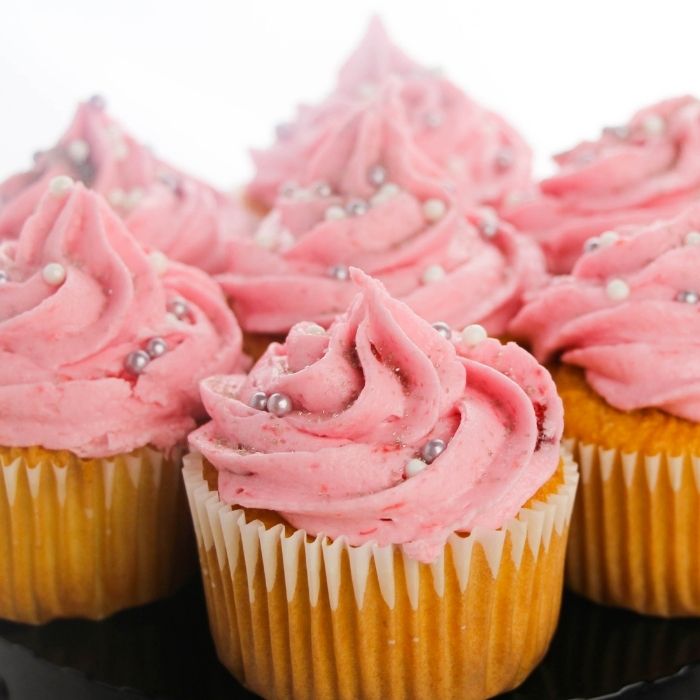 Sugar Plum Fairy Cupcakes
Servings 18
Sugar Plum Fairy Cupcakes are a delicious vanilla almond cupcake that is filled with a plum preserve filling. Top with a plum frosting, and add festive sprinkles. This Christmas cupcake is a delicious and gorgeous cupcake to serve your guests.
Ingredients
Cupcake Ingredients
1 1/4 cups All-Purpose Flour
1 1/2 teaspoon Baking Powder
1 teaspoon Salt
1/2 cup Vegetable Oil
1 cup White Sugar
2 Eggs room temperature
1 teaspoons Vanilla Extract
1 teaspoon Almond Extract
1 cup Milk
Plum Filling
3 Plums chopped and pits discarded
1/2 cup water
1/2 cup granulated sugar
Plum Frosting
1 cup Butter softened at room temperature
2-3 tablespoons milk
1 teaspoon vanilla
4-5 cups Powdered Sugar as needed
2 tablespoons Plum Filling
Sprinkles as desired
Instructions
Preheat the oven to 350 degrees, and place cupcake liners in your cupcake pan. Set aside.

Then in a bowl you are going to add your flour, baking powder, salt, and set aside.

In a stand mixer or bow, add your oil and granulated sugar. Mix on medium-high for 2-3 minutes or until nice and creamy.

Then add in the eggs and vanilla along with the almond extract. Mix till combined.

Now alternate adding a little dry ingredients, then milk, going back and forth between the two until the cupcake batter is fully mixed.

Pour the mixture into the cupcake liners 2/3rds the way full.

Bake for 18-22 minutes or until the cupcakes are full done. Once done place on a cooling rack to fully cool.
Plum Filling
For the plum filling you will want to dice up the plums and discard the pits.

Place plums, sugar, and water in a pot and bring to a boil. Make sure to stir often.

Once it boils, lower heat to a simmer and let simmer until the mixture becomes thick.

Allow the mixture to fully cool once thickened.
Plum Frosting
In a stand mixer or hand mixer cream your butter and powdered sugar until nice and creamy. Start with around 4 cups of sugar, and then if you need to thicken the frosting add more.

Next add in the vanilla extract, and plum filling.

Slowly add in a little milk to thin out the frosting. You might not use all the milk, you want a nice thick pipe-able frosting.
How to Assemble Sugar Plum Fairy Cupcakes
With cooled cupcakes, use a melon scoop or knife to cut out the center of each cupcake. Save the cupcake portion you remove.

Spoon in a little of the plum filling to each cupcake, then place the cupcake portion back on top of the cupcakes.

Now pipe on your plum frosting, and then sprinkles if desired.

Refrigerate the sugar plum fairy cupcakes until ready to serve.
Notes
Frosting – You might not use all the powdered sugar or milk. You will add more powdered sugar if you want to thicken the frosting, and milk to thin it out. Double Recipe – You can make a double batch of these cupcakes if you would like. Just batch cook the cupcakes as needed. Filling – So I made the homemade plum filling. But, if you are wanting you can buy a plum preserves or even use a different flavored fruit filling with the cupcakes. Storage – Store the cupcakes in the fridge until ready to serve. You can freeze cupcakes 3-4 months as well.
Nutrition
Serving: 1gCalories: 741kcalCarbohydrates: 148gProtein: 2gFat: 17gSaturated Fat: 7gPolyunsaturated Fat: 9gTrans Fat: 1gCholesterol: 49mgSodium: 258mgSugar: 138g
You will have visions of sugar plums dancing in your head with this holiday dessert! A Christmas cupcake recipe that is light and fluffy, and delicious down to the last crumbs.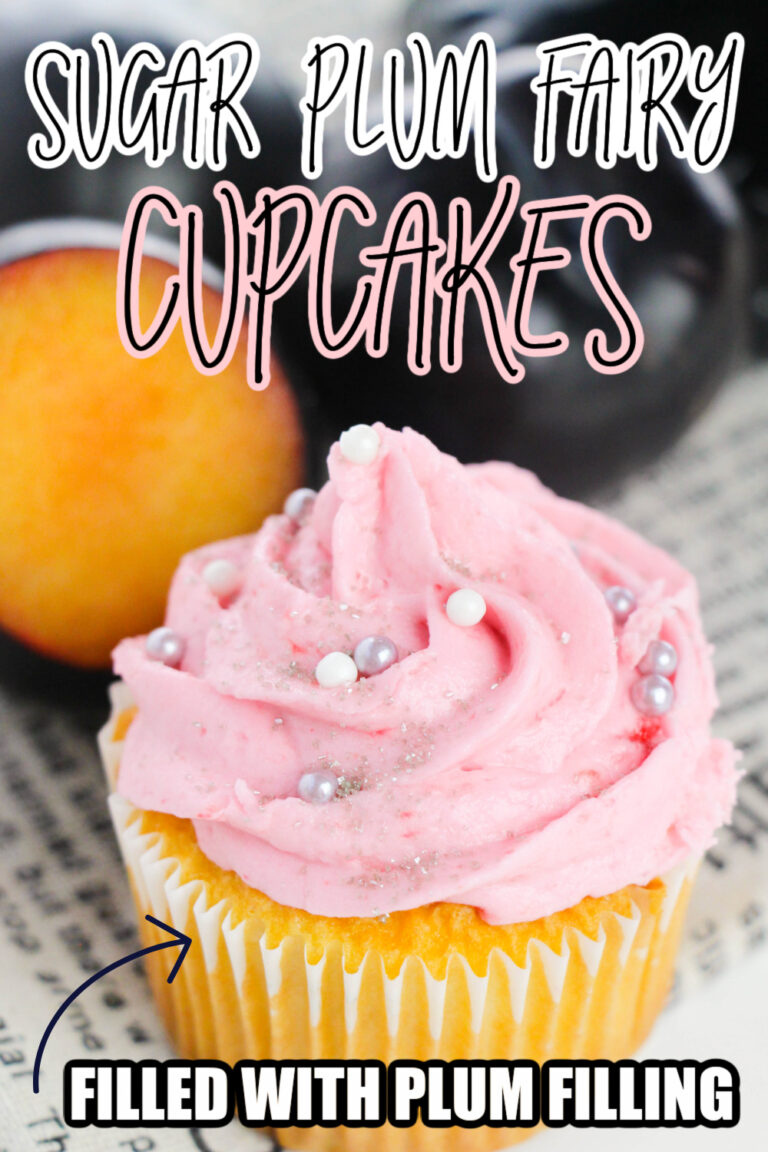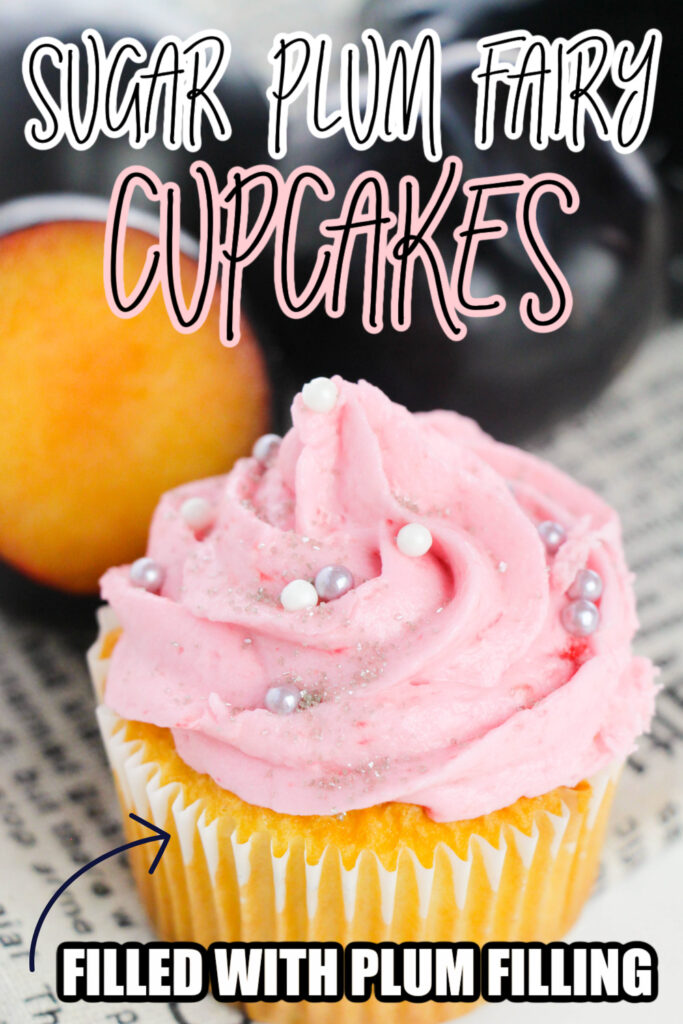 Reader Interactions