Whip up a batch or two of these baked Christmas donuts. A homemade donut baked and then dipped in melted chocolate glaze and then Christmas sprinkles to top your donuts. This holiday donuts recipe is a must-make!
If you want to create a fun breakfast for kids or even a treat for yourself, give this donut Christmas ideas. Whether you want white chocolate or milk chocolate, these baked donuts are a must.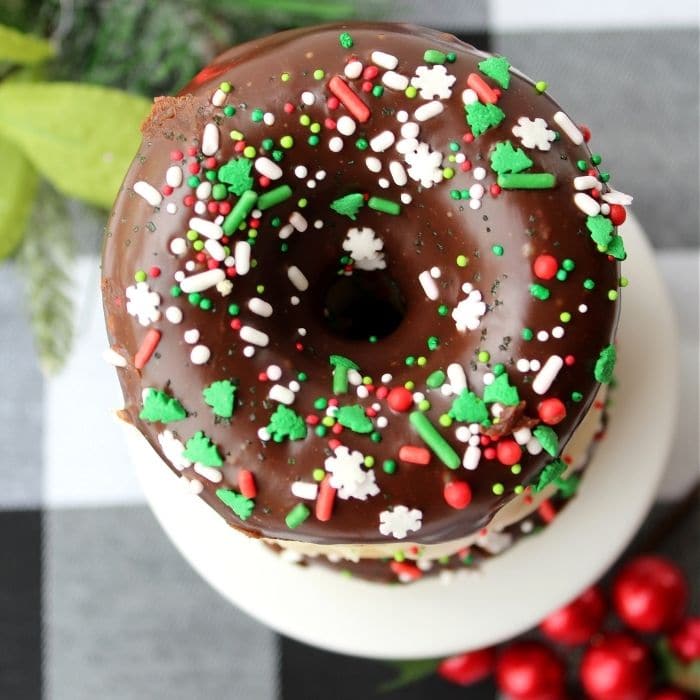 Chocolate glazed donuts are my weakness. My son loved this cake donuts recipe. It is one we make over and over again. Or try my Samoa donuts, red velvet cake donuts. Also, check out my Sugar Plum Cupcakes for a Christmas dessert.
🍩 Why This Recipe Is A Must Make
Basic pantry essential ingredients
Easy prep and baking
A baked donut vs fried
A kid-friendly donut recipe
An easy donut pan recipe you can whip up
Have fun with your kids decorating your donuts
🥄 Main Ingredients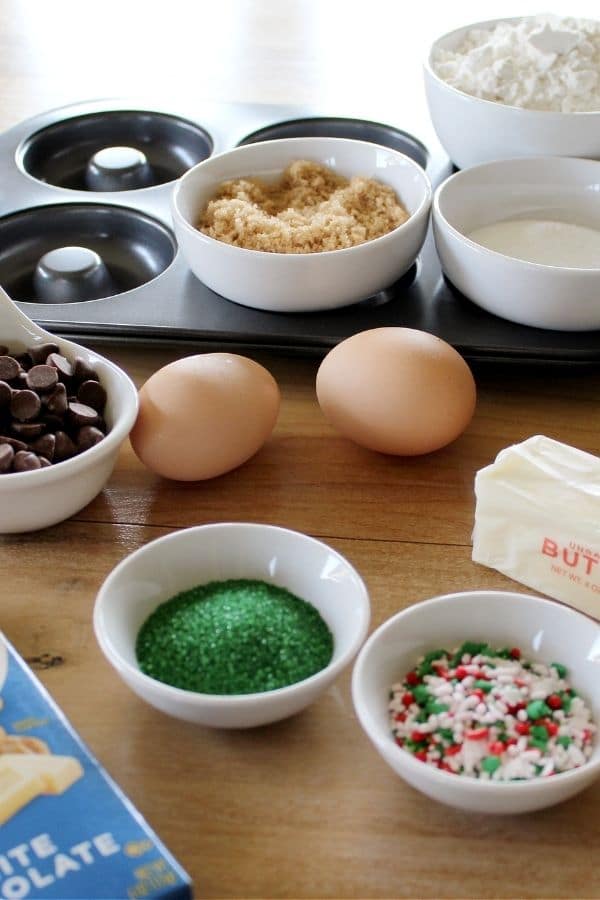 Flour | Grab your flour as the base of these donuts. Light brown sugar and granulated sugar.
Butter & Milk | I do recommend using butter instead of margarine. It has a lot richer flavor to your donuts.
Baking Powder & Salt | Baking powder and salt are a must for these donuts as well.
Toppings | Then melt up your glaze and add sprinkles.
👩‍🍳 How to Make
To make the donuts you start by preheating the oven and spraying cooking spray in donut pan.
Now you will grab a bowl and add the dry ingredients. Flour, brown sugar, granulated sugar, baking bowser and salt. Whisk and set aside.
Now you will add eggs, milk and vanilla and mix well. Add in butter and mix to combine. Slowly add in the dry ingredients.
Pour donut batter into a piping bag or sealable falling back. Cut tip and squeeze batter into wells of the pan.
Bake for 8-10 minutes or until donuts are done. Allow the donuts to cool in pan for about 3-4 minutes.
Now carefully remove donuts from pan and place on a cooling rack.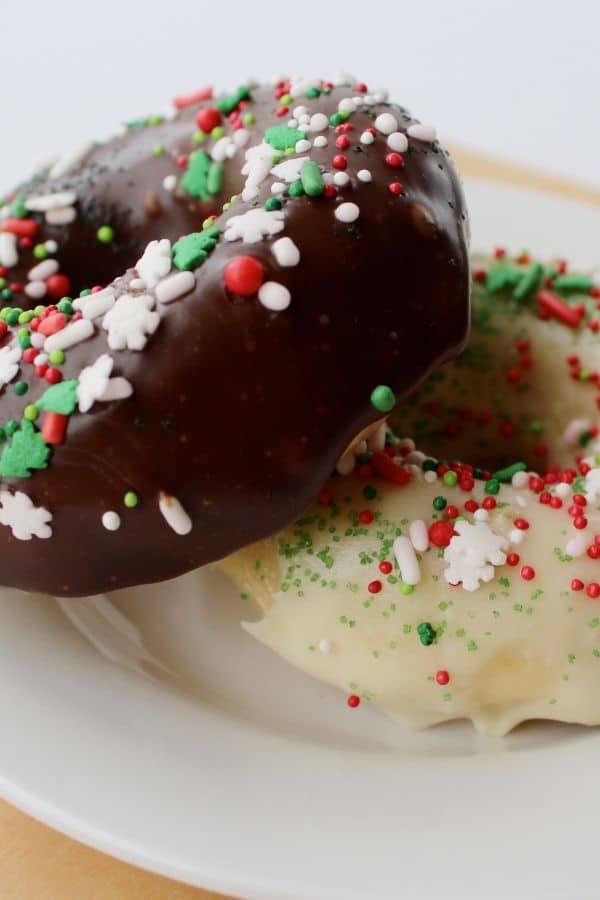 When donuts are cooled you can mix up your glaze. Then dip each donut half way in and chocolate and add sprinkles.
Expert Tips
Essentially you could declare these cake donuts any way you want. You don't have to glaze them.
Store donuts in an airtight container on the counter for 2-3 days.
The donuts will dry out fast, so it is best to make and serve day one.
You can double recipe if you would like.
Freezer Friendly Donuts
One thing I want to point out is you can freeze any donuts you don't plan to eat right away. Once donuts are cooled, place in a freezer friendly container.
Freeze up to 3 months. Thaw on the counter for a quick thaw.
Recipe FAQs
What is the difference between baked and fried donuts?
Fried donuts are a donut batter that gets dropped in a pan with super hot oil. The oil then fries up the donuts. Baked donuts are cooked in a donut pan in the oven.
How do you make baked donuts from scratch?
Whip up your donut batter and then pipe into donut pans. Bake in the oven and then remove and allow donuts to cool in the pan.
What is the difference between a yeast donut and a cake donut?
The process of the donuts is what separates yeast donuts from baked. Baked donuts have a cake-like batter. Yeast donuts use yeast to raise the dough. Yeast donuts are more bread like in texture where baked is more like a cake.
What can I use if I don't have a donut pan?
You can grease and use a cupcake pan in replace of a donut pan. Grease the pan, then wrap aluminum foil around your finger. This will make the "hole" in the donut. Pipe in donut batter and try to keep the aluminum foil hole in the center.
How long does donut glaze take to dry?
The donut glaze will set up anywhere from 5-10 minutes once the donut has been dipped.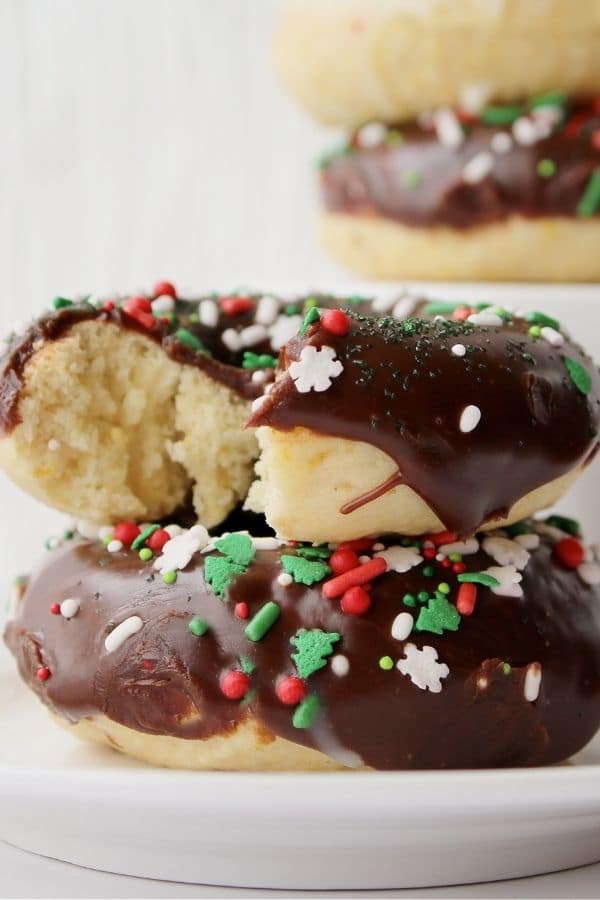 Looking for more breakfast recipe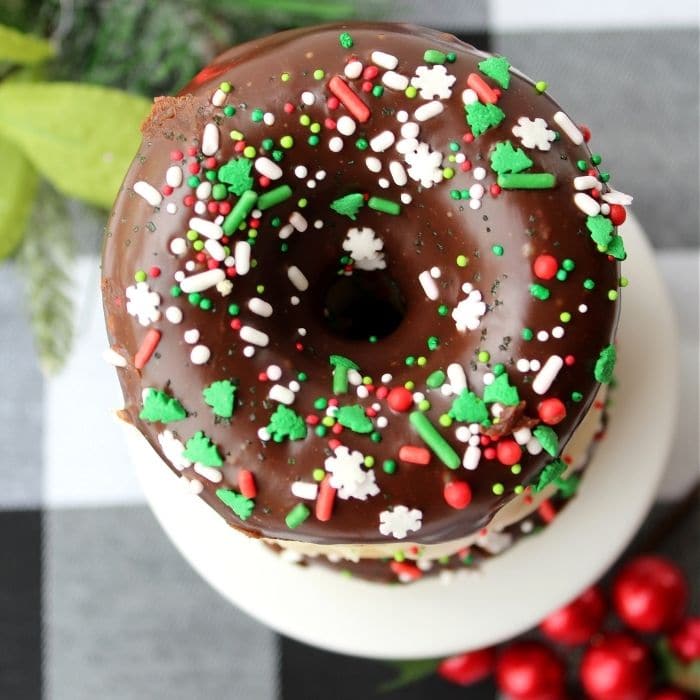 Christmas Donuts
Servings 12 donuts
Christmas donuts are a cake donut, that is baked and then dipped in a chocolate glaze. Whip these holiday donuts up for Christmas morning. The best easy homemade donuts that will win over the crowd! you can roll them in cinnamon sugar, dust with powdered sugar, and more if you want to change up from a glaze.
Ingredients
Donuts:
2 cups all-purpose flour
1/3 cup granulated sugar
1/3 cup light brown sugar
2 tsp. baking powder
1/2 teaspoon salt
2 large eggs
4 tablespoons unsalted butter – melted
3/4 cup milk
1 1/2 teaspoons vanilla extract
Christmas Sprinkles
For the glaze:
1/4 cup + 3 tablespoons heavy cream – this will be divided
1 cup semisweet chocolate chips
1 cup white chocolate – chopped
Instructions
Preheat your oven to 350 degrees. Then spray your donut pan with cooking spray. And Set Aside.

Now in a bowl you will add in your dry ingredients. Flour, brown sugar, granulated sugar, baking powder, and salt. Whisk and set aside.

Now in another bowl add your milk, eggs, and butter and whisk until combined, then add in vanilla.

Slowly incorporate the dry flour mixture and mix until the batter is smooth with minimal lumps.

Now pour the batter into a Wilton piping bag or a gallon size ziploc bag. Cut the end off and pipe the cake donut batter into the donut pan.

Bake 8-10 minutes or until the donuts are fully cooked. Then allow the donuts to sit in the pan for 3 minutes before removing to a cooling rack.


!Glaze

1. Now for the glaze mix 1/4 cup of cream in one bowl and andd the 3 tablespoons of cream in oather bowl. Micrwaove the 1/4 cup cream for 30 seconds. The smaller 3 tablespoons just 15-20 seconds.

2. For the chocolate you will add the semi sweet chocolate into the 1/4 cup, and the white chocolate to the 3 tablespoons. Whisk until the chocolates are fully melted.

Let the glaze sit for 3 minutes covered. Then once donuts are cool uncover and dip each donut half way in the glaze.

Add Sprinkles and your Christmas donuts are let sit on the cooling rack to set up for 15 minutes. Then serve and enjoy these Christmas cake donuts.
Notes
You can do a different dusting on these if you don't want to glaze the donuts. These are freezer friendly, just store properly and freeze for up to three months. You can easily double the recipe, just batch cook. If your glaze seems lumpy just reheat for 10-second increments whisking between heating cycles until it is cool.
Nutrition
Serving: 1g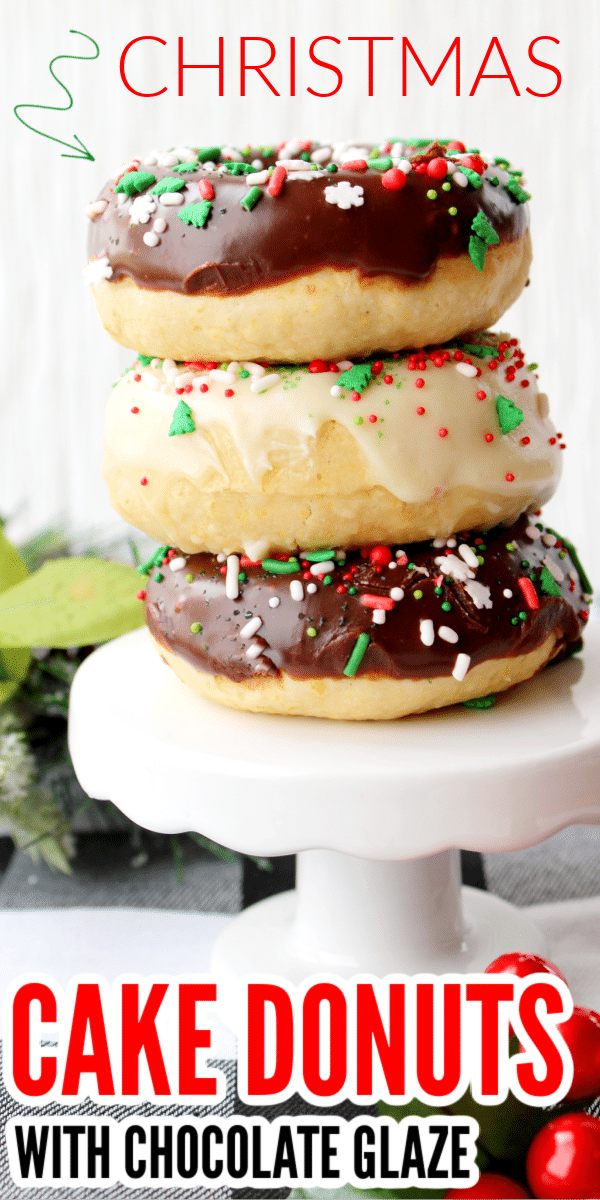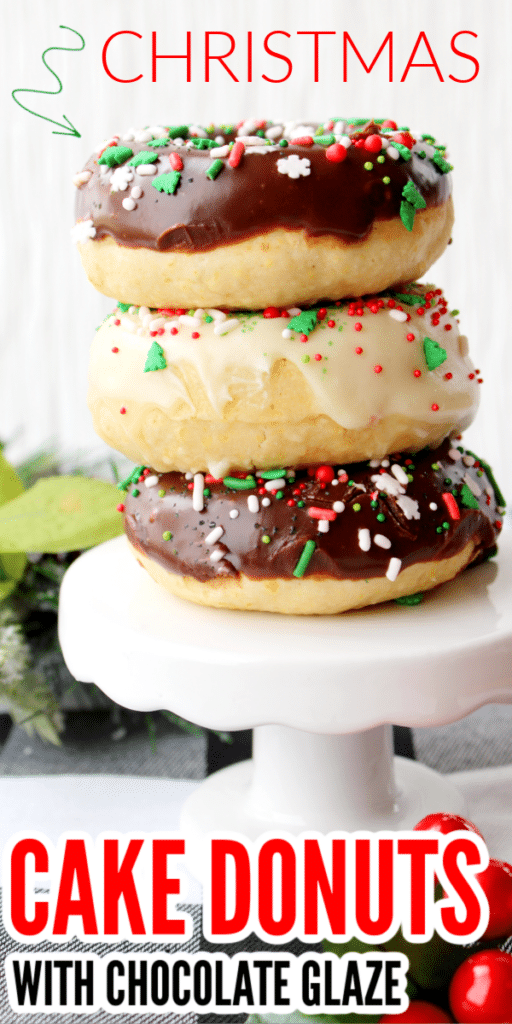 Reader Interactions