Biscuit Casserole is loaded with savory sausage, eggs, biscuits, and drizzled with gravy. An overnight breakfast casserole idea for the fam! Whip this up for dinner or store in the fridge bor a breakfast in the morning.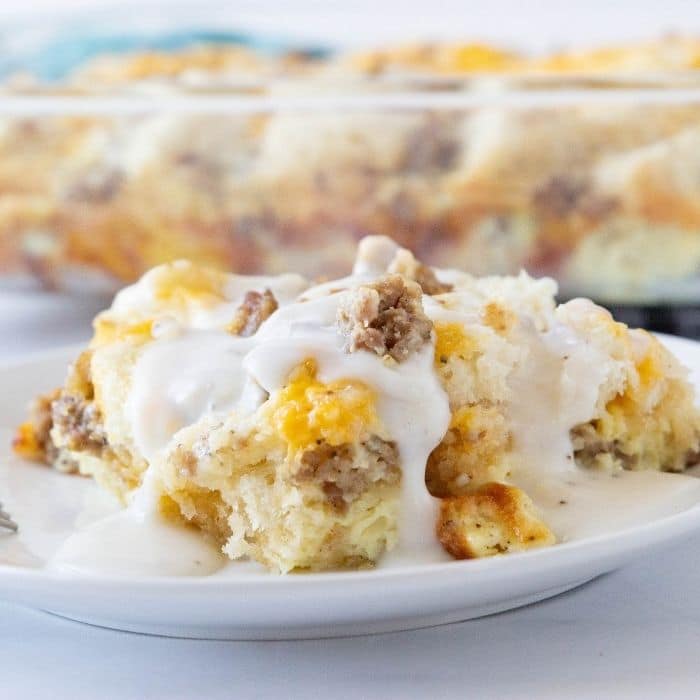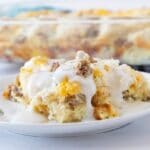 Egg Biscuit Casserole is literally one of the best ways to start the day. Packed full of sausage, biscuits, cheese, eggs, and milk. This simple egg casserole dish couldn't be more simple to make. If you're in the market for an easy overnight breakfast casserole, this is the one for you!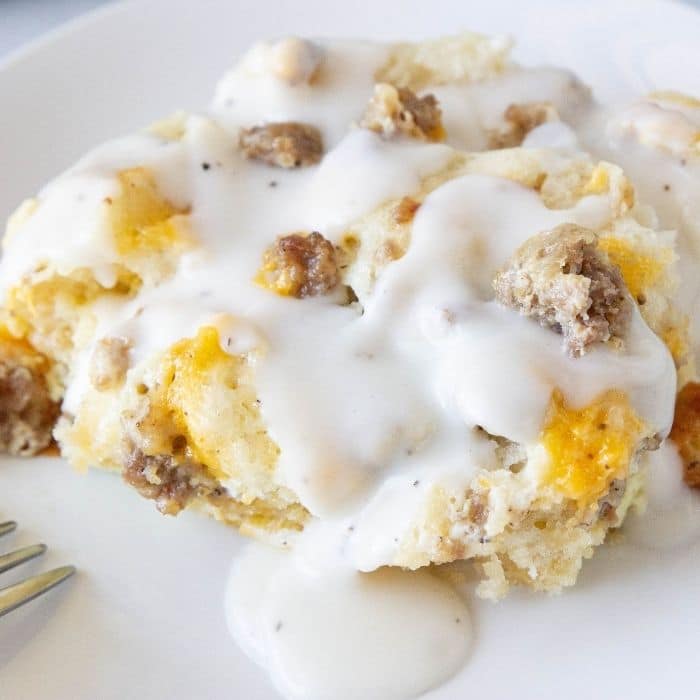 Craving even more simple breakfast recipes? Check out these Instant Pot Apple Cider Donut Muffins, 5 Ingredient Blackberry Biscuits, and this The Best Instant Pot Rice Pudding. Breakfast really is the best meal of the day!
Egg Biscuit Casserole
Anyone else a huge fan of breakfast casseroles with biscuits? There's just something so tasty about waking up and enjoying a warm casserole right from the oven.
I have such fond memories of having this biscuit gravy casserole when I was younger that I'm so excited to make it for our son now. Sitting at the breakfast pub enjoying biscuit casseroles together is my idea of a perfect start to the day.
How To Make Biscuit Egg Bake
In less than 30 minutes of time, you're going to be chowing down on this simple biscuit gravy casserole. Trust me, it's simple AND delicious!
Step 1: Preheat oven to 425.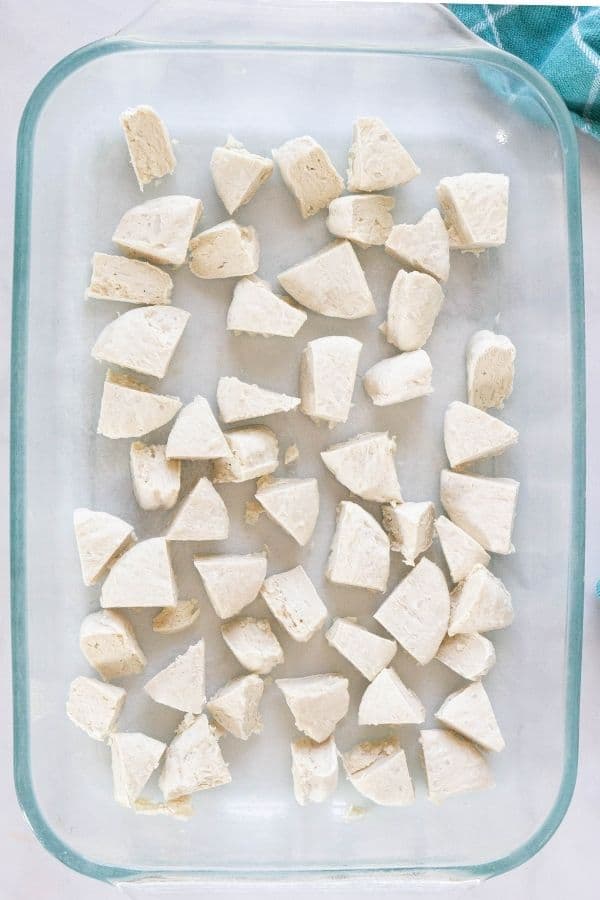 Step 2: Line bottom of greased 9×13 inch baking dish with biscuit dough. I diced my biscuits up into 5-6 slices each. I used frozen Biscuits but you can also use refrigerated biscuits or homemade biscuit dough.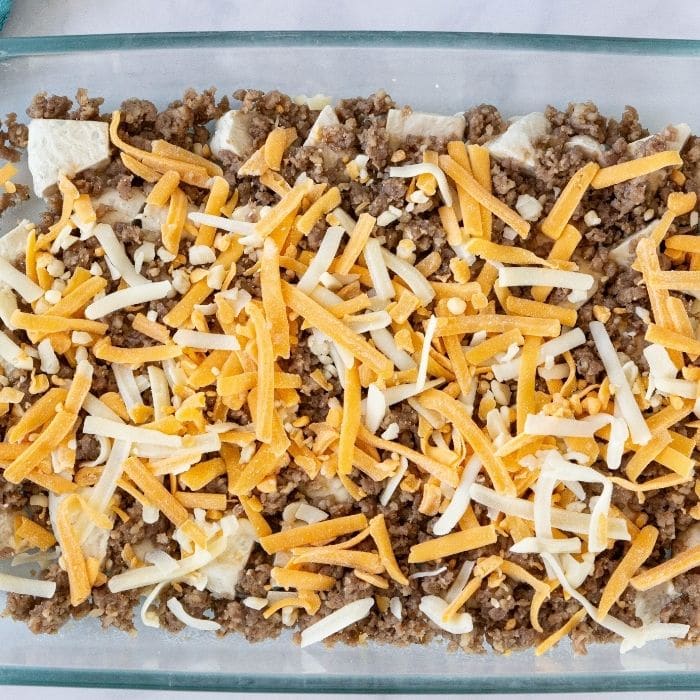 Step 3: Sprinkle with sausage and cheese. Make it evenly spread. I used just classic breakfast sausage, but feel free to swap with a spicy sausage.
Step 4: Whisk together eggs, milk, salt, and pepper in a medium bowl until blended; pour over sausage and cheese. Now mix a packet of gravy with milk and pour over the top as well.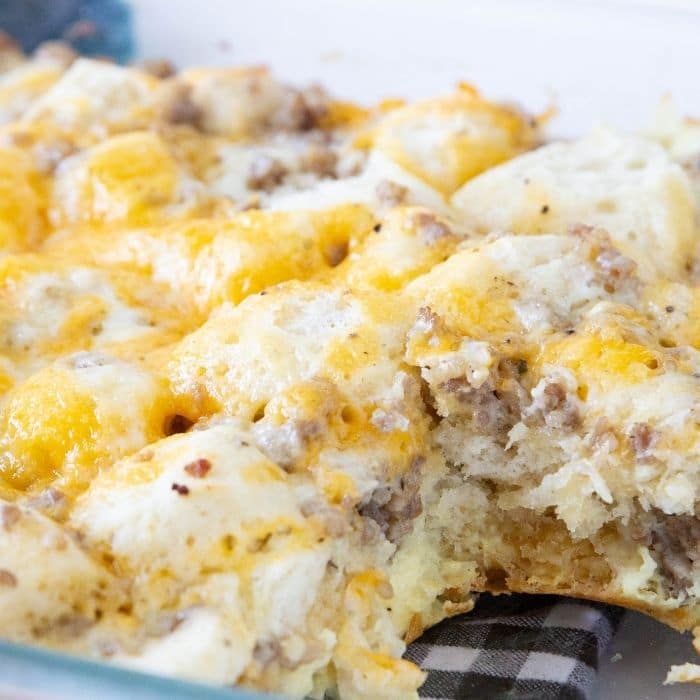 Step 5: Bake 25-30 minutes or until set. Let stand for 5 minutes before cutting into squares; serve warm.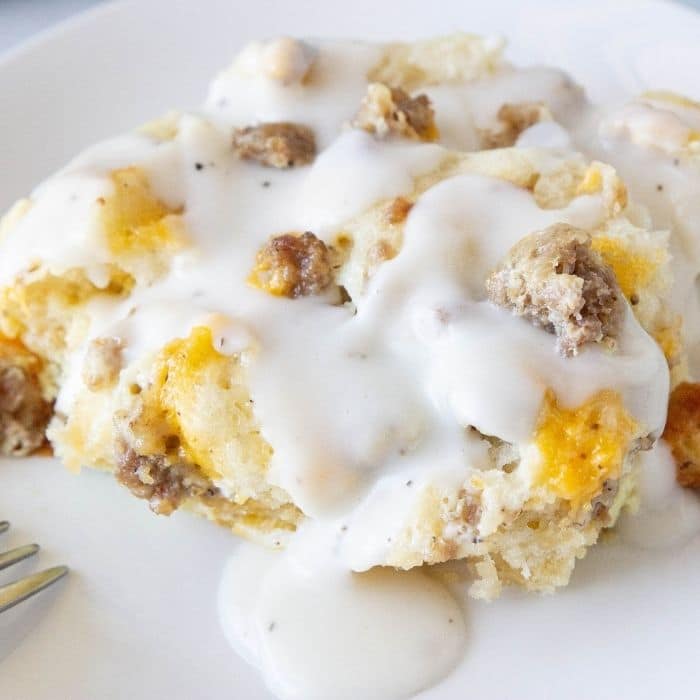 Step 6: Once the casserole is done, whip up the package of gravy and spoon over your casserole for a biscuit and gravy take to the casserole.
Full directions and recipe is in the printable recipe card below.
Can you make this overnight breakfast casserole spicy?
If you want, you can! I have sausage in the recipe below that isn't spicy, but you can certainly add in hot sausage if you want.
Adding in hot sausage is just one way to add in the spice. You can also chop up some fresh jalapenos and add them in if you want or add in some chili powder, too.
If you want heat, there are plenty of ways to make it happen!
How do you know when this egg biscuit casserole is done baking in the oven?
You're going to have to pay attention to this way and judge this based on look. The top should be a golden brown and it should have a firm look to it at first glance.
You need to be certain that it doesn't have any "jiggle" to it, either as that is an indication that the eggs aren't cooked all the way through.
Can you make this egg casserole in advance?
Absolutely! This is one of the biggest reasons why I love this simple recipe so much.
You can literally meal prep the entire recipe the night before and have it waiting in the fridge to bake in the morning.
It's a simple way to save on time in the AM by getting most of it completed the night before in the PM.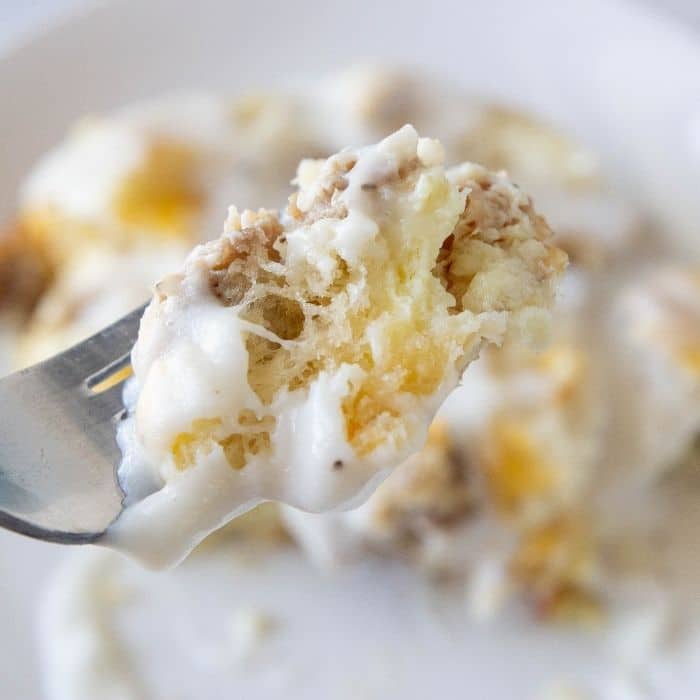 Do you add any toppings to this biscuit gravy casserole?
You can easily add toppings to this simple breakfast dish. I love to add on some fresh salsa and fresh tomatoes and a dollop of sour cream.
You can also drizzle on some honey to make it sweeter as well. (don't knock it til you try it – it's actually really good!)
The best part about this simple breakfast casserole is that once you let it cool and cut it apart, each person can add their own toppings on as they please.
That way, you don't have to put the flavor or topping that you want on the entire thing. Everyone can decide how to add flavor to their own piece.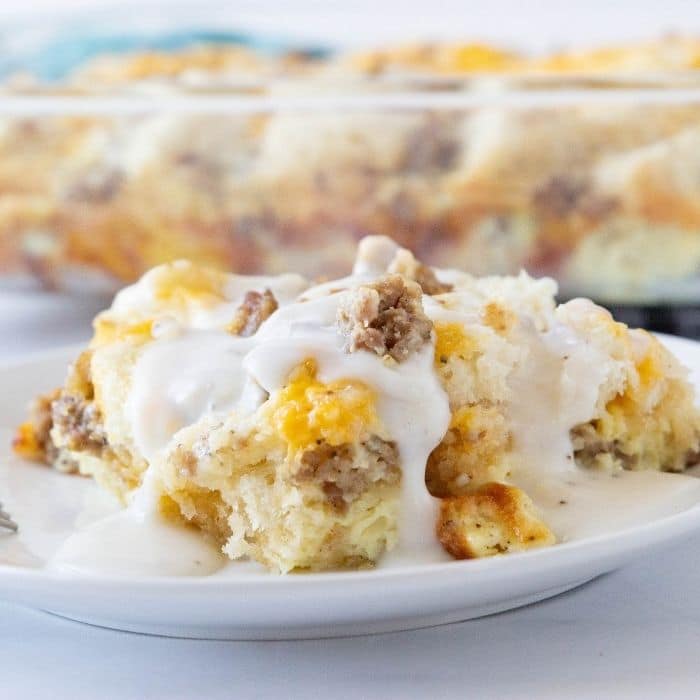 How do you store leftover biscuit egg bake?
Since this makes a pretty big pan of casserole, there's a good chance that you're going to have some leftover. All you really need to do is put a lid on the casserole pan and store it in the fridge.
It will stay fine for a several days and is easy to reheat and enjoy for another morning breakfast or two.
If you have a ton leftover, add it to your freezer but putting it into a freezer safe container and saving it for later.
It should freeze just fine and will unthaw easily when it's time to thaw and enjoy at a later point in time.
This egg biscuit casserole is a simple dish that you're going to love and want to wake up to time and time again.
Here Are A Few More Popular Instant Pot Recipes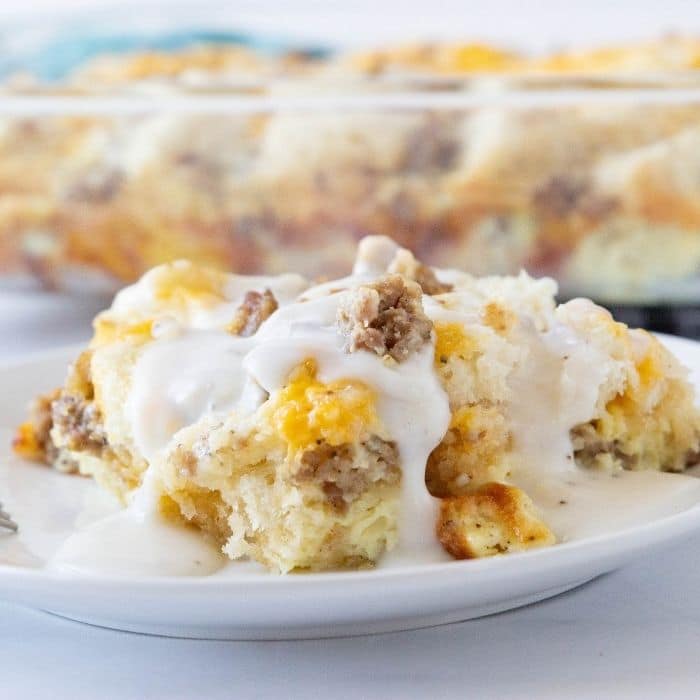 Biscuit Casserole with Sausage and Egg
Servings 9 x13 pan
Biscuit Casserole is loaded with savory sausage, eggs, biscuits, and drizzled with gravy. An overnight breakfast casserole idea for the fam! Whip this up for dinner or store in the fridge bor a breakfast in the morning.
Ingredients
1 pound breakfast sausage
8 biscuits can use canned, frozen buttermilk biscuits, or homemade
5 eggs whisked
1/2 cup milk
2 packets peppered gravy
1 cup shredded cheese
2 cups cold water
1/4 teaspoon pepper
1/2 teaspoon salt
1 teaspoon Worcestershire
Instructions
Start by cooking your sausage in a skillet until crumbled and no longer pink. While that is cooking spray your 9×13 pan with cooking spray. If making right away preheat oven to 350 degrees.

Dice up your biscuit dough and slice into 5-6 wedges, and sprinkle on the bottom of the pan.

Now add your cooked sausage and cheese over the top of the biscuits.

Whisk your eggs, milk, Worcestershire sauce, and salt and pepper in a bowl until well mixed and pour over the casserole.

Now you will mix 1 packet of peppered gravy with 2 cups cold water. Pour over the mixture and cover and bake for 45-50 minutes or until breakfast biscuit casserole is done.

Right before the casserole is done, take your other packet peppered gravy and make it in a skillet following the instructions on the back.

Slice up your biscuit casserole and spoon the extra gravy over the top and serve!

If you want to make this an overnight casserole, prep it all, and cover and place it in the fridge overnight. Turn oven to 350 degrees in the morning and cook covered until fully cooked. This will take an hour or an hour and 15 minutes.
Notes
You can make this right away or store in the fridge overnight for a breakfast casserole
Feel free to use homemade biscuits and homemade gravy if you would like
Swap sausage with ham, bacon, chorizo, etc. if you would like.
Nutrition
Serving: 1gCalories: 340kcalCarbohydrates: 20gProtein: 15gFat: 22gSaturated Fat: 8gPolyunsaturated Fat: 13gCholesterol: 122mgSodium: 749mgFiber: 1gSugar: 1g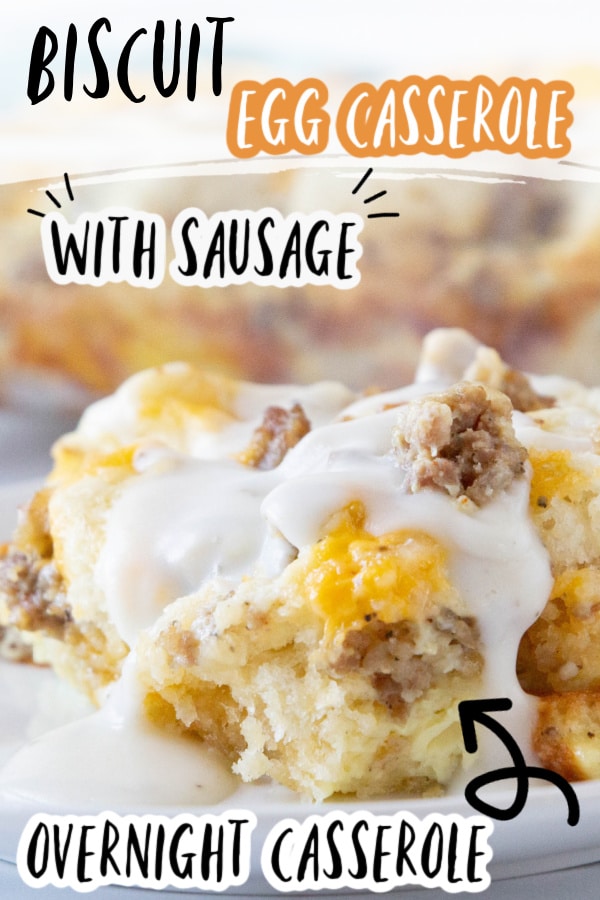 Are you excited to make this delicious overnight breakfast casserole?
Reader Interactions