Apple Cinnamon Muffins are a must for the apple season. Fresh peeled and diced apples, warm cinnamon, and a crumb topping that is sweet as can be. Serve these up for breakfast, brunch or even a mid-day dessert.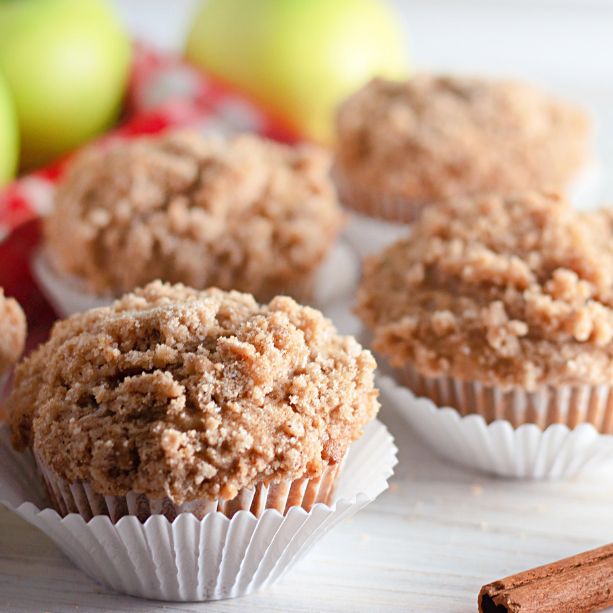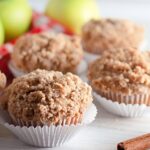 Learn how to make these easy apple cinnamon muffins. An easy muffin batter that is made with fresh apples, cinnamon, and a crumb topping. These apple muffins are one recipe I use all year round, but in the fall months, I make them a bit more than normal.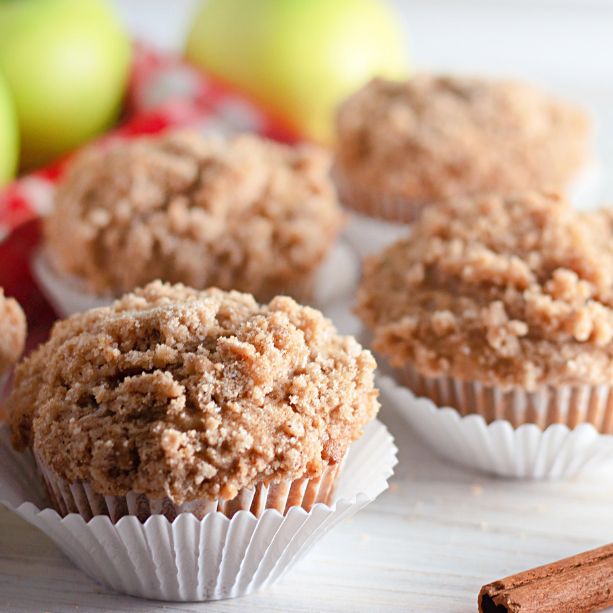 Cinnamon apple muffins can be served up for breakfast, brunch, or even a dessert. The cinnamon sugar crumb topping really adds a lot of texture and flavor to the muffins. The tops of the muffins are my son's favorite part of the fluffy muffins. It is the perfect amount of sweetness paired with the tart Granny Smith apples in each bite.
Reason We Love These Apple Cinnamon Muffins
This is a delicious muffin recipe that is light, sweet, and bursting with flavor. You have the slight tart from apples, and warm cinnamon, in a fluffy muffin.
This muffin is easy to make and serves up your friends and family members. Or gift a loved one.
You can alter and adjust the ingredients to make your muffins fit your liking. From raisins, dried cranberries, nuts, etc.
Make ahead friendly for eating later. Or toss in the freezer for meal prepping for busy mornings. These are the best muffins!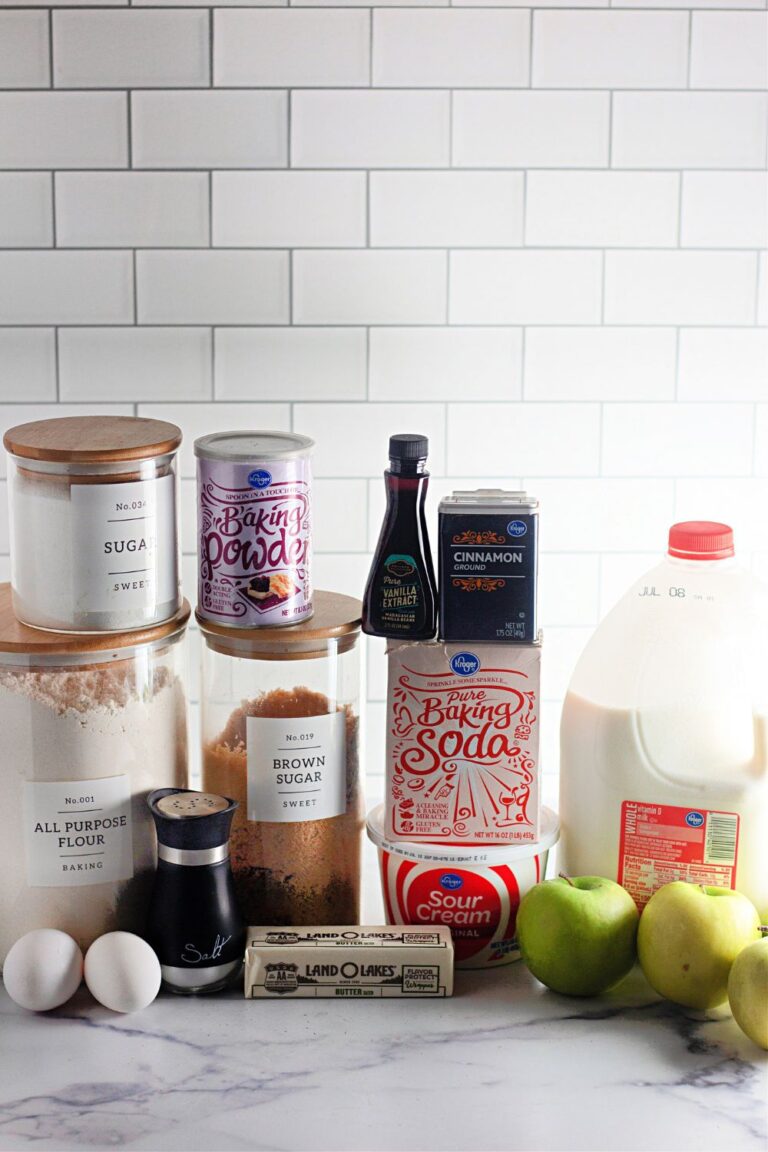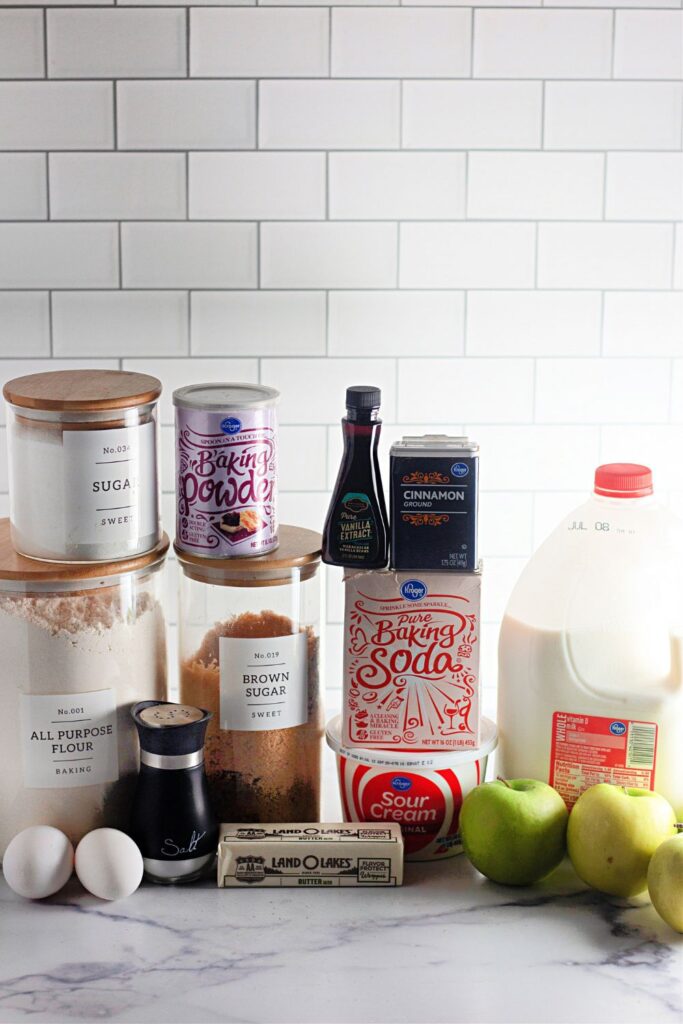 Ingredients
Flour – All-purpose flour is used for the base of the muffins and the crumb topping.
Baking Powder and Baking Soda – These two ingredients will help the muffins rise and create that fluffy and light texture.
Cinnamon – The cinnamon flavor is going to enhance the flavors of the muffin and offer a warm flavor to these tender crumb-topped muffins.
Salt – Salt is going to create tons of flavor in all the ingredients. This is one ingredient you do not want to miss.
Butter – Reach for real butter to create moist muffins and deepen the flavor.
Sugar – Granulated sugar and light brown sugar are both used for the recipe.
Eggs – The eggs are a binder in the recipe. I do recommend room-temperature eggs as they blend so well.
Sour Cream – Sour cream helps to add moisture but also the sour cream really makes the muffins light!
Milk – Milk is used to thin up the batter of course.
Vanilla – Vanilla extract creates a rich aroma of flavor.
Apples – You will want to use baking apples in terms of what kind of apples to use. The best apples are Granny Smith, Gala, Honeycrisp, etc. You can choose what apple you prefer.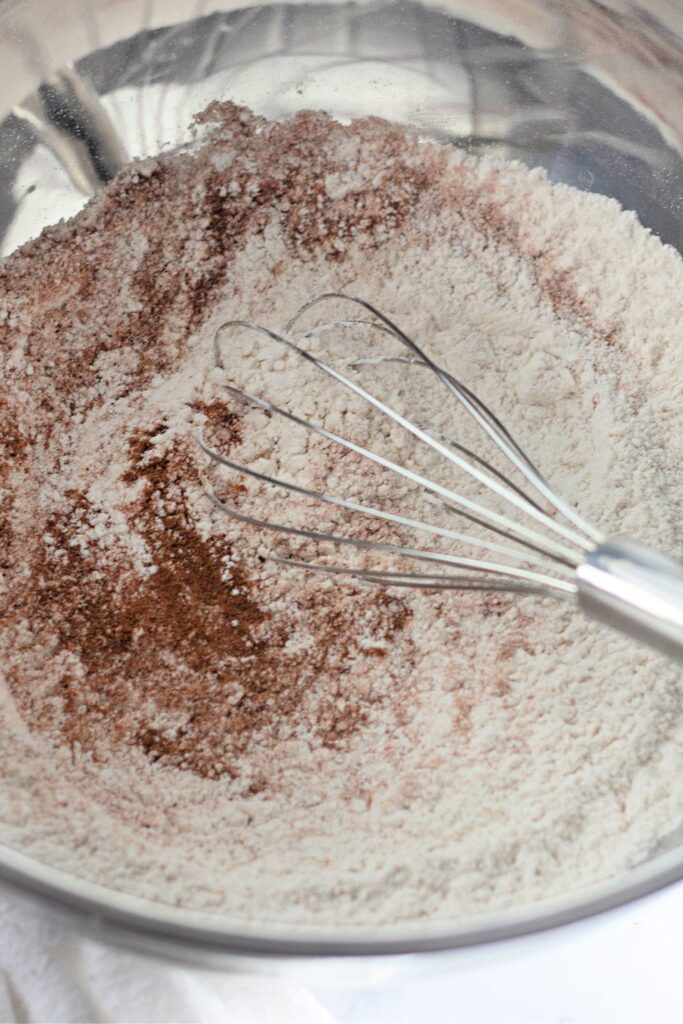 How to Make
Full steps on how to make the cinnamon apple muffins are featured at the bottom of the post. This is a visual walk through of how it is made.
Preheat the oven and prep your muffin tin by placing liners in. Set aside.
Next, you will add your dry ingredients in a bowl and mix to combine. Set it to the side.
Then in another bowl cream your butter and sugars together. Mix on medium speed until light and creamy.
Add in the rest of the wet ingredients and mix to combine.
Slowly work in the dry ingredients until they are well combined.
Fold in the diced apples, and then pour the muffin batter into the pan.
Mix up your crumble topping and spoon over each muffin.
Bake as directed, and once the muffins are done let them cool.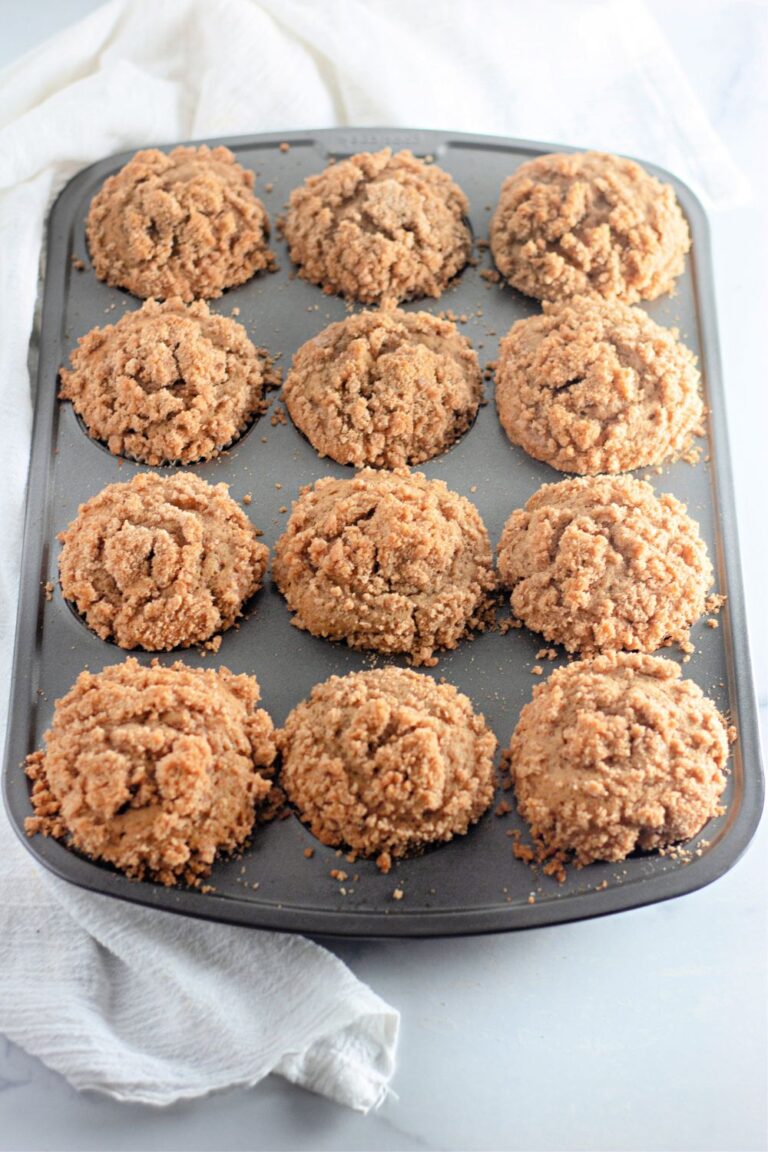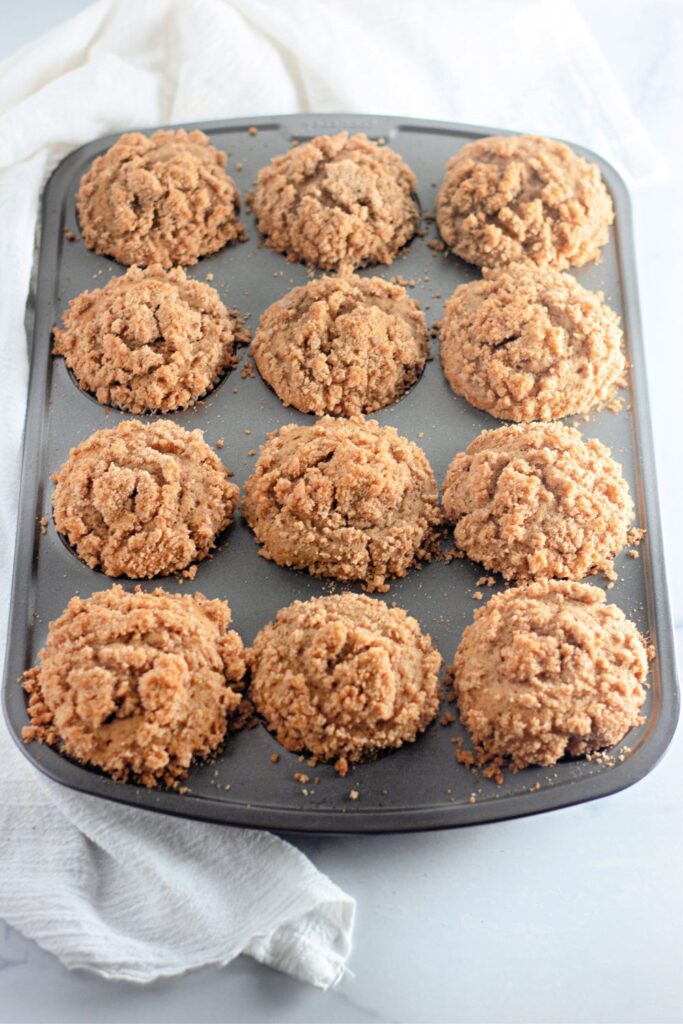 Variations to Recipe
Add in some chopped nuts whether it be sliced almonds, walnuts, or even pecans. I aim for 1/3 cup to 1/2 cup.
Mix in some dried cranberries, raisins, or other dried fruit. Dried blueberries are a great mixture to pair with sweet apples for apple blueberry muffins.
Leave off the crumble topping to make a classic apple muffin recipe.
Instead of regular-sized muffins make jumbo muffins with a jumbo muffin tin or opt for mini muffins! Just adjust the cooking time to fit the size of the muffins.
Do half all-purpose flour and half whole wheat flour to create healthy apple muffins.
Mix in some white chocolate chips milk or semi-sweet chocolate.
Top with a cinnamon streusel.
Make a powdered sugar glaze and spoon over the apple-cinnamon muffins once they have cooled a bit. Adds a bit more sweetness!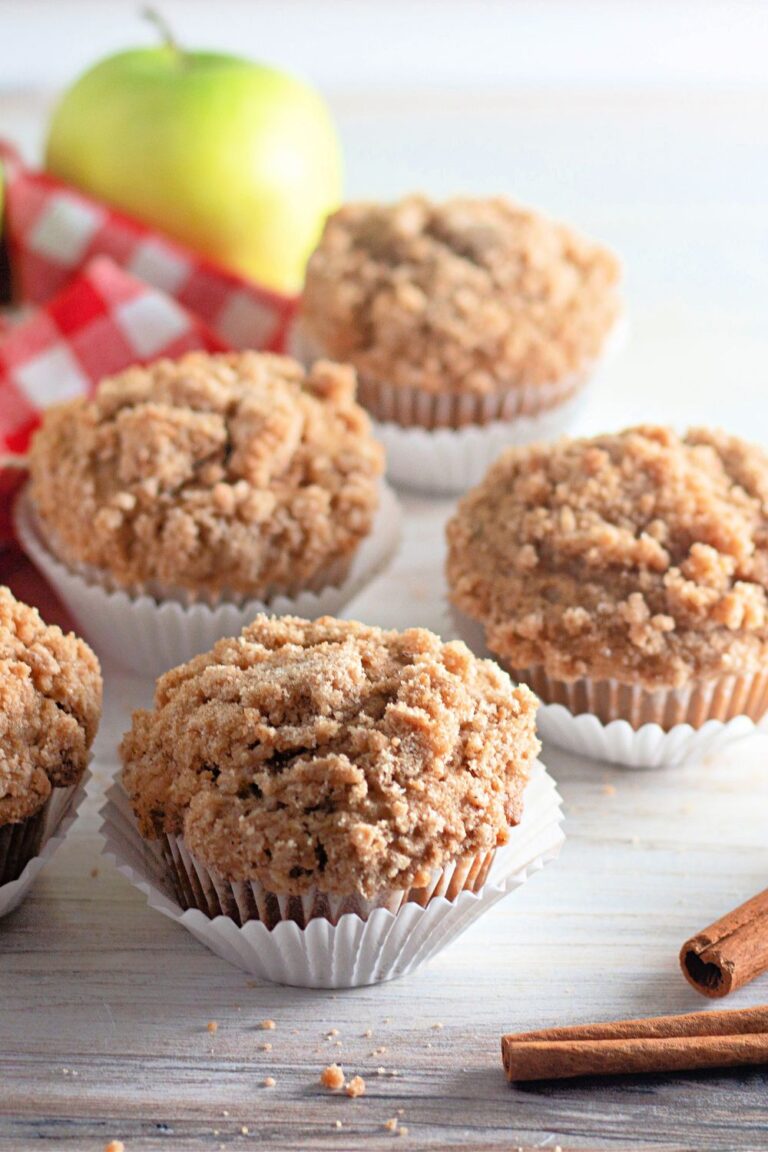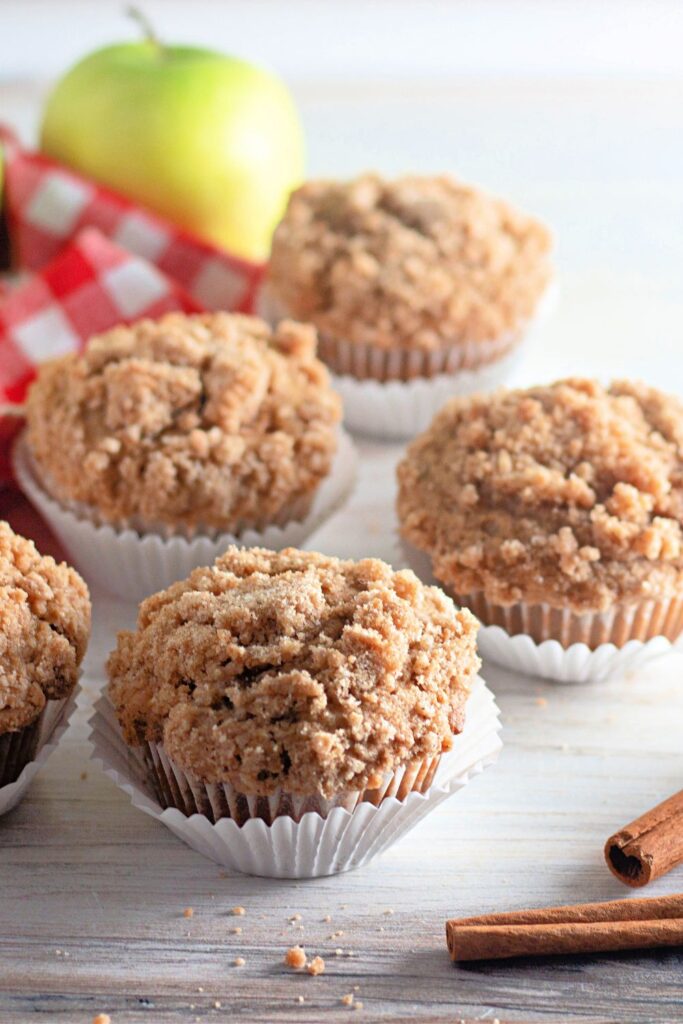 Storing Leftover Muffins
Since there are fresh diced apples in the apple cinnamon muffin recipe I do recommend refrigerating the muffins once they are cooled. Remove from muffin pans and place in an airtight container. Then store for up to 5 days in the fridge. Eat cold or warm them up in the microwave or even the oven.
You can also freeze any of the muffins for later. Just place it in a freezer bag or container. Freeze for 3-4 months. Thaw on the counter for 30 minutes for a quick thaw, refrigerate overnight, or defrost in the microwave.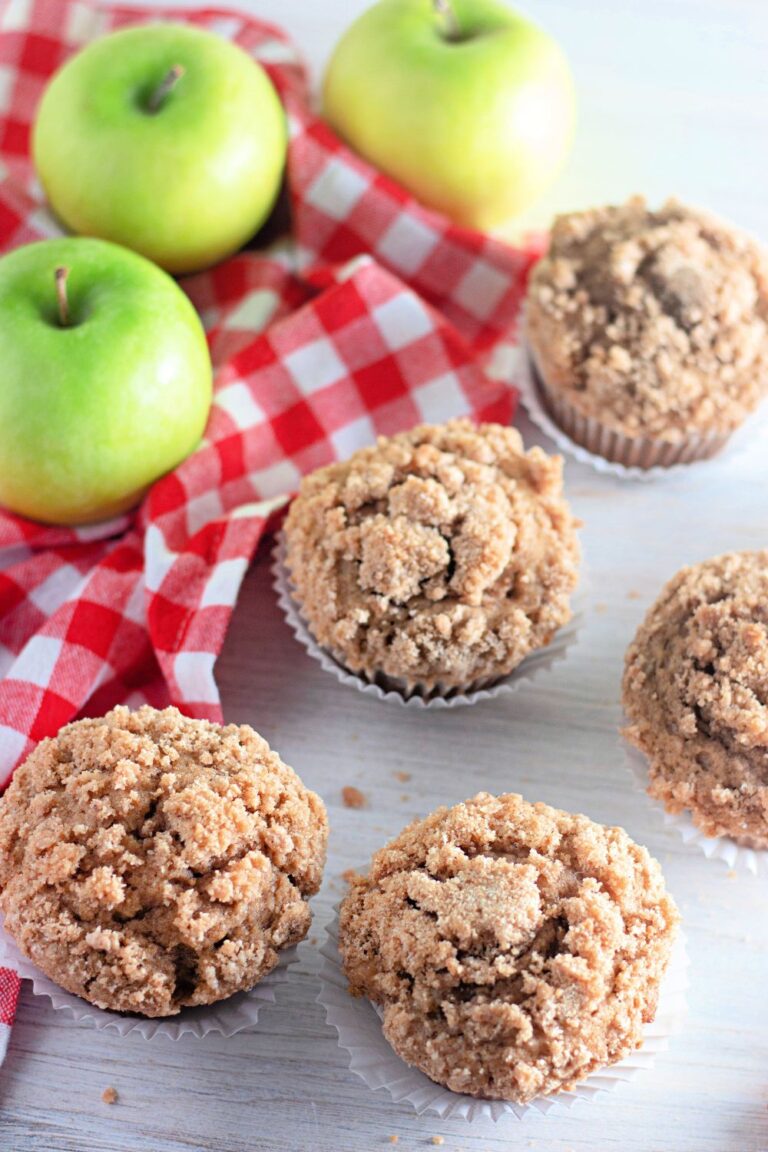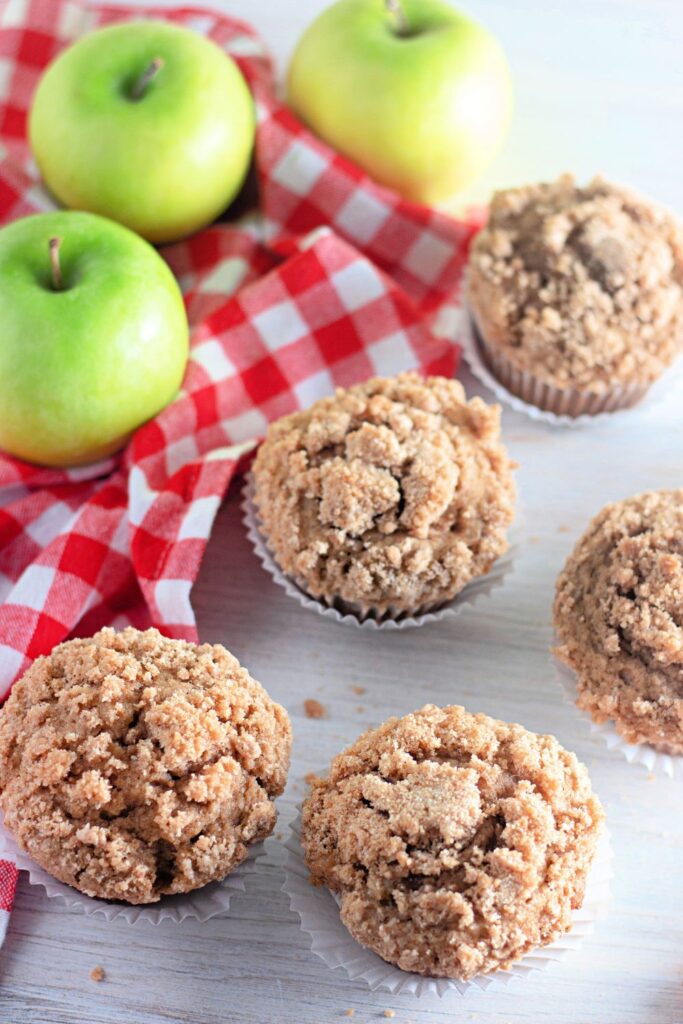 Tips for Success
Evenly Dice Apples
Peel and evenly dice apples into bite-size pieces. You want consistent size so your apples don't overtake the muffins. If you leave the peels on the apples it will create a chewy texture. I prefer no peel on the apples.
Hand Mixer or Stand Mixer
I find that when creaming the butter and sugar together a hand or stand mixer works wonderfully. It ensures all the ingredients are well mixed and you have a very creamy texture to the batter. If you don't have a stand mixer go right ahead and use a spatula and a whisk for mixing.
Use Paper Liners
​Did you know the muffin liners are meant to help keep the muffins nice and moist? They also help for easy removal of the muffin tin as well. You will end up with a nice and moist muffin if you use paper liners.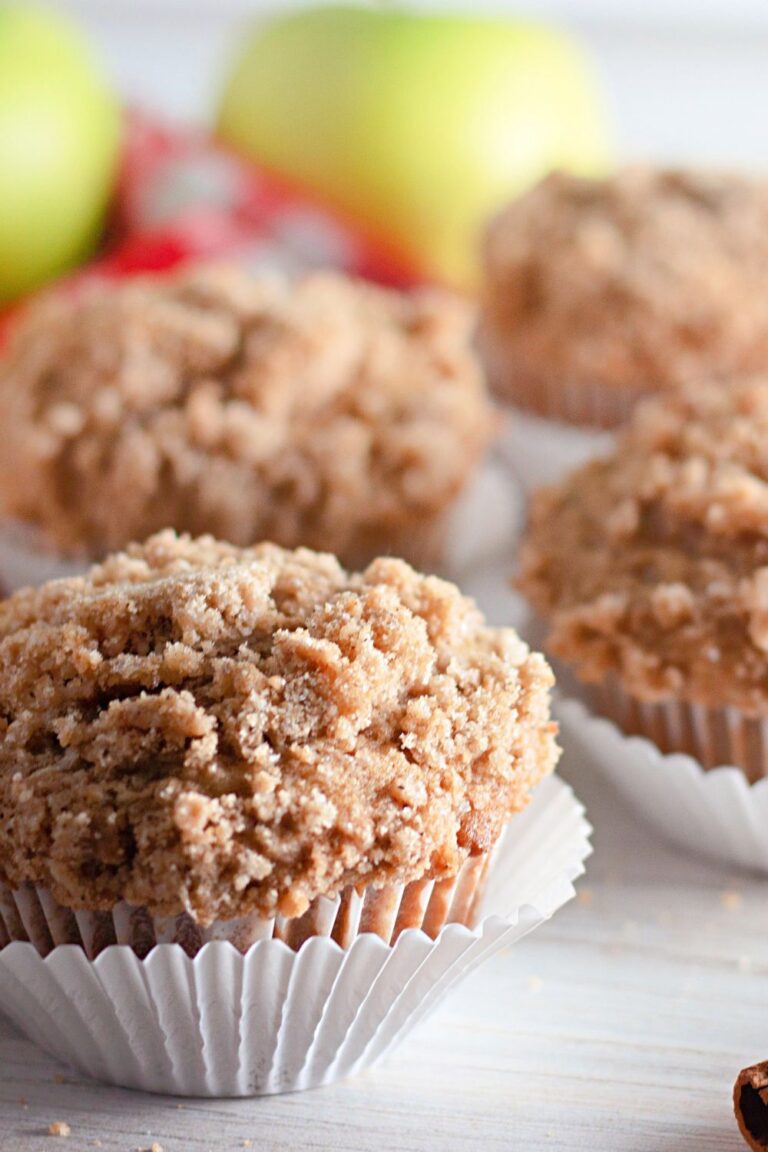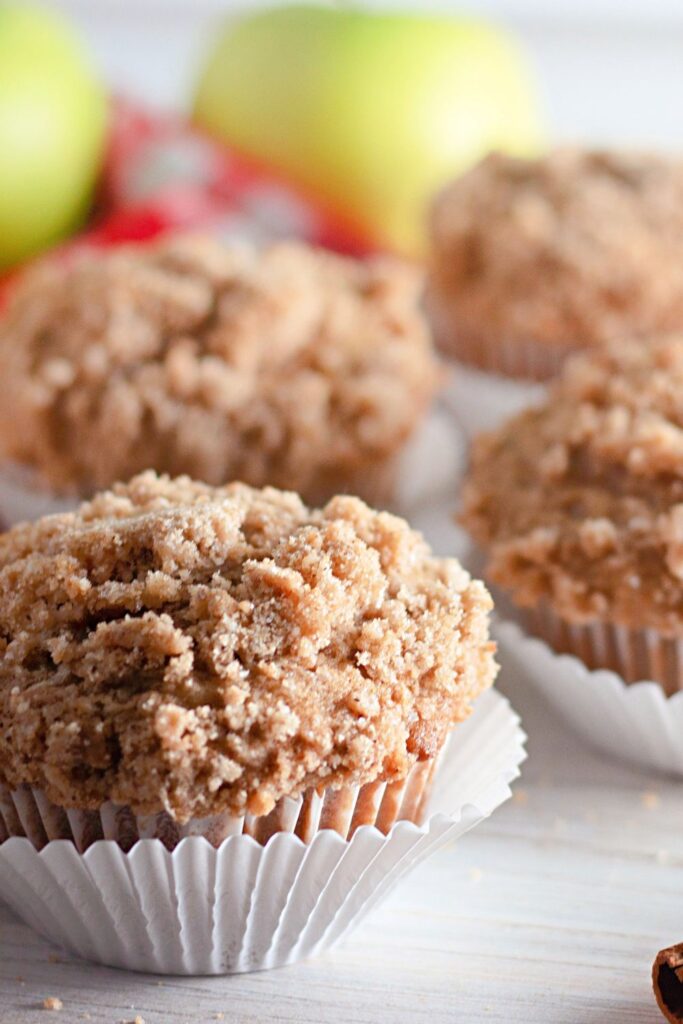 Add Dry Ingredients to Separate Bowl
When you are making the muffin batter I always recommend adding dry ingredients into its own bowl. This ensures all the dry ingredients get well mixed so when you incorporate them into the batter you get it evenly mixed. You can use a medium bowl or large bowl to add dry ingredients.
Double Batch Muffins
You can make a double batch of these easy apple muffins if you want to serve a crowd or have extras on hand. They are a great recipe for apple season. Just batch-cook the muffins and then refrigerate or freeze the muffins until you are ready to serve them up.
Wire Rack for Cooling
​I highly recommend using a cooling rack for cooling your muffins. It allows the muffins to cool from the bottom and the top of the muffins for an even cooling. You never want to store muffins when they are still warm as it can create condensation and spoil or sog up the muffins.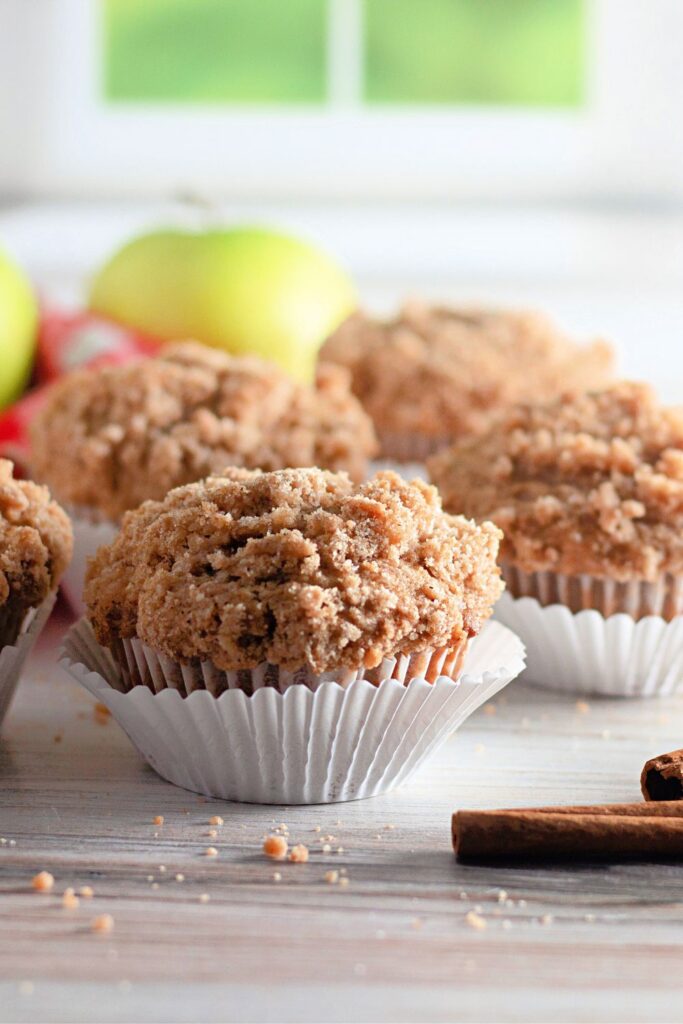 FAQs
Can I make these muffins gluten-free?
If you want to make the muffins gluten-free just reach for a gluten free flour blend to replace the all purpose flour.
Can I use frozen apples instead of fresh ones?
If you have frozen apples on hand, you can use them in replace of fresh. Just thaw and drain off excess liquid and then mix in the muffin batter and bake the same.
How to know when muffins are done?
Muffins will get a little golden on top and firm up in texture. Take a toothpick and stick in the center of the muffins and if the toothpick comes out clean of wet batter the muffins are baked fully. If you find they are still showing gooey muffin batter, return to oven to bake for a bit longer.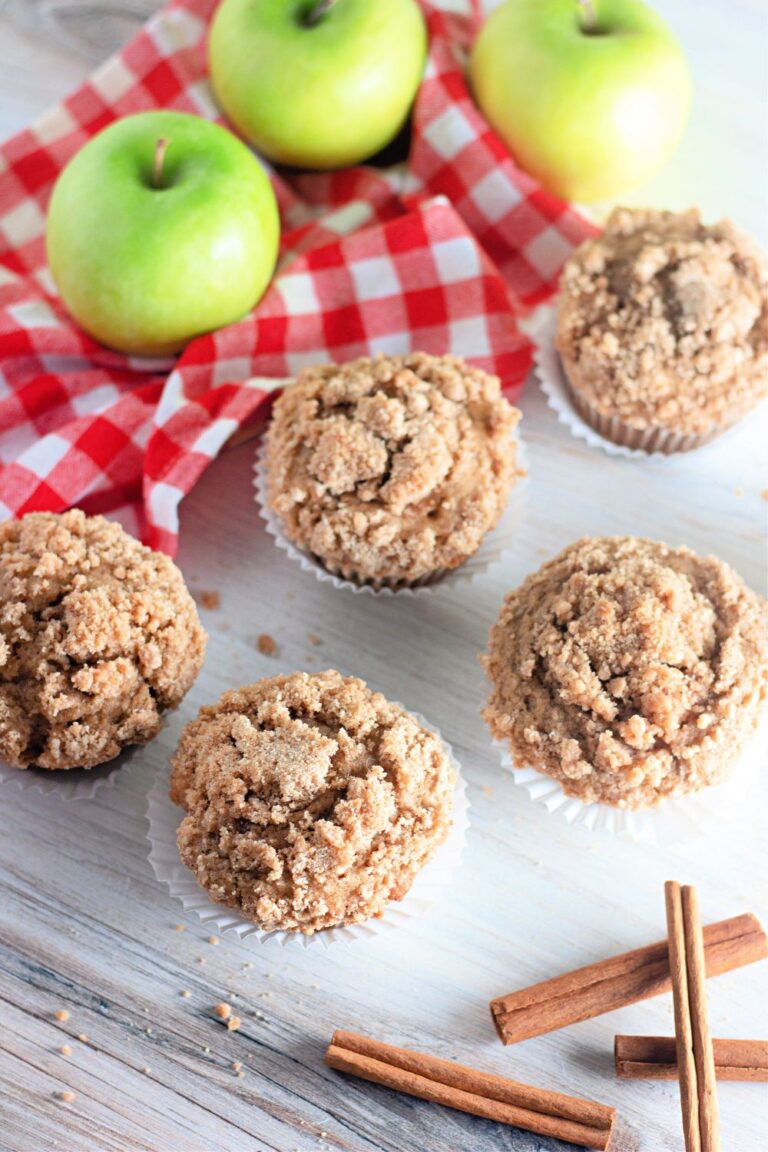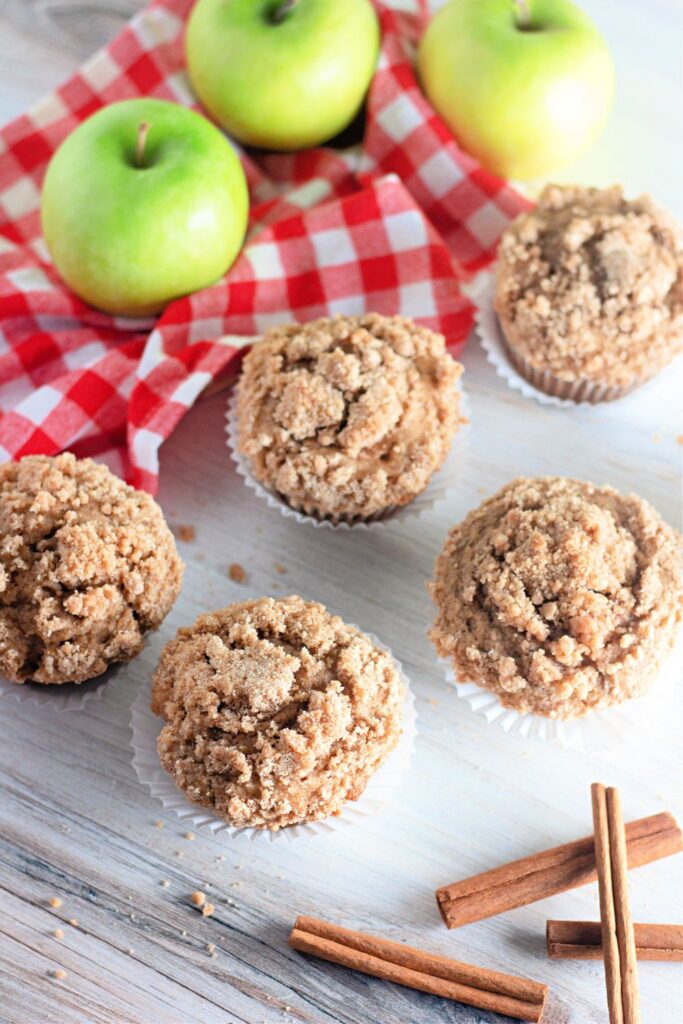 More Apple Recipes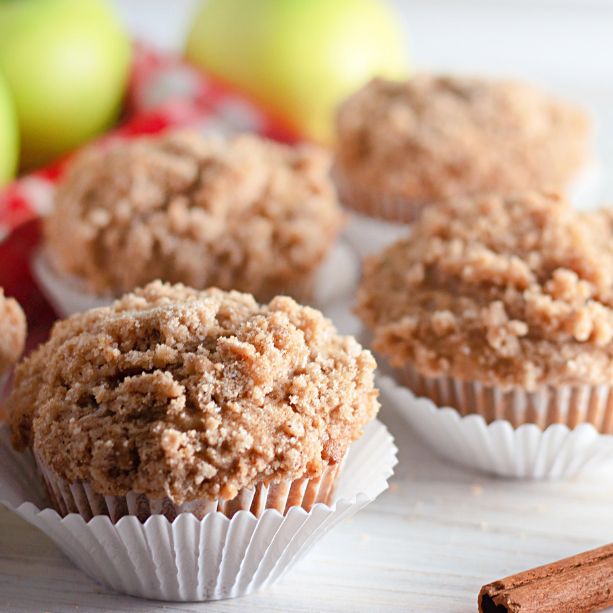 Apple Cinnamon Muffins
Servings 12 servings
Apple Cinnamon Muffins are a must for the apple season. Fresh peeled and diced apples, warm cinnamon, and a crumb topping that is sweet as can be. Serve these up for breakfast, brunch or even a mid-day dessert.
Ingredients
Crumb Topping
2/3 cup all-purpose flour
1/3 cup light brown sugar packed
1 tablespoon granulated sugar
1 teaspoon cinnamon
¼ cup butter softened
Muffin Batter
1 ¾ cups all-purpose flour
1 teaspoon baking powder
1 teaspoon baking soda
1 teaspoon cinnamon
¼ teaspoon salt
½ cup butter softened
½ cup light brown sugar packed
¼ cup granulated sugar
2 large eggs
½ cup sour cream
¼ cup milk
2 teaspoons vanilla extract
2 cups peeled and chopped apples chop into ½-inch chunks
Instructions
Crumb Topping
In a small mixing bowl, whisk together the flour, brown sugar, granulated sugar, and cinnamon.

Cut in the butter until the mixture is crumbly and no pieces of butter are larger than a pea.

Set the crumb topping aside to add to the muffins later.
Muffins
Preheat oven to 425F. Spray 12 cups of a muffin pan with non-stick cooking spray or line with paper muffin cups; set aside.

In a medium mixing bowl, whisk together the flour, baking powder, baking soda, cinnamon, and salt; set aside.

In a large mixing bowl, beat together the butter, brown sugar, and granulated sugar with an electric mixer on medium speed until smooth.

Add the eggs, sour cream, milk, and vanilla extract and mix until well combined.

Pour the dry mixture into the wet mixture and stir together just until the dry ingredients are incorporated.

Fold in the chopped apples.

Scoop the batter into the cups of the prepared muffin pan, filling each to the top.

Spoon the crumb topping evenly over all of the muffins.

Bake the muffins at 425F for 5 minutes, then reduce the oven temperature to 350F and bake for an additional 15-18 minutes until a toothpick inserted into the center comes out clean.

Remove the muffins from the oven and cool in the pan for 5 minutes, then remove and cool completely on a wire cooling rack.
Nutrition
Serving: 1gCalories: 296kcalCarbohydrates: 41gProtein: 3gFat: 14gSaturated Fat: 8gPolyunsaturated Fat: 1gMonounsaturated Fat: 3gTrans Fat: 0.5gCholesterol: 37mgSodium: 241mgPotassium: 106mgFiber: 1gSugar: 21gVitamin A: 423IUVitamin C: 0.1mgCalcium: 54mgIron: 1mg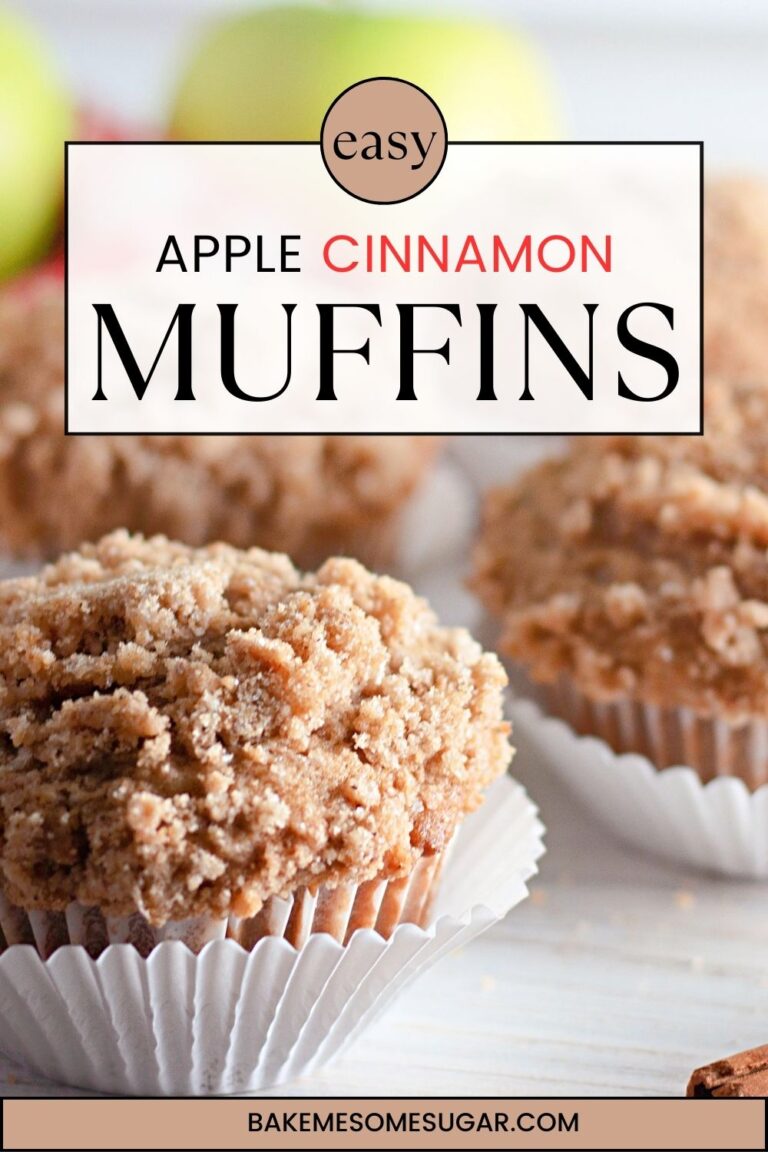 Reader Interactions