This apple butter is one of my favorite fall recipes. A no peel apple butter recipe you can prep and have cooking in the slow cooker in just a few minutes. I used Granny Smith apples, cinnamon, cloves, nutmeg and sugar.
Leave your peeler in the drawer, this is a no peel recipe. Just chop, toss in the slow cooker and let it handle the rest. If you love sweet apple recipes you have to try out my cheesecake stuffed apples. Or for a savory option try my apple pork loin I make in the slow cooker.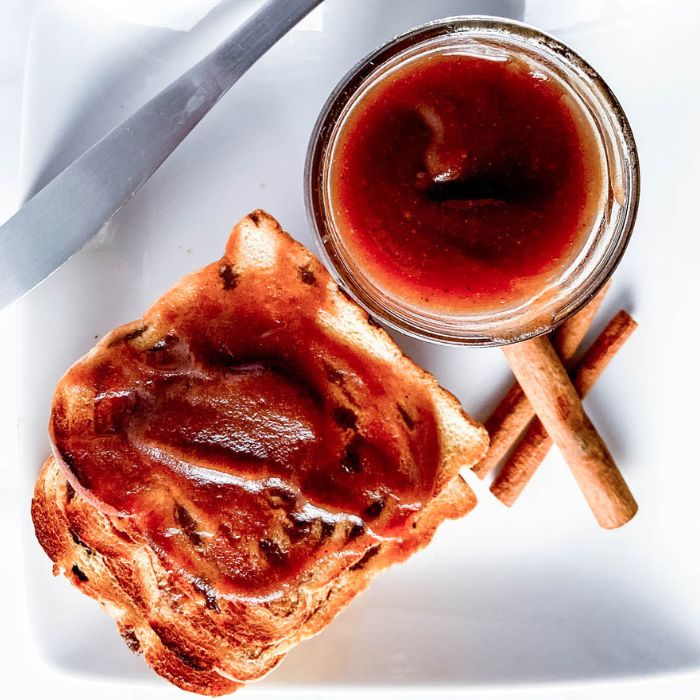 This Apple Butter Recipe Is…
Homemade apple butter recipe
Easy slow cooker recipe
Great for apple picking and great way for using up a surplus of apples
No need to peel the apples
Great for a dessert, breakfast condiment, and more.
Warm spices
Create the desired consistency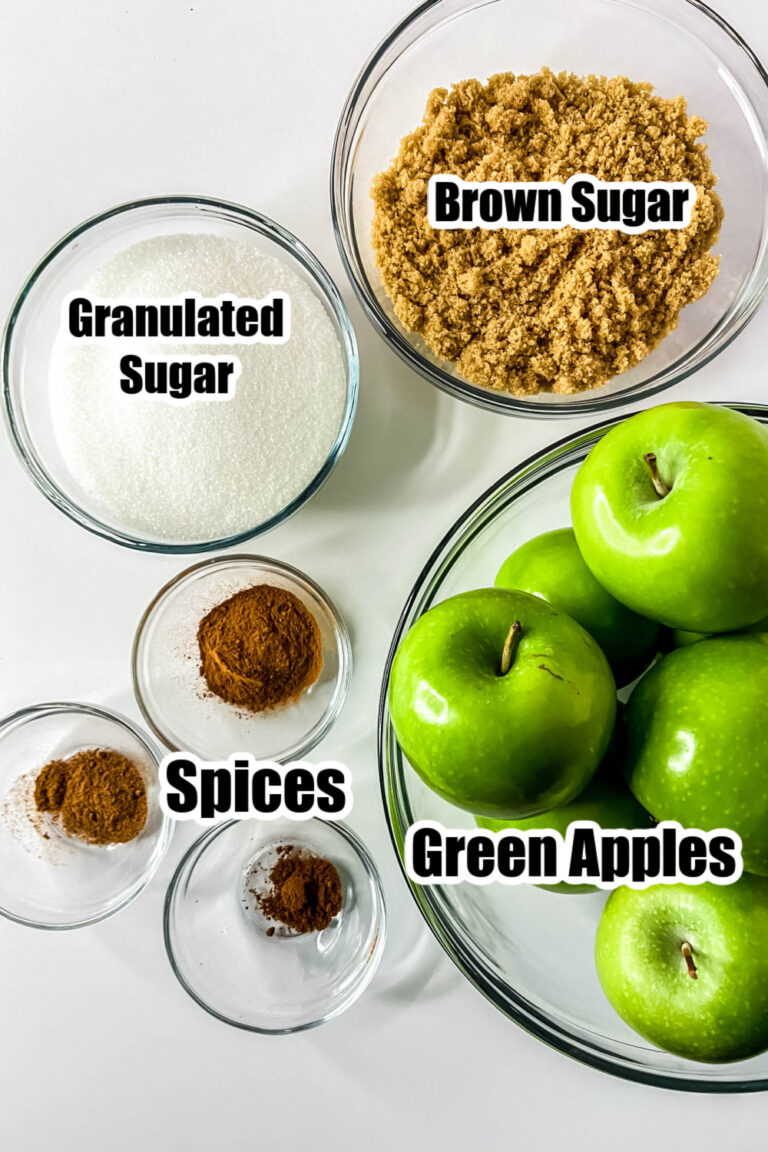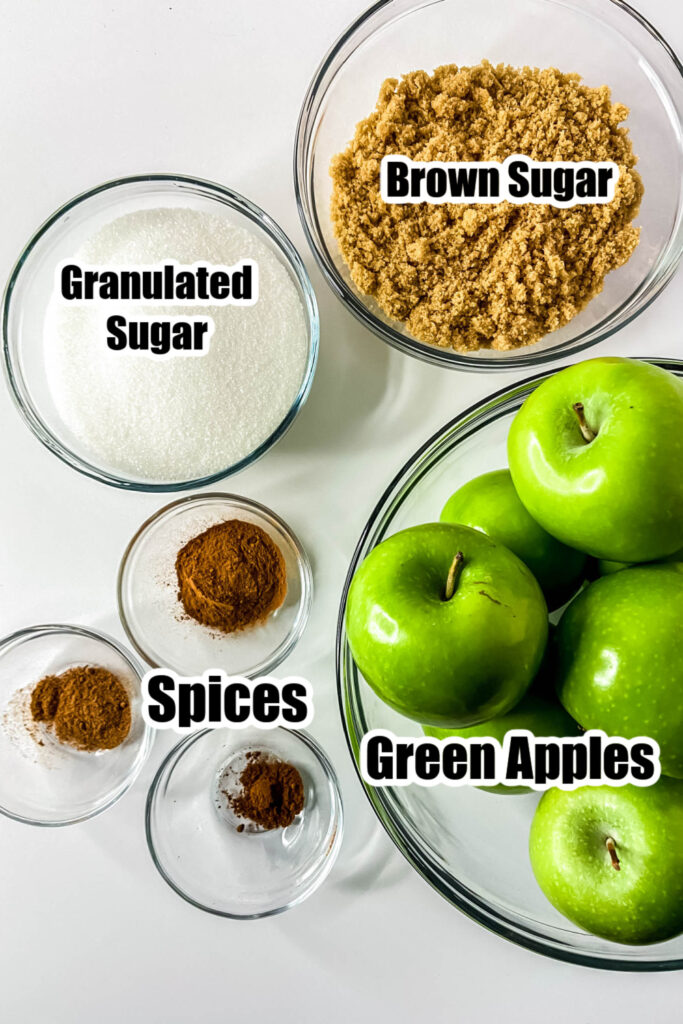 Ingredients
Apples – So I used Granny Smith apples, but you are more than welcome to reach for honey crisp apples, gala, or any other type of baking apples.
Granulated Sugar and Brown Sugar – I find the blend of both sugars works best in flavoring the apple butter. It offers more dimension in flavor.
Cinnamon, Nutmeg, and Ground Cloves – These three spices will create such richness to the apples. It will also make your home smell amazing as the crockpot apple butter cooks.
Tools
Cutting Board
Knife
Crockpot Liner (optional)
Glass Jars – I used mason jars
How to Make
Full steps and measurements on how to make apple butter are in the printable recipe card at the bottom of the post. This is a quick walk through.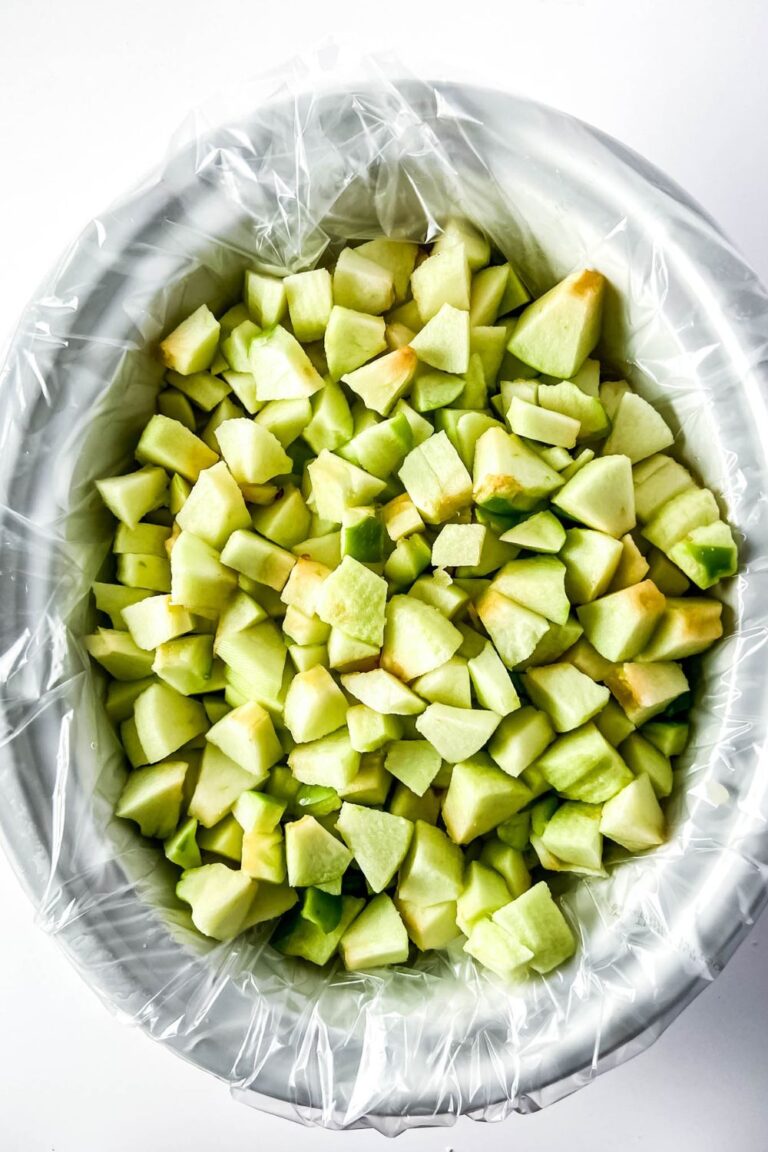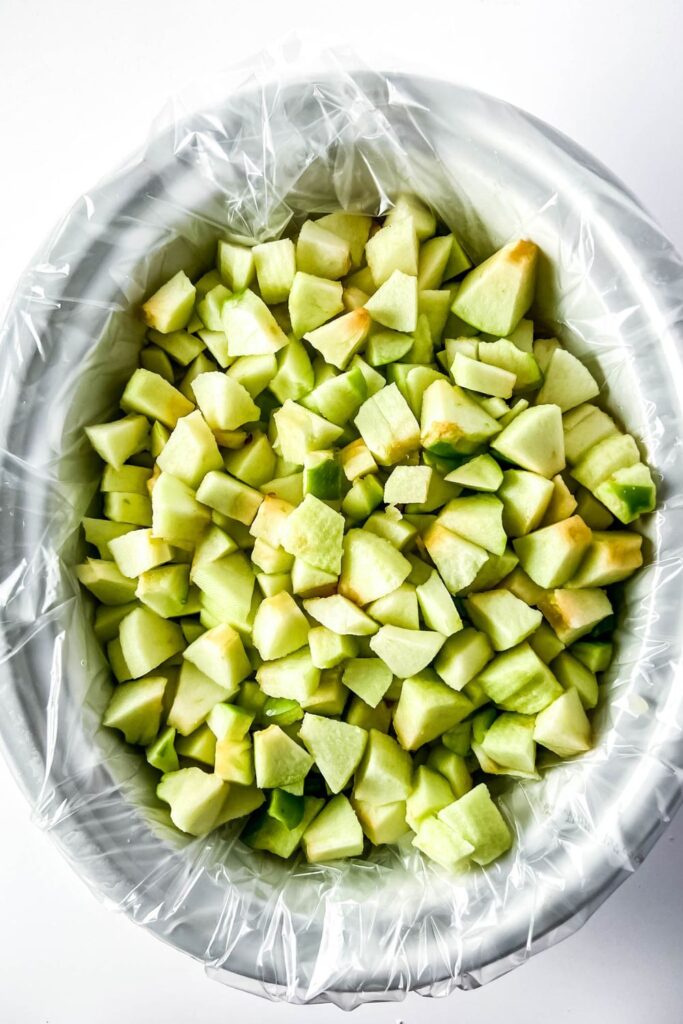 Step One: Start by prepping your apples. I diced my apples up into one-inch cubes. Place the apples into a lined crock pot.
Step Two: Next you will add your brown sugar, granulated sugar, and the three spices in a medium bowl. Mix to combine the ingredients.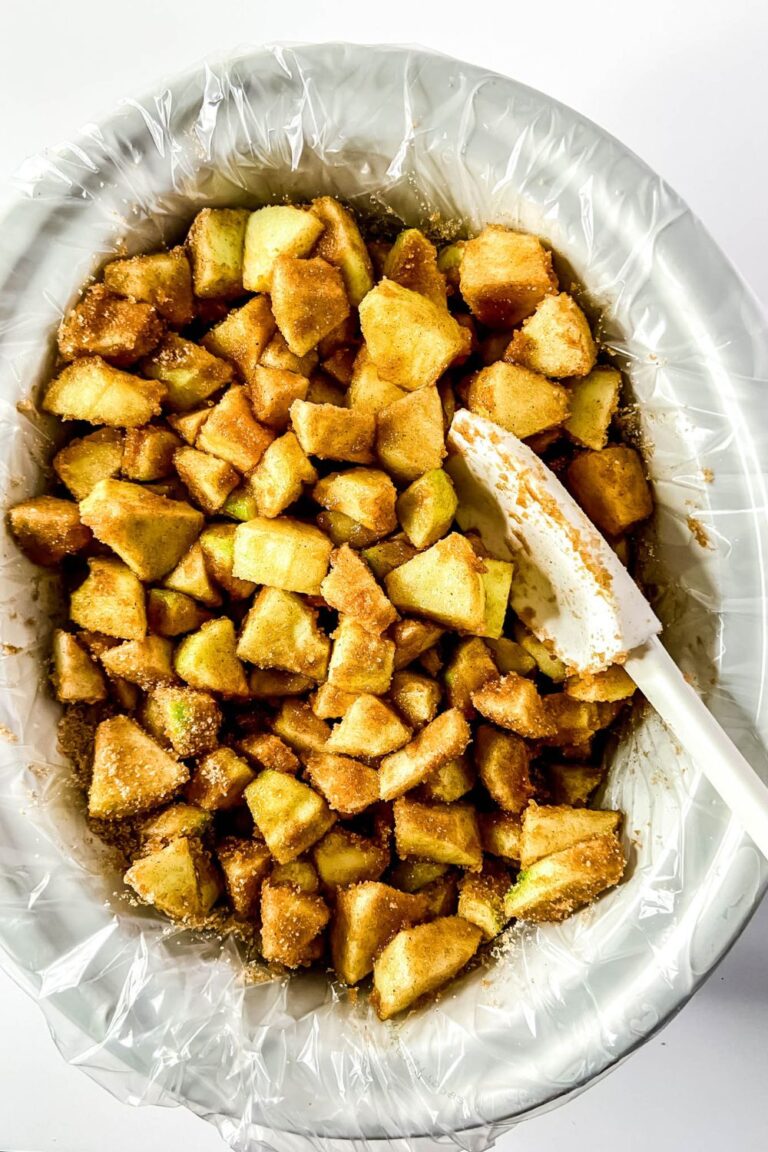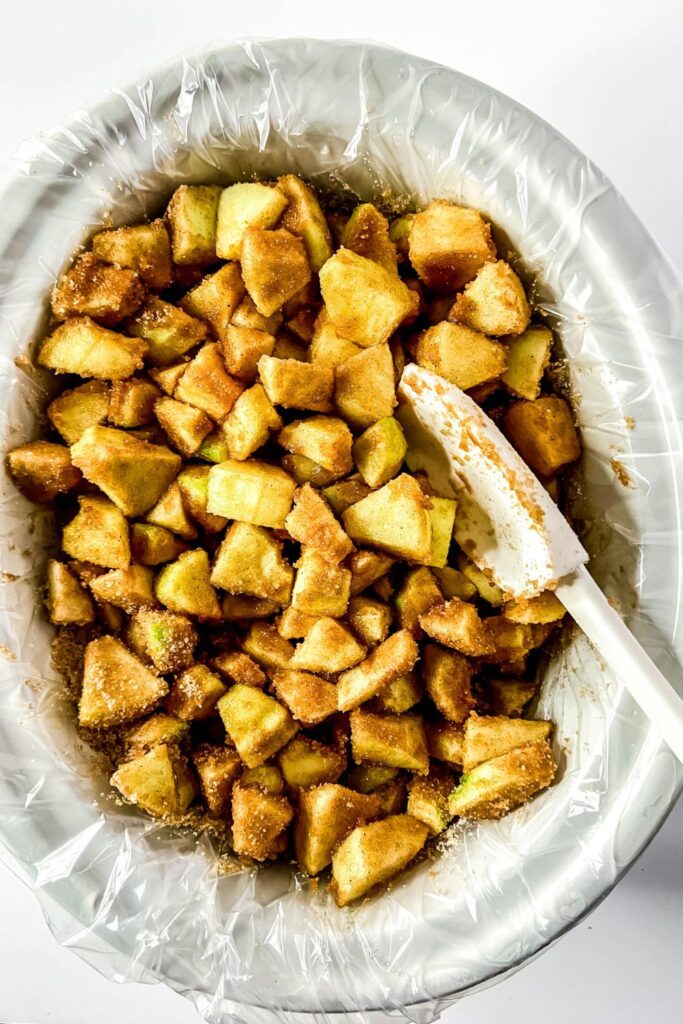 Step Three: Next you will pour the sugar mixture over the apples. Stir to combine.
Step Four: Place the lid on your crock pot and then cook on high for 5 hours, or low for 10 hours. You will want to stir a few times as it cooks to incorporate the ingredients.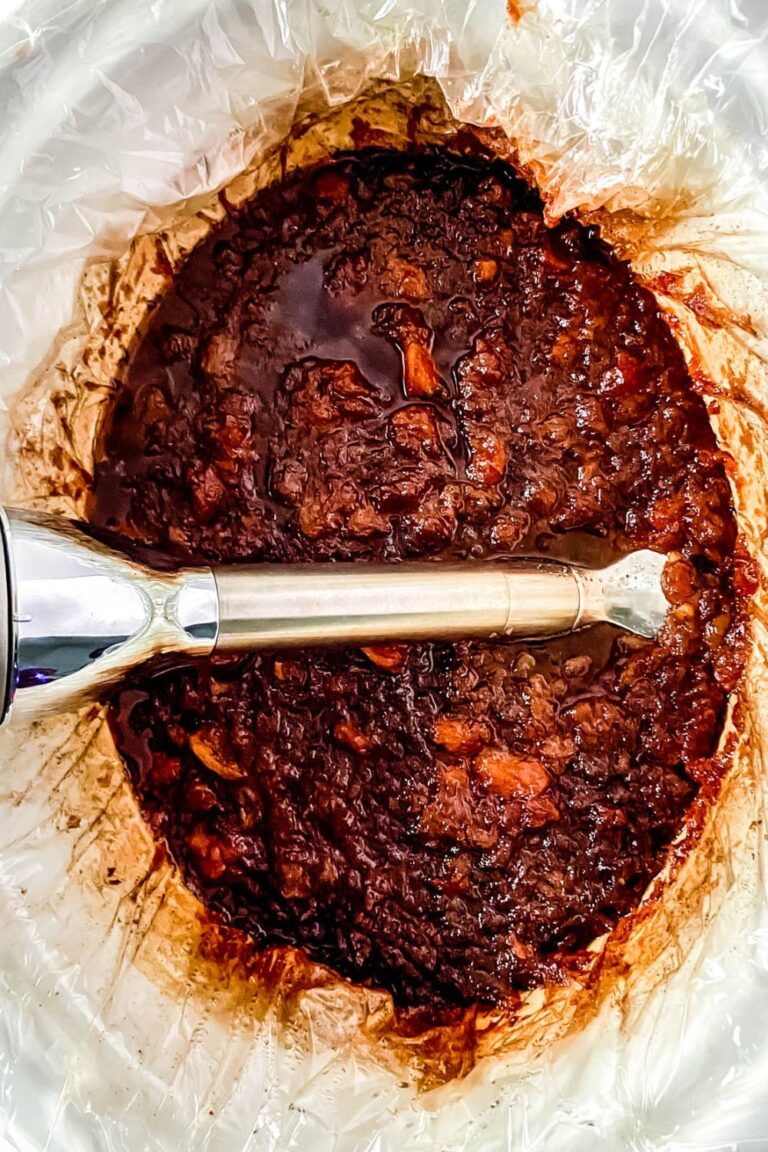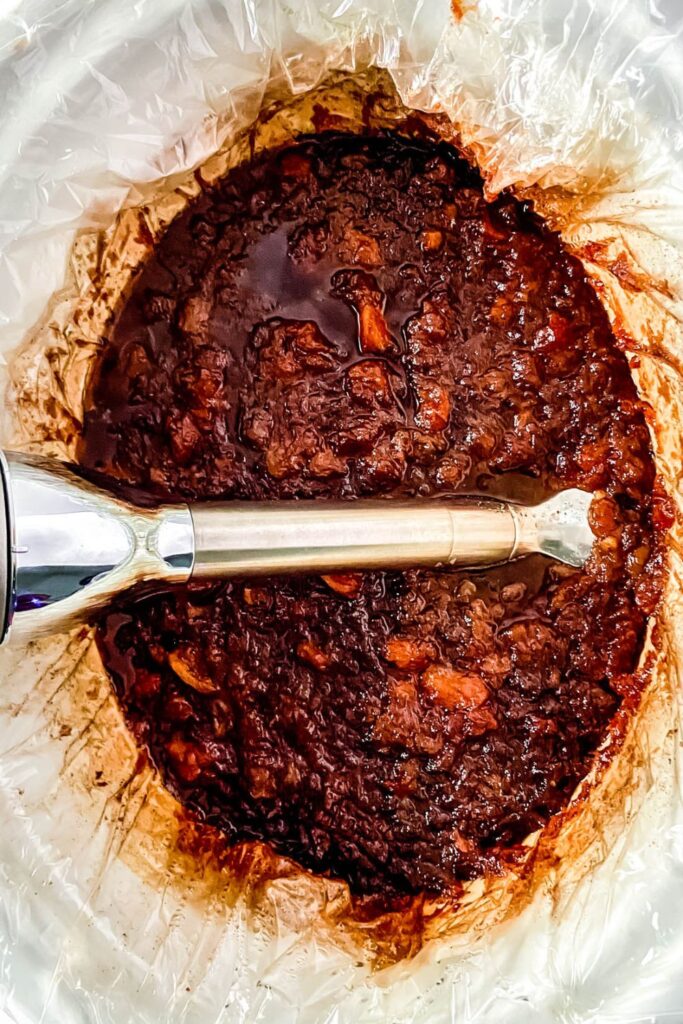 Step Five: Uncover at hour 5, and then use your immersion blender to mix up the apple butter until creamy.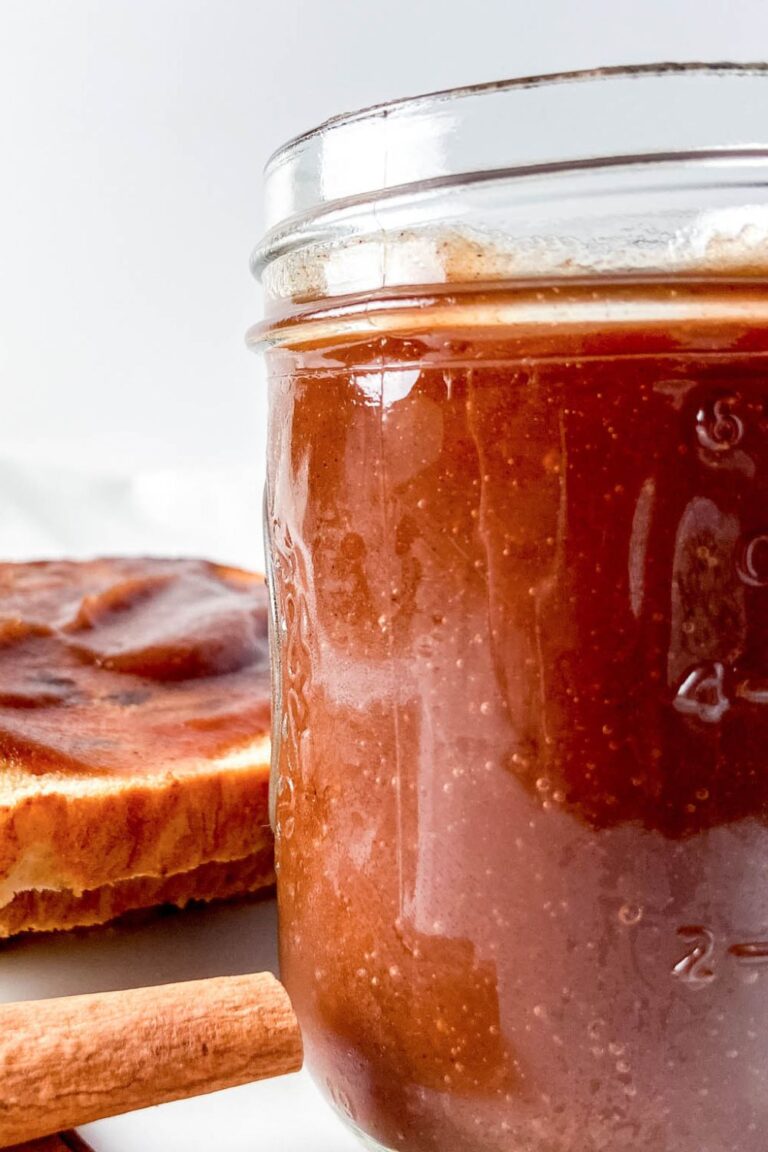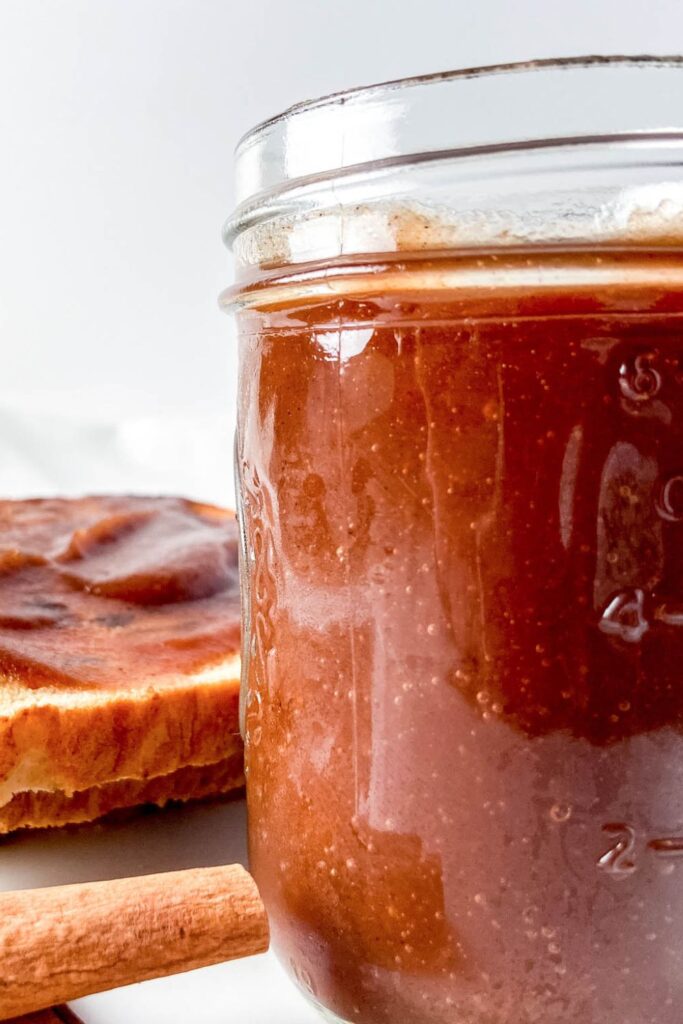 Step Six: Then cook another 2 hours with the lid off on low. Then serve or store in containers in the fridge.
Variations and Tips For Success
Any fresh apples will work, reach for the baking kind of apples so they will break down well as they cook. Gala, Golden Delicious, Honey Crisp, Green Apples, Pink Lady, etc.
Add a little maple syrup to taste at the end of cooking to sweeten up the apples.
If you want you can do all white sugar and just use white sugar in replace of the brown sugar.
You can use canning jars and a water bath canner to create shelf life stable apple butter if you would like.
The apple butter will have a deep brown color at hour 5. That is normal so don't panic. Just use the immersion blender and it will become a creamy texture which is a delicious spread.
Ways To Eat Apple Butter
You will find apple butter is very versatile. Spread on an English muffin, toast, bagels, or even pair with pork chops. You will find that traditional apple butter is also used in some desserts. Try these apple butter cookies, they are so delicious.
Storing
Refrigerate – You can place your apple butter in a sealed mason jar or container and store in the fridge for up to a month.
Freezing – Or if you want you can freeze apple butter in a freezer bag or airtight container. The apple butter can freeze for up to 6 months. Thaw in the fridge overnight before you plan to eat it.
Canning – If you want you can can your apple butter. Place in sterile hot jars that you wipe of the rim. Leave an inch headspace in the jars. With a water bath canner you will can for 10 minutes for half pints or 15 minutes for pint jars. Now this varies depending on the altitude and humidity where you live. Make sure the canning lid seals on the jars within 24 hours.
Common Asked Questions
More Apple Recipes
Have you tried the recipe? If so, please leave a star ⭐️⭐️⭐️⭐️⭐️ rating in the recipe card below or drop a comment. Also stay in touch with me through social media by following me on Facebook, Pinterest, or My Facebook Group!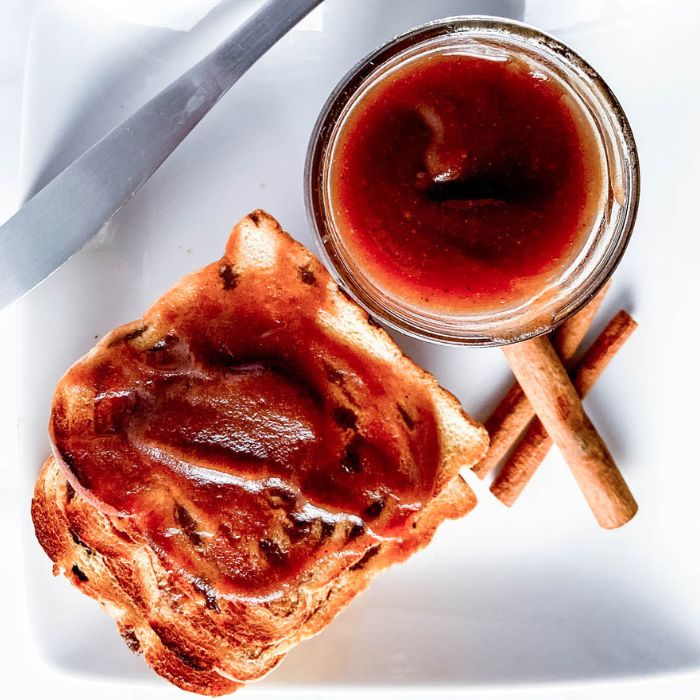 Homemade Apple Butter
Servings 4 pint jars
Serve up this creamy and delicious homemade apple butter. Made with fresh apples, warm spices and sugar. Slather on bread, bagels, mix in desserts and more. The perfect apple recipe.
Ingredients
6 1/2 pounds apples I used Granny Smith
1 cup light brown sugar
1 cup granulated sugar
1/4 teaspoon ground cloves
1/2 teaspoon nutmeg
1 tablesoon cinnamon
Instructions
Dice up the apples in 1 inch cubes. Discard the core of the apples. You do not need to peel the apples.

Place a liner in your crock pot if you would like. Then add in your diced apples.

In a medium bowl add in the brown sugar, and granulated sugar, cinnamon, nutmeg, and clove. Stir well to combine.

Pour over the apples and mix to combine.

Place the lid on the crock pot and cook on low for 10 hours or high for 5 hours. Stir a couple of time between the heat cycles.

Remove the lid and use your immersion blender to puree the apple mixture.

Leave the lid off and cook for 2 more hours on low. Stir a few times during the cook time.

Once done you will place in jars and refrigerate, or place in airtight containers. The apple butter can last for up to a month in the fridge.
Notes
Blender – If you don't have an immersion blender you can use a regular blender or food processor. Just mix to combine to create a creamy texture then pour back into the crockpot.  Sugar – You can use all granulated sugar instead of both types if you want.  Apples – Use one variety of apple or do a mix of apples if you would prefer to elevate the flavor.  Store – Store apples in a sealed container in the fridge for up to 1 month. Or freeze for up to 6 months.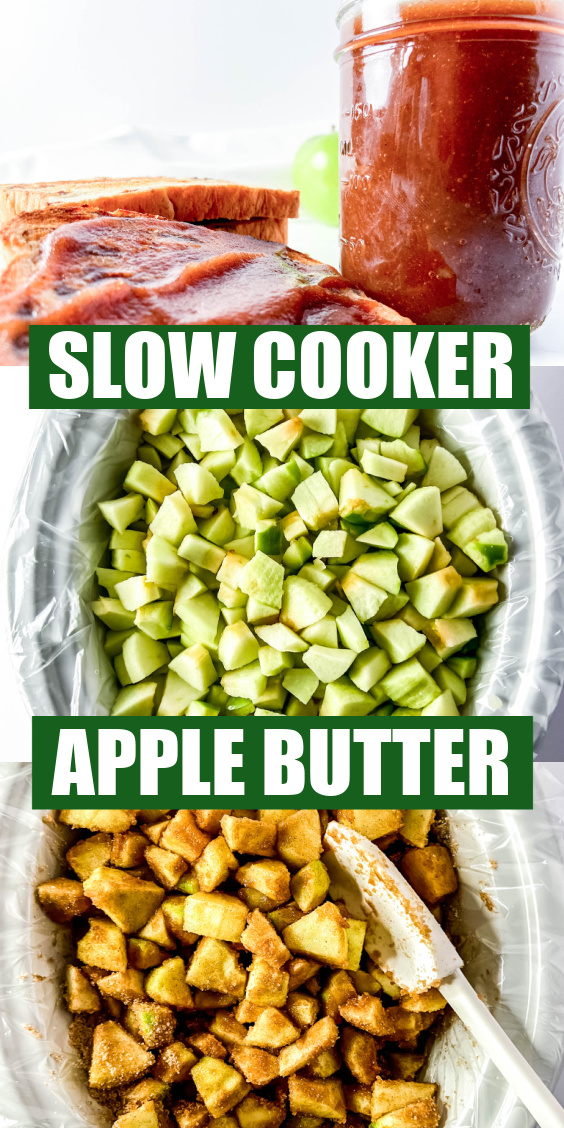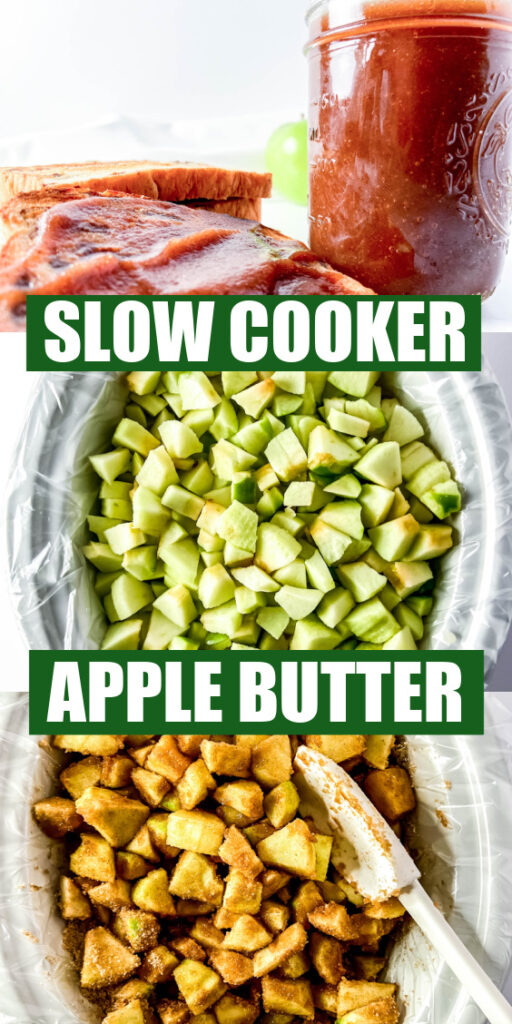 Reader Interactions