Christmas Tree Cupcakes are a simple and easy winter themed cupcake that is a tree shaped cupcake. Give these easy Christmas cupcakes a try for a holiday dessert to serve up loved ones.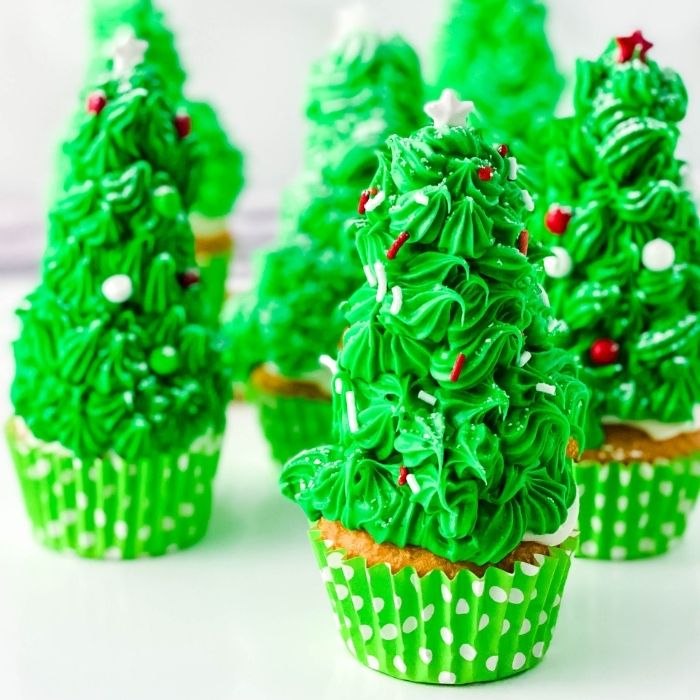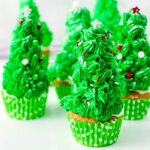 These Christmas tree cupcakes are a treat to whip up. Christmas tree cone cupcakes are a festive and fun Christmas cupcake that are gonna be a hit.
Let your kids learn how to ice cupcakes to look like Christmas trees. You can use any flavor of cupcakes you want, or make buy some pre-made cupcakes.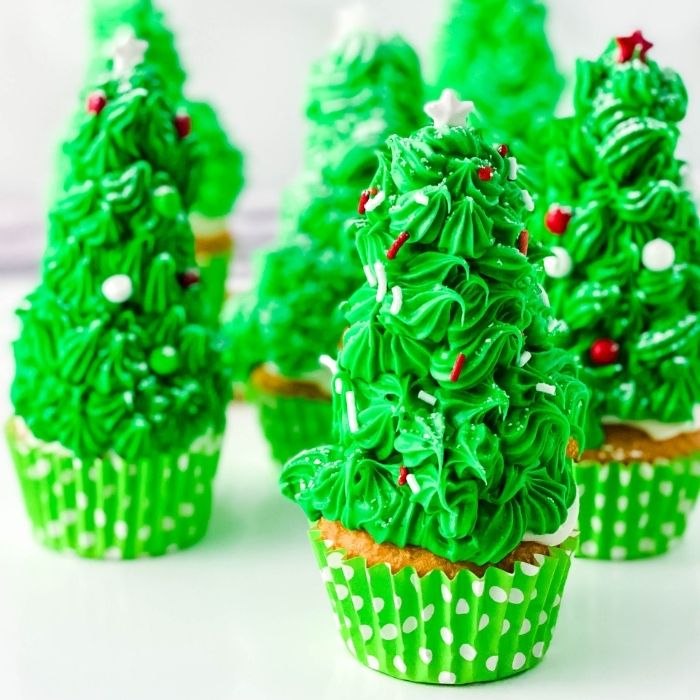 These Cupcakes Are…
Easy Christmas Dessert
Make homemade cupcakes or buy store bought
Easy Winter themed cupcakes
Make ahead dessert for parties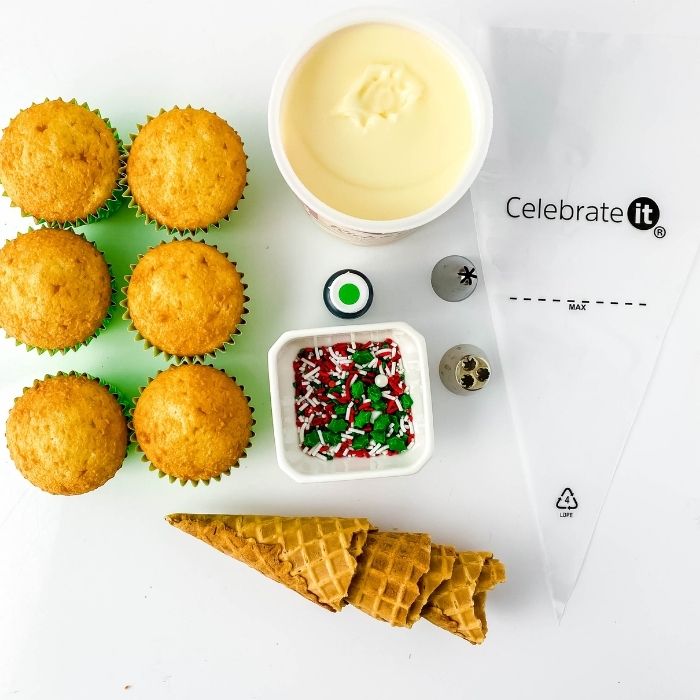 Ingredients You Will Need
Cupcakes – Reach for any flavor whether it be boxed, homemade or buy from your favorite bakery.
Waffle Cones – I used waffle cones as they have a better shape than the sugar cones for making a tree shape.
Frosting – Homemade or store bought works. If you buy store bought frosting, just color it green with food coloring.
Sprinkles – Sprinkles add a nice pop of color to your trees. Or you can opt to dust with powdered sugar to mimic snow.
How to Make
Step One: If your ice cream cone is too large, simply cut off the end to cut the cone to make it smaller if you want.
I recommend using a serrated knife to cut down the ice cream cone.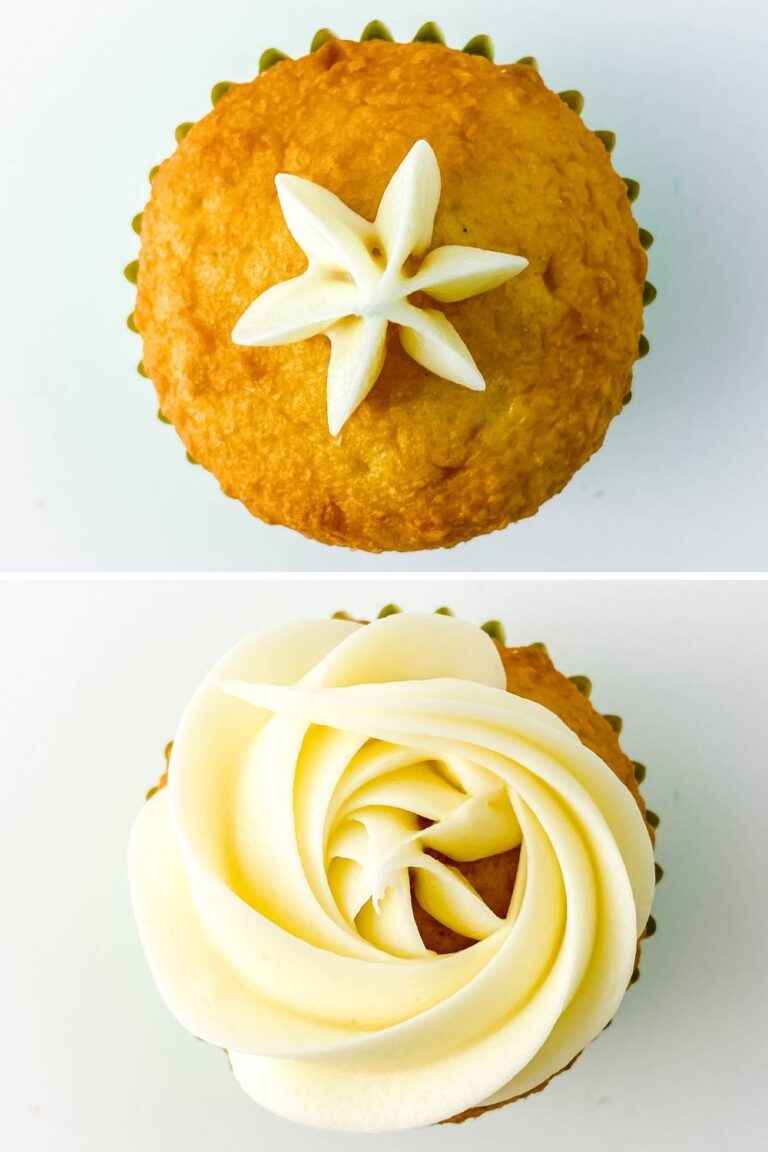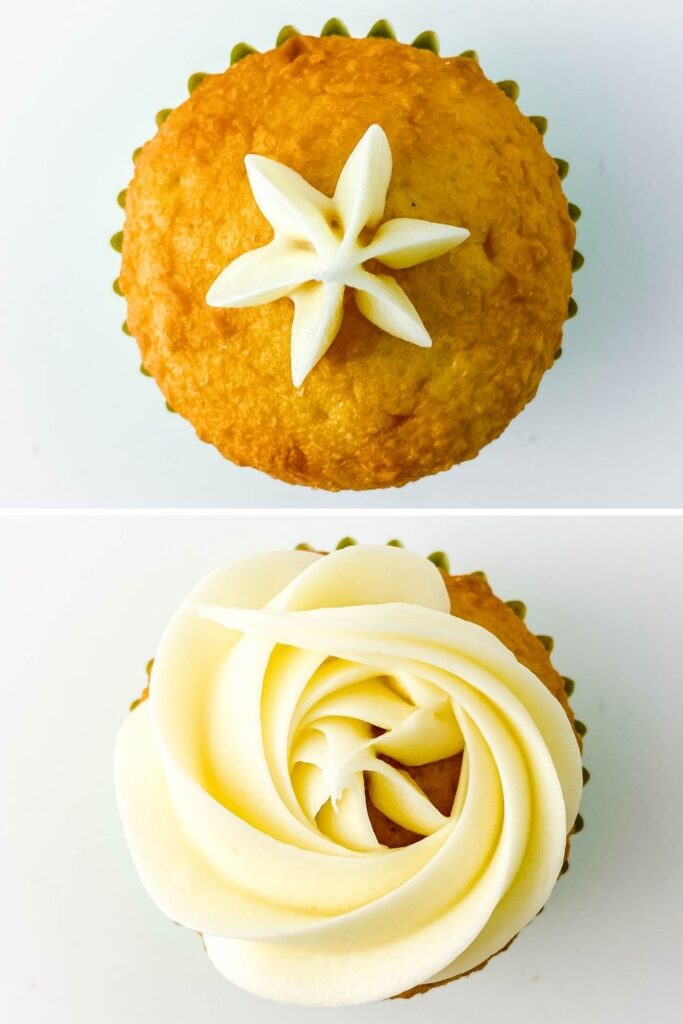 Step Two: If your cupcakes are not frosted, frost them. I used white frosting to mimic snow. Add your colored frosting in a piping bag and I did a 1M tip. I added a star, and then made a circle around the star, creating a rosette.
Aim for steady even pressure when you are working with the frosting.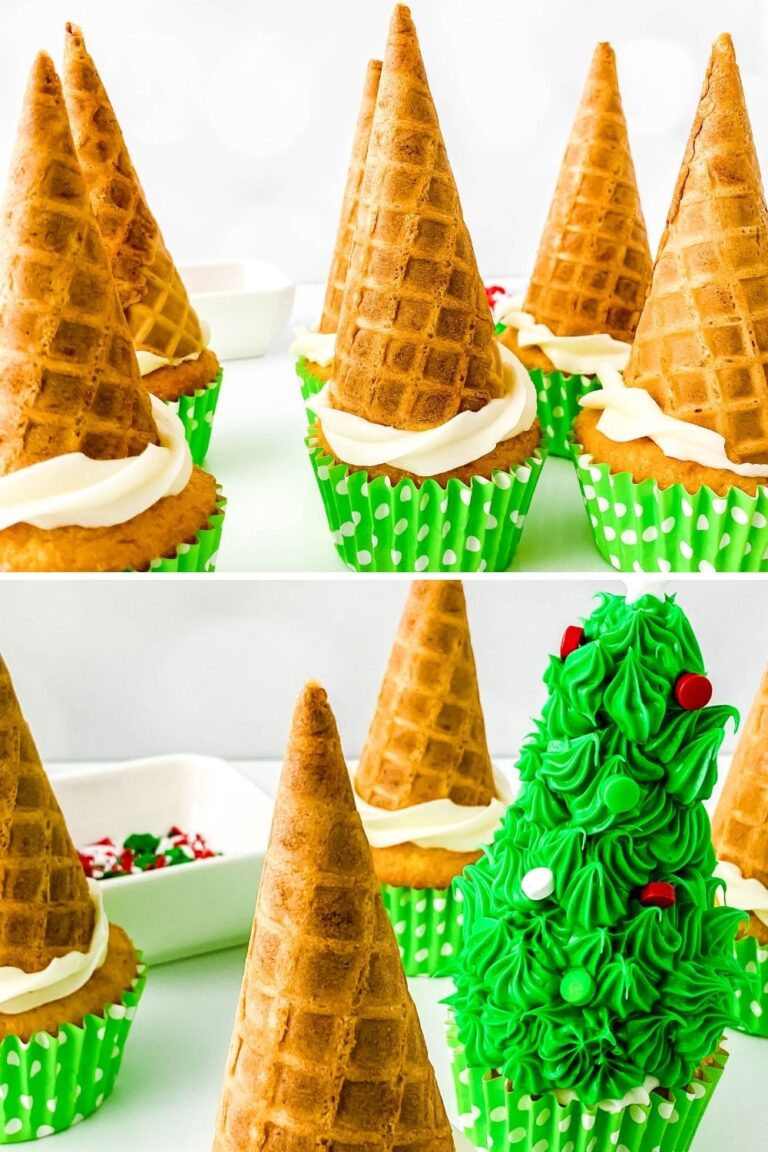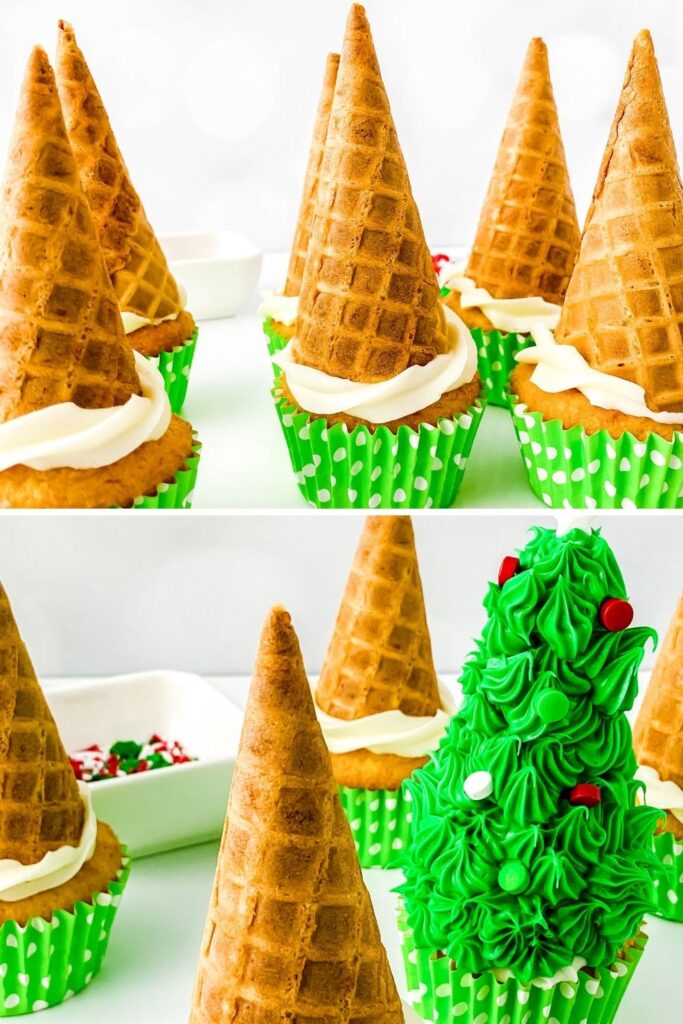 Step Three: Place the ice cream cone on top of the cupcakes. Then with green frosting, pipe stars all over the tree using a small tip if you want.
Step Four: Decorate with sprinkles or add powdered sugar to a strainer and dust to look like snow.
Variations To Recipe
You can just add a thin layer of frosting on cupcakes of an color. The frosting is going to ensure the ice cream cone sticks to the cupcake.
Use any technique you want for piping on your frosting on the cones. You can even spread it on with a knife if you don't want to pipe on frosting.
Another technique is to dip the ice cream cone in green chocolate and let it harden. Before it hardens add on your sprinkles.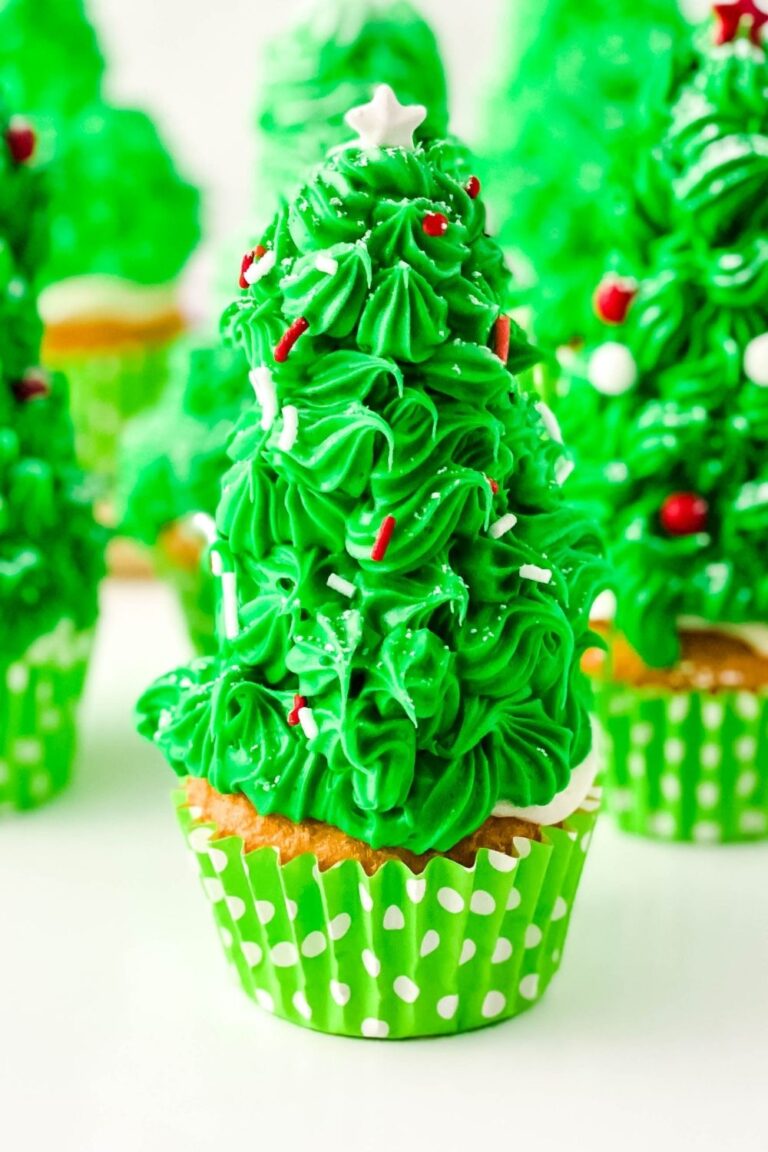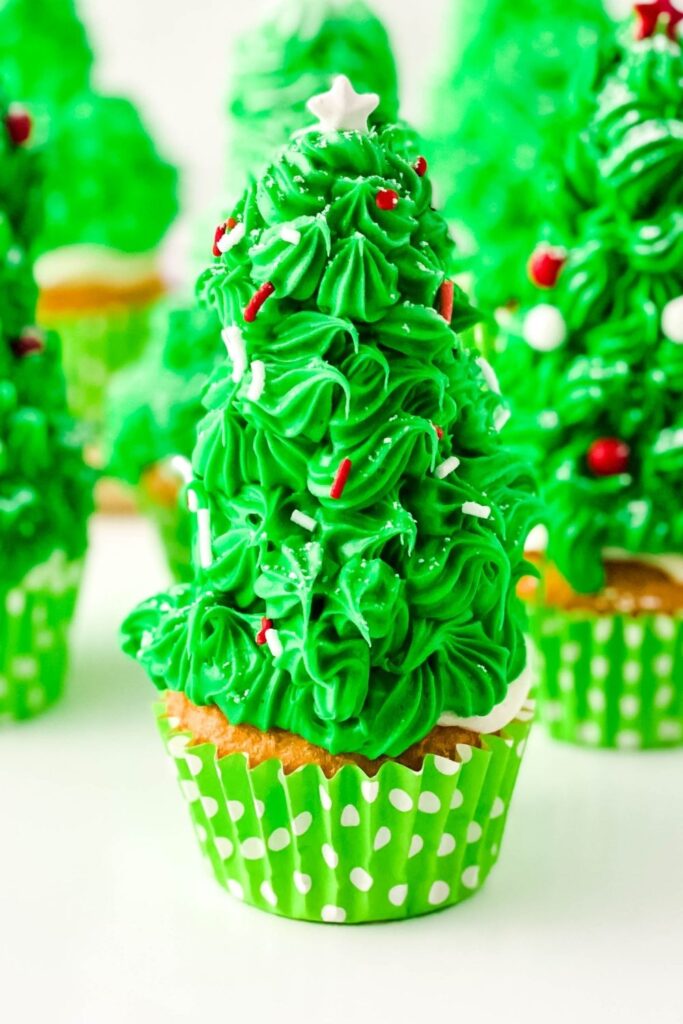 Storing Cupcakes
Room Temperature – As long as you are using a frosting that doesn't need to be refrigerated, these cupcakes can store at room temperature. The Christmas tree dessert is best eaten within the first 1-2 days of being made.
Freezing: You can freeze cupcakes you don't eat right away. It can make the ice cream cone a bit soft as it thaws from the freezer.
More Christmas Desserts
Here are more delicious recipes to pair next to your Christmas cupcake recipe!
Have you tried the recipe? If so, please leave a star ⭐️⭐️⭐️⭐️⭐️ rating in the recipe card below or drop a comment. Also stay in touch with me through social media by following me on Facebook, Pinterest, or My Facebook Group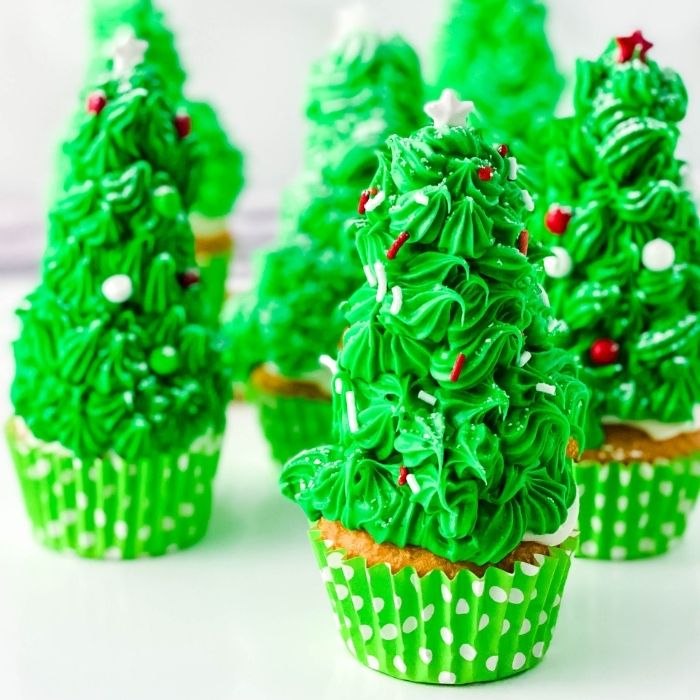 Christmas Tree Cupcakes
Servings 6
Christmas Tree Cupcakes are a simple and easy winter themed cupcake that is a tree shaped cupcake. Give these easy Christmas cupcakes a try for a holiday dessert to serve up loved ones.
Ingredients
6 cupcakes premade
2 cans store-bought vanilla frosting
Green food coloring
Sprinkles
6 Ice Cream Waffle Cones
Instructions
Start by cutting down your waffle cones if you want them to be shorter.

Add some white frosting in a piping bag and pipe a large star with a 1M tip. Then circle around the star to make a rosette, on the top of each cupcake.

Next, you will color your frosting that is left green and place in a piping bag.

Place your waffle cones on top of each cupcake.

Begin piping stars on each ice cream cone working your way up the cone. I like to start at the bottom.

Add on some sprinkles to look like Christmas lights if you want. Or you can even dust with powdered sugar in a sifter for a snow-themed cupcake.

Serve up these Christmas tree cupcakes for a holiday dessert.
Notes
Piping Star Tip: Use even pressure when squeezing out frosting. For avoiding the tails on the stars, squeeze, stop, and then pull away. I used a larger star tip 1M for piping. You can use a Ziploc bag instead of piping bag if you don't have piping bags. Cupcakes – Any flavor or style of cupcakes work for this recipe. I used store bought cupcakes to make these tree cupcakes.
Nutrition
Serving: 1gCalories: 650kcalCarbohydrates: 84gProtein: 9gFat: 33gSaturated Fat: 14gPolyunsaturated Fat: 16gTrans Fat: 1gCholesterol: 83mgSodium: 456mgFiber: 3gSugar: 64g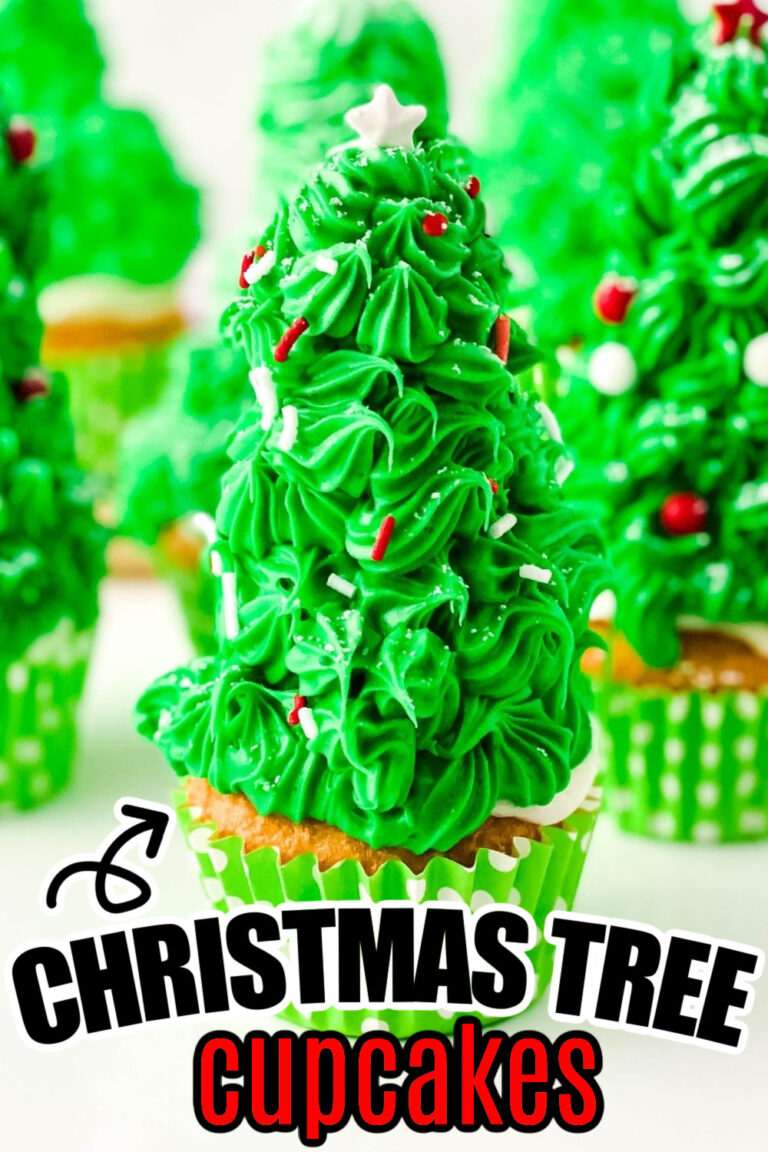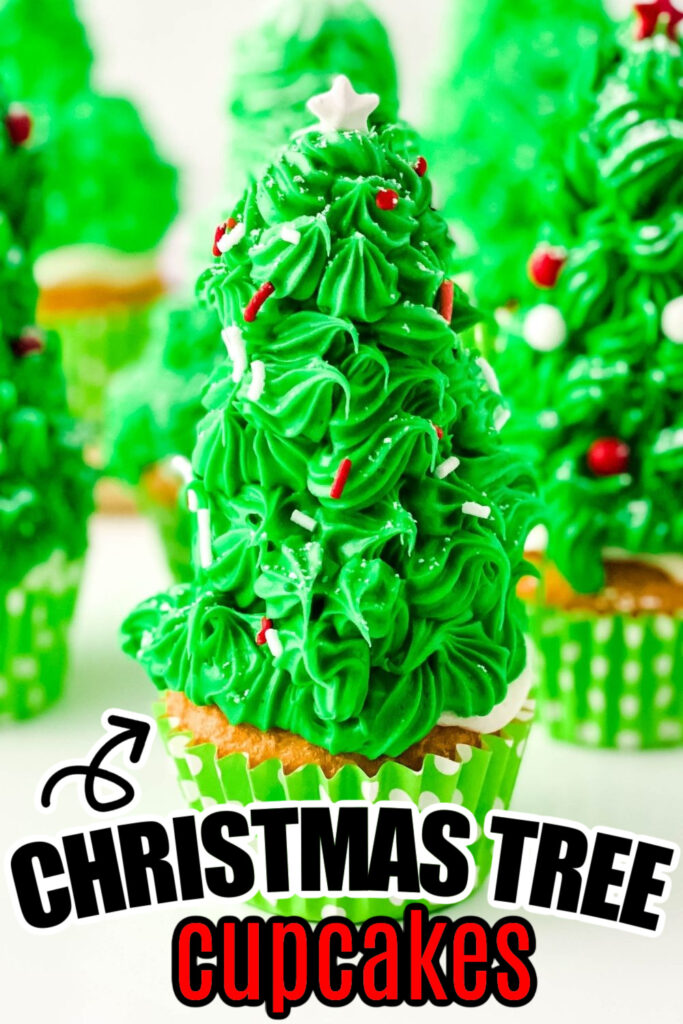 Reader Interactions