Cranberry Muffins are a great breakfast on the go. These cranberry oat muffins are easy, delicious, and a sweet treat. Fresh or frozen cranberries can be used in this muffin recipe.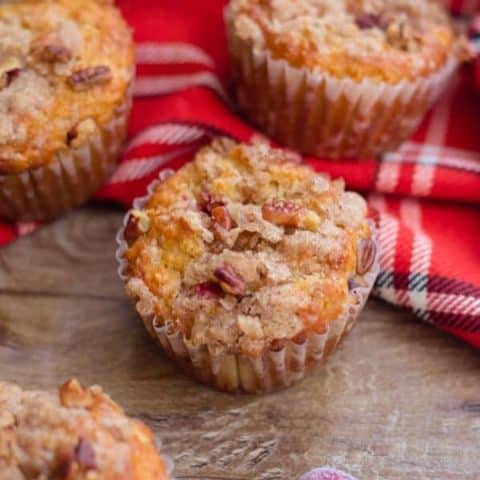 Cranberry muffins are a delicious way to kickstart your morning. This is an easy cranberry muffin recipe that is topped with a walnut streusel topping. Crunchy, sweet, and addictive. A breakfast muffin recipe. These tasty muffins are healthy cranberry oatmeal muffins that melt in your mouth. A great recipe for gifting to loved ones or snacking on for the 2 p.m. slump.
Cranberries are something you see a lot in the fall and winter months. If you are looking for some new ways to use cranberries, consider making these cranberry oatmeal muffins. These homemade muffins are perfect for cranberry season. Trust me, if you enjoy the tart and sweet of cranberries my cranberry oatmeal muffin will tickle those tastebuds. This recipe is coming just in time for the holiday season.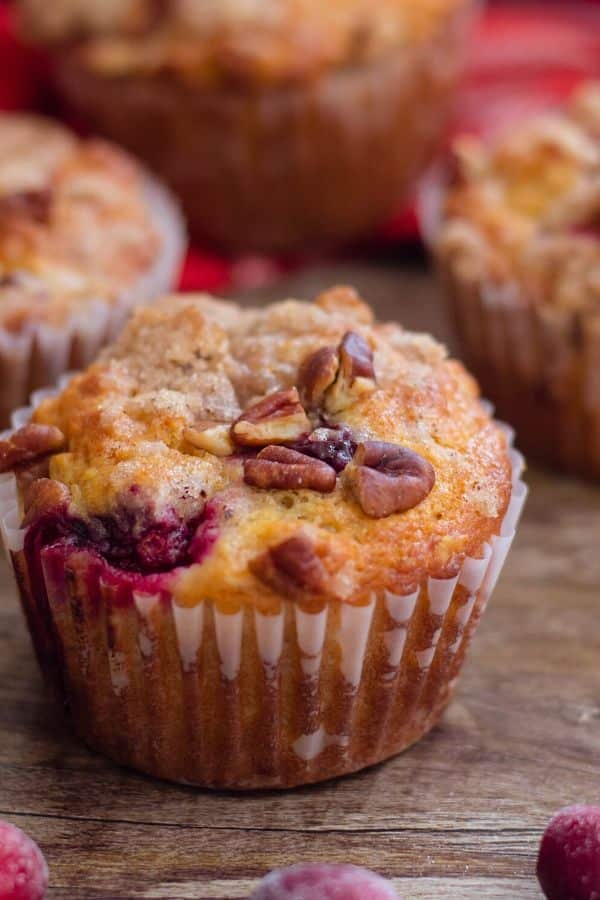 This cranberry muffin recipe is so easy to make. Whip these up for a quick breakfast or meal prep and toss in the freezer for a quick grab-and-go breakfast in the future.
Give these easy cranberry muffins with streusel topping a try and let me know how you like them. Pack in your child's lunch, serve as an easy breakfast, healthy snack, or gift to loved ones. I have even served these up for a holiday brunch and it was the first thing to disappear.
Give these easy cranberry muffins with streusel topping a try and let me know how you like them.
🍎 Why You Will Love This Recipe
Fresh or frozen cranberries can be used for this recipe. The tart cranberries really balance out with the sugar and crumbled topping.
Rolled oats add incredible texture and flavor and these easily might become your favorite muffins!
These muffins are great for breakfast, lunch, or even a snack.
This cranberry muffin recipe is freezer-friendly.
Easy to make and simple everyday ingredients needed.
Perfect amount of tartness and sweetness in every bite of the oatmeal cranberry muffins.
Ingredients Needed
Flour
Salt
Baking Powder and Baking Soda
Rolled Oats
Egg
Granulated Sugar and Brown Sugar
Greek Yogurt
Oil
Cranberries
Cinnamon
Butter
Walnuts
How to Make
Full directions on these cranberry muffins are in the printable recipe card. This is a visual walk-through for the recipe.

Step One: Preheat the oven and line your muffin tin. Then in a bowl sift your flour and other dry ingredients. Once mixed add in the oats and set aside.
Step Two: Now in a new bowl add egg and sugars together and cream till blended well.
Step Three: Add in yogurt and oil and mix until blended. Scrape down the sides as needed.
Step Four: Now you will slowly add your dry ingredients to the wet. Then fold in the cranberries.
Step Five: Scoop the batter into the muffin tin, and then begin on the streusel.

Step Six: For the streusel, you just mix the flour, sugar, cinnamon, butter, and walnuts together to a crumble. Then sprinkle on top of each muffin in the muffin tin.
Step Seven: Bake as directed and then remove from oven and let cool a bit then serve.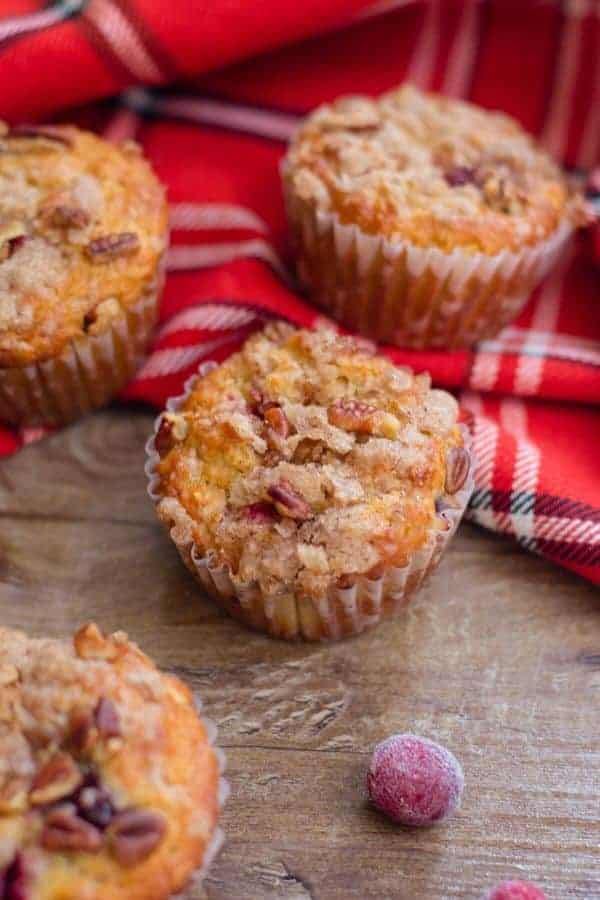 Variations to Recipe
Substitute Plain yogurt or sour cream for the Greek yogurt in the recipe
Do pecans replace walnuts, or skip the nuts altogether?
You can do half all-purpose flour and half white whole wheat flour to make them a bit healthier.
Skip the streusel topping and just add a dusting of sugar or make a simple glaze to drizzle on top.
Use fresh or dried cranberries instead of frozen cranberries. I love the tart fresh cranberries as they offer a bit more flavor than dried ones. 
Add in other fruit to add a variety of flavors, like raspberries or blueberries, or even some diced strawberries.
Add in some orange zest and a splash of orange juice to make these an orange cranberry muffins recipe. If you want a stronger orange flavor add in a few drops of orange extract.
Mix in a tablespoon of flax seed for added fiber in the muffins.
Try this red currant cranberry cheesecake for another cranberry recipe.
How To Store Cranberry Muffins
Refrigerate: I place the cranberry muffins in the refrigerator for up to five days. This will help give them a quality muffin. If you like muffins warm toss them in the microwave for a quick reheat or even wrap them in aluminum foil and warm them up in the oven. Store in an airtight container or plastic bag that seals. Just remove as much air as you can. Also make sure the muffins are fully cooled before you go to store them.
Freezing Muffins: You can freeze cranberry muffins. These muffins are so great frozen and thawed. Just place them in an airtight container or freezer bag and toss in the freezer for up to three months. Thaw on the counter or in the fridge the night before. These are great to keep in the freezer to pull out for a healthy breakfast on the go when you don't have time to whip up breakfast.
Tips For Making The Best Muffins
Preheating the oven is key to making quality muffins. Let the oven be at the proper temperature for 5 minutes before you add muffins to bake. 
Add a little rice to the muffin tin before you place the paper liners. The dry rice will soak up any oil and keep the liners from getting greasy. I just use dried long-grain rice under the muffin cups. 
Sift the flour, baking soda, and powder. This will help to give you a light texture. It keeps the muffins light and airy, instead of tough and dense.
You want to cream your butter and sugar together for 2 minutes until it is fluffy and changes in color. This creates a whole new texture to the cranberry oatmeal muffin recipe.
Don't overmix the batter or it will become rubbery and dense. No one wants tough muffins so use a light hand.
Fold in cranberries to the batter with a spatula. If you use frozen berries it can bleed a little bit when they are mixed.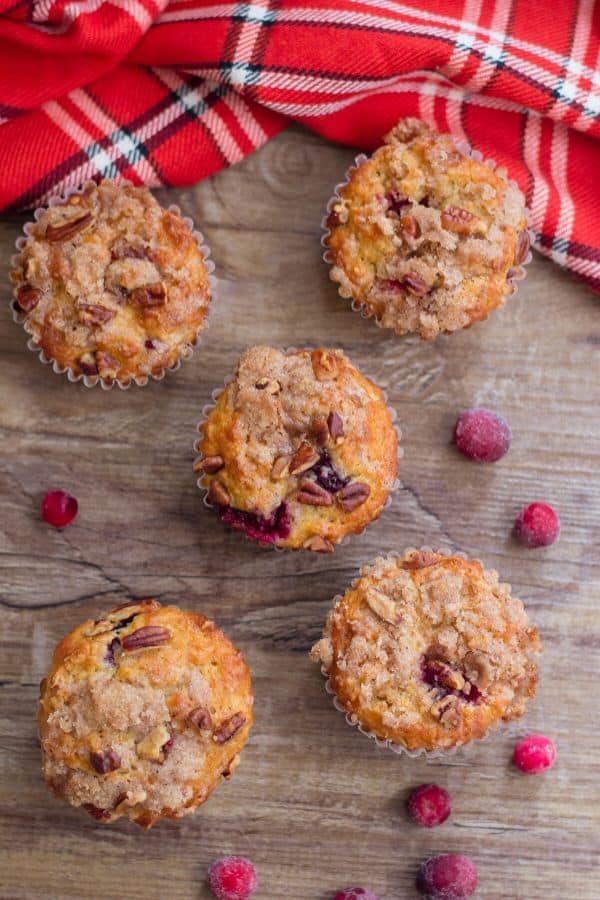 🍊 Can I Add Orange Into This Cranberry Muffin Recipe
Sure, if you want to add in 2 tablespoons of orange zest for that fresh and sweet citrus flavor to these muffins.
I love them as is, but you are more than welcome to add in orange if you love cranberry orange muffins.
Common Questions

Looking for more muffin recipes
Have you tried the recipe? If so, please leave a star ⭐️⭐️⭐️⭐️⭐️ rating in the recipe card below or drop a comment. Also stay in touch with me through social media by following me on Facebook, Pinterest, or My Facebook Group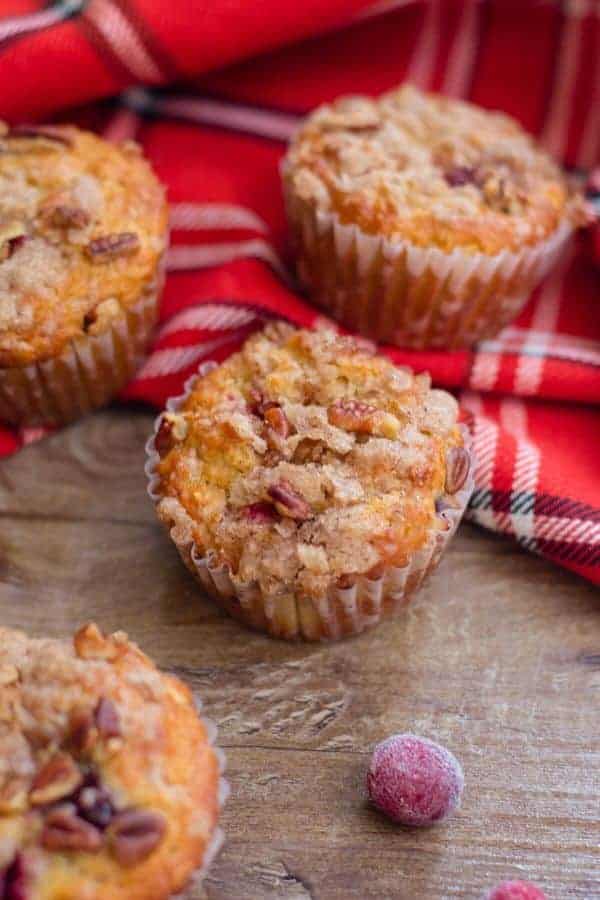 Cranberry Muffins
Servings 15 muffins
Cranberry Muffins are a great breakfast on the go. These cranberry oat muffins are easy, delicious, and a sweet treat. Fresh or frozen cranberries can be used in this muffin recipe.
Ingredients
1 cup all-purpose flour
Pinch salt
1 tsp baking powder
½ tsp baking soda
1 cup rolled oats
1 egg
¼ cup granulated sugar
½ cup brown sugar
1 cup Greek yogurt
½ cup vegetable oil
1 cup frozen cranberries
For the sugar topping/streusel:
2 tbsp all-purpose flour
5 tbsp granulated sugar
½ tsp cinnamon
2 tbsp cold butter
¼ cup chopped walnuts
Instructions
Preheat the oven to 400 degrees and line muffin tin with paper cups.

Then in a bowl sift flour, salt, baking powder and baking soda. Mix until the dry ingredients are mixed.

Add rolled oats into the dry ingredients, mix and set aside.

Then in a bowl, you want to cream eggs and sugar, this will just take a minute. You can use a stand mixer or a whisk and a bowl.

Add in your yogurt, oil, and mix thoroughly until the batter is mixed. Try not to overmix.

Now you will add in the dry ingredients to wet and mix until formed.

Fold in frozen cranberries. You can use fresh cranberries if that is what you have on hand.

Scoop into muffin tin, and set aside.

Then in a bowl mix up the streusel topping. Sprinkle a bit onto each muffin.

Garnish with chopped walnuts and bake for 20 minutes or until cooked through.
Notes
How to tell when muffins are done: You will know the muffins are done when you stick a toothpick in the center and it comes out clean. Nuts: Feel free to omit nuts or swap them out if you would like. Cranberries: Fresh or frozen cranberries can be used. Freezing: Feel free to freeze any leftover muffins you don't plan to eat. They will store for 3 months in the freezer. How to store muffins: I like to store these cranberry oat muffins in an airtight container in the fridge.
Nutrition
Serving: 1muffinCalories: 215kcalCarbohydrates: 26gProtein: 4gFat: 11gSaturated Fat: 2gPolyunsaturated Fat: 8gCholesterol: 17mgSodium: 108mgFiber: 1gSugar: 14g
These Christmas muffins are such a delight. Serve up around the holidays for a fun treat for young and old. Whip these up and let me know what you think.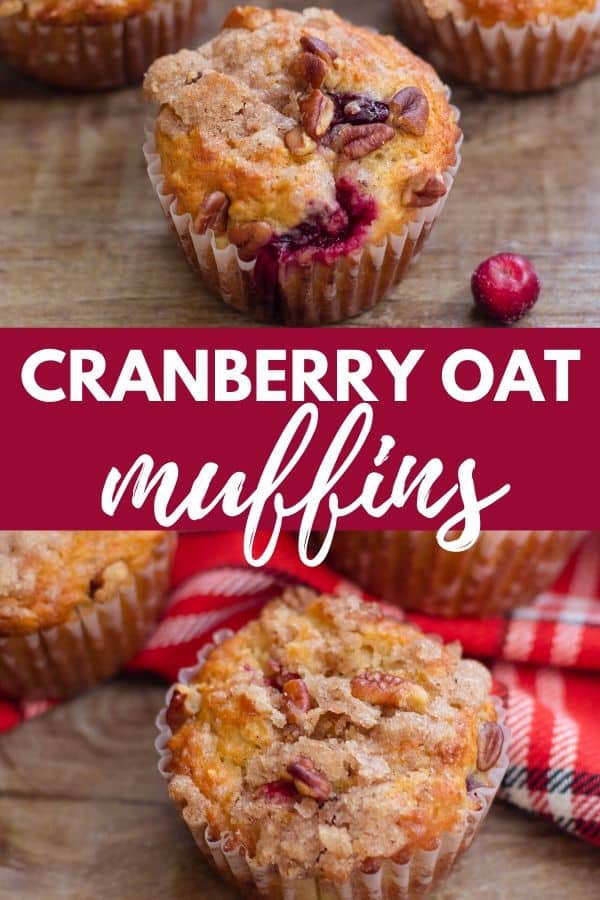 Have you ever had cranberry muffins?
Reader Interactions