Whip up this crockpot kielbasa and potatoes casserole. This sausage and potato recipe is easy, affordable and family friendly. This slow cooker potato and kielbasa is delicious and a great comfort food dinner.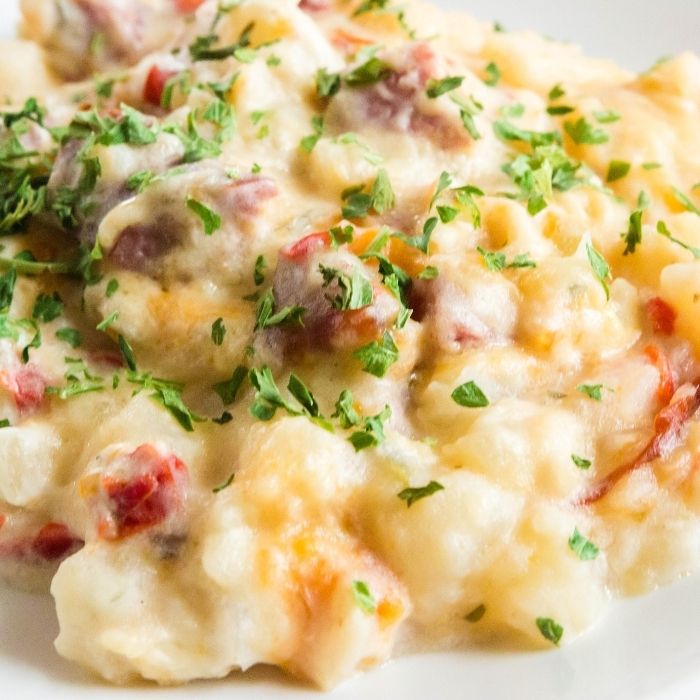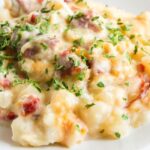 Crockpot meals are my go-to lately! This Crockpot kielbasa and potatoes casserole is loaded with frozen diced potatoes, cream soup, diced kielbasa or smoked sausage, and spices, and spends all day cooking! Come home to a sausage and potatoes dinner that is the ultimate comfort food.
This is a dinner that the whole family can enjoy. Simple ingredients that provide a comforting meal full of cheesy potatoes, kielbasa sausage, and more.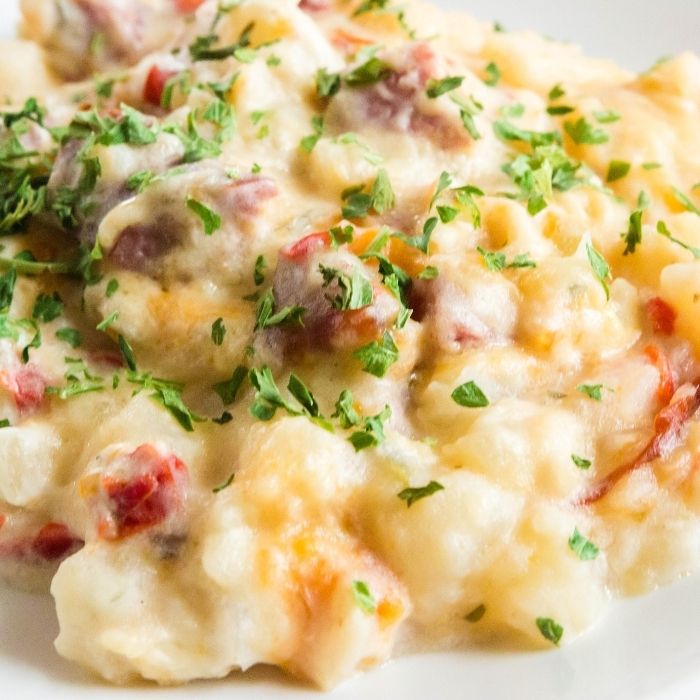 This kielbasa recipe is a cheesy meat and potato style recipe. It is quick to throw together, and a budget-friendly dinner. Best of all it uses pantry and freezer ingredients to keep on hand and throw together when you want. This is a complete meal in one, or pair with a side of fresh green beans, broccoli, side salad, or more. A perfect dinner for a busy day where you can't spend much time in the kitchen. 
Don't wait, dive into this smoked sausage casserole today. The only thing I warn is this main dish is such a comfort meal and hard to stop eating. Even a picky eater will enjoy this slow cooker recipe.
Serve this up for breakfast, lunch, or dinner. I find it is best for dinner for my family but I know this sausage and potato recipe is one some like for breakfast.
This Slow Cooker Recipe Is..
Casserole Crock Pot Recipe – A crockpot casserole that you literally dump, turn on, and walk away. Simple, minimal effort, but a big payout in flavor is what you end up with.
Smoked Sausage – Any brand or style of smoked sausage works for this dish. I used beef kielbasa but you can truly use whatever brand of pre-cooked sausage.
Cheesy Easy Dinner – This is a cheesy casserole that is loaded with creamy cheesiness in each bite.
Kid Friendly – The entire family will enjoy this dish. This slow cooker sausage and potatoes dish is a great option for busy weeknights. This cheesy potato recipe is one of my favorite slow cooker kielbasa and potato mixture.
Bake In Oven – If you don't want to make this in the crockpot, I share how to bake the sausage potato casserole in the oven on the recipe card. This easy crock pot recipe can easily be converted to baking in the oven.
Ingredients Needed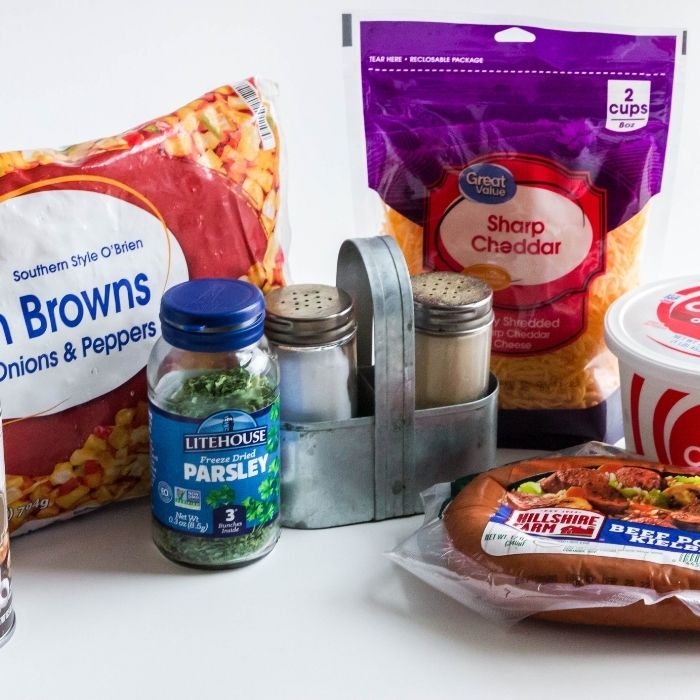 Cubed Potatoes – I used frozen cubed potatoes with peppers and onions. You can use just cubed potatoes or even hash browns if you prefer.
Kielbasa – Smoked sausage of any brand works. Just dice up into bite-size pieces.
Cream Soup – Any cream soup works, celery, mushroom, chicken, etc.
Sour Cream – The sour cream adds a nice tang and creaminess to the casserole that I really enjoy.
Broth – Chicken or vegetable broth works for this recipe.
Seasonings – Salt, pepper, and parsley are what I used for this potato and sausage dish. Feel free to change up what you use.
Cheese – The cheese I used was shredded pre-packaged. You can use cheddar, Monterey jack, etc.
Variations
Use 1/2 small onion you dice and toss in. Yellow or white onion works best.
Use fresh diced potatoes instead of frozen ones. Just do smaller bite-size pieces.
Add in an extra package of kielbasa for a loaded meat option. Turkey kielbasa, polish sausage, turkey sausage, chicken sausage or more work great to swap out.
Use homemade cream soup if you want, instead of canned. Cream of mushroom soup or cream of celery soup are my go-to flavors. It is a must for a creamy sauce.
Add a splash of hot sauce to ramp up the spice factor. Or you can sprinkle in some cayenne pepper or red pepper flakes for an elevation of spice.
If you don't do potatoes with pepper and onions, you can dice in peppers as well as onions. Or opt for the classic hashbrowns for this recipe. Just combine hash browns with other ingredients and leave out the pepper and onions.
Add in some garlic powder, onion powder, season salt, or other spices to elevate the flavor of the dish even more.
How to Make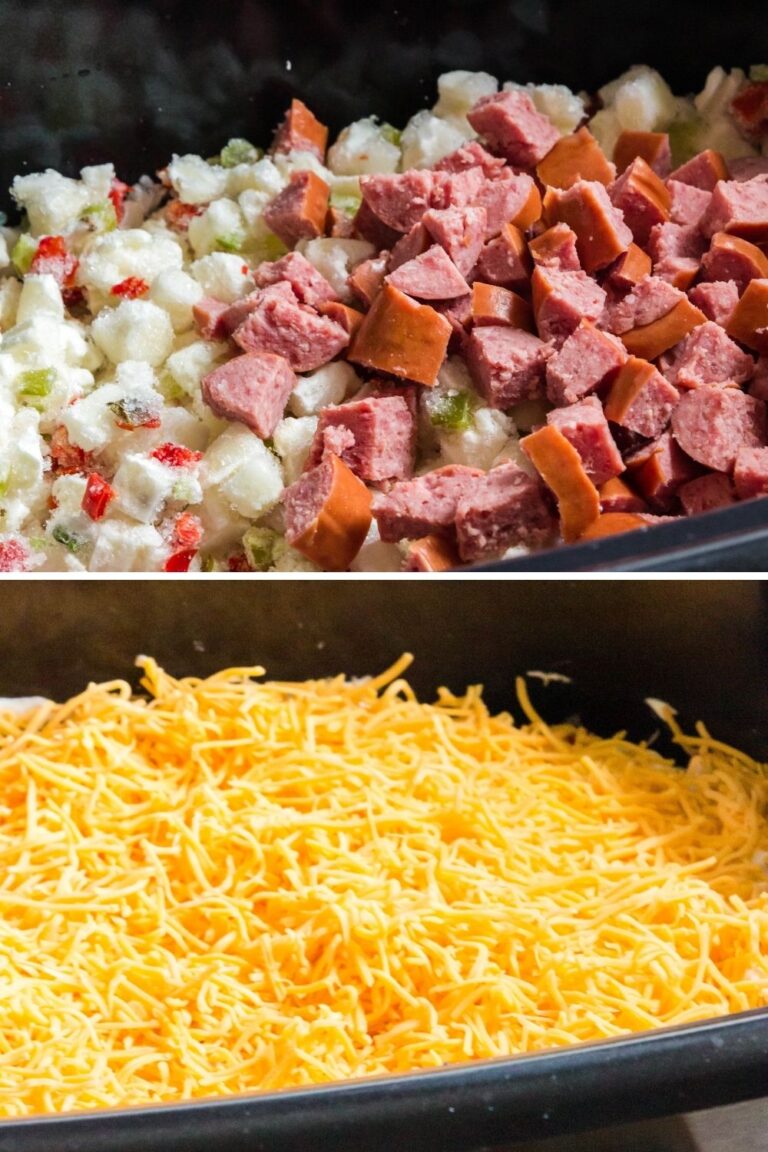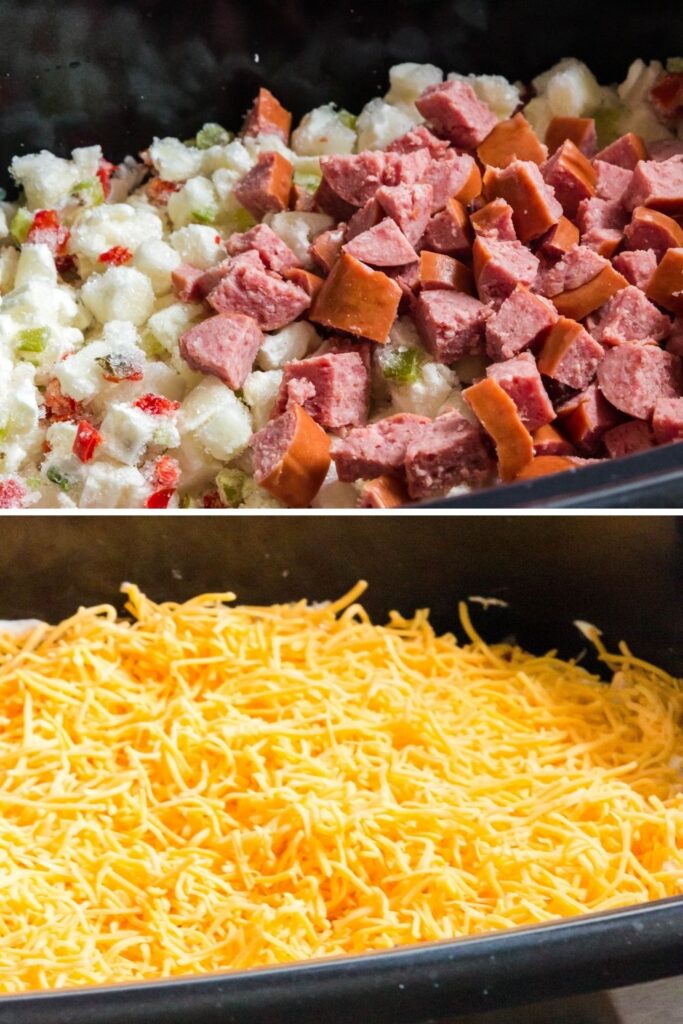 Add the frozen potatoes and onions with peppers to the crockpot. Then add in the diced Kielbasa.
Now in a small bowl mix up the condensed cream soup, sour cream, chicken broth, and spices. Mix well.
Pour over the potato and sausage mixture and spread evenly. Then top with the shredded cheese.
Place the lid on the crockpot and let the mixture cook on low for 4-5 hours or high 3-4.
Pro Tip: Make sure to not over-cook the potatoes or it will become mushy and become more of a thicker soup style than a casserole form.
Storing Leftovers
Go right ahead and store your leftovers in an airtight container in the fridge. You will find the potato and sausage mixture will store for 2-3 days just fine.
To reheat you can warm up in the microwave, or cover in foil in a casserole dish and then reheat in the oven.
FAQs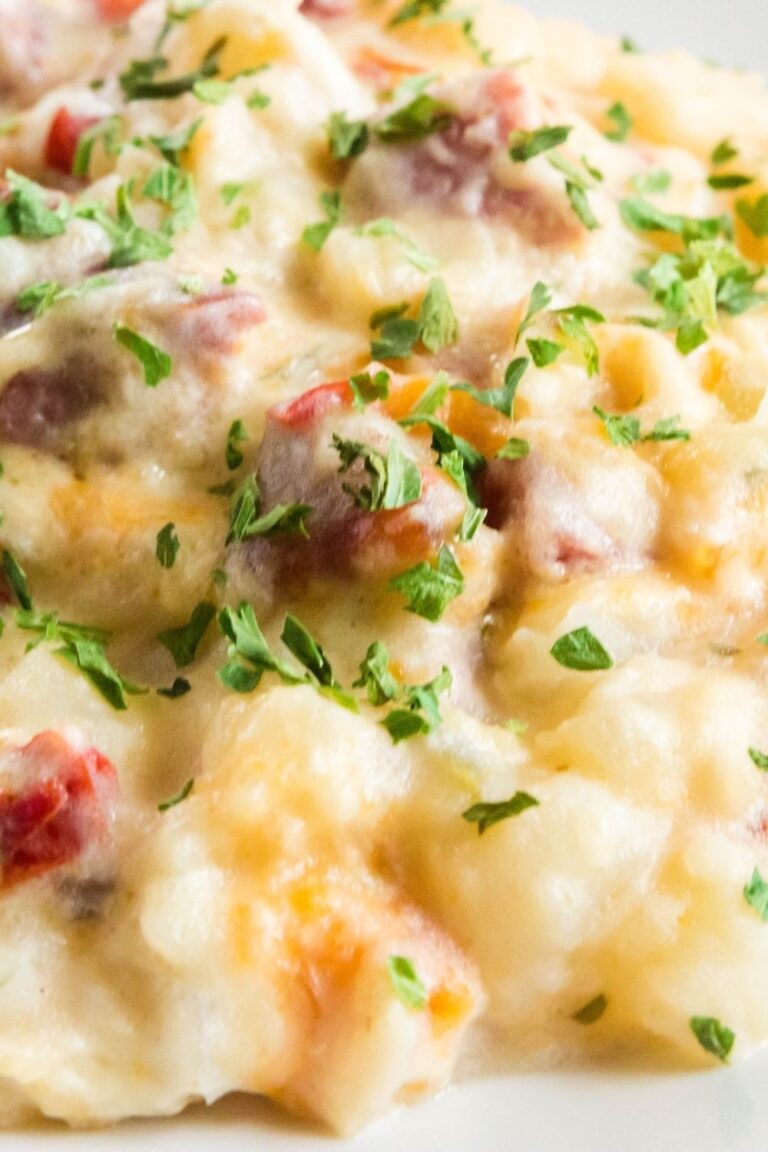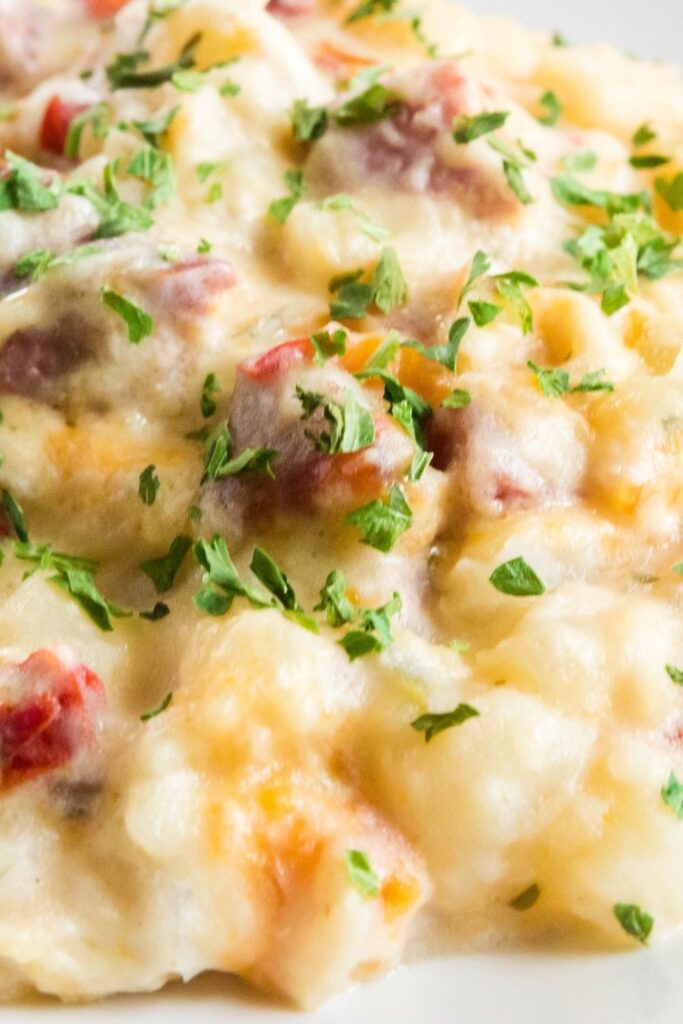 Related Recipes
Have you tried the recipe? If so, please leave a star ⭐️⭐️⭐️⭐️⭐️ rating in the recipe card below or drop a comment. Also stay in touch with me through social media by following me on Facebook, Pinterest, or My Facebook Group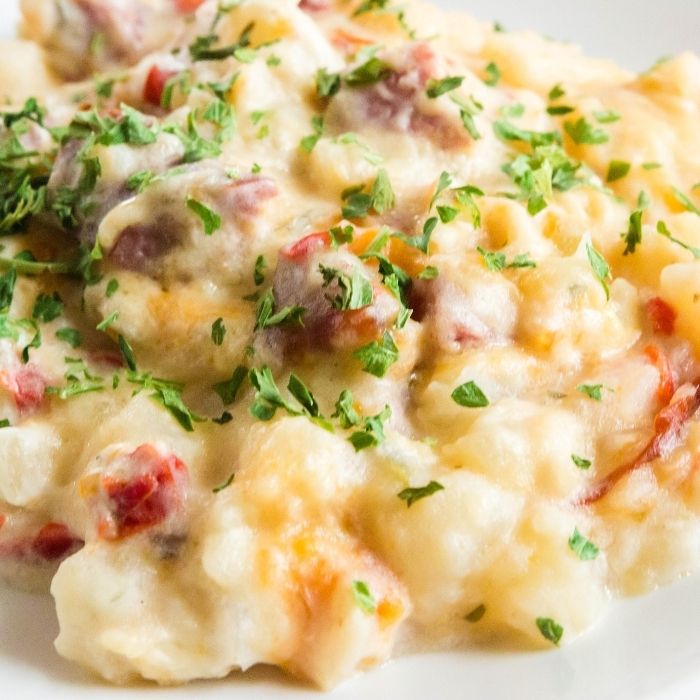 Crockpot Kielbasa and Potatoes Casserole
Servings 1 casserole
Whip up this crockpot kielbasa and potatoes casserole. This sausage and potato recipe is easy, affordable and family friendly. This slow cooker potato and kielbasa is delicious and a great comfort food dinner.
Ingredients
1 bag of frozen diced potatoes with onions – 32 ounces
1 can cream of celery condensed soup – 10.5 ounces
1 package Kielbasa – 14 ounces
1 cup sour cream
1/2 teaspoon salt
1/4 teaspoon pepper
1/4 teaspoon parsley
1/4 cup chicken broth
2 1/2 cups shredded cheddar cheese
Instructions
Dump frozen potatoes and diced kielbasa in the crockpot. Then you will mix and spread out evenly in the bottom of crockpot.

In a small bowl mix up the chicken broth, sour cream, broth, salt, pepper, and parsley.

Pour over the potato mixture, and then spread out. I aimed to get an even layer. You don't want to stir it in, just spread on top the meat and potatoes.

Top with the shredded cheese.

Place lid on the crockpot and cook low 4-5 hours, or low 2-3 hours. The goal is for the potatoes to be softened, and warmed all the way through.

Once done, stir the kielbasa and potatoes and then dish up and enjoy.
Notes
Oven Directions:
Mix all ingredients but shredded cheese together.
Pour in 9×13 baking dish. Top with shredded cheese.
Bake at 350 degrees for 20-30 minutes or until warmed all the way through.
Smoked Sausage – Any flavor or style of cooked smoked sausage works. I prefer to use beef Kielbasa.
Potatoes – If you don't want the pepper and onions use a cubed hash brown that is plain. Or a classic hash brown.
Storing – Store your leftovers in the fridge for 2-3 days. Then reheat in the oven or microwave.
Condensed Soup – Celery, mushroom, chicken all work for the condensed soup. Or even a cheese condensed milk. Make your own or buy a can.
Nutrition
Serving: 1gCalories: 422kcalCarbohydrates: 13gProtein: 16gFat: 34gSaturated Fat: 15gPolyunsaturated Fat: 16gTrans Fat: 1gCholesterol: 94mgSodium: 1230mgFiber: 1gSugar: 4g
Enjoy this crockpot sausage and potatoes and pair with your favorite sides. Or eat it as a meal in one for a satisfying lunch or dinner option.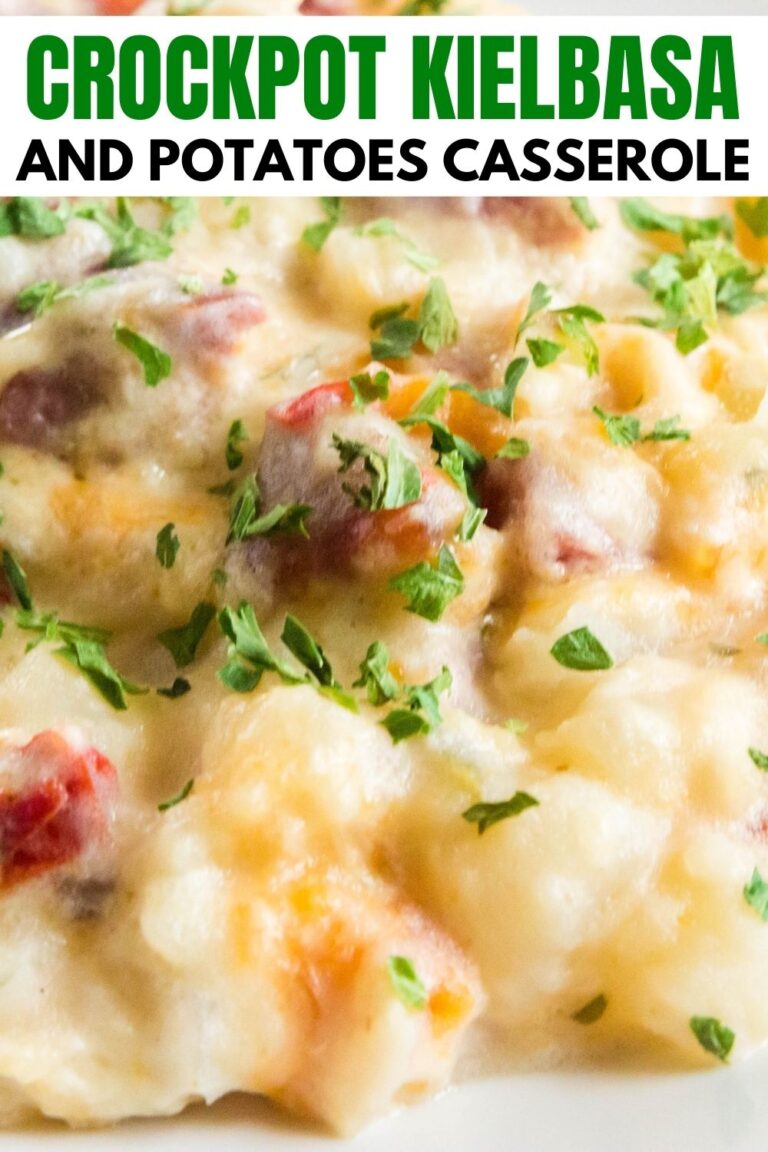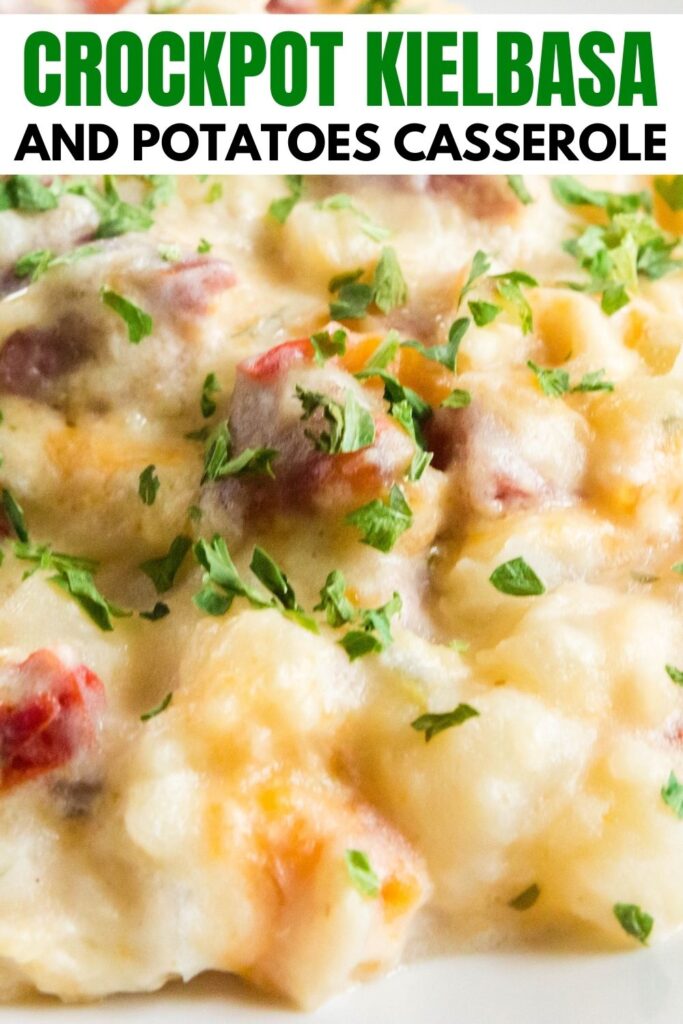 Reader Interactions