Red velvet donuts are a baked homemade red velvet donut with cream cheese frosting. The ultimate way to start your morning. In under 30 minutes, you have a red velvet cake donut to serve up.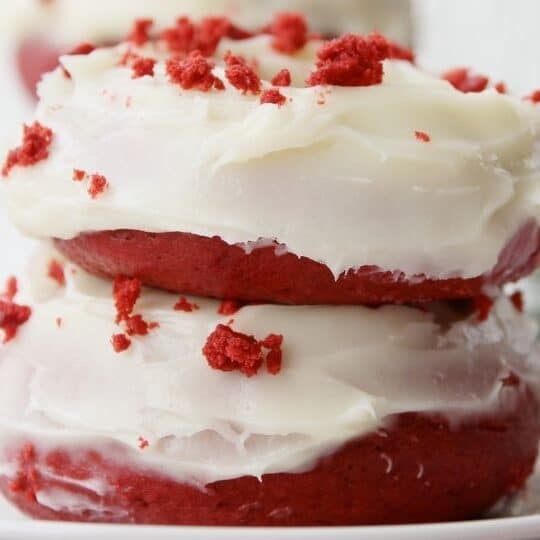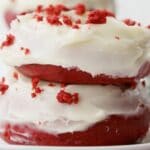 Whip up a batch of these red velvet donuts. A homemade baked red velvet donut topped with a rich cream cheese glaze. Red velvet flavor in every single decadent bite. Homemade donuts in under 30 minutes.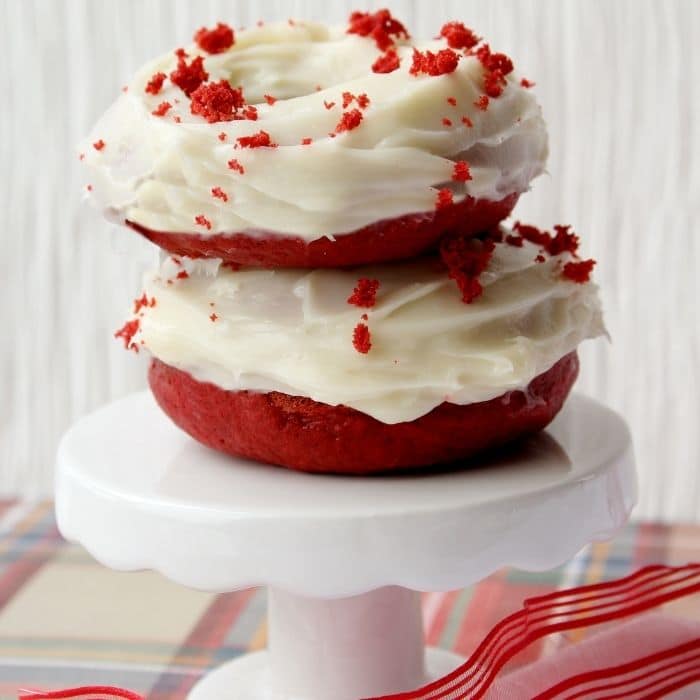 This red velvet cake donut is so light and fluffy. Then you use a homemade cream cheese glaze for donuts that totally transforms them!
Whether you are looking for a birthday donut, Christmas donut, Valentine's donut, or just because, this is it! Also, try my red velvet poke cake! Also, try my baked Samoa donuts.
🍽️ Why This Recipe Is A Must Make
Made from scratch
Baked donuts not fried
Basic pantry essentials
Homemade cream cheese frosting
Great for making for parties and holidays
Freezer friendly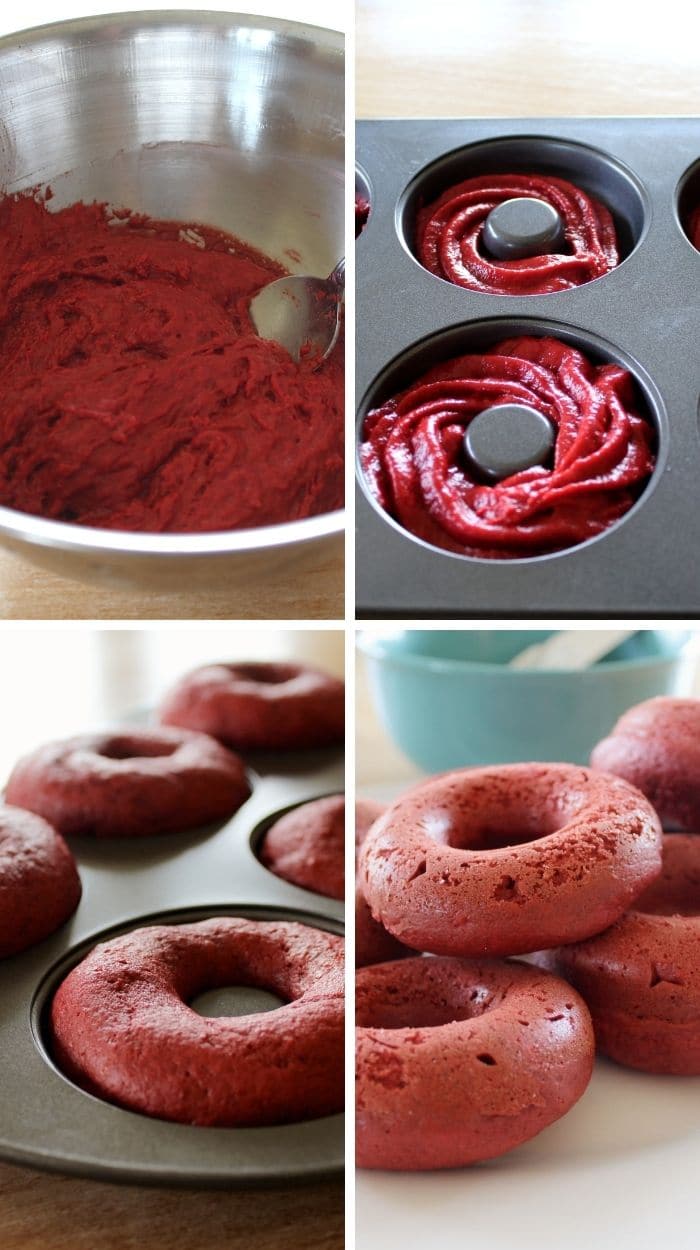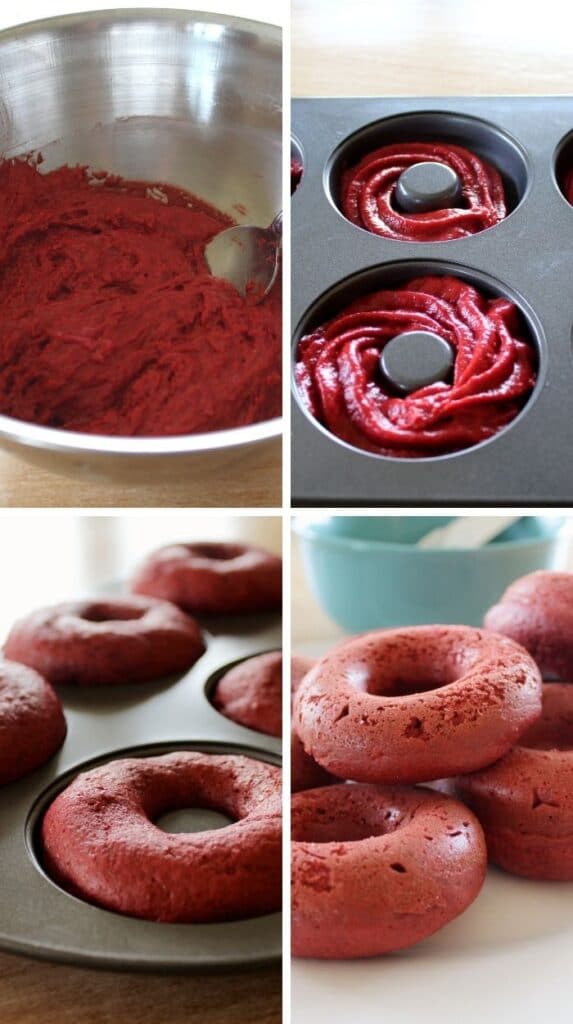 🍩 How to Make
Start by greasing you're donut pan and preheating they oven. Then in a bowl add your dry ingredients. Flour, cocoa, salt, baking soda, and sugar. Whisk for mix.
Then in a new bowl whisk your egg, buttermilk, sour cream, vanilla and butter.
When all clumps are gone add in your food coloring and vinegar. Then begin incorporating the dry ingredients.
Pip the batter into the donut pan. You can use a piping bag or a gallon sandwich bag. Pour donut batter into gallon bag and cut the tip off to pipe.
Bake as directed and then let the red velvet cake donuts sit on cooling rack in pan for 5 minutes.
Once cooled a bit, remove from pan and fully cool. Then mix up your cream cheese frosting and dip your donuts!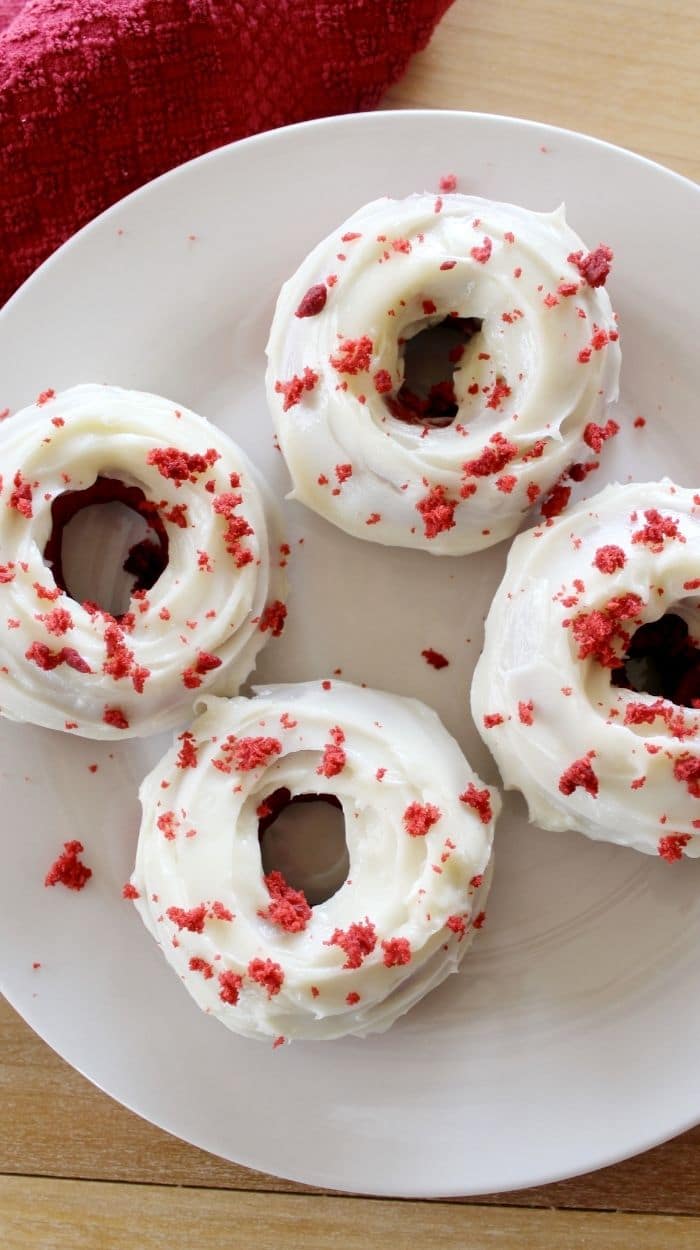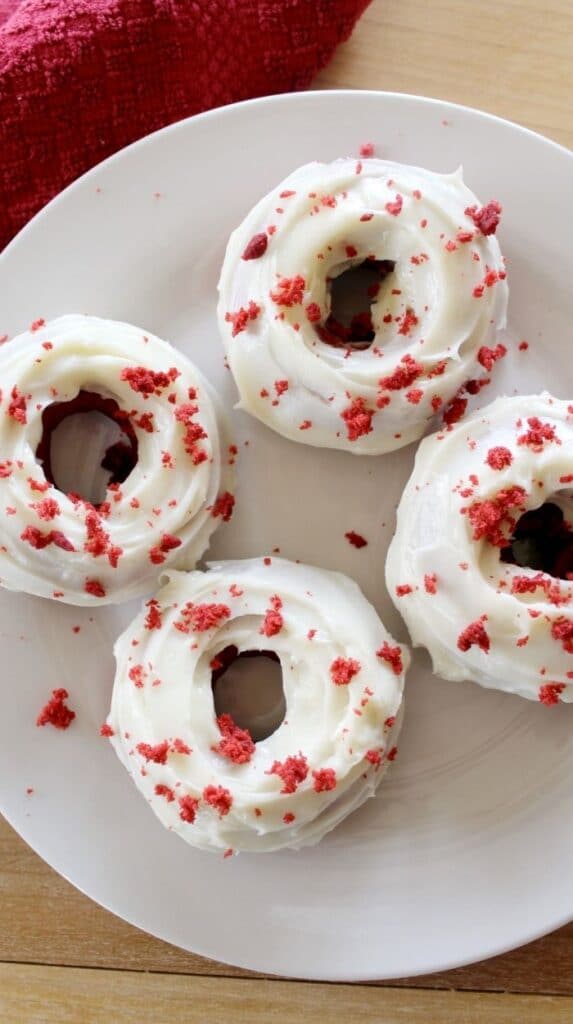 📌Expert Tips
I recommend using the Wilton he based good coloring. It offers a nice rich red color.
We topped the donkeys with a cream cheese glaze. If you don't want that feel free to change it up.
You can use one donut to make crumbs to add to the top of glaze for each donut.
Or sprinkle on some sprinkles, chopped nuts, coconut flakes, etc.
You can freeze leftover donuts.
Basic pantry ingredients.
You can use Greek plain yogurt in replace of sour cream.
🍫 Freezing and Storage
If you are going to not eat all the donuts right away I recommend storing in the fridge. The cream cheese frosting will spoil if left out.
For freezing do a single layer of donuts and freeze for up to 2-3 months in the proper container.
Thaw in the fridge the night before you want to eat. Or do a quick thaw on the counter. You can't defrost in a microwave but watch it closely. Otherwise, you will melt your frosting.
👩‍🍳 Recipe FAQs
What Is The Actual Flavor Of Red Velvet
Red velvet is a mild chocolate flavor. The acidic vinegar mixed with buttermilk and food coloring gives you that classic mild chocolate flavor when paired with cocoa.
Is There A Natural Red Food Coloring?
If you are not fond of the idea of food coloring you can reach for beet powder as a natural dye. I can't say if it will work as good as food coloring but you can try.

How to Store Red Velvet Donuts?
Due to the cream cheese frosting these baked red velvet donuts need to be refrigerated. Store in an airtight container in the refrigerator.
What is the difference between a cake donut and regular donut?
Cake donuts offer a cake-like texture. Whereas a regular donut is made of yeast.
More Ways To Jumpstart The Morning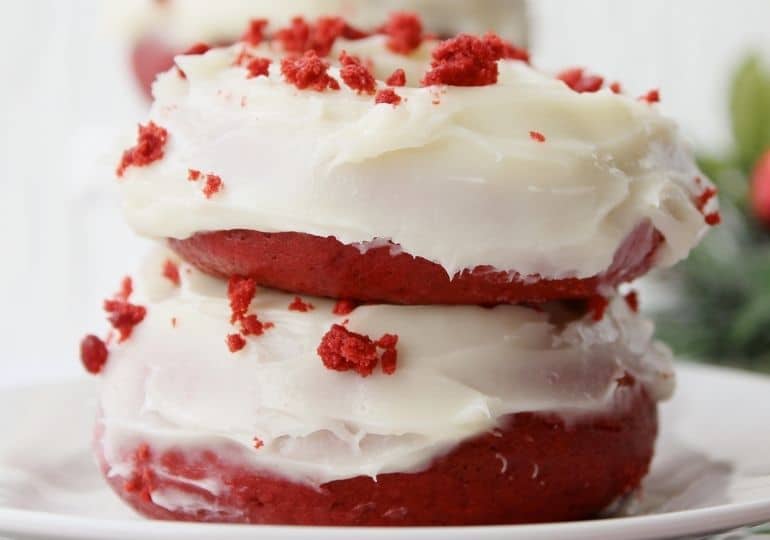 Red Velvet Donuts
Servings 8 donuts
Red velvet donuts are a baked homemade red velvet donut with cream cheese frosting. The ultimate way to start your morning. In under 30 minutes, you have a red velvet cake donut to serve up.
Ingredients
Donut Ingredients:
1 cup all-purpose flour
2 teaspoons cocoa powder
1/3 cup granulated sugar
1/2 teaspoon baking soda
1/4 teaspoon salt
2 teaspoons vanilla
1 tablespoon sour cream room temperature
2 1/2 tablespoons unsalted butter melted & set to room temperature
1 large egg
1/3 cup buttermilk
1 tablespoon red food coloring
1/2 tsp. white vinegar
Cream Cheese Glaze:
1 tablespoon butter softened
4 oz cream cheese Room temperature
1 to 1 ½ cups powdered sugar sifted
1 to 2 tablespoon cream or milk until mixture is smooth
Instructions
Preheat your oven to 350 degrees and spray your donut pan with a cooking spray, and set aside.

Now in a bowl you will add in your dry ingredients. Flour, cocoa, salt, sugar, and baking soda. Stir and set aside.

In another bowl you will add in your butter, vanilla, buttermilk, egg and sour cream. Mix until nice and creamy.

Make sure there are no lumps then add in the food coloring and vinegar and whisk well until combined.

Slowly work in the dry ingredients, and mix until incorporated.

Pipe your batter into the donut pan you can use a piping bag, or pour batter into gallon bag and cut the tip off an end.

Bake for 8-10 minutes or until the donuts are cooked. Let them sit on a cooling rack for 5 minutes in the pan.

Carefully remove and place donuts on a cooling rack to cool.

Now you can work on mixing up your cream cheese glaze . Add in your butter, cream cheese and mix until smooth. Then slowly add in your sifted powdered sugar. You might not use it all.

Add in milk slowly until you reach a creamy yet thick consistency. Add more powdered sugar to thicken, milk to thin it. Adjust to your liking.

Then with a flat edge knife frost each donut. Then crumble a donut on top with crumbs, add sprinkles, or serve plain. Decorate your red velvet donuts to fit your liking.
Notes
You need to store the donuts in the fridge due to the cream cheese glaze. Feel free to double the recipe, just batch cook, or use multiple donut pans. These donuts are best when served fresh. You can make them a day in advance if need be.
Nutrition
Serving: 1gCalories: 313kcalCarbohydrates: 44gProtein: 5gFat: 13gSaturated Fat: 8gPolyunsaturated Fat: 4gCholesterol: 59mgSodium: 248mgFiber: 1gSugar: 30g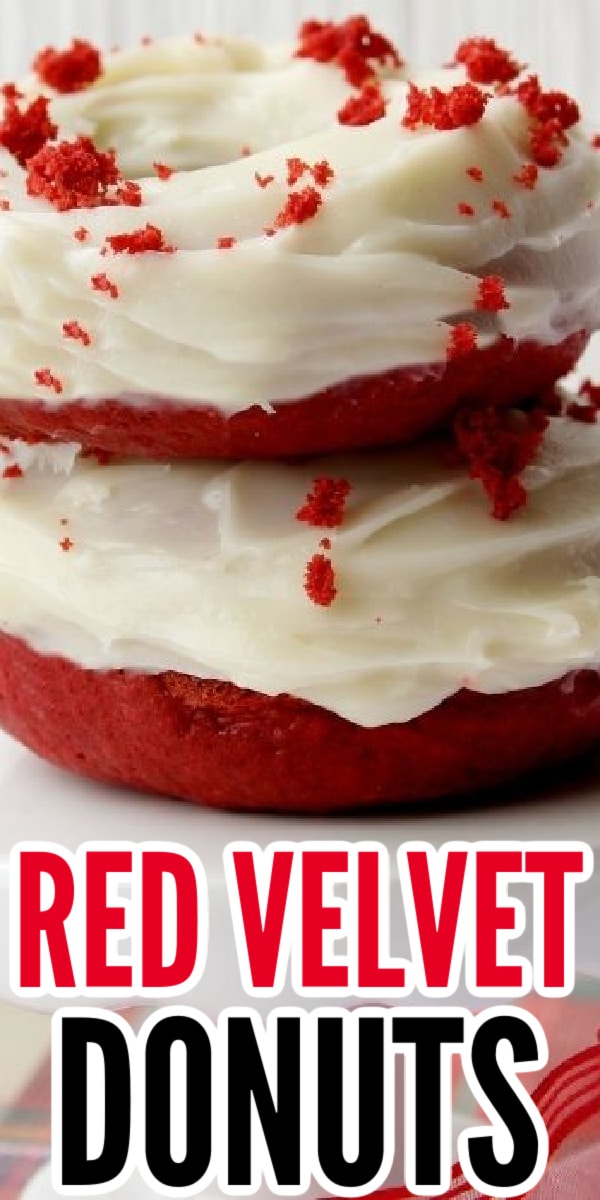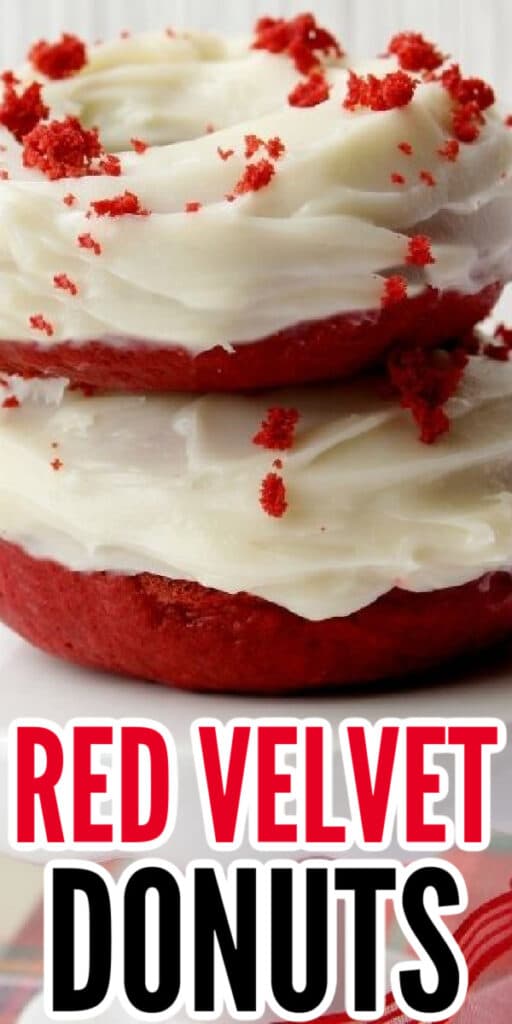 Reader Interactions