Applesauce Pancakes that are loaded with a cheesecake filling. Simple homemade pancakes that totally melt in your mouth good.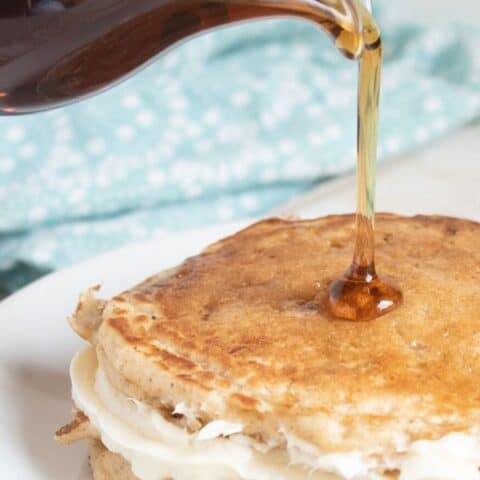 Applesauce pancakes are a homemade pancake recipe that will win you over. Applesauce mixed into the batter and then whip up my cheesecake filling to top your pancakes.
Are you looking for a new breakfast idea for the family? You're going to love these Applesauce Pancakes with cheesecake filling.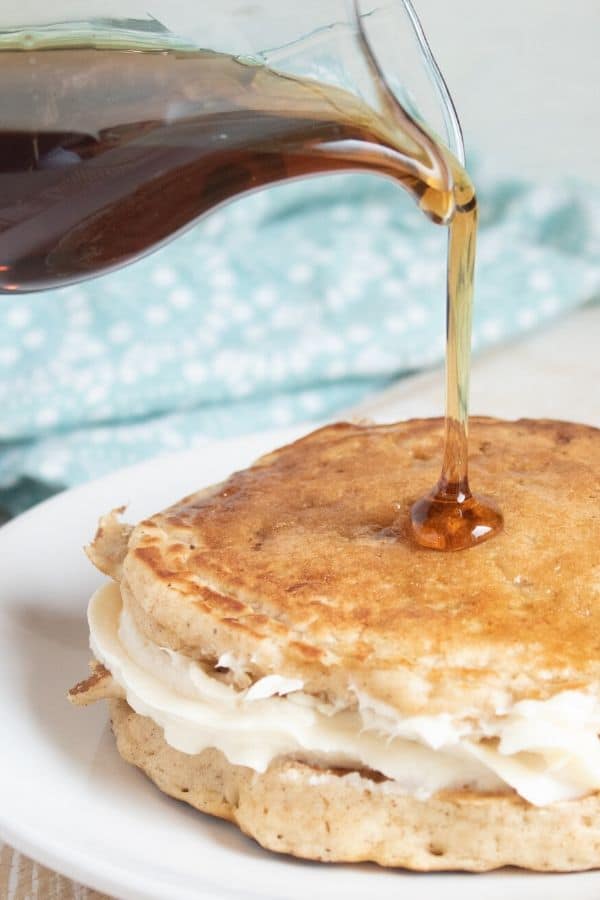 Not only are they still that yummy pancake flavor and texture that we all love and adore, but instead of oil, they're made using applesauce instead! Let's not forget about the incredible homemade cheesecake filling!
Also, try my keto chocolate chaffles recipe as well! It is loaded with fresh strawberries and chocolate in every bite. Or my cornmeal pancakes!
Why This Recipe Is A Hit
Applesauce – Applesauce used in the homemade pancakes adds tons of richness, texture and flavor. This applesauce pancake recipe has the hint of cinnamon for added flavor.
Simple Ingredients – You might find you have all the ingredients on hand, so raid that pantry and fridge. This apple cinnamon pancakes recipe is a hit.
Kid Friendly – A toddler pancake recipe, and kid friendly. Tasty pancakes, that are freezer friendly.
Cream Cheese Filling – I share how to make the cream cheese filling which you can spread between two of the waffles. It gives such a delicious flavor!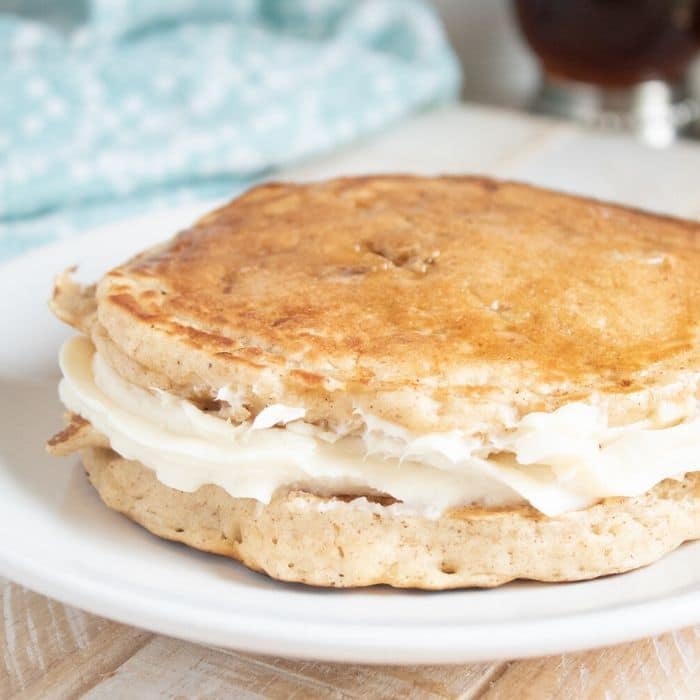 Ingredients Needed
Flour – I used all purpose. You could do 1/2 wheat flour and 1/2 all purpose flour.
Applesauce – Reach for store bought applesauce or make homemade applesauce.
Baking Powder
Salt
Cinnamon – The cinnamon is optional, but this is going to add warmth to the pancakes.
Sugar
Milk – You can use classic milk, or a plant-based if you need a dairy free alternative.
Egg
Butter
Cream Cheese – The cream cheese is in the filling for this breakfast recipe.
How to Make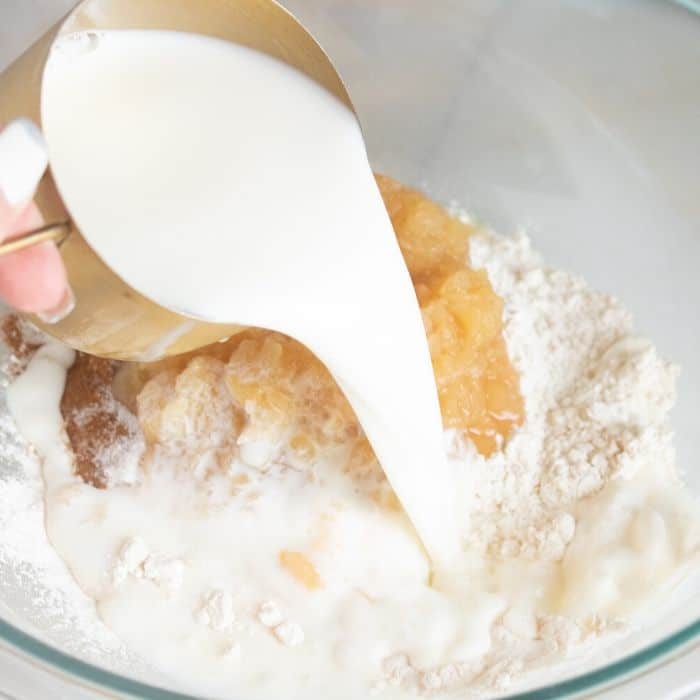 Step 1: In a bowl add all your dry ingredients as well as the applesauce, milk, egg and butter. Mix well to incorporate the batter.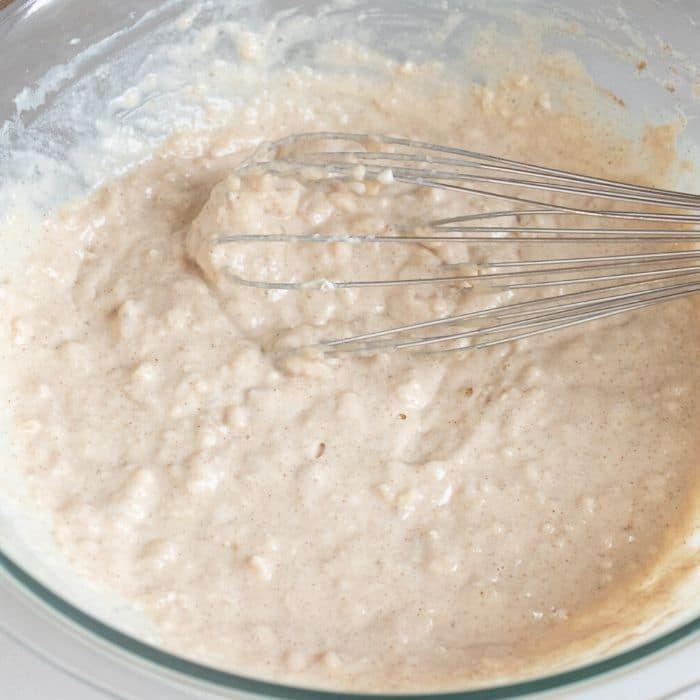 Step 2: Now you will heat a pan or griddle to get it hot. Add cooking spray or even a dollop of butter. Spoon out around 1/3-1/2 cup of pancake batter.
Step 3: Allow the edges to begin to bubble, then with a spatula flip the pancake, and cook the other side. Repeat until all the pancake mix is used.
Step 4: If you want to make the cream cheese filling, simply add the softened cream cheese, vanilla and sugar in a bowl. Mix well until creamy. Then spread in between the pancakes.
Can You Freeze Leftover Pancakes?
You can! This is why homemade pancakes are a great meal that you can easily make ahead in batches!
Just make certain that you're not freezing them with the cream cheese mixture inside – you can always add that in once you unthaw them later.
I like to freeze our pancakes in batches of 3-4 so that I can easily unthaw them quickly in the morning.
Flash freeze your pancakes on a cookie sheet lined with parchment paper. Once frozen transfer to container or freezer bag and freeze up to three months.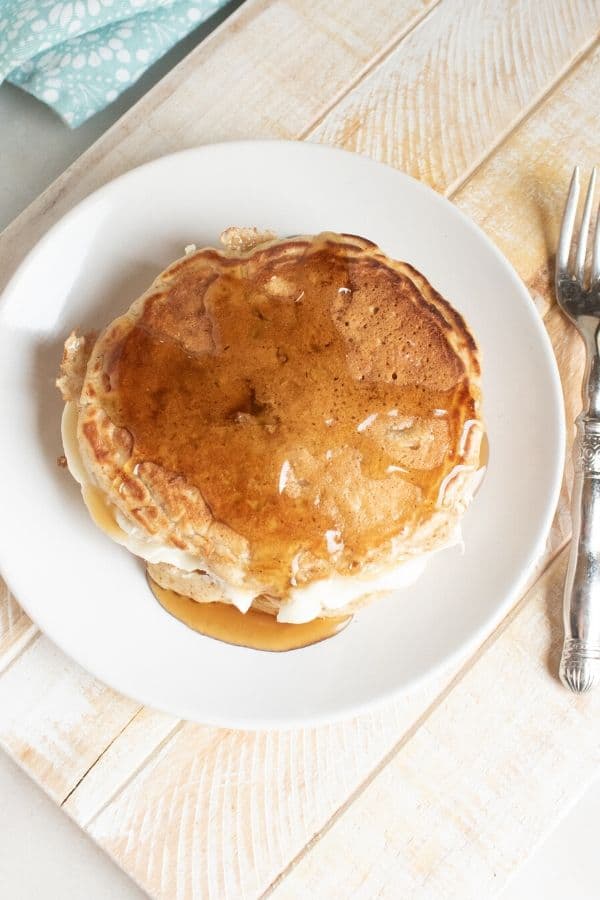 Best Way to Reheat Pancakes
Pancakes are really simple to reheat as well. You can pop them in the microwave for 15 seconds – 30 seconds and see if they're ready to eat.
Add a cup of water in the microwave with your pancakes to help keep them moist.
And if you prefer your pancakes to have a bit of a crunch to them, you can always use a toaster as well.
Topping Ideas for Applesauce Pancakes
For me, this is where pancakes can take on a whole new life. Pancake topping options are unlimited. However, you can eat plain or pile on your favorite toppings.
Some simple topping ideas for applesauce pancakes could be:
Homemade Apple Butter
Fresh Strawberries
Powdered Sugar
Light Glaze and Sprinkles
Honey
Marshmallow Fluff and Chocolate Chips
Whipped Cream
And I could probably go on and on for quite some time. As you can tell, the toppings that you add to your pancakes can make it take on a whole new taste.
Eat your pancakes any way you like. Dive in with that fork and enjoy it.
Are you ready to see how we make these delicious Pancakes with cream cheese filling? You're going to love this recipe!
FAQs
Is there a substitute for baking powder?
If you don't have baking powder in your cabinet, don't stress.
Just substitute out that ingredient and use cream of tartar instead. You won't even notice a difference in the taste or flavor. 
How do you make fluffy homemade pancakes?
The key is in mixing the ingredients. If you're making your making from scratch and you're finding that you're not getting that "fluffiness" that you're wanting.

There's a good chance that you're overmixing your ingredients and it's causing them to then fall flat. 

For your next batch of pancakes, try not mixing as much and see if you notice a difference. The fewer mixes, the more fluff! 
Related Recipes
Try these Waffle and Pancake Recipes Too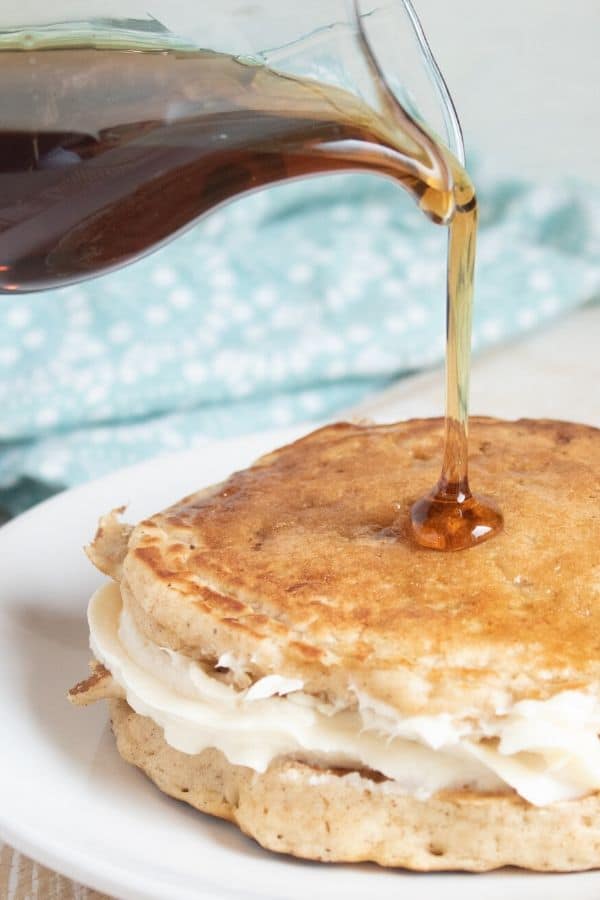 Applesauce Pancakes
Servings 4 -6 servings
Applesauce Pancakes that are loaded with a cheesecake filling. Simple homemade pancakes that totally melt in your mouth good.
Ingredients
1 1/2 cup all purpose flour
1 cup chunky applesauce
3 teaspoons baking powder
1 teaspoon salt
1 teaspoon cinnamon
1 tablespoon granulated sugar
1 cup milk you can use Almond milk or other substitutes
1 egg
2 tablespoons melted butter
Cheesecake Filling
8 ounces of cream cheese softened
1 teaspoon vanilla extract
1/2 cup granulated sugar
Instructions
Grab a bowl and mix your flour, baking powder, tablespoon of sugar, salt, cinnamon, applesauce, milk, egg and butter together. You don't want want to overmix the pancake batter.

Now turn on your griddle and let it get nice and hot. You will then want to spray with a cooking spray to prevent sticking.

Pour about 1/2 cup of pancake batter on the pancake griddle. Cook on the first side until you begin to see air bubbles begin to form.

Use a spatula to peek at the side to see if it is browning. Then flip it over gently and repeat the cooking.

Then in a medium sized bowl work on the cheesecake filling. Take your softened cream cheese, sugar and vanilla and mix until creamy.

Now place a pancake on a plate and smear some of your cheesecake mixture on top. Then feel free to add another pancake and top with syrup or a dollop of butter.
Notes
Storage – Store any pancakes you don't eat right away in an airtight container in the fridge. Or you can freeze for 3-4 months. Reheating – You can reheat pancakes in the microwave. Just place a cup of water in the microwave, add pancakes and heat. The water will help prevent pancakes from drying out. Or you can warm in toaster or oven. Cream Cheese – The filling is optional for these cinnamon apple pancakes. They are delicious with or without the filling spread on top. Double Recipe – Feel free to double the pancake recipe if you want. This is super easy and a great way to meal prep with.
Nutrition
Serving: 2gCalories: 626kcalCarbohydrates: 83gProtein: 12gFat: 28gSaturated Fat: 16gPolyunsaturated Fat: 9gCholesterol: 124mgSodium: 1170mgFiber: 2gSugar: 40g
The next time that you're looking for something unique and yummy to make for breakfast, give this simple pancake recipe a try.
It's a great way to wake up your tummy and your taste buds bright and early in the morning!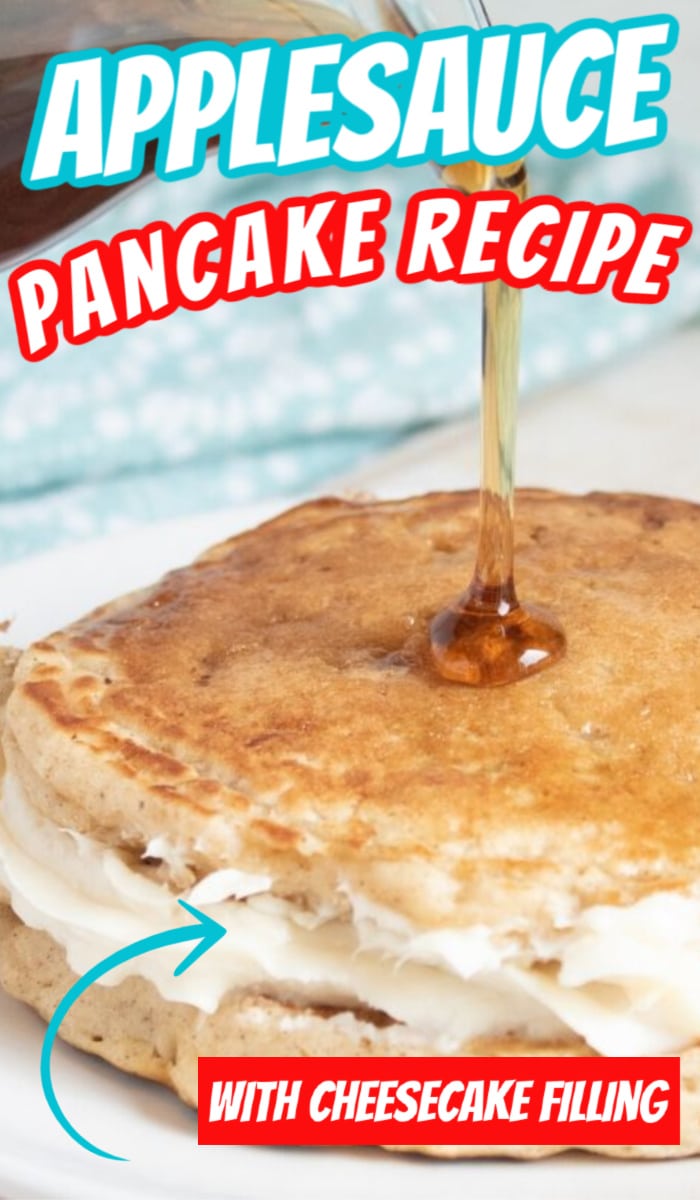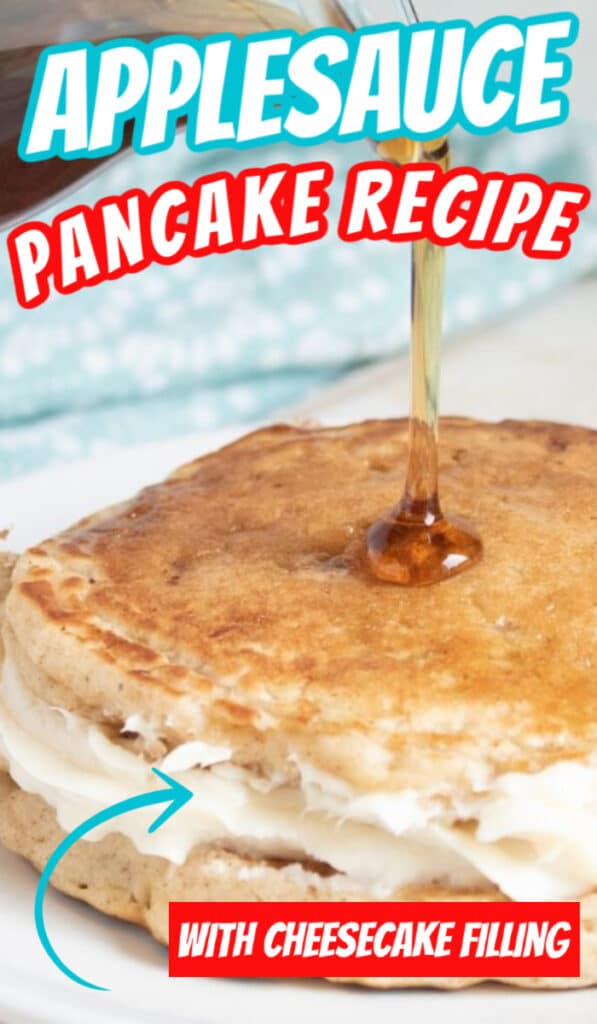 What other toppings would you add to your own stack of applesauce pancakes?
Reader Interactions