Keto Chocolate Chaffles with Strawberries is the ultimate keto chaffle recipe. Loads of chcolate, strawberries, and rich flavor in every decadent bite.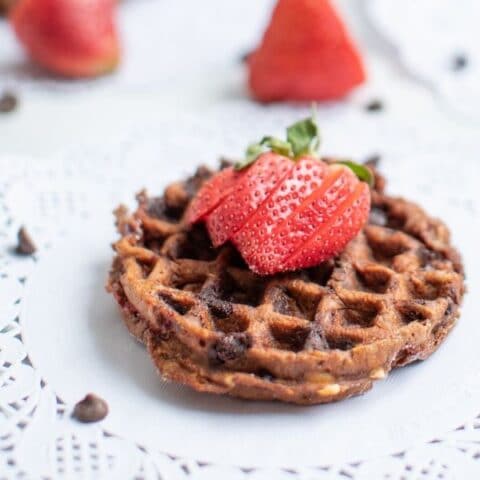 Chocolate chaffles are the ultimate way to jumpstart your morning or treat yourself for a snack. Chaffles are crazy right now and this Chaffles recipe here is one of the best!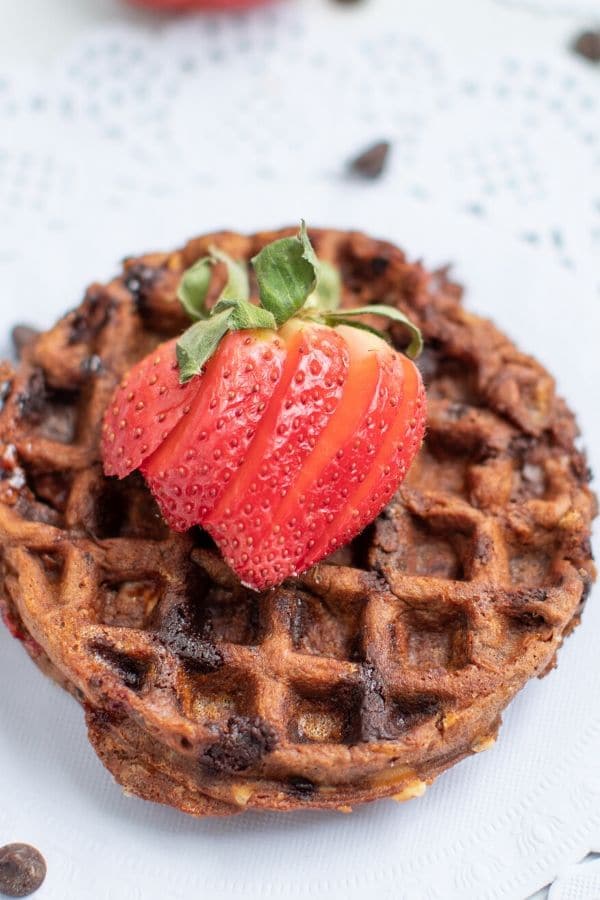 In this chocolate Chaffles recipe you have a chocolate Chaffles that is sprinkle with sugar free chocolate chips and fresh strawberries.
Chocolate Chaffles
This chocolate keto version is a dessert chaffle that literally makes a bad day good! One bite and your swooning. Or step out and try this Keto Buffalo Chicken Chaffle for a savory side over at Adventuresofanurse.com.
A keto-friendly recipe that will leave you feeling satisfied and anything but deprived.
Here are More Keto Recipes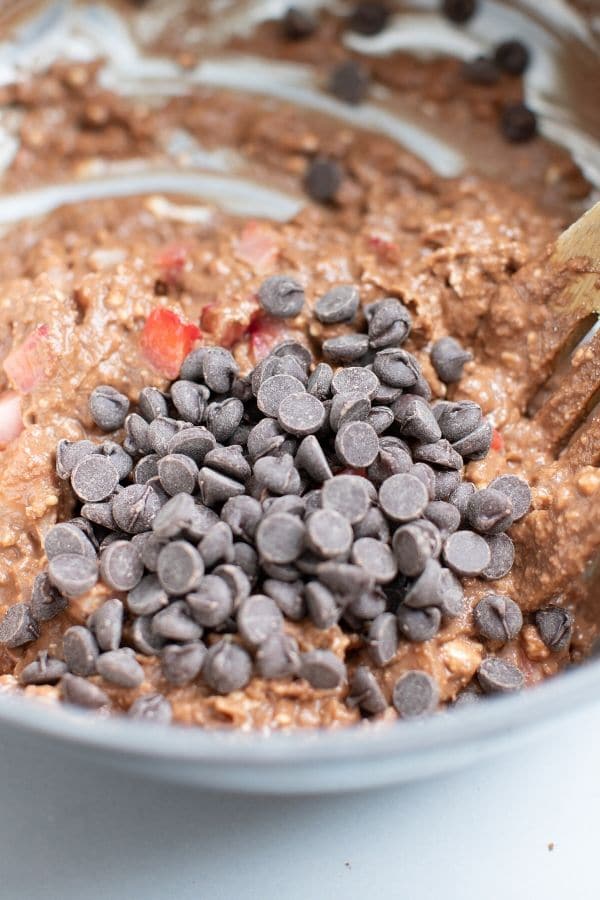 What Is A Chaffle
A chaffle consists of cheese and eggs cooked in a waffle iron. Now, this is a dessert chaffle recipe so you have cocoa, chocolate chips, strawberries and more that go into this recipe.
I know it sounds like an odd concept but trust me, it works!
What Other Type of Chaffles Can You Make
In the world of Chaffles you have endless options. Sweet recipes like this one, or classic recipes. Or use Chaffles as a bun for a sandwich or even BLT.
It is a great replacement for a bread-style item on the ketogenic diet.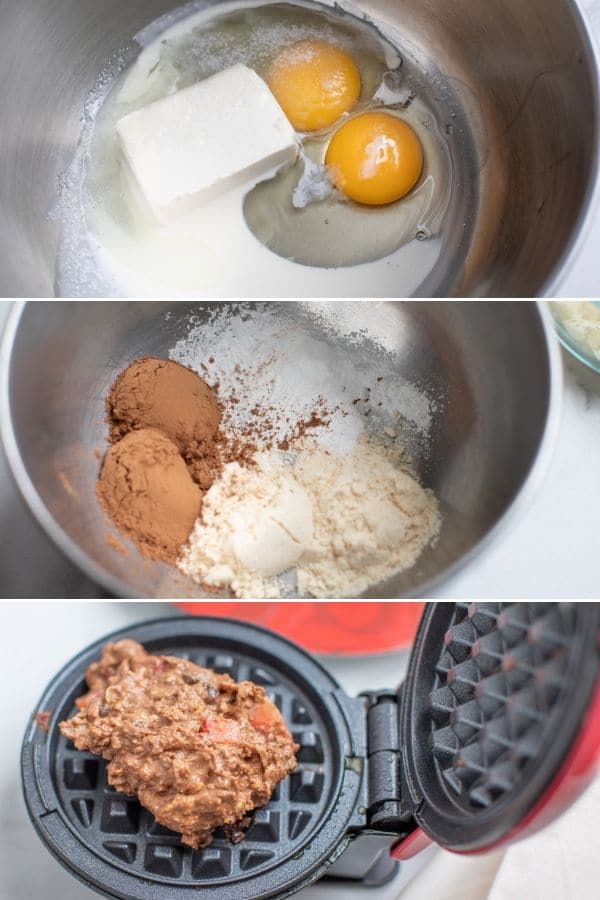 How Do You Make Chocolate Chaffles
Start by putting cream cheese, sweetener and whipping cream in a bowl and mix well. Add in your extract and set aside.
Now do your dry ingredients, and then slowly mix in with your cream cheese base. Fold in cheese and strawberries, and chocolate chips.
Heat up your griddle and then scoop batter in and cook for 2 minutes or so for small waffles or 4 minutes for larger.
Full directions are in the printable recipe card below.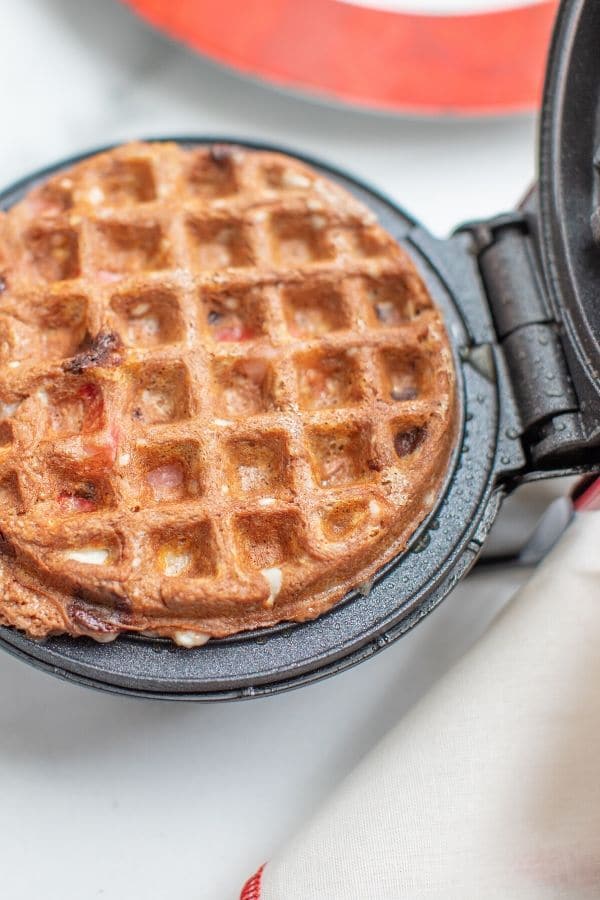 How Many Does This Recipe Make
You will get 1 Belgian style waffle or 3 mini waffles out of this batter.
If you want to make extra to serve to others go right ahead!
One thing I will say is allowing your waffle to cool down a bit will help to tame the egg flavor in these waffles.
Toppings for Chocolate Dessert Chaffle
Sweetener powdered sugar
Fresh berries
Nuts
Chocolate chips
Drizzle syrup
Nut butter
Homemade Whipped topping
Etc
Honestly, you can eat these plain or create more flavor and dimension to the recipe.
Best Waffle Maker For Chaffles
You can use almost any waffle maker but I prefer a dash mini waffle maker most of the time!
Having a smaller one works great for me. Heats up fast, cooks my Chaffles quickly, evenly and requires minimal storage space! This is a great keto chaffle recipe to try out.
How to Store Chaffles
If you make extra that you don't eat right away, allow to cool and then store in the fridge. I place mine in an airtight container.
Then eat cold or reheat for a warm dessert or breakfast if you will.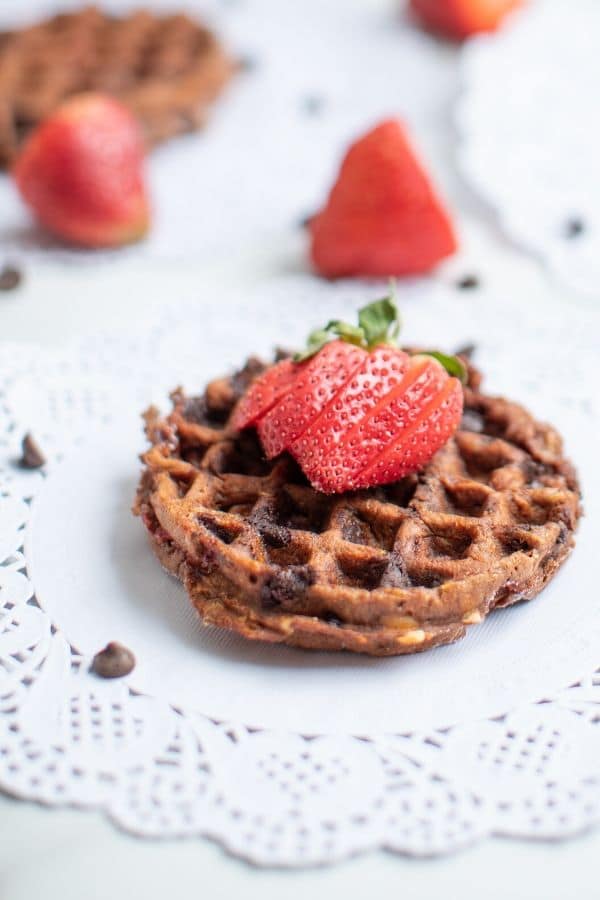 Do Chaffles Freeze Well
You can freeze Chaffles rather easy. Allow them to cool once you remove them from the waffle maker.
Then store in an airtight container in the freezer. If you have quite a few use parchment paper or wax paper for layers to prevent them from sticking together.
Thaw in the fridge the night before you plan to eat. Or warm up straight from frozen if you prefer.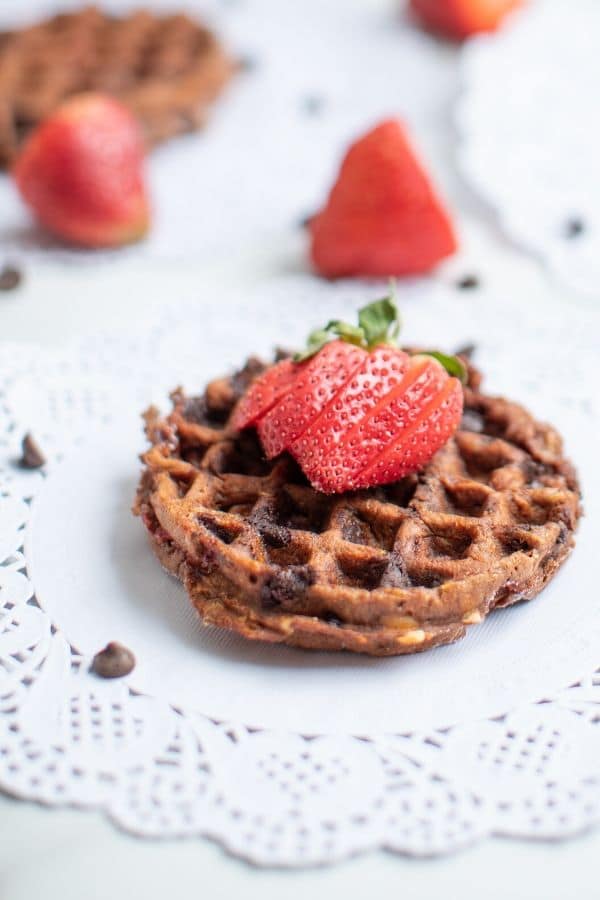 Chocolate Chaffles
Servings 3 Mini Waffles
Keto Chocolate Chaffles with Strawberries is the ultimate keto chaffle recipe. Loads of chcolate, strawberries, and rich flavor in every decadent bite.
Ingredients
2 large eggs
2 ounces cream cheese softened
1 tablespoon heavy whipping cream divided
1 teaspoon vanilla extract
1 tablespoon monk-fruit sweetener or other granular sweetener
1 teaspoon baking soda
1/4 vup unsweetened cocoa
2 tablespoons coconut flour
3/4 cup mozzarella cheese shredded
1/4 cup Lily's chocolate chips + 1 teaspoon for garnishment
1/4 cup fresh strawberries diced
1 tablespoon Swerve Confectioner Sugar topping, optional
Instructions
Start by preheating your mini dash waffle maker to medium-high heat. Make sure to grease generously.

Then in a medium sized mixing bowl you will add your eggs, cream cheese, whipping cream and vanilla extract and sweetener.

With hand or stand mixer whip the mixture until it is fully incorporated.

Then in a new small bowl you will want to add your coconut flour, baking soda, and cocoa powder. Whisk until well combined. Then slowly add the dry ingredients in with the wet chaffle mixture.

You will now add in your mozzarella, strawberries, and chocoalte chips, and fold it into the chaffle batter.

For mini waffles you will scoop 1/4 cup of the chocolate chaffle batter into the waffle maker and cook for 2 minutes or so until done. If you do a Belgian chaffle you will use the entire mixture and cook for 4 minutes or until done.

Top with your confectioner sugar and a fresh strawberry and/or chocolate chips.
Nutrition
Serving: 1gCalories: 333kcalCarbohydrates: 19gProtein: 14gFat: 23gSaturated Fat: 13gPolyunsaturated Fat: 8gCholesterol: 171mgSodium: 708mgFiber: 2gSugar: 14g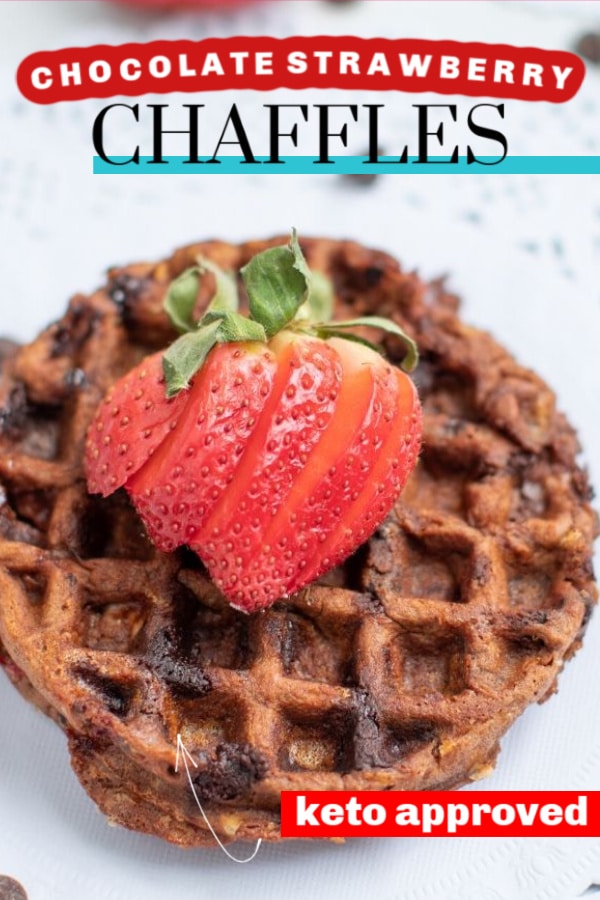 Have you ever tried a keto chocolate chaffle before?
Reader Interactions