Air Fryer Bacon Wrapped Scallops are so easy, and offer a crispy texture with a meaty center. This scallops recipe is keto friendly and so easy to make.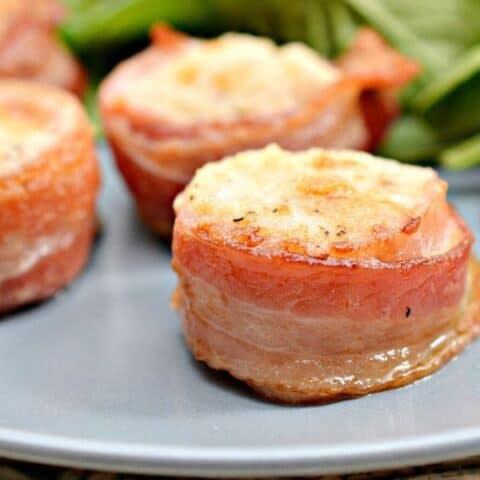 Air Fryer Bacon Wrapped Scallops are a super easy and satisfying dish to make up. These Air Fryer Scallops are crazy simple. Crispy bacon on the outside with a meaty scallop in the center.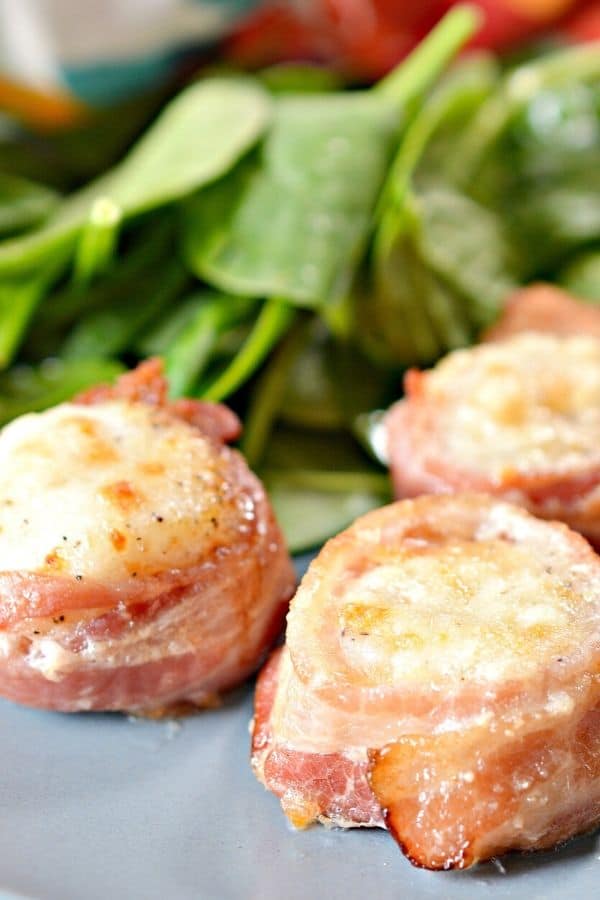 Air Fryer Bacon Wrapped Scallops
Scallops in the air fryer come out juicy and tender and the bacon has a nice texture as well. I love bacon paired with scallops.
One of my favorite sea scallops recipe. A crazy-easy seafood air fryer recipe that takes around 10 minutes to cook and have ready to serve up.
Is This Sea Scallops Recipe Keto Friendly
You bet! If you are looking for a Ketogenic friendly recipe, this is a keto-approved dish. Or want sweet, try my strawberry chocolate chaffles recipe.
If you follow the recipe exactly these have 3 net carbs per bacon-wrapped sea scallop.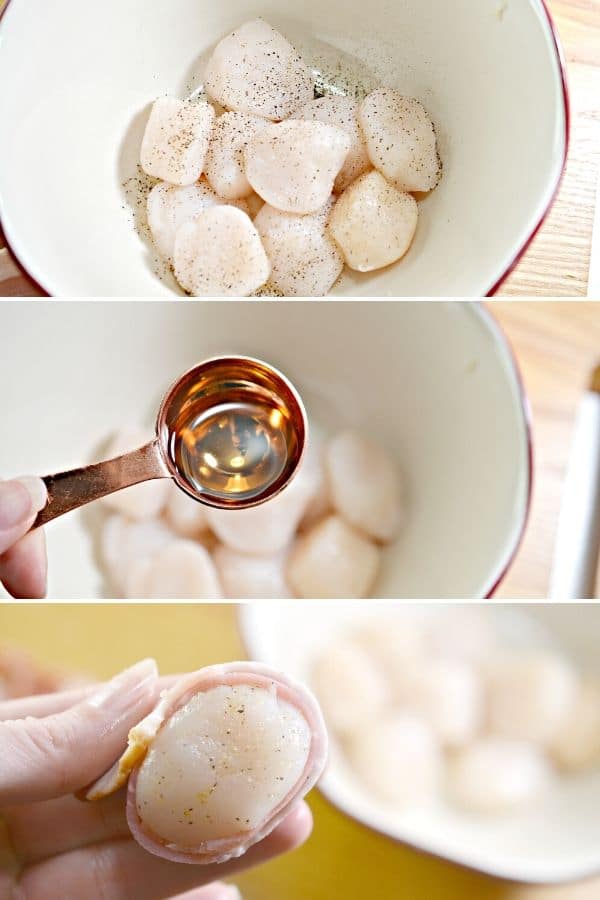 How To Make Sea Scallops In Air Fryer
Preheat your air fryer as directed in the printable recipe card below.
In a bowl add your oil, seasonings, and parmesan cheese and toss well with scallops.
Cut your bacon and then wrap around the scallops.
Line your air fryer tray with parchment paper and air fry as directed below.
Can I Just Do Salt And Pepper To Season Scallops
Yes, you are more than welcome to season your scallops how you like them. If you want to reach for a creole seasoning go right ahead.
Season your sea scallops however you generally eat them if you don't want to do the seasonings I used above.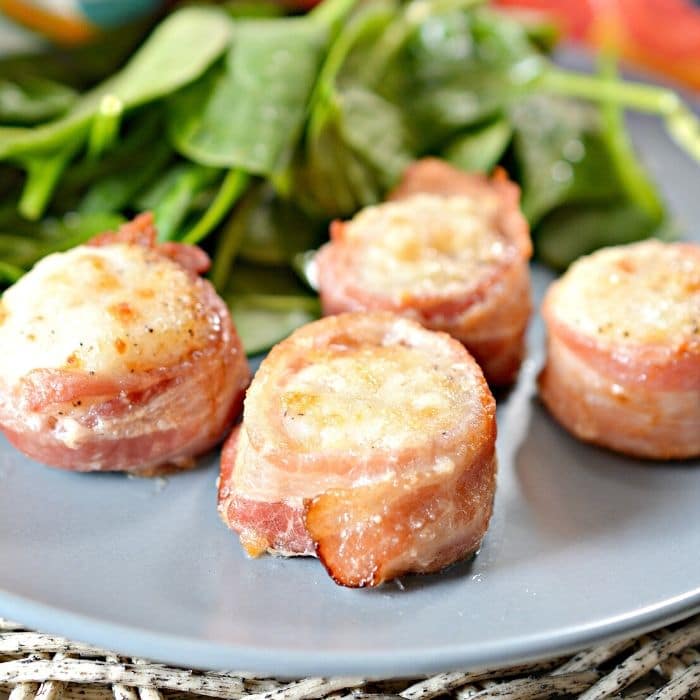 Tips For Making Scallops In Air Fryer
Pat down your scallops and dry with paper towel. Use a paper towel to pat down all sides of your sea scallops.
Flip your scallops halfway through the air frying to ensure an even cook on your scallops. Just pull out the air fryer basket or use tongs.
You can use a toothpick to ensure the bacon stays wrapped around the scallops.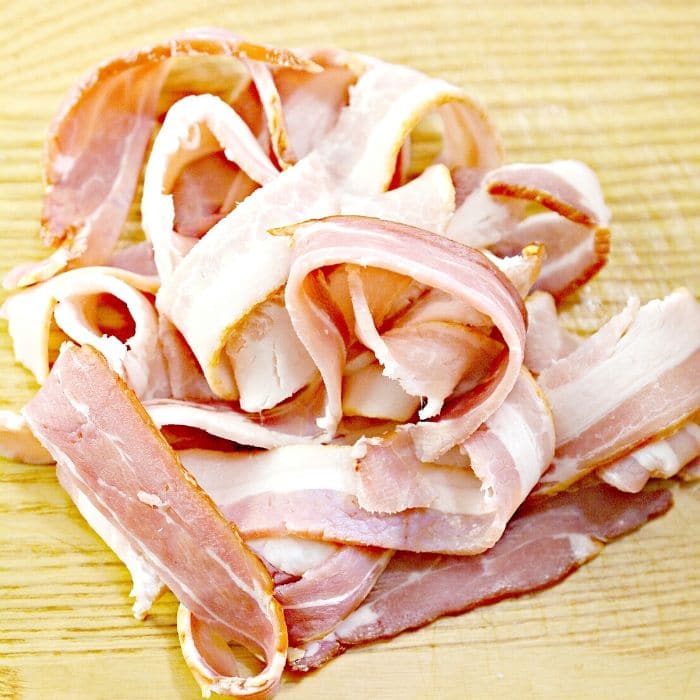 What Is Best Bacon To Use
When you wrap items in bacon you will find thinner bacon is key. If you use thick-cut bacon it will not cook up the way you want it.
Plus you will slice your bacon lengthwise so that it isn't too bulky on your seafood.
Want More Seafood Recipes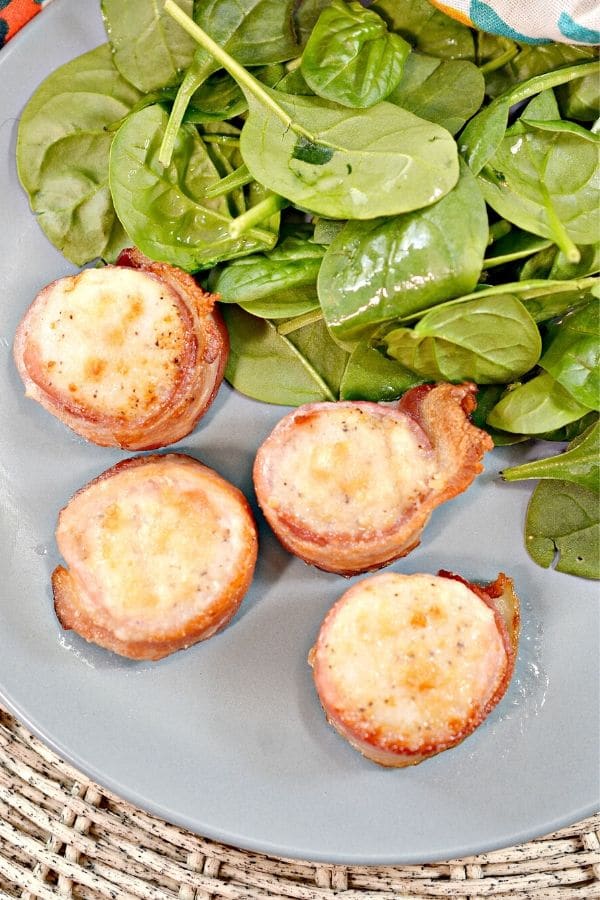 What To Serve With Scallops
Greens or Salad
Riced Cauliflower or Regular Rice
Etc
Whatever you like serving with your scallops and dive right in.
How To Know When Scallops Are Cooked Fully
To know your scallops are done you will look at the color they offer. When done they will turn opaque.
Since I use parmesan on this recipe, you can't fully see the color in scallops in this recipe.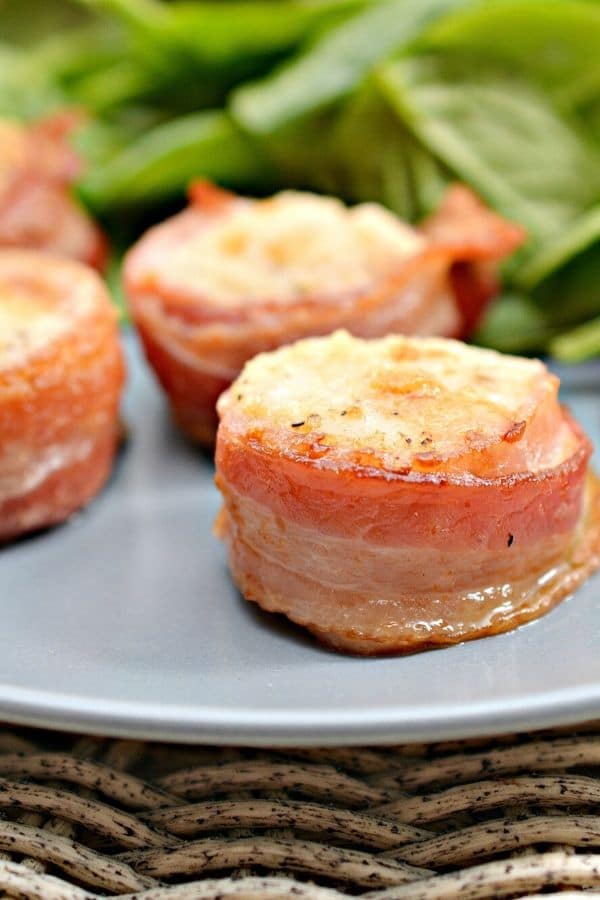 Air Fryer Bacon Wrapped Scallops
Servings 3 servings
Air Fryer Bacon Wrapped Scallops are so easy, and offer a crispy texture with a meaty center. This scallops recipe is keto friendly and so easy to make.
Ingredients
1 pound Sea Scallops around 10-12 scallops
5 strips of thin bacon sliced in half lengthwise
1/2 tablespoon oil
Salt and Pepper to Taste
1/4 teaspoon garlic powder
1 1/2 tablespoons parmesan cheese grated
Instructions
Start by preheating your air fryer to 350 degrees.

In a bowl add your scallops, followed by oil, garlic powder, salt and pepper. Then toss well to evenly coat the raw scallops.

Now take your bacon and cut them in half lengthwise.

Wrap a piece of your raw bacon around the seasoned scallops. Repeat until you have all your scallops wrapped. Feel free to secure with a toothpick to ensure the bacon stays on.

Now place your wrapped scallops on a parchment lined pan that fits into your air fryer.

Cook for 4 minutes, and then flip over and cook an additional 4-5 minutes.

Now open up the air fryer and top your bacon wrapped scallops with parmesan cheese, and continue to cook for another 1-2 mintues.

Serve your bacon wrapped scallops fresh and hot with your favorite sides or serve them up as a hearty appetizer.
Nutrition
Serving: 4gCalories: 291kcalCarbohydrates: 9gProtein: 38gFat: 11gSaturated Fat: 3gPolyunsaturated Fat: 7gCholesterol: 83mgSodium: 1481mg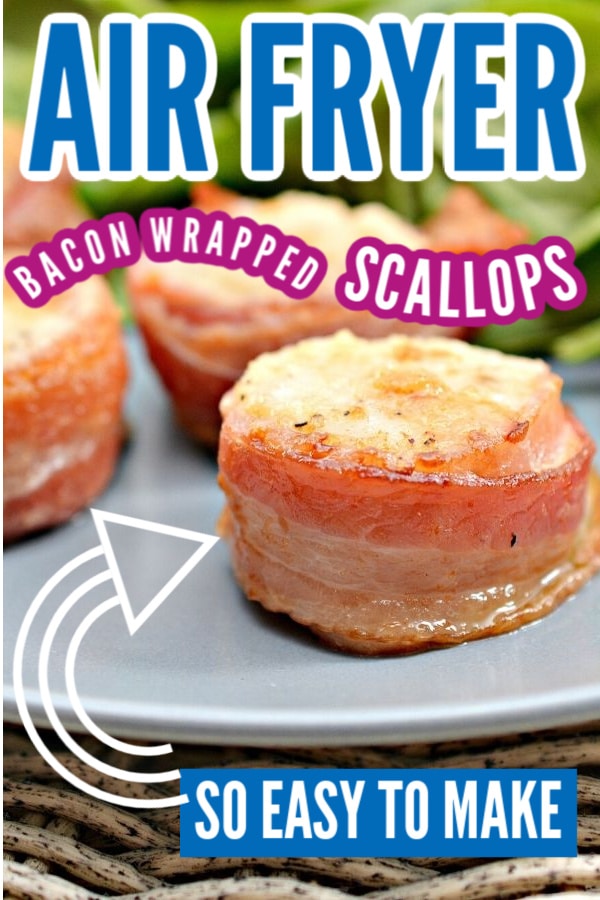 What do you think of these air fryer bacon wrapped scallops?
Reader Interactions