Instant Pot Dirty Rice is one easy way to serve up your favorite spiced up Cajun rice. Give this easy dirty rice recipe today.

Instant Pot Dirty Rice is one of my favorite quick and easy rice Instant Pot recipes. Ground beef, sausage, cajun spice, and veggies collide in this easy and satisfying dinner. Dirty rice just got a lot easier with this recipe.
We love Cajun flavor in our home. This Cajun dirty rice is loaded with flavor. And you can spice it up with extra Cajun seasoning if you like to get more heat factor.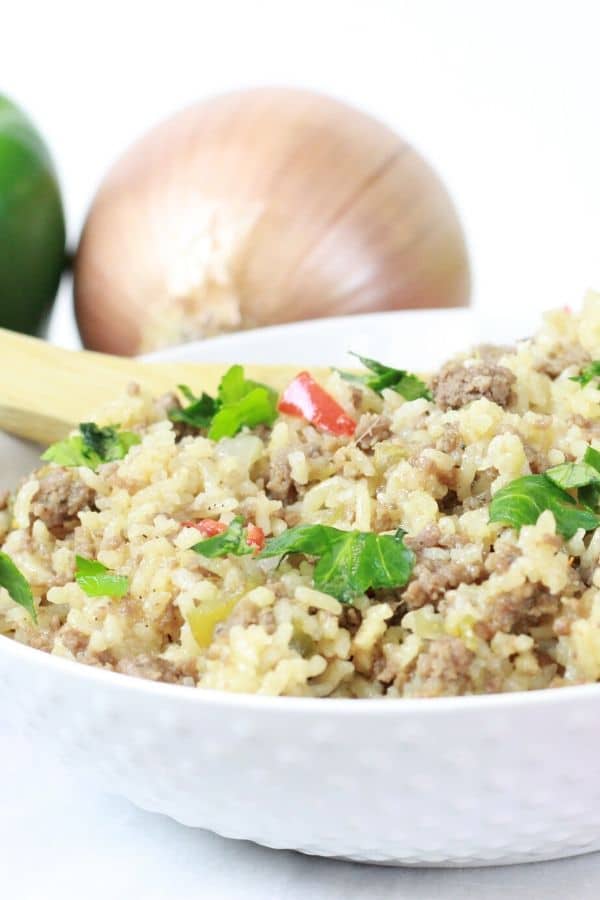 This Instant Pot dirty rice with beef and sausage and a tasty and quick dinner idea. I didn't use other meat, I wanted to use regular ground sausage and beef.
But feel free to swap it out if you want to add in chicken livers or other meat parts. This pressure cooked version is my favorite.
Why This Instant Pot Dirty Rice Recipe Works
Simple Ingredients – Easy pantry and fridge staples you might have on hand in your kitchen!
Quick Cook Time – The Instant Pot speeds up the cook time on your dish, while still giving you that slow simmered flavor.
Makes A Lot – Most rice dishes make a tons of servings. This dish creates a lot, so you have enough to feed your family and save back leftovers for grab and go meals.
Versatile Dirty Rice Mix – Add in different ingredients like meat used, add beans for a dirty rice and beans, etc. You can alter how you make this dish.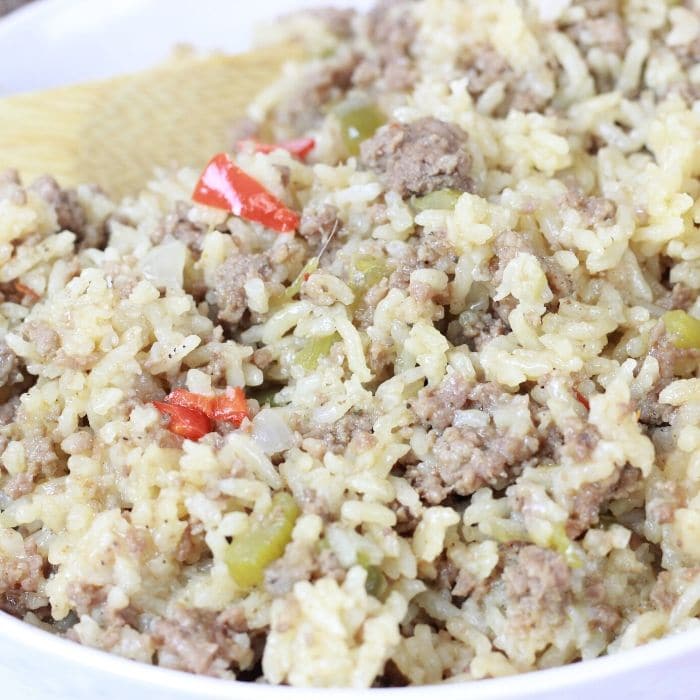 Why Do They Call It Dirty Rice
There isn't a huge history of how dirty rice got its name. Dirty rice is called dirty rice as it appears the rice looks dirty, in a sense.
The ground meat, cajun spice, it all gives it a dirty look.
Dirty rice with sausage and ground beef adds so much flavor to the rice.
Ingredients You Need
Ground Beef
Breakfast Sausage
Rice
Water
Celery
Onion
Bell Pepper
Creole or Cajun Seasoning
Chicken Broth
Worcestershire Sauce
Parsley, optional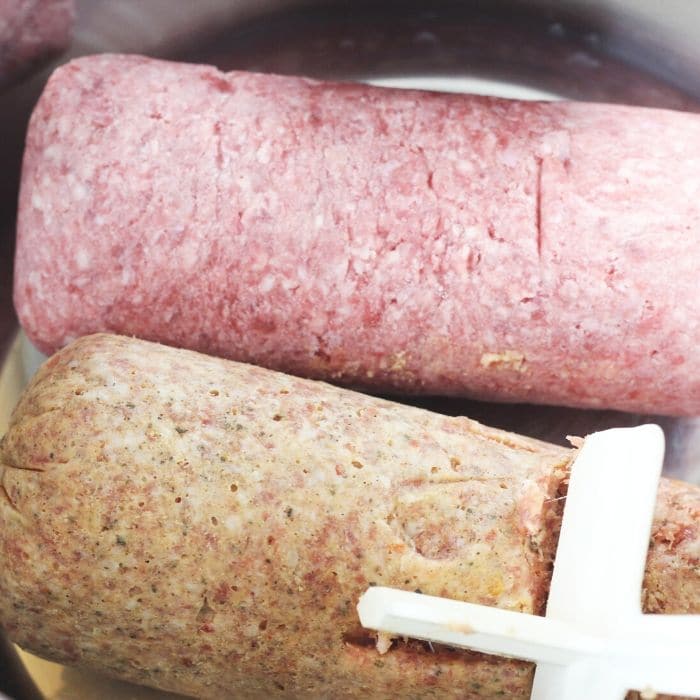 How To Make
First, start by cooking up your ground beef and sausage in your Instant Pot.
Then mix in all your veggies, Cajun spice, and Worcestershire. Give it a good stir.
Pour in your rinsed and drained long-grain rice, broth, and cover and cook.
I cooked my dirty rice on the low-pressure setting for 12 minutes. I did my rice button, but if you don't have that just select low pressure.
Expert Tips
Make sure to use the LOW setting, if you cook on high it will overcook the rice.
Rinsing the rice in cold water and then straining helps remove excess starches. This can help to prevent it from becoming mushy.
Add in other veggies or even kidney beans for more flavor to the dish.
Store leftovers in an airtight container in the fridge, or opt to freeze for meals down the line.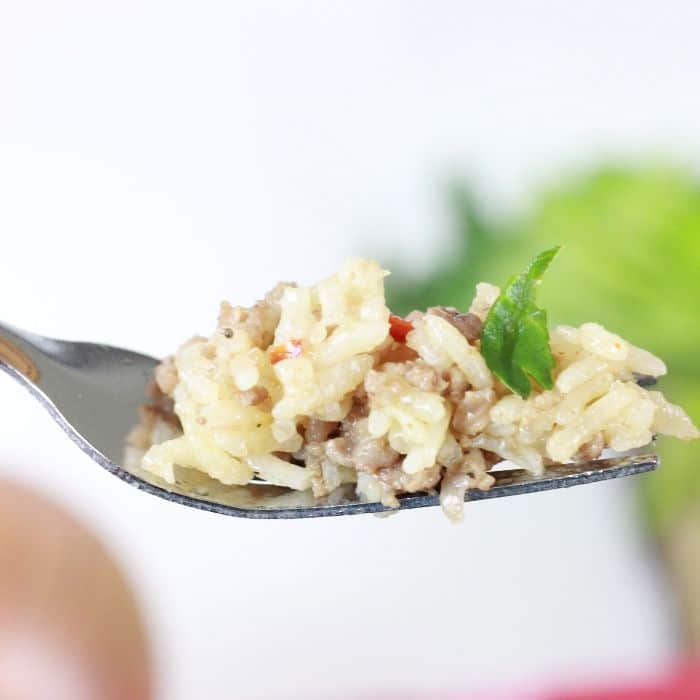 FAQs
What goes with dirty rice?
Dirty rice tends to be a meal in one. But, if you want some sides to pair with it, that is totally fine. Here are some ideas that you might be interested in!
Cornbread
Greens
Steamed or Roasted Vegetables
Dinner Rolls
What meat to use for Cajun dirty rice recipe?
I used ground beef and sausage to make this cajun rice. While ground beef dirty rice is good, I find that using sausage as well adds tons of flavor.
You are more than welcome to use sausage only or ground beef only if you don't want to cook the meats together.
Jambayla and Dirty rice are similar so you will enjoy either of these recipes!
Can You Freeze Dirty Rice?
Rice can be a little tricky and lose a bit of the texture it has when it is fresh. If you freeze place your rice mixture in an airtight container while it is still warm.
Then place the lid on and allow it to create steam. Then when you reheat it will help create condensation to keep your rice moist when reheated.
I meal prepped this for the freezer, so my husband can have easy grab and go lunches for his work.
This is one of my favorite instant pot rice recipes to whip up in a hurry!
Is dirty rice healthy?
This dish is loaded with protein, veggies, and some starches from the rice. Just make sure to eat dirty rice in moderation, as white rice doesn't have much nutritional value.
Craving More Instant Pot Recipes
Instant Pot Dirty Rice
Servings 12 servings
Instant Pot Dirty Rice is one easy way to serve up your favorite spiced up Cajun rice. Give this easy dirty rice recipe today.
Ingredients
1 pound ground beef
1 pound breakfast sausage
1/2 cup celery diced
1/2 cup onion diced
1 cup bell pepper diced (I used red and green)
1 tablespoon Creole
2 cups long-grain rice rinsed and drained
2 cups chicken broth
1/4 cup Worcestershire
Parsley or Green onions optional
Instructions
You will start by turning your Instant Pot on the saute feature and add your ground beef and sausage to your pressure cooker. Cook until it is ground up.

Add in your diced celery, onion, bell pepper and stir in the mixed meat mixture.

Follow by adding your Creole seasoning, Worcestershire, and broth followed by your rinsed and drained rice. Mi well, making sure all the rice is in the liquid.

Turn your pressure cooker to low pressure and cook for 12 minutes. You can do this in the rice cooking setting if you have that on your Instant Pot as well.

Once your dirty rice is done cooking stir, and serve up! Top with parsley or diced green onions for the ultimate rice dinner recipe.
Notes
Meat- I used ground beef and breakfast sausage. The two added tons of flavor to the dish. You can leave one out and do just one meat, or swap with other meat. Beans – Consider adding in some pinto beans or even red kidney beans. This could easily be a dirty rice and beans dish as well. Stock – Chicken stock is what I used but you can even use a bone broth for added nutrients. Storing – All leftovers need to be stored in an airtight container in the fridge. You can freeze leftovers for around 3 months. Just know the rice will become a bit softer in texture once it is thawed from being frozen. Spice – You can add more or less Creole or Cajun seasoning to adjust the spice factor. Also, on the containers you can buy mild or spicy. For us, we do mild so it is a kid-friendly dinner.
Nutrition
Serving: 1gCalories: 276kcalCarbohydrates: 11gProtein: 19gFat: 17gSaturated Fat: 6gPolyunsaturated Fat: 9gCholesterol: 67mgSodium: 559mgFiber: 1gSugar: 2g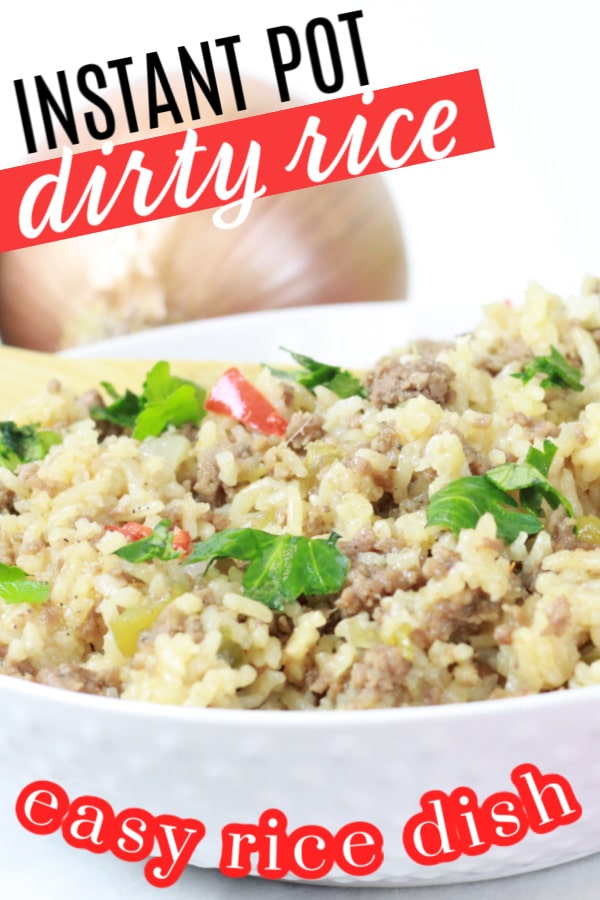 Have you tried making Instant Pot Dirty Rice?
Reader Interactions