Instant Pot Tamales are the easiest way to get a homemade tamale that is rather simple to make! Try these pressure cooker tamales today.
A pork tamales that are topped with a green chili sauce and a dollop of sour cream. An easy Instant Pot Mexican inspired dinner idea.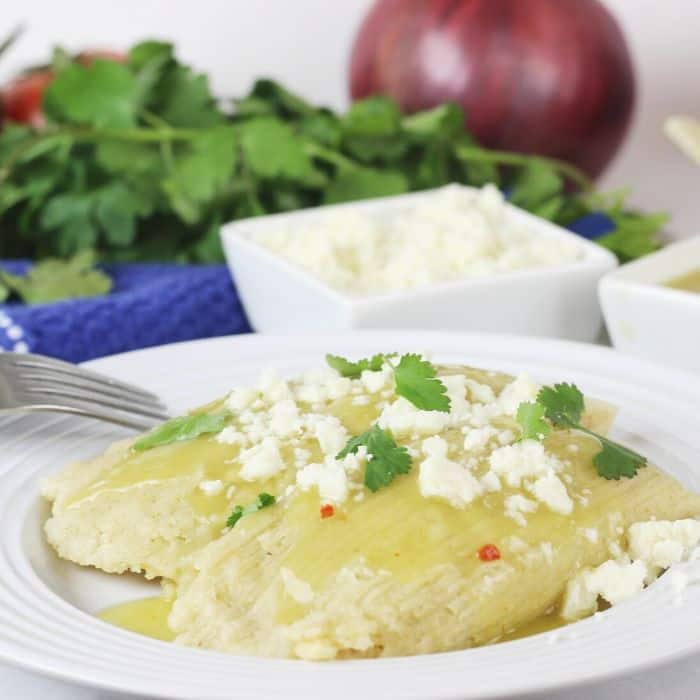 I used to be very intimidated when it came to making tamales. While they are a bit of work you will find they are worth it.
Learn how to make pressure cooker tamales in no time. Use up some leftover pork or beef to speed up the process of making these easy tamales.
Why You Will Love This Tamales Recipe…
Easy to make
Can use pork, beef or chicken for filling, or go meatless
Steam tamales in Instant Pot quickly
No fuss recipe
Wrapped in dried corn husks for a traditional flavor
Ingredients
Dried Corn Husks – You can find these at the grocery store or buy them online to ship to home.
Shredded Meat – I used Pork Carnitas meat but feel free to use any type of meat. Shredded chicken, beef, etc.
Butter
Masa – Masa is a delicious base to your tamales. You will form a thick dough that is the base of your tamales.
Baking Powder
Salt
Water
Green Chile Sauce – You are welcome to use a red sauce if you prefer.
Cotija Cheese – Optional but it is a tasty topping for your tamales.
Toppings – Salsa, sour cream, tomatoes, etc.
How to Make
Step 1: Soak your corn husks in water, for 30 minutes.
Step 2: Next, you will start by working on your masa mixture. You will want it to have a similar texture to play-doh, I share full instructions in the recipe card below.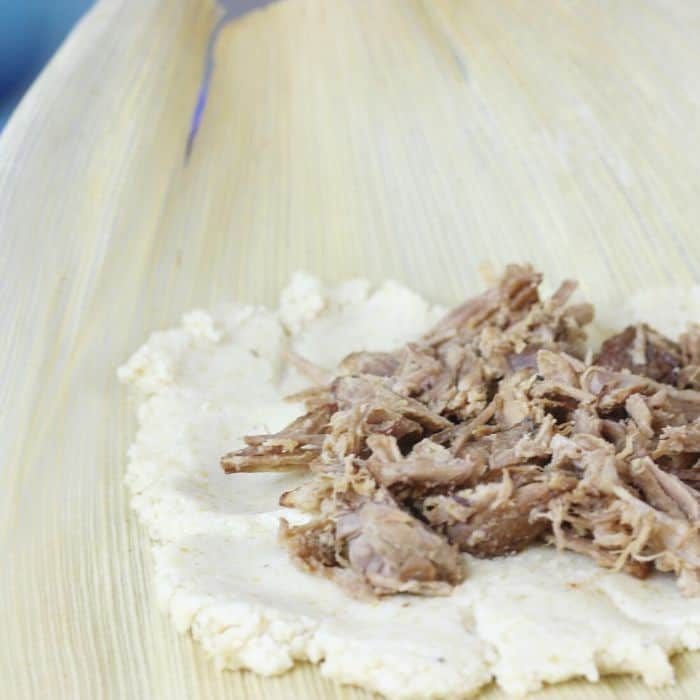 Step 3: Drain water off the corn husks, and one at a time, do a thin layer of the masa on the husk. Fill with meat, then roll up using the corn husk to help fold over the masa.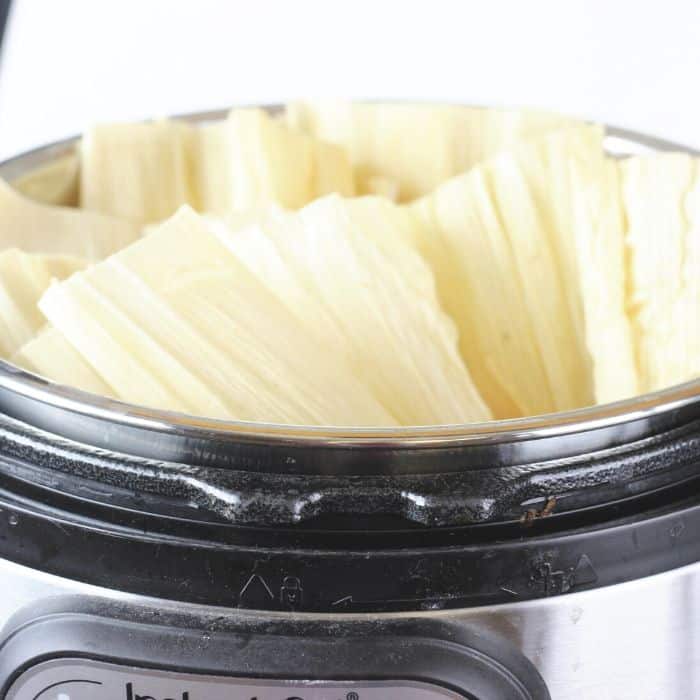 Step 4: Pour water in the Instant Pot and place trivet in your pressure cooker. Place the tamales on the trivet.
Step 5: Place lid on the pressure cooker, and seal the lid. Pressure cook on high manual pressure for 18 minutes. Then allow 10 minutes of natural release.
Step 6: Push off the rest of the steam, open and serve up your tamales, with green or red sauce, and your favorite toppings.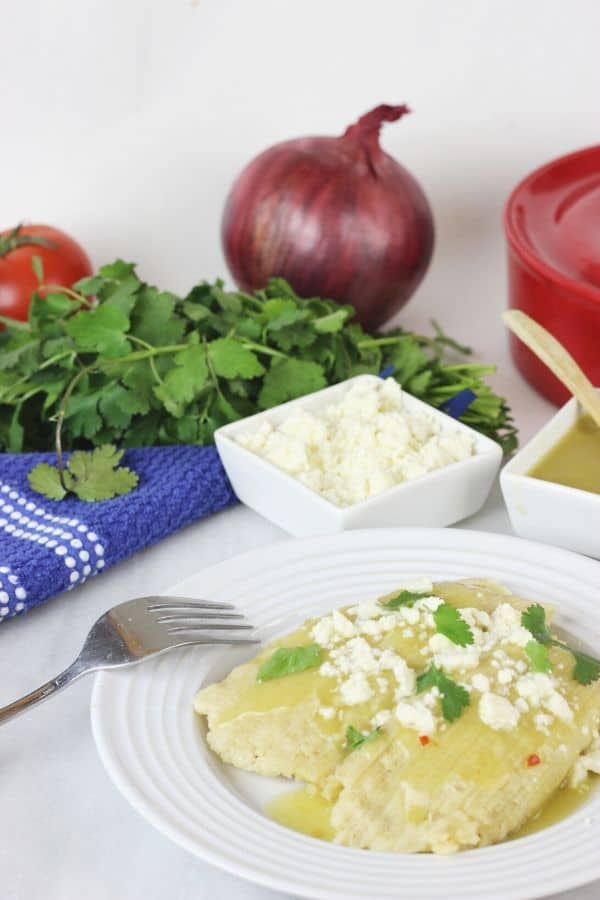 Storage and Reheating
Your tamales will store in the fridge for up to 3-4 days. Make sure to store in an airtight container or bag.
For reheating, you will get a paper towel wet and ring out excess water. Wrap the paper towel around your corn husk tamale.
Place in the microwave and reheat them for 15-30 second increments. Then check and flip to ensure it is warmed through.
Repeat the reheating process until the leftover tamale is warmed.
What Do You Serve On Top Of Tamales
Cotija Cheese
Green chili sauce
Enchilada sauce
Sour cream
Pico de Gallo
Cilantro
Tomatoes
Guacamole
Etc
You can honestly top your tamales however you would like. We tend to do just sauce, sour cream and cheese.
How Many Tamales Fit In Instant Pot
I was able to fit 10 in my 6-quart and 15 in my 8 quart instant pot. Now, depending on how big or small you make your tamales will affect how many fit in your inner pot.
You do not want to overstuff your inner pot as you want to allow the steam to evenly cook all your easy pork tamales.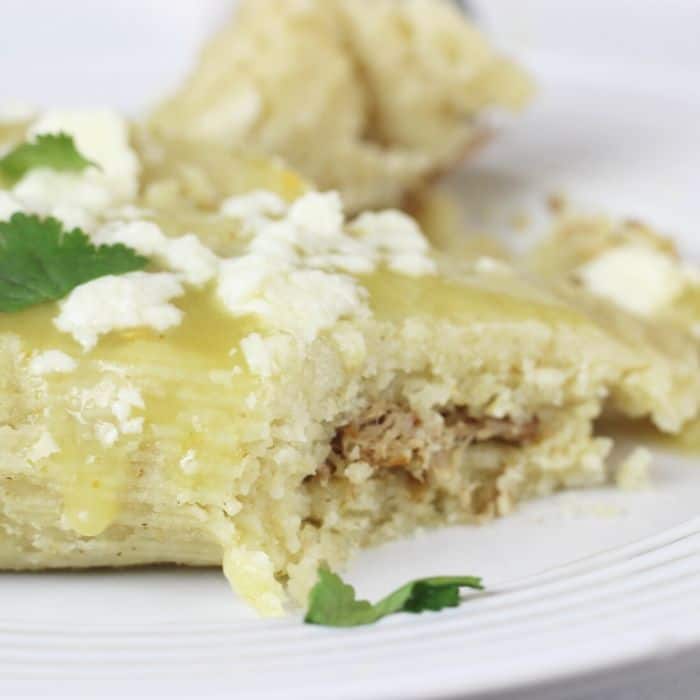 Expert Tips
Make sure to use butter and not margarine
Spread the masa thinly on the corn husks. I did a few that had a bit too much and were overpowering on corn flavor.
Make sure to soak the corn husks in water for 30 minutes. Then drain well.
You can buy a masa spreader to help with even spreading on husks.
Recipe FAQs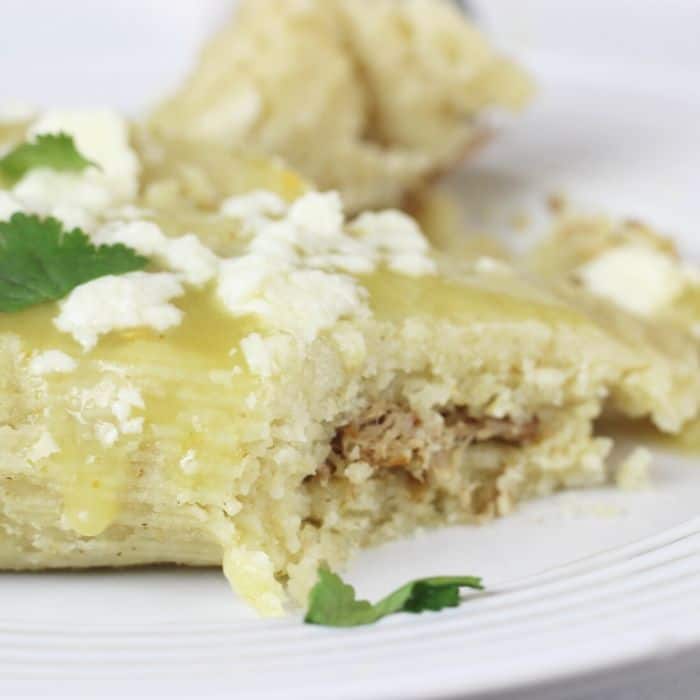 Here are more Instant Pot Recipes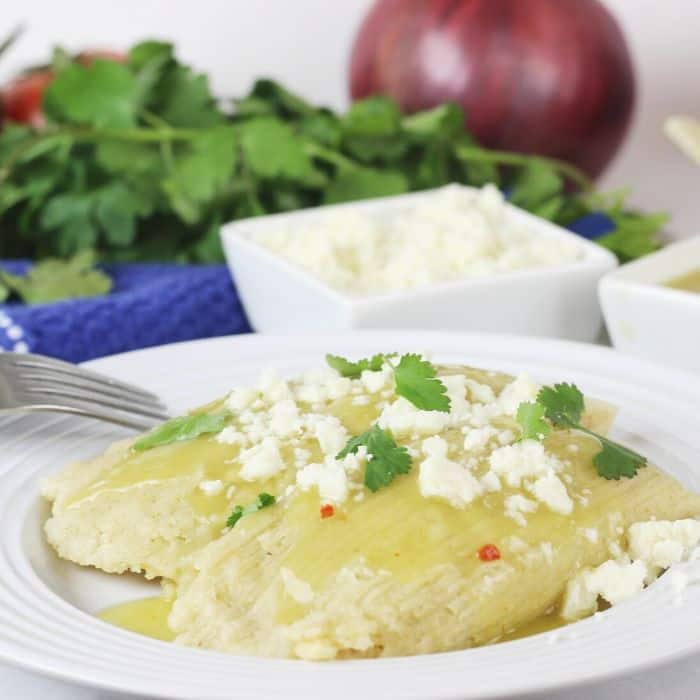 Instant Pot Tamales
Servings 24
Instant Pot Tamales is an easy tamale recipe made right in your pressure cooker. I used pork carnitas meat for the filling and topped with green chili sauce. Pressure cooker tamales are so delicious and freezer friendly.
Ingredients
24 corn husks soaked in water for 30 minutes
3 sticks butter melted
4 1/2 cups masa
1 tablespoon baking powder
1.5 tablespoons salt
1/2 cup water for instant pot
2-3 cups warm water for masa mixture
1 cup green chili sauce optional
1 cup Cotija cheese optional
Other toppings
Instructions
Start by soaking your corn husks in water for 30 minutes. You need your corn husks to soften up a bit.

While the corn husks are soaking you will work on your masa recipe.

Start by melting your butter and then pour in the baking powder and salt in your bowl. Give it a mix.

Now take your masa and slowly mix it in. Once you have the masa mixed in, slowly add in your water. You might not use all the water.

You want your masa mixture to be like play doh. If you reach that texture then stop adding water to your mixture.

Now take your corn husks and drain them from the water.

Using the slick side of the corn husk lay it down and then spoon on a thin layer of masa.

Take your cooked shredded meat, I used

pork carnitas meat

. Add around a teaspoon or two of meat. Then fold one side over, followed by the other side, and fold up one end to hold the tamale in place.

Pour the 1/2 cup water in the pot liner, and then place your trivet or silicone sling inside.

Lay your tamales with the folded side of corn husk down, and stack them up.

You might have to cook in batches depending on how big your Instant Pot is.

Place instant pot lid on, ensure the valve is sealed. Cook on high pressure for 18 minutes followed by 10 minutes natural release.

Once you release any leftover pressure serve and enjoy your Instant Pot tamales.

I topped my pork tamales with a green chili sauce, and cotija cheese.
Notes
Toppings: Top with your favorite tamale toppings. I love using Cotija cheese or a Mexican crumbling cheese, Green chili sauce, cilantro, etc. Variation of Filling: You can do a meatless tamale if you want. Or use shredded chicken, beef, or pork like I did. Double Recipe: Make as many as you would like. If need batch cook your tamales.
Nutrition
Serving: 1gCalories: 328kcalCarbohydrates: 38gProtein: 11gFat: 17gSaturated Fat: 9gPolyunsaturated Fat: 7gCholesterol: 49mgSodium: 580mgFiber: 4gSugar: 5g
Reader Interactions