Dr. Pepper Pulled Pork Instant Pot Tacos are the perfect Taco Tuesday dinner idea. Tender juicy pulled pork made in the pressure cooker.
Dr. Pepper Pulled Pork Instant Pot
Making pulled pork in the Instant Pot is a breeze. This Instant Pot Dr. Pepper Pulled Pork is tender, juicy and loaded with sweet and savory flavor.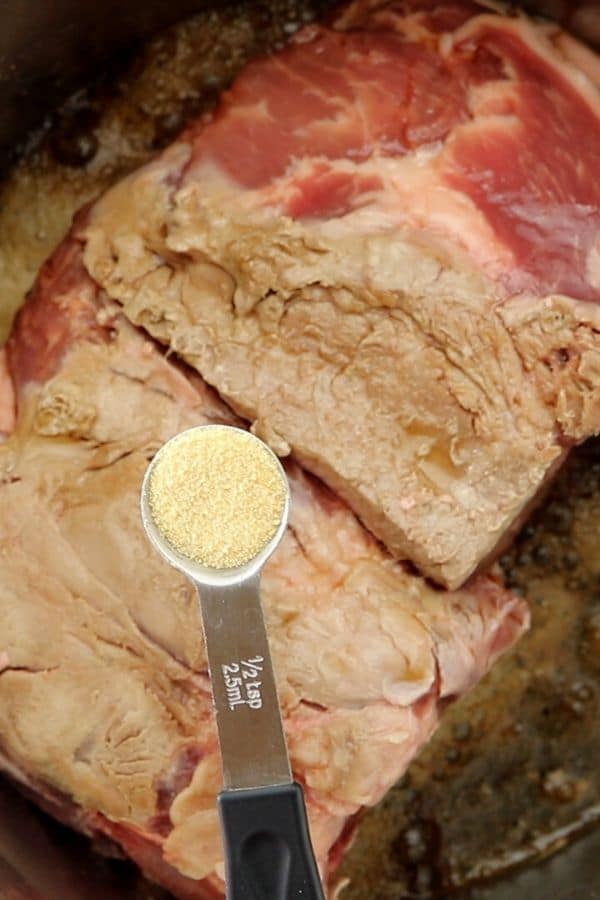 How To Make Instant Pot Dr. Pepper Pulled Pork
Saute setting on your Instant Pot, with a little oil. Sear that pork so it creates a crust on the outside. This adds depth and flavor to your meat.
Add your half syrup, Dr. Pepper and half the seasonings in on top of the roast.
Cook sealed for 60 minutes on manual high pressure. Then follow up by natural releasing.
Remove the pork roast from the Instant Pot and shred. I love these shredding claws.
Remove some liquid from the pressure cooker and return the shredded pork.
Toss in the rest of the ingredients and saute for 3-5 minutes. Then serve!
Ways To Serve Up Instant Pot Pulled Pork
Tacos
Top baked potatoes or sweet potatoes
Slider Buns
Top a Salad
Stir in homemade mac and cheese
Sandwiches with Coleslaw on top
Serve over a bed of rice or cauliflower rice
The sky truly is the limit on how you want to serve up this pulled pork. We love making them into tacos, perfect for Taco Tuesday!
When Should I Make Dr. Pepper Pulled Pork
Feeding a crowd | A great way to cook up meat easily and allow them to serve up how they want.
Weeknight Dinner | Such an easy way to make Instant Pot pork butt or shoulder in no time. It is great any day of the week.
Best Way To Shred Pulled Pork
I love these shredding claws. They are big and pull the meat so fast and easily.
Grab two forks and use that to pull the pork. It will be fork tender and easy to pull apart.
If you own a KitchenAid Stand Mixer you can use the paddle attachment to pull pork. Just put on low and it will shred.
Can I Add Barbeque Sauce
If you want to add barbeque sauce to this instant pot pulled pork dr pepper recipe, do it ad the very end.
I add sweetness from the syrup so you will just need to drizzle some on top at the end to flavor. This pulled pork recipe is full of flavor.
What Kind Of Meat Do You Use For Pulled Pork
I tend to reach for pork shoulder or pork butt. You will find the marbled fat helps add juiciness to your pulled pork.
You can use pork loin for pulled pork in the Instant Pot as well, but it is not my favorite. It tends to be a bit drier than the other cuts of pork.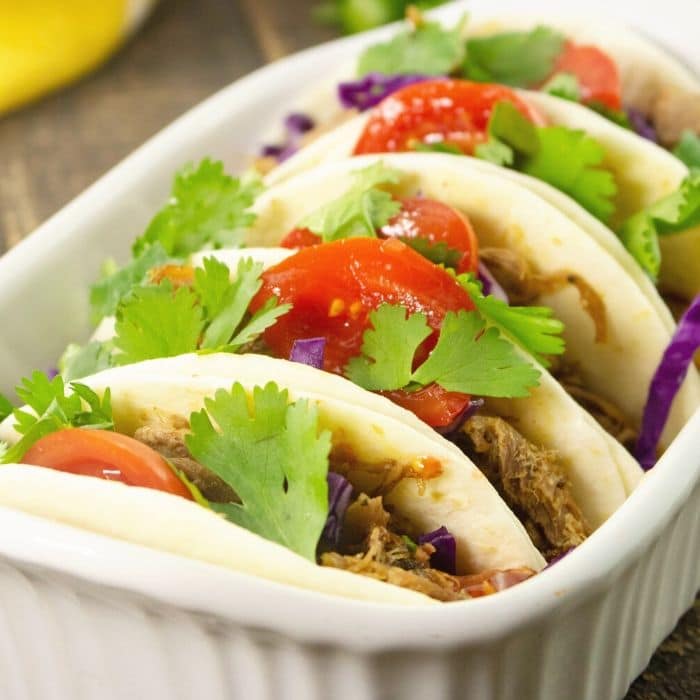 Can You Freeze Pulled Pork
You can freeze leftover pulled pork. Simply take what you want to freeze and place in a freezer bag or airtight container. We use a Food Saver to allow longer freezing time.
Store in the freezer for up to three months in a regular container. Or of vacuum sealed bag longer.
Then just thaw in the fridge overnight before you plan to eat. Then reheat in the microwave or in a skillet on the stove. I add a little water to help ensure the pork stays moist.
How Much Pulled Pork Do I Need Per Person
If you are looking to serve pulled pork for a party, I have a guide that can help you to know how much pulled pork for each person.
You want to aim for 6 ounces of pulled pork per person. Now depending on the person you might some might eat more or less, but 6 oz is the average.
This is for cooked pulled pork, just remember you have to adapt a raw pork roast into cooked, as you lose some meat.
So if you had 10 people eating, you will want 6 oz of cooked pulled pork per person. That is 60 oz of cooked pulled pork. You would need 120 oz of raw pork, as you double the amount. So a 7 1/2 pound pork will be a good size to have 10 servings.
Ways To Meal Prep With Pulled Pork
Pulled pork will store for up to three days in the fridge. But, make sure to utilize freezing your leftovers. That way you can freeze in bags that fit for a meal.
I freeze into vacuum sealed bags that will fit for a meal for my family. Then I thaw in the fridge the night before I plan to eat.
Serve up however you would like. I gave a handful of ideas above.
Looking for more Instant Pot Dinner Ideas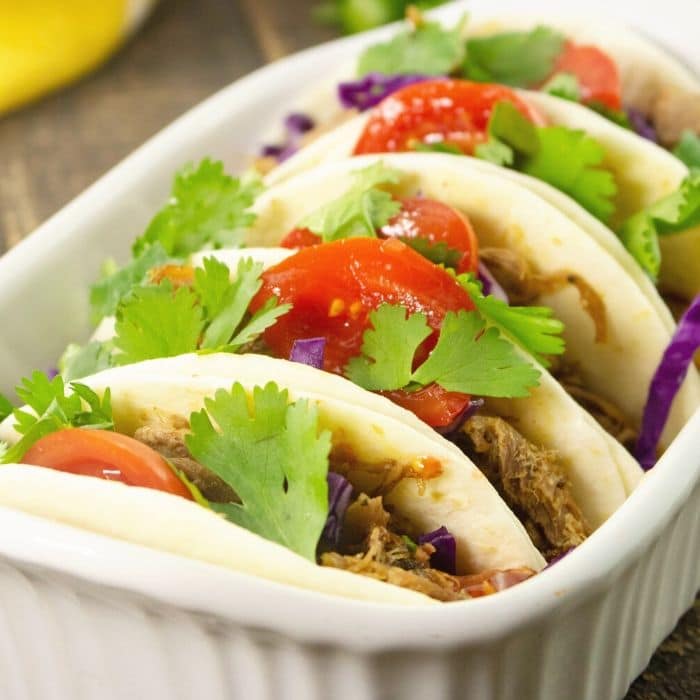 Dr Pepper Pulled Pork Instant Pot
Servings 12 servings
Dr. Pepper Pulled Pork Instant Pot Tacos are the perfect Taco Tuesday dinner idea. Tender juicy pulled pork made in the pressure cooker. Instant Pot pulled pork is crazy simple and versatile to serve up.
Ingredients
• 1 tablespoon olive oil
• 5-pound pork butt
• 12 ounces Dr. Pepper
• 1/2 cup pure maple syrup divided
• 1 teaspoon garlic powder
• 1 teaspoon ground cumin
• 1 teaspoon chili powder
• 1/4 teaspoon liquid smoke
Instructions
Select saute on your pressure cooker, and add oil and sear the pork on all sides. When done turn off saute feature.

Now add in the Dr. Pepper, half the syrup, and half of the seasonings. I put all the seasonings in a bowl and mixed up, and then guaged half.

Put lid on pressure cooker and do a 60 minute manual pressure cook.

Allow your Instant Pot to fully release naturally, once the pin drops open the lid.

Remove all the meat and shred with two forks or meat claw.

Remove all but a cup of liquid in the Instant Pot, and then add in the shredded pork.

Add in the rest of your syrup, seasoning, and liquid smoke. Stir and saute for 3-5 minutes or until the flavors really blend together.

Then serve how you would like!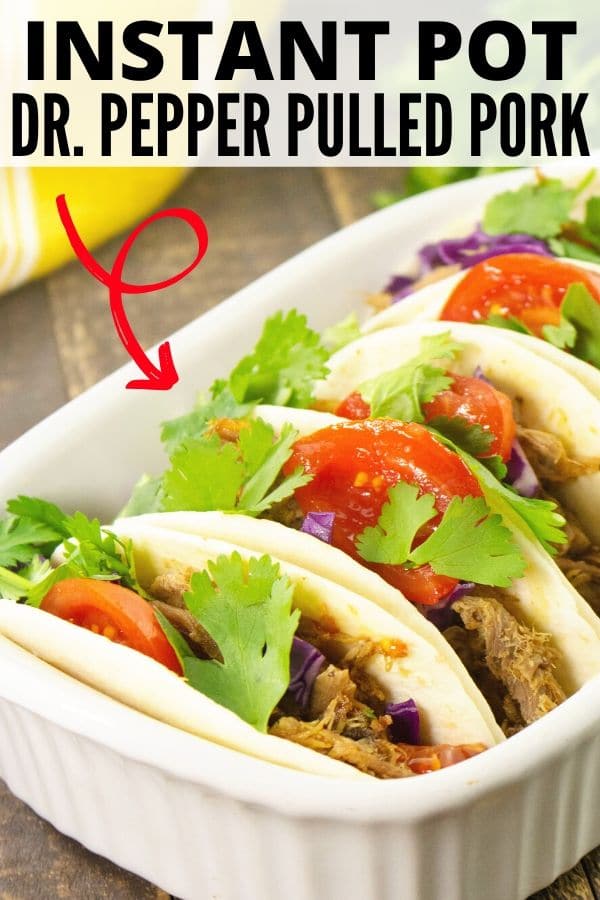 Reader Interactions