Instant Pot Meatballs are juicy and super flavorful homemade meatballs. Served with a tomato sauce and over a bed of pasta.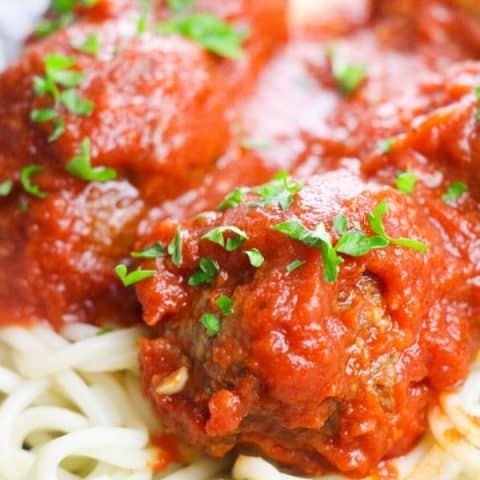 Instant Pot Meatballs are one of my favorite weeknight meals to whip up. Homemade meatballs in a tomato-based sauce served over a bed of pasta. Or whip up these meatballs in the instant pot as an appetizer.
Instant Pot Meatballs
Ground beef meatballs are some of my family's favorites. At times I will do a mix of ground beef and sausage for my Instant Pot Stuffed Meatballs.
Ways To Serve These Pressure Cooker Meatballs
Spaghetti Sauce
Tomato Sauce
BBQ Sauce
Plain
Serve with pasta, cauliflower rice, or load your meatballs on a hoagie bun with sauce and bake meatballs and sandwich in oven for a tasty sandwich. This easy meatball recipe is versatile so you can serve however you would like.
Try my Instant Pot Sweet and Sour Meatballs for another great recipe.
Will I Get Burn Notice On Pressure Cooker Meatballs
The key is to make sure that you have a thin sauce. If your sauce is too thick it will trigger a burn notice. If after you put all the ingredients in and you feel it is still too thick, add a bit more water.
The other thing is after you sear your meatballs you HAVE to deglaze your pot. Make sure to scrape away any meat that is on the bottom of the pot. You could also purchase the non-stick Instant Pot Pot Liner
to help prevent any sticking.
Can I Use Gluten Free Bread Crumbs In This Meatball Recipe
Yes, you are welcome to use gluten-free bread crumbs
if you want a gluten-free meatball recipe. Just watch each ingredient you use to ensure you have the recipe that fits your dietary needs.
Do You Quick Release Meatballs in Instant Pot
You will do a natural release once you are done with the pressure cook. That means you allow it to naturally release the pressure, and wait for the pin to drop. Don't do a quick release like you do for other recipes.
Can I Make A Double Batch
As long as you have room in your pressure cooker you can double this recipe. Make sure to watch your max line and don't go over that. I have made a double batch a few times in my 8 quart Instant Pot and it worked just fine.
More Beef Instant Pot Recipes
Tips For Making Homemade Meatballs
Make sure you don't overmix the meatballs. When you do that, they will become tough and the juicy texture goes away and they feel dense and heavy.
Use a cookie scoop so that you get even meatballs. If they are all different sizes you will find the consistency of the meatballs will be so different. Some could be overcooked while others are undercooked.
You can use part beef and part Italian sausage. The reason being is it can give you a juicier meatball. But I have found when I cook in the Instant Pot it does a fantastic job at keeping them moist.
Make sure to brown the meatballs on all sides. This will lock in moisture, create flavor and a great texture of the meatballs.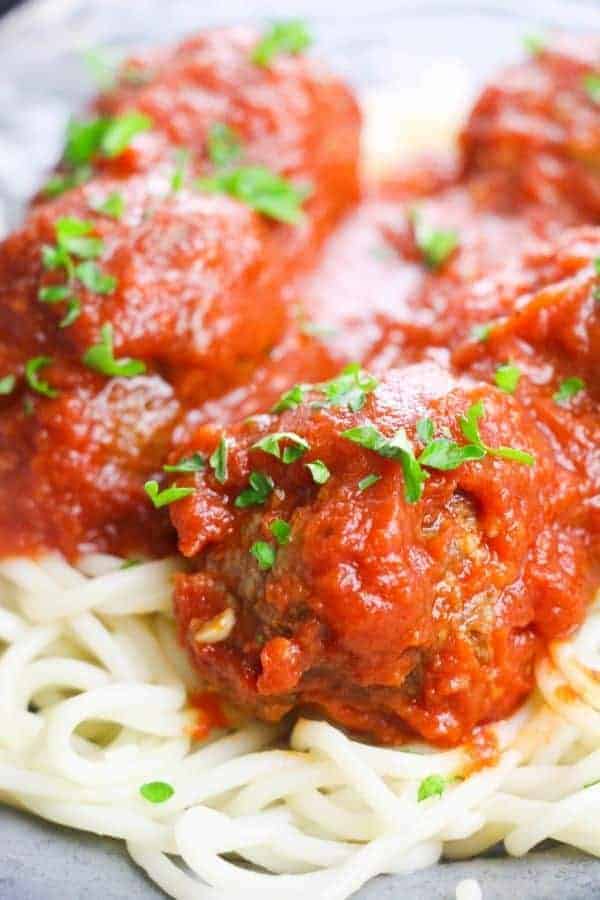 The Best Homemade Instant Pot Meatballs
Servings 24 meatballs
Instant Pot Meatballs are juicy and super flavorful homemade meatballs. Served with a tomato sauce and over a bed of pasta.
Ingredients
Ingredients:
2 lb beef or 1 lb beef and 1 lb sausage
1 teaspoon garlic minced
2 teaspoons Italian seasoning
1 cup breadcrumbs or to personal preference
1 egg large
2 Tablespoons olive oil
For the tomato sauce:
4 cups tomato sauce of choice
12 oz Italian-style tomatoes
1 teaspoon Italian seasoning
Instructions
You will want to do your meat, garlic, and Italian seasoning in a bowl and begin mixing. Once it is mixed add in breadcrumbs, egg and mix until incorporated.

Then with a cookie scoop measure out your meatballs. 1.5 tablespoon-sized meatballs is what I did but feel free to do whatever size you want.

Turn saute on Instant Pot and pour in your oil. Then once it gets hot add in your meatballs and brown them on all sides.

To fully cook meatballs it takes 6-8 minutes or if you plan to do sauce like I did you can cook for 5 minutes, and then add in the sauce and finish cooking in the mixture.

Turn off the saute and make sure to scrape the bottom of your pot so you don't get burn notice. Add in your tomato sauce ingredients, stir well and then seal and cook on high pressure for 5 minutes on high pressure.

Natural release your meatballs and serve over a bed of pasta, on a hoagie bun or however you would like.
Notes
Depending on the size of meatballs you make will depend how many you end up with.
Nutrition
Serving: 1gCalories: 414kcalCarbohydrates: 24gProtein: 46gFat: 37gSaturated Fat: 13gPolyunsaturated Fat: 19gCholesterol: 63mgSodium: 50mgFiber: 4gSugar: 8g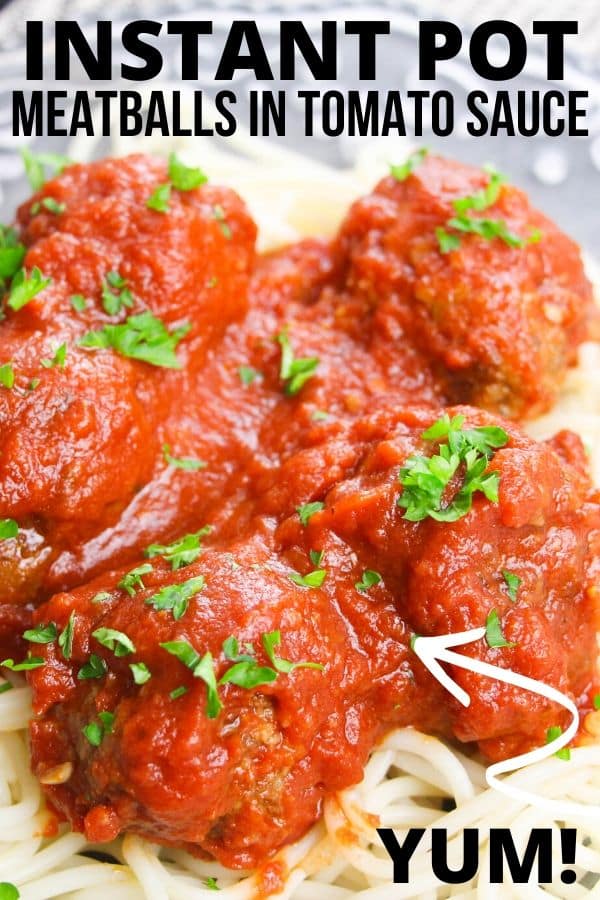 Reader Interactions