My 30-minute beef and broccoli instant pot recipe is going to be one incredible weeknight meal to serve up your family. Juicy and tender steak paired with broccoli! Skip ordering takeout and make your favorite beef and broccoli dish at home, in no time. This Instant Pot beef broccoli will knock your socks off in flavor factor.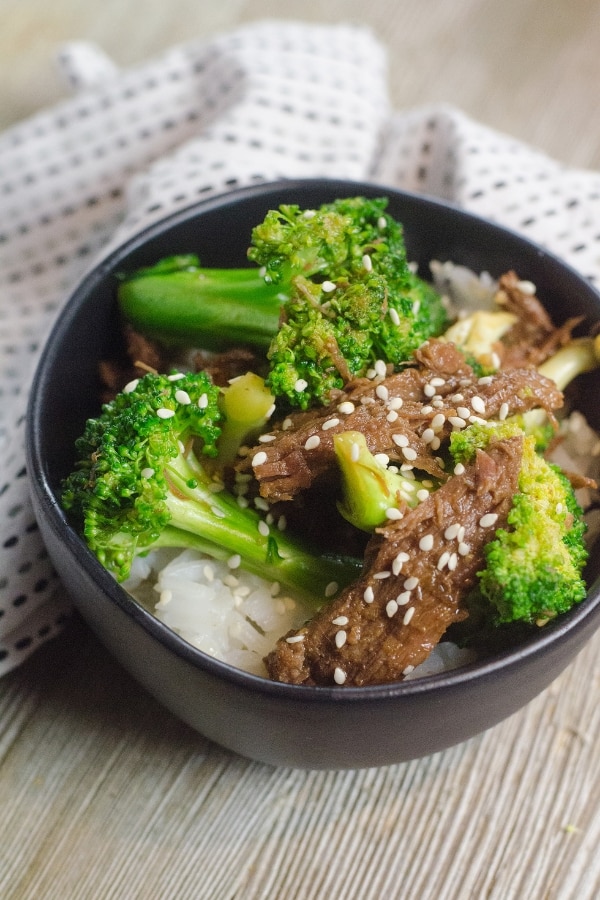 I enjoy cooking, MOST of the time! Some nights I just wish a chef would come and whip up our dinner. But, that isn't reality so I just need to come to terms with finding those quick and easy meals that require minimal effort on my end.
This pressure cooker broccoli beef is one of our favorites when dining out. I personally never can get enough broccoli in my life. Pair it with the homemade sauce for beef and broccoli, and watch fireworks pop in the sky after you sink your teeth into this glorious dish.
Best Instant Pot Recipes
The Best Beef and Broccoli Instant Pot Recipe
Let me guide you if I can, in how to make the best beef and broccoli at home, and have it taste better than your favorite takeout! Yes, it can be done!
What Cut of Beef Is Best for Beef and Broccoli?
Flank steak or flat iron is the best cut of beef for beef and broccoli! Flank steak is the more affordable route, that gives you that fork-tender beef in every single bite.
How Do You Tenderize Beef?
The marinade I use helps to give your steak flavor but also tenderize your meat at the same time. If you feel like your steak is going to be tough, use a rolling pin
to hit the beef a few times in a sealable bag, to help soften it up a bit. Don't go overboard. Just a few pounds is all it needs.
Or you can buy a meat tenderizer
but you want to go gentle on your steak or it will become too tenderized for this specific recipe.
How To Slice Flank Steak Properly
For that perfect beef and broccoli recipe, you want to work at cutting your flank steak or flat iron steak properly. Cut thin slices, that go across the grain. This will help to break down those muscle fibers so it won't make your meat as tough.

Can You Use Frozen Broccoli for Instant Pot Beef and Broccoli
You can use frozen broccoli in replace of fresh broccoli for your Instant Pot Beef and Broccoli. I just allow the broccoli to begin to thaw as I am cooking the beef. Then just allow it to steam until it is warmed all the way through. So you might need to wait an extra minute or two.
Pro Tips For The Best Beef and Broccoli Recipe
Freeze your beef for around 30 minutes, for easier slicing. This will help the knife slice right through the meat.
Aim for around 1/8″ to 1/4″ thick on your steak slices.
Slice across the grain for a more tender flank or flat iron steak
Swap out your broccoli with other vegetables if you are not a fan. Or add in some peppers for added flavor.
Spice it up with chili sauce or sriracha once you serve it up
Do You Have to Cook Beef and Broccoli in a Wok?
You do not have to cook beef and broccoli in a Wok
! You are welcome to pull out your Wok, but you can step into the digital age and grab your pressure cooker or a big ol' cast iron skillet
. There are so many incredible ways to whip up beef and broccoli.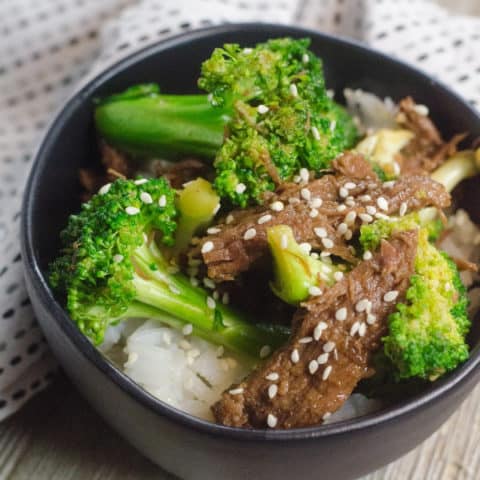 30 Minute Beef and Broccoli Instant Pot Recipe
Beef and Broccoli is the best Chinese takeout dish! This beef and broccoli recipe is filled with the ultimate tenderness in beef that is smothered in a rich and savory sauce. Mixed in broccoli for that perfect compliment to your steak. This Instant Pot beef and broccoli can be made in just 30 minutes for that quick and easy weeknight meal.
Ingredients
1lb flank steak
4 heads of broccoli; separate from the stem
1/2 tablespoon corn starch; for thickening
1 tablespoon cracked black pepper
4 tablespoons soy sauce
1/2 cup water
2 tablespoons garlic
1 tablespoon ginger
1 tablespoon hoisin sauce
sesame seeds for topping; optional
Instructions
Turn Instant Pot on to saute mode, and add in your beef and 2 tablespoons of soy sauce. Saute until the meat is browned and seared. Then turn off saute, and add in your water.
Place lid on Instant Pot and turn to lock position. Ensure the pressure valve is closed and set to high pressure for 15 minutes. Once the Instant Pot stops, quick release the pressure.
Drain the liquid from the Instant Pot. In a small mixing bowl or measuring cup then add in garlic, ginger, hoisin sauce, cornstarch, and soy sauce. Mix well.
Set to saute mode and pour mixture in over meat. Stir well until nice and combined.
Add in your broccoli and put the lid on top without locking and steam for 2 minutes. Stir well, to ensure the meat is not sticking to the bottom of the pot. Once broccoli is steamed, serve over a bed of rice.
Notes
Serve over a bed of rice, cauliflower rice, or eat alone!
For added flavor, feel free to marinade your beef in the sauce mixture for 30 minutes before cooking if you want added flavor to your dish.
Recommended Products
As an Amazon Associate and member of other affiliate programs, I earn from qualifying purchases.
Nutrition Information:
Yield:

5
Serving Size:

1 cup
Amount Per Serving:
Calories:

243
Total Fat:

11g
Saturated Fat:

4g
Trans Fat:

0g
Unsaturated Fat:

6g
Cholesterol:

72mg
Sodium:

818mg
Carbohydrates:

9g
Fiber:

2g
Sugar:

1g
Protein:

28g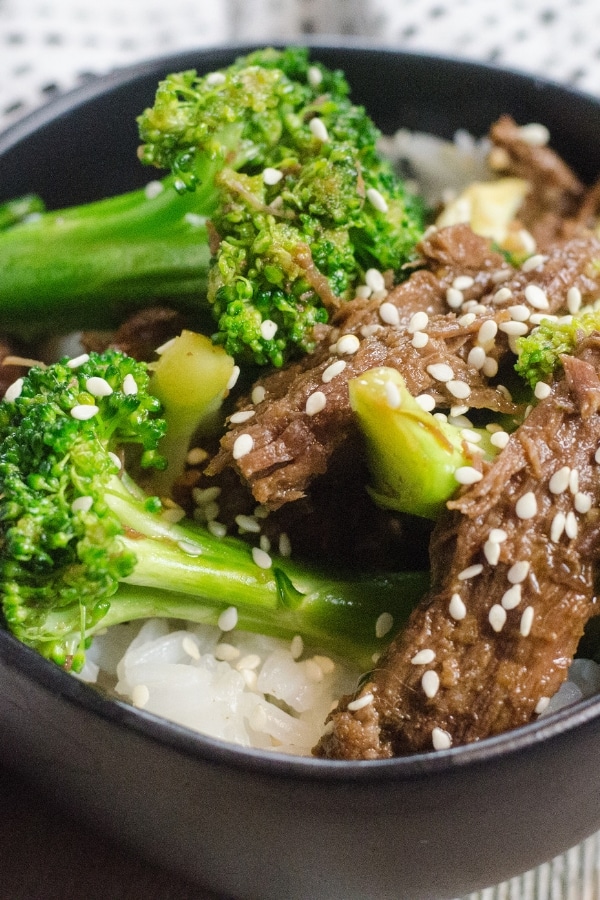 Better Than Takeout Instant Pot Beef Broccoli
This recipe is incredible, and I hope you think so too! I think you and your family will really like the recipe. We are a huge fan and make it over and over again!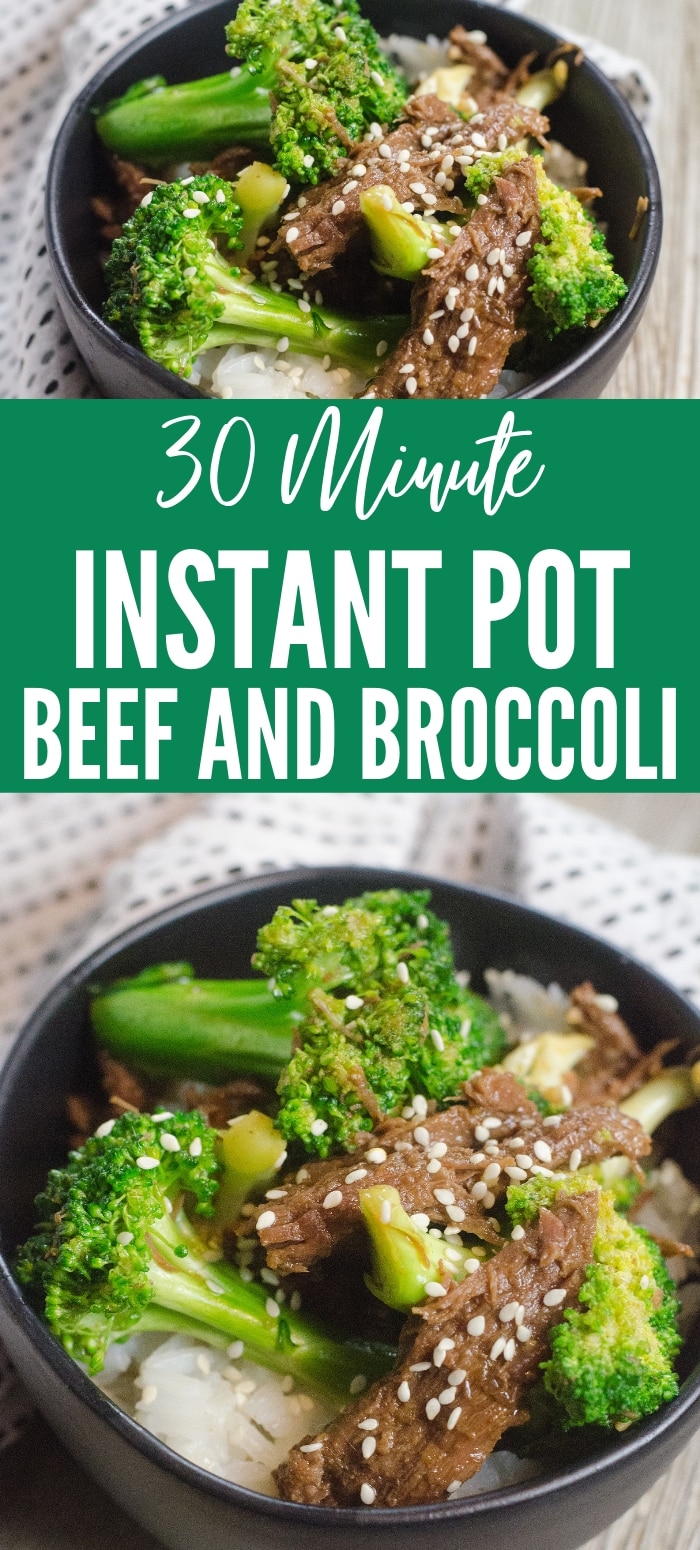 Have you tried Instant Pot Beef and Broccoli before?