Summer brew is a vodka beer lemonade drink that is going to be a perfect summer cocktail to serve up. You also might know this drink as a summer beer.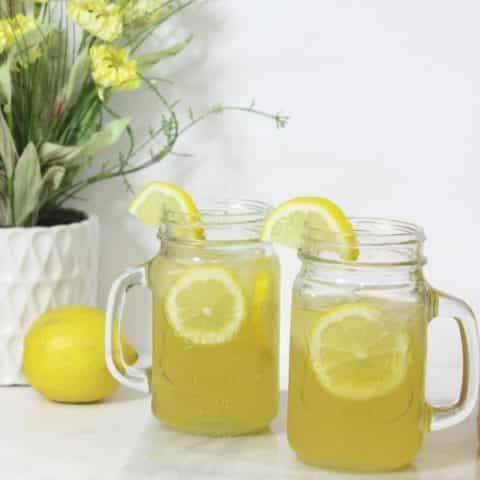 Summer Brew is going to take over your summer cookouts this year. This summer brew recipe is a lemonade, beer, vodka cocktail that will serve a crowd.
Summer Beer has taken the world by storm, and if you have plans this summer, this summer cocktail is exactly what you need.
This vodka punch has a twist because you have the lemonade factor that offers tartness, beer, vodka, all mixed together. You can whip this up in minutes and then pour into glasses for friends and family.
Dress up your summer with a drink that will satisfy anyone. Mix as strong or as light as you would like, and watch everyone come back for another glass or maybe even two!
Why Make This Summer Brew…
Easy Drink
Quick to make
A tasty vodka cocktail
Reach for your favorite beer
Great for serving a crowd
This is your go-to beach drink or summer cocktail for a bbq to sip on.
Ingredients
Beer
Lemonade
Vodka
Served With Ice and Lemon Wedges
Those simple ingredients come together for one refreshing summer beer recipe. Whether you say summer beer or summer brew this recipe is a hit. Vodka beer and lemonade come together to make a total winning cocktail.
How to Make
Step 1: Add all the ingredients into a large pitcher.
Step 2: Stir and serve up this refreshing vodka cocktail.
How Do You Make A Single Serve Summer Brew
Don't want to serve a crowd? Well, you can make your own single-serve summer brew very easily!
In a glass add 1 can of beer, then add in 1-2 tablespoons of the lemonade concentrate, and then add in a splash of vodka to taste. Top with ice and add in fresh lemon wedges.
With your leftover concentrate, just place in a container and toss in the freezer to use later for more drinks.

Variations To Summer Beer Recipe
Add in more or less Vodka to taste (same for Beer and Lemonade). Create a custom summer brew to fit your flavor desires.
Swap for Pink Lemonade and add in fresh strawberries and lemon slices.
Reach for a Limeade and use fresh lime wedges for garnish.
Add in 1-2 cups of lemon-lime soda for a bubbly kick.

Also, if you love lemon, try my lemon muffins.
Recipe FAQs
Craving More Cocktail Recipes
How To Make Summer Brew
Summer Brew Lemonade Vodka Cocktail
Servings 18 cups
Summer brew is a vodka beer lemonade drink that is going to be a perfect summer cocktail to serve up. You also might know this drink as a summer beer.
Ingredients
6 cans of Light Beer 16 0z cans
1 Can of Frozen Lemonade Concentrate
1- 1 1/2 cups Vodka
Ice and Lemon Wedges
Instructions
In a pitcher add in all your beer.

Dump in your frozen lemonade concentrate, and then pour in your vodka.

Stir well and then add in ice and lemon wedges.

Serve and enjoy.
Notes
Adjust the vodka to taste, if you add more it will be a stronger mix. Use less for a more mellow cocktail.
Nutrition
Serving: 1cupCalories: 117kcalCarbohydrates: 12gProtein: 1gSodium: 6mgSugar: 7g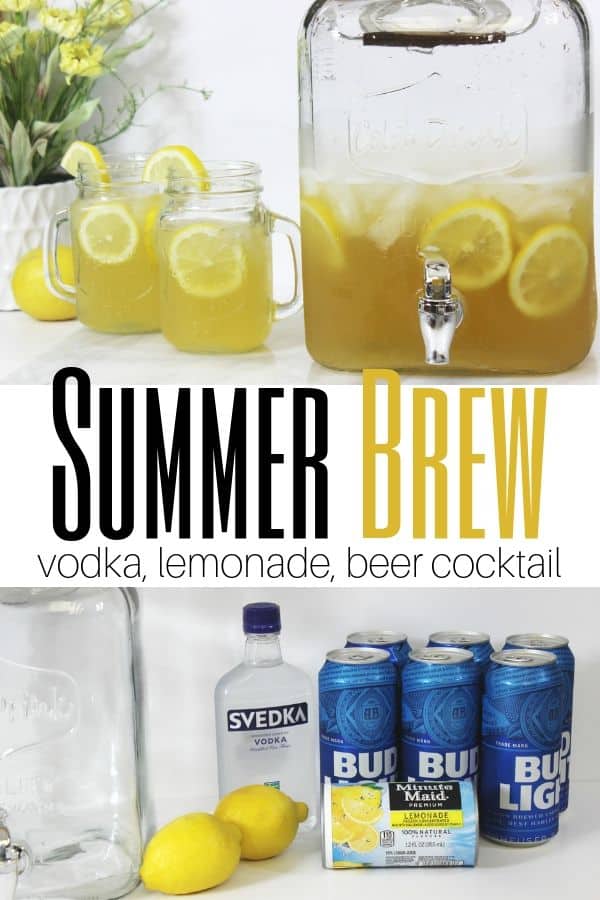 Give this lemonade summer brew recipe a try today and let me know what you think! I am a huge fan of this blend, it is different and perfect for warmer weather.
Does this summer cocktail sound like a tasty one to you?
Reader Interactions