Instant Pot Cheesecake with Sour Cream Topping is an easy and delicious pressure cooker cheesecake that is topped with a sour cream topping. This instapot cheesecake is so easy to make.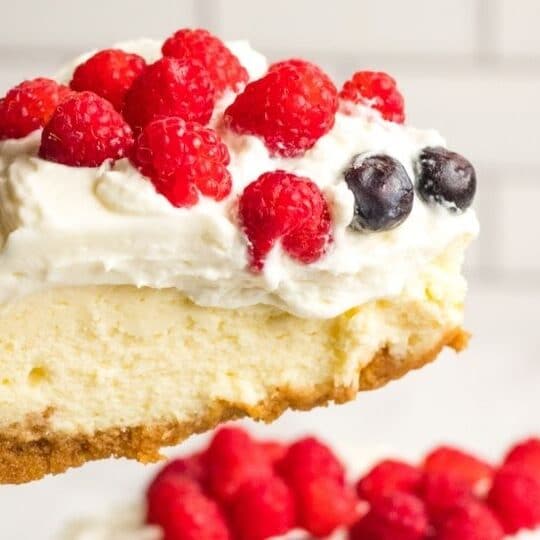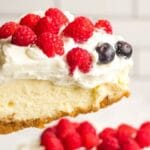 Instant Pot cheesecake is one of the most popular Instant Pot desserts. This cheesecake offers a buttery graham cracker crust, velvety cheesecake that is topped with a sour cream topping, and fresh berries!
If you are looking for the best cheesecake recipe give this recipe a try. Great for anytime of the year, or decorate for 4th of July like I did here.
I made the fruit into a star to give it a patriotic cheesecake look. But you can truly decorate your cheesecake any way you want.
Why I love this Instant Pot Cheesecake…
Classic cheesecake recipe
Easy sour cream topping for cheesecake
Serve plain or add fruit, chocolate ganache, caramel, etc.
Stores well
Freezer friendly
Ingredients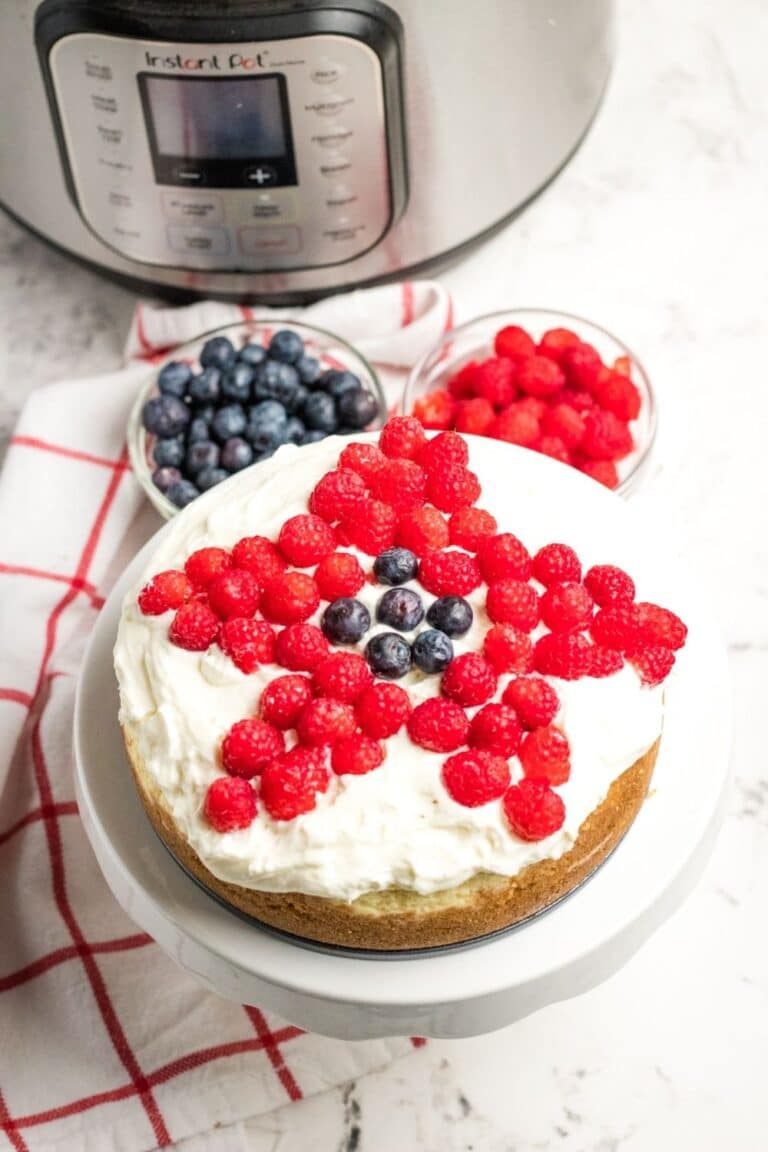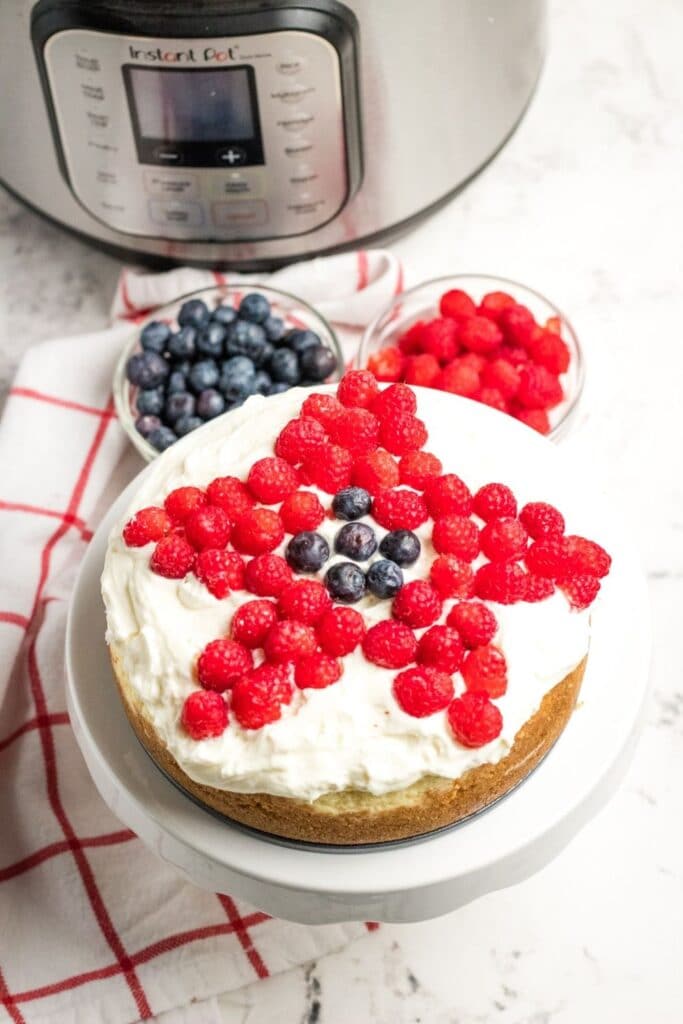 Graham crackers
Butter
Granulated Sugar
Brown sugar
Cream Cheese
Eggs
Salt
Vanilla
Sour Cream
Cheesecake Essential Tools
From the right Instant Pot cheesecake pan to supplies to simplify, this list is what I recommend investing in.
Pan | I recommend using a push pan or a classic springform pan.
Silicone Sling| Place your cheesecake on this silicone sling to lift it easily out of the pressure cooker. This is a great accessory I use all the time.
Parchment Rounds | Instead of having to cut classic parchment paper these parchment rounds make it easy to just place right in your round pan!
Container Carrier | So when I put my decorated cheesecake in the fridge I use a container carrier. That way the whopper cheesecake is in a container to protect it and I don't worry about the toppings getting smashed by aluminum foil wrapped around it.
How to Make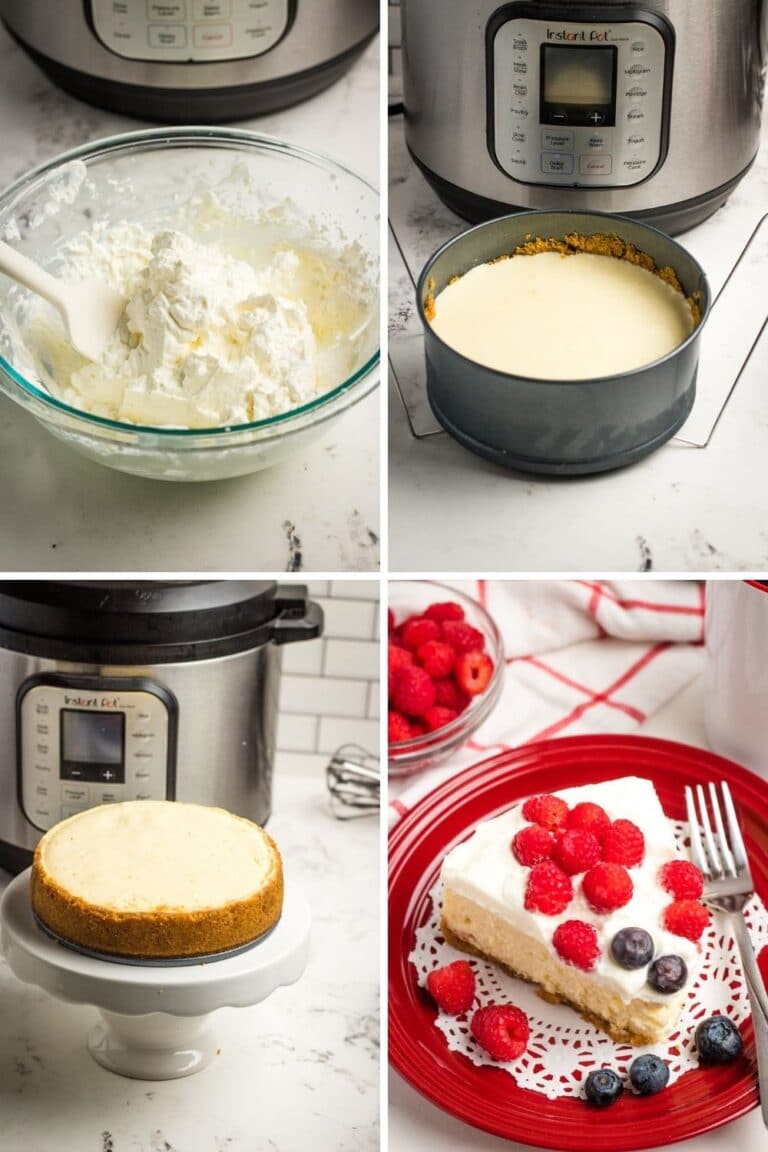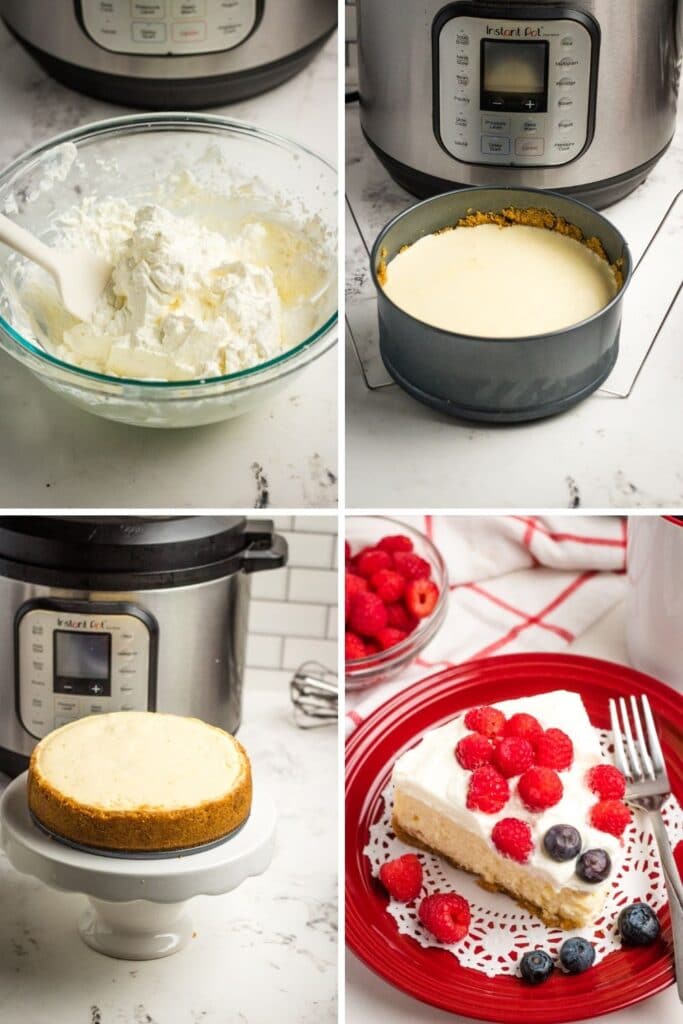 Step 1: Start by working on your graham cracker crust for the cheesecake. Just mix it up, and press down into your springform or push pan.
Step 2: Next you will work on your vanilla cheesecake. Mix it up as directed and pour into the pan as directed.
Pressure cook as directed and once done allow it to cool for 1-2 hours on the counter. Then refrigerate until set up.
Step 3: Once the cheesecake is fully cooled and set, whip up the sour cream topping, spread on top and decorate the cheesecake with fresh berries if you would like.
Storage
Cheesecake needs to be stored in the fridge. You will want to tightly cover the cheesecake and then refrigerate for around 1 week. If you don't plan to eat it right away, feel free to freeze any of the cheesecake.
To freeze simply, wrap tightly and freeze 2-3 months. I like to pre-slice my cheesecake so if I want just a slice I can remove just one or two at a time. Then thaw the cheesecake in the fridge for a few hours or overnight.
Grab my Free Kitchen Conversions Printable! This shows you how many cups are in a quart, pint, etc. A great printable to keep handy for when you need to convert a recipe.
Variations to Recipe
Here are some ways you can make this Instant Pot cheesecake recipe. Cheesecake in the Instant Pot is easy as pie!
Skip the sour cream topping for the cheesecake if you want.
I put berries on my cheesecake for a patriotic look, but you can skip that. I wanted a 4th of July dessert.
You can use a cookie crust instead of graham crackers. Oreo or even vanilla wafers are a great alternative.
Expert Tips
Make sure once you add the eggs you do not overmix the batter. Or it can create bubbles of air that will cause cracking to the cheesecake once it cooks up.
For a 4th of July cheesecake, make a star shape out of the fruit on top.
Make sure to tightly cover with aluminum foil. This is important so you can make sure condensation doesn't get into the cheesecake and sog it up.
Recipe FAQs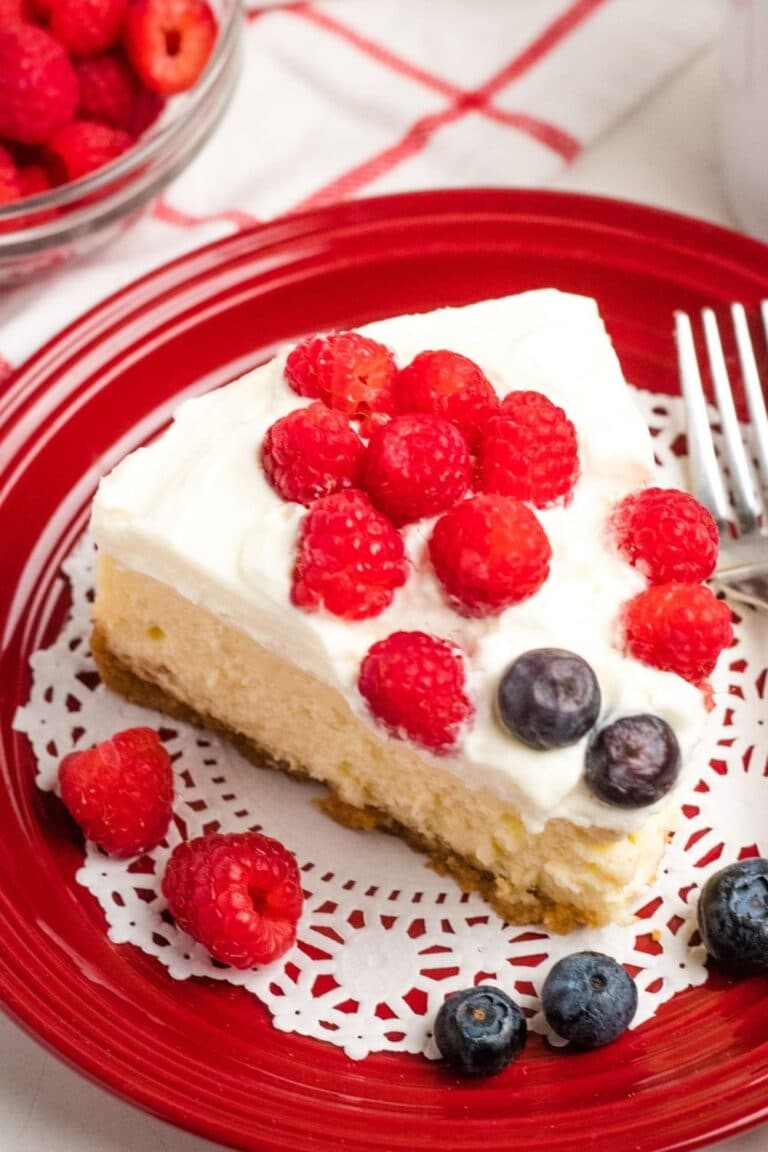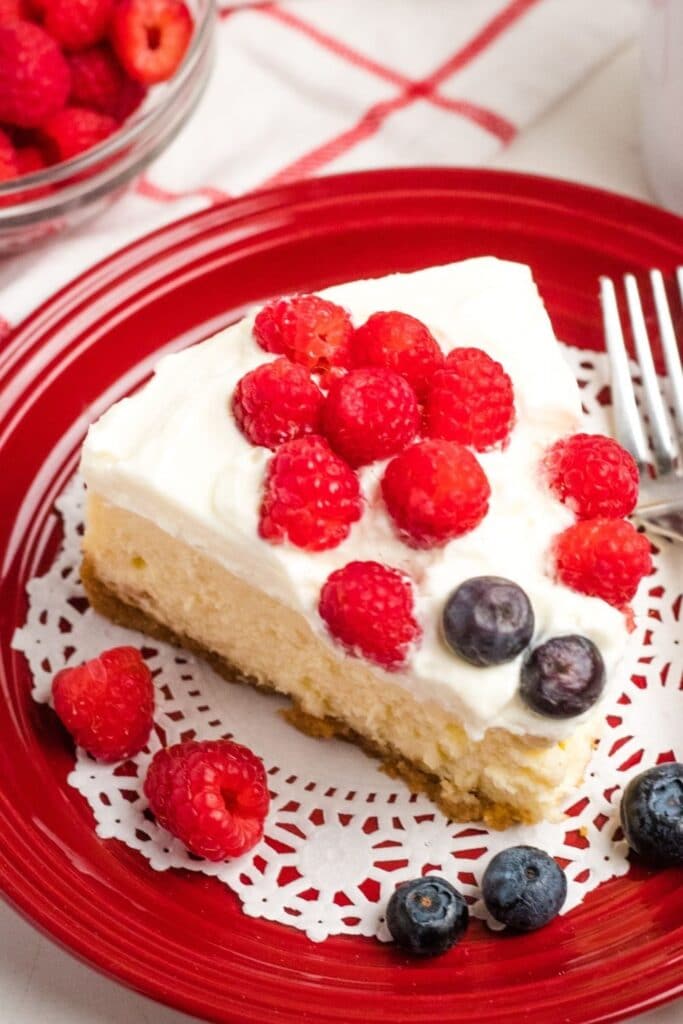 More Cheesecake Recipes
Instant Pot Cheesecake with Sour Cream Topping
Servings 1 cheesecake
Instant Pot Cheesecake with Sour Cream Topping is an easy and delicious pressure cooker cheesecake that is topped with a sour cream topping. This instapot cheesecake is so easy to make.
Ingredients
Crust
1½ cups graham cracker crumbs
6 tablespoons butter melted
½ cup brown sugar
Cheesecake
24 oz. cream cheese softened
1 cup granulated sugar
3 tablespoons all-purpose flour
¾ cup sour cream
1 teaspoon vanilla
3 large eggs room temp.
Topping
4 ounces cream cheese softened
1/2 cup sour cream
1 cup granulated sugar
1/8 teaspoon salt
1 teaspoon vanilla extract
1½ c. heavy whipping cream
1 pint fresh raspberries
¼ cup fresh blueberries
Instructions
Start by spraying the bottom of your 7 inch cheesecake with a non-stick spray. Then place parchment paper circle in bottom.

In a bowl you will add graham crackers, butter, and brown sugar. Mix until combined. Press the mixture into the pan with an inch up the sides. Press down tightly with a cup.

Place the graham cracker crust in the freezer while you work on the filling.

In a mixing bowl cream your cream cheese and granulated sugar until nice and fluffy. Then you will add in the sour cream, flour and vanilla.

Once combined mix in the eggs one at a time. Do not overmix at this step.

Pour the cheesecake mixture into the pan.

Add 1 cup of water into pressure cooker. Cover the cheesecake tightly with aluminum foil.

Place cheesecake on a trivet and place lid on Instant Pot and make sure valve is set to sealing. Then pressure cook for 45 minutes on manual high, followed by 10 minutes of natural release.

Remove cheesecake from Instant Pot once cooked. Then allow to cool on counter for an hour.

Cover and refrigerate overnight.

Once the cheesecake is fully set you can whip up the sour cream topping. Mix the heavy cream until it forms stiff peaks.

Then in a separate bowl add your softened cream cheese, sour cream, sugar, salt, and vanilla and mix until smooth.

Then fold the whipped cream into the cream cheese mixture. Spread the thick layer of cream cheese on cheesecake.

Top with fresh berries and serve.
Notes
I made this for a 4th of July cheesecake so I made the fruit look like a star. You can leave off the sour cream topping if you would like. Make sure the cheesecake is fully cooked. Only the size of a quarter in the center of the cheesecake will jiggle. If it is too wet, simply return back into Instant Pot and cook another 5 minutes or so.
Nutrition
Serving: 1gCalories: 677kcalCarbohydrates: 60gProtein: 8gFat: 46gSaturated Fat: 27gPolyunsaturated Fat: 15gTrans Fat: 1gCholesterol: 176mgSodium: 359mgFiber: 2gSugar: 49g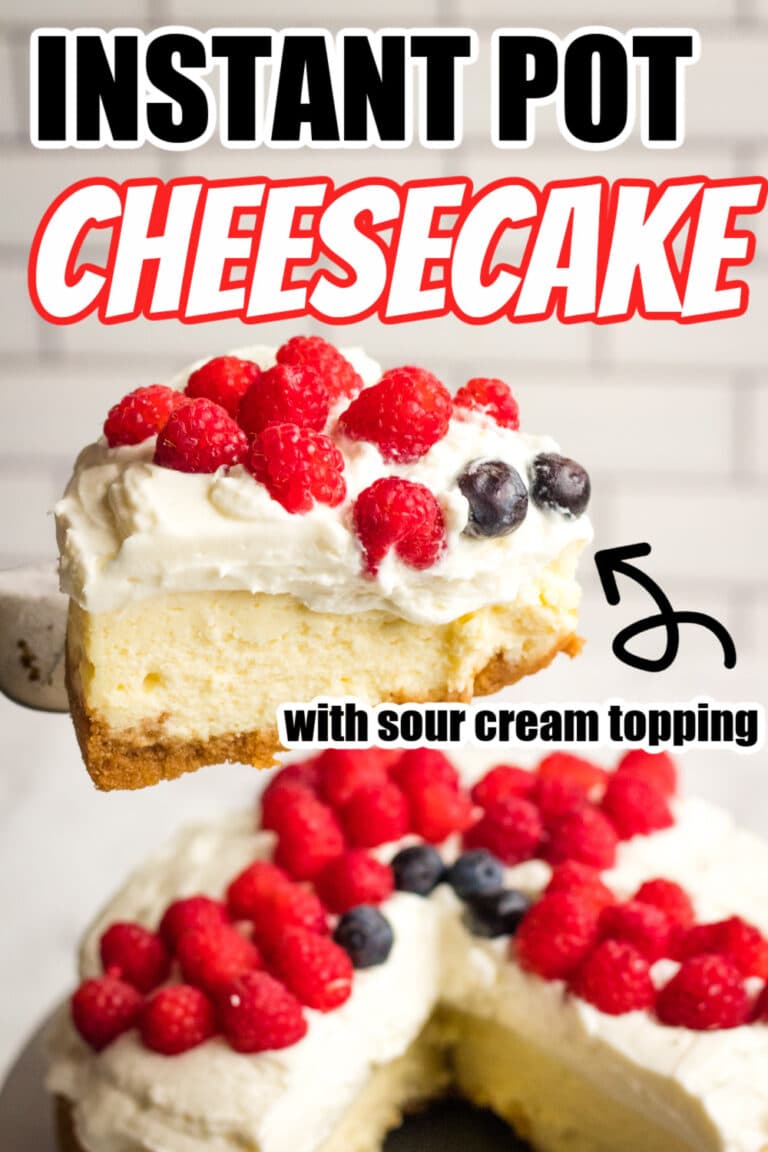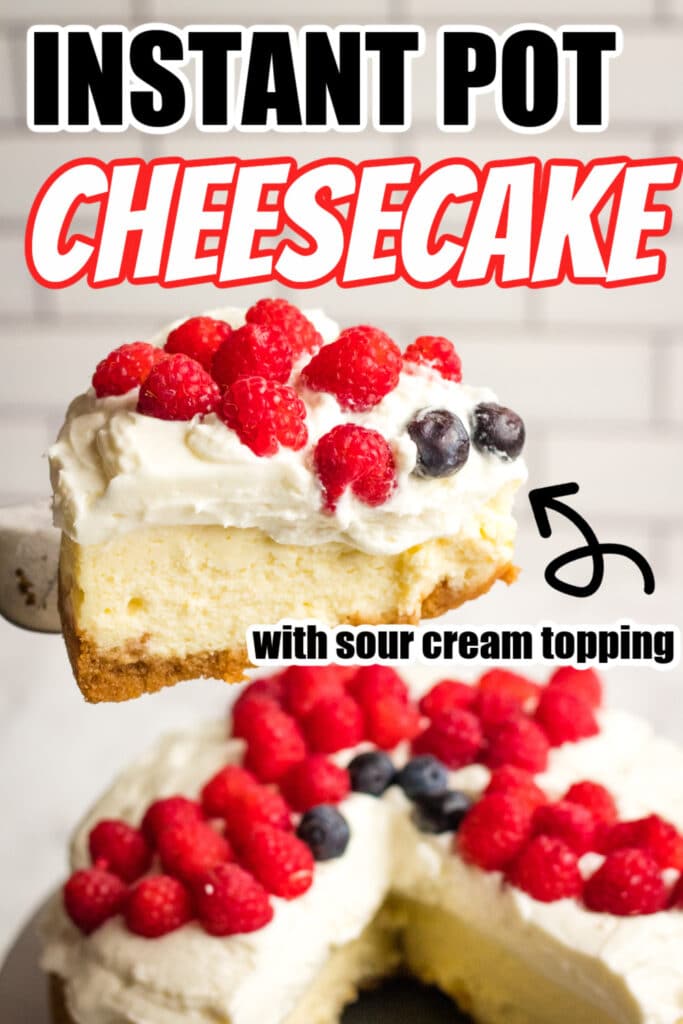 Reader Interactions