Basque Cheesecake is a burnt cheesecake that offers a rich and caramelized top from being burnt. This thick and creamy Basque burnt cheesecake is a must make.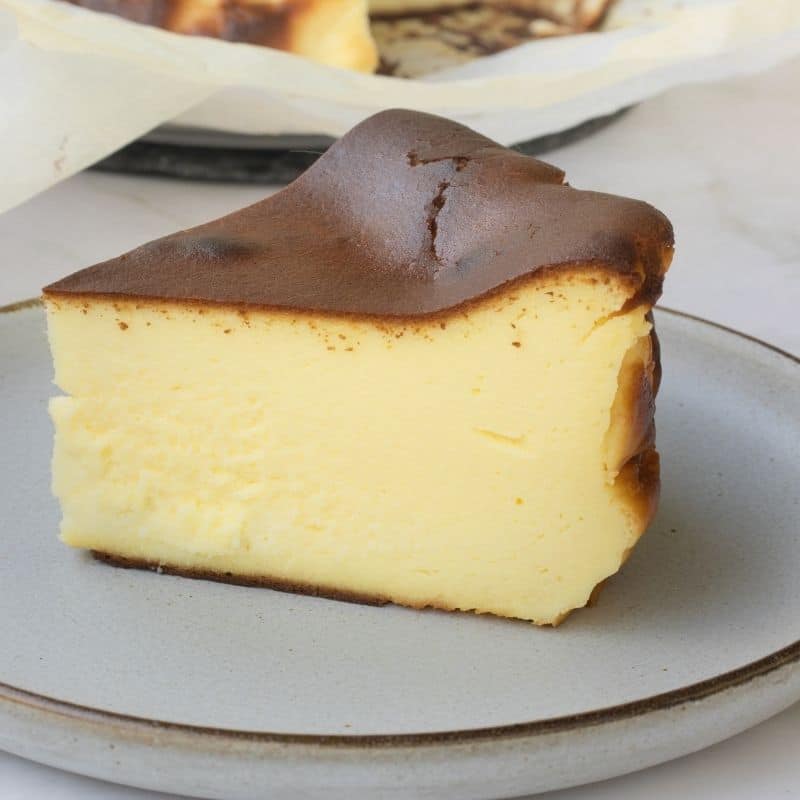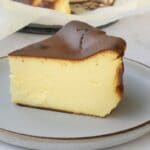 Basque Cheesecake (tarta de queso) is a light and delicious burnt cheesecake. A creamy custard cheesecake that offers a buttery caramel flavor in each bite. This crustless cheesecake is one you will love to try out!
The thought of a burnt cheesecake might not sound tasty, but trust me, this creamy cheesecake is incredible.
The mystery looking burnt top is what adds the sweet taste of caramel and molasses with every bite. Mix those delicious flavors with the vanilla flavoring from the filling and you will be sure to wow your family and friends.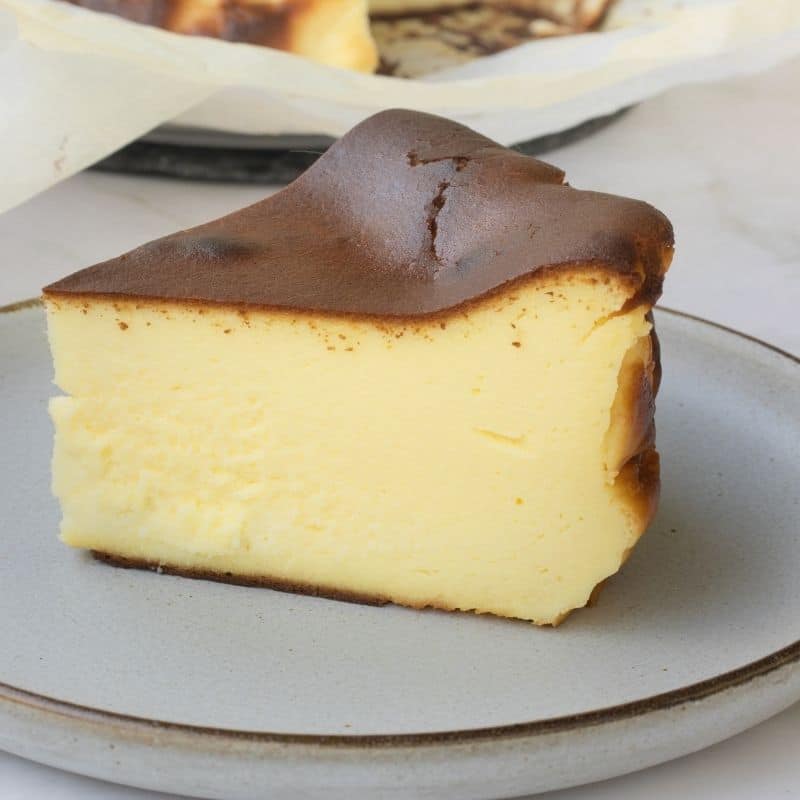 This cheesecake was first created in Spain with a few different tweaks from your typical cheesecake which is what makes this Basque cheesecake mysterious to the eye.
Tweaks like using flour as its thickening agent and cooking at such a high temperature are what helps this cheesecake become something you have never tasted before.
Basque Cheesecake is..
Perfect for a dinner party
Simple and easy to make
Totally different than a classic cheesecake
Simple ingredients
Delicious creamy dessert
Can be made a gluten free basque cheesecake (swap to gluten free baking blend)
Ingredients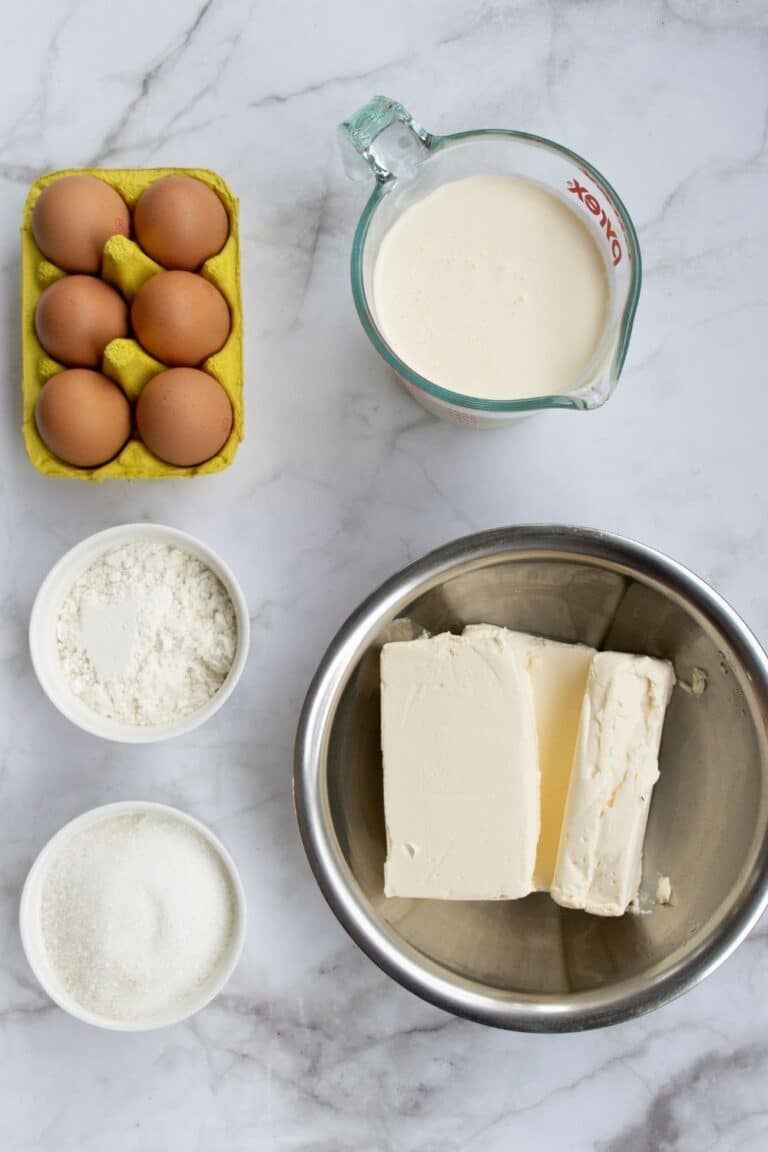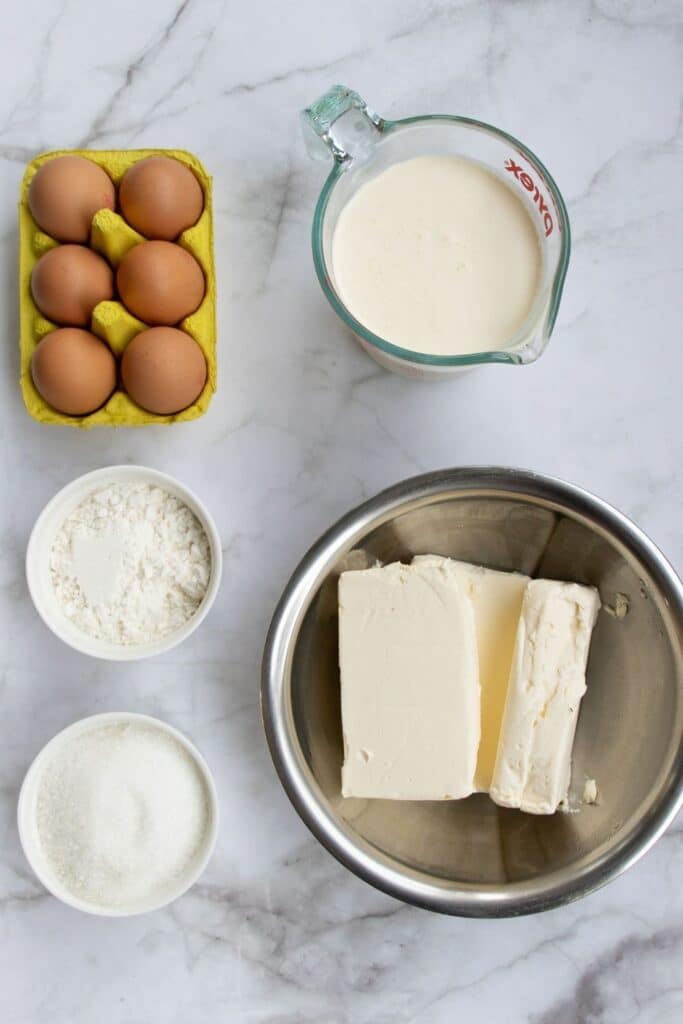 Cream Cheese
Large Eggs
Sugar
Heavy Cream
All Purpose Flour
Salt
Vanilla Extract
Butter
How to Make
Full directions on how to make basque cheesecake are in the printable recipe card. This is a visual walk through on how to make.
Step 1: First preheat oven to 400F, and prep your cheesecake pan. I used a springform pan. Make sure that you place some parchment paper inside so you can easily remove your cheesecake one fully cooked.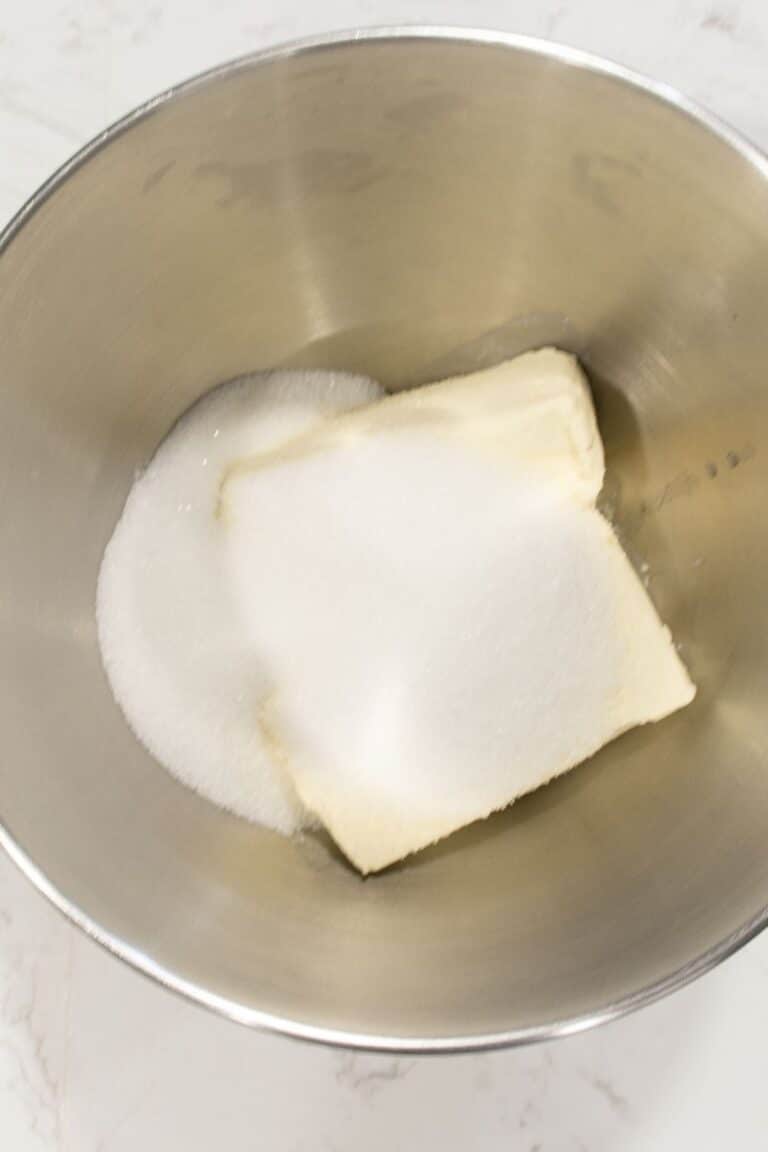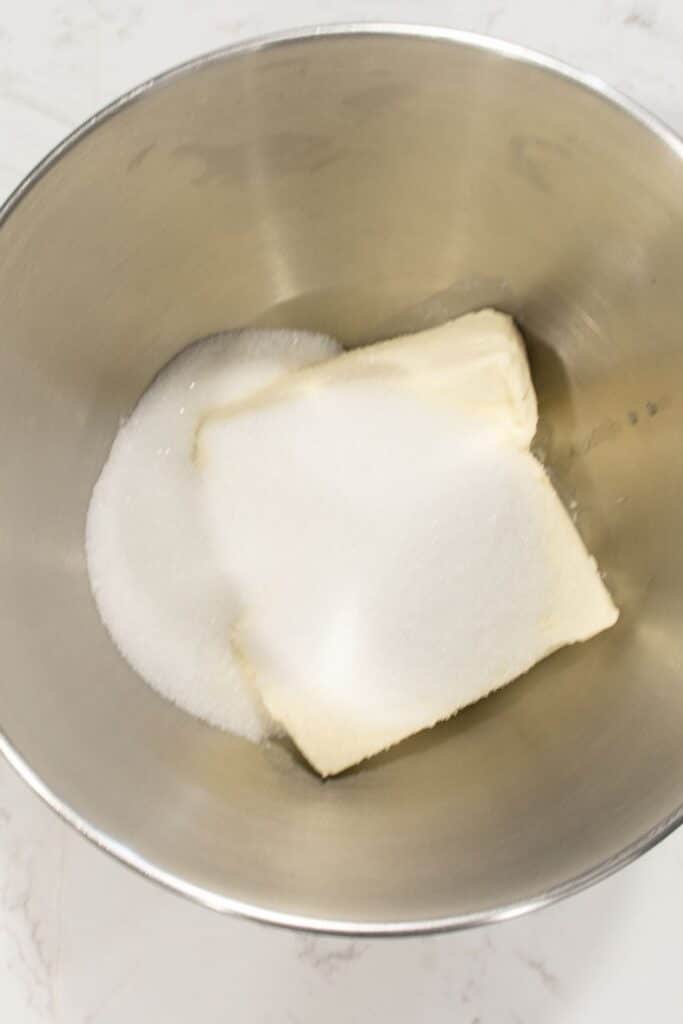 Step 2: Then using a stand mixer and the paddle attachment combine softened cream cheese and sugar and beat on medium speed for about 30 seconds.
Step 3: Next, add in one egg at a time to the cream cheese and sugar mixture. Once all eggs are added mix for one minute. Mix until it is combined.
Step 4: Gradually add in your heavy cream, salt, and vanilla extract. Mix until smooth. Be sure to stop and scrape the sides of the mixing bowl a couple of times during this step using a spatula.
Step 5: Next sift flour and add to wet mixture and beat until everything is fully combined. Be careful to not overbeat the mixture. The mixture should be smooth and free of lumps.
Step 6: Grease the bottom and the sides of the baking pan with butter. Line the bottom of the pan with parchment paper as well as the edges.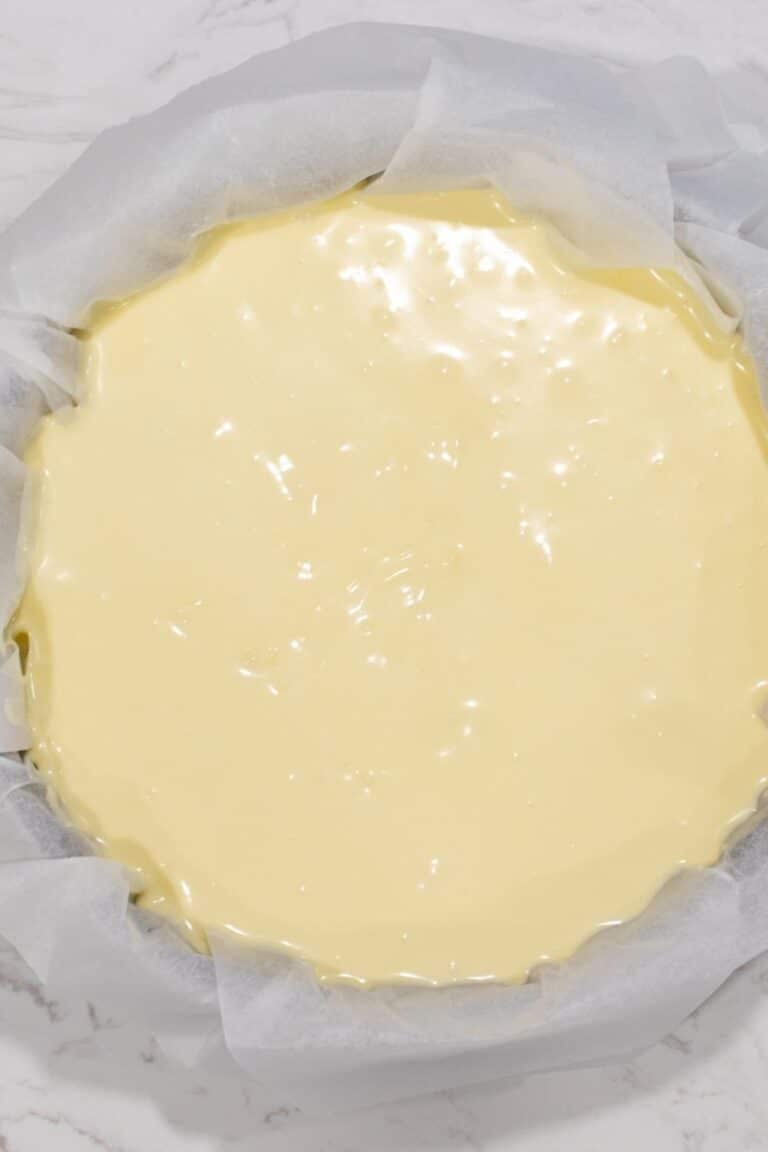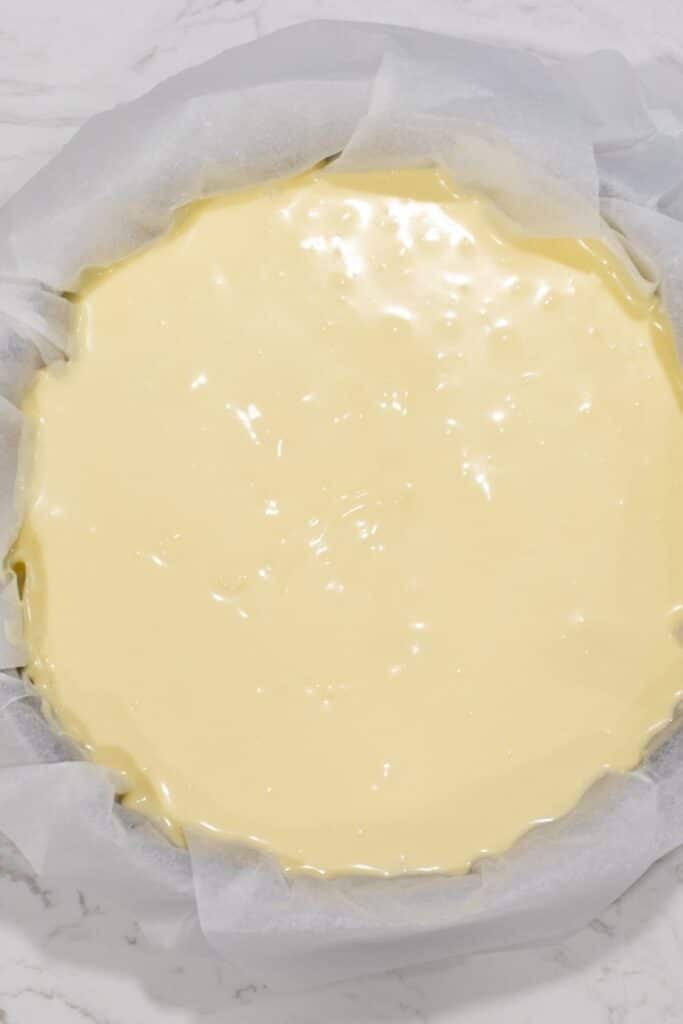 Step 7: Then pour batter into the pan. Use a spatula or the back of a spoon to smooth out the top if needed.
Step 8: Bake for 45 to 50 minutes or until the top is dark brown or dark golden brown.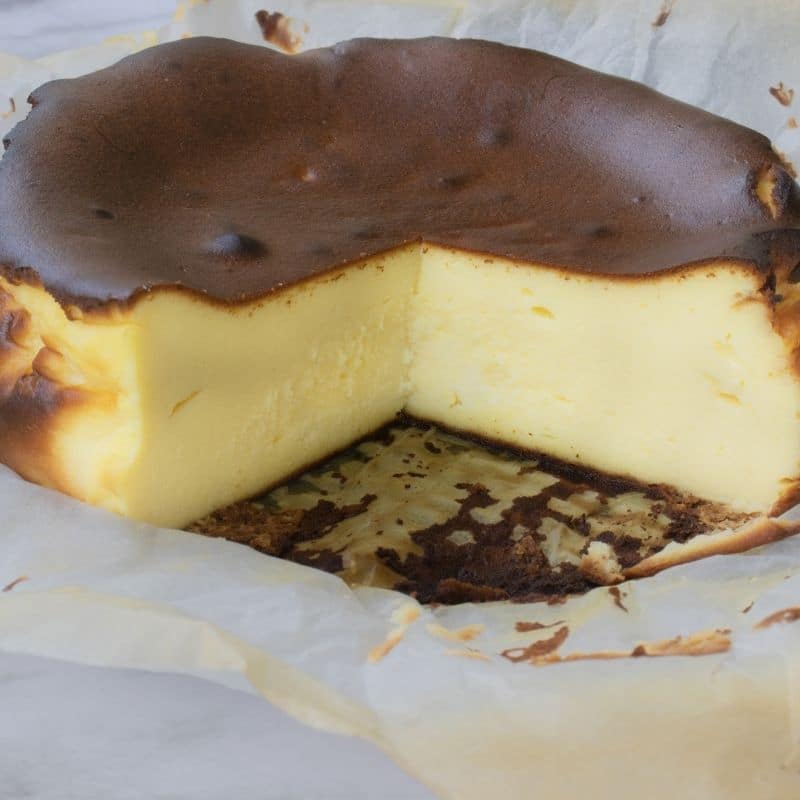 Step 9: Lastly allow to cool to room temperature before serving.
Also, try my cinnamon roll cheesecake recipe as well! It is so delicious.
Expert Tips
You can make the cheesecake up to 1-2 days ahead of needing to serve it.
Need to speed up the softened cream cheese? Microwave for 20 seconds at 50% power. Stir, and then repeat until the cream cheese is just softened. You do not want the cream cheese to melt.
Use room temperature cream cheese to make mixing easier.
Your oven may cook faster than others, check cheesecake around 50 minutes. If it is not burnt looking keep cooking for 5 minute increments at a time.
Vanilla is going to really bring out tons of flavor in the cheesecake. If you have it use real vanilla.
You can use a push pan as well if you don't own a springform pan.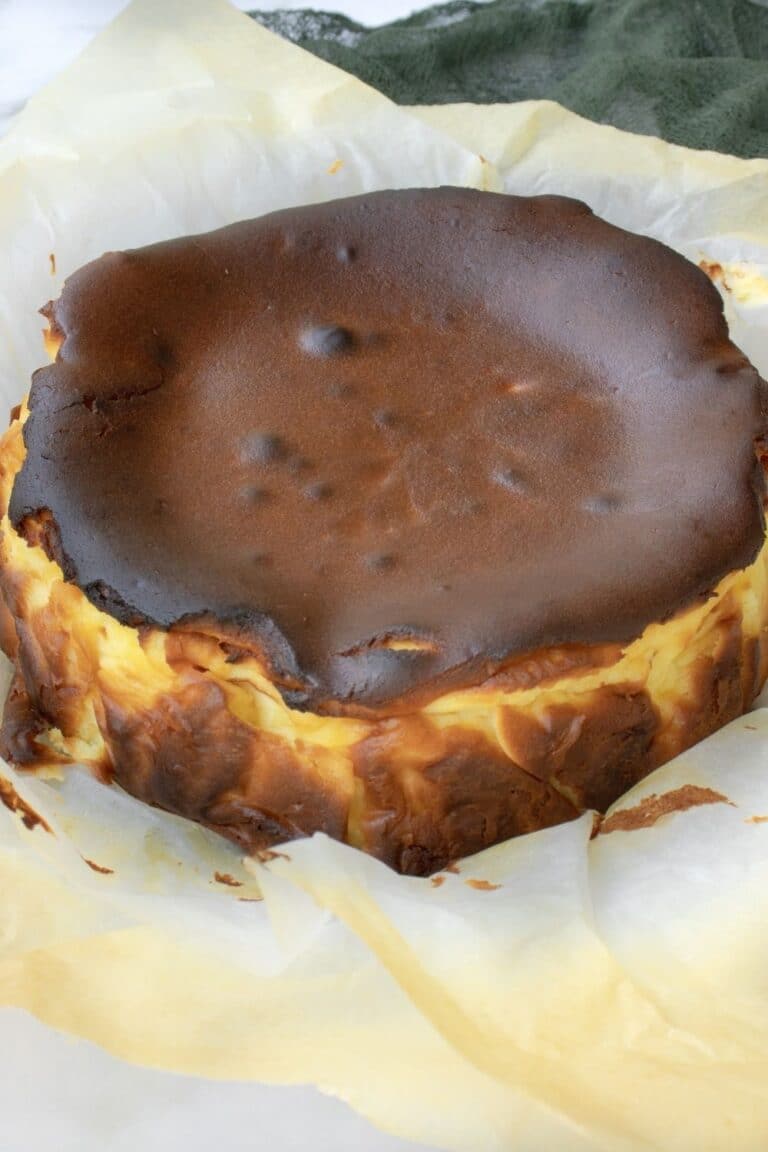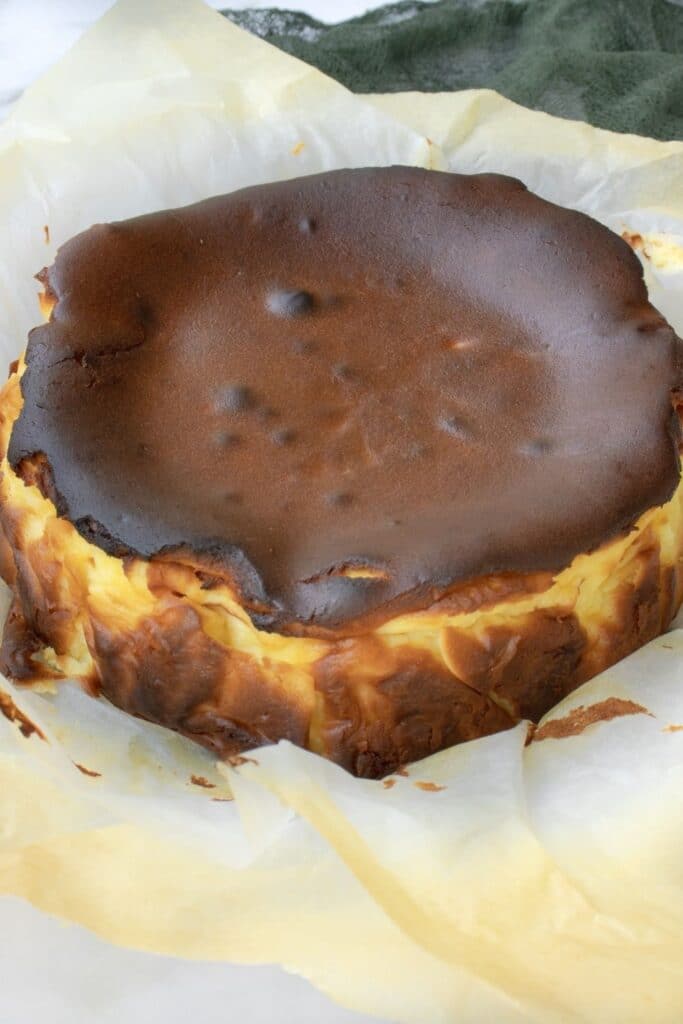 Variations
Replace plain flour with with a gluten-free flour blend to make this cheesecake gluten-free.
Try making mini cheesecakes in a cupcake pan.
Use whipping cream instead of heaving cream.
Omit salt if you use salted butter.
Recipe FAQs
Why does my Basque Cheesecake Crack? 
Cracks form as the cheesecake cools. While the cheesecake cools it starts to contract but still in the pan the cheesecake edges are still stuck to the side this causes the cracks to form.

To not have your cheesecake crack you can take it out of the oven a few minutes before time is up but you risk it being not cooked thoroughly.

Another thing is running a knife all around the batter, to help remove any air pockets that are trapped inside the cheesecake. As it bakes the air rises, and causes cracks.
What to serve with Basque Cheesecake?
This burnt Basque cheesecake has no need for any fruit or whipped cream topping. It is delicious without anything added to the cheesecake. Once you have the first bite you will understand why!
Can you freeze Basque Cheesecake?
Your Basque burnt cheesecake can be frozen. Be sure to wrap it tightly in plastic wrap and aluminum foil before placing in the freezer. But note that this cheesecake can only be stored for up to a month in the freezer. 
How to remove Basque Cheesecake from the pan?
Be sure your Basque Spanish cheesecake has been cooling to room temperature for at least two hours from removing from the pan.

Just simply grab the parchment paper and pull up and place on a plate. You can then leave it on the parchment paper on the plate or you can gently pull the parchment paper from underneath the cheesecake.  
Is basque cheesecake gluten free?
This cheesecake does use flour, but you can swap with a gluten free flour blend. You need the flour to be the thickening agent.
Why do you need parchment paper?
Since there is no crust on basque cheesecake you need the parchment to hold the shape of the cheesecake as it bakes.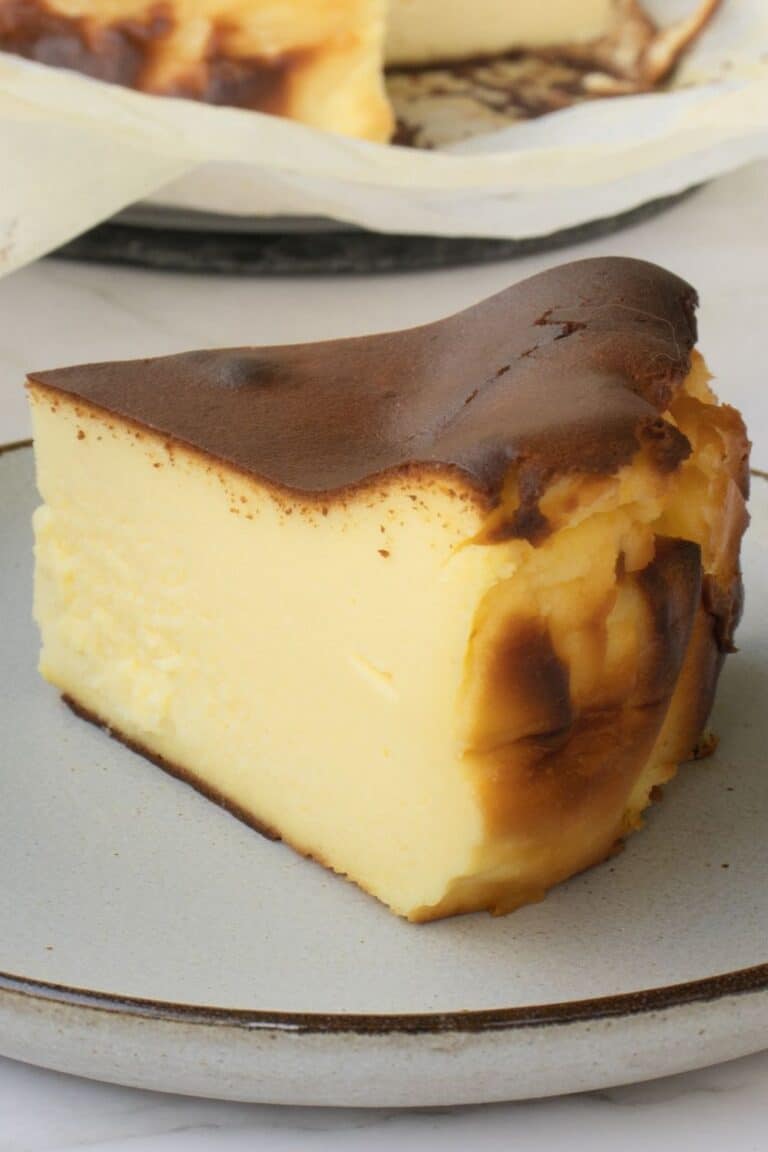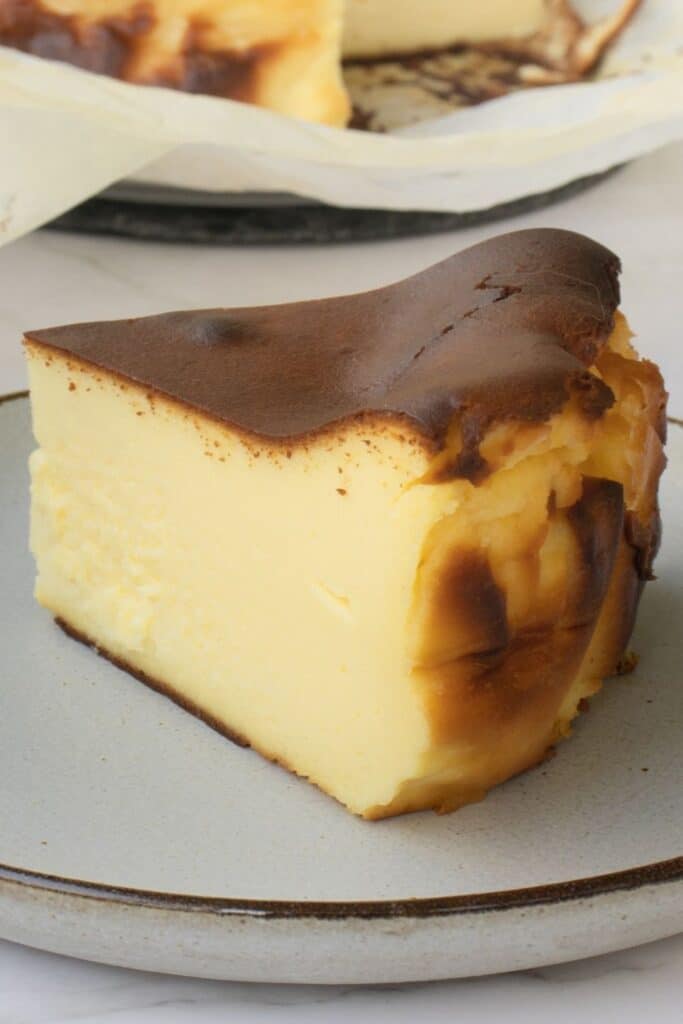 Want More Easy Cheesecake Recipes
Have you tried the recipe? If so, please leave a star ⭐️⭐️⭐️⭐️⭐️ rating in the recipe card below or drop a comment. Also stay in touch with me through social media by following me on Facebook, Pinterest, or My Facebook Group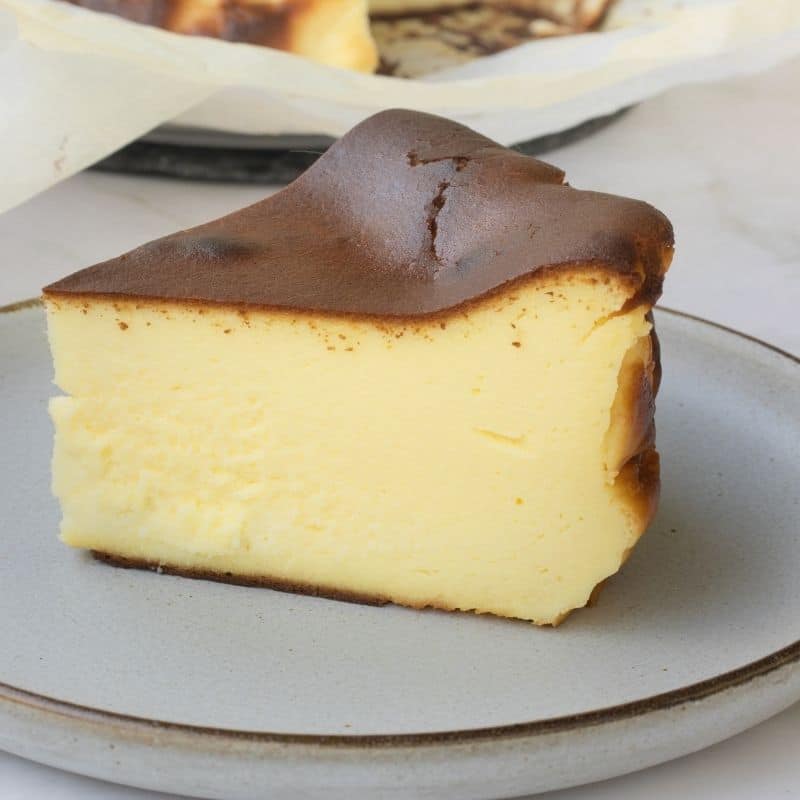 Basque Cheesecake Recipe
Servings 1 cheesecake
Basque Cheesecake is a burnt cheesecake that offers a rich and caramelized top from being burnt. This thick and creamy Basque burnt cheesecake is a must make.
Ingredients
Supplies
10 inch springform pan
Sifter
Basque Cheesecake Ingredients
3 block cream cheese room temperature
5-6 large eggs room temperature (the more egg you use, the richer cheesecake will be)
1 ½ cup sugar
2 1/2 cups heavy cream room temperature
½ cup all purpose flour sifted
½ teaspoon salt
½ teaspoon vanilla extract
Extra butter soften, to grease the pan
Instructions
Preheat your oven to 400 degrees. Then you will add a layer of butter to pan to grease then line the bottom and sides with parchment paper.

In a stand mixer, add your softened cream cheese and sugar and bean on medium-low speed for around a minute. Then add in the eggs one at a time, making sure to incorporate.

Then you will add in the heavy cream, salt, and vanilla, mixing as you do, scraping down the sides.

Add in the sifted flour, and mix just until it is incorporated. Don't overmix the batter. You want the batter to be creamy and no lumps.

Pour int othe pan, and then place the cheesecake in the oven and bake 45-50 minutes or until the top of the cheesecake is dark golden brown.

Once done, remove and allow to cool, then store in the refrigerator.

Slice and serve this Basque cheesecake anytime.
Notes
Sifting Flour: You need to sift the flour so it can create a light texture. Allow the cheesecake to cool, then refrigerate the leftovers. Gluten Free Cheesecake: Feel free to swap with a gluten free flour blend to make this Basque burnt cheesecake is gluten free. Must Use Parchment Paper: It is very important to line the cheesecake pan with parchment paper. You can use a push pan in replace of a springform pan. No water bath is needed for this cheesecake pan. You can freeze this burnt Basque cheesecake for 2-3 months in the freezer when froze properly.
Nutrition
Serving: 1gCalories: 354kcalCarbohydrates: 31gProtein: 6gFat: 24gSaturated Fat: 14gPolyunsaturated Fat: 8gTrans Fat: 1gCholesterol: 159mgSodium: 168mgSugar: 27g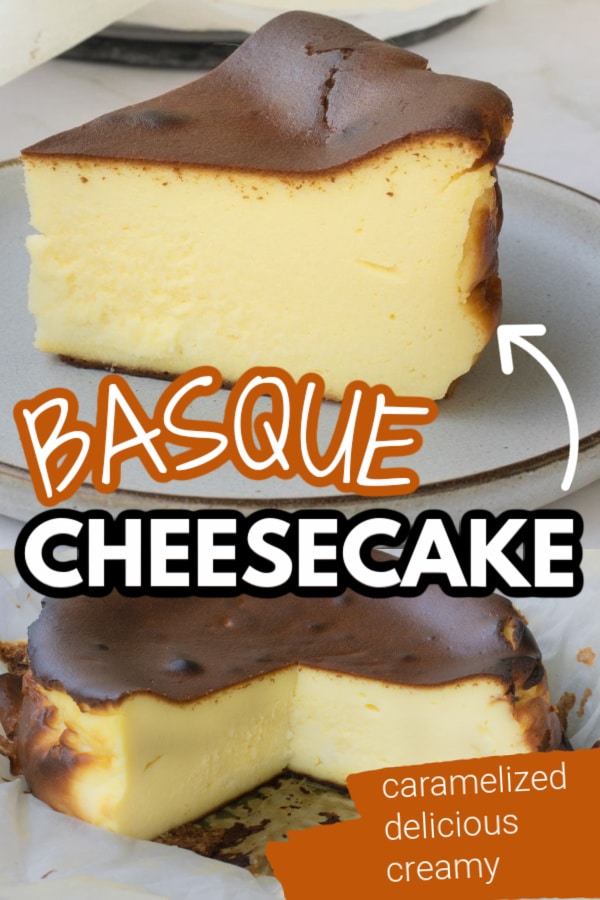 Reader Interactions