Instant Pot pumpkin cheesecake is a rich decadent pumpkin spice cheesecake made right in your pressure cooker. A nutty and graham cracker crust with a pumpkin spice filling.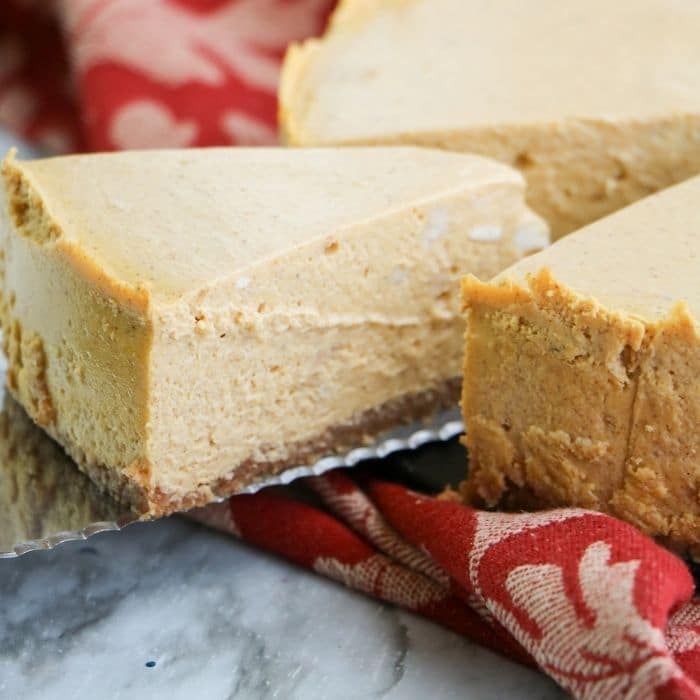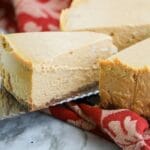 Whip up this Instant Pot Pumpkin Cheesecake for your pumpkin spice cravings. A creamy and velvety smooth pumpkin spice cheesecake that is the best holiday cheesecake recipe!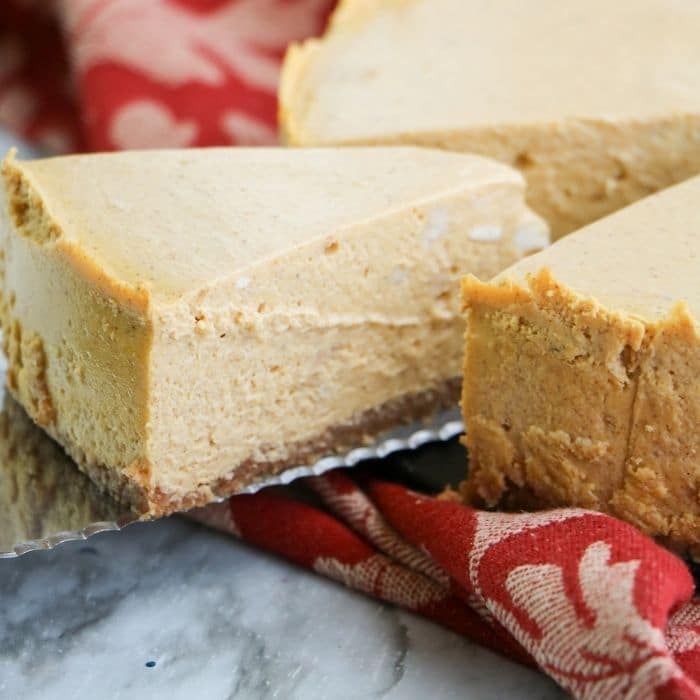 Dive in fork first to this homemade pumpkin spice cheesecake. In about an hour you have a cheesecake cooked and ready to be refrigerated to set up. An easy pumpkin cheesecake instant pot recipe, that you can top with whipped cream, cream cheese frosting, or serve plain.
Learn how to make pumpkin cheesecake in your pressure cooker today. No stress of a water bath in the oven, stick to this pressure cook method for an easy process.
🥧 Why This Recipe Works
Easy Prep
Rich pumpkin spice flavoring in every bite
Graham cracker and pecan crust
Hands-off cooking process
Stunning presentation for serving a crowd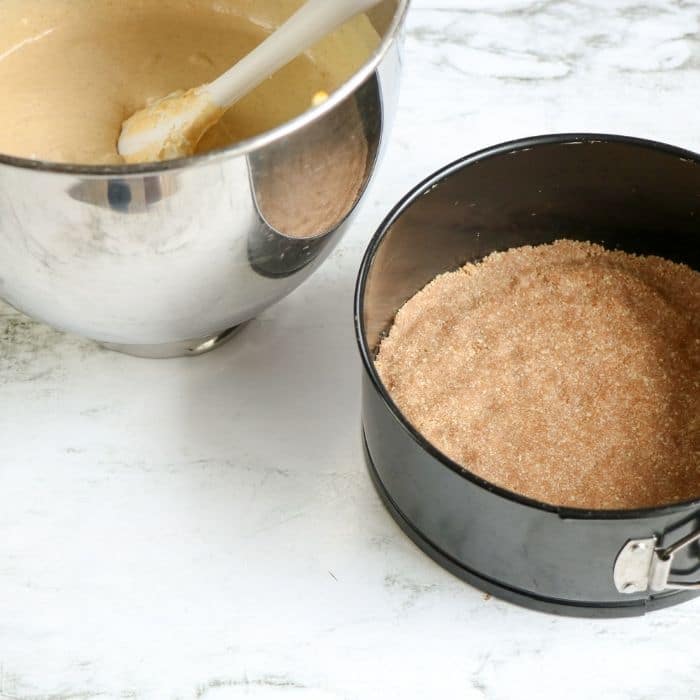 🎃 Ingredients
Pecan Graham Cracker Crust – I created a spiced crust that is a bit different than a classic crust. I used crushed pecans, graham cracker crumbs, and some pumpkin pie spice. This helps add tons of flavor to the crust.
Cheesecake Filling – Pumpkin puree, pumpkin spice, cream cheese, and other classic cheesecake ingredients join together for that rich, thick cheesecake you crave.
🥄 How to Make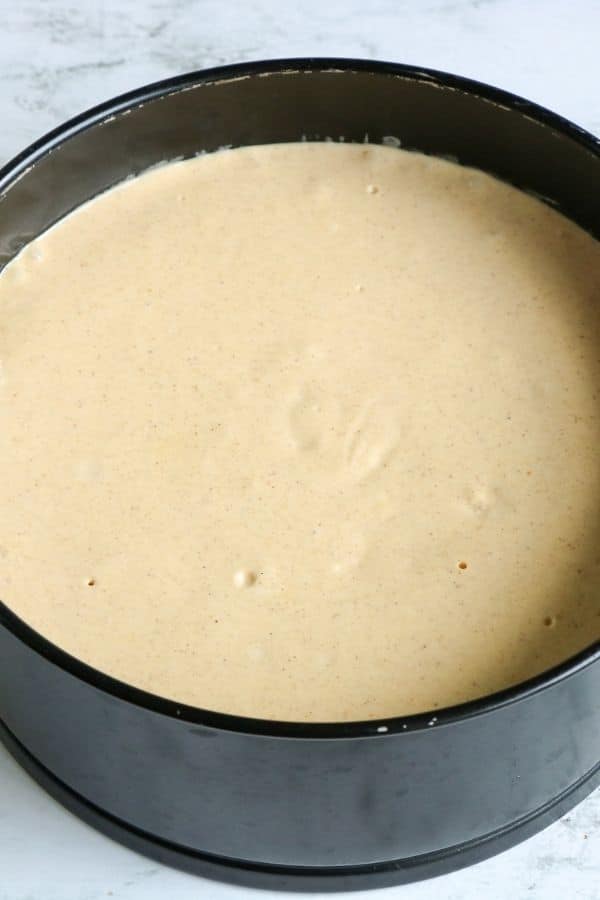 The first thing you want to do is lightly grease your springform pan or push pan for the Instant Pot. Then set it aside.
Now in a food processor chop your pecans, and graham crackers until they are nice and ground. Add in the pumpkin pie spice, and mix with brown sugar and butter.
Press down into the pan making sure you are pressing it down tight. I used a measuring cup to press the crust in.
Freeze the crust for 20-30 minutes.
Now you will work on your cheesecake batter. Take your room temperature cream cheese, and cream it in the stand mixer and mix with the sugar. Whip until light and fluffy.
Then you will add in the rest of your ingredients and whip up until creamy.
Pour your cheesecake batter into the crust that has been in the freezer.
Add your water into the Instant Pot. Then place cheesecake on a trivet or use a silicone sling. Cover your cheesecake with aluminum foil tightly to prevent liquid getting inside.
Do a 40 minute cook time, with a full natural release of pressure. That will take 20-30 minutes.
Open the pressure cooker and place your cheesecake on a cooling rack for 1 hour. Then use a paring knife to run around the edges of the cheesecake.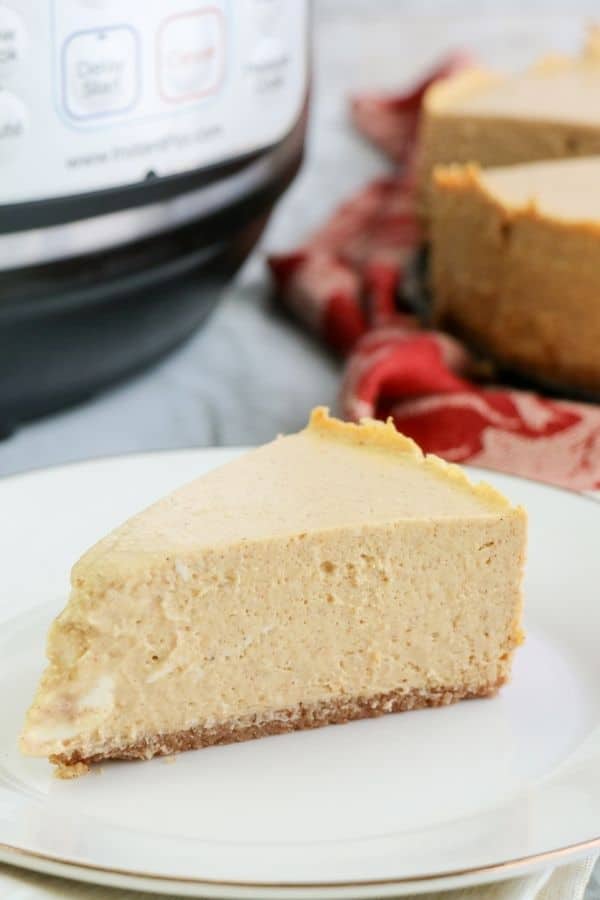 📌Expert Tips
Make sure to cover your cheesecake tightly with aluminum foil to prevent condensation from getting into the cheesecake.
If your cheesecake is not done, make sure to cover again and cook an additional 5-10 minutes longer.
You have to allow your cheesecake to set up before you slice into it.
Decorate your cheesecake with whipped cream, cream cheese frosting, or serve it plain.
Store your cheesecake in the fridge until you are ready to serve.
Never let your cheesecake be left out for more than 2 hours a time, it will allow bacteria to grow faster.
Recipe FAQs
Is Cheesecake better in instant pot or oven?
Cheesecake is a lighter texture when you cook in your Instant Pot. You will find that cheesecake is a lot more dense compared to the oven.
How do I know when my instant pot cheesecake is done?
The best way to ensure your cheesecake is done is to use a thermometer. The internal temperature of your cheesecake needs to be 140-150 degrees.
Do you need a water bath for cheesecake?
A water bath is a must when it comes to cheesecake. Making cheesecake in the Instant Pot is especially needed or the Instant Pot will not come to pressure.
Can you freeze cheesecake?
Freezing cheesecake is a great way to extend the life of your cheesecake. Simply take your chilled cheesecake and place in a proper container. Freeze for up to three months.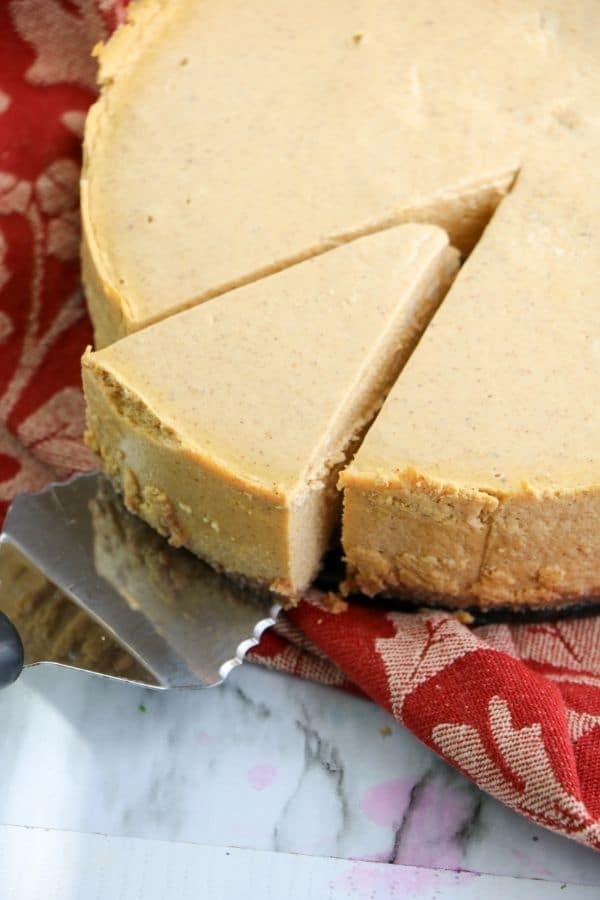 Here are more cheesecake recipes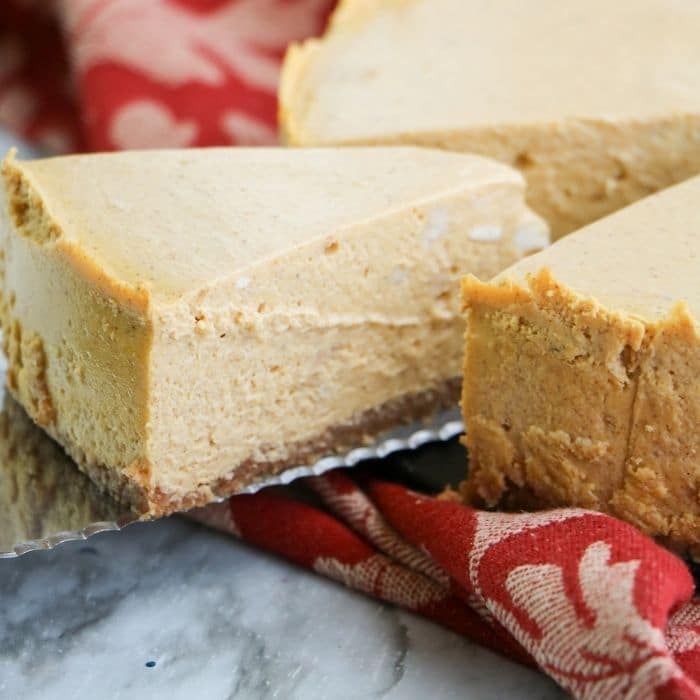 Instant Pot Pumpkin Cheesecake
Instant Pot pumpkin cheesecake is a rich decadent pumpkin spice cheesecake made right in your pressure cooker. A nutty and graham cracker crust with a pumpkin spice filling.
Ingredients
Crust
1 cup graham cracker crumbs or whole graham crackers you break into crumbs
1/2 cup chopped pecans
1 teaspoon pumpkin spice blend
2 tablespoons light brown sugar
5 tablespoons butter melted
Cheesecake Batter
16 ounces of cream cheese softened
1/2 cup granulated white sugar
1/2 cup heavy cream
1 tablespoon cornstarch
2 large eggs room temperature
1/2 cup pumpkin puree
1 teaspoon vanilla
1 1/2 teaspoons pumpkin spice blend
pinch of salt
1 1/2 cup water goes in pressure cooker not cheesecake
Instructions
For the cheesecake crust you will want to add graham crackers and nuts into a food processor and pulse until it breaks up similar to the texture of sand. Pour in your brown sugar and butter, and mix until melted.

In your prepared cheesecake pan that is greased and the bottom is lined with parchment pour in crust. Then use a measuring spoon or cup to pack down the crust.

Put in the freezer for 20 minutes.

Now to work on the cheesecake filling make sure all the ingredients are room temperature.

In a stand mixer add in your cream cheese and granulated sugar. and mix for 2 minutes until creamy.

Make sure to scrape down the sides, now carefully add in the pumpkin puree, vanilla, pumpkin spice, salt, and heavy cream.

Once mixed well slowly incorporate the eggs. Do not overmix at this point.

Pour the cheesecake batter into the crust that was in the freezer.

Cover tightly with aluminum foil around the edges.

In your Instant Pot add 1 1/2 cups water, and then add your cheesecake in a sling or you can use the metal trivet. You want cheesecake to sit on top of water, not submerged in it.

Place the lid on the pressure cooker and make sure the valve is set to sealing. Cook 40 minutes, followed by a matural release of pressure that takes 20-30 minutes.

Remove cheesecake from the Instant Pot and place on a cooling rack for 1 hour.

Then transfer into the fridge and let it set up overnight. When ready you can slice and serve this homemade Instant Pot pumpkin cheesecake.
Notes
You need to ensure to use a push pan or springform pan.
I recommend a silicone sling to use, as it makes removing the cheesecake from the pressure cooker easy.
It is best to freeze your crust when you are working on the batter to help keep its form when it bakes. Otherwise, it can sog up a bit.
Room temperature ingredients are a must when it comes to making cheesecake, otherwise, it will not cream together and give you a curdled texture.
Be careful removing the cheesecake from the pan, many people end up dropping cheesecake when you are first learning, so go easy and slow.
Nutrition
Serving: 1gCalories: 494kcalCarbohydrates: 31gProtein: 7gFat: 39gSaturated Fat: 20gPolyunsaturated Fat: 15gCholesterol: 140mgSodium: 324mgFiber: 2gSugar: 21g
Cheesecake Accessories
Pan | I recommend using a push pan or a classic springform pan.
Silicone Sling| Place your cheesecake on this silicone sling to lift it easily out of the pressure cooker. This is a great accessory I use all the time.
Parchment Rounds | Instead of having to cut classic parchment paper these parchment rounds make it easy to just place right in your round pan!
Container Carrier | So when I put my decorated cheesecake in the fridge I use a container carrier. That way the whopper cheesecake is in a container to protect it and I don't worry about the toppings getting smashed by aluminum foil wrapped around it.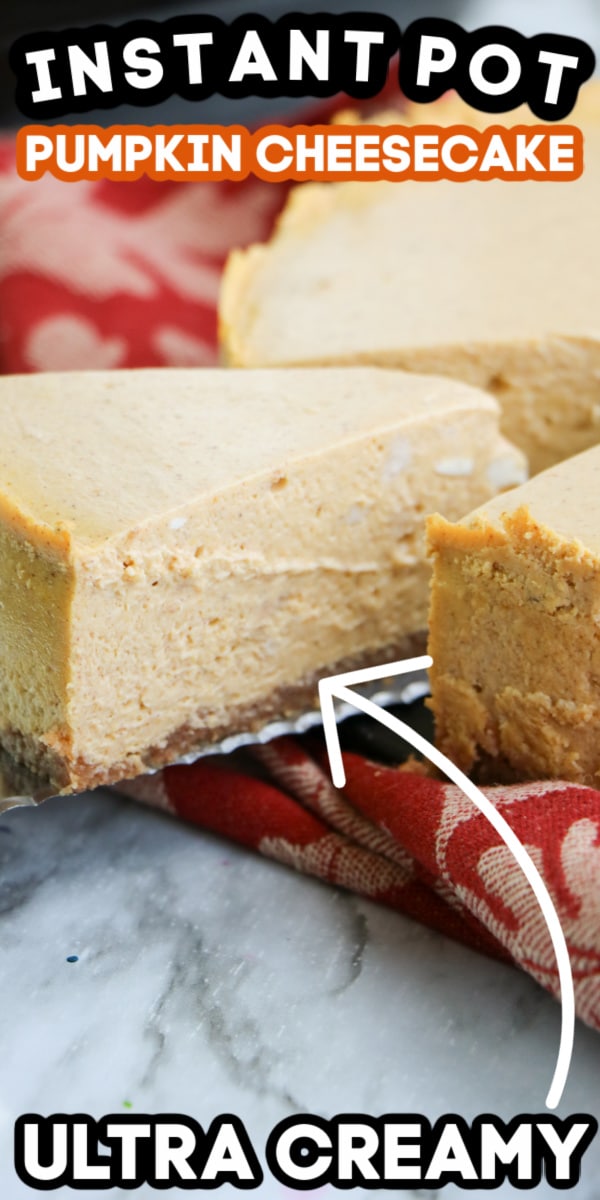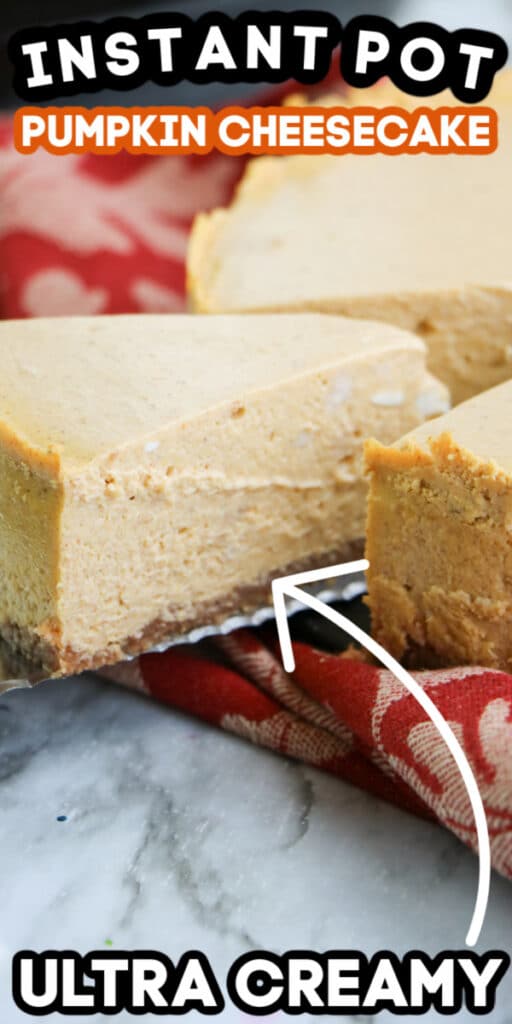 Reader Interactions