Canned Cinnamon Roll Donuts are my son's favorite breakfast! Make these Instant Pot Duo Crisp Cinnamon Roll Donuts using the Air Fryer setting on the Duo Crisp! Canned cinnamon rolls transformed into donuts and donut-bites.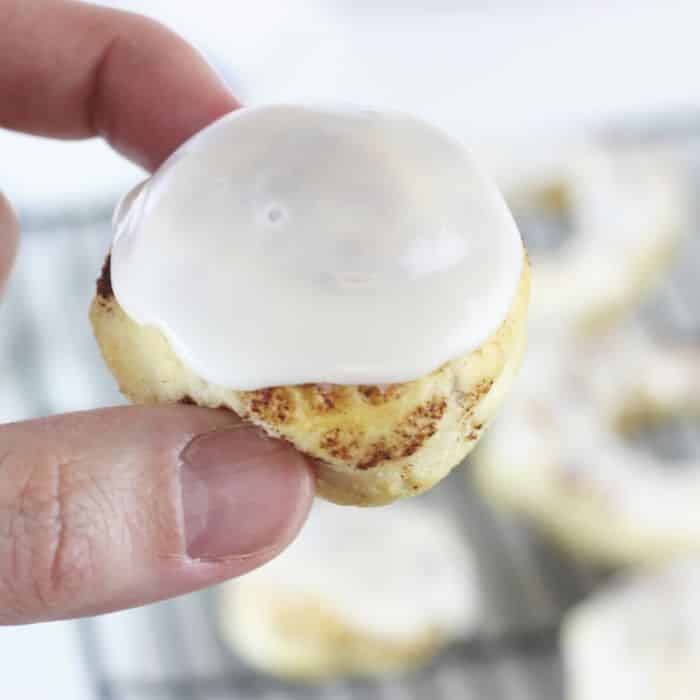 I love making homemade goodies for my family, but I am not afraid to use shortcuts here and there. These cinnamon roll donut bites are one that are a fun change. While I love peaches and cream quinoa in the Instant Pot, I also like to have a bit of a guilty pleasure here and there.
Canned Cinnamon Roll Donuts
So if you want something a bit different and an easy breakfast, try these cinnamon roll donuts. Just a few minutes prep, a couple of minutes cooking and breakfast or your snack is ready to serve.
Also, try my Samoa donuts or red velvet donuts as well! For a sweet treat to start the day.
Want More Instant Pot Duo Crisp Recipes
Can I Make These Cinnamon Roll Donuts In Any Air Fryer
Yes, you don't have to own the Instant Pot Duo Crisp, but it is what I used. Just adjust your temperature on your air fryer, and watch your donuts, as they will cook really fast.
How Do You Prevent Cinnamon Roll Donuts From Sticking In Air Fryer
I sprayed the tray with cooking spray. This will help you to prevent your bites or donuts from sticking to the pan. I also did not have to flip these half way through cooking.
The donuts and bites all cooked evenly on both sides, which was really nice. Now if you are using a different type of air fryer, I know they don't recommend using cooking spray. I personally had no issues with it, so feel free to try without if you want.
How Do You Get Centers Cut Out Of Cinnamon Rolls
I used a shot glass, cause I didn't have a small circle cookie cutter
. You can use what you have on hand. My shot glass worked great and it made it to where I didn't have to buy something to make these.
You just want something that when you press in on the cinnamon rolls it creates a clean edge. Then you can shape your donuts of need be. I didn't mind that they were not perfectly circular when I went to bake them.
What Glaze To Use For Cinnamon Roll Donuts
I used the glaze it came with. What I did was microwave the glaze for about 5-10 seconds to help thin it out a bit. Gave it a quick stir and then used that to dip my donut bites and donuts in. It worked so well, and it gave you that true cinnamon roll flavor.
Are The Cinnamon Roll Donuts Moist
I loved these, and as you can see for yourself, yes they are super moist. The key is to not overcook your donuts and donut bites. Depending on your machine will depend on cook time.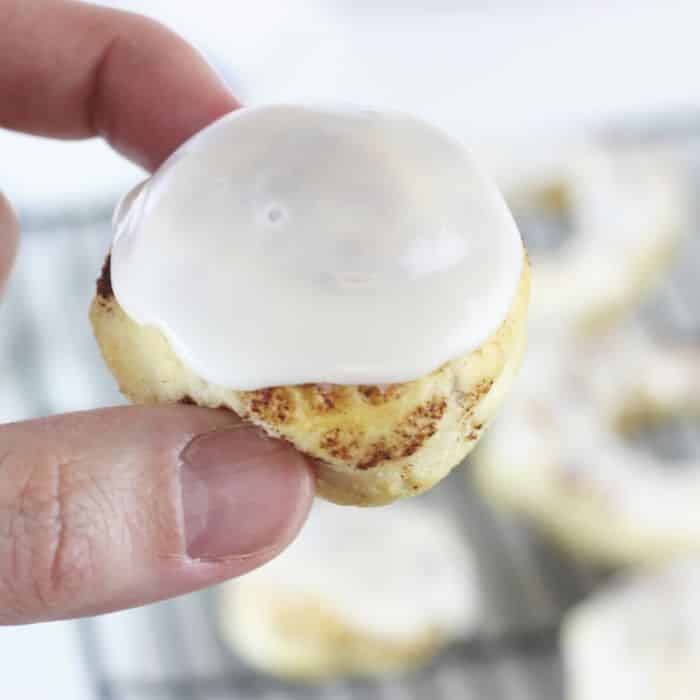 Instant Pot Duo Crisp With Air Fryer Canned Cinnamon Roll Donuts
Servings 8 donuts 8 donut bites
Canned Cinnamon Roll Donuts are crazy simple to make. Make these Instant Pot Duo Crisp Cinnamon Roll Donuts using the Air Fryer setting on the Duo Crisp!
Ingredients
1 can of Cinnamon Rolls
Cooking spray
Instructions
Open up your cinnamon rolls and stretch them out slightly, and then use a cookie cutter or shot glass to get the center cut out to make a donut shape.

Then spritz your Instant Pot Duo Crisp with cooking spray and lay out a few of the donuts and holes. You need to cook in batches. Don't let donuts touch.

Air fry setting - 345 degrees for 4 minutes. Then take off crisping lid and check to ensure donuts are cooked through.

Remove and set on a cooling rack.

When you are done cooking donuts, take the icing the cinnamon rolls came with and place in microwave for 10-15 seconds. This will thin it up a bit. Then dip each donut in, and enjoy.
Nutrition
Serving: 1donuts + 1 Donut BiteCalories: 37kcalCarbohydrates: 6gFat: 1gSodium: 86mgSugar: 2g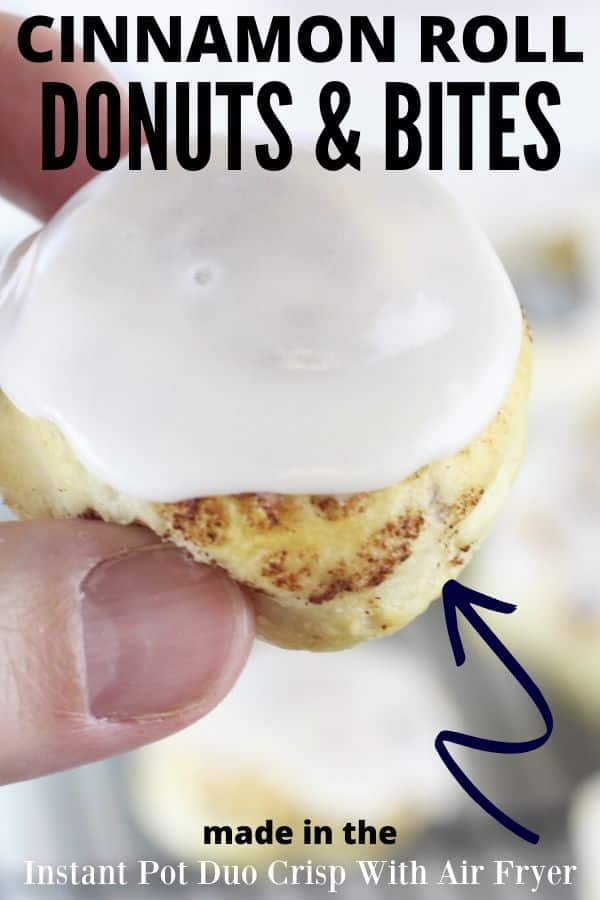 Reader Interactions