Instant Pot Duo Crisp Air Fryer Deer Jerky Recipe is so easy to make. I had a bunch of deer meat in the freezer and we wanted to whip up some deer jerky to nibble on.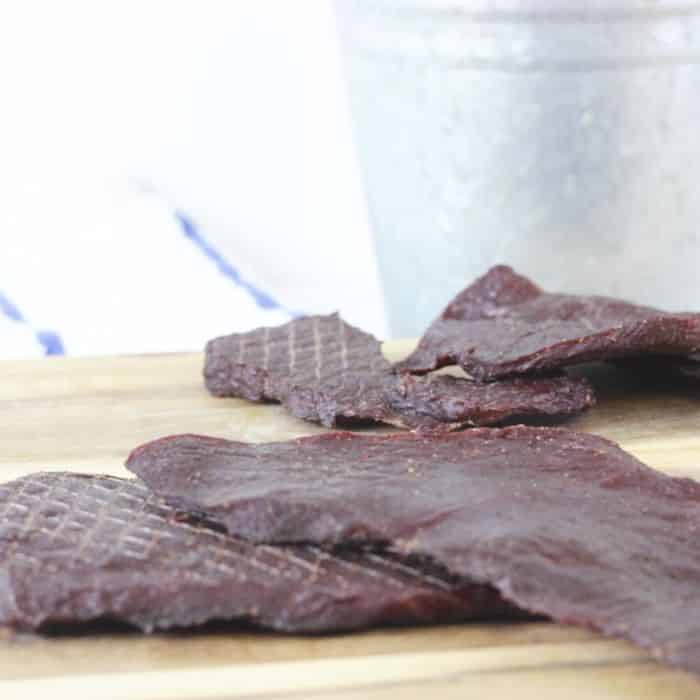 If you got the Instant Pot Duo with Air Fryer
for Christmas and looking for new ways to use it, give this recipe a try! I was gifted mine by two friends, and I was so excited to get to use it!
What Is The Instant Pot Duo Crisp With Air Fryer
Instant Pot came out with a new kitchen appliance to add to your home. It is a pressure cooker with an air fryer attachment so you can crisp up your food. It is a nice duo device that will cook up your food perfectly each time!
Looking for more Duo Crisp with Air Fryer Recipes
Deer Jerky Recipe
Whether you call deer, venison or just plain deer meat, this recipe is so simple. Learn how to make deer jerky in the Instant Pot Duo Air Fryer, and get that perfectly dehydrated deer jerky in a matter of hours.

How Long To Dehydrate Deer Jerky
This all depends on how thick you cut your deer jerky. You will find if it is on the thinner side, you will cook it for a shorter amount of time. Maybe 2-3 hours. Where if it is a bit thicker, it could take 3-4 hours.
I always recommend stopping the cooking process, checking the meat and flipping it over. That way you get a fully even cook on the venison jerky.

How Thick Do You Cut Deer Meat For Jerky
We cut our deer around 3/16th to a 1/4 inch thick slices. Now, if you have a meat slicer that is a great way to get consistency. But, for us we just used a sharp knife and my husband eyeballed it.
They also have a jerky board which is an easy way to get a consistent cut on your wild game. Now, if you are handy with a knife a really sharp filet knife does the trick too!
Can I Use Ground Venison For Deer Jerky
You could use ground venison if you wanted. With the Duo Crisp with Air Fryer, I found that using sliced deer meat. It stays on the rack so much easier, and you won't have it fall through as it dehydrates.

Easy Way To Cut Silver Skin Off Deer Meat
The silver skin is very tough and chewy. It is important to take the extra time to cut off that silver (whitish colored). The easiest way is to use partially frozen meat. You will be able to slice your meat so much easier all around. Then take your sharp knife and just glide right on the edge and it will slice it right off.
If you leave the silver skin on, you will find your meat is a lot chewier in the long run. It isn't something you have to do, but I highly recommend taking the time to do it.

How To Season Deer Jerky Meat
We use Hi-Mountain seasoning
and then add in liquid smoke
and Dale's Steak Seasoning
. Now we use a kit because it has all the preservatives needed to help ensure your meat cures properly. I find that is important when making jerky. Now if you have a favorite jerky recipe, go ahead and use that!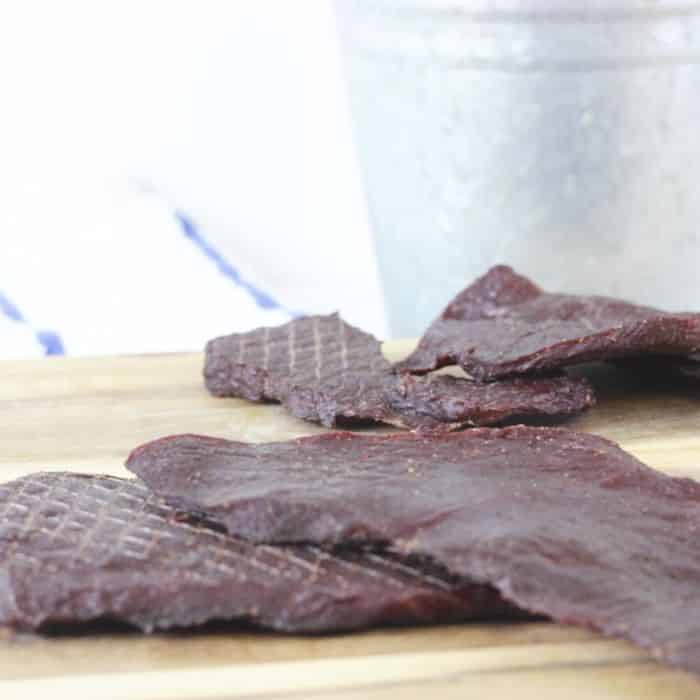 Instant Pot Duo Crisp Air Fryer Deer Jerky Recipe
Servings 1 .5 lb jerky
Instant Pot Duo Crisp Air Fryer Deer Jerky is the perfect way to use your deer meat. Chewy, savory, and downright delicious.
Ingredients
3-5 lbs deer roast partially frozen
1 teaspoon liquid smoke per pound of meat)
1 tablespoon Dale's Steak Seasoning
Hi- Mountain Jerky Seasoning we used Mesquite
Instructions
Start by taking your partially frozen roast and slice it up around 1/4 in thick. Make sure to cut off any silver skin.

Mix up your jerky seasoning. Sprinkle on meat, and then massage it in. Do both sides of your deer. (measure the seasoning to fit how many pounds of meat you use)

Then take meat and place in a sealable bag. Add in your Liquid smoke and dales and massage it in.

Place in the fridge and allow it to sit overnight (24 hours).

Remove from fridge and place some meat in your Duo Crisp on the rack, make sure to leave room in between each piece of meat.

Turn the Air Fryer setting on to 180 degrees. Dehydrate, checking on it every hour. Flip each time. Cook until the jerky is cooked through.
Notes
Depending on how much meat you use, you will find you need to batch cook your deer jerky. Make sure to leave space in between the meat or it will not dehydrate properly.
Nutrition
Serving: 2piecesCalories: 219kcalProtein: 89gFat: 17gSaturated Fat: 10gPolyunsaturated Fat: 5gCholesterol: 181mgSodium: 262mg
Check out my most popular Instant Pot Recipes before you go!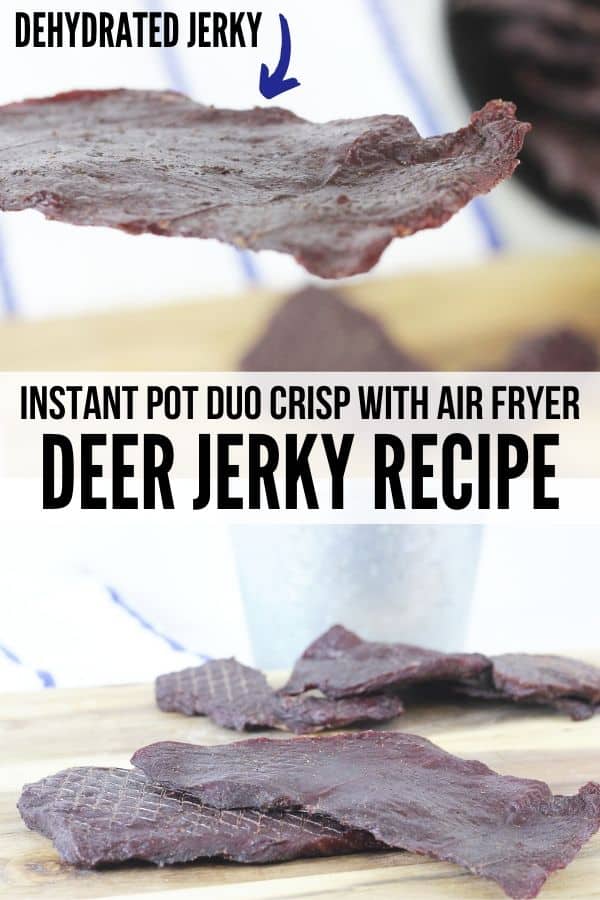 Reader Interactions