This Samoa Donuts Recipe is inspiration to Girl Scout's Samoa cookie. Give this oven baked donut recipe a try for breakfast or a mid-day dessert. An easy homemade baked donut recipe.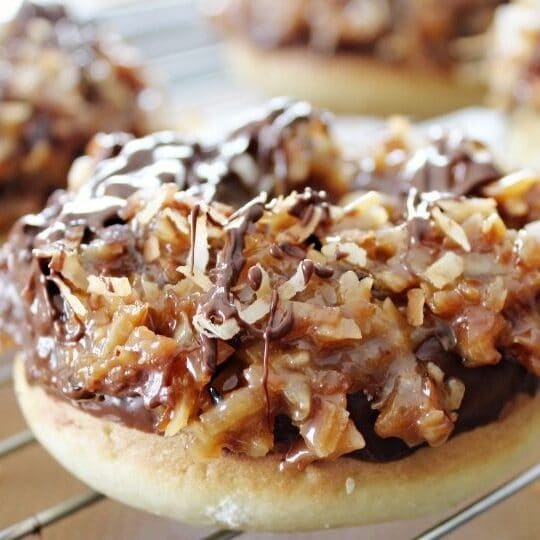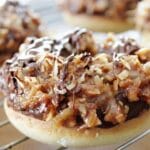 If you are a fan of Girl Scouts Samoa cookies, you have to try these Samoa donuts. This is an oven-baked donuts recipe that offers toasted coconut, caramel and chocolate come together in a donut and tastes just like Samoa Cookies! 
Homemade gourmet donut recipe will transform your breakfast or even a dessert to treat your family. Give these baked donuts recipe a try.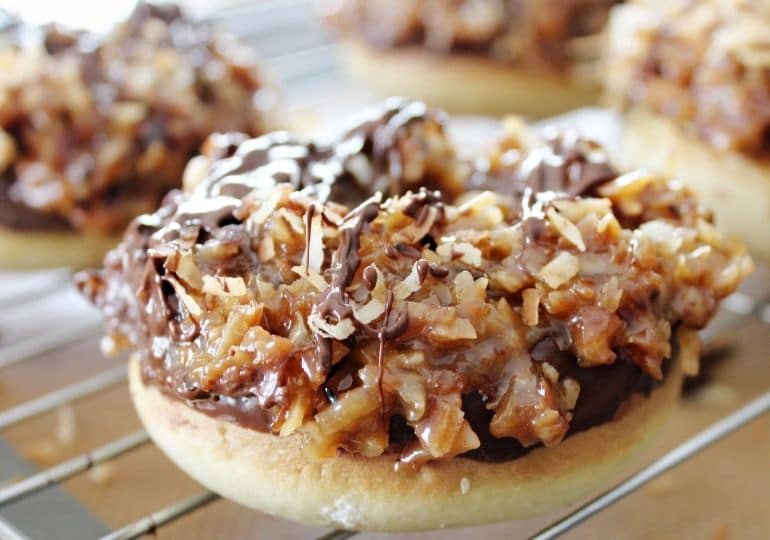 This simple Samoa Donuts recipe is…
Sweet and flavorful
Breakfast or a Dessert
Topped with toasted coconut, caramel, and chocolate
Homemade baked donut
Awesome in flavor and texture 
Ingredients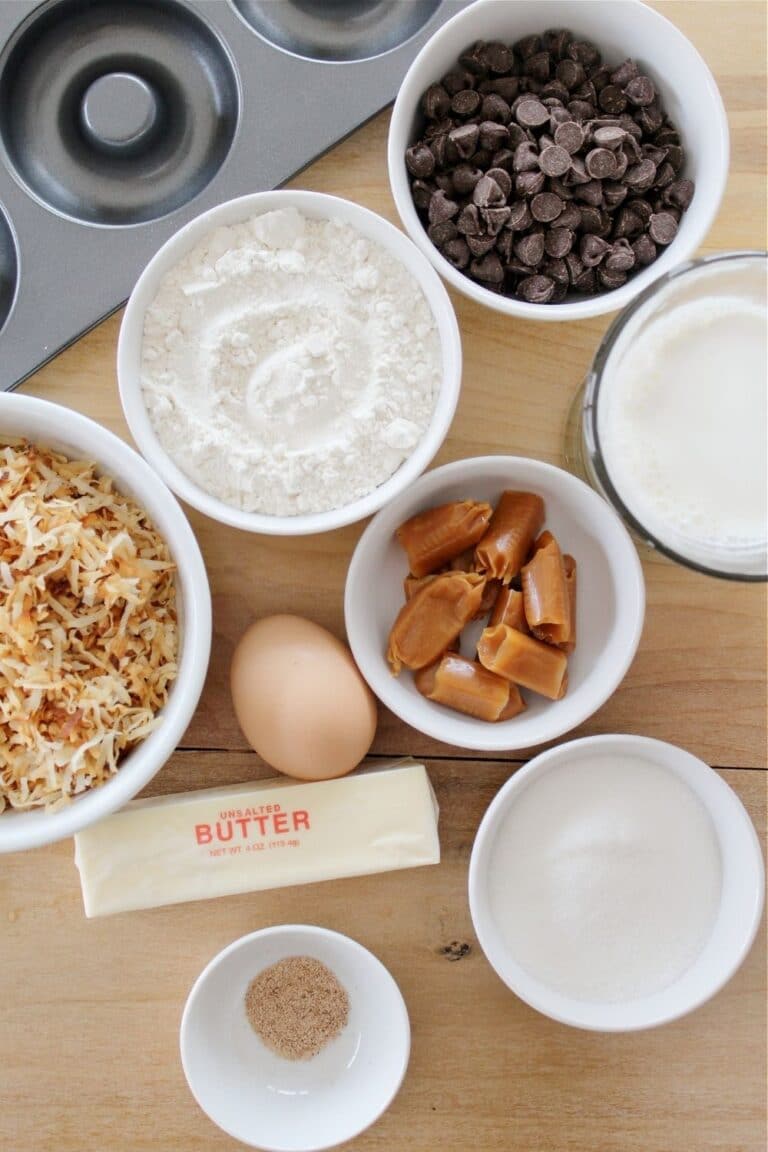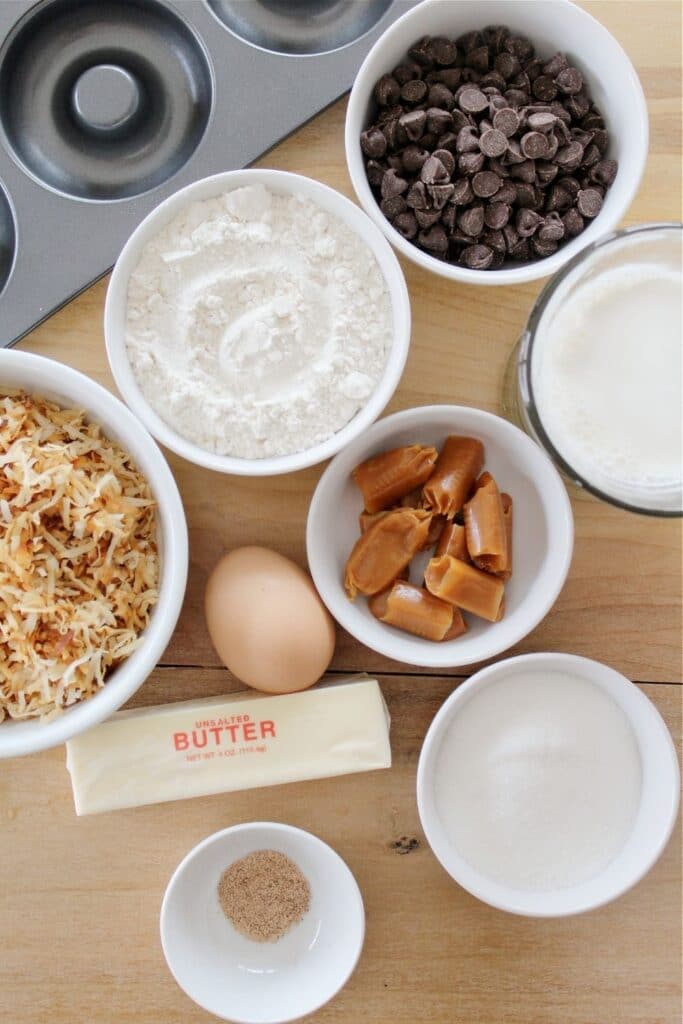 Flour
Cornstarch
Baking Powder
Baking Soda
Nutmeg
Granulated Sugar
Milk
Sour Cream
Egg
Butter
Vanilla
Caramel
Shredded Coconut
Salt
Chocolate
Supplies
How to Make Somoa Donuts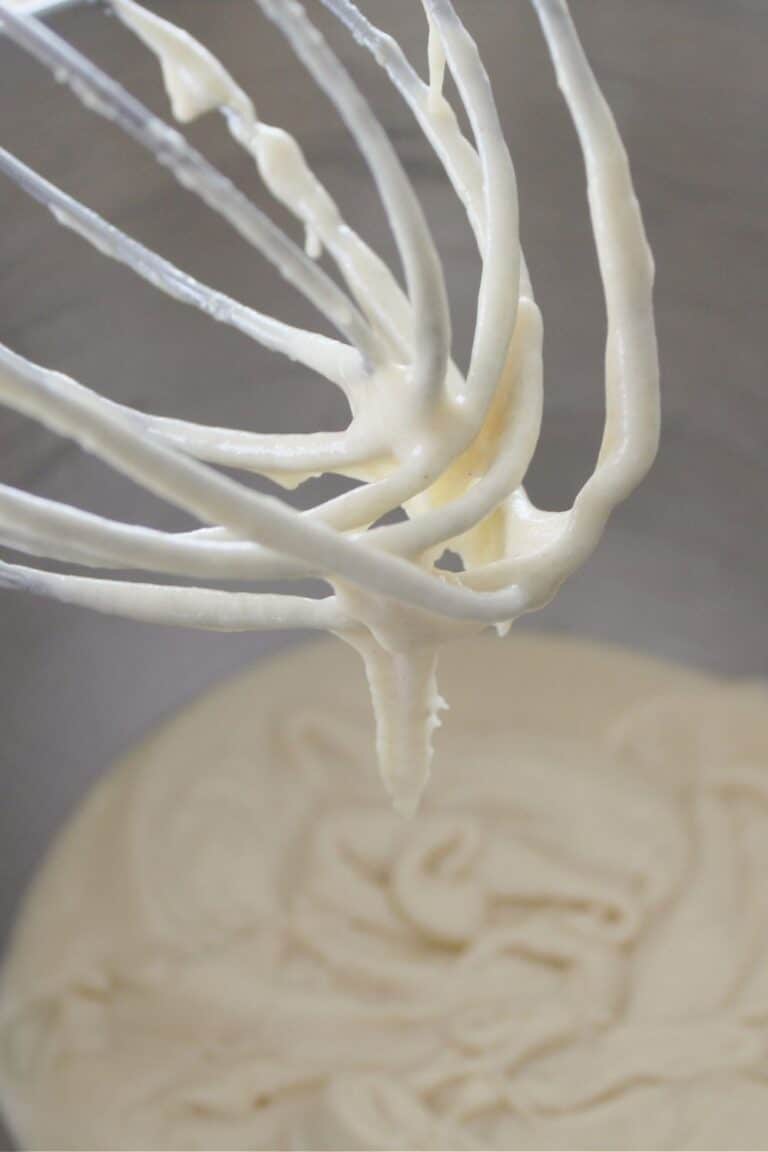 Step 1: Spray your donut pan with cooking spray, and preheat the oven as directed. Then in a bowl mix up your dry ingredients.  
Step 2: Mix in the eggs, sour cream, milk, vanilla, and butter. Mix until the donuts are combined.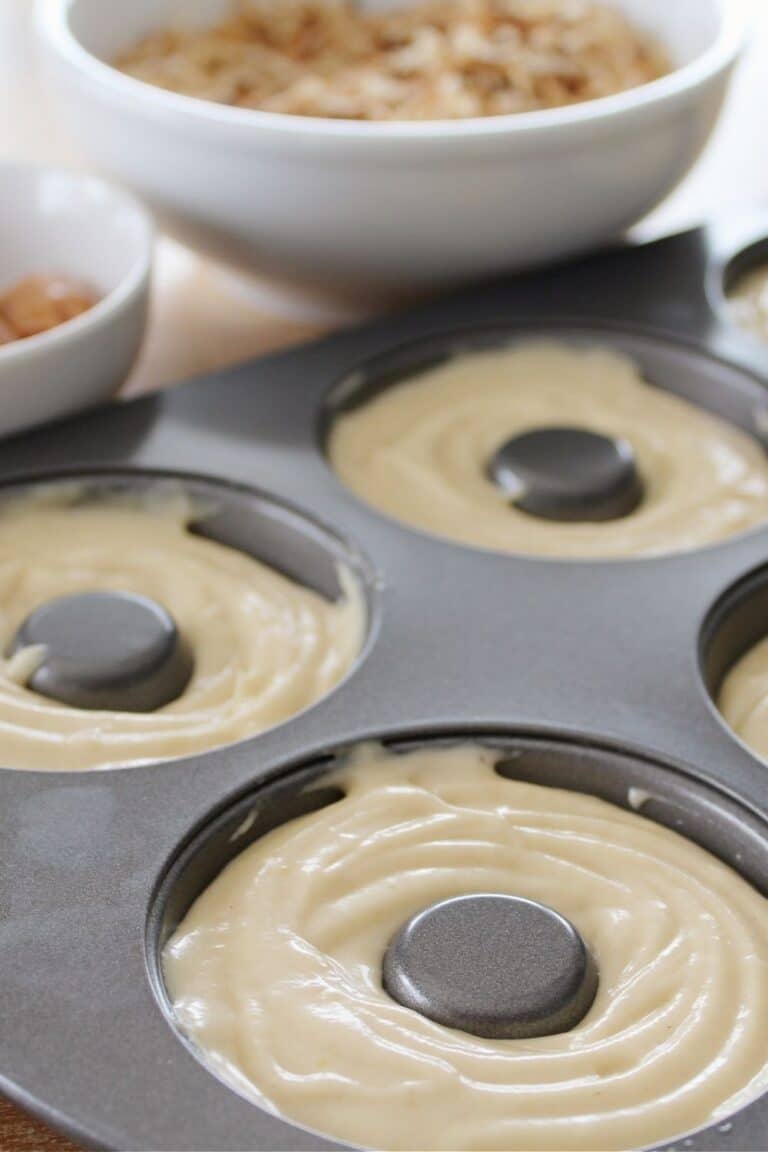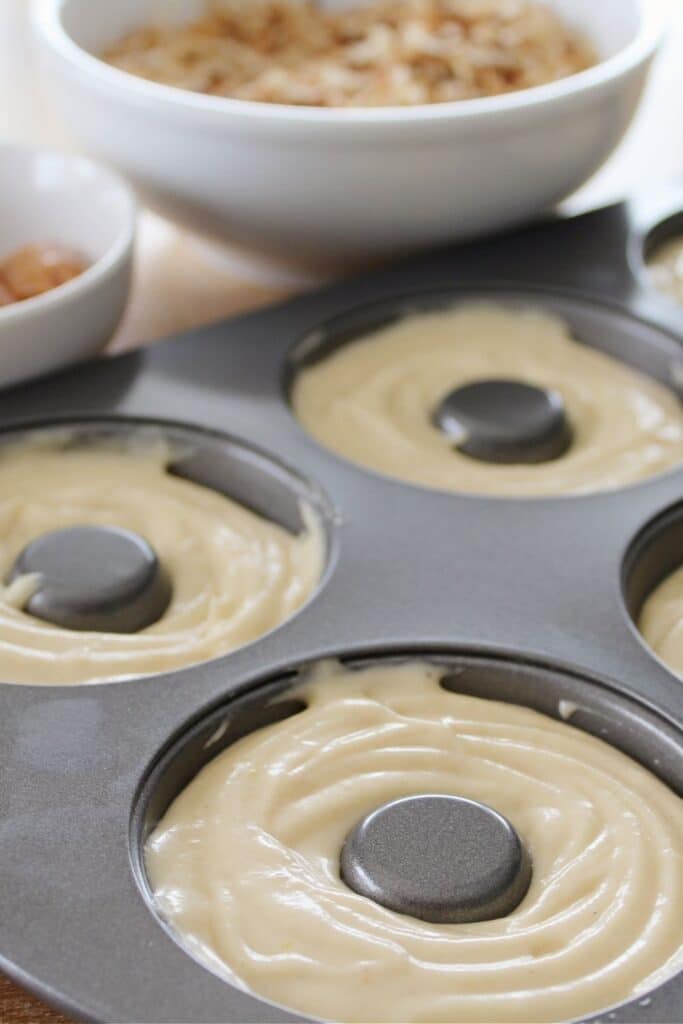 Step 3: Pour the donut batter into a piping bag, and then pipe into the donut pan. Bake for 9-10 minutes or until the donuts are baked.
Step 4: Allow the donuts to cool in the pan for at least 5 minutes, then carefully remove.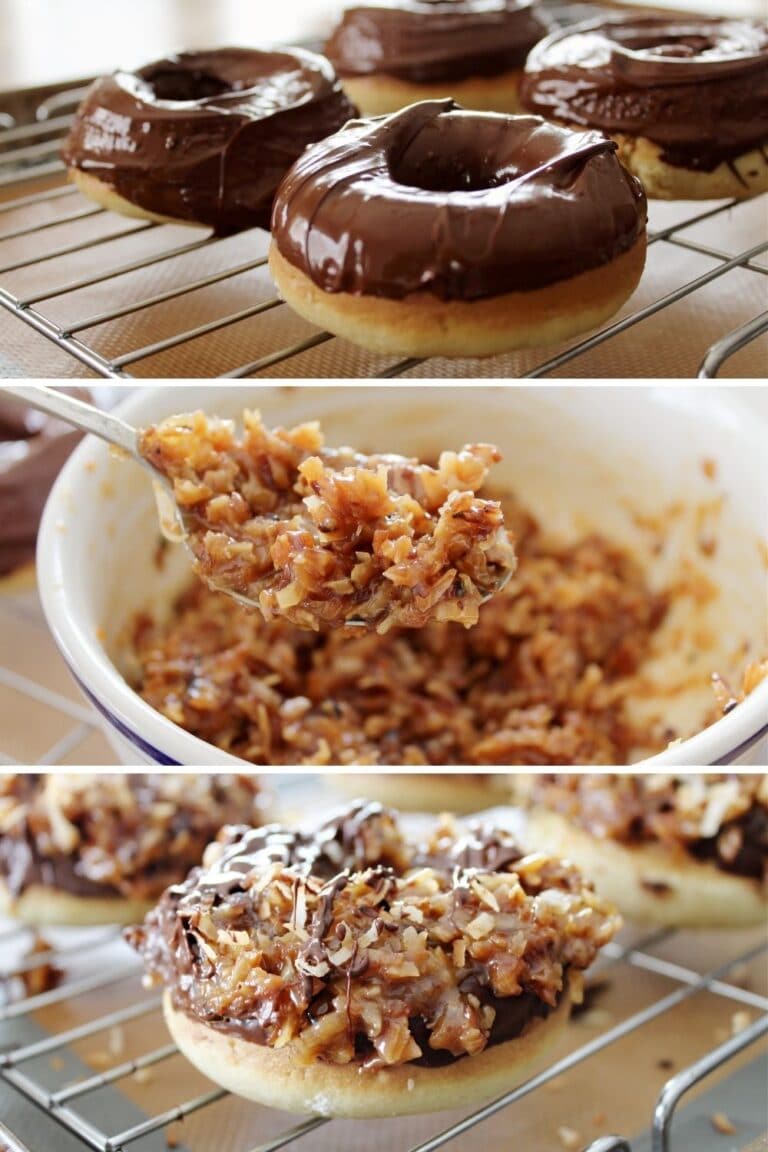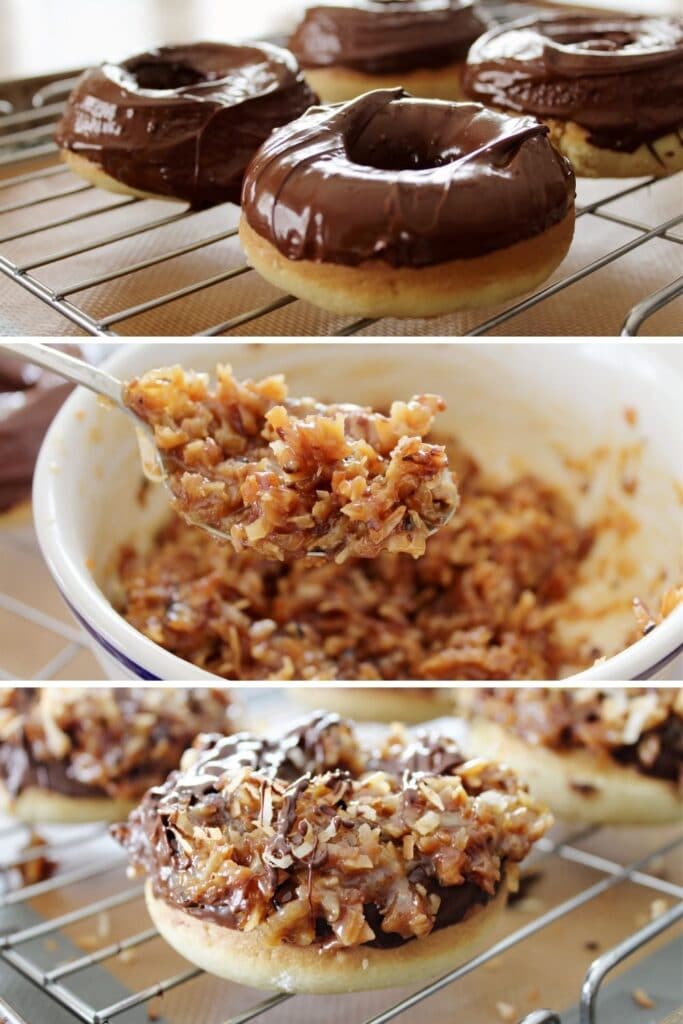 Step 5: While the donuts are cooling mix up your chocolate in a microwave-safe owl. Do the same for the caramel. Dip the donuts in the chocolate and place on a cooling rack.
Step 6: Stir in the coconut and salt to the caramel once melted. Top each donut with the coconut mixture and allow the topping to harden.
Expert Tips 
Here are some helpful tips for this Girl Scouts recipe for the baked Samoa donuts.
You can use a knife to spread on the caramel mixture or even a spoon.
Make sure to let the donuts rest in the pan for 5 minutes before you try to remove them. Otherwise, they will break apart.
I cooked my coconut in a skillet on the stove but you can toast coconut in the oven as well.
Milk or semi-sweet chocolate works for the base dip of the donuts.
Make certain that you spray your donut pan so that the donuts come out nice and easy and keep that lovely shape.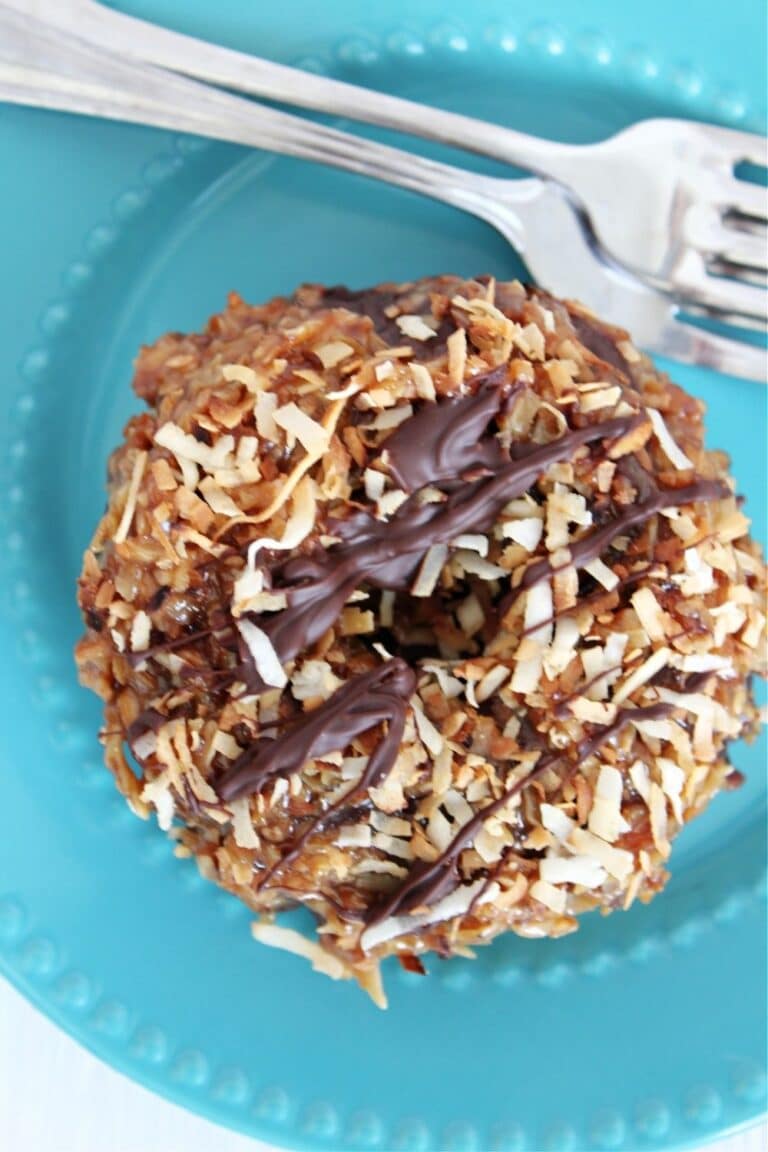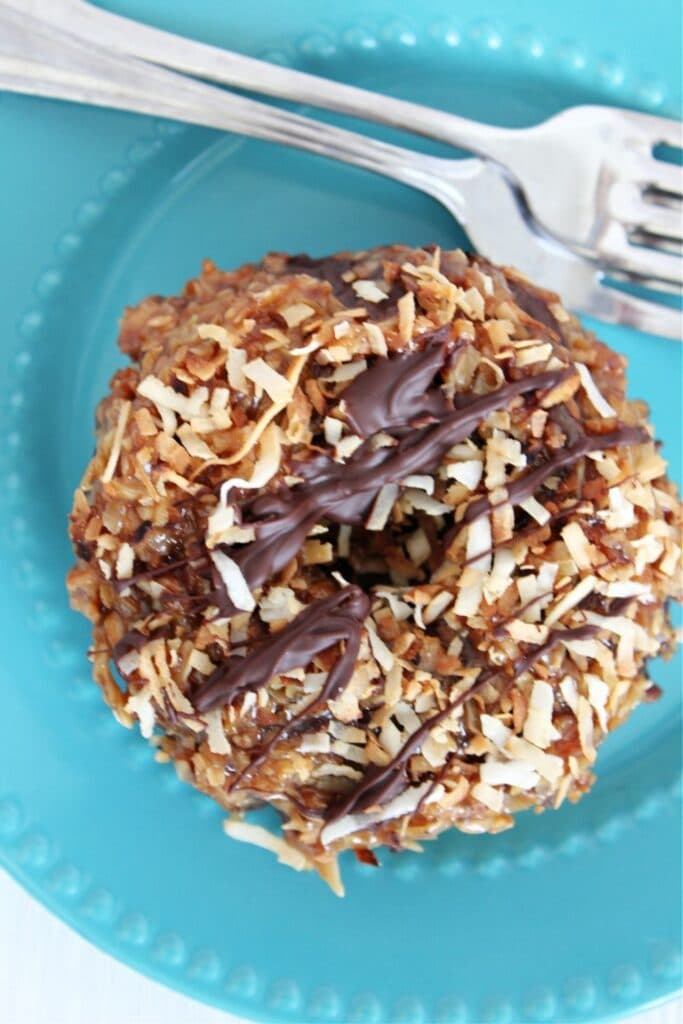 Variations to Recipe
Since this recipe is pretty straightforward there isn't a ton to change up but rather just a teeny tiny bit. Here are a few suggestions on ways to alter the flavor and appearance of the donut.
Add fun toppings to the donuts! The drizzled glaze is nice but so is frosting and powdered sugar, too. You can even let each person decide what they want to put on and then have a fun donut toppings bar set out and ready to go. 
Use caramel sauce you would drizzle on ice cream instead of melting caramel.
Top with a little sea salt to help bring out more flavors in this Samoa recipe.
You can also leave out the coconut as well if you're not a fan! 
Recipe FAQs
This is one of my favorite Samoa dessert recipes, and here are some common questions about donuts.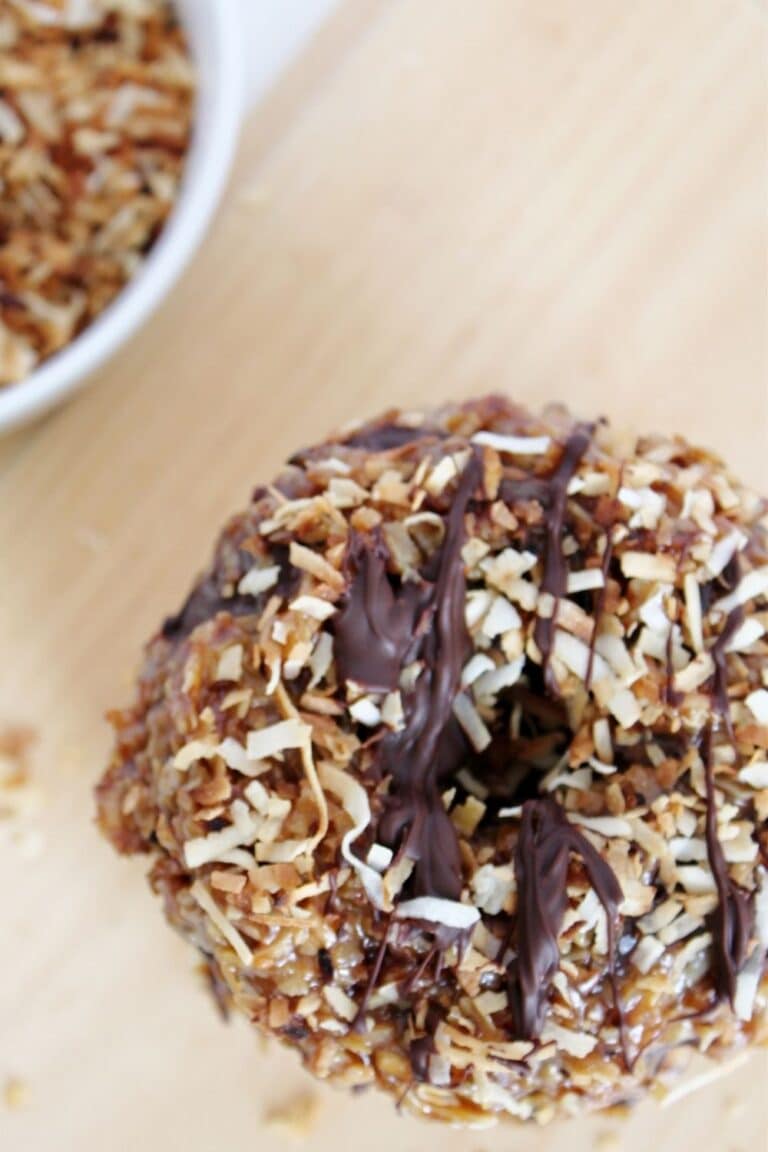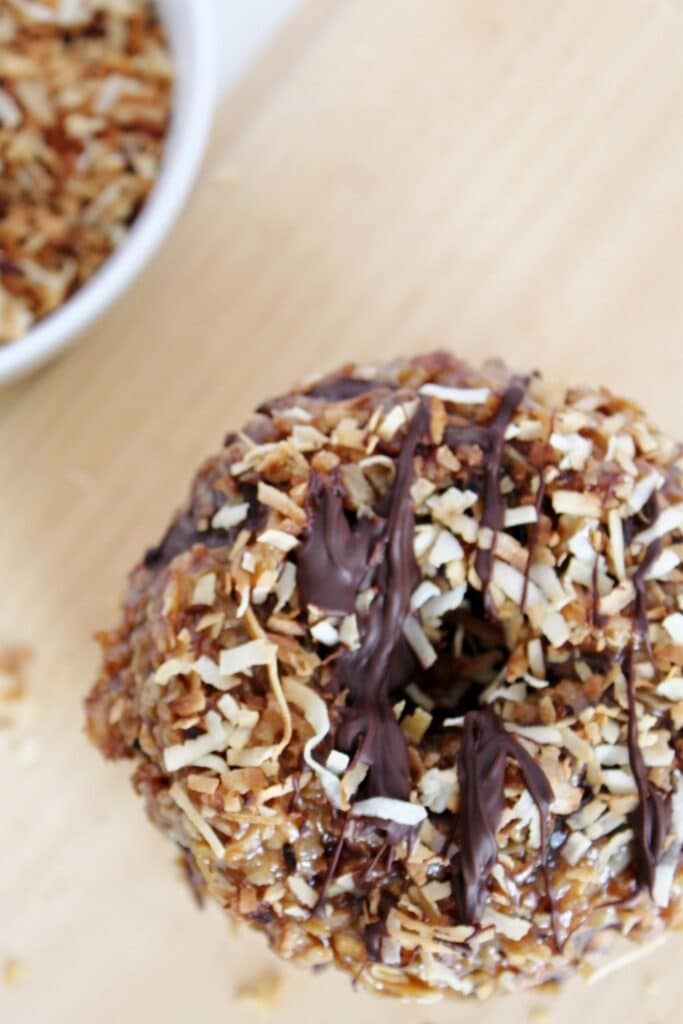 Want More Donut Recipes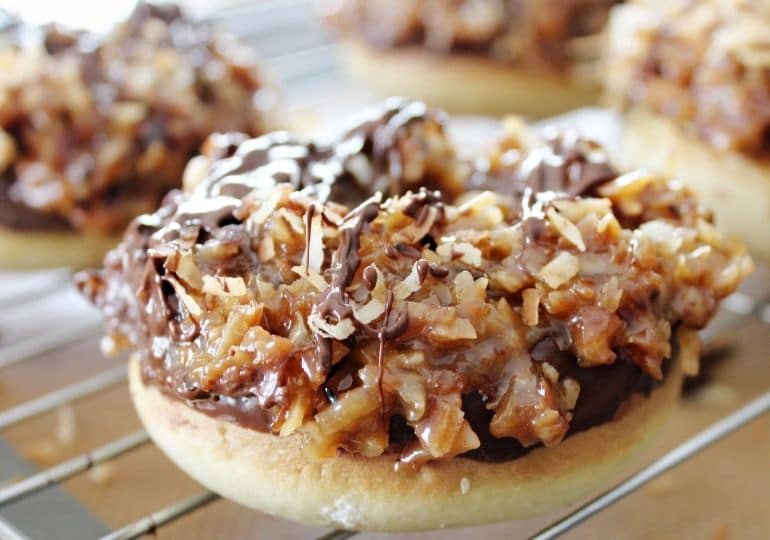 Samoa Donuts Recipe
Servings 6
This Samoa Donuts Recipe is inspiration to Girl Scout's Samoa cookie. Give this oven baked donut recipe a try for breakfast or a mid-day dessert. An easy homemade baked donut recipe.
Ingredients
Donut
1 cup all-purpose flour
1 teaspoon cornstarch
1 teaspoon baking powder
¼ teaspoon baking soda
1/8 teaspoon ground nutmeg
1/3 cup granulated sugar
1/4 cup milk
1/4 cup sour cream
1 large egg
2 tablespoons butter melted
1 ½ teaspoons vanilla extract
Donut Caramel Coconut Glaze
1 bag of caramels – 15 oz.
3 cups shredded sweetened coconut – toasted
3 tablespoons milk
¼ teaspoon salt
1 cup chocolate melted – chocolate chips or melting wafers
Instructions
Start by spraying your donut pan, and then preheat the oven to 350 degrees.

In a bowl you will add your baking powder, baking soda, flour, cornstarch, sugar, nutmeg and mix until incorporated.

Now add in the wet ingredients to your donut mix. Egg, milk, sour cream, melted butter and vanilla. Mix until well combined.

Pour the donut batter in a piping bag, and place a frosting tip on, or cut the tip.

Pour the donut mixture into the greased pan, and bake for 9-10 minutes. Remove the baked donuts from the oven and allow them to sit in the pan for 5 minutes.

While donuts are cooling, you can melt down your chocolate in the microwave.

In a skillet on the stove on medium-low heat, you will want to toast your sweetnened coconut. Cook until it is golden brown in color, then remove from heat.

Dip your donuts in the chocolate, and then place on a cooling rack to set up.

In a saucepan or in the microwave melt down your caramel. Then stir in the salt, milk, and coconut. This will be nice and thick coconut glaze.

You will then spread on top of each donut, and then use any leftover chocoalte to drizzle over the top of the donuts.
Notes
You may toast your coconut in the oven as well, I just preferred the method of the stove. Store your donuts in an airtight container at room temperature. Or you can freeze the Samoa donuts for 3-4 months in the freezer. If your donuts are drying out, you can toss them in the microwave for a few seconds to soften them up a bit. Donuts only last 1-2 days before drying out. You can use semi-sweet or milk chocolate. I prefer milk chocolate for these Girl Scout donuts.
Nutrition
Serving: 1/2 donutCalories: 434kcalCarbohydrates: 65gProtein: 6gFat: 18gSaturated Fat: 12gPolyunsaturated Fat: 5gCholesterol: 30mgSodium: 307mgFiber: 3gSugar: 47g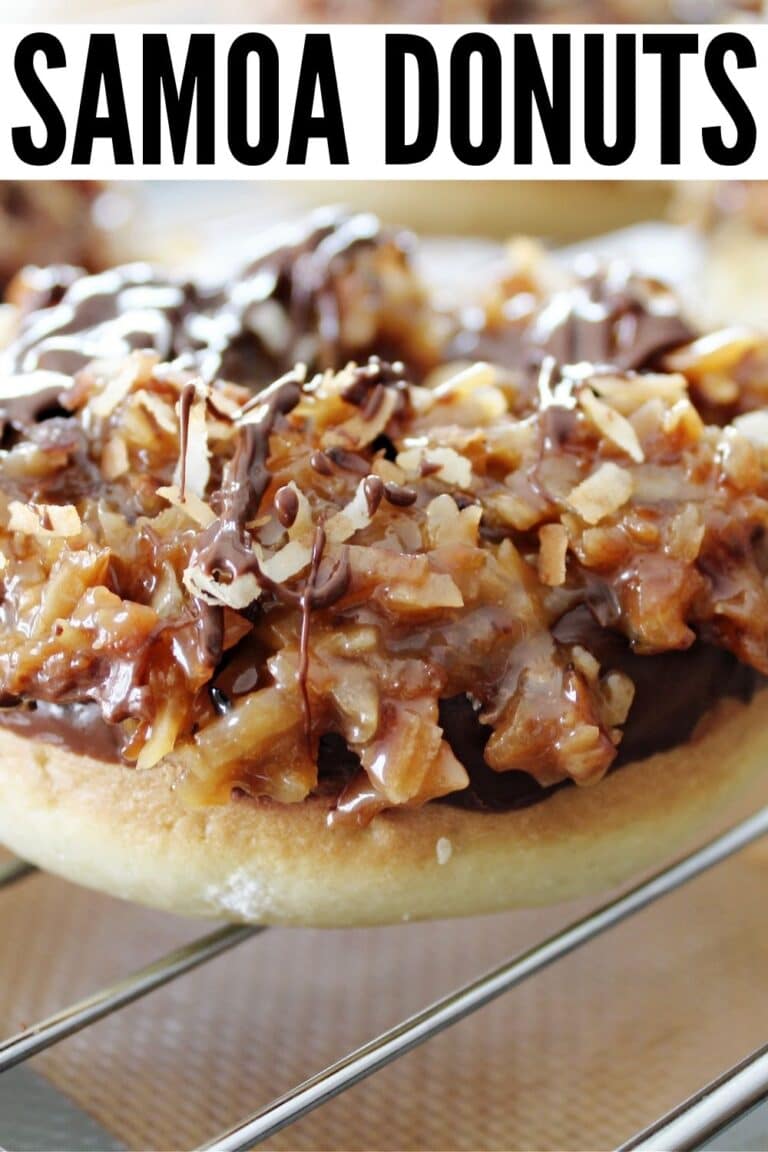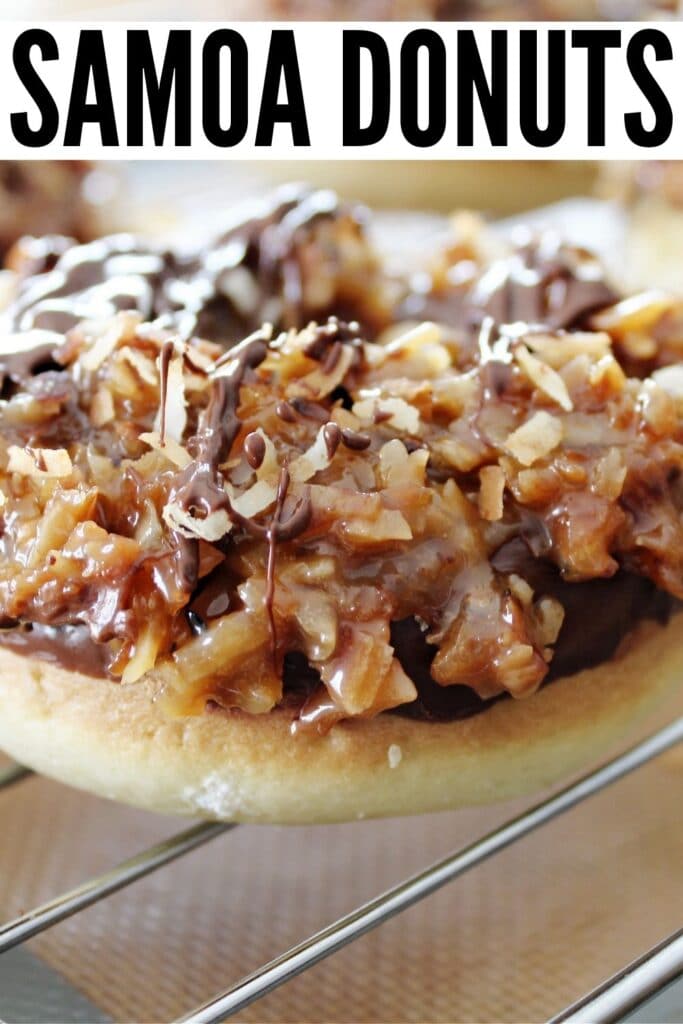 Reader Interactions