Instant Pot Hibachi Steak and Vegetables is easy under a 30-minute dinner idea. Instant Pot steak is so juicy and flavorful and smothered in a soy sauce, loaded with mushrooms, onions, and zucchini.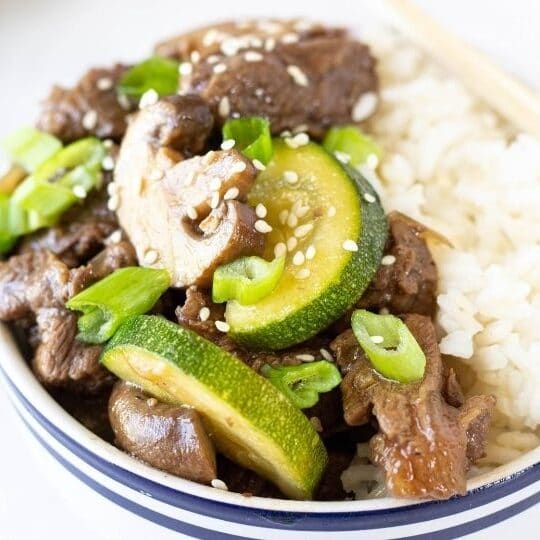 Instant Pot Hibachi Steak and Vegetables is a super simple and hearty dish to serve up in under 30 minutes. Soy sauce-based sauce, steak bites, zucchini, mushrooms, and onions come together for the best Instant Pot steak recipe!
Steak in Instant Pot is easy, and this tender Japanese steak recipe is a must make. Skip takeout and make this Hibachi steak recipe at home for restaurant quality flavor.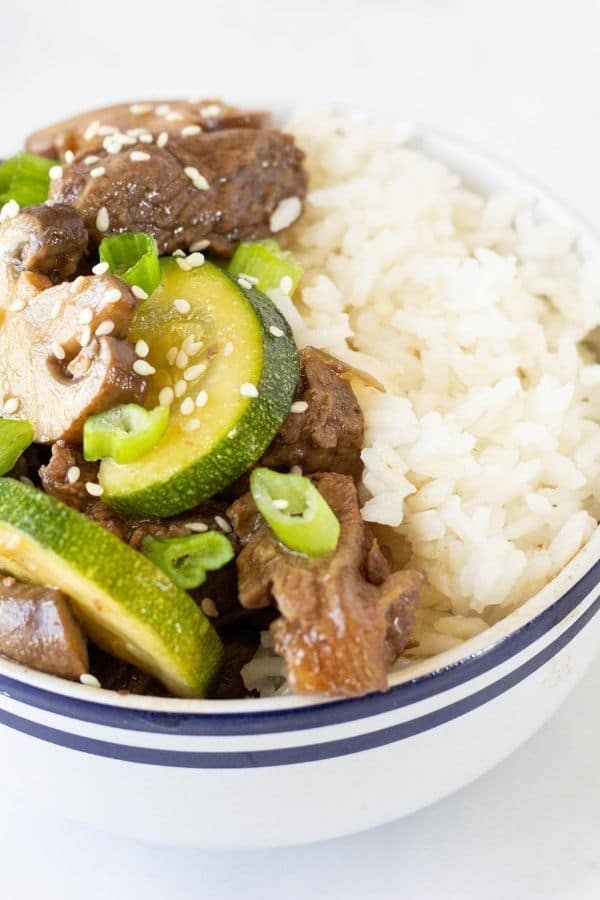 Love your Instant Pot? Check out a few more of my favorite recipes. Spare ribs, savory mashed sweet potatoes, or try this chutney.
I have never been to a Japanese restaurant. I wanted to get to try the Japanese Instant Pot recipes I have seen online. So I created a recipe with the ingredients I had in my fridge and pantry.
My friends are the ones who introduced me to Hibachi! I had never heard of it before them!
Why You Will Love Hibachi Steak…
Fresh Ingredients
Versatile in Ingredients Used
30 Minute Dinner
Simple Ingredients
Homemade Sauce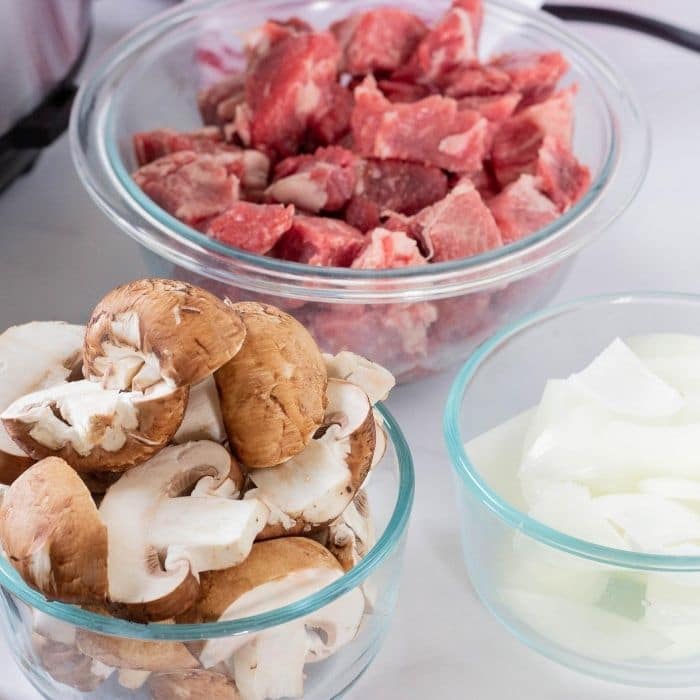 Ingredients
Steak
Oil
Mushrooms
Zucchini
Cornstarch Slurry
Soy Sauce
White Vinegar
Granulated Sugar
Ginger
Garlic
Onion
Pepper
How To Make
Step 1: The first thing you want to do is prep your ingredients. I used a zester and grated my garlic clove and my ginger root. Slice up your steak, mushrooms, and onions.
Step 2: In your pot, you will add your oil to your Instant Pot and turn the pressure cooker to saute! Toss in your diced up sirloin steak and brown your steak.
Sauteing the steak will add flavor to your meat. I recommend not skipping this step.
Step 3: Once your steak is seared, you will add in garlic and ginger, and stir for a second. Turn off saute and toss in onions, soy sauce, mushrooms, and vinegar and give a good toss.
Step 4: Place the Instant Pot lid on and make sure the valve is sealed. Then cook High pressure for 4 minutes followed by a quick release.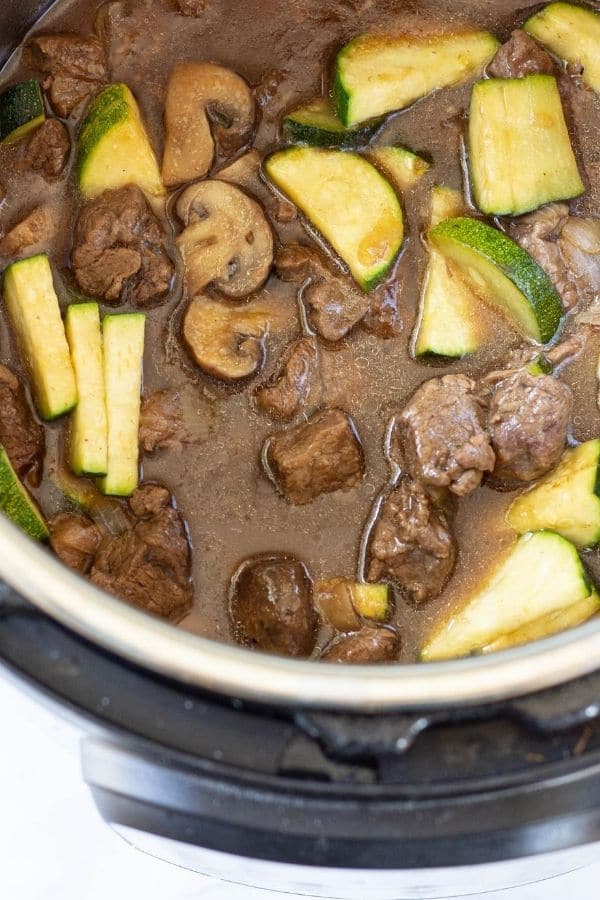 Step 5: Once the time is up and your quick release, open and turn to saute. Add your cornstarch and cold water in a bowl and pour it into the pot. Stir on saute mode until it begins to thicken. You can make as thin or thick as you want.
Toss in your zucchini, and place the lid on the Instant Pot and turn the saute mode off. Allow it to sit for around 5 minutes to soften the zucchini to your doneness.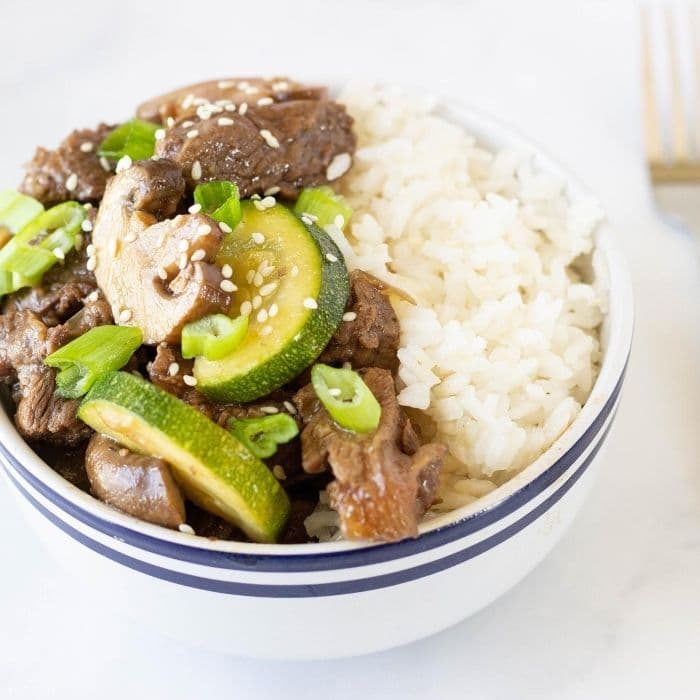 How to Serve Hibachi Steak and Vegetables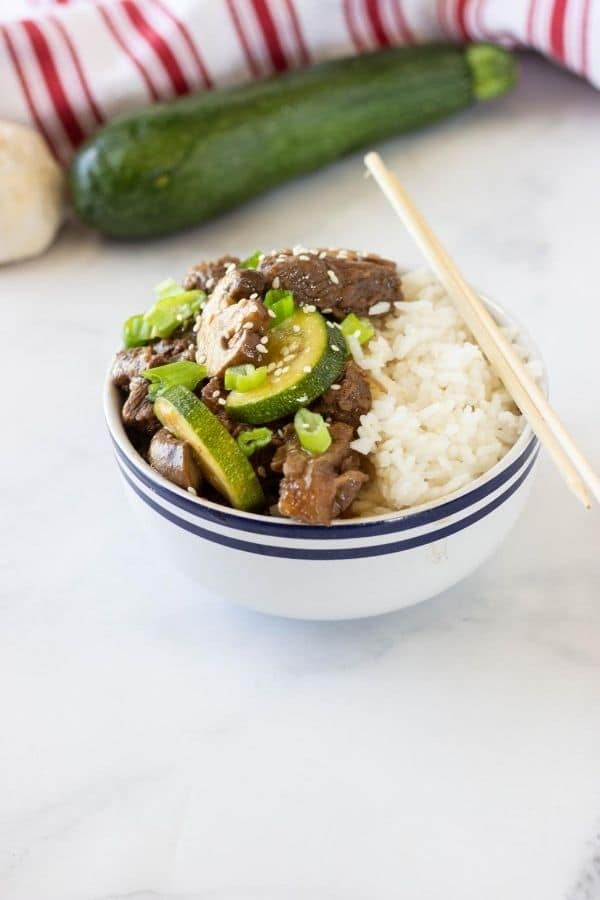 Green Onions | I loved the flavor of the onions next to the meat and vegetables.
Parsley | Sprinkle fresh parsley for a nice pop of green and flavor.
Sesame Seeds | I did just a little on the steak and vegetables.
Soy Sauce | I add just an extra splash of soy sauce to the rice and it was perfect.
Can I Swap Out The Vegetables In This Recipe
Interested in adding different vegetables into your Hibachi? Go right ahead. What I did is the heartier vegetables like the onions and mushrooms I allowed them to pressure cook with the steak.
The zucchini would have turned to mush so I mixed it in once it was done cooking. Then let it sit for 5 minutes or until it reached the proper texture. This would be the same if you added in peppers you would want to add at in.
Heartier vegetables like green beans could be cooked with the steak. So have fun trying out different flavor combinations.
Want More Easy Instant Pot Recipes
7 Day Meal Plan | Struggle with finding what to make for dinner? Here is a free meal plan that helps you find the perfect dinners to make. Free and easy!
Instant Pot Hot Beef Sandwich | Grab that roast and potatoes and make an open-faced hot roast beef sandwich with gravy and a side of mashed potatoes!
Instant Pot Shredded Chicken | Meal prep with chicken or create juicy flavorful chicken in no time! I love this method it is one of my favorites.
Storing
If you have leftover steak and vegetables, place it in an airtight container and store in the fridge. I poured in all the sauce along with the meat.
Then when you want to eat it, just heat up in the microwave or even on the stove. It reheats beautifully. The vegetables will be softer but they are still full of flavor.
Recipe FAQs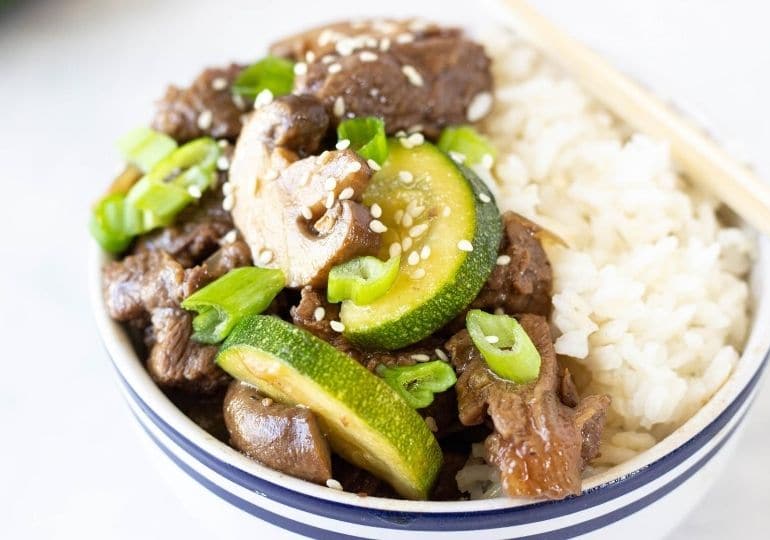 Instant Pot Hibachi Steak
Servings 5 -6 servings
Instant Pot Hibachi Steak and Vegetables is easy under a 30-minute dinner idea. Instant Pot steak is so juicy and flavorful and smothered in a soy sauce, loaded with mushrooms, onions, and zucchini.
Ingredients
1 1/2 lbs steak diced into cubes
1 tablespoon oil
1 1/2 tablespoons cornstarch + 2 tablespoons cold water for slurry
1/2 cup soy sauce
2 tablespoons white vinegar
1 teaspoon granulated sugar
1 tablespoon ginger grated
1 tablespoon garlic grated or minced
1 yellow onion chopped into larger chunks
2 small zucchini's sliced
8-10 baby bella mushrooms diced into larger chunks
1/4 teaspoon pepper
sesame seeds and green onions for topping optional
Instructions
Start by prepping your meat and vegetables. I diced steak into 1-inch cubes and onions and mushrooms need to be sliced into larger pieces.

Turn the saute mode on your Instant Pot. Add in oil and then season your steak with salt and pepper. Toss steak in once oil is hot and sear the steak.

Once the steak is seared, doesn't need to be cooked fully. Toss in your garlic and ginger. Stir well and then turn to saute off.

Add in your sugar, pepper, sugar, soy sauce, and vinegar. Toss your mixture. Then place the lid on your Instant Pot and make sure the valve is set to sealing.

Cook high pressure or manual for 4 minutes followed by a quick release of pressure.

Remove the lid and then turn the Instant Pot to saute. In a small bowl add your water and cornstarch and mix well. Pour into the Instant Pot and stir until it thickens to your liking. If you want thicker you can do another round of cornstarch and water.

Toss in your diced zucchini and turn the Instant Pot off. Then place the lid on no need to seal it. Just let it steam so the zucchini will tenderize a bit. I let it sit for 5 minutes.

Once zucchini is cooked down a bit, remove the lid and top your Hibachi steak and vegetables with sesame seeds and green onions.

Feel free to pair the Instant Pot Hibachi Steak with rice, noodles or even quinoa or cauliflower rice.
Notes
I cooked my rice on the stove while my mixture was cooking in the Instant Pot.
Nutrition
Serving: 1gCalories: 411kcalCarbohydrates: 10gProtein: 34gFat: 26gSaturated Fat: 9gPolyunsaturated Fat: 14gCholesterol: 110mgSodium: 1231mgFiber: 2gSugar: 3g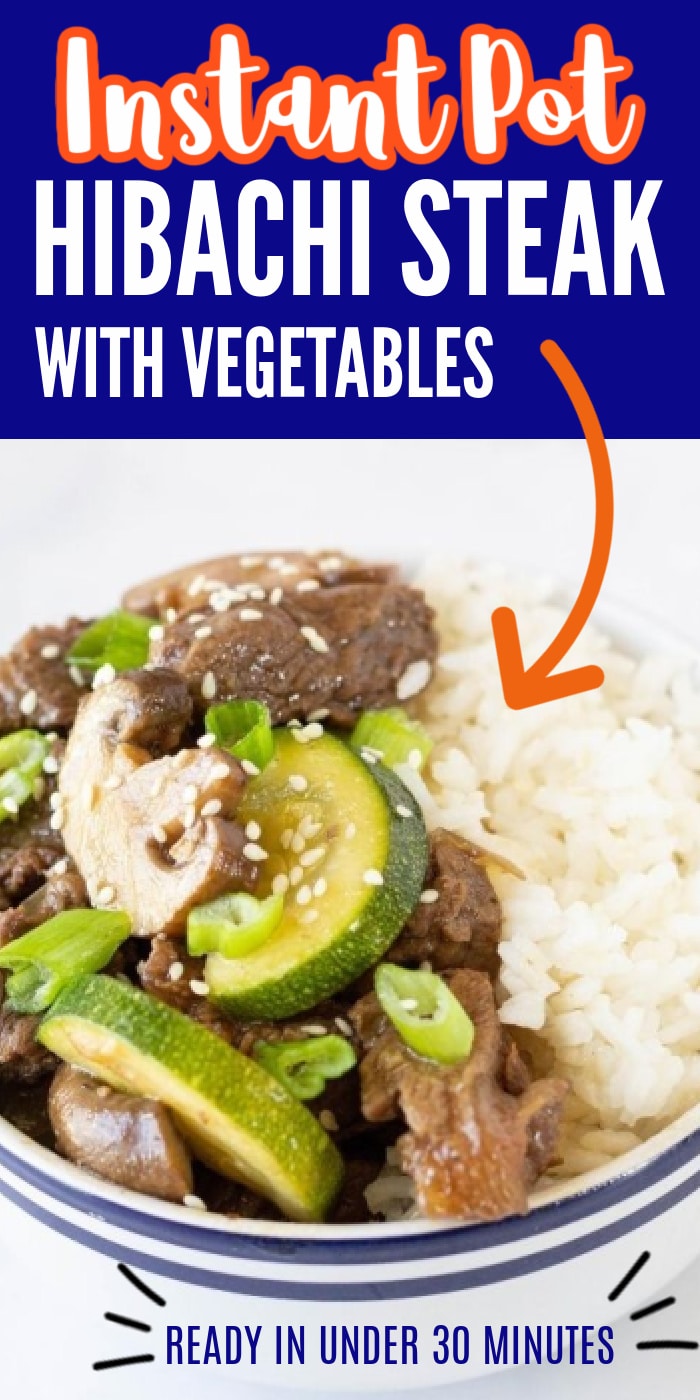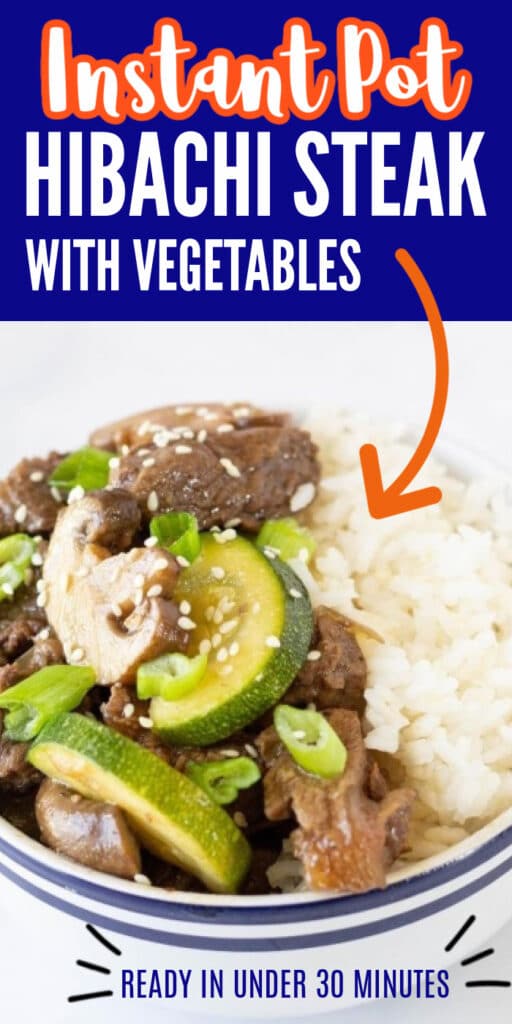 Reader Interactions