Instant Pot Spare Ribs is an easy fall off the bone tender rib recipe. BBQ ribs that are almost as good as slow-smoked bbq ribs. Give this pressure cooker rib recipe. You can also make these ribs in the Ninja Foodi as well.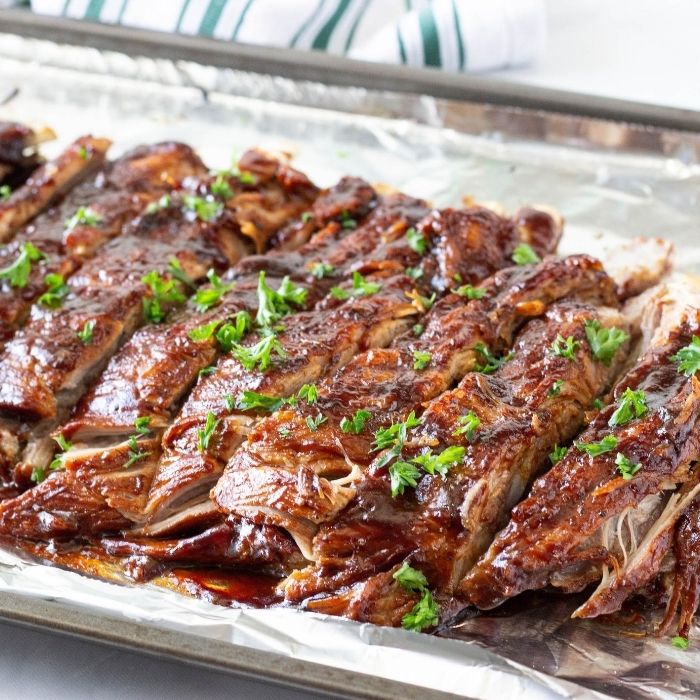 These Instant Pot Spare Ribs are one of our favorites. Fall off the bone tender bbq ribs that are bursting with flavor. I use a homemade dry rub to smear over all the rib meat, to marinade for optimal flavor. Instant Pot ribs are your new favorite recipe.
Love your Instant Pot? If you are like me, I have a few more recipes for you to try out. Instant Pot Coffee Creamer, Instant Pot Chicken recipe, or this Instant Pot rice pilaf. Try these spare ribs in the Instant Pot today.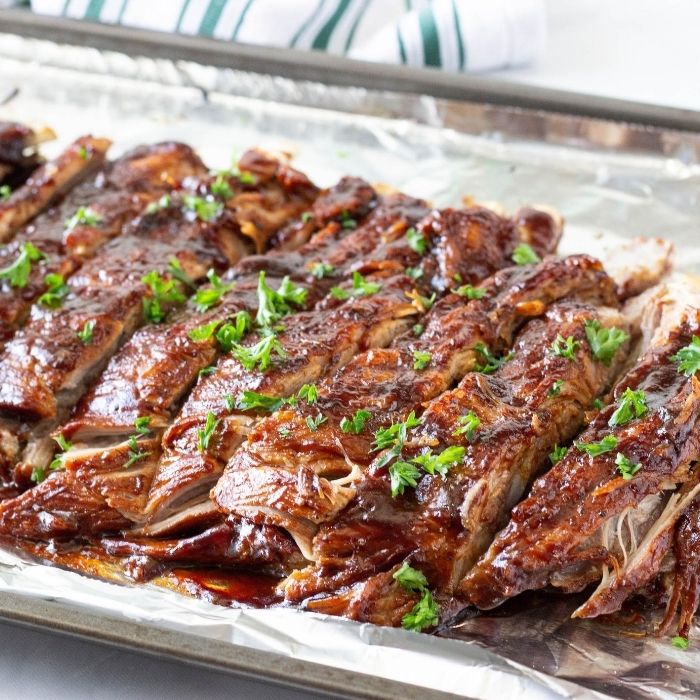 Pressure cooker ribs are so popular. With minimal work on your end, you can have ribs that are tender, juicy, and full of flavor.
I used my popular dry rub recipe, which you allow to marinade the pork to help add more flavor to the ribs.
Why We Love This Recipe
Tender – These are fork-tender ribs that fall right off the bone. It is a must-make recipe to help speed up the cooking time of ribs.
Flavorful – Now, these are not like ribs you cook on the grill. They are going to have a bit of a different flavor, but broiling in the oven after creates a sticky glaze on the outside which makes them insanely good.
Easy To Make – Simple and easy to make, with no major steps. The biggest thing is prepping your pork ribs by trimming the fat.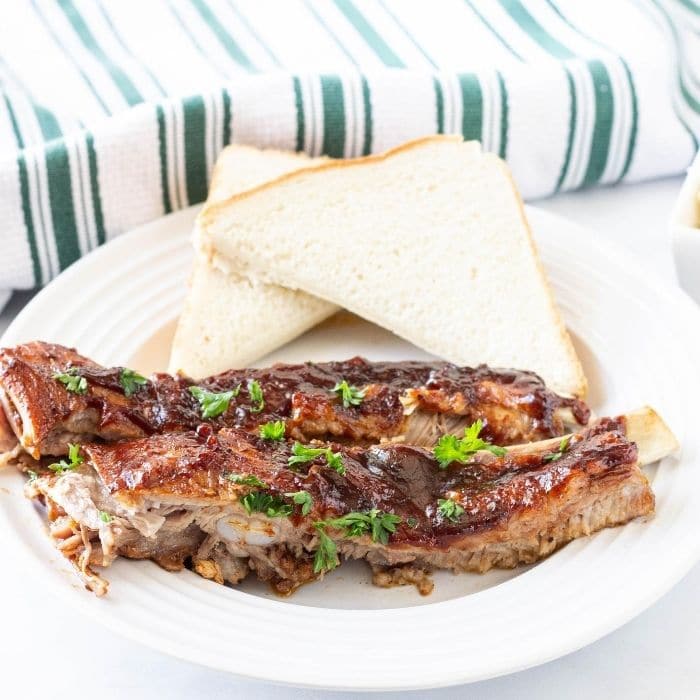 Ingredients You Will Need
Pork Dry Rub – Now I used my own pork dry rib rub. You are welcome to buy a rub or make mine. My homemade pork rub has brown sugar, salt, pepper, chili powder, dry mustard, etc. The full ingredient list and measurements are below.
Ribs – I used spare pork ribs. You can swap with any cut of ribs you have.
Apple Cider Vinegar – Here is what will help tenderize your ribs but also add a nice tangy flavor to the meat.
Liquid Smoke – Liquid smoke is going to help give the ribs a smoky flavor without tossing it on the grill.
BBQ Sauce – We used a Kansas City blend BBQ sauce, but feel free to use any flavor of sauce you want.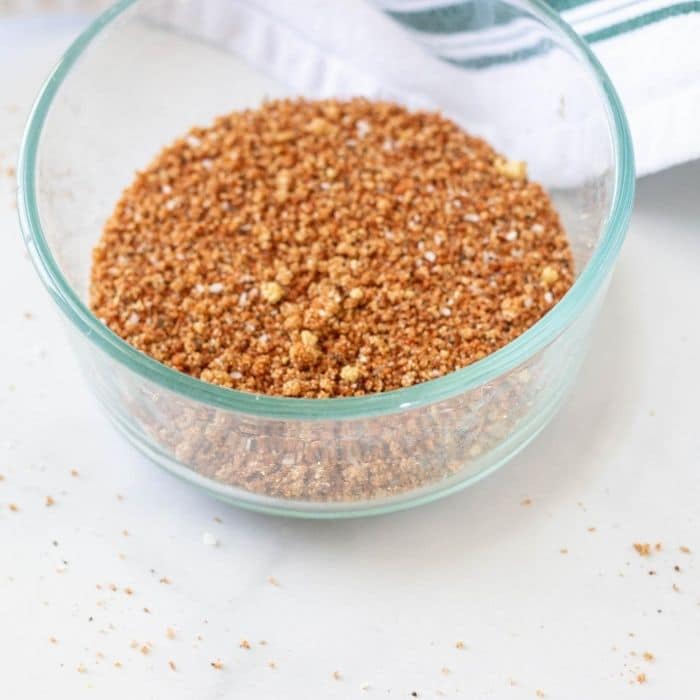 What To Use for Dry Rub Ribs
brown sugar
pepper
kosher salt
garlic powder
onion powder
chili powder
dry mustard
smoked paprika
This pork dry rub is great for these ribs or even a rib roast that you smoke. Then you use apple cider vinegar, liquid smoke, and water in the Instant Pot.
You can tenderize the meat with apple cider vinegar, and the liquid smoke helps to add a bit more flavoring to the ribs.
They are not as good as smoked ribs, but they are pretty close.
How To Make
Start by working on your dry rub, and then set it aside. You will use this on your rack of ribs.
Now trim and prep your pork. You can see how I prepped in the video. I worked on trimming fat, and pulled the silver skin off (remove the membrane) the back of the ribs.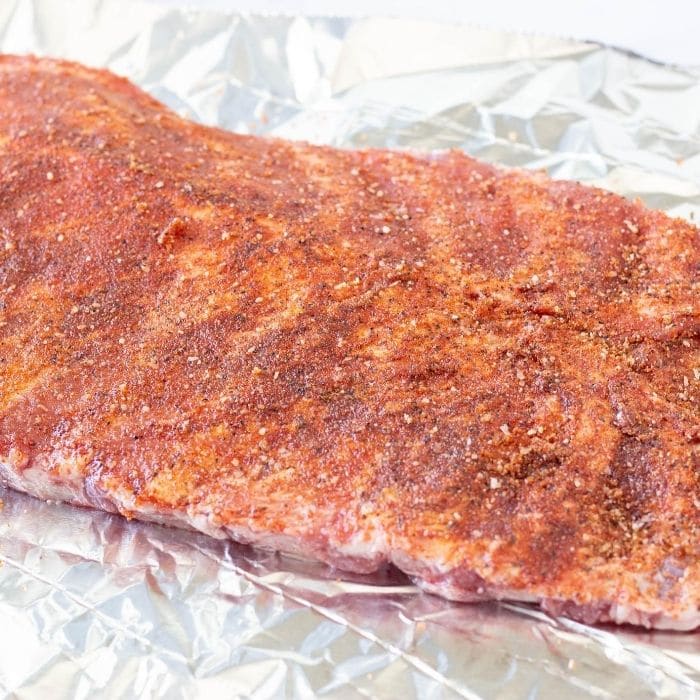 Rub your dry rub on both sides of the ribs. Then wrap and allow to marinade for an hour in the fridge.
Pour your water, apple cider vinegar, and liquid smoke in Instant Pot. Then add in your trivet, place ribs, and pressure cook!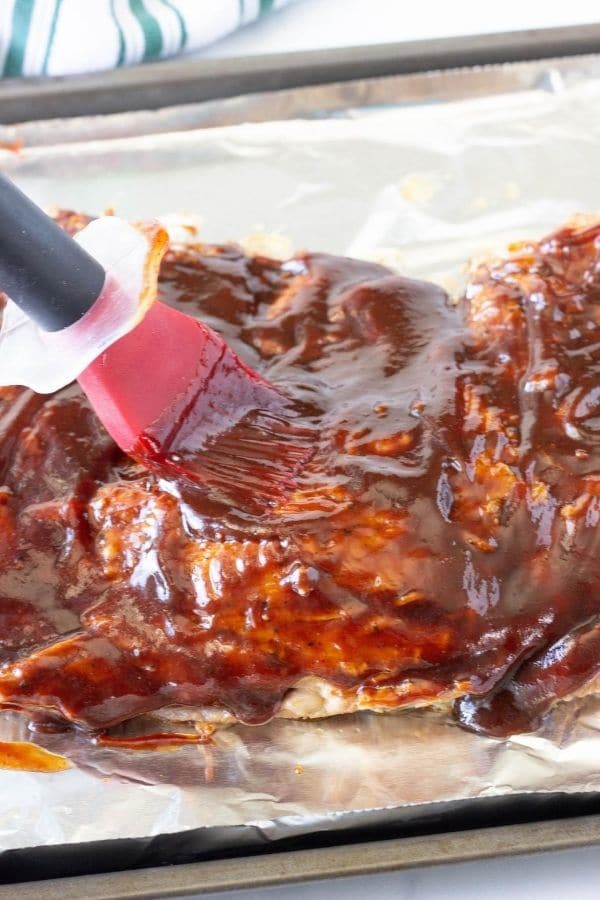 Once the ribs are done remove them, baste them with bbq sauce, and then air fry or broil your bbq ribs!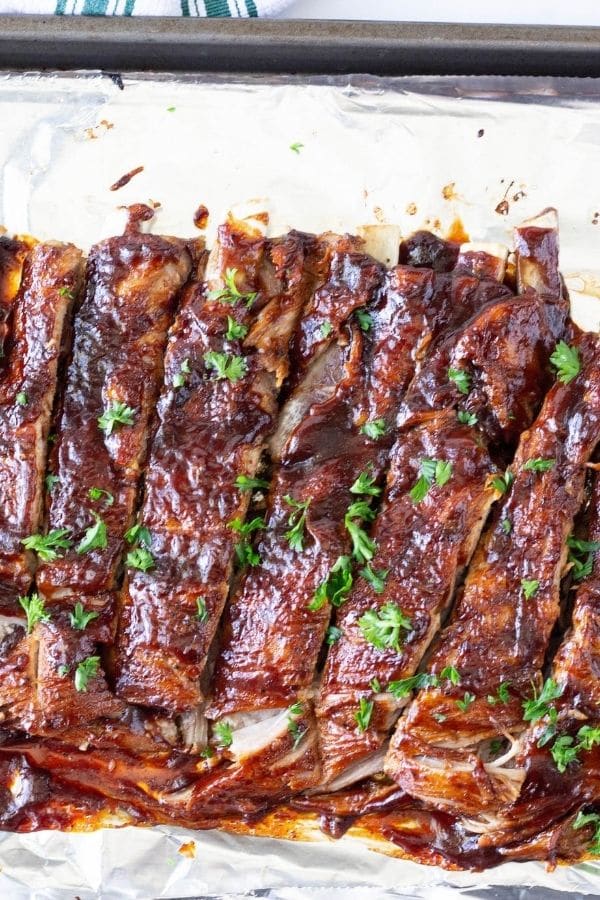 Slice and serve up these sticky barbecue ribs. Instant Pot pork ribs are a game-changer!
Storing Leftovers
Store your leftover ribs in the fridge for a few days. Then when you are wanting to eat, eat cold or place in the microwave to reheat.
If you want you can also cover in aluminum foil and then wrap tight and reheat in the oven! Heat till it is warm.
What to Serve With BBQ Pork Ribs
FAQs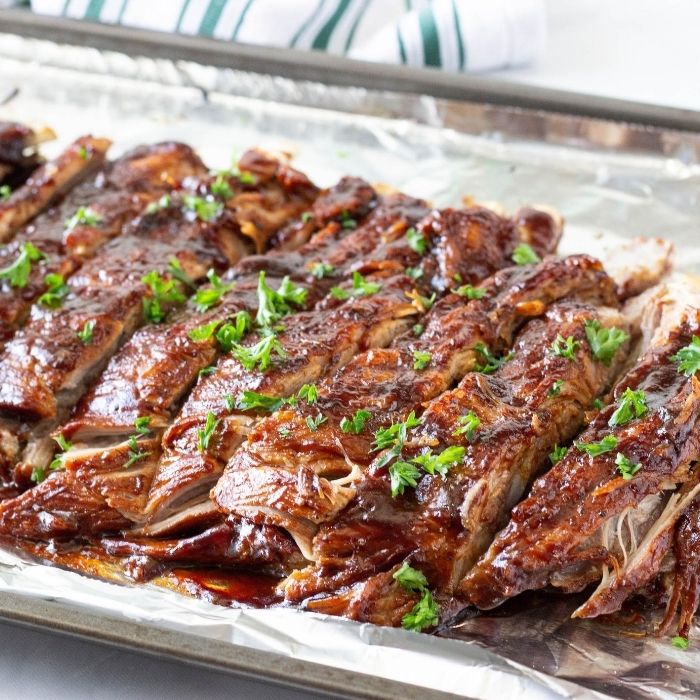 Instant Pot Spare Ribs
Servings 1 rack
Instant Pot Spare Ribs is an easy fall off the bone tender rib recipe. BBQ ribs that are almost as good as slow-smoked bbq ribs. Give this pressure cooker rib recipe. You can also make these ribs in the Ninja Foodi as well.
Ingredients
Pork Dry Rub
1/4 cup brown sugar
1 1/2 teaspoon pepper
1 1/2 teaspoon coarse kosher salt
1/4 teaspoon chili powder
1/2 teaspoon dry mustard
1 teaspoon garlic powder
1 teaspoon onion powder
2 teaspoon smoked paprika
Instant Pot
1 1/2 cup water
2 tablespoons apple cider vinegar
3-5 drops of liquid smoke
1/2 cup bbq sauce
1 Rack of Spare ribs can do up to 2
Instructions
Start by making your dry up. In a bowl add your brown sugar, pepper, salt, smoked paprika, chili powder, dry mustard, onion powder, garlic powder. Mix and set aside.

Now you will prep your spare ribs. Remove excess fat, cut off the membrane on the backside of ribs, and cut off the excess flap on ribs on back as well.

Once ribs are prepped you will use part of the rub on one side and then flip and massage the other part of rib rub on the other side of ribs. Wrap and then marinate in the fridge for up to an hour.

When ready to cook place the metal trivet in the Instant Pot, add in 1 1/2 cup water, 2 tablespoons apple cider vinegar, and 3-5 drops of liquid smoke.

Put your ribs in meat facing out, so the bones will face inward. Try to set them up on the metal rack. Mine spare ribs were a bit too big so I did have to push them in the water a bit.

Place Instant Pot lid on in sealing position making sure the valve is closed.

Pressure cook 35 minutes with a natural release of 15 minutes.

Remove ribs from the pressure cooker, and place on air fryer rack in duo crisp or a pan to broil in the oven.

Baste ribs with barbecue sauce, and then air fry to make sauce sticky or toss in the oven on broil. This takes just a couple of minutes to do.

Remove, slice, and serve these Instant Pot bbq pork ribs. I sprinkled mine with parsley and served.
Notes
Baby Back Rib Directions: If you are cooking baby back ribs – pressure cook for 5 minutes with a 15-minute natural release. Seasoning Ribs – You truly can use any flavor of dry rub you would like. Feel free to make your own or buy a rub if you don't want to use the one I made above. Broiling Ribs – At the end I broil the ribs after I smear on some sauce, this is going to create a sticky glaze on the pressure cooked pork ribs. Otherwise, they will lack a bit of flavor and texture.
Nutrition
Serving: 1gCalories: 202kcalCarbohydrates: 18gProtein: 8gFat: 11gSaturated Fat: 3gPolyunsaturated Fat: 5gCholesterol: 36mgSodium: 728mgFiber: 1gSugar: 15g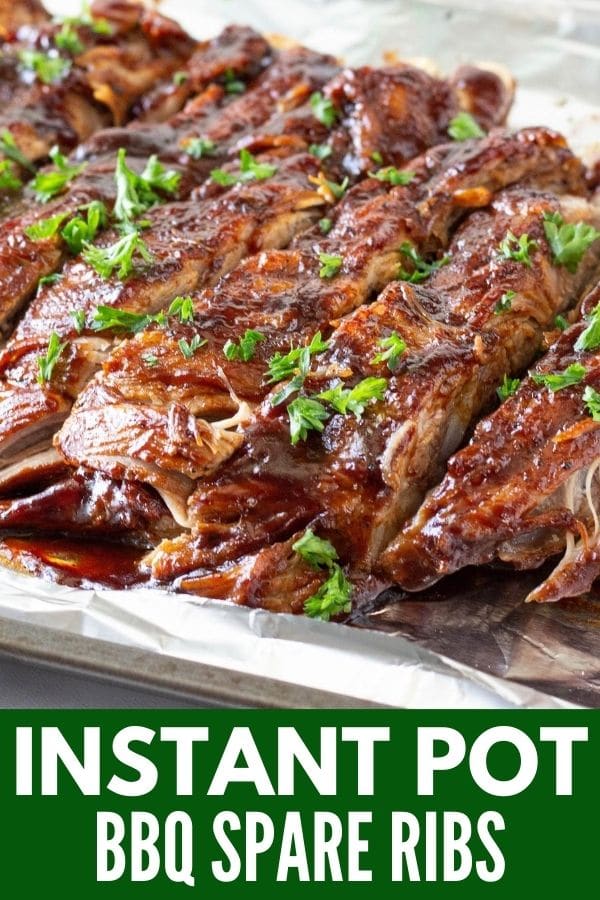 Have you made Instant Pot Spare Ribs Yet?
Reader Interactions