Creamed spinach is such a simple but delicious side dish. Basic pantry essentials and a handful of minutes are all it requires to make this homemade fresh creamed spinach.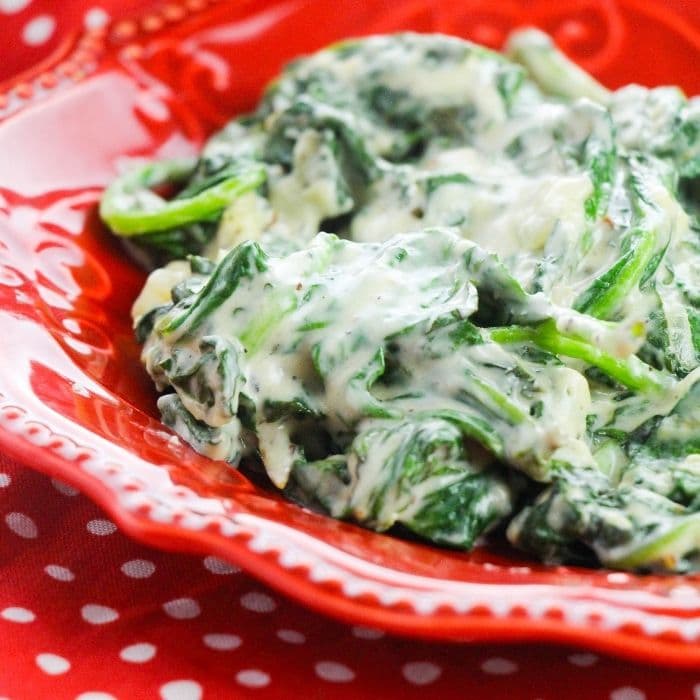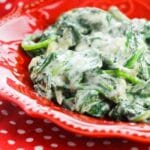 Creamed spinach is such a simple but delicious side dish. Basic pantry essentials and a handful of minutes are all it requires to make this homemade fresh creamed spinach.
Learn how to make cream spinach with cream cheese, spinach leaves, onions, garlic and more all join forces to make this the best spinach recipe you will ever have.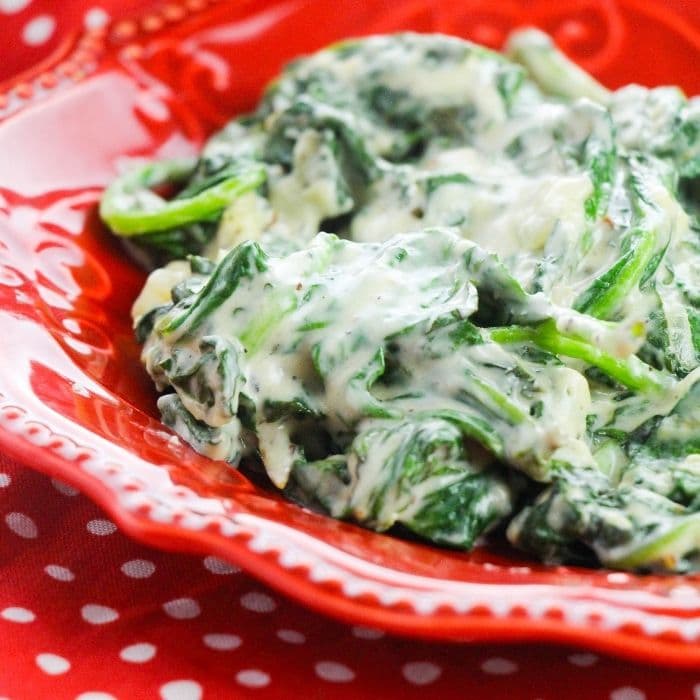 Whether you serve this vegetable side dish up for dinner, or your holiday feast, everyone will want the recipe. This spinach side dish is a must-make.
Why This Recipe Is The Best
Fresh spinach leaves bring out such a flavorful component that can't be beat.
Flavors blend perfectly.
So easy to make.
Affordable.
Quick to prep and cook.
You can easily make as much or as little as you want with this creamy spinach.
🥛 Main Ingredients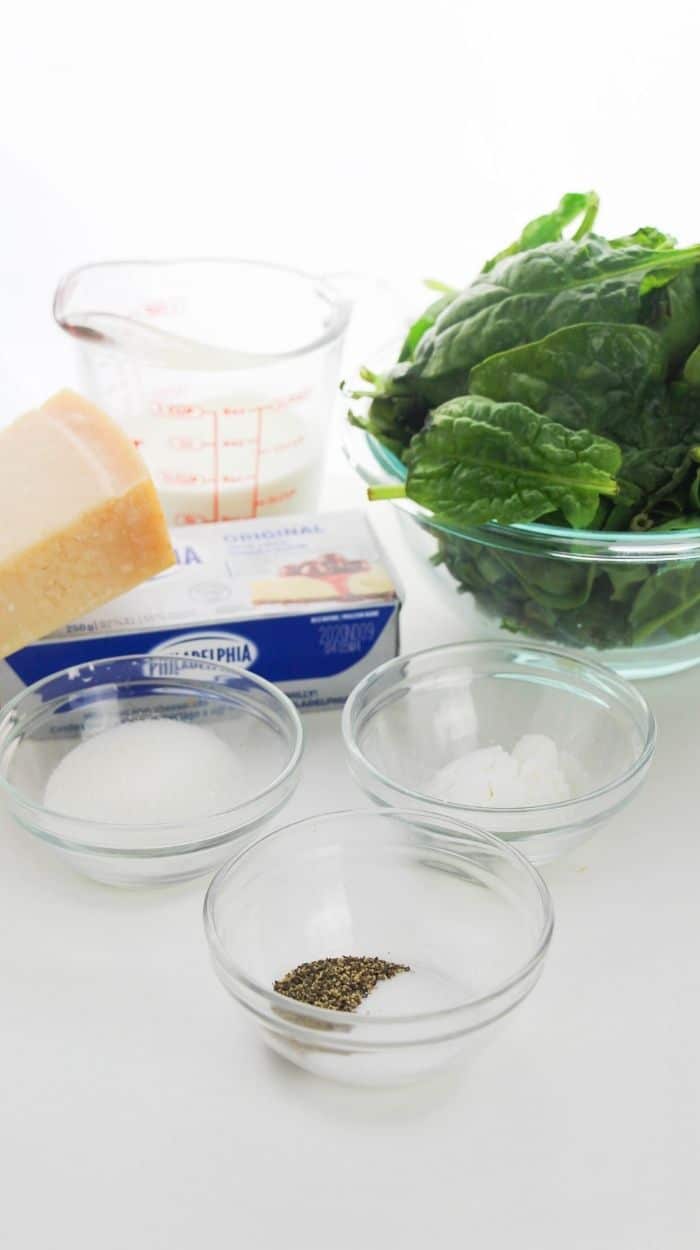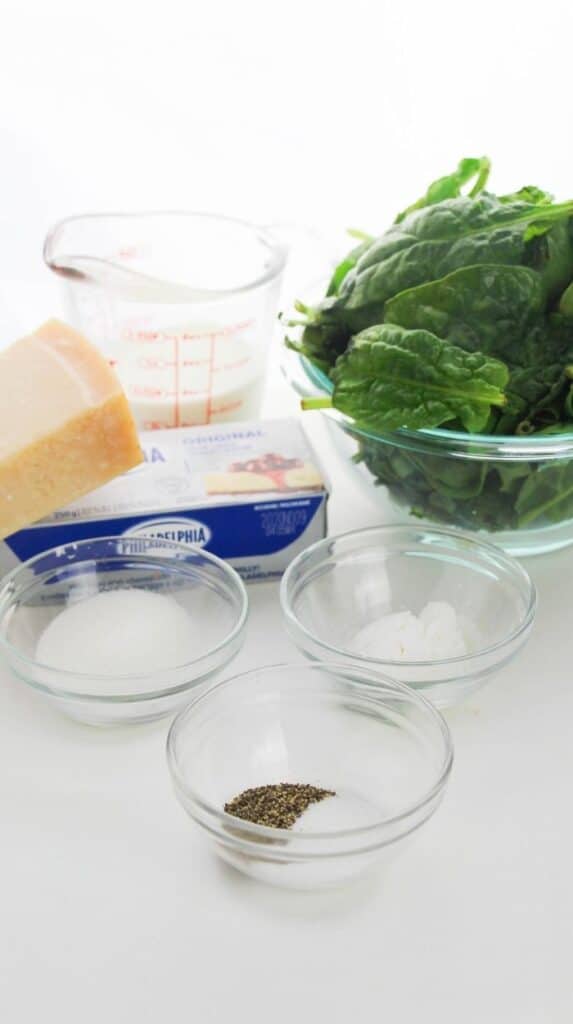 Spinach | Wash and prep your fresh leaves to toss into this side dish.
Onions, garlic, butter | Butter is a must and then onion and garlic add incredible depth to the side.
Dairy | Parmesan cheese, whole milk, cream cheese all help add tons of flavor to the side dish.
🥬How to Make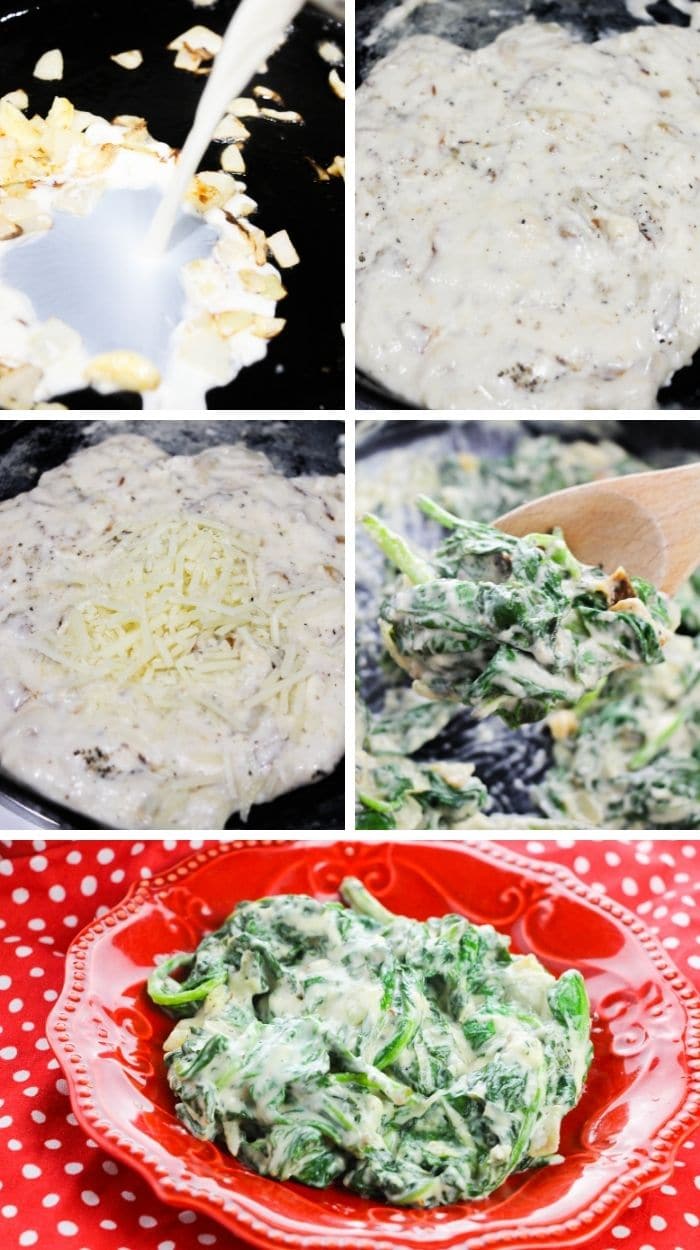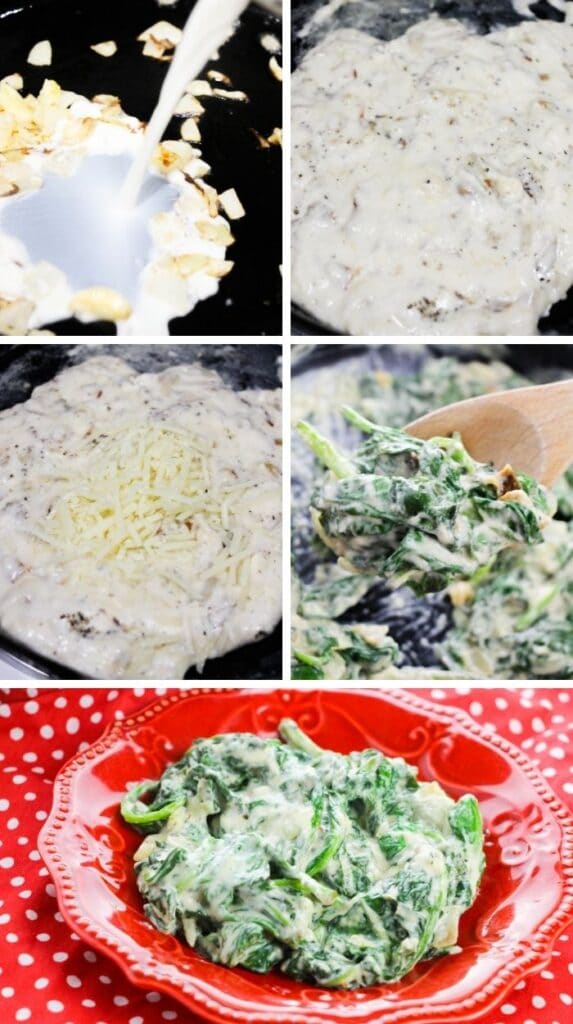 Step 1: Start by rinsing your spinach leaves and set them aside. Then in a pan you will add your butter into a skillet and heat on medium.
Step 2: Once the butter is melted toss in your onions and cook 2-4 minutes or they are translucent and fragrant.
Step 3: Add in your garlic and cook another minute or so. As that is heating take your milk and warm it up in the microwave for 25 seconds. Then stir in the cornstarch.
Step 4: Pour the milk mixture into the skillet and add in the cheese, salt, and pepper. Whisk until combined, and then stir in spinach leaves and coat.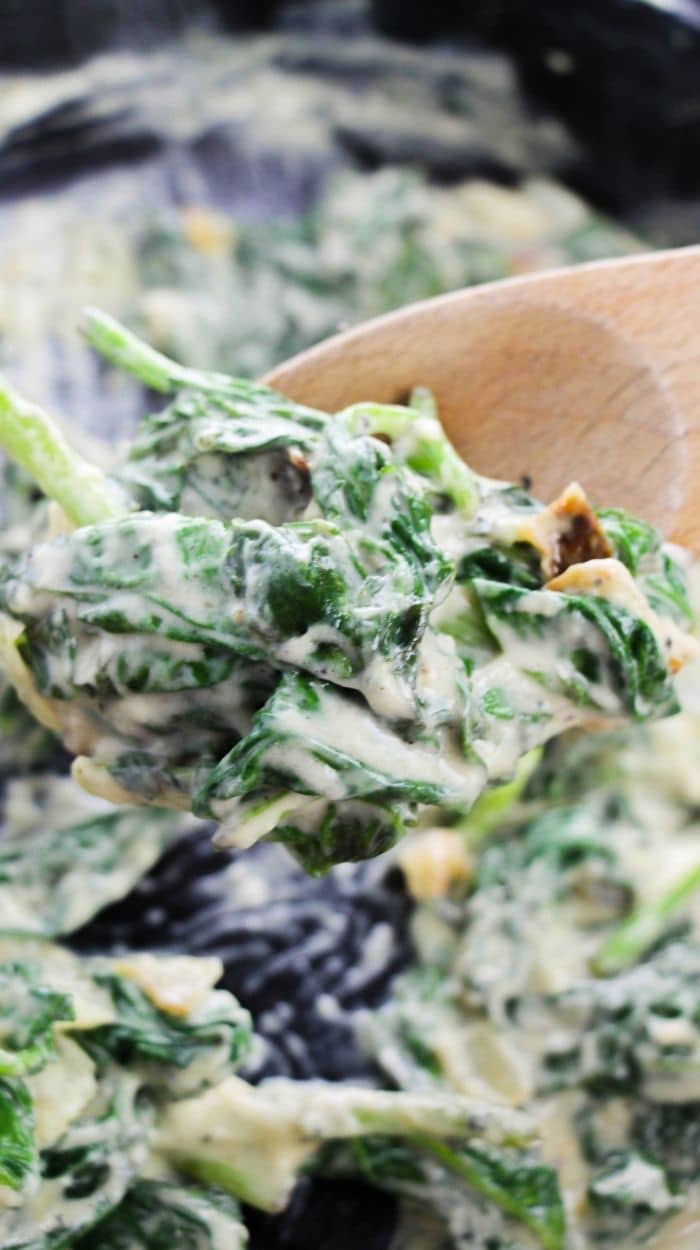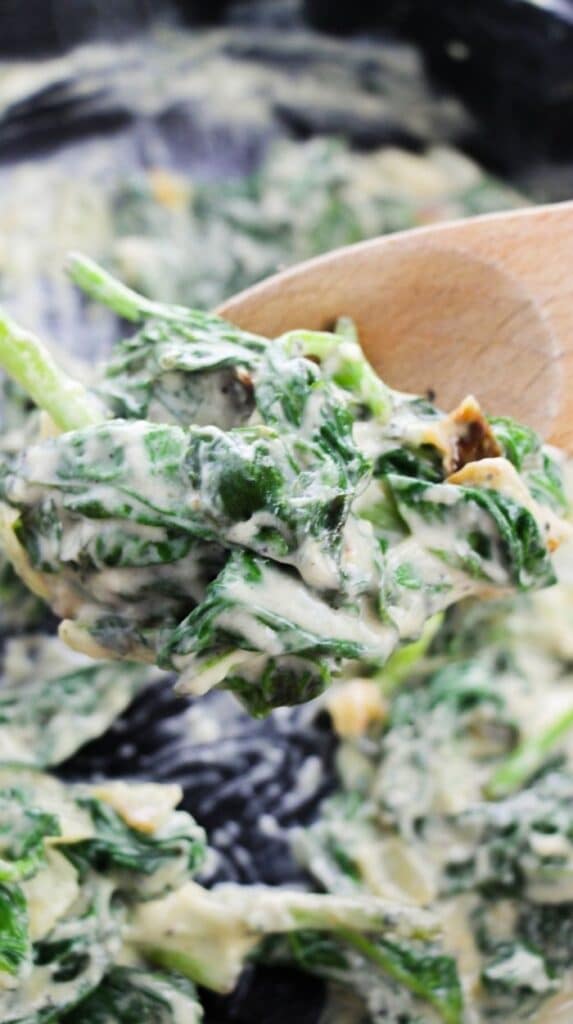 Meal Prep
Creamed spinach is a recipe that is best made fresh and served hot. I don't recommend making it in advance to reheat to serve this easy creamed spinach for Thanksgiving or Christmas feast.
The texture of the parmesan creamed spinach will soften quite a bit. This holiday side dish is best served fresh.
Now, it is also great for serving all year round, but it is a classic holiday side dish that many homes whip up!
📌 Expert Tips and Variations
Season with salt and pepper to taste
Use a large skillet over medium heat. The spinach leaves will be a lot at first but remember it breaks down quite a bit.
You can use frozen spinach if you thaw, drain, and squeeze excess liquid.
Top with fresh herbs to add more flavor layers if you want.
Add in a little cayenne for a kick of flavor if you want some heat.
This is paired nicely with butternut squash.
You can use half and half to replace the whole milk if you would like.
Parmigiano-Reggiano can be swapped for parmesan cheese in the recipe.
👩‍🍳 Recipe FAQS
Can I Use Frozen Spinach?
If you want to use frozen spinach for creamed spinach you need to thaw, and squeeze out the excess water in your spinach before adding into the pot. Otherwise it will water down the mixture and not be thick like you would like.
How Do You Thicken Creamed Spinach?
You will thicken your creamed spinach with the milk and cornstarch. The cornstarch is the thickening agent in this recipe. If you find it isn't thick enough, do more cornstarch and milk and then stir occasionally until it thickens to your desired consistency. Then pour in the fresh spinach leaves.
What Meat Goes Well With Creamed Spinach?
Roast beef, roasted chicken, a Christmas dinner with turkey or ham. This side dish is so easy and pairs well with almost any protein. Even prime rib is a great pairing.
Can You Reheat Creamed Spinach?
Absolutely, you can reheat. The texture will be softer, but still taste great. Just slowly reheat in the microwave or on the stovetop on low heat. If you need add more milk to thin it up a bit if the cream sauce is too thick.
How long will cooked spinach last in the fridge?
Homemade creamed spinach will last 3-5 days when stored properly in the fridge.
Is spinach good for you?
Incorporating spinach dishes into your diet is a great way to gain nutrients. Spinach is loaded with beta carotene, Vitamin C, great for eye health, a good source to help aid in blood pressure, and more.
Does spinach have protein?
A cup of raw spinach contains around .7 grams of protein. For a cup of spinach it averages around 25 grams of spinach.
Is spinach a vegetable?
Spinach is a vegetable that you find is great served raw, cooked, and all things in between. From mixing in soups, making hearty salads, and more.
How much iron in spinach?
You will find the amount of iron in the spinach is significant. 3.5 ounces of spinach contains around 2.7 mg of iron. That is 15% of your iron needed for the day.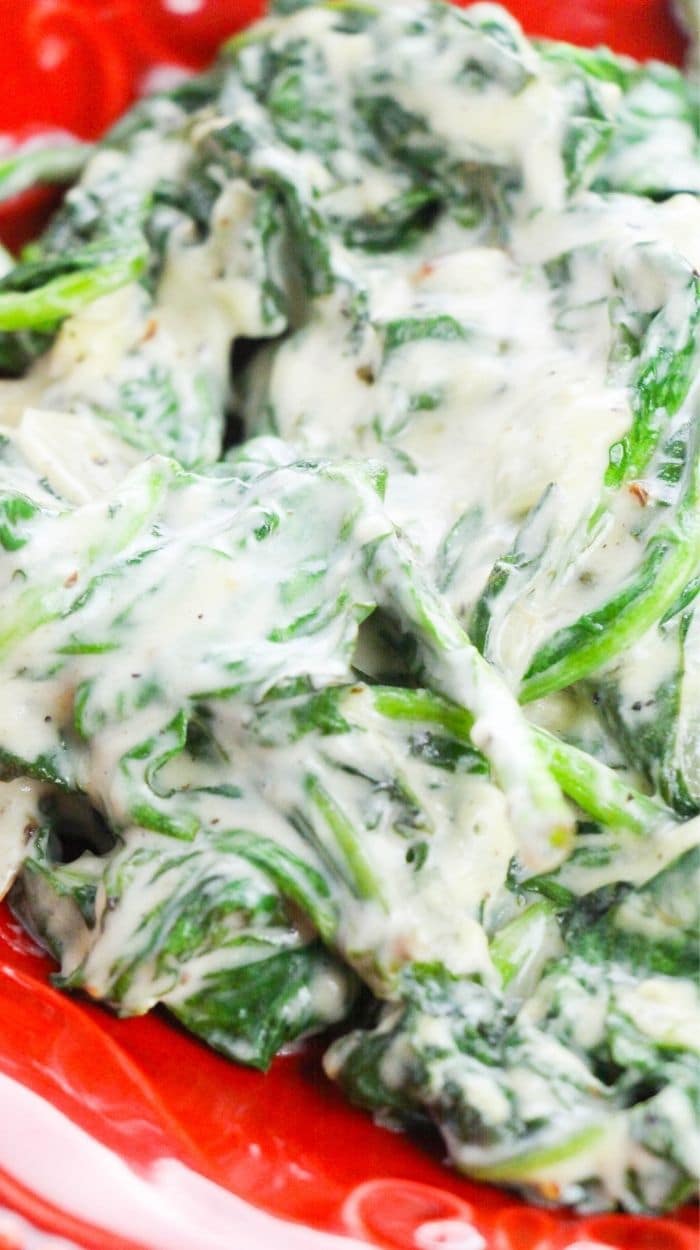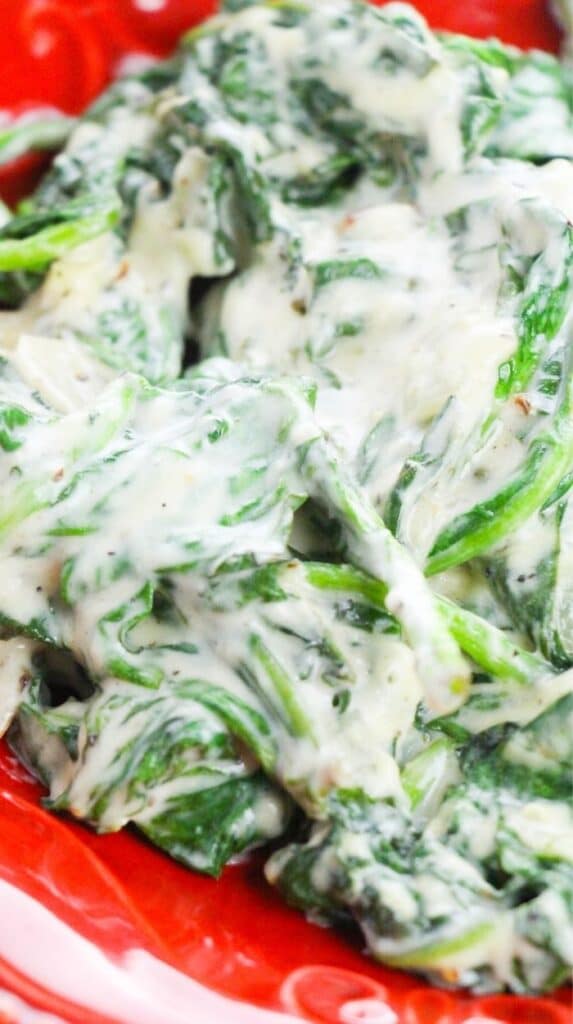 Even More Recipes to Try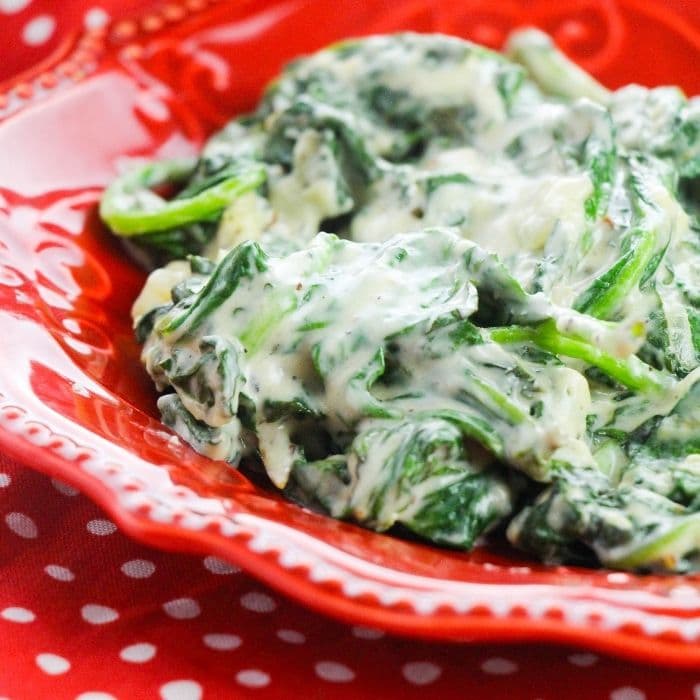 Creamed Spinach
Servings 4 -6 servings
Creamed spinach is such a simple but delicious side dish. Basic pantry essentials and a handful of minutes are all it requires to make this homemade fresh creamed spinach. 
Ingredients
1-12 oz package spinach approximately 4 cups
1 Tablespoon butter unsalted
1/2 small onion diced yellow or white
2 cloves garlic smashed and sliced
3/4 cup whole milk or half and half
1-2 Tablespoons cornstarch
1 teaspoon salt
1 teaspoon black pepper
2 oz cream cheese softened
3 Tablespoons Parmesan cheese
1/2 teaspoon cayenne optional
Instructions
Start by rinsing off your spinach leaves and letting them dry in a bowl.

Now in a pan add your butter and heat on medium heat and allow it to melt. Once melted add in your diced onions and cook 2-4 minutes.

Allow the onions to become translucent and fragrant. Then add in your garlic and cook for another minute.

While the garlic is cooking add your milk in a microwave-safe bowl and heat for 25 seconds. Stir in the cornstarch and whisk well. Lower heat to low-medium.

Pour the milk mixture into the pan, and add in your salt, pepper, cream cheese, and parmesan cheese. Add cayenne as well if you want it. Stir until it reaches the desired thickness you want. Continuously stir or it will burn.

Toss in your spinach and stir until well mixed. Cook down a little to your desired texture. Then serve this creamed spinach warm.
Notes
You can use frozen spinach, just thaw first and then squeeze off extra liquid. You can replace the milk with half and a half if you prefer. Top with added parmesan cheese, a sprinkle of cayenne, or even nutmeg. Serve fresh and then store any leftovers in the fridge for 3-5 days. Use your best judgment in terms of quality. Feel free to swap to a shallot if you prefer. Go ahead and double the recipe if you want, this recipe is versatile. Just use a larger pan as the spinach will break down. This is a great weeknight side dish, Christmas side dish, or even for Thanksgiving. I don't recommend making this in advance, it is best when served fresh. You can leave out the cream cheese if you want, and replace it with mozzarella cheese.
Nutrition
Serving: 1gCalories: 168kcalCarbohydrates: 12gProtein: 6gFat: 11gSaturated Fat: 6gPolyunsaturated Fat: 4gCholesterol: 31mgSodium: 732mgFiber: 2gSugar: 4g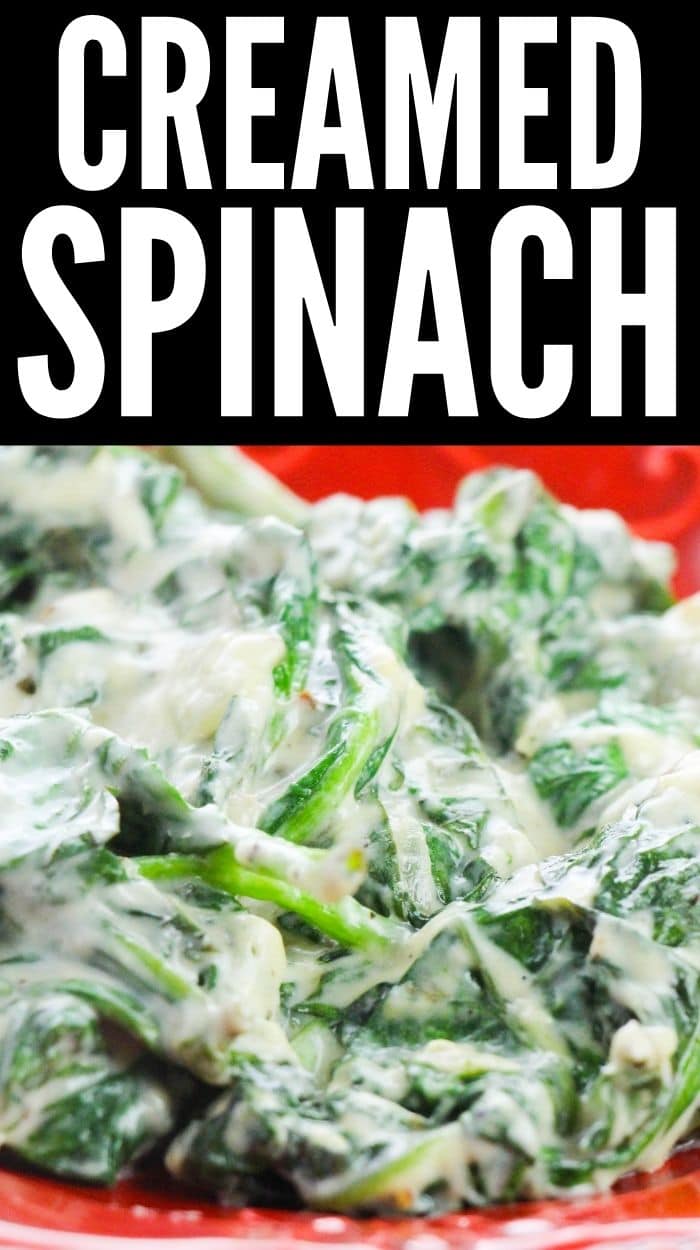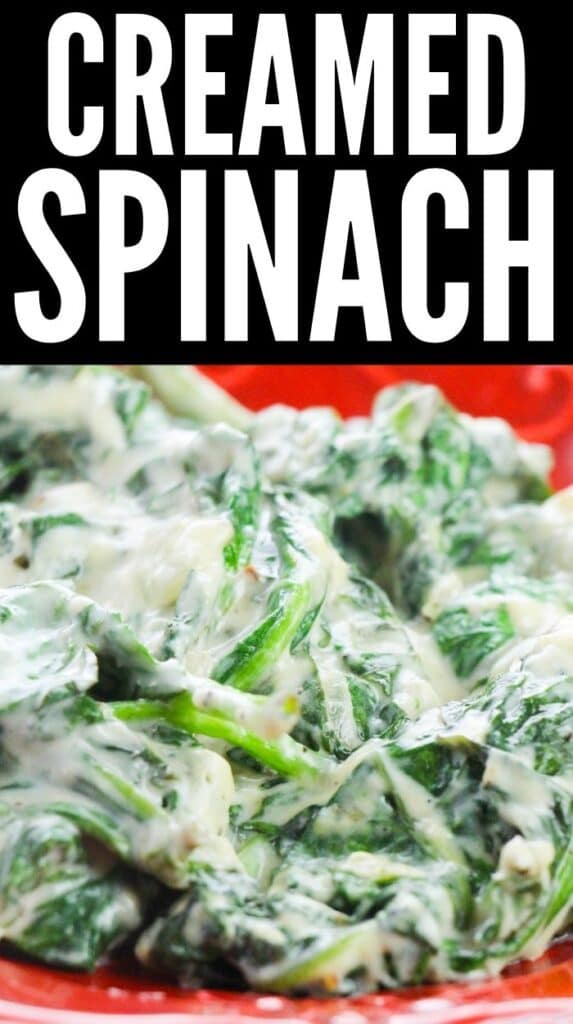 Reader Interactions