Ice cream cone cupcakes are a cupcake batter that is baked inside a sugar cone. Baking cupcakes in ice cream cones are a fun cupcake idea for kids! A homemade vanilla cupcake baked in ice cream cones and topped with a strawberry frosting.
This cake cone recipe is crazy simple to make and is a fun kid's birthday cupcake, easy weeknight dessert, or whip these up for any other occasion. An another birthday cupcake could be these cactus cupcakes.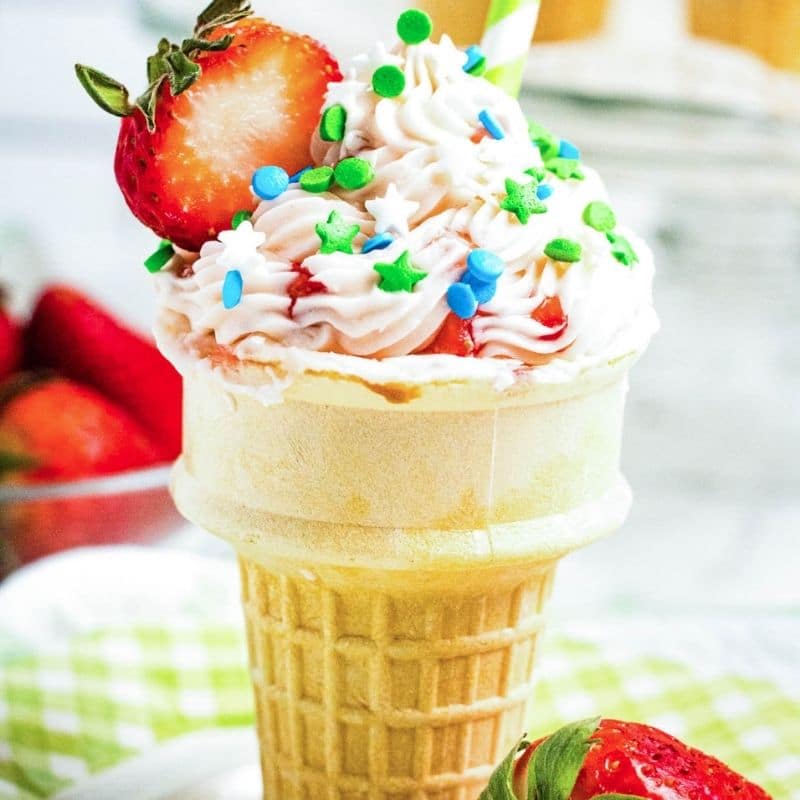 This ice cream cone dessert is such a fun way to eat a cupcake. The cone adds texture, and it is a sweet treat that is highly addictive.
Learn how to make ice cream cone cupcakes to create one-of-a-kind cupcake cones recipe.
Why Make These Ice Cream Cone Cupcakes…
Can use boxed cake mix or a homemade cake mix
Easy Recipe
Fun Dessert
Creative way to serve up cupcakes
Great for birthdays, potluck dessert, etc
Ingredients Needed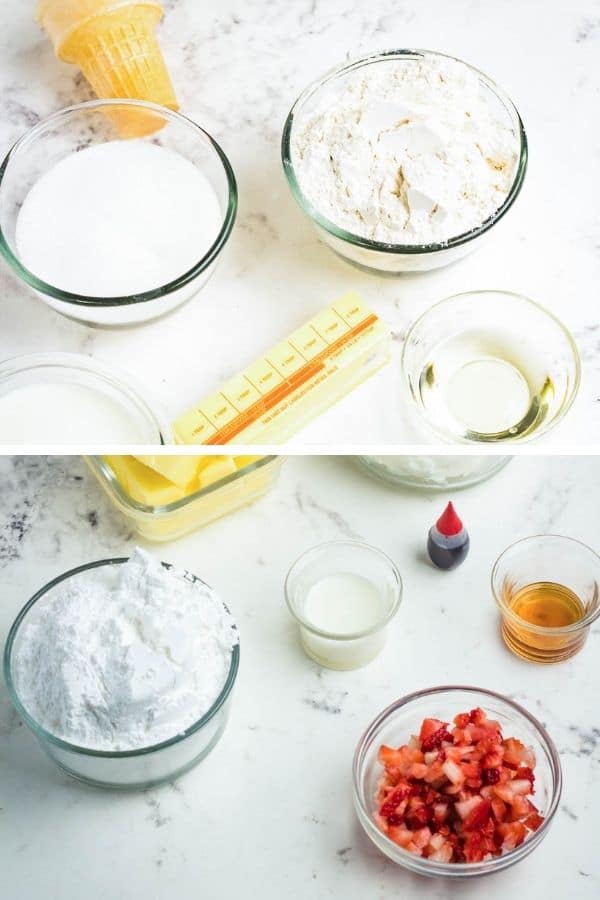 Butter
Granulated Sugar
Oil
Eggs
Flour
Baking Powder
Salt
Milk
Ice Cream Cones
Shortening
Powdered Sugar
Strawberry Extract
Diced Strawberries
Red Food Coloring
How To Make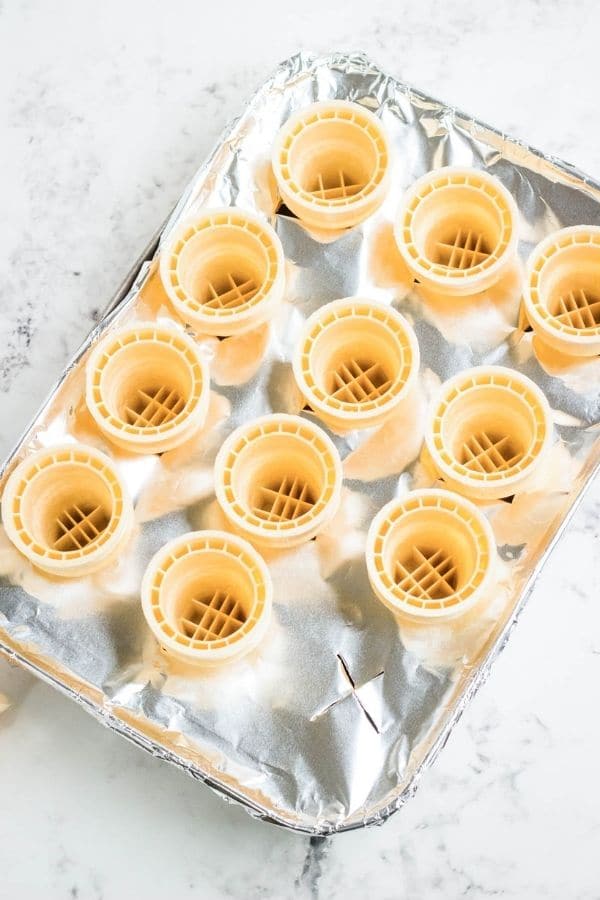 Step 1: Preheat the oven and then place aluminum foil over a 9×13 pan. Then you will cut 12 x's into the foil so the cones can sit and be held upright.
Step 2: In a stand mixer beat your butter, sugar, oil, and vanilla until light and creamy. This takes 2-3 minutes to do.
Step 3: Add in the eggs one at a time, mixing well and scraping down the sides of the bowl.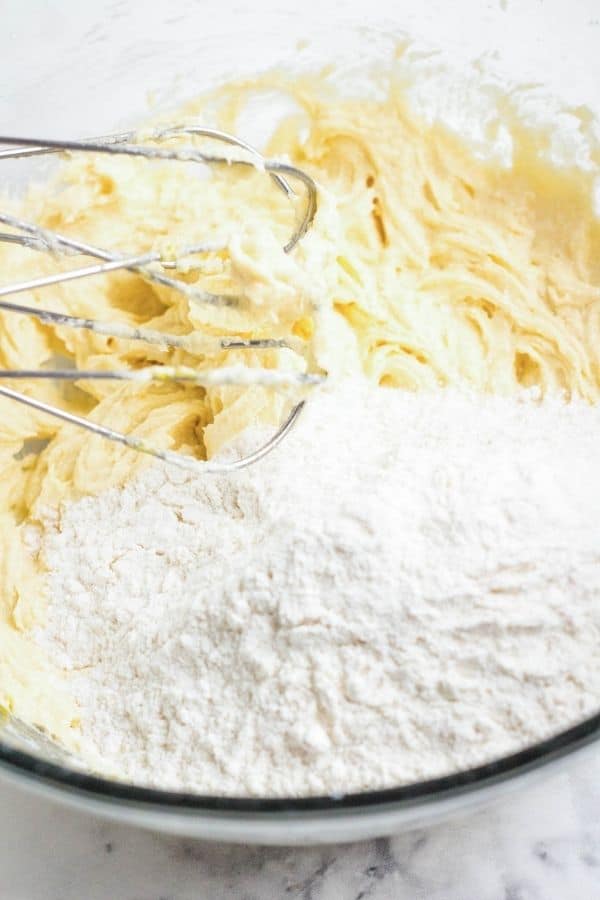 Step 4: In a bowl, mix dry ingredients and then part milk then part dry rotating as you mix, ending in the milk. This is to make sure it is fully incorporated, and you get the right consistency.
Step 5: Then once the batter is ready pour it into each cone. Stop around 3/4 inch from the top of the cone.
Step 6: Bake in the oven for around 15-18 minutes or until the cupcake is cooked.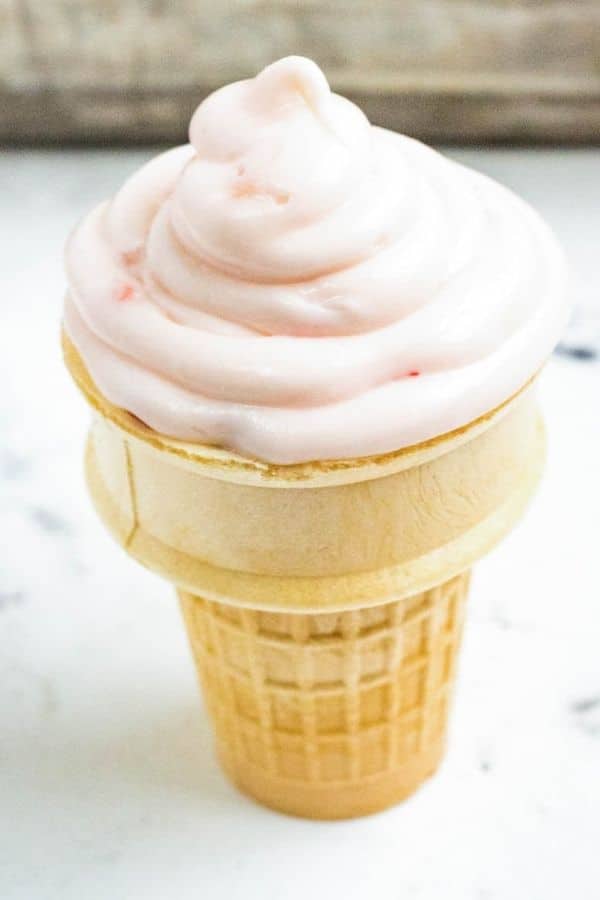 Step 7: Place on a cooling rack to cool. Then you will work on mixing up the strawberry frosting, to top the ice cream cone cupcakes.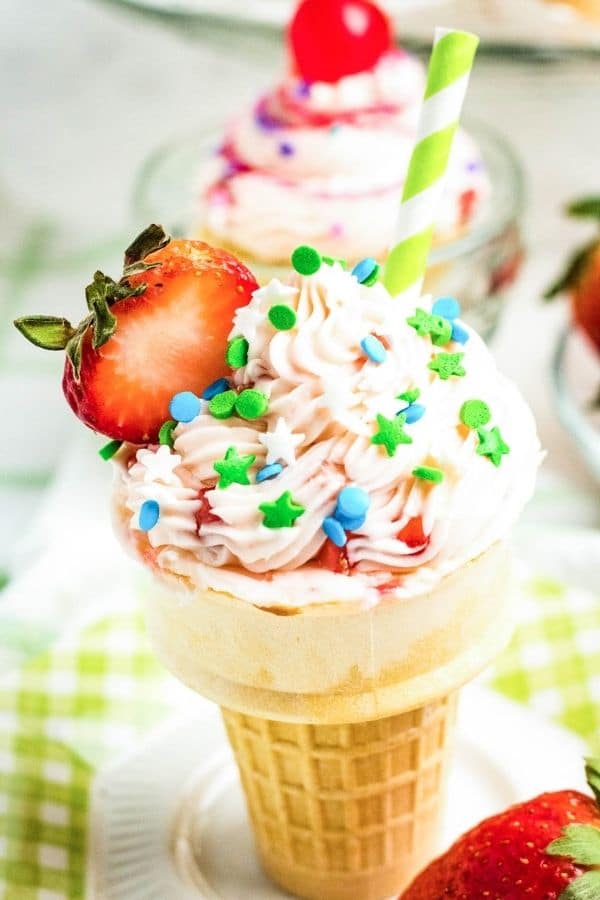 Topping Ideas For Cupcakes
Cut down and add a paper straw
Strawberries or other fruits
Sprinkles
Maraschino Cherries
Mini Vanilla Wafer Cookies
Drizzle of chocolate
Etc
I did simple strawberries and sprinkles with a straw. Now, there will be extra batter, you can either make extra cupcakes in ice cream cones, or bake them like regular cupcakes.
Storage
These cupcakes will need to be stored in the refrigerator due to the frosting. I find it helps preserve the strawberries in the frosting better. Just place in an airtight container and store in the fridge.
The cupcakes are best when eaten within the first few days of being made. As they will dry out a bit, and the cones will become stale.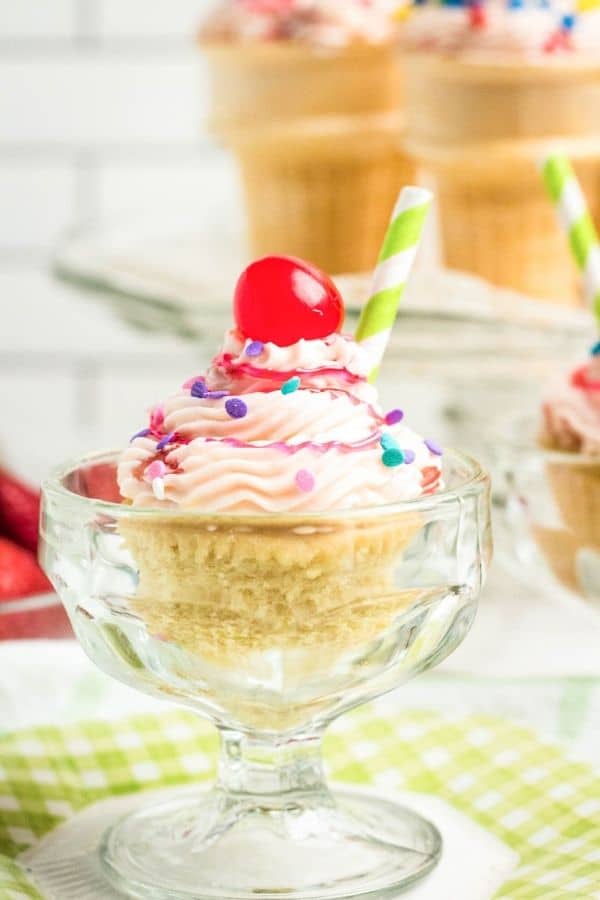 Grab my Free Kitchen Conversions Printable! This shows you how many cups are in a quart, pint, etc. A great printable to keep handy for when you need to convert a recipe.
Expert Tips and Variations To Recipe
Feel free to use a boxed cake mix instead of homemade cake.
With leftover cake batter make more cupcakes or do classic cupcakes to make it look like ice cream sundaes.
Any flavor of cake works.
Swap out the strawberry frosting with any of your favorite flavors of frosting.
Change up the toppings you add. Nuts, candies, etc.
Recipe FAQs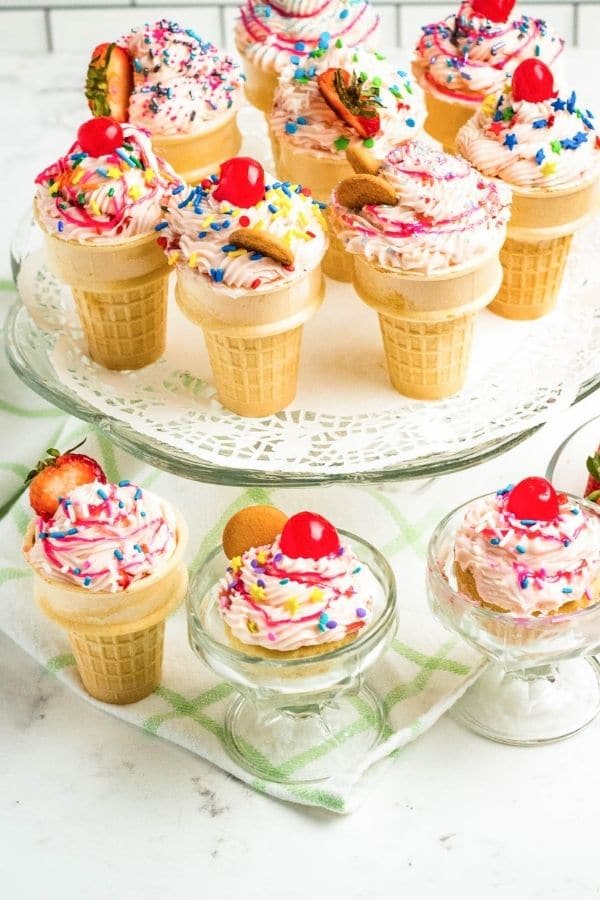 More Cupcake Recipes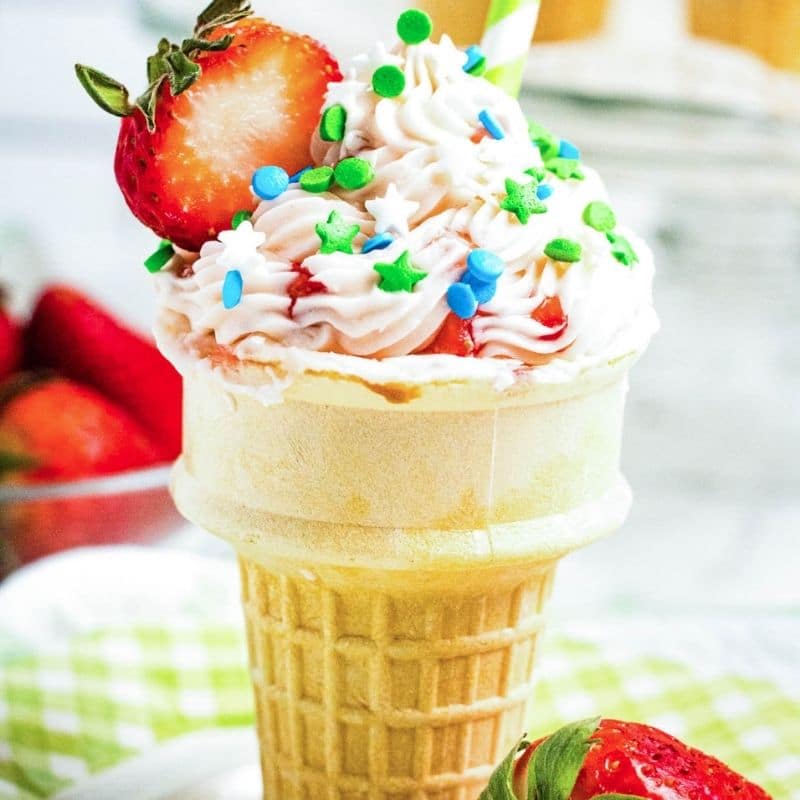 Ice Cream Cone Cupcakes Recipe
Servings 15 -18
Whip up these Ice Cream Cone Cupcakes, that are a white cupcake that is baked into a sugar cone. Topped with a homemade strawberry frosting and decorated for fun. This ice cream cone cupcake recipe is always a hit.
Ingredients
Cupcake Ingredients
1 cup granulated sugar
1/2 cup butter room temperature
1 1/2 tablespoons oil
2 teaspoons vanilla extract
2 large eggs room temperature
2 cups all purpose flour
2 teaspoons baking powder
1/4 teaspoon salt
3/4 cup + 2 tablespoons milk
15-18 ice cream sugar cones
Strawberry Frosting Ingredients
1 cup vegetable shortening
1/2 cup butter room temperature
2 teaspoons strawberry extract
1 cup diced strawberries
2 cups powdered sugar
1 drop food coloring red
2 tablespoons milk
Instructions
Start by preheating your oven to 350 degrees. Then in a 9×13 pan, you will place aluminum foil over the pan. Cut x's into the foil to act as a holder for your ice cream cones. I did 2 pans.

Then in a bowl you will beat together the room temperature butter, sugar, vanilla and oil. Mix together for 2-3 minutes using a hand or stand mixer.

Now you will add in eggs one at a time, mixing well.

Then in a separate bowl add the flour, salt and baking powder. Mix till combined.

Slowly add in a little milk and then a little dry, mixing in between. Once all the cupcake batter is done you will pour into the ice cream cones.

Leave around 3/4 inch unfilled of the cupcake batter in the ice cream cones.

Bake in the center rack for 15-18 minutes or until the cupcakes are fully cooked.

Place the ice cream cone cupcakes on a cooling rack.

Once the cupcakes are fully cooled, you will mix together shortening,butter, and whisk till creamy.

Add in the strawberry extract, and powdered sugar. Fold in the strawberries, and the food coloring.

If your frosting seems too thick add a little of the milk and mix, to create the right texture.

Pipe the strawberry frosting onto the cupcakes, and top with icing gel, sprinkles, a strawberry slice, cherry, or even a fun paper straw.
Notes
You do not have to make all the cupcakes in cones. You can do 12 ice cream cone cupcakes and the rest regular cupcakes if you want. Feel free to used boxed cake mix instead of homemade if you prefer. Any flavor of cake or frosting will work for this dessert.
Nutrition
Serving: 1gCalories: 638kcalCarbohydrates: 68gProtein: 7gFat: 38gSaturated Fat: 20gPolyunsaturated Fat: 15gCholesterol: 113mgSodium: 285mgFiber: 2gSugar: 52g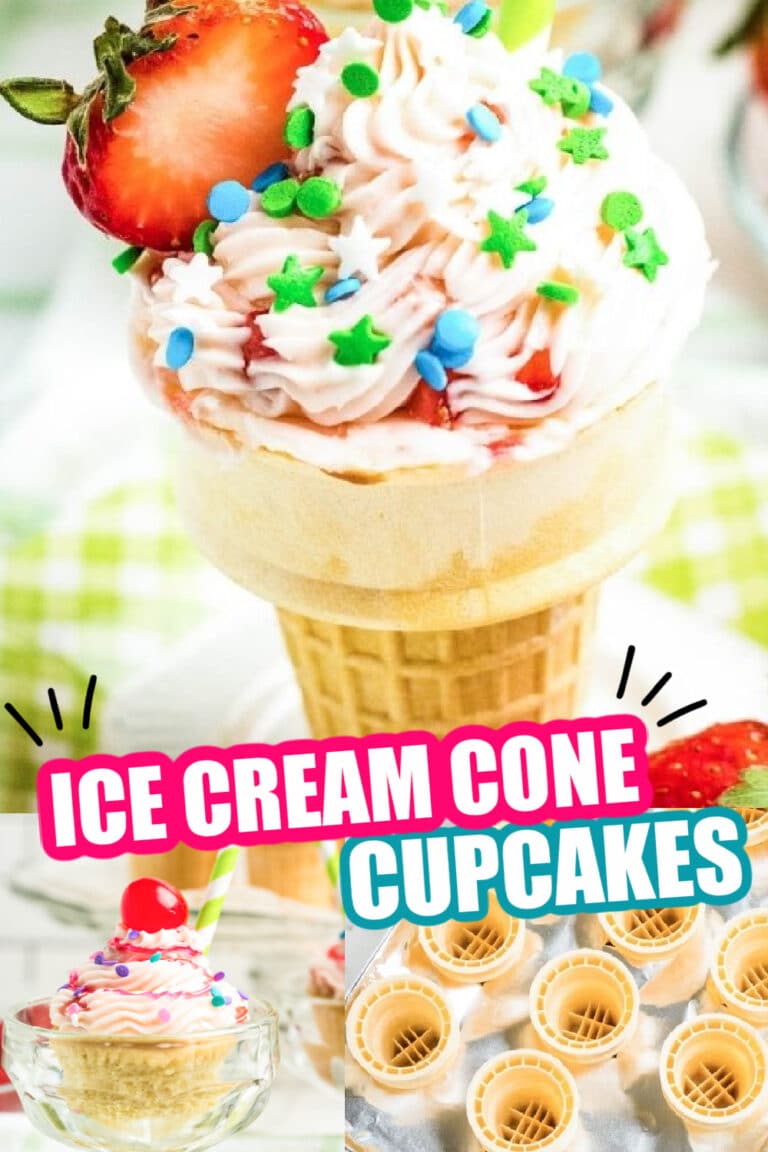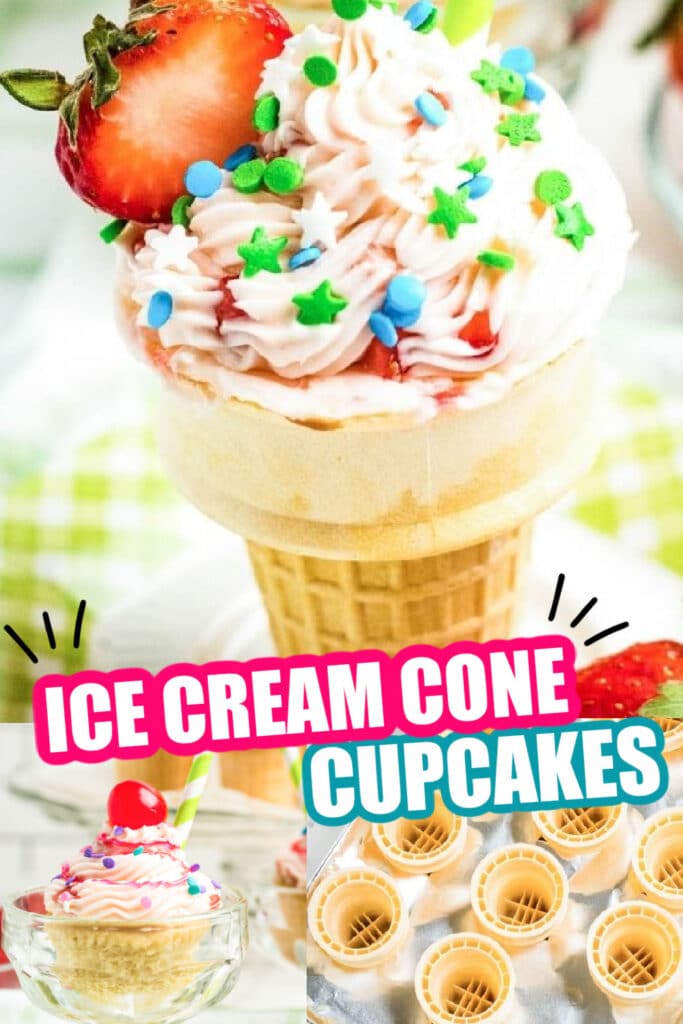 Reader Interactions